Centurylink Field
Seattle

,

WA
Seattle
Monster Energy AMA Supercross Championship
Welcome to the Race Day Feed, coming to you from CenturyLink Field in Seattle, where the thirteenth round of Monster Energy Supercross is set to play out this evening. We'll be covering the action all day and all night right here on Racer X Online, so be sure to check back often for updates. Posts appear in chronological order, so scroll to the bottom for the most recent information. For even more info, follow us on Twitter, @Racerxonline.
Morning Report
Rain, and plenty of it. That's what's been coming down here in Seattle this week (although the skies were blue yesterday), and with plenty more expected, an already soft track, which was actually built by Tuesday and has been covered since, will remain underneath a water-shedding layer of plastic until late this afternoon. The decision to revise the schedule (today's only round of qualifiers will begin at 4:20 this afternoon) was made yesterday in an effort to preserve the racing surface and to make sure it can stay covered and out of the elements for as long as possible. We've seen the track crew deal with rain events before and they've been able to do some pretty amazing things, but they may not be able to work their magic tonight. According to the weather report, we're almost sure to see rain coming down this evening during the races, which means we're probably in for a wild and sloppy night.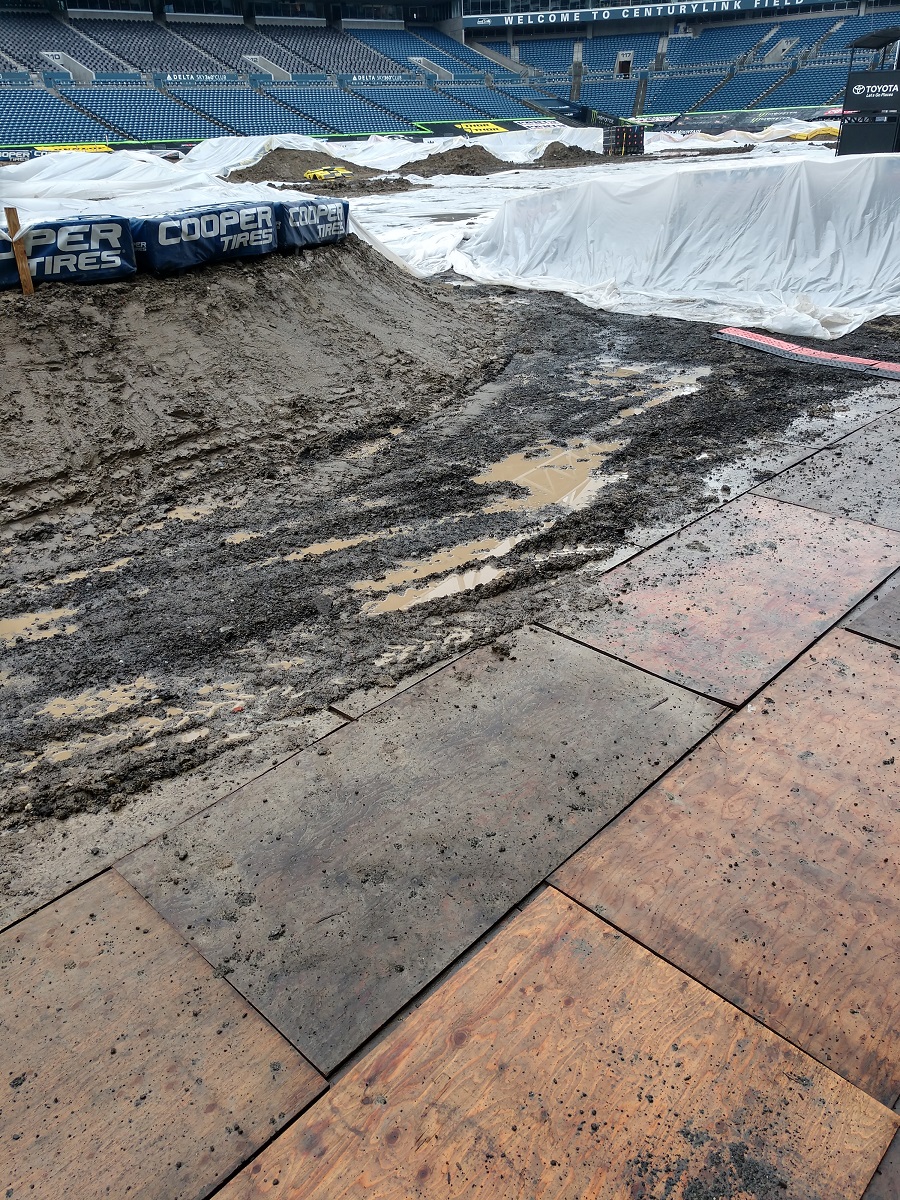 In other news we've got some riders returning to action this weekend. Justin Hill, who spent a portion of yesterday afternoon's press day riding around doing wheelies on a minibike and spinning laps on a pump track in the pits, is making his firsts appearance since breaking his toe in Atlanta. And speaking of people with the last name of Hill who are returning to racing, Justin's brother Josh will be filling in for the injured Justin Barcia today on the Monster Energy Yamaha. We spoke briefly with Hill about it in the pits yesterday and he told us he's done almost no supercross prep at all and was just looking forward to having fun. He seemed loose and happy, and didn't even seem to mind the prospect of mud.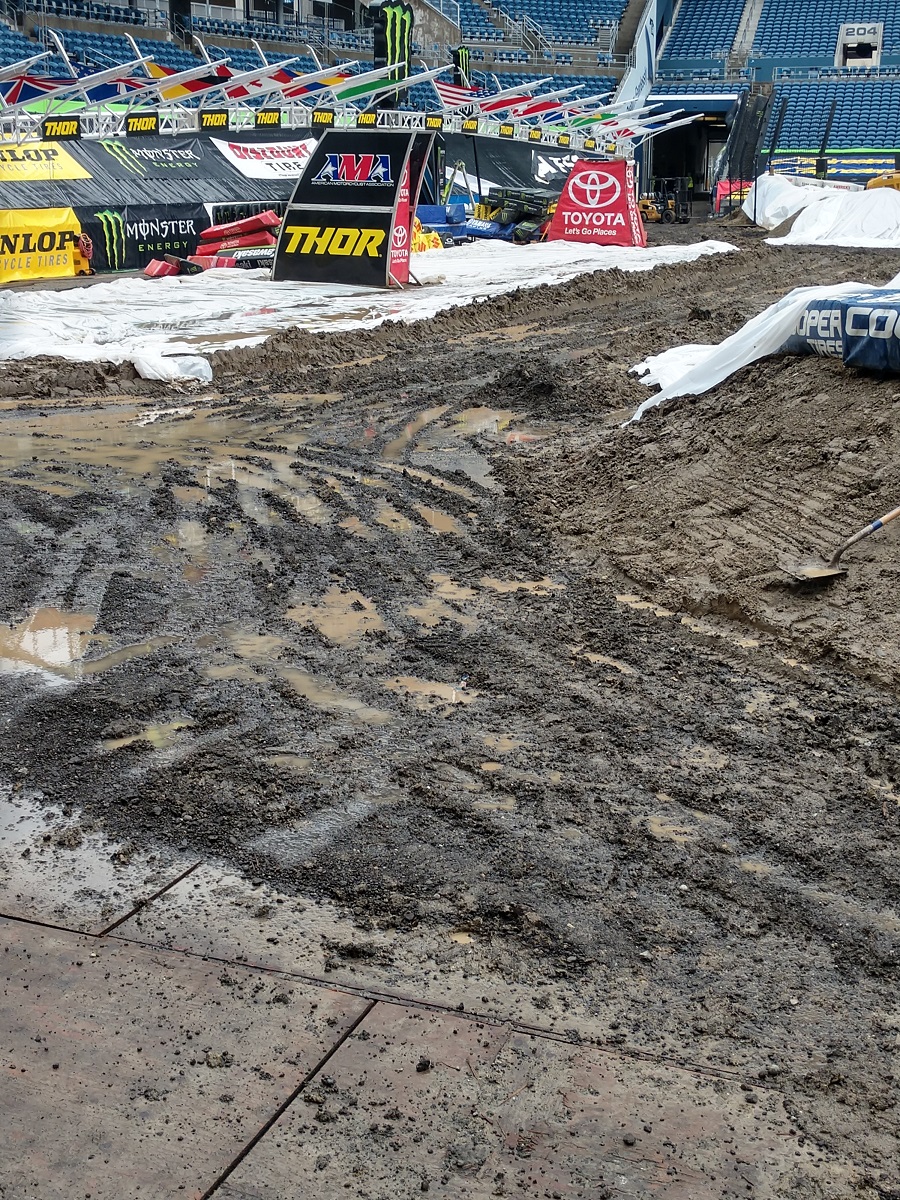 Cycle Trader/Rock River Yamaha's Alex Ray is also here and will be gearing up for action tonight after just three days back on the bike following a dislocated wrist and ruptured patella tendon earlier this year. Yesterday Ray told us he had no pressure from the team to get back on the bike early, he was just tired of watching the races on TV. It was an interesting, informal, and at times, funny interview. Check it out right here. Ray will pit alongside Dylan Merriam, who is filling in at Cycle Trader/Rock River Yamaha for the injured Bradley Taft. For a full list of who's in and who's out, check out our weekly Injury Report.
Afternoon Update
The tarps are off here in Seattle, and despite several rainy moments right after they came off, the track crew has been able to get the track to the point where it's starting to look pretty good. There's definitely still plenty of water between lanes, and a bit here and there on the track itself, but it sure looks much better than it did a couple hours ago. We'll see how it holds up when the qualifying starts at 4:20 pm.
In other news a pretty cool story is developing right now in the HEP Motorsports pits. Cedric Soubeyras, who's been riding as a fill-in rider at the injury riddled LVN 100/Nut Up Industries team, found himself without a ride when his plane landed in Seattle. The indoor pits in Seattle have special fire regulations, and vehicles aren't allowed to be holding more than a certain amount of fuel (we were told it was a quarter tank or less but haven't been able to confirm it) in order to park inside. The LVN100/Nut Up Industries rig was apparently not in compliance, a disagreement ensued, and the team ended up leaving. Unfortunately for Soubeyras, everything he needed to race, from bike to gear, was in the truck, effectively ending his race before it even got started.
All was not lost, however. When word got out what had happened, HEP Motorsports opened their pits to Soubeyras and worked through the night to put together a motorcycle for him to ride. They've been working all morning too, and as of roughly an hour ago, it looked like they were just putting the final adjustments on the bike. Practice and qualifying has been cut to just a single session on account of inclement weather, which is going to make racing a bike he's never ridden in his life pretty tough for Soubeyras, but at least he'll have a bike to ride tonight.
We stopped by the Dunlop rig to ask what tire most guys are picking to deal with tonight's soft and potentially muddy dirt. We were told some are going with the MX12, which has V-pattern knobs for extremely muddy and/or sandy conditions, but most were going with the soft/intermediate MX3S. Now you know!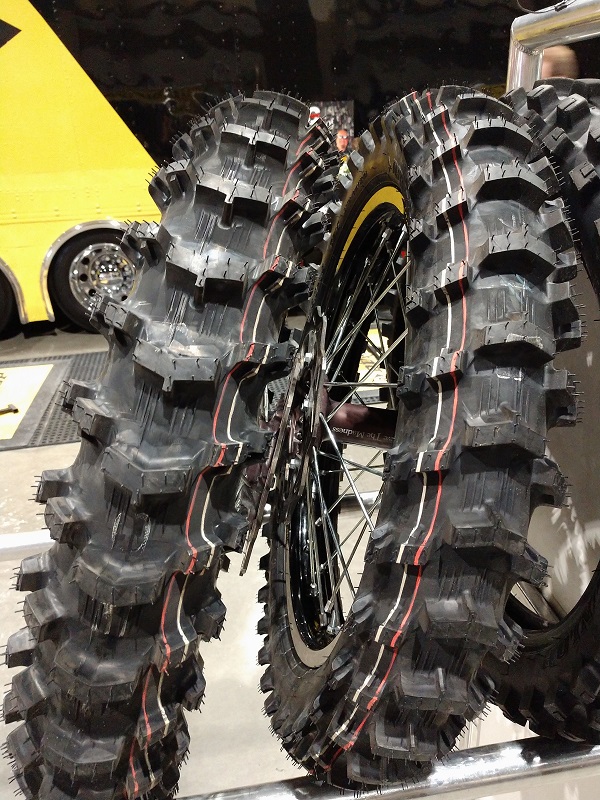 Practice Report
What was a decent looking racing surface quickly became a muddy mess during practice, thanks to steady rain that started falling roughly fifteen minutes before the first qualifier. The first session, 250 B, was filled with crashes as guys tried to figure out the lines and what was jumpable and what was not. Not surprisingly, there was no shortage of cases and crashes in the first several minutes, and it only took a few laps before nobody was even attempting the finish line double. When the A group came out things weren't much different, as plenty of riders found themselves skidding and sliding all over the place. Plessinger was fastest early on, but Adam Cianciarulo, who was going back and forth between looking fast and struggling, ended up being the fastest 250SX qualifier of the session. Brandan Leith was fastest overall though (even faster than the 450SX Groups), as the track was in better shape for the 250 B Group.
In 450 action it was all Jason Anderson, who held the fastest time the whole session. To be fair, nobody was riding to qualify, as there were fewer than forty entries, meaning everyone who went out for practice will automatically make it into the "fast forty," or in this case, "fast 37." Similar situation in the 250 Class, where only 39 riders were entered.
It's a strange thing to see the most talented motorcycle racers in the world struggle just to keep it on two wheels, but that's exactly what happened today during practice. That's it for today's qualifying, as the inclement weather prompted race officials to cut qualifying down to a single session for each group. Check back soon for coverage of tonight's racing.
Seattle - 250SX West Combined Qualifying
| | Rider | Time | Interval | Hometown | Machine |
| --- | --- | --- | --- | --- | --- |
| 1 | Brandan Leith | 1:08.115 | | Eagle Mountain, UT | Kawasaki KX250F |
| 2 | Jess Pettis | 1:08.352 | | Prince George, Canada | Yamaha YZ250F |
| 3 | Dylan Merriam | 1:09.597 | | Corona, CA | Yamaha YZ250F |
| 4 | Adam Cianciarulo | 1:09.628 | | Port Orange, FL | Kawasaki KX250F |
| 5 | Joey Savatgy | 1:09.747 | | Thomasville, GA | Kawasaki KX250F |
| 6 | Chase Marquier | 1:10.220 | | Newcastle, OK | Husqvarna FC 250 |
| 7 | Aaron Plessinger | 1:10.933 | | Hamilton, OH | Yamaha YZ250F |
| 8 | Shane McElrath | 1:11.099 | | Canton, NC | KTM 250 SX-F |
| 9 | Dylan Summerlin | 1:11.166 | | Kent, WA | Husqvarna FC 250 |
| 10 | Mitchell Oldenburg | 1:11.818 | | Alvord, TX | Yamaha YZ250F |
| 11 | Justin Starling | 1:12.255 | | Deland, FL | Husqvarna FC 250 |
| 12 | Josh Mosiman | 1:13.485 | | Sebastopol, CA | Husqvarna FC 250 |
| 13 | Hayden Mellross | 1:13.544 | | Australia | Yamaha YZ250F |
| 14 | Chris Howell | 1:13.881 | | Spokane, WA | Husqvarna FC 250 |
| 15 | Robbie Wageman | 1:14.071 | | Newhall, CA | Yamaha YZ250F |
Full Results
-
- ,
| | Rider | Time | Interval | Hometown | Machine |
| --- | --- | --- | --- | --- | --- |
Full Results
250SX Heat One
If this first heat race is a sign of what's to come, we're in for some comedy tonight. Mitch Oldenburg got the holeshot but ended up throwing it away all by himself. Martin Castelo followed suit right behind him. That put Cianciaurlo in the lead, but at this point everyone started going down and everyone was so covered in mud it was hard to even tell who anyone was. The most interesting part of the race came when Shane McElrath, who was leading, literally got his bike stuck in a turn and could not rock it loose. Finally a track crew member came over and helped him yank it out. Phil Nicoletti ended up with the win after Chase Sexton crashed out of the lead late in the race. Nicoletti Sexton, Chase Marquier, McElrath, Oldenburg, Dakota Alix, Josh Mosiman, Noah McConahy, and Tallon Lafountaine all transferred to the main.
Seattle - 250SX West Heat 1
Full Results
250SX Heat Two
Mitchell Harrison with the holeshot, but it didn't take long for Aaron Plessinger to take over and start building a lead. Joey Savatgy moved into second early and was slowly starting to eat into Plessinger's lead, but a crash in the whoops ended his run. He cut the track a bit when he remounted—which so far has been pretty common tonight. Plessinger took the win, Savatgy took second, and about six days later Justin Starling crossed the line in third. Behind him Harrison, Justin Hill, Dylan Summerlin, Chance Blackburn, Hayden Mellross, and Brandan Leith rounded out the final transfer spots.
Seattle - 250SX West Heat 2
Full Results
450SX Heat One
Cooper Webb charged his way into a holeshot, but Marvin Muquin immediately started applying pressure and took the lead after a few turns. Webb tried to respond but crashed in the process. Behind Musquin, Malcolm Stewart and Tyler Bowers put on a brief battle, with Bowers taking over the spot. Broc Tickle would eventually catch him and displace him for second. The battle of the race was between Alexander Nagy and Carlen Gardner for the final transfer spot. The two were yo-yoing back and forth, but Nagy's run ended when he made a mistake and rode straight into a huge mound of mud, burying his bike up to the front fender. Gardner remained in a qualifying spot until the final lap when he made a mistake in the whoops, which allowed Justin Brayton to sneak by. Gardner put on a valiant effort to get the spot back, and it looked like he was going to make it happen but he ended up going down right before the final turn. Musquin took the win, followed by Tickle, Bowers, Stewart, Webb, Josh Hill, Cedric Soubeyras, Brayton, and Henry Miller.
Seattle - 450SX Heat 1
Full Results
450SX Heat Two
A tremendous beginning to the second 450SX heat. Blake Baggett and Jason Anderson shot out of the gate, with neither willing to back off. Anderson slid his way around the inside and the two battled down the ensuing rhythm lane. Anderson would take command, but went down in the whoops half a lap later. Somehow he was able to get back in second and immediately started challenging for the lead. Then he crashed again! That left the door open for Tomac to put a move on Baggett, which he did and started streaking away. Behind him things were chaotic. Baggett held down second but got stuck at the end of a rhythm lane, handing second to Chad Reed, but then Anderson plowed by him. Reed's bike started smoking pretty good at this point, and it looked like he backed off just a bit. Christian Craig experienced a bike problem and had to push his bike through the mud and off the track. Wilson crashed two turns before the finish line on the last lap and nearly got pushed out of qualifying. Tomac won by several miles, followed by Anderson, Reed, Baggett, Weston Peick, Austin Politelli, Wilson, Vince Friese, and Ben LaMay.
Seattle - 450SX Heat 2
Full Results
250SX LCQ
The Holeshot went to Adam Cianciarulo, while several bikes bounced off each other and went down in the first turn. Blake Wharton was one of them. Up front Cianciarulo kept pulling away and had built a huge lead within a few laps. He was able to avoid trouble and won by several months over Jess Pettis, Kyle Chisholm, and Kele Russell.
Seattle - 250SX West LCQ
Full Results
450SX LCQ
Benny Bloss took over the early lead in this one with Christian Craig a few seconds behind. After a couple laps Craig had caught up to Bloss and was applying light pressure. Bloss responded though and stretched it out on Craig just a bit. Behind them Nick Schmidt and Collin Jurin battled for third on the final lap. Carlen Gardner made a run on them in the final two turns but finished just short, less than half a second back of Jurin. Bloss, Craig, Schmidt and Jurin took the final transfer spots of the night.
Seattle - 450SX LCQ
Full Results
250SX Main Event
The holeshot goes to Plessinger by a nose over Chase Sexton and Joey Savatgy. McElrath started moving up early, going around Sexton and inheriting second when Savatgy went down. He had trouble getting going again too and remounted in near dead last. His teammate, Adam Cianciarulo, got a bad start and was running around tenth. He was moving up steadily, but with the main events being shortened due to the rain and torn up track, there was no way he could have caught Plessinger, who was flying. Plessinger rode great on an extremely tricky track and took the win by a huge margin. He celebrated his win by hopping off his bike and doing a huge belly flop in a big puddle. Bummer for McElrath, who went off the track while running second and coughed up a spot to Sexton, and later, Cianciarulo. Sexton, Cianciarulo, McElrath, and Justin Starling rounded out the top five. Nice job by Mitchell Oldenburg to take sixth after being out of action since Oakland.
Seattle - 250SX West Main Event
Full Results
Supercross 250SX West Standings - 2018
Full Standings
450SX Main Event
Marvin Musquin shot out of the gate to take the holeshot, but within a couple turns Jason Anderson had taken over the lead. Tomac followed suit shortly after, but he spun out and nearly went down, which allowed Musquin back into second. Tomac recovered, took the spot back from Musquin, and went after Anderson and slowly started chipping away at his lead. Then Anderson made a mistake and had came to a stop on top of a jump. That was the opening Tomac needed, and he used it to take command of the race. Anderson regrouped and started charging again, and at times he got so close to Tomac it looked like he was going to be able to challenge for the lead. But then Tomac would get another few seconds on Anderson, and in the end he had nine seconds on Anderson when he took the checkers.
Elsewhere guys were crashing all over the place, and it started on the first lap when Benny Bloss and Malcolm Stewart went down a few turns in. Josh Hill was running fourth early, but also ended up crashing. Chad Reed had a good race going, running fifth for a while, but his bike, which had been smoking almost the whole race, let go inches before the finish line in a huge cloud of smoke. Reed tried to push it over the line, absolutely igniting the crowd, but wasn't able to get it over the finish line jump. He apparently made it by the transponder wire though because he's currently credited with seventh, but we'll see if that stands. Tomac, Anderson, Musquin, Broc Tickle, and Cooper Webb rounded out the top five.
Seattle - 450SX Main Event
Full Results
Supercross 450SX Standings - 2018
Full Standings