Seattle, WA
Seattle
Monster Energy AMA Supercross Championship
Uncertainty. It's one of the things that has the potential to make racing so exciting, and whether it's in the moments before the gate drops or halfway through a main event, healthy doses of it always seem to make for more riveting action. And with plenty of rain coming down during the week before tonight's race, and for most of the afternoon, the uncertainty that comes with a mud race hung in the air all day. Would the mud work against the respective points leaders? Would it help create a big shakeup in the points, or would it be business as usual? Let's dive into this weekend's Saturday Night Live and find out.
In the 450SX Class, the rain and slop didn't end up having an adverse effect on Championship leader Jason Anderson, who seemed to handle the extreme slop just fine. Yes, he did go down multiple times in his heat race, something he would later attribute to pushing too hard, but even after all that he still took second. And in the main he put himself in a position to win by taking over the lead almost immediately. A mistake later in the race allowed a charging Eli Tomac to catch and pass him, but Anderson still finished on the box in second. In a year that's presented all kinds of treachery and woe to the competition, Anderson yet again held strong, giving up a mere three points to Tomac. Anderson didn't win the race, but walking from a race in second that had the potential to cost him major points is a victory for his title hopes, which, thanks to a 37-point lead over Marvin Musquin with four rounds remaining, are looking pretty bright right now.
The same cannot be said for Tomac, who sits in a distant third, but winning a race where anything could have happened is reason for the Monster Energy Kawasaki rider to feel good. When asked if he was concerned with preserving his bike on a night in which multiple riders had engines let go, Tomac said it was indeed on his mind. "In my head, it was preserving the cluth. They cut the main down to just twelve minutes and it was like, 'What the heck?' But when you actually go out there and do it, it made sense. It probably would have been a graveyard out there if it was a full twenty minutes. It was just, save the clutch and motor tonight."
Third-place finisher Marvin Musquin said he was actually expecting more rain, but was quick to point out it probably wouldn't have changed much if it did. "It was already really muddy. We're so used to racing in dry conditions in supercross, but last year it was raining also. That's what you expect when you come here."
Elsewhere several riders put in great rides to log their best finishes of the season. Broc Tickle was fourth, Tyler Bowers was sixth, and Chad Reed earned seventh. Reed's finish was especially hard-fought. His bike started smoking early in the 450SX main event, and as he was finishing the final lap it really started to come apart. It got even worse in the final turn, and Reed was unable to make it over the finish line jump. Amidst a cloud of smoke that was so thick you could barely even see him, Reed attempted to push his bike across the line, which drew huge cheers from the crowd. He couldn't quite make it over the finish line jump, but his transponder must have crossed the line and he was indeed credited with finishing the race.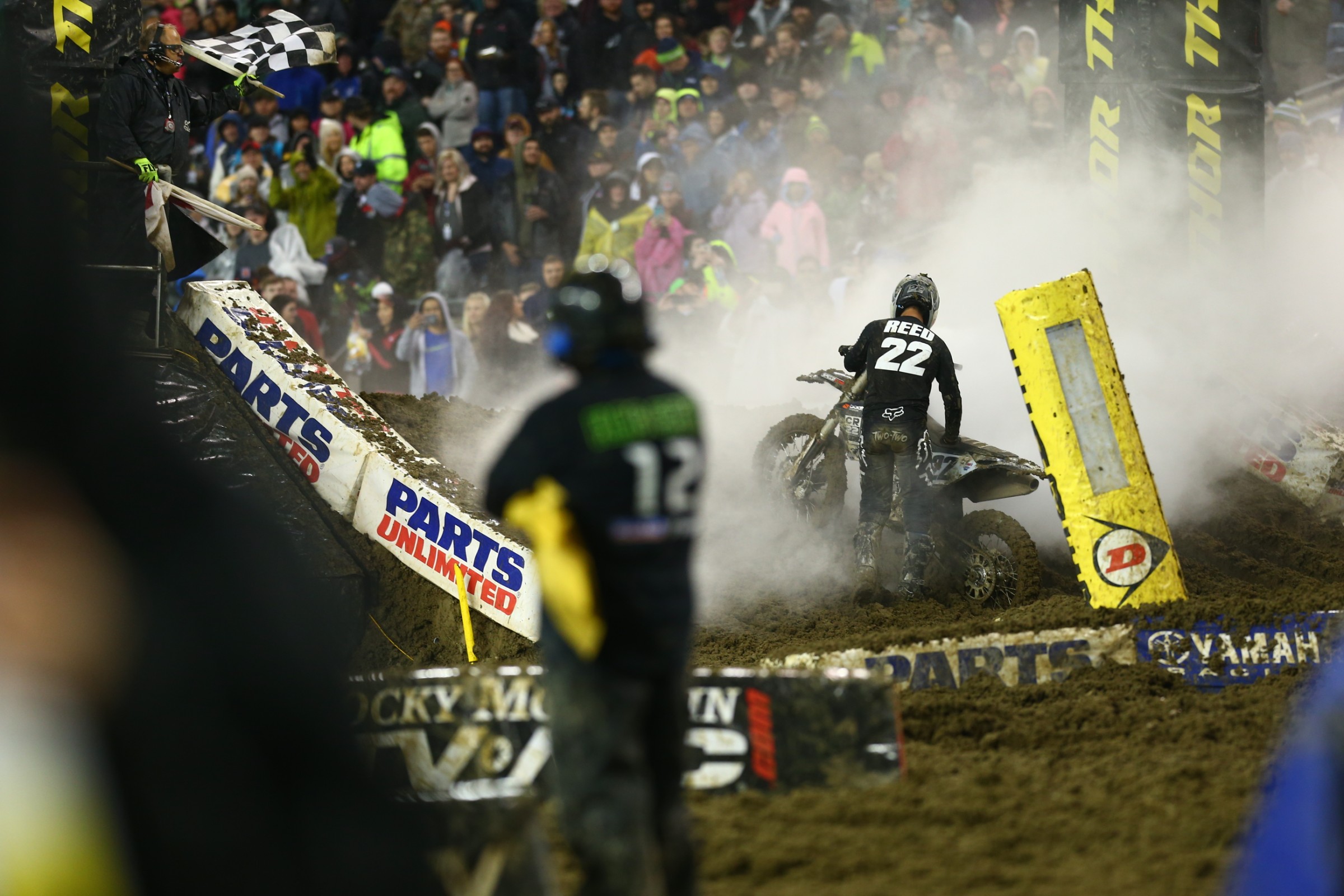 Josh Hill's return to racing didn't end up great, he finished twenty-first, but that doesn't tell the whole story. He didn't look bad, and at one point he was even sitting in a solid fourth place before going down. It would have been interesting to see how he would have faired if things had stayed dry.
Cedric Soubeyras ended up thirteenth, but the real story of his night took place before the first gate even dropped. Due to a disagreement stemming from fire regulations governing the indoor pits (rigs were not allowed to be holding more than a certain amount of fuel in their tanks), his team left while Soubeyras was still in an airplane on his way to Seattle. When he arrived, he learned he had no ride for the weekend; not even any gear! Word got out and the HEP Motorsports team sprung into action, putting together a machine for Soubeyras. With a little help from Auto Trader/Yoshimura/Suzuki Factory racing in the form of a subframe and throttle body, Soubeyras' weekend was saved. Kudos to all involved for rescuing what otherwise surely would have been a huge disappointment.
Supercross
| | Rider | Time | Interval | Best Lap | Hometown | Bike |
| --- | --- | --- | --- | --- | --- | --- |
| 1 | Eli Tomac | 1:13.763 | 11 Laps | | Cortez, CO | Kawasaki KX450F |
| 2 | Jason Anderson | 1:13.266 | +09.337 | | Edgewood, NM | Husqvarna FC 450 |
| 3 | Marvin Musquin | 1:17.928 | +39.303 | | La Reole | KTM 450 SX-F |
| 4 | Broc Tickle | 1:18.877 | +1:04.541 | | Holly, MI | KTM 450 SX-F |
| 5 | Cooper Webb | 1:20.925 | +1:13.687 | | Newport, NC | Yamaha YZ450F |
Full Results
In the 250 ranks, the treacherous conditions did indeed end up causing a minor shakeup in the points, but not in a championship altering manner. At least not for Aaron Plessinger anyway. The Monster Energy/Yamalube/Star/Yamaha rider has always been great in nasty conditions and Seattle was no different. Plessinger took over the lead immediately and never looked back, beating second-place Chase Sexton by over half a minute in just eight laps (races were shortened due to the weather and conditions). The trouncing was so intense that afterward Sexton joked that had the race been longer, Plessinger probably would have lapped everyone. To celebrate his win, Plessinger parked his bike and belly flopped into big nearby puddle, much to the delight of the crowd. Plessinger now has a seventeen-point lead over Adam Cianciarulo in second with just two 250SX West rounds remaining.
Joey Savatgy came into the night second in points, but he's now third and way back after having a dreadful night. He was running second early but crashed, took a while to get going again, and ended up twelfth. Mathematically he's still in it, but his title hopes were dealt a near fatal blow tonight.
Cianciarulo, who had to race an LCQ after frying his clutch in his heat, also saw his title hopes take a hit after finishing two spots behind Plessinger. Afterward he said he wasn't trying to play it safe, and that he didn't have a whole lot to lose. "Twelve points coming in, it puts me in a position where I'm not worried about it. I'm going out there doing the absolute best I can. I have to beat Aaron [Plessinger] and make up points whenever I can. I just have to move forward and make something happen and preferably not finish in third, which is what I did."
Supercross
| | Rider | Time | Interval | Best Lap | Hometown | Bike |
| --- | --- | --- | --- | --- | --- | --- |
| 1 | Aaron Plessinger | 1:15.928 | 8 Laps | | Hamilton, OH | Yamaha YZ250F |
| 2 | Chase Sexton | 1:20.364 | +33.021 | | La Moille, IL | Honda CRF250R |
| 3 | Adam Cianciarulo | 1:18.203 | +42.955 | | Port Orange, FL | Kawasaki KX250F |
| 4 | Shane McElrath | 1:17.534 | +50.693 | | Canton, NC | KTM 250 SX-F |
| 5 | Justin Starling | 1:20.511 | +53.329 | | Deland, FL | Husqvarna FC 250 |
Full Results