St. Louis, MO
St. Louis
Monster Energy AMA Supercross Championship
"Survival series now, that's what it seems like. Survival supercross series." That was Blake Baggett to our Steve Matthes after the St. Louis main event. Baggett is dealing with a wrist/hand injury suffered in Atlanta. While he says he's just trying to survive the races, a racer's instinct always kicks in once he's on the track. He found himself behind Weston Peick on Saturday night in a battle for fifth, and he did not back off one bit. These two went at it!
"It was a good race, he was riding really well," Peick said to Matthes. "I started about tenth and passed a few guys. We're coming off riding with injuries and whatnot. He was on me, so I just rode my race. I had some faster sections and he has his faster sections. All night I felt comfortable. Track was good, dirt was good, it was a fun layout."
There was no practical reason for Baggett to attack Peick so hard. Considering the injury, a sixth or seventh would have been fine, but he poured his heart into the race and took chances, anyway. Any position is worth fighting for.
"I just pretty much didn't have the grip strength," Baggett said. "I think my hand came off three or four times."
Baggett pulled up behind Peick on lap four and shadowed him until lap 11, when Peick passed Broc Tickle. Baggett got Tickle on lap 13. On it raged through the 21st lap, with Baggett trying to find a way around. For several laps, it looked like a pass was inevitable, as Baggett applied relentless pressure. This time it was Peick showing the mettle—he never let Baggett through, despite seeing an orange fender on him in seemingly every corner.
On lap 22, Peick pulled away slightly, and then on lap 24 he pulled a full second on Blake. His final margin, for fifth place, was 3.9 seconds. It was only a battle for fifth, but they fought as if a main event win—heck, a championship—was on the line.
"Last week in Daytona, I got sick on Wednesday," Peick said. "You can't take anything you need because you would need a TUE [Therapeutic Use Exemption to pass a drug test]. You're just taking over-the-counter bull crap. Obviously, the crash in Atlanta really jacked up my shoulder and my heel. Tonight, it didn't bother me. I felt a lot better tonight. I'm still not 100 percent. I still have a sore heel, but I'm in the right direction and I'm not sick anymore."
Baggett says he's no longer riding during the week. Last week, in fact, we were scheduled to visit his El Chupacabra Ranch in Florida, but he was unavailable due to rehab stints.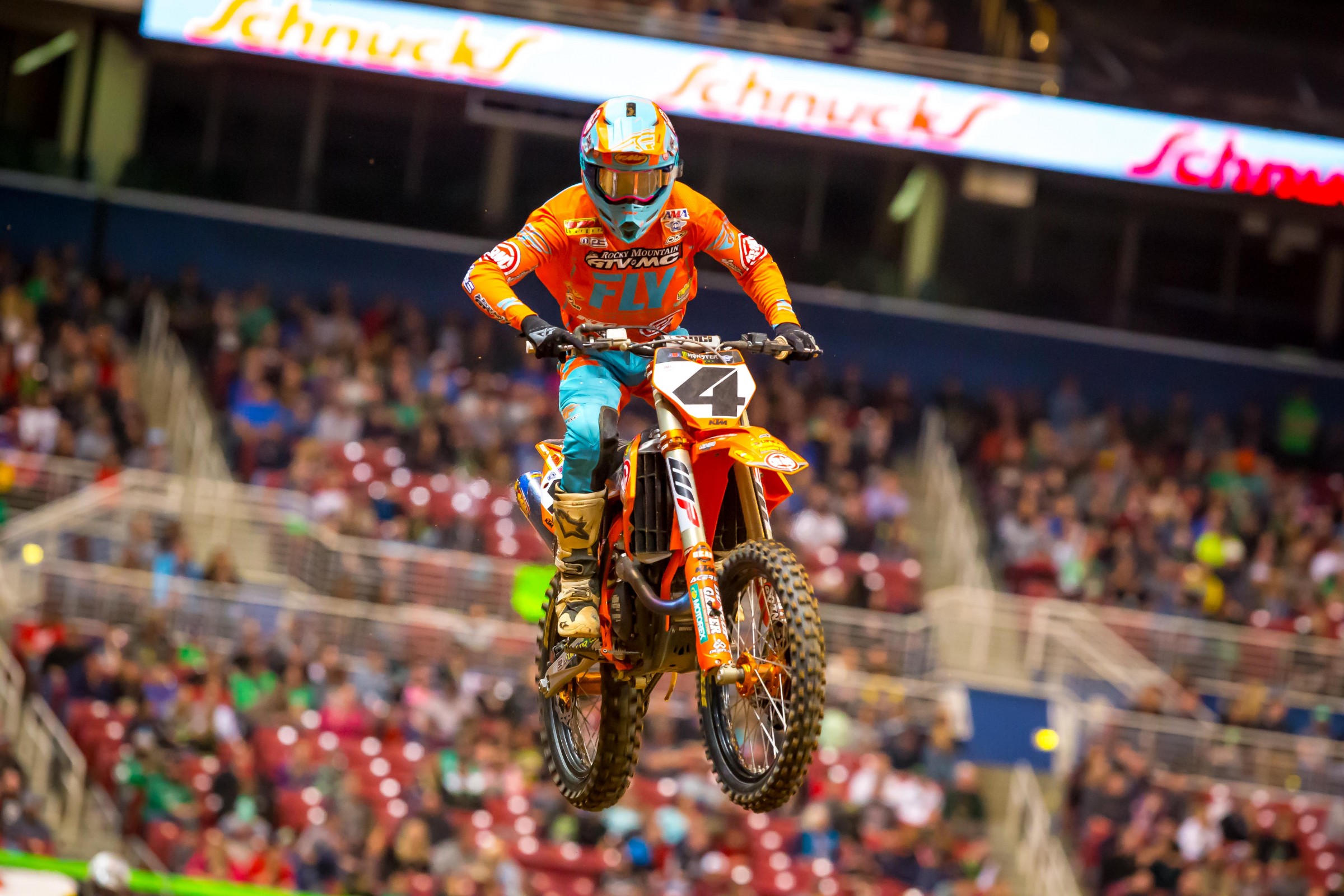 "Doing what I can—had that little mishap when everything was going good [in Atlanta]," he said. "Was able to rehab the wrist a little bit for Daytona but wasn't even near what I wanted to be. Haven't rode since Atlanta, so other than racing on the weekends, just trying to do what we can. When your hand is sore, you just have no strength. We're just going to try to get through next weekend, so hopefully that two-week break [will help]."
Yup, he's sore and he's ailing, and he says he's in survivor mode. That would indicate Baggett would just cruise around and log some laps. When he had the chance to pass someone and gain an extra position, though, he could only do one thing—go for it.
---
Check out Racer X Brand's new styles, like the Moto Mag Army Green T-shirt, the Gold Shield T-shirt, and new hats now available for purchase. Also, take free shipping on orders over $40 with coupon code FREESHIP.