Daytona International Speedway
Daytona

,

FL
Daytona
Monster Energy AMA Supercross Championship
Welcome to the Daytona Monster Energy Supercross. Some things change and some things stay the same here for the longest-running supercross race of all. This will be the 48th edition of the Daytona race, which actually started before supercross was even a thing. While the track and facility have changed immensely from the old days, as per tradition, this will still be the roughest and toughest race on the SX schedule.
Morning Report
Daytona adopts the now-normal 20-plus one and 15-plus one main event formats. Last year Daytona stuck with the old 20-lap/15-lap mains. Daytona is still very unique as far as the track is concerned. The layout is much different than last year, with the start in a new spot. Ricky Carmichael, who designed the layout, says his goal was to make the track busy and give it long lanes. Since the race is guaranteed to be 20 minutes no matter what, they no longer needed to build a layout to extend the lap times. Those lanes will have lots of obstacles, Blake Baggett commented yesterday that the jump faces are very, very steep—even steeper than most normal supercross tracks. That's probably a built-in compensation for when the track breaks down and the faces begin to round off. There is much more sand on the track this year, so there are now some jump faces made of sand rather than clay. Sand won't hold up as well, so these obstacles are going to change a lot throughout the race—this is a more old-school Daytona challenge. There are two wall jumps and a tricky double dragon's back heading to the finish. Carmichael says the back side of those wall jumps will get really get eaten up, and the rider who can handle those conditions best will have a big advantage.
After today's track walk, the common theme from the riders was how much more open this year's layout is compared to 2017. The lanes are way longer and a lot of the tight switchbacks are gone. The riders love this. Longer lanes give them more time to close on the rider in front of them before trying to make the move in a corner. Those old switchbacks usually just got one-lined on the inside, so hopefully this layout encourages more passing. The track direction is also flipped from what it normally.
We'll be here all day, so be sure to check back frequently. For even more updates, be sure to keep up with us on Twitter, Instagram, and Facebook. Posts are in chronological order, so for the latest news scroll to the bottom.
Untimed Practices
250A Untimed
They've changed the track a little bit from press day. They added a double after the second wall jump with a tight corner before the mechanic's area—before there was a direct line from the wall jump across the start straight. In that tight right with a quick left across the start straight Jordon Smith and Alex Rodriquez collided and Rodriquez went down pretty hard. It sat on the track for a minute before getting up and spending most of the rest of the session in the mechanic's area.
There are some options here in the rhythms in Daytona and the 250s took most of the session trying things out, mainly the long roller section after the mechanic's area and after the finish line. A few guys like Austin Forkner, Martin Davalos, and Zach Osborne were going 2-3-2 after the finish line, but tripling is tough. Guys really have to stretch it out on the 250 and many were casing hard into the face of the landing. It's tough because the lip of the triple is small and they're hauling from the long lane that extends from one end of the track to the other. On the last lap, while lingering in the pack of the pack Martin Davalos pulled a moved that no else had done so far; after the triple there is a step-on-step-off that Davalos quaded. We'll see if that line develops more by other riders later.
450A Untimed
After some line searching of their own in the first untimed practice, the 450s seem to have found the fast line through the roller rhythm section after the mechanic's area going 2-2-4-3-4.
Time Practices
Osborne pulled a quad in this session that only the 450s have been doing so far. There's a set of four different sized jumps in the far size of the track before the long whoops section. Alex Martin was fifth fastest, but he's appears to be riding with some extra spunk today. He did get second on a 450 here last year so he could be feeling it. Forkner was fastest by more than half a second. Three in a row tonight for him?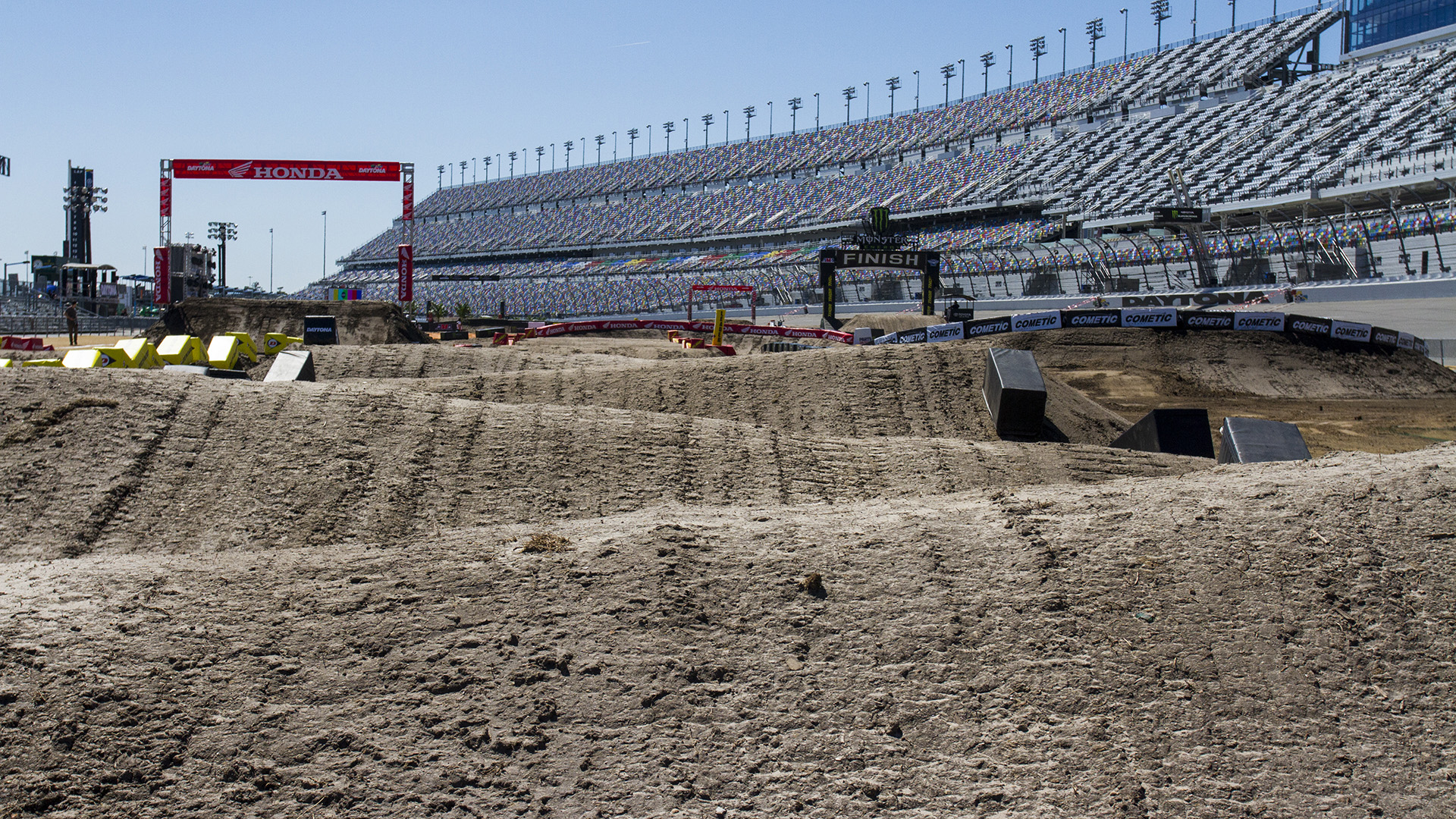 Daytona - 250SX East Group A Qualifying 1
Full Results
Daytona - 250SX East Group B Qualifying 1
Full Results
Daytona - 250SX East Group C Qualifying 1
Full Results
The 450s started exploring some different option in the long roller section after the mechanic's area. There's two tall lips in there that they were using to launch the two quads before that guys are now wheel tapping over or jumping over completely. Which one is faster, safer, and more consistent is yet to be determined. Brayton washed his front end in the corner entering the first sand section and it took him several kicks of his bike to get it going again—he doesn't run an electric start on his CRF450R. The team says its to save weight because they don't get all the trick titanium parts, but he likes the throttle response of the bike without the electric start. The next lap Benny Bloss went down in the corner at the end of the same sand section; he brushed it off. Before the finish there is a dragon's back to dragon's back. Marvin Musquin, Bloss, and Jason Anderson all were trying to clear the entire second dragon's back by jumping from the last whoop of the first dragon's back. No one was able to clear it cleanly without clipping the last one. Anderson was fastest in this session.
Daytona - 450SX Group A Qualifying 1
Full Results
Daytona - 450SX Group B Qualifying 1
Full Results
Daytona - 450SX Group C Qualifying 1
Full Results
Final Practices
Couple of corner crashes in this one with John Short and Michael Mosiman. Martin and Forkner were on rails the whole session and swapped spots at the top of the leader board several times with Forkner ultimately being fastest almost half a second over Martin at that. Forkner is your fastest overall 250 qualifier.
Daytona - 250SX East Group A Qualifying 2
Full Results
Daytona - 250SX East Group B Qualifying 2
Full Results
Daytona - 250SX East Group C Qualifying 2
Full Results
This year they're doing real gate drops at the beginning of practice to give the guys practice at those too. Malcolm Stewart took the holeshot and was going for it on the opening laps opening up a small lead. Musquin seemed to just be rolling around for most of this session, but laid down a heater on lap four that would put him at second fastest. Eli Tomac who's won here in Daytona two years in a row kept it rolling by qualifying fastest in the final session as well as overall. Let's see if Tomac can join the three in a row club at Daytona along Mike Kiedrowski, Jeff Stanton, and Ricky Carmichael.
Daytona - 450SX Group A Qualifying 2
Full Results
Daytona - 450SX Group B Qualifying 2
Full Results
Daytona - 450SX Group C Qualifying 2
Full Results
Combined Qualifying Times
Daytona - 250SX East Combined Qualifying
Full Results
Daytona - 450SX Combined Qualifying
Full Results
250 Heat 1
There was a collision in turn one and Jimmy Decotis went down. Michael Mosiman got the holeshot followed closely by his teammate Zach Osborne. It took Osborne about three quarters of a lap to get around Mosiman followed by RJ Hampshire. Osborne and Hampshire pulled away of the rest of the of the field with a five second gap between second and third on the beginning of the third lap. Then half a lap later Hampshire went down hard in the roller rhythm section after the mechanic's area. He appeared to be in serious pain and it took him two laps before he could even sit up. Shortly after that the race was red flagged. With less than one minute left on the clock it was over without a restart. Hampshire was taken off the track by the Alpinestars Mobile Medical Crew on a back board. He was holding his left upper leg when he first crashed. Osborne took the win followed by Mosiman and Luke Renzland.
Daytona - 250SX East Heat 1
Full Results
250 Heat 2
Jordon Smith took the holeshot in this one. Running about fifth Heath Harrison's front wheel locked up or something and he endo'd over the bars in the sand section and took Donny Brown with him into the Florida sand. The next lap Jacob Williamson went down in the corner after the same sand section. Smith started pulling away and then Davalos moved into second. Forkner who got a bad start had to come through the pack, but took about a lap to get around Brandon Hartranft. Forkner pulled the quad after the big triple that allowed him to get next to Hartranft and take the line in the next corner from the inside. Smith slowly pulled away from Davalos while Forkner was catching both of them running a second and a half faster lap than Smith out front. Forkner was the only rider in the 1:11 lap times with his best being 1:11:107 and Smith's 1:12:324.
Daytona - 250SX East Heat 2
Full Results
450 Heat 1
Justin Brayton and Musquin out front in this one followed by Vince Freise and Malcolm Stewart. A tough block was knocked in front of Jason Anderson on the first lap in the roller rhythm and he went over the bars. His bike was hung up on the tough block and by the time he got going again he was about half a lap down. Stewart got around Freise right before the finish on lap two. Brayton and Musquin pulled away from the rest of the field. Brayton admits he's not much a Daytona guy, but he could have fooled us he's riding good, again. Weston Peick moved into fourth behind his JGR teammate Stewart and then about two laps later Peick took the long way around Stewart on the outside of a corner. Meanwhile Anderson had to come through the pack and made his way to tenth with two laps to go. On the last lap in the first sand section Musquin went inside to make a move on Brayton for first and went down. Musquin had such a large gap over Peick in third he was able to get up and still finish second. On the last lap Anderson passed Ben Lamay and avoided having to go to the LCQ.
Daytona - 450SX Heat 1
Full Results
450 Heat 2
This was a wild one! Chad Reed got a great jump off the start, but went wide in the first turn and Cooper Webb who hugged the inside go the holeshot. Webb made a mistake on lap two in the sand and allowed Christian Craig and Eli Tomac to get close. Tomac was all over Craig and then Tomac scrubbed hard over the big triple and made it stick. Blake Baggett back in sixth was all over Reed and Dean Wilson. With a minute and a half to go Tomac pulled caught the back of Webb and started applying pressure. Tomac started getting creative with his lines going outside and inside in several corners. In the long rhythm Tomac pulled up next to Webb and Webb b-lined across the track and took away his line. Tomac had to hit the brakes and switched to the left of Webb over the finish Webb whipped the bike hard in Tomac's direction similar to how he did to Roczen at Anaheim 1. In the next corner Tomac went for the pass cutting under Webb and they both went down allowing Craig to jump from third to first. Webb stood on top of Tomac's bike while he picked up his own. On the same lap Bowers tried going by Reed in the whoops and went down hard, but the bear got up and kept going but ended up finishing one spot out of qualifying in tenth. Craig took the win in heat race two followed by Wilson and Baggett. Tomac had some words for Webb after the race and signaled his disapproval of Webb's cutting over with a waving hand motion.
Daytona - 450SX Heat 2
Full Results
250 LCQ
Logan Karnow had the jump, but went wide and blocked out everyone else allowing Richard Jackson to cut inside and take the holeshot. Jerry Robin was running second and on the second lap went down in the corner before the long whoops; he got up holding his wrist. Then shortly after Vann martin and Lane Staley came together in the corner before the mechanic's area and Staely DNF'd. Jackson pulled a 4.5 second lead over second with three minutes to go. Meanwhile there was a four-way battle for sixth between Western Wrozna, Travis Delnicki, Donny Brown, and Jeremy Hand all within about half a second of each. Jackson wins with a 12 second lead over Logan Karnow. Samuel Redman takes the final transfer spot to the main event.
Daytona - 250SX East LCQ
Full Results
450 LCQ
Bowers who missed qualifying out of the heat race with a crash got out front in the start of the LCQ. Ben Lamay who didn't get the best start made some moves early. Lamay was going for a pass on Tedder and hucked a quad he hadn't done all day; he came up short and nearly went over the bars. After things settled down it was Bowers followed by Carlen Gardner, Dakota Tedder and Lamay in qualifying positions. Ronnie Stewart was in fifth behind and close behind Lamay until he got cross rutted in front of the mechanic's area and went down ruining his hopes of the main in Daytona. Tedder made a mistake and nearly went down in the whoops allowing Lamay to get close again. With the presser back on Tedder picked it up and caught Gardner, but no passes were made. Bowers won with nearly a ten second lead. With such a short time between heat 2 and the LCQ Kawasaki didn't have time to fix Bower's bent up bike from his heat race crash so he raced it in it's bent form. Right after the LCQ ended, the team took bike straight back to the pits so they could get it ready for the main while Bowers did his podium interviews.
Daytona - 450SX LCQ
Full Results
250 Main
Jordon Smith got the holeshot in the main followed by Jeremy Martin and Sean Cantrell. Osborne got a horrible start and was 15th on lap one. Mosiman went down hard right before the finish on the opening lap and would not return. Forkner who got a good start made quick moves and was fourth up to fourth by lap two. Then at the end of lap two, right after the Alpinestars Medial crew got Mosiman's bike off the track, in the exact same spot before the finish, Jimmy Decotis went down and was out.
With 10:30 to go Osborne made his way to 8th. Then Nick Gaines went down. Gaines sat on a tough block for about a quarter of a lap before having to cross the track to retrieve his bike. Lane Shaw pulled into the mechanic's area and was banging on his brake lever. Smith had a two second gap over Martin for the first ten minutes of the race with Forkner another half a second behind him and neither were making up any time on Smith out front. Meanwhile, Osborne was coming through the pack and fast. Lots of lappers with five minutes to go with the leaders having to thread the needle through them. In classic Osborne fashion, he was absolutely going for it, making mistakes, and blowing through everything. Osborne made it up to fourth with 5 minutes to go and four seconds behind Forkner and was gaining time on him. On the last lap there was less than a second between Smith and Martin. Martin made a mistake in the whoops and allowed Smith to pull away slightly. Smith was able to hang onto it and won his first Daytona supercross. Martin finished second followed by Forkner for third and Osborne for second. Forkner and Osborne will share the red plate next week with Forkner making up the two points on Osborne tonight.
Daytona - 250SX East Main Event
Full Results
450 Main
A bunch of Hondas with the start with Craig taking the holeshot followed by Brayton and Freise. On the first lap Tomac went down in the corner before the long rhythm and was dead last. On lap two Musquin stood up Craig in a corner and was really nice about it. Anderson who got a terrible start tangled with Freise and went down in the corner before the mechanic's area.
With 17:02 to go Anderson and Tomac were next to each other back in 12th and 13th. Anderson got by Tomac before the long rhythm before Tomac scrubbed past him over the finish. At the end of the lap Musquin passed Brayton for the lead with another very nice pass.
A couple laps later Musquin completely missed the corner and blew over the tough block and into the mechanic's area. He got up quickly in fourth. Less than half a lap later Musquin stuffed his front end in the soft sand in the corner after the finish and went down again—he got up in front of Tomac and Tomac quickly got by.
With 12 minutes to go Brayton nearly had a three second lead over Craig while Webb got by Peick for third. Tomac was coming through the pack and got by Wilson for fifth with 10 minutes to go and was logging 1:13 minute last while most were running 1:14s (13 seconds down from Brayton). With 7:20 to go Craig logged a 1:16 allowing Webb to close the gap. Tomac blew by Peick for fourth while Anderson was still still back in tenth. With 5:30 to go Webb pulled up behind Craig while Tomac was still making a charge of his own. On the same lap Webb made the pass after the wall jump after the whoops. Half a lap later Tomac got by Craig as well—Tomac was 1.2 seconds behind Webb as he ran his fastest lap of the night. With 2:15 to go Tomac pulled up next to Webb over the big triple and had the inside. Stewart was down in that same corner, but both got by cleaning and Tomac pulled away from Webb. Tomac was making up about two seconds a lap on Brayton with 41 seconds to go he was 3.64 seconds behind and charging. Back in ninth Anderson got by Baggett. Tomac ran out of time, and Brayton wins his first ever supercross at 33 years old!
Daytona - 450SX Main Event
Full Results