Atlanta, GA
Atlanta
Monster Energy AMA Supercross Championship
Yeah, Atlanta! One of the more popular rounds of the Monster Energy AMA Supercross. This year saw the A-T-L become a tad more interesting than usual with round two of the Triple Crown series and a brand-new stadium.
Of course, this is all speculation. I didn't talk to anyone IN Atlanta because I didn't go to Atlanta. Hey, man, I'm going to Daytona so cut me some slack. If you want to see coverage from a different look, including a bunch of interviews with riders who didn't ride past 5 p.m., go check out PulpMX.com for Kris Keefer's stuff. On the other hand, I was just like you schmucks and had to watch it on TV.
Here I present to you my TV viewing experience from Saturday night….
Hey, there's Ralph Sheheen and Jeff Emig introducing us to the new stadium and setting the stage for tonight's race. Ralph's great; he loves supercross but I guarantee you he'd be just as happy if a Whitesnake concert suddenly busted out at this stadium. That's how he rolls.
A graphic pops up on the screen with the injured riders and Ken Roczen, Cole Seely, Justin Barcia, Justin Bogle, and Jake Weimer make the cut. I suppose they didn't have enough room for an Alex Ray, but we're still lighting that candle, A-Ray! Ralph says the word is that these riders might be back by the end of the year or "certainly [once] the outdoor season gets underway." You want an example of the change in upper management of the folks in charge of SX? It's right there. Two years ago, Ralph would've been hit with a cattle prod as soon as he said "outdoor season." Now, it's cool.
Quick cut to Jenny Taft talking to Justin Hill, who was the surprise of Tampa on the 450. Taft's great; she's married to an ex-NHL'er and loves hockey. She's rad in my books. Also, as we've seen with other pit reporters, she's so good that Fox is using her in, uhhh, real sports that get actual ratings. Won't be long until she's gone, but until then, Jenny Taft rules.
Oh, hey, Hill might be the first rider to be interviewed on camera at a supercross wearing O'Neal gear since Mike LaRocco. Congrats, O'Neal. Yes, I know Tim Ferry wore O'Neal after Mike, but he wasn't getting interviewed in the Stew/Reed/RC days, bro.
We've got the GoPro helmet cam with Sean Cantrell and the Yamaha animated arrow to finish off the track map. After that, Ricky Carmichael is onscreen talking about the Georgia red clay and how much it changes. He promises the racing will be great, and it should be—the Triple Crown is pretty much triple the fun of a regular format supercross.
COMMERCIAL: The GEICO Manatee commercial where they're all wearing different t-shirts is great, BTW.
Before the first main, we see the Discount Tire rookie update where they focus on Sean Cantrell and the #114 who rides for CycleTrader.com/Rock River Yamaha is featured. I can't say that rider's name, as all he had to do in Tampa was ride around the last turn to get into the main, but he crashed. (Yes, this is all fantasy SX-related.)
Oh, hey, the first mains are two minutes longer than they were at Anaheim 2. This is a good thing. We couldn't seem to make a change in the sport from 1986-2016, but now we can alter a main event six races later. Sweet! I love the new era of SX.
Weston Peick's girlfriend is the Monster girl holding the board up, and I always wondered about sitting on the line looking at your chick doing this. Like, are you tracking her when it goes sideways to make sure no one runs her over? Are you looking at her and thinking about how she never replaces the toilet paper roll? How can you focus? I'll never understand that.
The gate drops for 250SX race one and it's… Martin Davalos! Of course it's Marty Davalos. In the first race of the night, it's always Marty Davalos in 250SX.
Lots of early race talk about Dylan Ferrandis, and he deserves it—the dude's been fast. Good race for third place going on here. The track's so mint right now for these dudes.
RC says something about confidence and feeling it. Emig asks RC if he saw Ferrandis triple out of the turn and Ricky says he didn't, but Fro astutely points it out.
Big scream from the crowd and the crew tracks down that… yup, Marty has gone down in typical Marty fashion. It's a very random and weird crash where he hooked up a rut and shot off into the middle of two lanes. Marty's gonna Marty, bro. The anvil is always there.
"Odd," Emig says about the crash, and I couldn't agree more. #MartysgonnaMarty
Carmichael says he loves the Triple Crown format, but there's a thousand percent chance that he would have HATED it when he was racing. That's okay, we know, Ricky. We know.
Two laps to go and who sets the fastest lap of the race? Yeah, the guy who was leading crashed over the bars and is back in eighth. Ladies and gentlemen, welcome to the Martin Davalos experience!
Osborne takes the win, Ferrandis second, and Jordon Smith third. Osborne does a heel-clicker? Did I just see that?
COMMERCIAL: It's the new Suzuki RM-Z450, where Suzuki claims it's the winningest bike in AMA Motocross over the last ten years. This left me confused to the point where I texted Suzuki big boss Chris Wheeler and claimed BS. What about KTM with Dungey and Roczen? Anyway, he said it's true. There's Reed's title in '09, Dungey's title in 2010 and wins in 2011, Roczen's wins and title, and Alessi's wins. Even Brett Metcalfe and Justin Bogle helped push the RMArmy up there. I'm too lazy to do the math, but I guess he's right. I'd also like to state that I'm a member of RMArmy and love my 2018 RM-Z450. It's a badass bike. I'm just bummed it doesn't seem to have cured my arm/hand/general body pump I get when I ride.
We're back and Osborne is giving his interview. I never really noticed it, but there's absolutely zero room on Zacho's jersey for another logo.
Commercial, and then we're back with Taft interviewing Ryan Dungey. Anyone else feel it's weird Dungey seems to never be wearing any KTM stuff? I mean, maybe he has and I haven't seen it. Guess he's not doing anything with them, hence the Fox stuff. By the way, with the way things are going in this sport in the Brand Ambassadoring department, I look forward to Dungey signing as an ambassador with Honda in the next few years.
Emig correctly points out that Tomac's starts in the past have been erratic, but in 2018, he's been great. Gate drops and it's Christian Craig! Then Blake Baggett and some guy wearing #22 on a Husqvarna.
Smartop/Bullfrog Spas/MotoConcepts Honda's Justin Brayton moves into second. We've all talked about Brayton's ability to perhaps pull off a win in one of these Triple Crowns. Jason Anderson and Baggett are going at it; you have to admire how Anderson never seems to follow anyone.
Meanwhile, Craig is out front, and leading laps in his first 450SX of the year is so 2018 SX.
Cooper Webb goes down with Weston Peick. Broc Tickle, with nowhere to go, plows into Webb's bike.
Here comes Marvin Musquin, everyone!
Craig is seat-bouncing stuff while Brayton pulls closer. David Vuillemin would not be happy right now.
Craig, Brayton, Anderson, Baggett and Tomac are so close right now. CATCH THE TRIPLE CROWN EXCITEMENT!
Brayton gets Craig for the lead, and with the door open, the other three guys blow past Craig. Christian goes from leading to fifth in about three seconds. Welcome to the 450 Class, CC!
Anderson can't seem to nail the whoops and Tomac briefly gets into second before being forced wide and goes back to fourth. Musquin also gets Craig. Craig's head must be spinning right about now.
I like Jeff Emig, but sometimes he frustrates me because I know he knows more than he tells us. I've had conversations with him where he's really dropped knowledge on me. But on TV, we get a lot of "he's got confidence" and "he's feeling it, Ralph" and I'm not sure if that's because Jeff doesn't want to piss anyone off in the pits (it's not hard to do, trust me) or what. But lately, Fro has been feisty! In this sequence he sounds exasperated, asking why these riders aren't going inside after the finish every lap. Yeah, Jeff, get after it! He said some stuff similar to this in Dallas, too. Ralph cuts him off, but that's what I want from a multi-time champion—some opinions from someone who's been there. Maybe there's hope here.
Musquin gets Tomac, then ET slams him back. Musquin recalculates and gets the #3 back.
Last lap for Brayton and the #21 has pulled up a bit. But in the end, JB10 holds on for the win! What a race, by the way—all the top dogs right there, jam-packed together. Congrats to Brayton, MotoConcepts Racing, Bullfrog Spas, and Jason Weigandt on this accomplishment.
COMMERCIAL: Monster Energy is doing a better job in 2018 of showing us some different videos and things they do. Beats the hell out just showing us the same commercial over and over like in years past.
Brayton's very excited for his win on the podium, and just a note from an old-school moto fan: I think Scott Sports has done a good thing with bringing back the old logo on the straps.
COMMERCIAL: We're back with Toyota's Greatest Supercross moments, where we dig back into the archives. Of course they show 1990 Atlanta, which was epic. Then RC's debut in the eastern series in '97, then McGrath laying waste to everyone. And then in what is still amazing, Reed's takedown of James Stewart in Atlanta 2011. Listen to Ralph at the 16-second mark here.
"THEY'RE BOTH DOWN!!!!!! THEY'RE BOTH DOWN!!!!! WHERE'S VILLOPOTO???? HE'S BY!!!! WHERE'S DUNGEY????" Absolutely bananas of a clip. God bless Ralph, he's losing his mind (and should be). Oh, and one other thing: I miss the Stew and Reed years so, so, so, so, so, so much.
A paid segment by Kawasaki is next, where "The King" breaks down the first turn. MC does a good job of talking about all the different zones and what to do, but he really could've just said, "I was so good off the start that I won 65 of my 72 SX mains by being in the top three. Kids, practice your starts," then walk off screen.
COMMERCIAL: Another paid segment by Toyota highlighting women who ride. It's not one of my favorites, but it's better than last year's segment where they highlighted combat vets who were missing limbs getting into moto. Either way, thanks for the support of the sport, Toyota!
Back to the pits, where Juliana Daniell is covering what the riders and teams eat during the race day. She's interviewing Wil Hahn, and it's so weird to see Wilbur trying to act professional. Anyone who knows him would agree with me on this.
Next up is the cutaway RM-Z. The producers have been trying to go deeper into the mechanical aspect of the sport. Bike setup is very interesting, but unfortunately, they should have an ex-mechanic or team manager do this segment. Carmichael does it now, and even though he was probably awesome at testing behind the scenes, he usually doesn't go deep into the whats and whys of EFI, suspension setup, and more. One week RC explains footpegs to us, this week it was a seat.
Okay, race time!
The gate drops for 250SX main event number two and it's Pro Circuit Kawasaki guys one and two. Osborne goes for the lead, but Austin Forkner doesn't want anything to do with being blasted off the track and goes high. Osborne jacks up the rut and Forkner grabs the lead back.
There's so much intrigue with the Kawasaki guys and Osborne dating back to last year's moves by the Husqvarna rider, but we don't hear about any of it.
Oh man, Dylan Ferrandis clips a Tuff Block up the face of the triple and absolutely eats poop. Emig points out that it's been biting guys all day. Ralph asks him to explain it, they show a replay, and they're all pretty much speechless. And that's it—Ferrandis is done for the year with multiple injuries. Supercross sucks sometimes.
Forkner got his first win last week, got third in the first main, and is trying to hold off Osborne, who's ultra-aggressive. Wacko really attacks the track.
"CONTACT and there goes Osborne right off the bike!" Ralph screans as Zacho almost lands on Forkner. Well, that move is going to set off a shitstorm. Osborne faceplants into the berm and somehow gets up quick to rejoin the race. There's no doubt Forkner moved over, but why so far will forever remain a mystery. Like the grassy knoll, we don't know for sure.
They show a replay and Emig really plays it off as a racing incident. He doesn't really talk about Forkner moving over ("He moves over a little bit, not much") which is ironic in that if we polled 700 of Jeff's former competitors, 697 of them would tell you that Jeff moved over on them all the time. He should be an expert in this!
Ricky starts his analysis by talking about how Osborne was off-balance. I'm sitting here thinking, "Hmmm, that's NOT a take that I would think anyone would have right about now." But hey, he's the GOAT, man.
Ralph says Davalos is "one of the older riders in the 250 series," which is kind. Ralph says this is Davalos' 90th career start and Fro says that he's confident that "no one is ever going to match that," but no, Jeff, there's a man who has Marty covered. A New Jersey legend, some would say.
Later, Ralph actually mentions Carsten holding this all-time start record. BARRY GOT MENTIONED ON THE TV SHOW!
This is why I would never be allowed by anyone professional to be in a booth. I would absolutely start cracking jokes about Marty's "experience" in the class and then perhaps start yelling and screaming about the rules of this class.
Marty's gonna Marty, man. We told you this earlier, and what this means is that you take the good with the bad. What's going on now is a hell of a lot of good, as Marty takes the lead and the win.
Osborne's face is bleeding from smashing into the berm, and after the checkers, he's predictably not happy. He looks a tad crazed right now, like Cujo the dog from that movie. This isn't the lovable Wacko Zacho that I know at this point.
Davalos does his interview and in all seriousness, he's toughing it out right now. That first-turn crash in Arlington hurt his neck, and he's got a sore knee and other stuff going on. Marty's got to stay off the ground. This sentence could also be from 2008.
COMMERCIAL: Time to feed the Bassetts before they tear me limb from limb.
More Dungey and Taft talk. Ryan points out that Forkner lost his rear brake during that main event, and that's an astute "observation" by Dunge right there. Nice work!
450SX main event number two is almost ready, and Ralph loves, loves, loves saying "spider cam," in case you haven't noticed.
Gate drops and it's Baggett looking good for the holie, but this time it was scooped by Anderson. Webb runs second and keeps the heat on Anderson all the way to the end.
Peick is trying to hold off Musquin, and really, I'd like Weston's odds if he was trying to hold off Marvin in anything BUT a dirt bike race. They show Peick's practice crash that would've killed just about any other rider, but he just shook it off.
Tomac is doing a 3-3 that no one else is and therefore looks awesome, but somehow he can't seem to make any real progress forward. Same thing as last main as well. Weird. At least he's not the COW anymore.
RC talks about hay bales and Ralph immediately busts him. I like this. I feel like I would also love to crack on anyone who makes a mistake if I was up there, also. I mean… hay bales?
Oh boy, Hill endoes hard over a triple. Sucks for him because he was so good last week. The lesson is, as always, 450SX is hard. We don't need any more injuries, including to part-time 450 dudes.
Webb makes a great run at the leader, but Anderson holds him off by the closest margin.
Anderson wins and he's looking SO good for this title. Webb's starting to heat up, everyone. Watch out for the #2.
Anderson gives his podium speech and I wonder how hard he's gotta work on chicks outside of the sport to convince them that he's a multi-millionaire elite athlete. There's zero chance they initially buy his story, right?
Ralph moves on to the presentation of the 30-second board used last week to Reed, when he set the record for most 450SX mains ever. What do you think Mike LaRocco, the guy who used to have the record, has? Maybe his dad's crusty signal area pass?
COMMERCIAL
Quick recap of the KJSC race, and…..
COMMERCIAL
A Blake Baggett feature is lined up, and from what I've heard, his place down in Florida is pretty unreal. Anyway, they talk about how Blake got his nickname "Chupacabra," and he tells a story about how his visor was backward and he looked like the mythical creature and "they" started calling him that. Well, that's cute, but how this nickname really got started was by daring Weigandt to squeeze in a weird word into his NBC Lucas Oil Pro Motocross broadcast. Ping suggested "Chupacabra," which is a made-up creature in Mexico that sucks the blood out of goats. Well, Weege worked it in while talking about Baggett's charge from the back. [Editor's Note: Didn't even say it at the race where the visor was backward. —Weege] This was Weege was at his genius best, and somehow, the entire Baggett family was very excited about being called a Mexican goat bloodsucker and they ran with it. And it stuck. Just so you all know.
Ralph and Jeff set up the final main events, and there's a close up of the whoops that are absolutely hammered. Really gives the fans an idea of how bad it is out there. That's good stuff.
Osborne leads the pack by two points going into the last one. Emig mentions that he's impressed by Zach coming through after the face-plant into the berm, and I'd agree. They show a reply of the Ferrandis crash and Emig says, "I've done stuff like that before," and that's a phrase no one would like to be able to say.
Osborne is lined up with the two Monster Energy/Pro Circuit Kawasaki guys on each side of him. I'm sure that's just a coincidence. I'm not sure, but I think I see the finish line flagger grabbing the skull and crossbones flag for this final main.
And here we go! Gate drops and it's Jeremy Martin! Remember him? Davalos is second and Osborne is, like, seventh. This should be great. Jordon Smith is right there, also, and—WAIT!—Anthony Rodriguez falls at the top of the berm and Osborne runs right over him and tips over!
Somehow, Davalos is poised to win the overall at this point. Because of course he is.
J-Mart is channeling his inner-Millville MX skills out there and looks great. Maybe Jeremy just needs everyone to leave him alone to win at supercross?
Osborne's so far back. He's got zero chance at winning this.
What a story it'll be for Davalos to win this.
Annnnd Marty just went over the bars in the whoops. Marty's gonna Marty, bro. Oh well, there's always next year for that title.
Jordon Smith is now going to win. Osborne's out of this thing, although he's riding well in tenth. Ralph uses the term "bar-to-bar" as Forkner passes Kyle Peters. Somewhere out there, Art Eckman just put his cigar out on his chest.
Osborne makes a beautiful pass on Chris Blose. Somehow he only needs three dudes to win the overall. Huh?
And he just passed the #114, whose name we will not speak of. #FantasySXProblems
There are like seven guys who can win the overall at this point. Now tell me that the Triple Crown format sucks. Come at me, bro.
Hampshire is all over his buddy and former teammate Smith for third. He's riding better than Jordon and we're all waiting for the Smith of 2017 to show up this year.
Hampshire puts his buddy Smith on the ground with a classic SX block pass. It wasn't dirty, but it was dirty, you know? I would've liked to have seen RJ not keep going to the outside of the berm. Austin Forkner is now leading for the overall.
Osborne gets Peters and now HE'S going to win the overall. What a ride by the defending champion. Meanwhile, it's Martin and Nichols 1-2 by quite a margin in this third main.
Osborne's next guy is Forkner, but the race is winding down. I shudder to think what a guy nicknamed "Wacko" is going to do to a rider he thinks almost killed him on purpose in the last main event. That skull and crossbones flag is needed right now.
Osborne's going to win this! What a story. Ralph keeps saying that Brayton or Nichols "have never won" when it comes to main events, although this doesn't count as one. Not officially, anyway. I'm not bagging on Ralph because I get it; what should he say, though? It's so confusing; almost like that time the 450 riders raced the "supercross" class at "the Supercross."
Forkner goes around Hampshire, but no one tells us it's for the overall. Martin wins, they show Forkner in third, but nothing is said. Then they show Osborne going over the finish line and say, "That's going to give Forkner the win." Yeah, more confusion for sure. They were SO on the overall for three-fourths of the race, but then when we, the viewers, needed it, we got crickets. Anyway, great race for Forkner and Osborne. Martin would have to be stoked on his ride, also.
Forkner looks stoked to be talking to Jenny. Anyone who follows him on social media probably knows what's on his mind right now. Osborne looks pissed, and he says he's bummed to lose the overall and it was a tough night for him. He doesn't apologize to A-Rod for, you know, RUNNING HIM OVER.
COMMERCIAL
Ralph comes back and tells us that Vince Friese has been disqualified for using a backup bike. I have so many questions right now, it's crazy.
450SX main number three! Anderson's in the lead for the overall and Emig says he has to stay aggressive. I don't think that's ever an issue for the #21.
Baggett is right there again, but can't officially get the holeshot. Craig does again. Is this a repeat of main number one? Anderson moves Musquin out of the way and Marv decides he's had enough and grabs the spot back.
An overhead shows Mike Bisceglia and Tickle's bikes getting pushed off. Not sure what's happened, but Broc Tickle has had a terrible night. Then Broc decides it's safer for his health if he just calls it a night.
Oh no, Baggett! Big crash for him on a big rhythm section. He plows into a jump front wheel down. We can't lose any more riders here, bro.
Webb with another good ride is lurking behind Anderson and Tomac is right there. Eli's quadding and tripling all over the place, but just can't get by dudes.
Marvin gets Christian for the lead and it's lights out for everyone else because Marv is checking out.
They show Marv's mechanic Frankie Latham, and props to Frankie for spelling "technique" right. I go a long way back with Frankie, like when he was working for Tyler Evans and sleeping in pickup trucks. He's a good dude.
Anderson sneaks by Craig and then Tomac does the same thing. It IS just like main event number one! You can't tell if Craig has given up or is trying when he's racing. He's so, so, so smooth.
Tomac is so, so, so, so fast.
Tomac just about dies! He flies sideways in a rhythm section and somehow saves it. He for sure has to throw away his pants after this race. That could've been bad.
Tomac passes Anderson! Absolutely NFG for the #3. He recovers from his near-death experience and gets the points leader, although somehow I think #21 knows he's got this thing in the bag.
Case in point, Webb gets him and Anderson looks back. He sees Craig and probably thinks, "Yeah, that's the limit. I got that guy handled."
Hey look, it's Brayton! We hadn't seen him much since the win in the first main.
Why is Chad Reed wearing light blue boots with black and yellow gear? That is NOT LIT KIT approved. He is having his best race of the year, though, so there's that.
Poor Ben LaMay. Every time they've shown him tonight, he's been rolling around while being lapped.
Final lap and Anderson's got this on lock, although Marv will win this final moto. By the way, six different winners in six mains tonight. Triple Crown rules!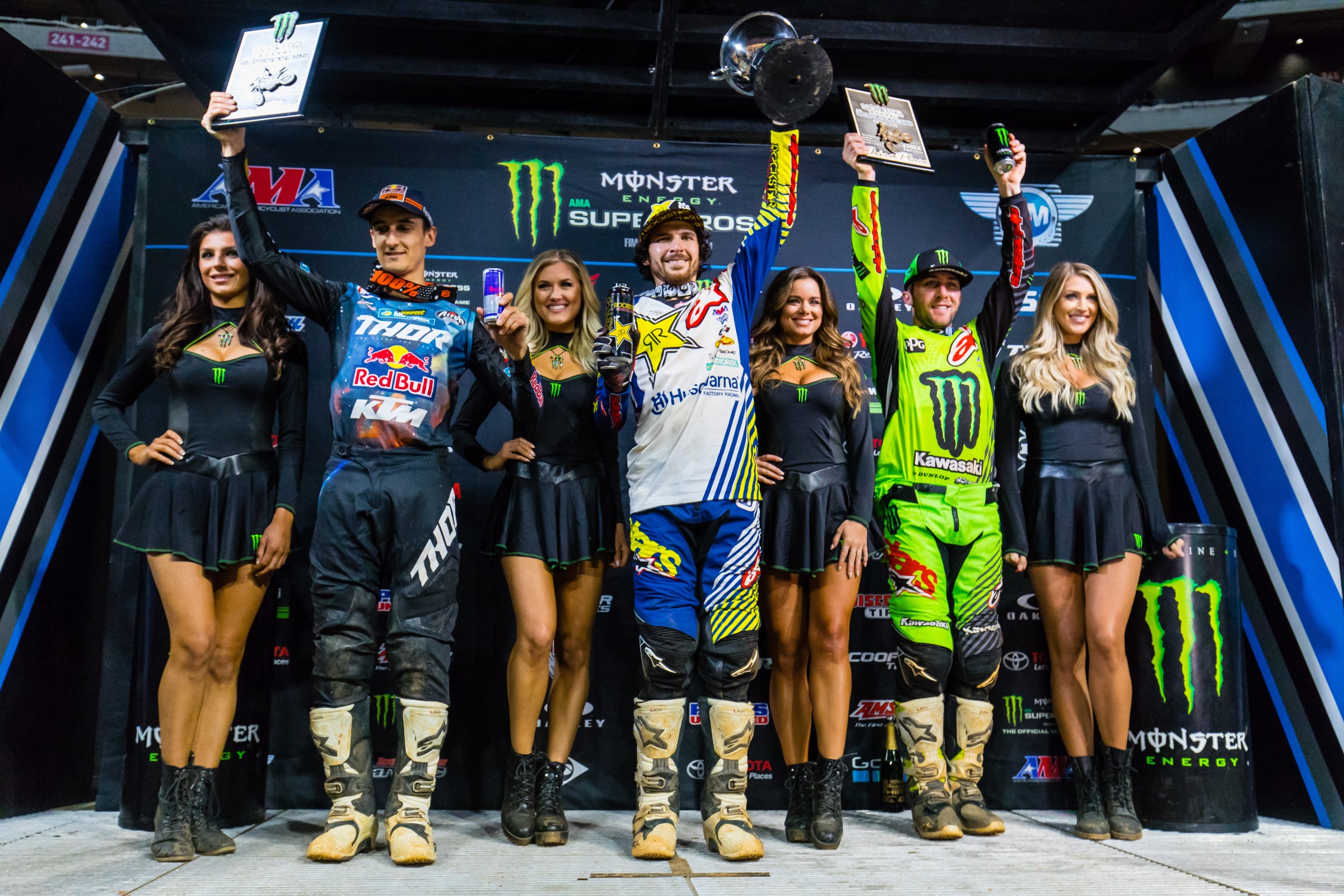 Musquin wins! Ralph seems a little more excited than usual, probably because he just realized he can still make last call at the Ugly Kid Joe concert down the street. Emig says that Anderson looks tired, and he's right. But then again, I'd be in full cardiac arrest by now.
Once Taft finishes her interview, it's time for a COMMERCIAL.
Ralph and Jeff come back to overview the overalls for the night. Musquin tells Jenny that he's been working hard with his team during the week and the weekend, and he thanks the team of cats on his jersey. I made one of those statements up.
What a fun time we had tonight, yeah? Thanks for reading. Email me at matthes@racerxonline.com if you want to chat about TV broadcasts, Triple Crowns, and anything else.