Atlanta, GA
Atlanta
Monster Energy AMA Supercross Championship
When it comes to racing, Kyle Cunningham is anything but green. The veteran has been around for over a decade, has ridden for a plethora of teams, and has overcome plenty of daunting issues, including multiple injuries, finding rides in rough times, and even racing in America for a team that went to Canada. But despite all his experience, he's still encountering new things, especially this year—his first as a full-time 450SX rider with H.E.P. Motorsports.
Racer X: How's the first year on the 450 going for you?
Kyle Cunningham: It's not bad so far. I've made all the mains but one. Obviously the goal is to better than that, the results aren't where I want them to be, but I've got a good group of guys behind me. I feel like I've been riding good, but everything just hasn't come together yet. The 450 has been a learning experience. All the guys in the class are going fast right now. Every week we learn a bit more and we try to implement what we learn to get better for the next race. There are a lot of races to go and we'll keep improving.
What's been the biggest unexpected challenge you've encountered so far?
Well, it was a new bike, and stepping up to the 450 Class, you know, it's a whole different game. It's a lot of horsepower underneath you. On the 250, even if we were a little bit off, I could still get away with it. Not with the 450. This year that's been part of the challenge. Plus, the main events, that's when the tracks are at their worst. We'll get a pretty good setting, but by the time the mains roll around, it might not be as good. It's hard to get comfortable sometimes when the tracks are at their worst. But we're trying to stay healthy and build every weekend.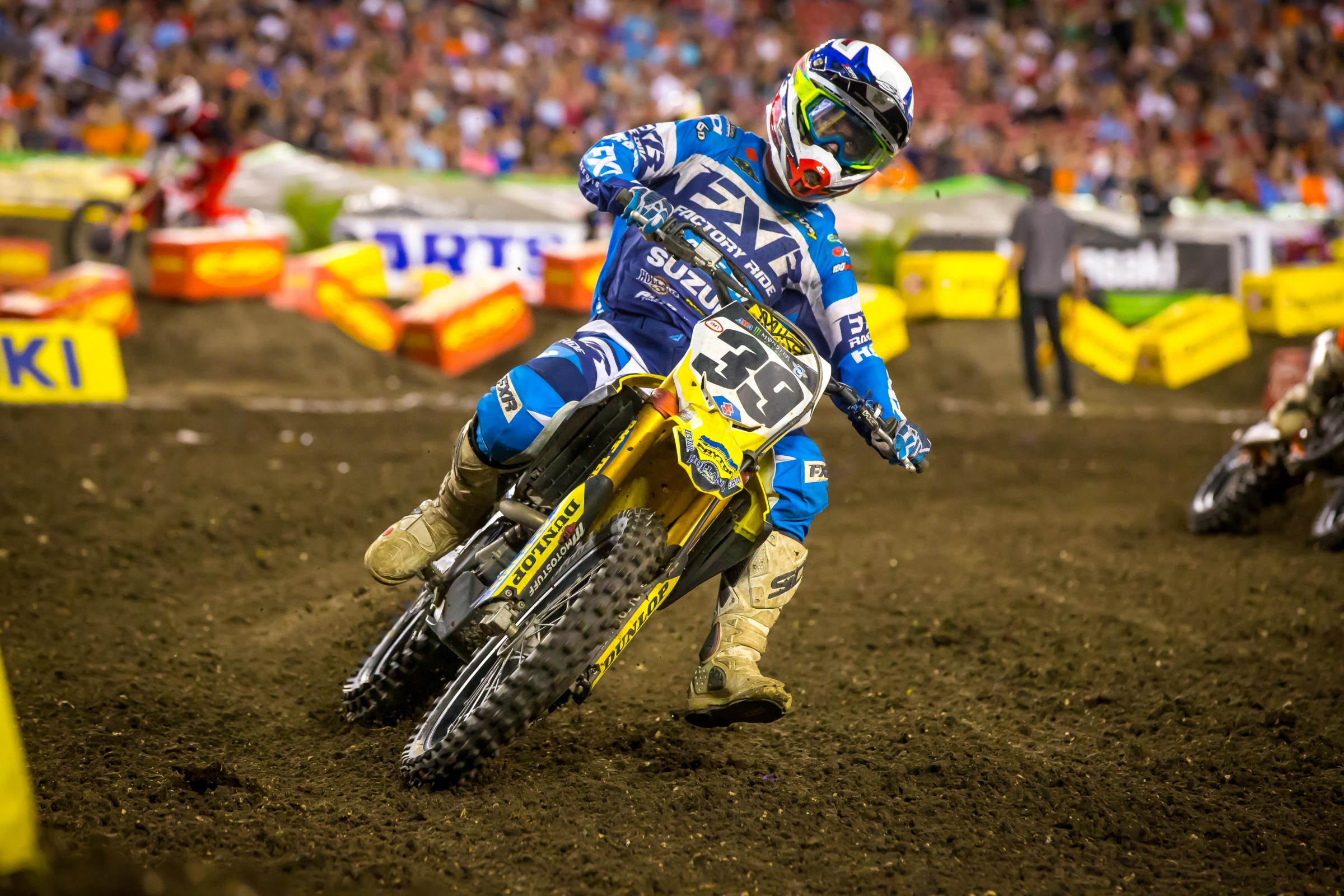 Has it been easier, harder, or about what you expected?
In this sport, no matter what, it's always going to be hard, whether it's a 450 or a 250. Every single dude on that line is putting in so much time, on and off the bike. It's crazy where the sport is at right now. I don't ever think anything is going to be easy. This year I have a great training program and have been training as hard, if not harder, than in the past. I feel good fitness-wise; it just hasn't come together. The last couple weeks it's been mistakes where I'm up and over the berm or laying in the dirt in the middle of the rhythm lane. Have to cut the mistakes out, but there's no shortcuts either. The team is great—it's new and we're getting better every weekend.
Some of these tracks haven't been the greatest for learning at the races.
They've definitely been difficult. Some of them have had big rhythms, like the ones the guys were doing last weekend, and some of them have just been choppy, rough, hardpacked, rutted, whatever. It's definitely been tough. We've had some bad weather on and off, especially before last weekend the weather was so bad here in Texas I didn't get to put any time in on the bike during the week. We're learning on the weekends and we're testing at the races somewhat, which makes it tough.
Well, you obviously should have stayed in Northern California like you were early in the season with the team. Everyone knows it's the best place on Earth. [Ed note: Hansel is from NorCal]
It's not bad up there. We had a good place up there with the shop and everything. But it's nice to be back home too. Just the weather. It doesn't matter how many bike rides you do, or hours you spend in the gym, nothing makes up for time on the bike.
All joking aside, talk about being in Northern California during the preseason and first part of the season. It's not like you were SoCal or anything, you were kind of out in the middle of nowhere.
It was different. It was good up there. Obviously we weren't down south riding public tracks with 500 other people at the same time. We had a shop up there with two tracks within 30 minutes, and one of them was two miles from the shop. I had everything I needed. I crashed and messed my shoulder up in the off-season, though, and it hasn't gone away. I couldn't even lift my arm above my head for a week and a half. I hurt it again when I crashed in Oakland too.
Yeah, I saw that crash and I was surprised when you actually got back in the race.
Yeah, the bike was stuck on top of me and it seemed like everyone was just kind of looking at me instead of helping me get it off! [Laughs] I felt perfectly fine, though, even when I got up I wasn't hurting. A couple days later though I realized it was something. That injury, originally, kept me from getting out to NorCal longer than I would have wanted. I would have liked to have gone in September, but I got there early in November. It was a good setup up there; it was awesome. It was more mellow there, around Madera, where we were. Everything I needed was within a 12-mile radius. Bike rides, the gym, tracks, the shop, it was all right there. I had fun staying up there.
The H.E.P. team, like you said, is new. Where'd they come from?
I met Aaron Pipes and Dusty Pipes (team co-owner) a few years ago when I was riding out of the TPJ (The Professional Journey) rig. I had a motor blow up at RedBud and they were kind enough to give me the motor out of their bike so I could race the second moto. Anyway, between them, George Holland, who used to race, and Billy Ezernack, they put this team together and they've done a great job. It's the first year, which everyone knows is the year when you're learning how to get up and running, but they've done a really good job. They're a great bunch of dudes, and even the people around them have helped a lot. They had a lot of friends help get the rig ready for the first round. There are so many people involved besides the main guys who have helped out when help was needed. It's been really good. Suzuki has helped a lot too, which was nice for me to be able to maintain my relationship with them. Everyone is super cool, and everyone is on the same page in wanting to constantly improve and keep getting better. That's important to me.