Atlanta, GA
Atlanta
Monster Energy AMA Supercross Championship
Rockstar Energy Husqvarna Factory Racing's Jason Anderson (2-1-4) started fourth in the first race, and after battling with Blake Baggett for third, he ended up second. Anderson and Baggett found each other again in the second main event, with Anderson taking the win. In the third race Anderson settled for fourth, but still captured the overall win. In a team statement Anderson said, "I was really able to pull through for the races. Practice didn't go as well as I had hoped, but I pulled through. I was consistent during the races—that's what helped the most. The whoops were sketchy, but I had enough of a cushion in the last main to not have to push it so hard and still come out with the overall."
"It was a great track; the dirt was amazing and they made it super technical. I had the fastest qualifying time in the afternoon, which is awesome, but my starts were not so good tonight," Red Bull KTM's Marvin Musquin (5-4-1) said in a team press release. "It's really frustrating when you know you have the speed and you're behind those guys. Luckily, I was able to regroup for the last moto and we put ourselves in a better position off the start, I was more outside and I was top three right away. I was really happy about my riding tonight except for the starts in the first two motos. It was great to put myself on the second overall, which is good considering my first two results of the night. I'm losing points on the championship [to Jason Anderson]—that is the bad point of today—but the riding is good."
Monster Energy Kawasaki's Eli Tomac (5-3-2) was in contention to win the final main, but a near crash cost him some time and he finished third overall in Atlanta. In a team statement he said, "These Triple Crown races are very intense and at times dangerous. So, to make it out of here healthy and on the box is a positive. We'll keep moving on to next weekend."
Smartop/Bullfrog Spas/MotoConcepts Honda's Justin Brayton (1-6-6) picked up his first main event win in the first race of the night. He didn't ride as well in the other two, and after the race admitted to Jason Weigandt, "Yeah, I was not good in that second main! [Laughs] After that win, my wife came down, some friends came down, everyone was so stoked and we were talking, and next thing you know, you're like, 'Oh, I've got to go down to do the next one.' You're still kind of sweating from the first one and you still want to enjoy it. My mindset really just wasn't prepared to go back out there and battle. I basically just kind of rode around and got sixth. But the last one I felt good. I didn't get a great start, but I came up on that lead pack, and at the end I came up on Christian [Craig] and Anderson was right there and Cooper [Webb] was right there. Felt good about the first and last one. Yeah, the middle one, I think I had a little bit of a win hangover for a few minutes."
Filling in for the sidelined Cole Seely and Ken Roczen from GEICO Honda, Christian Craig (6-7-5) hopped on the 450 this weekend and led laps in both the first and third main events after pulling holeshots in each. Craig trains and rides regularly with Seely, who was hurt last weekend in Tampa. Craig commented in a team press release, saying, "I hate to see anyone get hurt, especially someone so close to me. Cole is like a brother to me, and also someone I look up to, so it was such a bummer to see him get hurt. But it opened the door for me to ride in the 450 class and gave me an opportunity put in some better results than I had last year on the 450. I had a couple days on the bike and just came into it with an open mind. I didn't have any expectations except to be proud of myself and how I rode. I think that showed in how I performed. All day was solid. I had some decent qualifying and just went into the night show confident in myself. I've been working a lot on the mental side of things, so it's time to finally show it. I led a lot of laps tonight, both in the first and last motos. Being up front with those guys isn't something you can practice for; you have to just do it and learn from it. It was fun to ride with those top guys. I'm looking forward to next weekend in Daytona and am hoping to keep building off tonight. Fifth is a personal best for me, so I'm pretty happy with this, but on the other hand I'm hungry for more."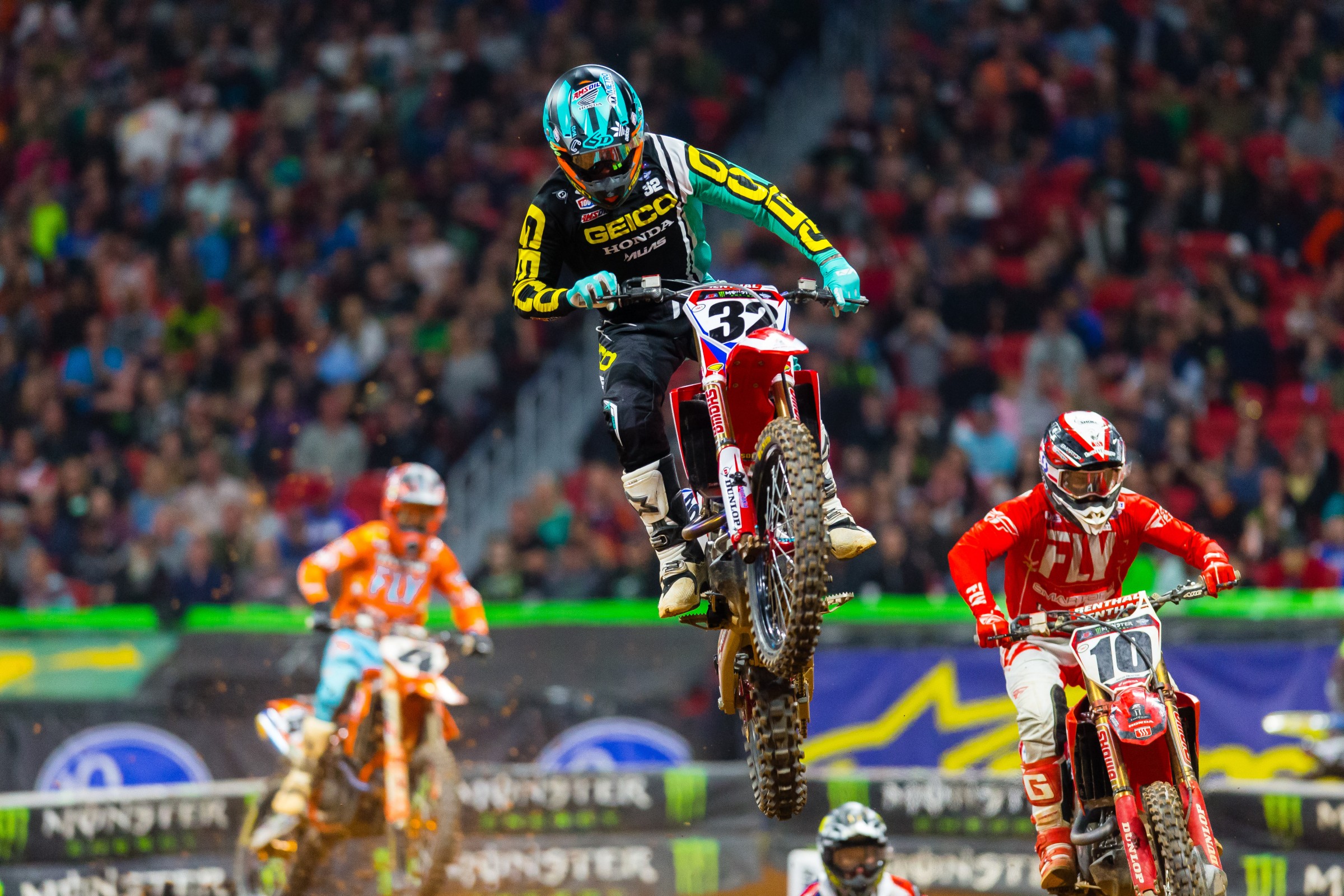 "The three-race format was definitely a bit hectic," Rockstar Energy Husqvarna Factory Racing's Dean Wilson (9-10-10) said in a team statement. "I kept getting in little pileups the first few laps, which set me back a bit. I'm going to focus on getting my starts dialed so I can run up front in the coming weeks. I'm excited for Daytona, and I hope to be in the top-five."
Autotrader.com/Yoshimura Suzuki's Malcolm Stewart (8-9-12) said in a team statement, "The day went reasonably well. I finished inside the top ten in the first two main events, but I struggled off the start in the last main. I had a few big mistakes. I regrouped and came away with ninth overall. I'm happy with that and going in the right direction. I have a few things to work on. Truth be told, I'm definitely not a fan of the Triple Crown at this race, and the stadium was tough. The track was tight, and there was a lot of carnage."
Autotrader.com/Yoshimura Suzuki's Weston Peick (19-8-7) had a huge crash in practice. In a team statement he said, "Atlanta was not a good race for me. I literally ejected off the face of the triple in practice. I don't know if I caught a Tuff Block with my foot or with my handlebars. My front end was ripped out of my hands. It was so fast that I don't know what happened. I landed on both feet and jacked up my left heel and right shoulder pretty badly. I pulled off early in the final practice session and forgot that it was the Triple Crown format, so I had to go to the LCQ. I won and got a bit of a flow. In the first main event I had a good start, but another rider crashed into me. I had two good starts in the final mains and finished inside the top ten. It was not the night we wanted, but after the crash I had in practice, I was happy to get out of the building in 12th overall."
"It was an up and down night for me, literally," 51Fifty Energy Drink Yamaha's Kyle Chisholm (13-11-13) said lightheartedly after the race. "I crashed in the first main on the first lap really hard. A rider didn't jump in front of me, so I swerved and landed on the Tuff Blocks and went straight over the bars into the next jump. In the third main, I was making some passes and just before lap two, my back tire missed the rut on a double and I high-sided really bad and got clipped by another bike. I ended up coming back to 13th both times with the bike being tweaked. Overall, I'm happy with my riding besides the crashes, and still looking for the top ten."
"We made some improvements this weekend," said Monster Energy Kawasaki's Tyler Bowers (10-17-11) in a team press release. "We're getting better and better with every week and I can't thank the team enough for all their support. I'm looking forward to Daytona."
"All around it was a tough night once racing started. Basically, out of three starts I had three crashes, so not a good night. Not sure what ladder I walked under this week as I feel like I just kept having bad luck with every race. It's definitely not how I wanted my Atlanta Supercross to go," Red Bull KTM's Broc Tickle (22-14-19) said in a team statement. "It's such a shame because I had a good week training and made some positive bike setup changes. I was really happy with how it all went this week, so definitely not the results I was expecting tonight."
Autotrader.com/Yoshimura Suzuki's Justin Hill (20-21-22) crashed while going for a triple out of the corner that caused him to jump through the bars and land into the face of the next jump on his feet. In a team statement he commented, "The day went well all of the way up to the first main event. I lost focus on the start and was caught up in a lot of garbage in the second rhythm section. A rider crashed in front of me and I got caught in the carnage. Then I went over the bars and my bike was tweaked up. I feel like I could have held the lead pace off because it wasn't that intense. In the second main, I had an outside gate choice, but I started working through the field. I was making a lot of time on the triple-triple section, because I don't think anyone else was doing it. Unfortunately, I cross-rutted off the face and it pulled the handlebars right out of my hands. I made the split-second decision to bail. It would have been really bad if I had tried to ride it out. I landed feet-first, and because there was another jump right after that, I couldn't land and fold up. I'm lucky in that I had great boots on that saved my ankles from serious damage. I'm happy overall because I rode well up to that point and showed good speed. I am excited for the future and to take the next step." You can read an update on Justin's condition here.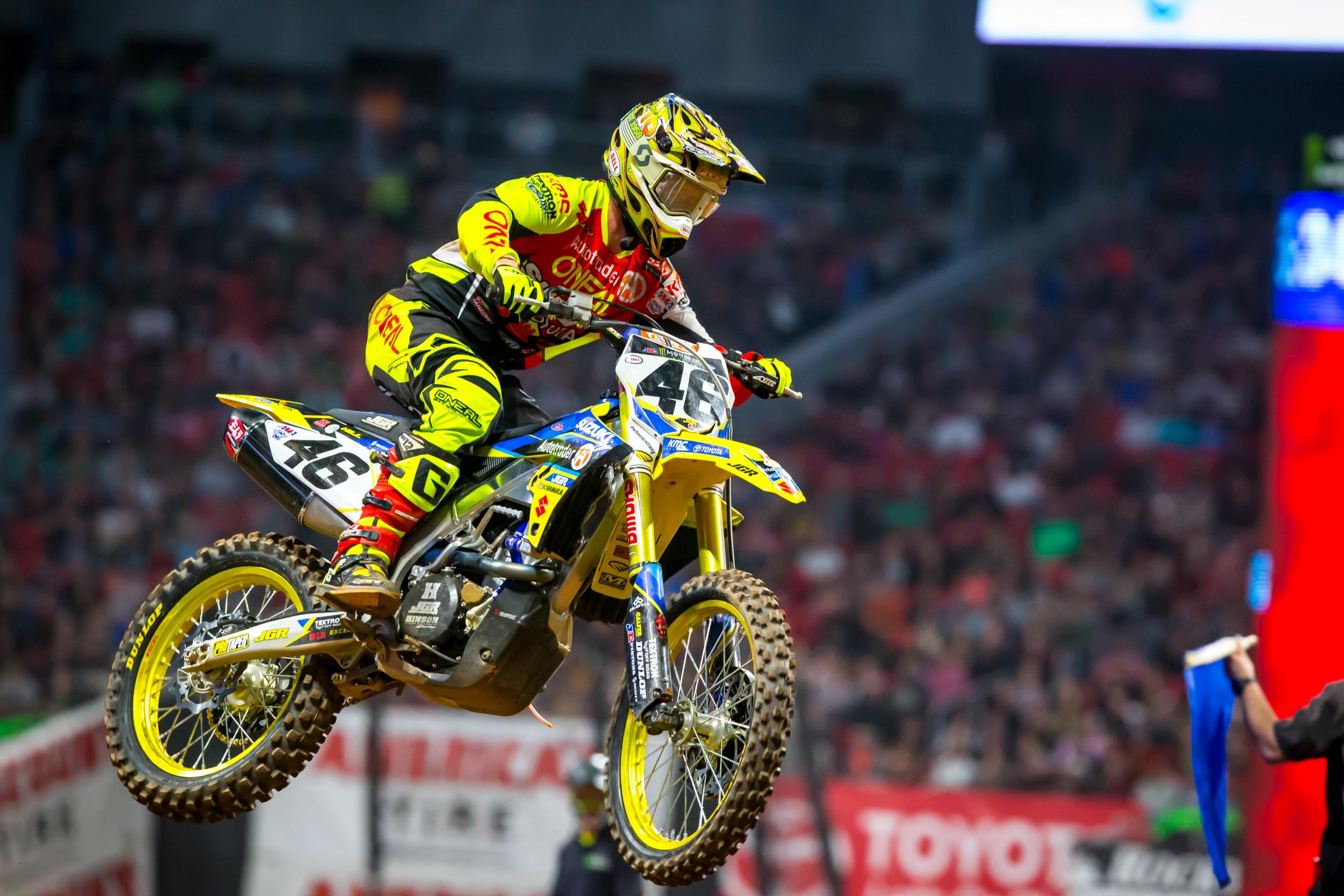 Rocky Mountain ATV/MC-KTM-WPS rider Adam Enticknap was caught up in a seven-rider pileup in the LCQ before the night show that kept him from lining up for the mains in Atlanta. In a team statement, Enticknap said, "I said at the start of the season that these East Coast Triple Crown races were going to be intense because no one wants to come all the way cross-country just to race for five minutes. Really, it comes down to my starts. Whenever I've gotten a start this season, I've made the main event. I've been looking at some data and we're going to make some changes."
Monster Energy/Pro Circuit Kawasaki's Austin Forkner picked up his second supercross win, going 4-2-3 in the three mains. He collided with Zach Osborne in the second race after cross-jumping into Osborne's lane, and Osborne went down and wasn't happy after the race. In a team press release Forkner said, "The format is really fast and it makes that final race pretty crazy. We did know where we needed to be in that final race to end up on the podium or get a win, but I saw my mechanics' pit board with two laps to go and knew I needed to get by the rider in front of me. It's really cool to take the win and make up even more points. There is a lot of racing left and I think I'm really going to like Daytona." Jason Weigandt also spoke with Forkner after the race, and you can watch the video interview below:
"It was a decent night," Rockstar Energy Husqvarna Factory Racing's Zach Osborne (1-3-5) said. "I missed out on the overall in the last main—it is what it is –but I'm still happy with the night. I had a great ride in the first main, and two strong rides after that. I hit my nose and my face pretty hard in the second main when I crashed, but I'm going to keep fighting." Osborne's nose was bleeding after the second race from slamming into the back of Forkner in their collision. He was able to remount and still finish third in that race. Osborne was also in the running for the overall until Forkner made some passes at the end of the third main causing them to tie; Forkner was awarded the overall due to his better finish in the third race.
"The track was really soft compared to years past that I've raced this race," TLD/Red Bull KTM's Jordon Smith (3-4-6) said in a team press release. "In the whoops, the jump line, on the second or third lap, it got a huge rut in it and it was just changing every lap. You definitely had to be on top of finding the new good line and the new ruts in the corners."
GEICO Honda's RJ Hampshire (7-5-4) picked up another fourth in Atlanta. In a team statement he said, "This weekend was opposite from the first two rounds. I actually felt like I had the speed to make something happen with a good start, but my starts were just terrible. I felt good on my bike and probably made less mistakes all day then what I did in just the main event from round one. Focus on the positives and get ready for next weekend."
"Total roller coaster of a day in Atlanta," GEICO Honda's Jeremy Martin (6-10-1) said in a team press release. "Had a massive get off in practice that left me hurting pretty bad. Going into the evening program of the Triple Crown format, I was pretty shaken up, but was able to race the track and get better with each race to come out with the final moto win on the night. I finally got clear track and was able to ride my lines and race for once. Rode really strong until four laps to go then cruised it into the finish. Big step for me and the GEICO Honda team!"
"After riding press day, I felt really comfortable coming into the race. I knew after practice that I was flowing much better than the two previous weekends," Autotrader.com/Yoshimura Suzuki's Kyle Peters (11-7-7) said in a team statement. "In the first main, I rode defensively and wasn't pushing forward. I had a better start in the second main and worked up to seventh. That was a step in the right direction. I nailed an awesome start in the third main event, but cramped up in the end. I salvaged a seventh for seventh overall, which is a positive. It was nice to have the hometown crowd, and our friends from Autotrader there supporting us."
Monster Energy/Pro Circuit Kawasaki's Martin Davalos (8-1-17) picked up his first race win of the year in the second main, only to go over the bars in the whoops hard in the third race. In a team statement he said, "Today was such a rollercoaster for me and I felt like I had the speed to win, or at least be up on the podium. The track was really tricky and I know I wasn't the only one who had issues throughout the night, but I need to try and execute because I want to win for the team."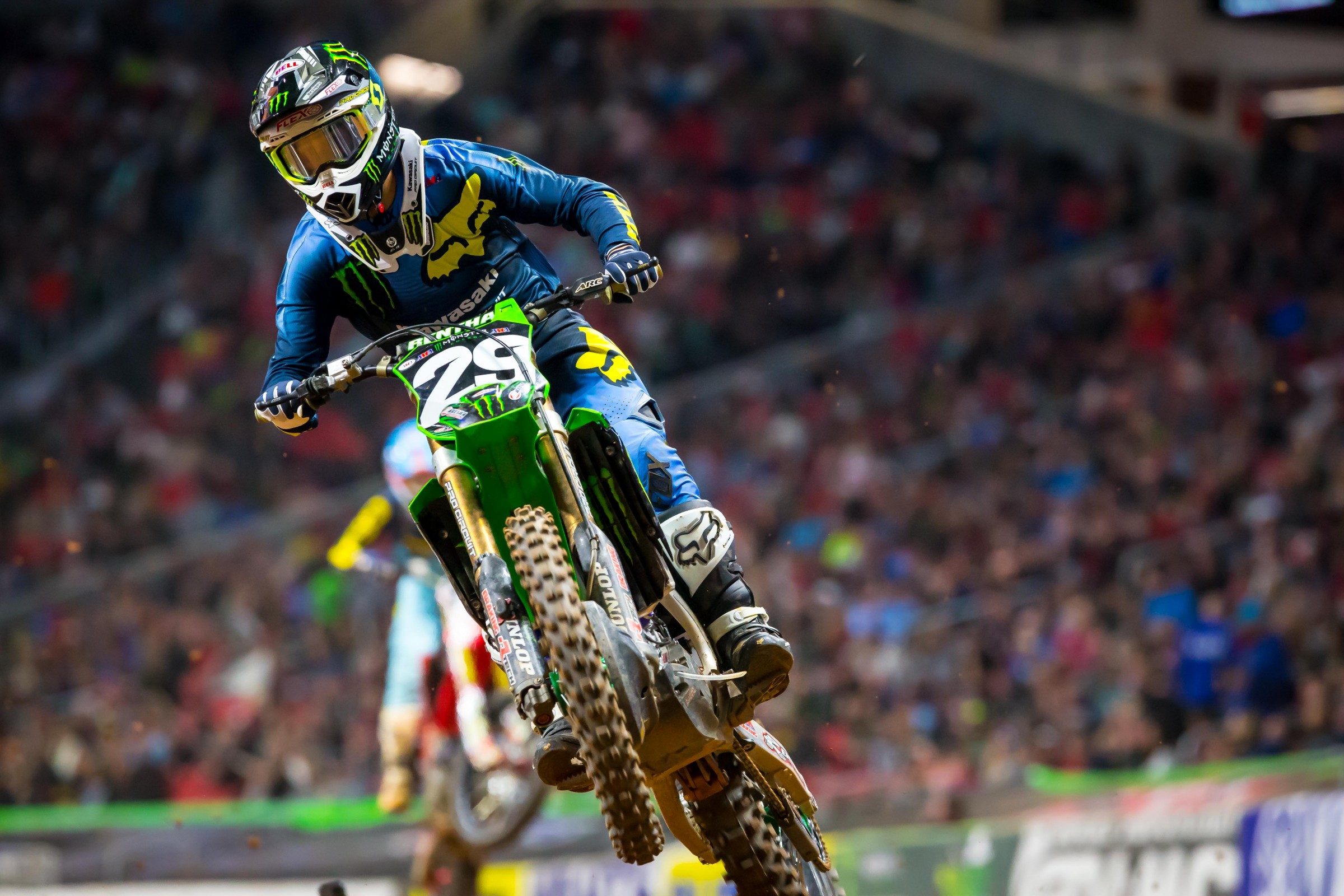 "I liked the Triple Crown format. I charged forward in the final main event and moved up at the end of the race, which is a big positive. I'll take that and move ahead to this next weekend," Autotrader.com/Yoshimura Suzuki's Jimmy Decotis (9-14-8) said in a team press release. "I need to get up there and be where I belong, but things change quickly in racing. I'm looking forward to Daytona and I like how demanding it is. The Suzuki RM-Z250 is tailor-made for an event like that. I'm a sand guy, too."
GEICO Honda's Cameron McAdoo (16-6-20), who already has a fractured hand from the 250SX East Coast opener, re-injured his hand in a crash over a triple in Atlanta. In a team statement, McAdoo said, "Atlanta was just all around a rough day for me, starting off with a pulled groin at the very beginning of the day and ending the night with a crash in the third main. I was cross-jumped over the triple and it was a scary crash. Now I've broken my metacarpal bone worse than it already was. I will be seeing a doctor this week for further evaluation as to when I will be back racing, hopefully sooner rather than later."
Dylan Ferrandis (2-22-22) clipped a Tuff Block in the same spot on the face of the same triple and nearly had the same crash as Weston Peick, except instead of landing on the downside of the landing, Ferrandis landed into the face on his feet in a tough-to-watch crash.