Justin Hill Injury Update [Update]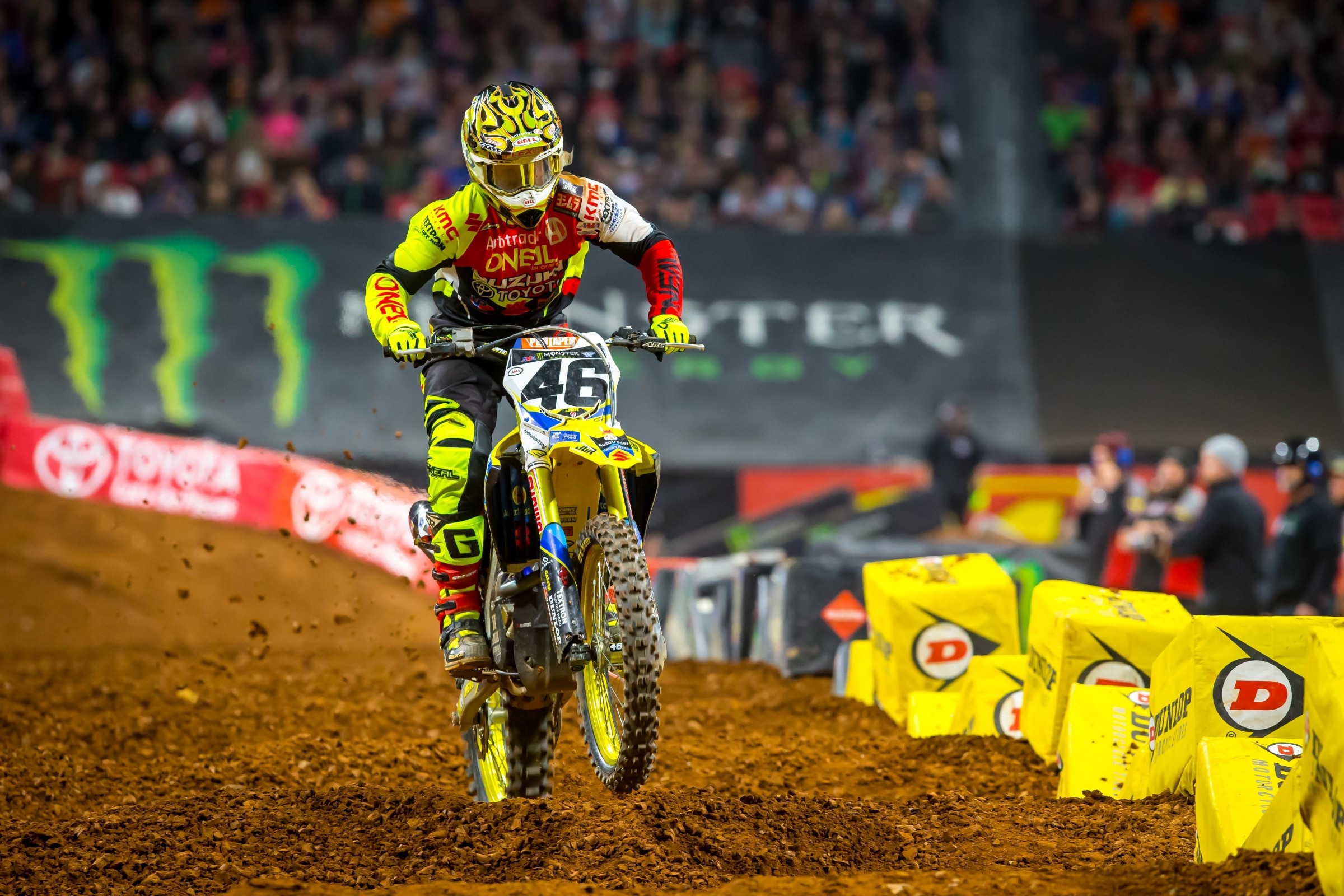 Atlanta, GA
Atlanta
Monster Energy AMA Supercross Championship
Autotrader/Yoshimura Suzuki's Justin Hill wrote on Instagram that he sustained "broken toes" and is "bruised as heck" following a scary crash in the second 450SX main event last night at round nine of Monster Energy Supercross at Atlanta.
Hill was trying to triple in but opted to eject over the bars once he knew he was going to come up short. Hill landed feet first and was attended to by the Alpinestars Mobile Medical Unit. He was unable to compete in the final main event.
In just his second 450SX race, Hill qualified second earlier in the day.
We'll provide more information once it's known.
[Update: Monday, March 5]
In a press release issued on Monday, Autotrader/Yoshimura Suzuki team manager Jeremy Albrecht said the plan is for Hill to return to the 250 and begin to prepare for the return of the 250SX West Region in Indianapolis as part of the first East/West Showdown.
"It was an up and down day. Hill qualified second and was looking good. Peick had a big get-off in practice and had to qualify for the night show through the Last Chance Qualifier. He rode well, considering how banged up he was. The guys rode well in the main events. Hill was up there, but he crashed and hurt his feet and shoulder. Overall, no one is hurt too badly. Considering how difficult the track was, and how big of crashes the guys had, I'm happy that we could walk away from this one. The plan for Hill is to return to the Suzuki RM-Z250 in preparation for the remaining 250 West Supercross rounds."
Justin Hill had this to say about the crash:
"In the second main, I had an outside gate choice, but I started working through the field. I was making a lot of time on the triple-triple section, because I don't think anyone else was doing it. Unfortunately, I cross-rutted off the face and it pulled the handlebars right out of my hands. I made the split-second decision to bail. It would have been really bad if I had tried to ride it out. I landed feet-first, and because there was another jump right after that I couldn't land and fold up. I'm lucky in that I had great boots on that saved my ankles from serious damage. I'm happy, overall, because I rode well up to that point and showed good speed. I am excited for the future and to take the next step."