Atlanta, GA
Atlanta
Monster Energy AMA Supercross Championship
The Triple Crown format is supposed to create multiple winners, and it delivered that at Atlanta with six different riders taking wins in the six races on Saturday night. These individual races do not count in the actual supercross record book—only overall winners Jason Anderson and Austin Forkner get that honor, which makes sense. Still, crossing the checkers first is a big deal if you've never done it before, so Justin Brayton couldn't hide his enthusiasm after winning the first 450SX main. Brayton has won heat races before but never a main event in either class, so this was a big one for him—he even had to fend off points leader Jason Anderson to do it.
We talked to the Smartop/Bullfrog Spas/MotoConcepts Honda rider after the race.
Racer X: You did it! We did it!
Justin Brayton: We did it, Weege!
Let's start by going backward. You started the year really strong, on the verge of podiums. The last few weeks were not as good. Was something changing or was it just starts, or what?
The starts weren't as good, but I really don't think the last two tracks really suited me that well. Dallas started out good for me, it really went away from me, though. I was fastest in the first practice in Dallas and fourth in the second one, but as the day went on, it got really choppy. Just wasn't comfortable in the main. Actually I crashed in the main, I think I was running seventh or eighth and then I finished tenth. Then last week, hey, I'm not an outdoor guy and they threw an outdoor section at me [laughs]. I just was not comfortable in the sand! All day that section just messed with me. That sand section, honestly, it just ruined the whole lap for me. I was thinking about it. Here, I just felt instantly comfortable and back to my old self, kinda back to what you were saying at the beginning of the year, podium threat. It was nice to get back to that and nice to get good starts. I was really excited about that first one! That was fun!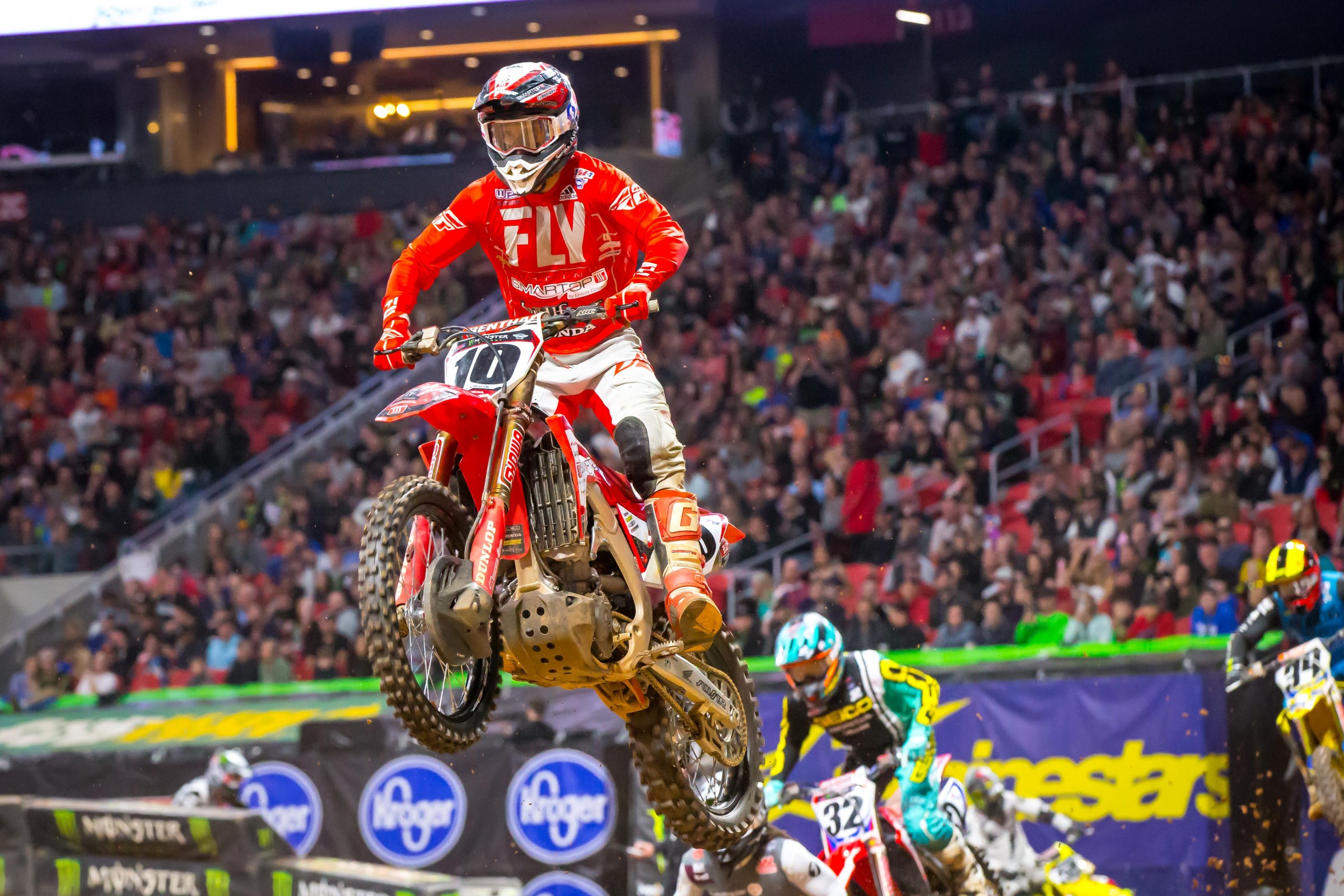 Yeah, and you had to earn that first win. Jason Anderson was all over you, you guys bumped here and there, you had to fight them off.
Yeah, he actually got me twice and I got him back, and then he went in for a pretty good pass and we kind of touched, I leaned into him. It was intense for sure, but I was stoked! I rode well and even the last few laps were pretty clean. I was stoked. It was… this is the only race that my family is coming to this year. My kids were here and my wife, a lot of family and friends. That was cool, too. Happy to get it and get it for them.
Was it weird at all, being in the lead? Where you thinking about that? Where you getting nervous or are you just doing laps?
No, for sure you're thinking about that, absolutely. I knew those guys were right on me, and like you said, Anderson ran it in on me at times. I haven't looked at the lap times yet, but I felt like the last few laps were pretty good for me. I knew I had a couple bike lengths on him, so I knew if I could just maintain that, I would be good. I just needed to nail every section. Hit the whoops good, now hit this turn good, now drill this rhythm section. I just tried to take the track section by section.
So what was the feeling after it? You said on the podium you were going to enjoy it.
Yeah, I was not good in that second main! [Laughs] After that win, my wife came down, some friends came down, everyone was so stoked and we were talking and next thing you know you're like, "Oh I've got to go down to do the next one." You're still kind of sweating from the first one and you still want to enjoy it. My mindset really just wasn't prepared to go back out there and battle. I basically just kind of rode around and got sixth. But the last one I felt good. I didn't get a great start but I came up on that lead pack, and at the end I came up on Christian [Craig] and Anderson was right there and Cooper was right there. Felt good about the first and last one. Yeah, the middle one, I think I had a little bit of a win hangover for a few minutes. [Laughs]
I'm glad you admit this.
Yeah, totally! It happened.
Honda HRC had a spot open and they filled it with Christian Craig. Where you in talks for this?
Absolutely. I talked to them after the race. I went to the hospital with the guys to go see Cole [Seely]. Cole is obviously one of my good buddies. We talked about it a little bit, but to be quite honest, it just doesn't really make a lot of sense with the way my contract is structured with MotoConcepts. They have legit sponsors now that pay a lot of money essentially for me to be on the team and putting that bike up front like I've been doing. So it just wouldn't be quite fair for Genova [Mike, MotoConcepts Racing team owner] and Tony Alessi [team manager] to just say, "Thanks, I'm fourth in points but I'm out of here." Also, the bike is different. It could take me a few weeks to get comfortable. Or, I could feel great as soon as I jumped on it. I don't know. Honestly, it's just cool that they thought about me, but it doesn't quite make a lot of sense for both sides.
And then you end up winning one. Had to be huge for this team.
Absolutely! It's massive for me, it's massive for Honda, it's massive for this Smartop team. It's kind of a bummer I didn't finish on the overall podium, but it's coming for sure.