Welcome to Racerhead on what's shaping up to be a very busy and special weekend. The Amsoil AMA Grand National Cross Country Championship is opening in South Carolina, MXGP is starting to ship itself to Argentina for their season opener—and the beginning of the Tony Cairoli-versus-Jeffrey Herlings duel.
And Monster Energy AMA Supercross is returning to Tampa for the first time since 1999, back when the winners were Kevin Windham on a CR250 Honda factory bike and Ernesto Fonseca on a Yamaha of Troy YZ125. Jeremy was still king, Ricky was still a little wild, there wasn't a four-stroke in the race, and Chad Reed had exactly one entry in The Vault: a 17th-place finish in that year's San Diego 125 Supercross. Art Eckman and David Bailey were calling the races for ESPN2, and there wasn't a single KTM or Husqvarna in the 250 class—and only Kelly Smith was racing a KTM in the 125 division. Oh, and Racer X Illustrated was one year old as a magazine.
Now we're 20, and we quietly had a birthday last week that I completely forgot to mention in our On This Day in Moto series, presented by Monster Energy (which didn't really exist in 1999). But in late February 1998, we debuted the first issue of Racer X Illustrated as a magazine at the old Dealernews Trade Show in Indianapolis, Indiana. The first box was delivered to the Hampton Inn Downtown, where I was supposed to be staying but had not yet arrived, so they took them to my dad's room—he and my mom were checked in and in the middle of the first NPG meeting. He took the box to the meeting, cut it open, and handed out the issue to his fellow promoters and meeting attendees. Which means to this day I still can't live down the fact that RedBud brother/sister duo Tim and Amy Ritchie got to see the first magazine before I actually did!
The magazine was well received and I remember a lot of people being stoked on it, but when I finally got to sit with my parents and talk about it, they showed me the copy where they had taken a Sharpie and marked up all of the mistakes and typos. (Both were schoolteachers before they went full-time into moto.) I have the first issue that was sent to my house, but I didn't keep the "corrections" issue, which I really, truly regret!
Anyway, with this On This Day in Moto, which is heading toward the end of the second month, we've been discovering all kinds of cool things we'd forgotten about or never actually known, like the day Kawasaki rolled the first big rig into the races (the 1991 Gatorback National), the time Keith Johnson rolled a Cannondale in its first national appearance and holeshot his qualifier (May 28, 2000), Ricky's first pro win (yesterday in 1997), and much, much more. If you haven't been following along, here's today's entry.
It's got us all feeling nostalgic, and the Racer X Brand team of Dustin and Justin (or is it Justin and Dustin? I get them confused) decided to reach into our archives and pull out a shirt Scott Sepkovic's Rip Rock did with a photo I shot of Damon Bradshaw back in 1989 and make a retro shirt—the first of many as we head into our third decade of Racer X Illustrated. Look for details on how to order next week.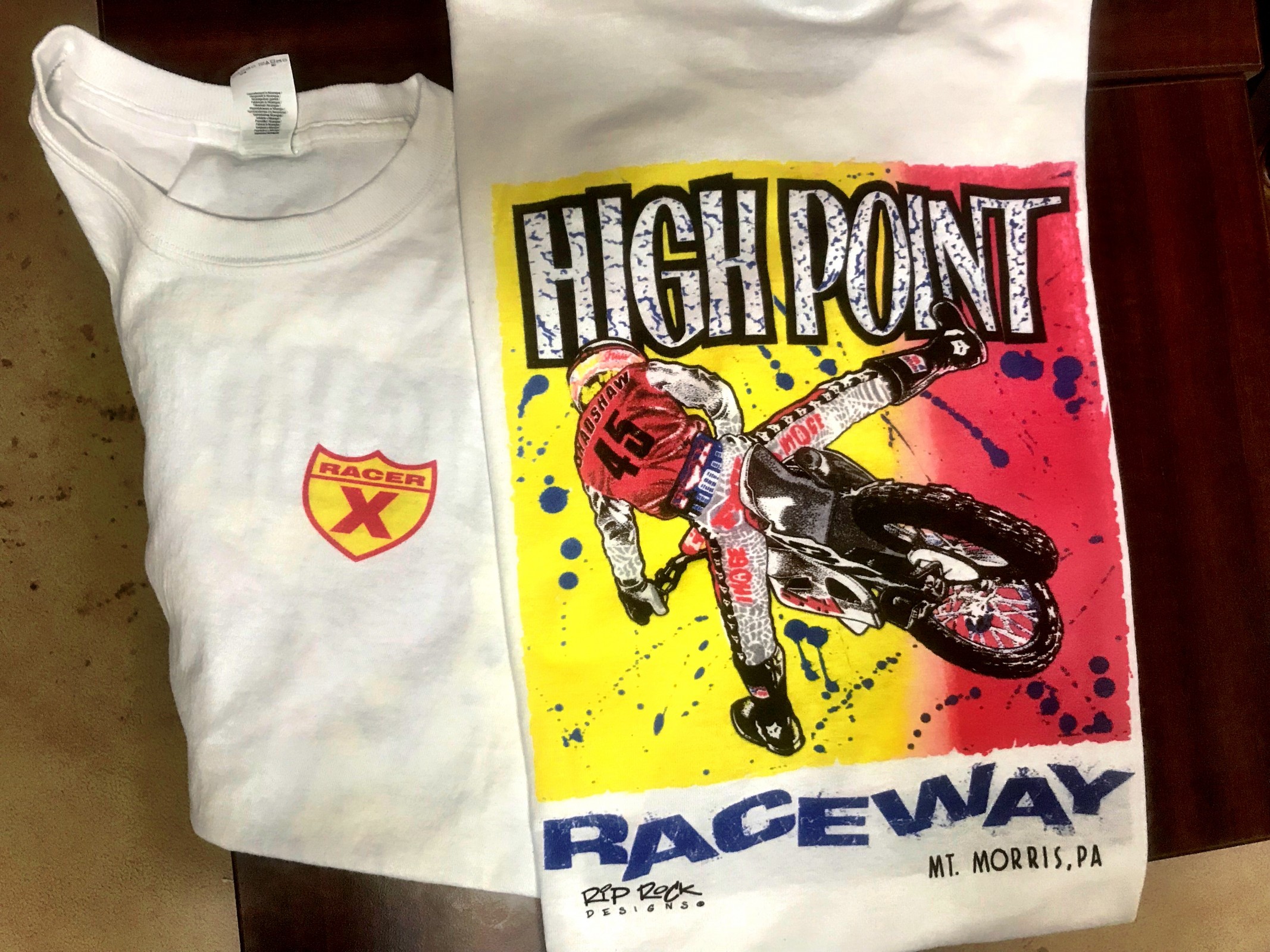 Okay, let's get into Racerhead with what's happening down in Tampa….
Tampa Too (Jason Weigandt)
Feld Motor Sports isn't messing around with the Tampa Supercross. The series visited the old "Big Sombrero" stadium for a long time, and in 1999 it even made a visit here to the new-at-the-time Raymond James Stadium. This is different, though, because it's the first time Monster Energy AMA Supercross has come to town since SX owners Feld moved their entire HQ to Florida, about 30 minutes from here. You know there will be a lot of interested parties excited to see supercross in all its glory. In turn, the promoter is pulling out all the stops. I noticed giant billboards all over the Tampa airport today, and the locals say they've been there for several weeks. Instead of the usual Friday press day, a true press conference in the mold of Anaheim 1 and Las Vegas was held today in the stadium.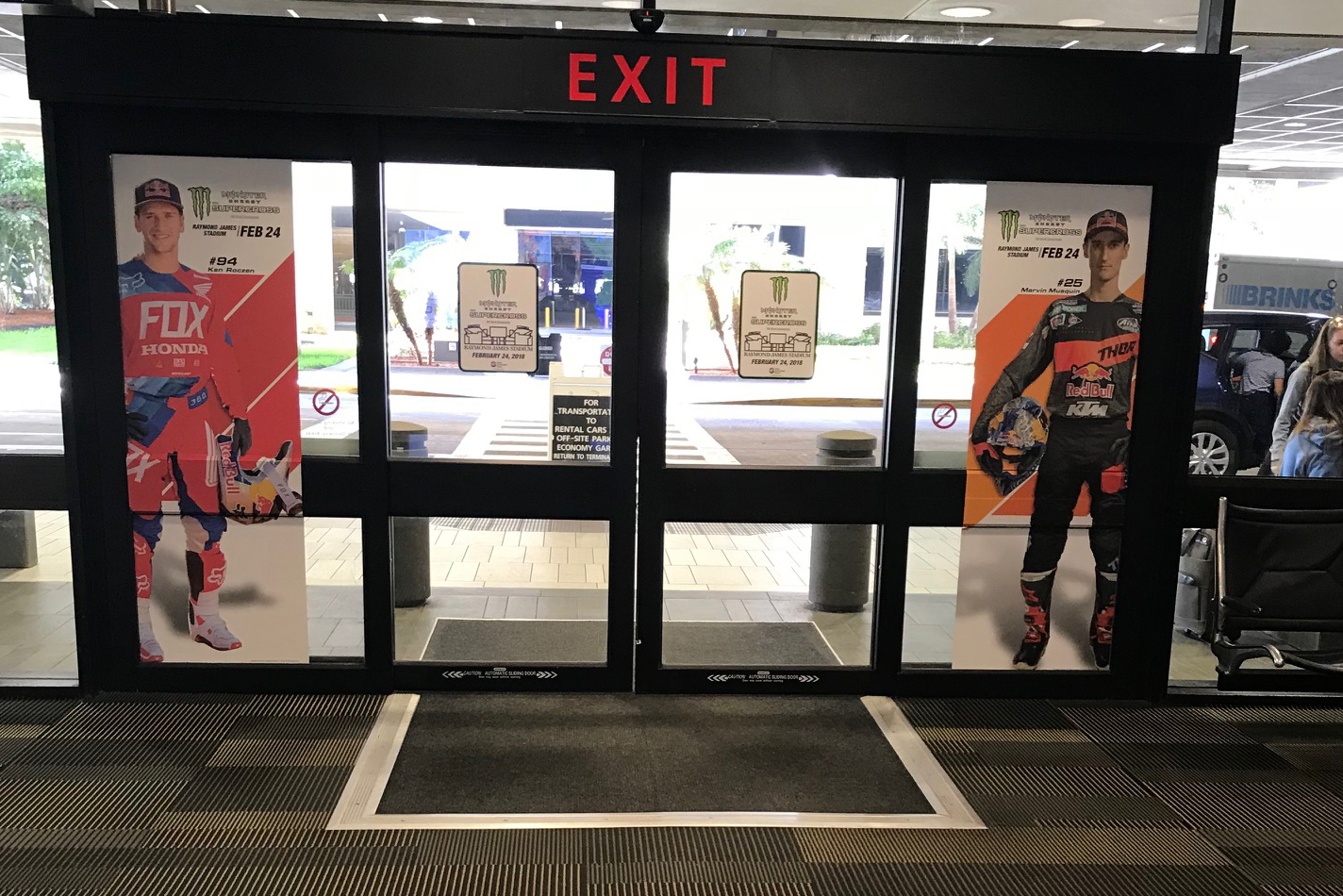 Two major stories to talk about for this race. First, Jason Anderson owns the giant points lead in the series, but now he has to pretend he doesn't—you can't ride not to lose for ten straight weeks. Anderson isn't going to lie and pretend he doesn't realize the situation.
"You're always thinking about that championship at the end of the day," he says. "We're human, and we're going to think about it, but I'm trying to stay calm and shooting for race wins. Last weekend I had a little crash. I was able to come back. For me, I'm just trying to stay stable and keep riding good and just progress each weekend. I guess just trying to win races is the best way to keep it out of your mind."
In other words, Anderson is going to try not to ride differently now that he has a big lead. It will be interesting to watch because all of these guys are programmed to attack each day, and changing strategy now usually doesn't work.
Anderson has generally been more calm and precise this year and has curbed some of his old aggression. I've written about this I think 100 times in Racerhead so far this year. He commented on this again today.
"I guess [it comes from] when you're making not the right decisions on the track in the past, and then wanting to progress," he said. "It's not like I didn't want to do that in the past, but I just wanted to do well. It's hard to change having ridden that way for so long, but I'm trying my best."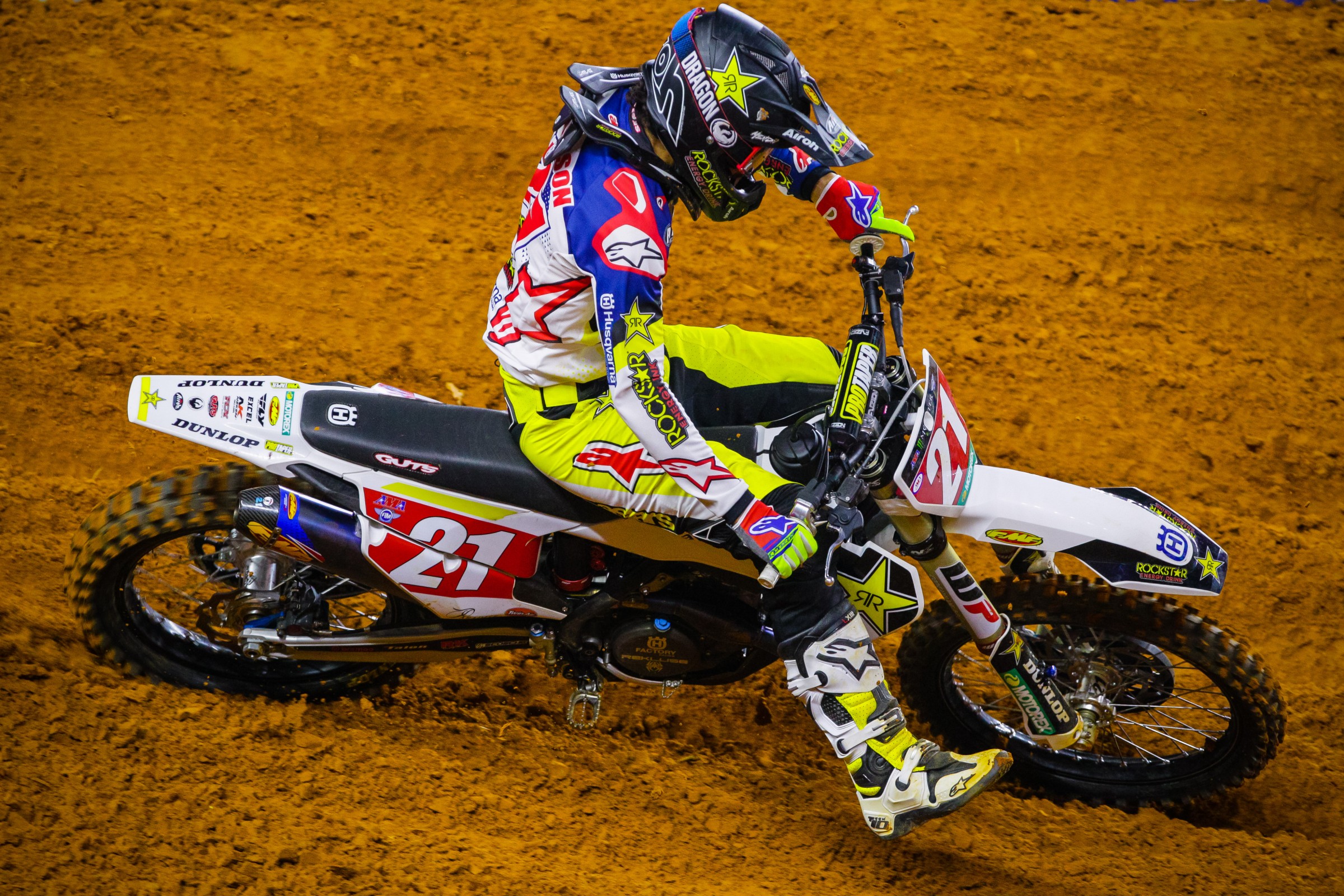 The other big story is Chad Reed's pursuit of the all-time SX start record. In a candid (as usual) conversation with him after the presser, he told me if he came into the season 100 percent healthy and was still getting 15th every night, going to the LCQ, and generally struggling, he wouldn't have bothered going for the record. He does not like getting 15th. The reality is that he took things for granted a little too much—he didn't ride at all during the summer and then planned to get in shape in November and December. He got hurt and wasn't able to do that, but I think Chad realized the injury timing wasn't the only problem. He can't take months and months off and get back into race shape that quickly, even if he was healthy. So, he's fighting an uphill battle. He hopes to eventually become more competitive; he's not out here just to make mains and break a record. He's here because he still loves racing and still thinks he can be good at it.
"[The record) wasn't the goal," Reed said in the press conference. "The goal was that I love racing my dirt bike. It's been tough—I've raced the very best guys in the world, and it ain't getting any easier. This weekend will be great because I consider it my hometown. It's going to be special and fun.
As for the track, the expected super-duper amount of sand now appears to be down to just a decent amount of sand. All the stuff you see in the track map isn't actually here, for some reason. There's still one long sand rhythm lane, which is unique.
"I think it's just going to be [key to be] consistent—I think the sand will bring in a place for errors and the rest of the track will be slick so that will be tough too," Blake Baggett said of the track.
Ellie's Take (DC)
To the point Chad was making above about the record not being the goal, but the competition and love of riding dirt bikes, after last weekend's record-tying moment, Chad's wife, Ellie, wrote a public and profound message to her man on Instagram that we wanted to share here:
THE 227 (Andras Hegyi)
Chad Reed has caught up with Mike LaRocco in the all-time starts for AMA Supercross. Reed and the Rock (who has held the record since 2006) have 227 starts in the premier class. If Reed qualifies tomorrow night, he will own this record all alone. Here is how they got there:
First race: LaRocco debuted in the premier class of supercross in 1989 at 18 years old. The Australian Reed debuted in 2002 at age 20 (he was racing Grand Prix motocross in Europe in his teens).
Seasons: The Rock took part in 18 consecutive seasons between 1989 and 2006. He was 35 years old when he retired. For Reed, 2018 is his 17th consecutive supercross premier-class season. This March, Reed will turn 36.
Brands: Indiana's LaRocco rode only Japanese bikes—all four of them. He rode with Yamaha in 1989; Suzuki in 1990, '91, '96, and '97; Kawasaki between 1992 and '95; and Honda from 1998 to 2006. He did 115 races in the saddle of a Honda, 59 with Suzuki, 46 with Kawasaki, and 7 with Yamaha.
The Aussie has raced with five different brands, including all four Japanese bikes, and is racing with Husqvarna this season, an originally Swedish brand that now belongs to Austrian KTM. The most decorated rider from Down Under raced with Yamaha between 2002 and '08, then again in '16 and '17. He rode with Suzuki in 2009 and with Kawasaki in 2010, '14, and '15, but he was a Honda man between 2011 and '13. He had 135 races with Yamaha, 40 with Honda, 28 with Kawasaki, 17 with Suzuki, and in 2018 has made seven main events with Husqvarna so far.
Wins: LaRocco collected 10 victories in all. Reed has 44 victories, fourth all-time behind only Jeremy McGrath, James Stewart, and Ricky Carmichael.
Podiums: LaRocco got 81 podiums in all. Reed has taken 131, a record in AMA Supercross.
Last Race: In LaRocco's last AMA Supercross, the 2006 Atlanta round at the Georgia Dome, he finished eighth. Last weekend in Arlington, Texas, Reed finished 15th. He will no doubt be aiming to do better tomorrow night!
ROCK ON REED (Matthes)
Like you just read, Chad Reed's breaking the all-time 450SX starts record this weekend if everything goes okay in practice. It's an amazing record, and not one that I think will be broken anytime soon. As were discussing in our Fly Racing Moto:60 Show yesterday, it takes a rider who's fast enough for long enough and doesn't have all the titles and cash in the bank to break it. That's a small group, for sure. Ryan Dungey could've probably broken it, but he checked out early. We need another guy like Nick Wey who's fast and just loves racing so much, but they are few and far between.
The guy that Reed's passing, Mike LaRocco, hasn't been seen or heard from much since being replaced as team manager on GEICO Honda, but I texted with him yesterday. After he texted back "Chad who?"—making me wonder if he had changed his number—LaRocco told me this:
"It's hard to answer. It wasn't really a record when I stopped. I remember losing drive when I wasn't really into taking the risks needed to win. I'll guess Chad's feeling that now, but it sounds like he just loves being out there, so all the best to him. I'll say it was kind of bittersweet when everyone was all 'Cheers, do it for the old guys.'"
That's so Mike LaRocco; he wasn't interested in just getting a record when it meant that he couldn't still be fighting for podiums. He wasn't out there for cheers of just being the old guy. I know from talking to Reed that he feels the same way, but right now with his injury holding his preseason prep back, it's all he can do to try and get a tiny bit better each week.
It's remarkable in this sport for both guys to have lined up for so many races—just look at the MASH unit we have this year for proof of that!
SWEET 16 (Andras Hegyi)
By winning in Arlington, Texas, factory Kawasaki rider Eli Tomac got his 16th victory in the 450 Class. That means Eli has caught up the French legend Jean-Michel Bayle in all-time wins. If Tomac keeps his winning shape, he could soon catch up with several other legends: Jeff Ward, Jeff Stanton, Kevin Windham, Damon Bradshaw, and Mark Barnett are within reach in 2018.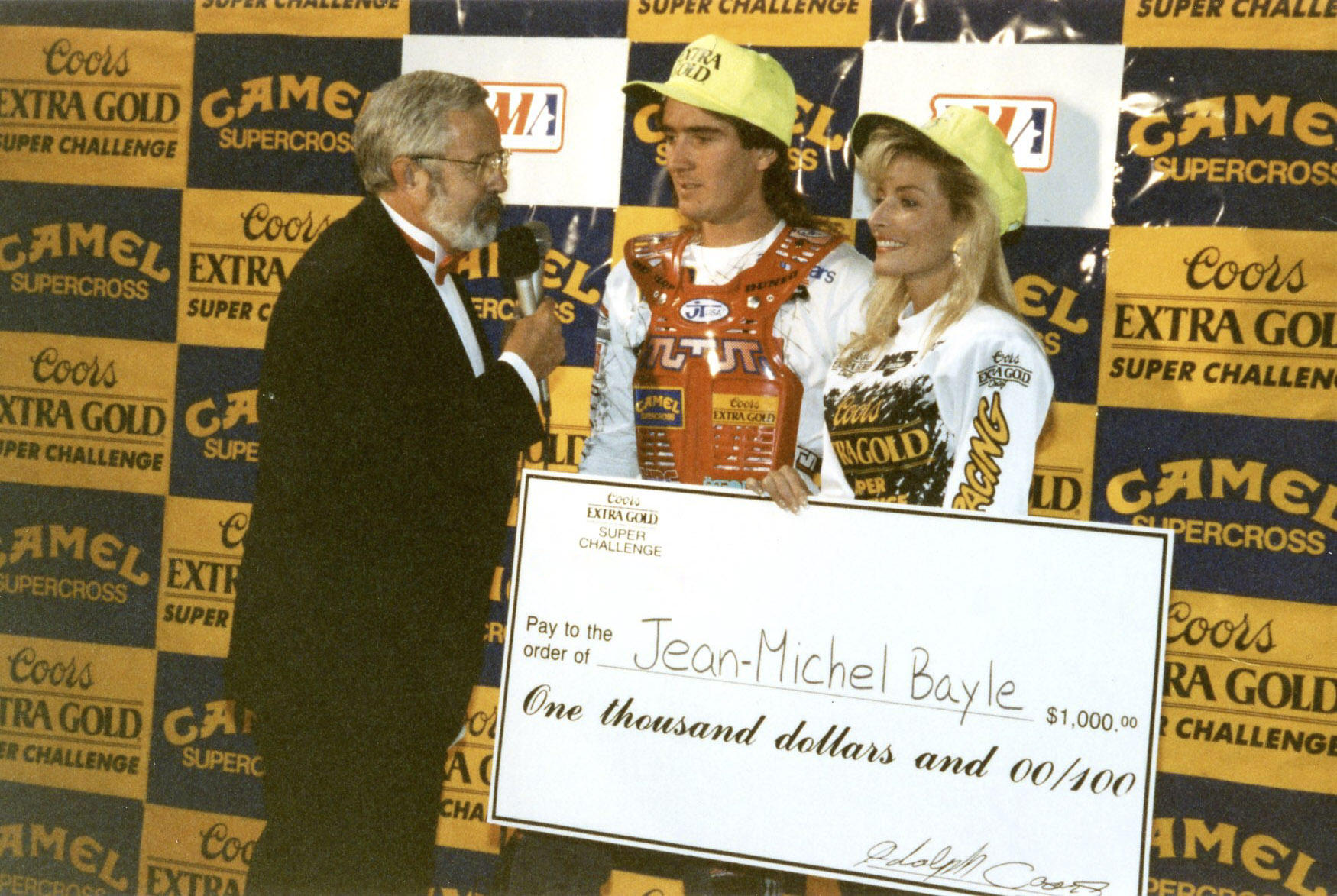 Bayle's 16
The French import only raced in the premier supercross class between 1989 (first seven races) and 1992. He took part in 57 races in all. He got his first win in 1990 in his 14th main event. He won his last one, the 16th triumph, in '92 in his 54th race. Bayle was also the AMA Supercross Champion in 1991. The most famous French motocrosser rode only with Honda in the USA.
Tomac's 16
Tomac debuted in 450SX in 2013. He has been a permanent rider there since 2014. The Colorado rider got his first win in 2015 in his 15th race. He reached his 16th victory in his 71st race. So far, Tomac has not been able to become champion in the premier class. He collected three wins with Honda and has gotten 13 wins in the saddle of his Kawasaki so far.
GNCC Preview
The 44th Annual AMSOIL Grand National Cross Country season starts up this weekend at the Big Buck GNCC in Union, South Carolina. After an exciting 2017 season, the woods are about to come alive once again at Big Buck, which celebrates its 22nd edition. This well-established and popular round anticipates a full field of top professional talent preparing themselves for a long and grueling season of GNCC Racing. In the XC1 class, all eyes are on the five-time and defending series champion Kailub Russell. Kailub had a stellar 2017 season, claiming seven wins in the 13-round series and only finishing off the podium twice. This season he begins the hunt for championship number six, but it could prove challenging to claim.
Thad Duvall finished the 2017 season in second place and had even chopped away at Kailub's points lead as the series entered the summer break. An injury at the ISDE ended his hopes for a championship, but this season he looks to pick up where he left off and challenge Russell for the title. Also strong will be Yamaha-mounted Ricky Russell. No relation to Kailub, Ricky had a breakout season last year where he earned his first GNCC overall win at the Snowshoe GNCC in June. With one win under his belt and a winter full of training, Ricky will enter the 2018 season swinging.
Also in the mix up front will be last year's Big Buck winner, Steward Baylor, who also had a strong 2017 performance. He landed a total of seven podium finishes en route to fourth place overall and also claimed the AMA National Enduro title. Equally tough will be Steward's little brother, Grant Baylor. Grant earned his first overall win in 2017 and enters the 2018 season refreshed and back on familiar equipment aboard a KTM—the same brand he rode to two XC2 250 Pro class titles.
With a grueling course laid out for them, there's great potential for some tight racing at the forefront of the field. You can catch all the pro racing action live online at RacerTV.com with ATV Racing on Saturday at 1 p.m., UTV Racing on Saturday at 4 p.m., and motorcycle racing on Sunday at 1 p.m. Also, don't forget there is a schedule full of races across the East Coast, so check out the series schedule and see if there's an event coming near you!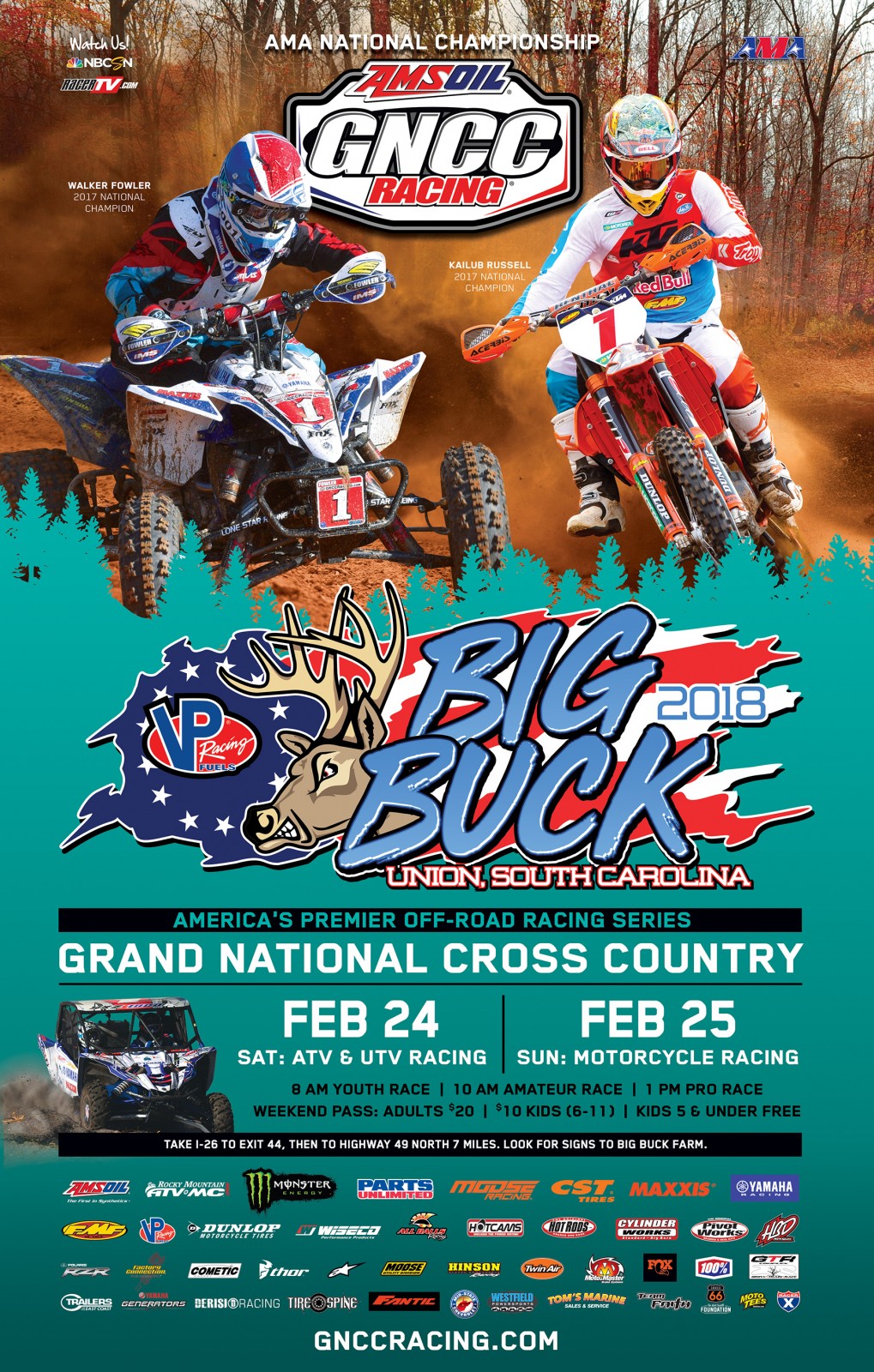 GREEN WITH ANGER (Matthes)
The Kawasaki guys were SO not happy with Rockstar Energy Husqvarna's Zach Osborne last year when he tangled with Pro Circuit's Adam Cianciarulo in practice at Indianapolis, which left AC on the ground with a knee issue. Then there was his last-lap, two-turns-to-go pass on Joey Savatgy that won him the 250SX East Region title. The Green Guys were not stoked on Wacko Zacho for those two passes, but if you're Osborne, you'd say that AC started it in Indy with an aggressive move off the start in practice and he just retaliated. The pass on Savatgy in Vegas was aggressive for sure, but it was for the title. It wasn't out of line, in my opinion, and Savatgy's whiskey throttle afterward made it look worse.
This weekend Osborne completed the Pro Circuit trifecta with a move on Austin Forkner that left him on the ground. I watched the reply, and in my eyes, Forkner cut down into Osborne, who was coming up the inside, and was doing it in an aggressive manner—there's that word again. But that doesn't mean it's dirty, right? I have a feeling that Mitch Payton's guys have just about reached their limit on Osborne at this point. I know this isn't Mad Max: Beyond Thunderdome and there's not this frontier-justice thing going on, but I'd look for Osborne to be dealt with by Forkner if he gets a chance.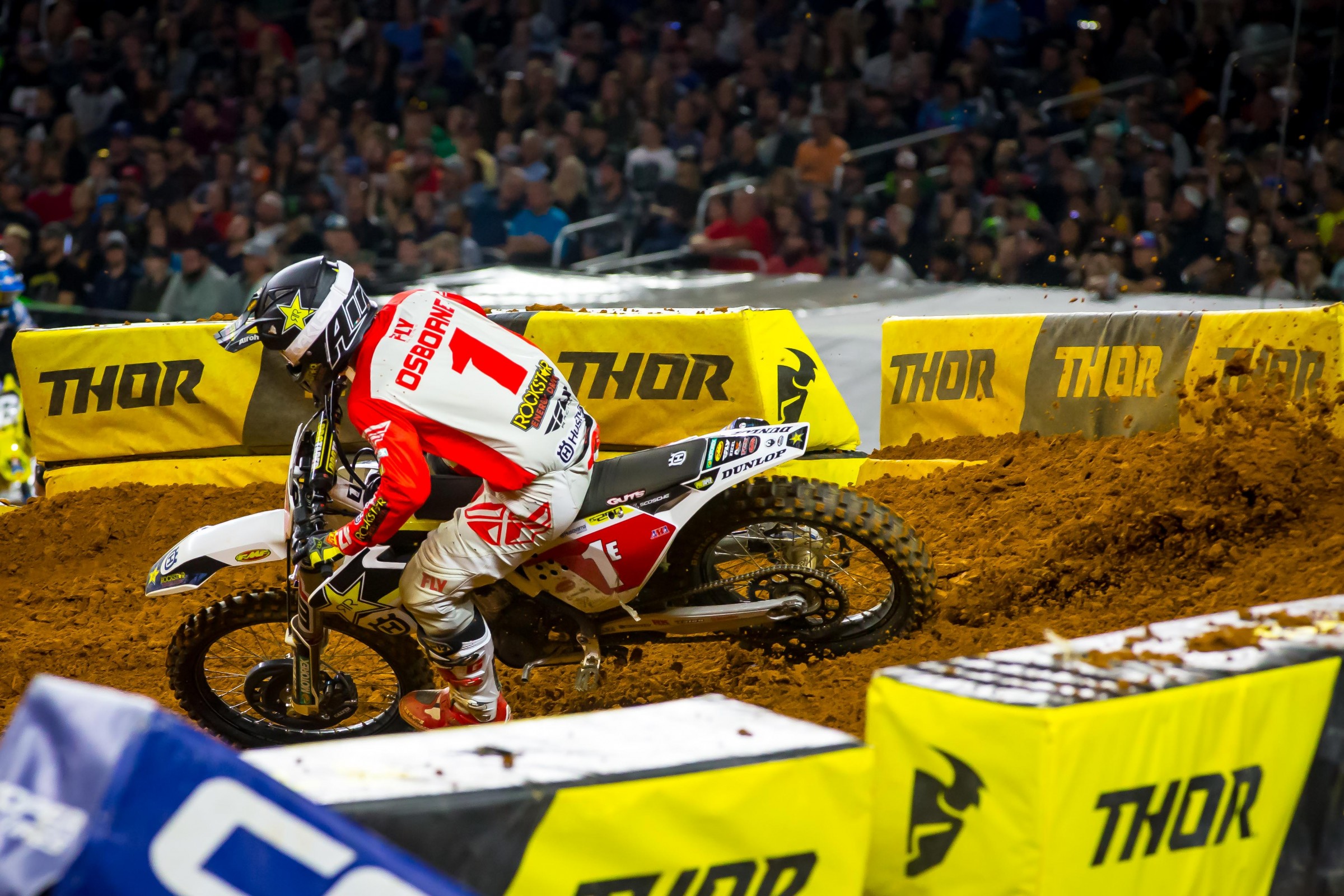 6D Helmets Ride day in temecula (Kyle Scott)
On Tuesday, 6D Helmets held a ride day at Brian Deegan's house in Temecula, California to introduce the media to their newest product, the ATR-2. 6D has been studying how riders are crashing in their helmets, improving helmet technology, and taking what they learned after winning the NFL's Head Health Challenge to develop the successor to the ATR-1 that was released five years ago. 6D uses their proprietary Omni-Directional Suspension (ODS) technology that creates a helmet within a helmet. Basically, one rotates around the other and absorbs the impact on your head instead of your brain rotating inside your skull.
One big feature is the replaceable inner Expanded Polystyrene (EPS) liner. While they do already offer a helmet rebuild service on the ATR-1, the process has been improved on the ATR-2. This has led to making the rebuild process more streamlined to be cheaper and for turnarounds. If you have a crash, you can send your helmet to 6D to be inspected. They will determine if the shell of the helmet is still in good shape. If the shell of the helmet passes the inspection, they they will go through with the rebuild process of replacing the EPS liner instead of forcing you to buy an entirely new helmet.
6D made it clear that they weren't releasing a new helmet just to release a new helmet. They've done their homework and applied what they learned in the Head Health Challenges they've been part of (and won) to this new helmet. Remember Colton Aeck's scary crash last year in Dallas?
He was wearing the 6D ATR-1 during the crash. Although Colton suffered a broken shoulder, broken ribs, a punctured lung, and broken vertebrae in his back (forcing doctors fuse his vertebrae from T11 to L2 together), he was never knocked out. 6D took his helmet along with others in which someone was landed on by a motorcycle and improved the helmet's rotating technology. They studied Colton's many other helmets that were involved in crashes and applied that to the ATR-2.
What else is new?
The helmet is 100 grams lighter
Structural integrity has been added to the forehead area for instances where riders slam their face on their bars or perches.
The nose guard has been improved for roost protection.
It features a "clavicle cut out" where a notch is cut in the under side of the helmet to prevent collarbone breaks from the helmet.
A goggle band recess was added to improve goggle fit and seal.
6D added softer Expanded Polypropylene (EPP) chin-bar material for when a rider cases a jump, one example being Tim Gajser's huge crash in Mantova last weekend where he suffered a broken jaw.
What to else know
ATR-2 will retail for $695
ATR-1 will be dropping in price.
It will come in three shell sizes
Youth helmet in development
Available in early March
Accepting pre-orders
Pro Perspective (Jason Thomas)
"Chad Reed is about to break the record for the most main-event starts." That's going to be repeated an estimated 742,890 times this weekend. It's an incredible testament to his longevity and ability to reinvent himself as new techniques dictated. I think he will push that start number up to over 250 before this is all said and done.
While that record is incredible in its own right, the more impressive record to me is his number of podiums. His mark of 131 premier-class podiums is just mind-boggling to me. Keep in mind that James Stewart only has 123 premier-class main-event STARTS in his career. Just Chad's podium finishes alone put him somewhere around the top ten for all-time total SX starts. To put it in perspective, someone would have to podium every single round of the series for nearly eight years to match his record! Incredible stuff.
He's outlasted whole waves of riders. Forget about the guys he raced in the early days, like Ricky Carmichael, Kevin Windham, Tim Ferry, and David Vuillemin. He watched Stewart come and go and both Ryan Dungey and Ryan Villopoto rise to prominence and also ride off into the sunset. He's been the last man standing for approaching two decades.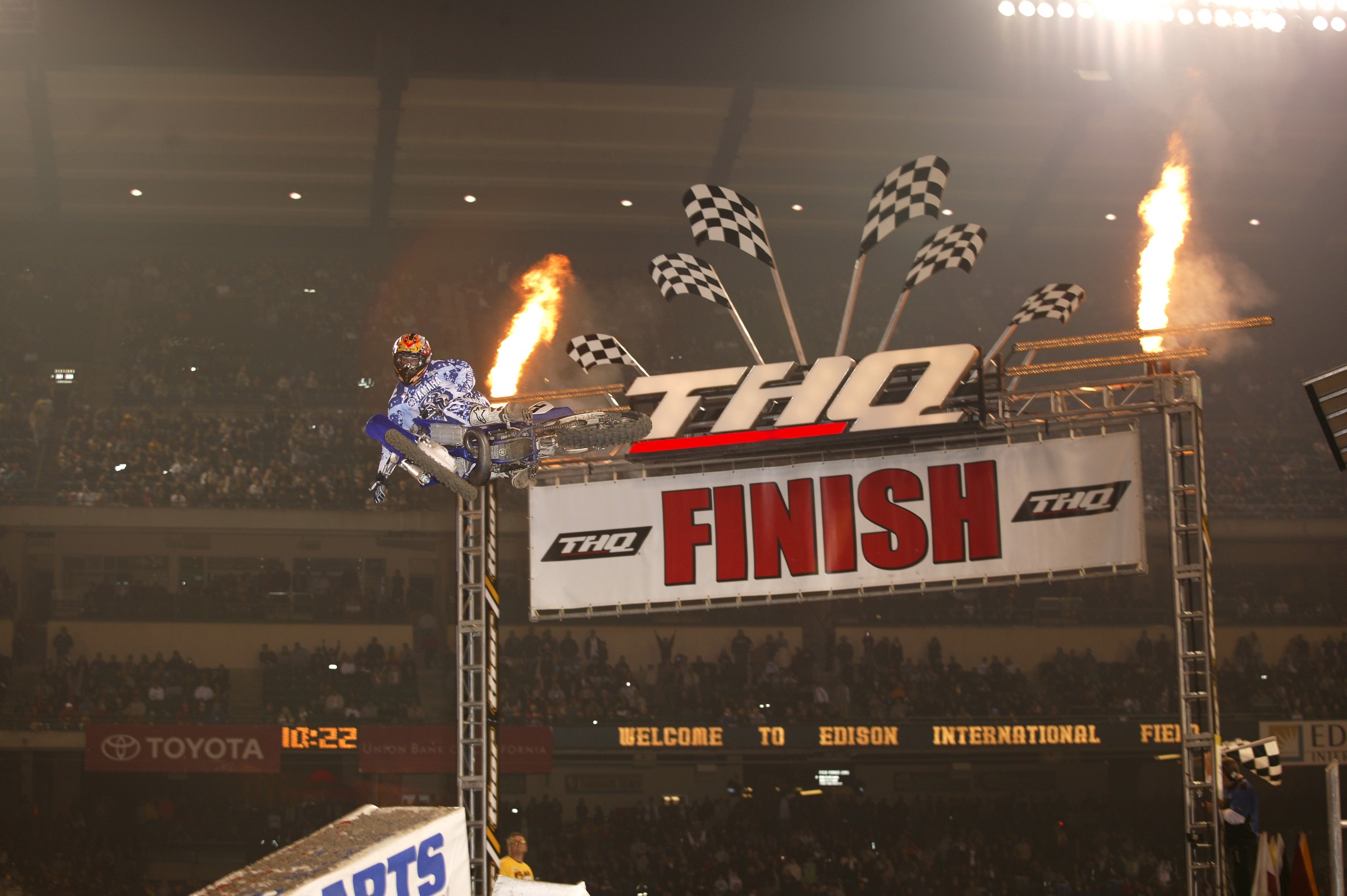 Just to be able to continue on is a feat in itself, let alone be a championship contender for most of this insane run. This is where his final challenge lies. Just racing around isn't what he's aiming for and what he's made of. He won't be satisfied until he's back into relevance at 9:30 p.m. every Saturday. He has a lot of work to do to find his best form, and that simply may not happen this year. He may be too far behind the curve to find that level by May. Whether it's this year or 2019, I fully expect the unexpected. He will find a way to put himself back near the front. Will he win? That might be a tall task. Will he find a night when everything clicks and he seizes that opportunity? I'm betting yes. We should know by now that Chad thrives on proving people wrong. It's just how he's wired. This Saturday is a milestone that should be celebrated, but make no mistake, he's quietly planning much more.
Hey, Watch It!
Cayden Diebold of The Contagious played the national anthem in Arlington and it's pretty cool:
Some preseason international action from France featuring Jeffrey Herlings and Hunter Lawrence:
Remember the Sidecross World Champions from Europe that announced that they were coming to California in January to do some riding? Here's a video of them shredding around LACR MX, shot by DroneXposed:
Must Watch: Mindblowing Flow at Ray's MTB
Check out some of the turns in this park; they've got KTM and Husqvarna branding across the tops.
The opening round of the Rockstar Triple Crown is this weekend in Canada. Check out the animated track map.
Racer X Films: Snow Biking with FXR
Racer X Films: Glen Helen Outdoor Laps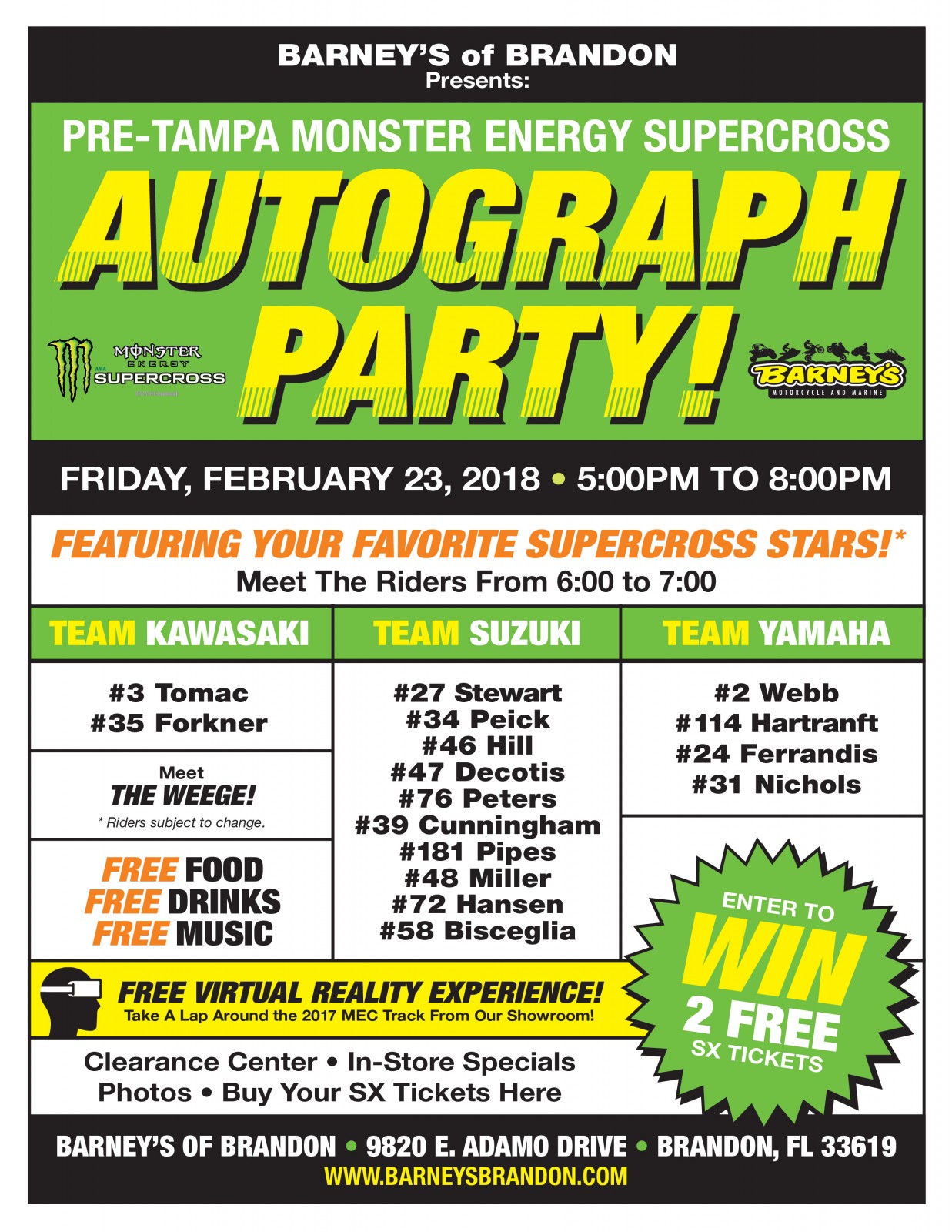 DMXS Radio has uncovered another story from the front line! Poor Martin Davalos—outflanked from the rear and removed from the battlefield!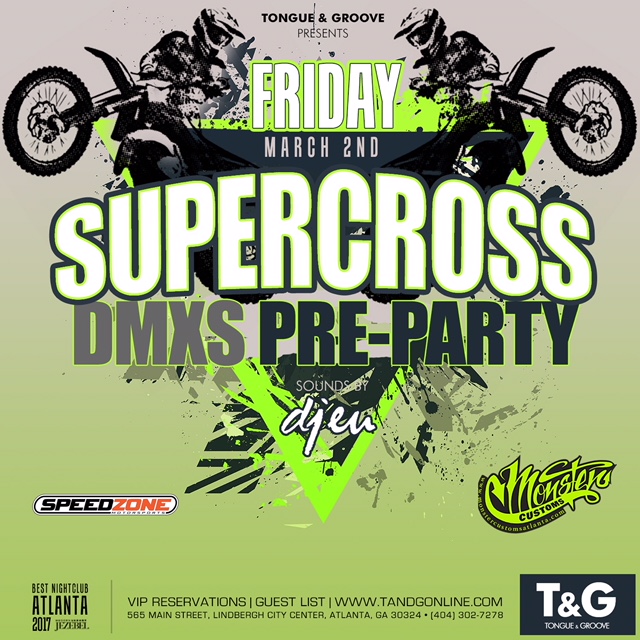 For the latest from Canada, check out DMX Frid'Eh Update #8.
Subscribe Now and Get a Free EVS Gift Pack
Subscribe now for as low as $9.98 and receive a FREE EVS Gift Pack plus access to our digital edition.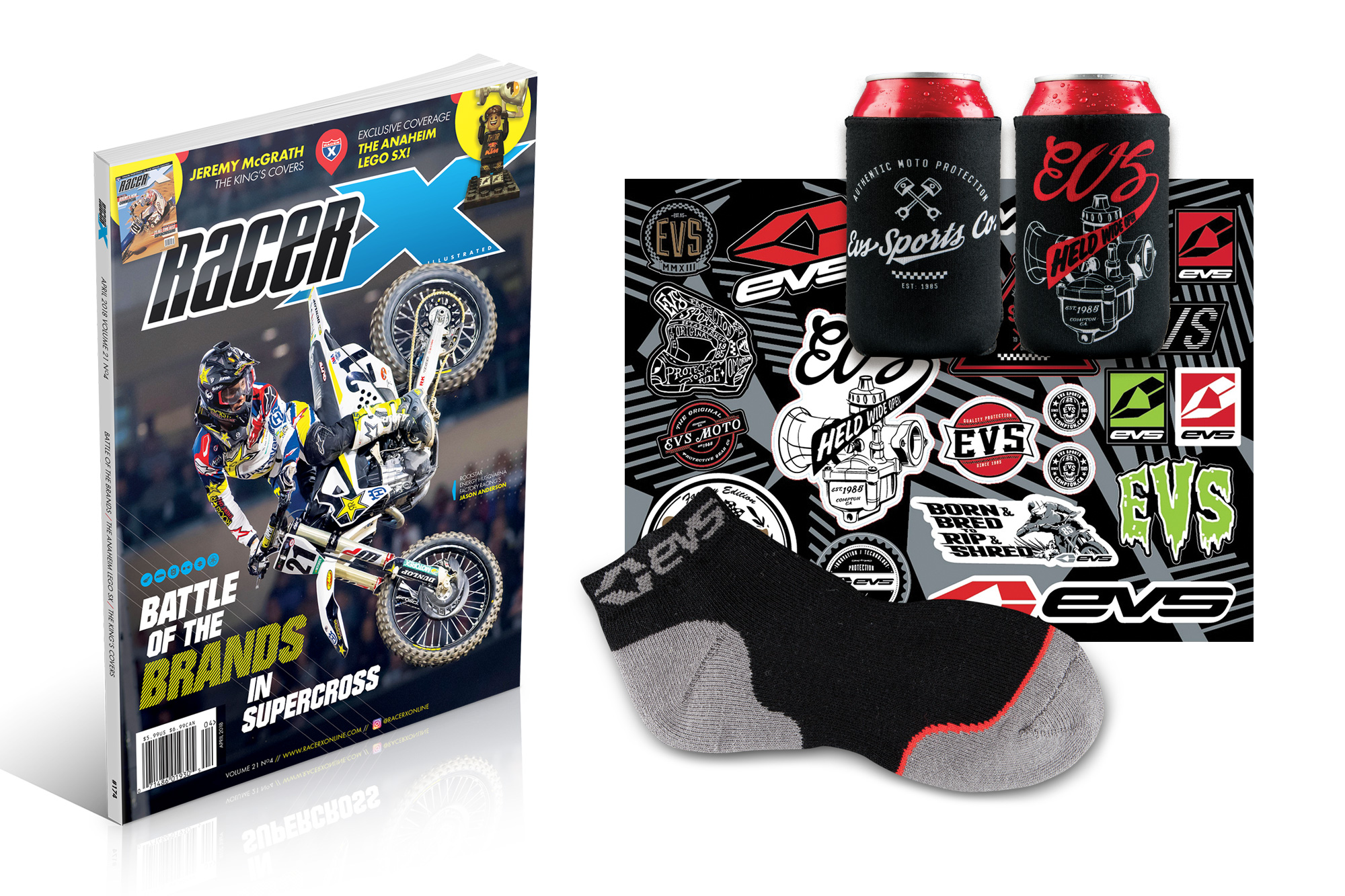 Racer X Brand Garage Sale | Up to 70% Off Select Apparel
In case you missed it, discounts are still available for the Racer X Brand Garage Sale! Make sure you head over to Racer X Brand to receive 30 percent off select apparel and up to 70 percent off other items.
Hurry though, there are limited quantities left so make sure you get your gear before it's gone.
Visit Racer X Brand and use coupon code: GRGSALE18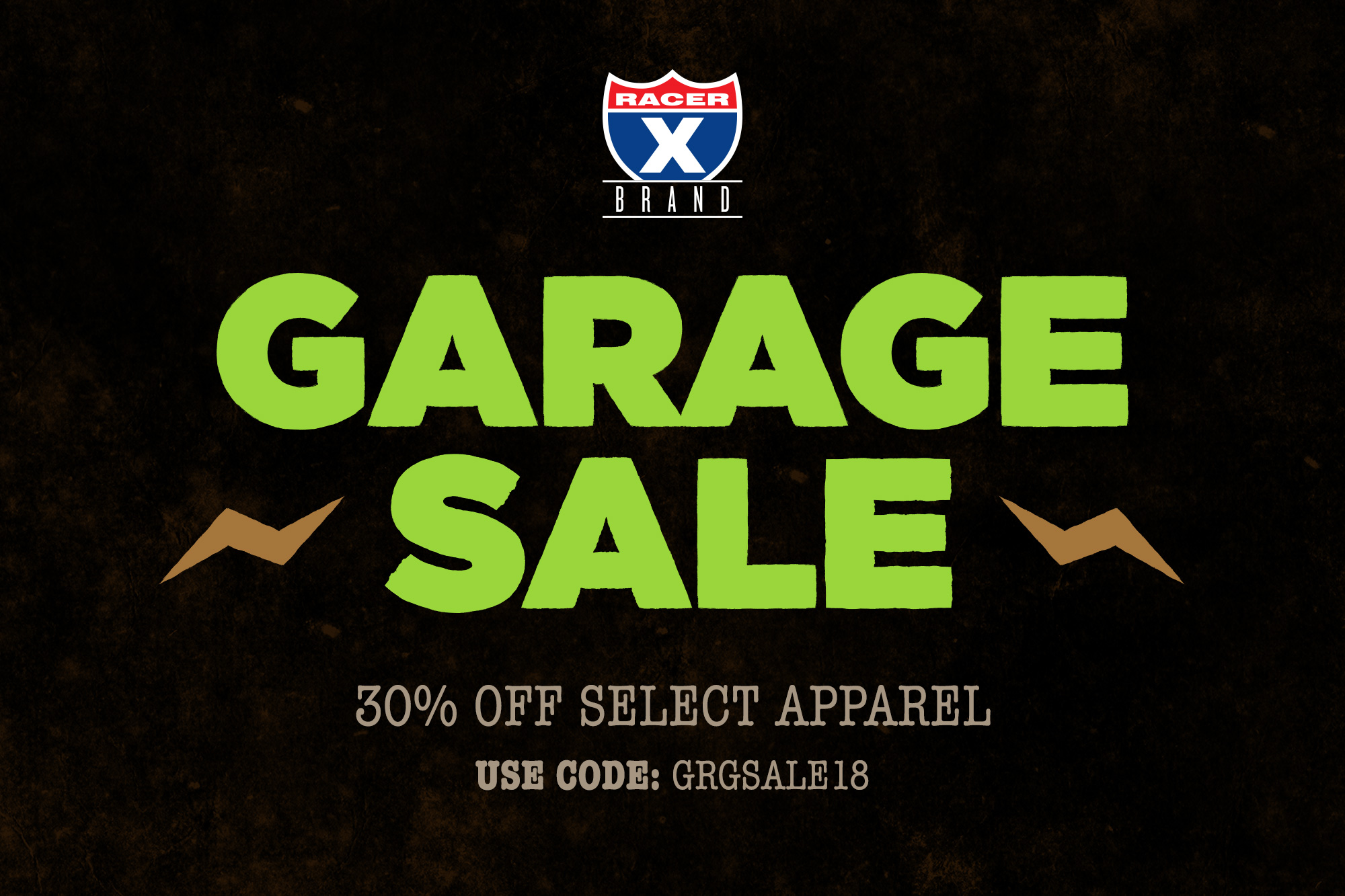 Supercross Hangout with Matthes, Weege and/or Jason Thomas
Subscribe today for as low as $9.98 for a chance to win two free tickets and all-day pit access to the following Monster Energy Supercross event of your choice: Seattle, Minneapolis, Foxboro, Salt Lake City, or Las Vegas. You'll get to hang out with Steve Matthes as well as Racer X's Jason Weigandt or Fly Racing's Jason Thomas for part of the day, which could include scouring the pits for free lunch and a brief tour of some race rigs—basically, whatever Matthes, Weege, or JT get themselves into on a normal day at the races. Weigandt will be available to attend Foxboro and Las Vegas; Thomas will be at Minneapolis, Seattle, and Salt Lake City. Matthes is there no matter what.
Races include Seattle, Minneapolis, Foxboro, Salt Lake City, or Las Vegas.
The Supercross Hangout winner will be randomly chosen and contacted the Monday before the Seattle Supercross. Upon being contacted, the winner will choose their preferred event: Seattle, Minneapolis, Foxboro, Salt Lake City, or Las Vegas. If the winner fails to respond within 24 hours, a new winner will be chosen. The winner will also be announced on the Fly Racing/Racer X Podcast during the week leading up to the Seattle SX. For questions and concerns, email online@racerxonline.com or harass Weege, Matthes, or JT on social media. Travel and hotel accommodations not included.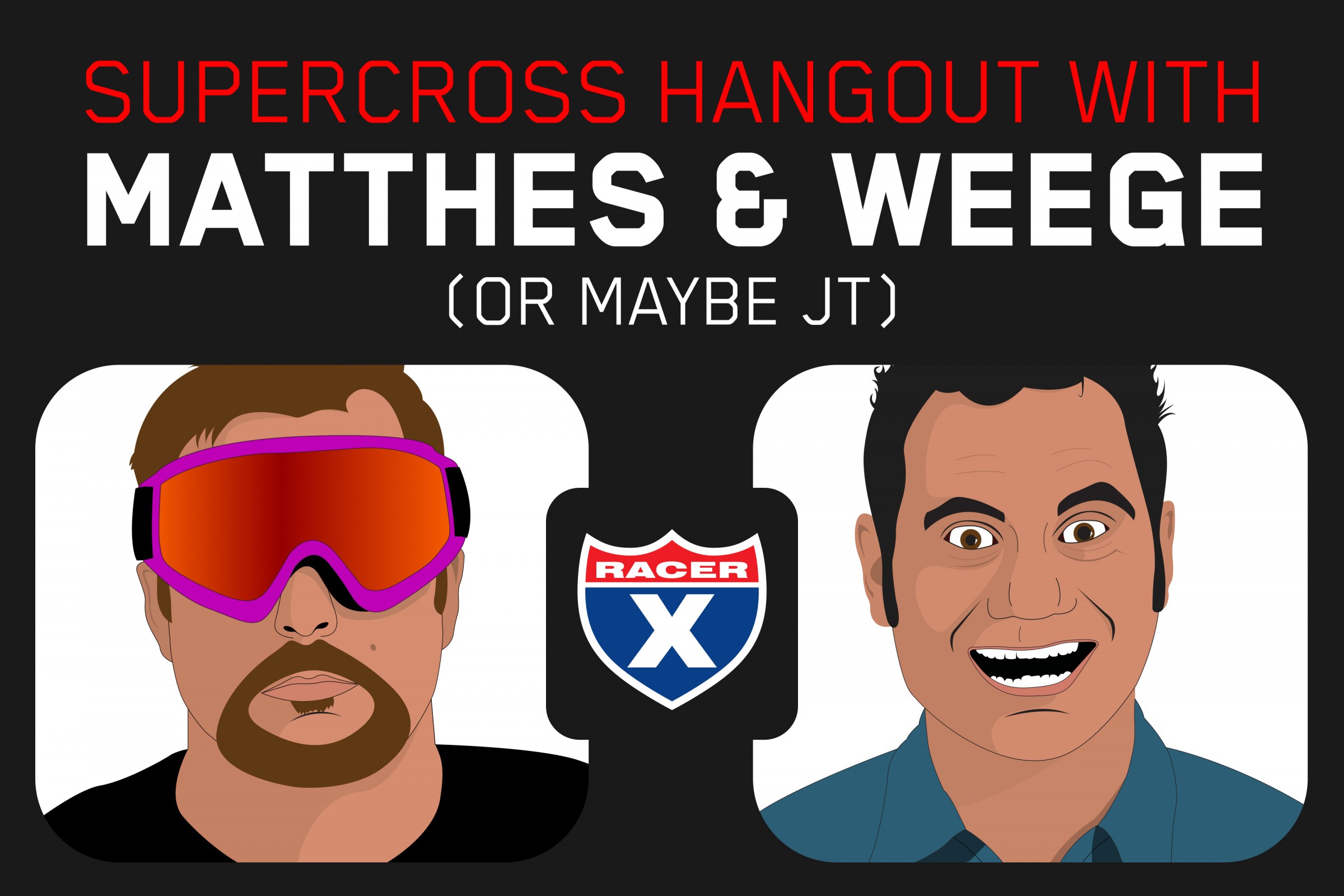 Backpacks are Back | Free Shipping
Backpacks are back on Racer X Brand. These Limited Edition Racer X Branded Ogio backpacks are the real deal. Get yours today while supplies last. Also, take FREE shipping on all orders over $50.
Use Code: FREESHIP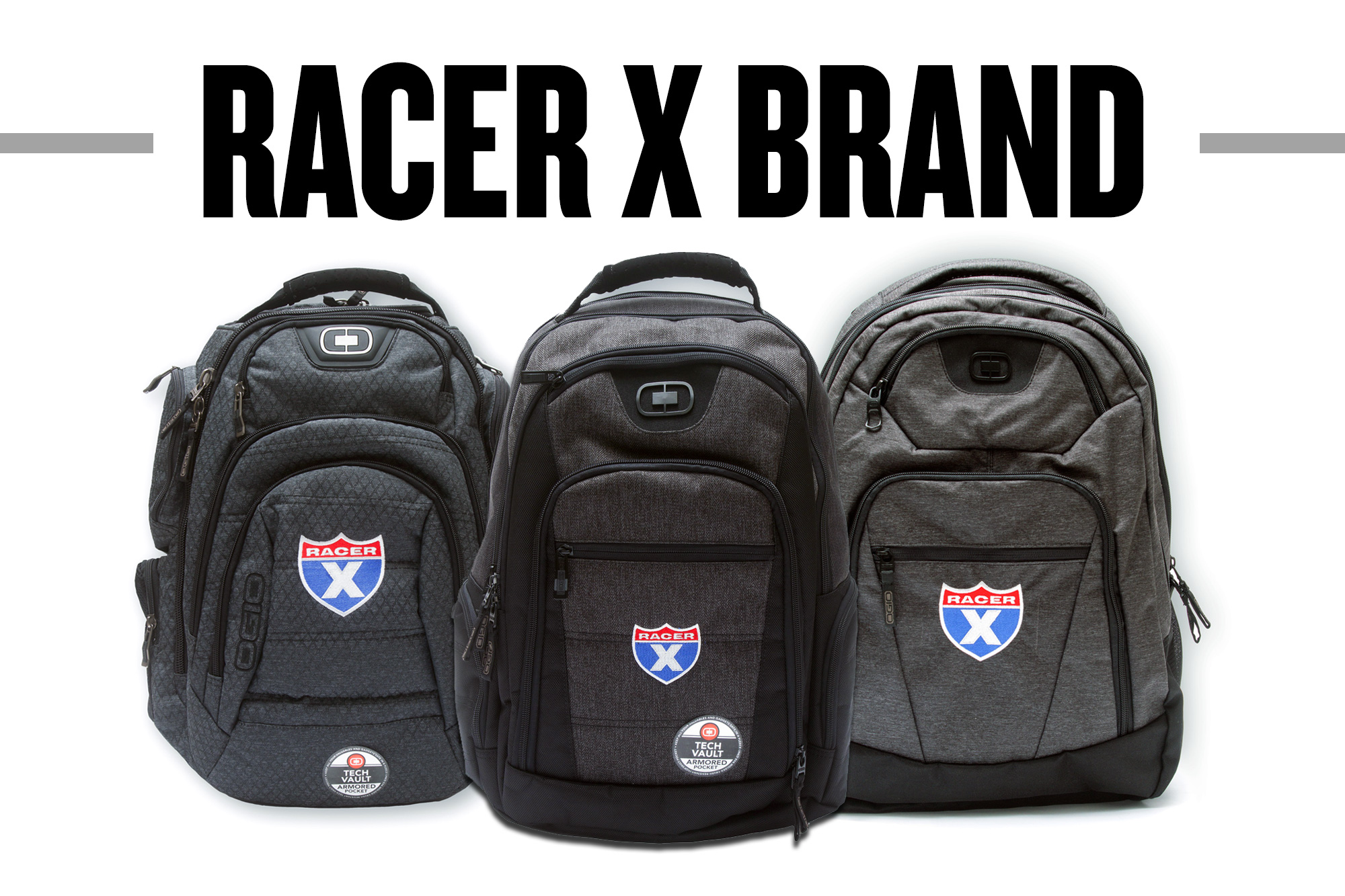 That's all for now—thanks for reading Racerhead. See you at the races.