Tampa, FL
Tampa
Monster Energy AMA Supercross Championship
On May 4, 2013, arenacross refugee Tyler Bowers, hired to compete in the last three rounds of the 250SX East Region for Monster Energy/Pro Circuit Kawasaki, made supercross fans around the world sit up and take notice when he won the final main event of the season inside Sam Body Stadium in Las Vegas. A year later, Mitch Payton hired him on full-time, and the former tyrant of the hockey rinks hit the podium on three separate occasions, ultimately placing ninth overall in West Region points. Truth be told, however, be it bad luck, injuries or even off-song rides, Bowers was never really able to gain any sort of momentum from that point forward, basically struggling to stay anywhere around the top ten. However, the native of Danville, Kentucky, has stayed with it.
After showing promise thus far in Monster Energy AMA Supercross, he received a huge break this past week when the Monster Energy Kawasaki team offered him an opportunity to race recently injured Josh Grant's works 450 beginning this Saturday night at Raymond James Stadium in Tampa, Florida. Gritty (arenacross can do that to a guy), hard-working, and determined, if anyone deserves a shot at showing he still has what it takes to flourish in this sport, it's Tyler Bowers.
Racer X: Tyler, so you're a Monster Energy Kawasaki factory rider come Saturday. That has a nice ring to it, doesn't it?
Tyler Bowers: [Laughs] Yeah, it's pretty nice. They got me back.
Before we get going rolling here, how's your health?
I'm still a little beat up. In the crash at Oakland I broke four ribs, bruised my lung, sprained my wrist, bruised my shoulder pretty good, and broke my finger. My finger is getting better and it's pretty much not an issue anymore. My sprained wrist was feeling great, but then I crashed last weekend again in practice and tweaked it a little bit more. The shoulder is a non-issue anymore. The ribs are the biggest thing. It's pretty hard to breathe with a couple of broken ribs. I'm just trying to get through the season and to really tough it out, but each week I just get better and better. San Diego, a week after the crash, I was just trying to survive that. Last weekend was Arlington, as you saw, I was quite a bit better. I led most of the heat race and was actually riding pretty good, too, but I just had a hard time breathing through the main event. Yeah, I'm not 100 percent, but each weekend I get a little bit better and I can still run with the best of them.
Just what happened with that crash in Oakland?
In that rhythm section they had there, somebody kept knocking the Tuff Blox off the track. It was so rutted and guys were kind of jumping everywhere and somebody knocked a Tuff Block down. One of the track crew guys was putting it back up, and when he did, I was jumping that first triple into the rhythm section. I think he heard me coming and I don't know if he panicked or what, but he just kind of dropped it and ran off and the block was just a little bit out of line with the rest of the Tuff Blox and, unfortunately, that's right where I was getting ready to land. I landed right next to it and just barely caught my foot on it and it just pulled me right off the back of the bike. Of course, the only thing that stayed on my bike was my throttle hand wide-open. Yeah, I went for a trip right there—a little wild ride. I was very lucky to get out of there alive.
Yes, you looked very formidable in leading that first 450SX heat race at Arlington. That was impressive.
Yeah, thanks. I got off to a good start. That's been a big issue for me this year. It seems like a lot of the guys are pretty close as far as speed goes lately. The top ten is right there and at any point a tenth-place guy can be a fourth-place guy. It kind of depends on where we've been starting. Just being able to get off to a good start in that heat race was a big benefit. This weekend being on a factory Kawasaki, I look to really improve my starts.
So, Josh Grant's factory Kawasaki KX450F is your race bike for the time being?
Yeah, racing this weekend is pretty quick to get on the bike. I rode yesterday and that was my first day on it. Today it was supposed to rain here, so we didn't ride. So, just one day on the bike a couple days before the race is kind of jumping the gun early, but I feel pretty good on it. I've been riding Kawasaki already this year and setup was pretty good. The factory Kawasaki has an amazing setup right off the bat. Josh did a lot of testing and got it to a really good spot, so I'm pretty lucky to kind of pick up where he left off. He did all the hard work! I'll get on it this weekend and I think it will be a lot better.
When and how did you find out that you got the ride?
I got the call on Tuesday. I kind of had a feeling about it. I'm pretty close with all the Kawasaki guys, still. I was in the doctor's office myself on Monday getting some therapy done. Josh Grant and I go to the same guy. Josh came wheeling in on a scooter and I felt so bad for him. I talked with him a little bit there. I sort of had a feeling, but there are a lot of politics involved with meetings and stuff like that before they make that decision to give the bike to one guy. I wasn't trying to jump the gun. They just called me on Tuesday and of course I accepted.
You've experienced more than your fair share of bad luck during the past couple of years, so it's nice to have something cool like this come your way.
Yeah, I've been really fortunate lately. The past six to eight months have been good. I had been working hard all summer riding the bicycle and riding the dirt bike as much as I could. I was trying to be prepared for when that door opened. I've heard before that luck is when preparation meets opportunity, and I've been making sure to be prepared. In the past there have been a few times where I wasn't able to be prepared, whether it was injuries or anything, really, and that just kept me behind the ball. So, this time I'm prepared and I came into the season on my own on a Kawasaki with my own sponsors and built a good program and did all the work I could to make sure I was fully prepared for the season, and it showed. Getting this great opportunity and being prepared for it, that's a dream come true.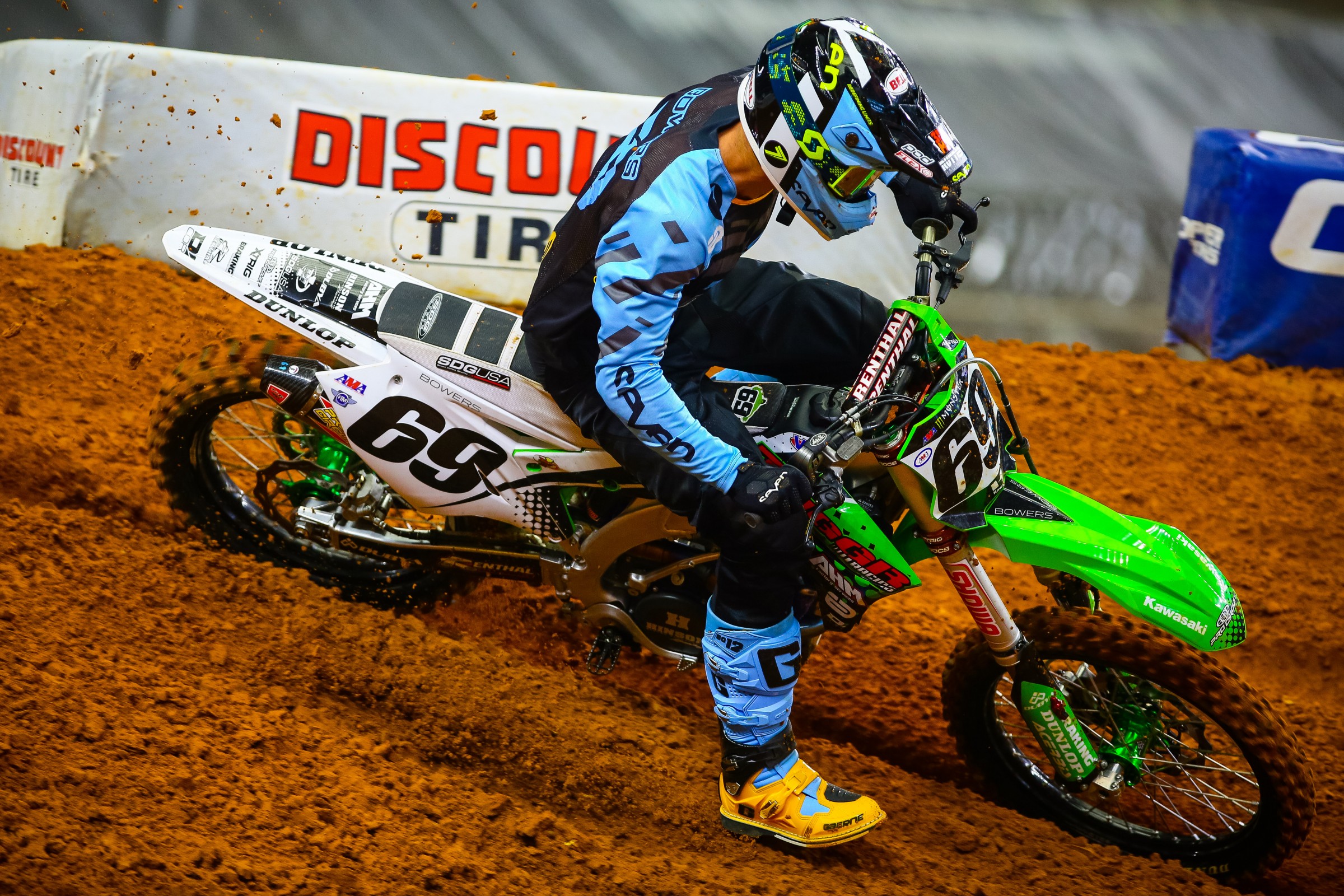 Who had been helping you out up to this point in time?
Yeah, it's crazy, man! It's a village! There are so many hands involved in my program. First and foremost, Trigger Racing/Rutted Racing/AHAM Factory Services/Kawasaki is what we called ourselves. Trigger Racing is a team based out of Wisconsin. Chas [Kadlec] started the team last year and had Henry Miller and Paul Coates on it. Rutted Racing is a T-shirt company and the guys helped me out an insane amount with funding and helping me to get to the races. AHAM Factory Services did my engines and for the West Coast rounds I used their box van. I was really, really fortunate this year to get all the help I could get from all these guys.
Do you know how long you'll be with the Monster Energy Kawasaki team, and is it a full-on factory ride where you don't have to worry about how you're going to get to the races?
Yeah, it's full-on. I'll just fill in until JG comes back. They're not trying to get a third rider or anything crazy like that, and I understand that. Hopefully JG can come back soon. I don't really know what his timetable is. I'm really going to try and enjoy keeping his seat warm for him until he comes back! Yeah, and I fly in to Tampa on Friday and, yes, it is a full-factory deal. It's a pretty cushy program. I just fly in with a gear bag now. It's a tremendous opportunity to be able to go after this. I'm feeling good already. I'm just feeling really excited and I'm confident in myself and really excited about the weekend. It takes a lot of my plate being able to just show up with a gear bag and everything is right there and pretty much ready to go. It's a tremendous opportunity, and I plan to take full advantage of it.
What are you expecting out of yourself, and has the team provided you with any sort of expectations they want you to try and achieve?
The team is great. It's very pressure-free with the team. They need guys at the races and they need guys in the main event, and they know I can do that. They've got a guy already they're counting on to win. Eli is their number one guy, for sure. I plan to go and I know I'm capable of winning heat races, so let's just start there. I led the majority of a heat race last weekend, so let's set some small goals and maybe try to get a heat race win before the end of this. From there, I'll just try to keep putting it in the top ten. I'm just looking to put this bike in the top ten and just finish the races. That's what the Kawasaki guys really need. They need a warm body on the track each weekend, and that's what I plan to be.