Justin Brayton | Smartop/Bullfrog Spas/MotoConcepts Honda | 6th in 450SX
Overall, the night was okay. Even in practice, I qualified well and I felt good on the bike. I just didn't execute my starts, that's the main thing. I knew going in the track would be really difficult to make passes on, and if you had good track position in the beginning, you could sprint and get away from that pack where everyone is kind of mixing it up. But I was in that battle again. I made my way to sixth and that was kind of it. I struggled with the beginning of the race, with the start. Overall, the track was okay, and I'm happy with my riding. I just needed a better start.
Your season's been going well. Is there anything different you can put your finger on?
I think a couple things. For one, my mindset has kind of changed with having a family and it is somewhat later in my career, which eases the pressure of constantly having to prove yourself week-in and week-out. Honestly, for me, if I get first or 15th, obviously I don't want to get 15th, but if I do, it's not life-changing for me. I still go home and enjoy my family. My daughter has no idea, she thinks I win every weekend, so I'm good on that side. And the comfort on the bike. The team's done a great job getting me comfortable, and the Showa Suspension guys have been awesome, too. Those two things add up to a happy rider, which in turn helps get some good results. We're fifth in points—tied for fifth, I believe, after tonight—and I think if you told us we'd be fifth in points and not far out of third heading East, I think we'd probably take that. I like some of the venues coming up, too. I've had some great success in Dallas. Once we really swing east, it's going to be fun. —Aaron Hansel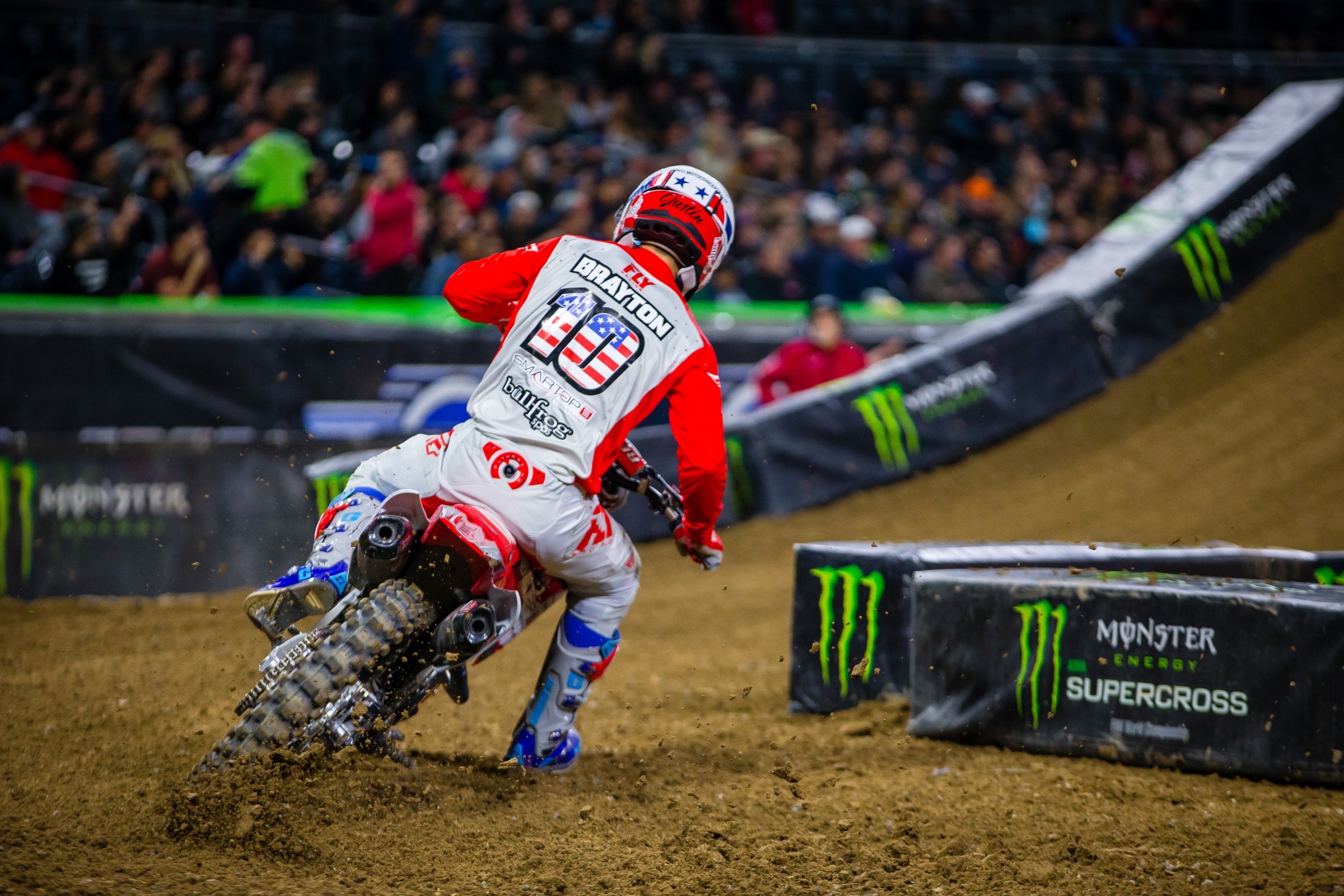 Dean Wilson | Rockstar Energy Husqvarna Factory Racing | 9th in 450SX
I just have to get healthy. I haven't been riding during the week or training like I want to. This week, I just wanted to let my body heal. I've just been riding in pain and getting Toradol shots and getting taped up. It's an epic bummer because I felt really good coming into the first round. Everything was good and I had that crash [at Anaheim 1] and it just knocked the wind out of my sails. It hurt a lot. I'm lucky that everything is okay, but that bone bruise on my shoulder, it really just takes forever to heal. It's a constant ache on my shoulder, and in moments where I really need that strength, I just don't have it. I'm glad to be racing, though, and to be out there. And I think every weekend I'm going to get better.
Racer X: At what point do you decide to take a couple races off and let it heal, or is it helpful to be out there?
Well, I think I could have done that. Houston, obviously, I didn't race. I tried to ride press day and there was no chance I was racing. My arm felt like it was going to rip off the bars. So, I took that off and the next weekend I raced and I was 12th or 13th, which was okay, but my footpeg ripped off. And last weekend, what'd I get? It was that crazy race, Oakland. I got, 11th, yeah, that's right. And that was another one where I was like, "Man I'm not getting any breaks here, these tracks are gnarly!" I just don't have my strength, but I get paid to race and I just want to keep getting better. Taking the week off did help me to heal up, and that's what's going to make me do better on the weekends, plain and simple.
So, was this weekend a bit of a break? The track, at least it looked like it, seemed like it wasn't as tough.
The whoops were kind of gnarly today. For some reason I felt really good in them, but they were really slippery. It'd get you sideways a couple times. But yeah, I think this was a stepping stone for me, and I just want to keep getting better and riding up front. That's where I want to be. But 20 minutes plus a lap is so demanding, and when you're half-wounded out there, you really start feeling it. But I just have to keep pushing and get better every weekend.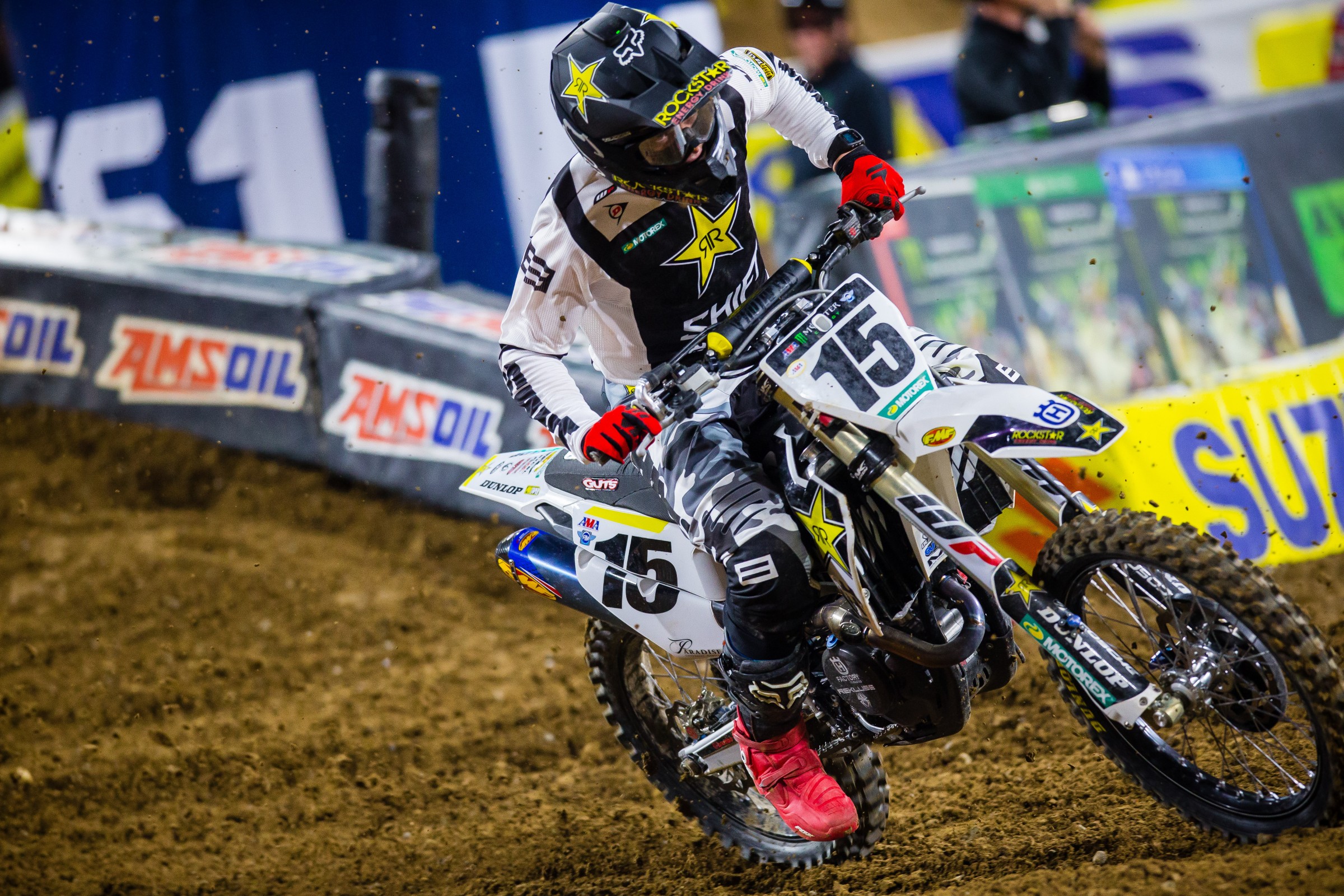 Did you and Justin Barcia have words after the race?
I don't know, he got all dramatic after the race. I actually don't even know what he said. But you know, it's racing, it's all good. He'll stuff me, I'll stuff him, it's all good, no worries.
Did you two get into it on the track?
Yeah, you know, I tried to pass him a couple times. He slammed me, so on the last lap I went in for the slam as well. But the dude just always stays on two wheels. It's like his wheels are Velcroed to the ground. We both went off the track. It was pretty frustrating because I should have had eighth. But anyways, it's all good, no bad blood between us.
Earlier you mentioned you were riding a lot of during the off-season with Jason Anderson. What was your pace compared to him, and where do you see yourself ideally being able to finish?
I think my pace would have been on the podium for sure. At first Jason was kicking my butt, but it was so good for me. It was hard to take mentally because, honestly, it pisses you off, but every time I rode with him I got better and better. Moving toward Anaheim, I'd really closed the gap. He always had an edge on me, but not a massive edge like it was. So, I was feeling good. He's very talented and he just rides his bike so well. He's smooth and he finesses it. He's very efficient on his bike. But yeah, it's a bummer. I think I could have been a podium guy, but I think I still can be and I'll get it there. I've just had to rebuild myself a bit.
Is it mentally draining to be getting just inside the top ten when you feel you should be getting podiums?
No, right now it's not an amazing feeling, but at least I'm in the top ten. I think a lot of guys who are in my position wouldn't be racing. So, from here on, I'll just try to get better every weekend. You have a goal, to be on the podium, and you just keep pushing for it. That's it. —Aaron Hansel
Benny Bloss | Rocky Mountain ATV/MC-WPS-KTM | 12th in 450SX
The day was a huge improvement for me, for sure. I made it through the whole practice day solid, consistent. I think I qualified 18th, which is better than what I've been doing lately. I never crashed in practice and then had a solid heat race. Then in the main event, something I've been trying to work on is consistency and just trying to be smooth. I made it 20 minutes, probably 26 laps, I would say, solid, smooth and I never fell, which is huge for me. I'm extremely excited about that. It's a big win. I think I got 12th maybe, 12th or 13th. I had a fun night and I'm ready to do it again next week.
It sounds like you weren't really worried about what anybody else was doing out there. You were just trying to hit your own marks, not go on the ground?
Yeah, for sure. My mechanic kept writing my lap time down on the board. So, I was just trying to do like I do at the practice track, just try and hit the same lap time every single time. I think that was the most calm I've ever been on the track racing, just focused on myself and not really worried about anyone else. With how everything's gone lately, it's kind of like a good result whether it be 16th, as long as I didn't crash and I had a solid, consistent moto, I'm happy with it.
What'd you think of the track tonight?
Track was good. The dirt was kind of tricky in the main event. It was really, really slick. I think the track crew did a good job. I really liked the sand. —Kyle Scott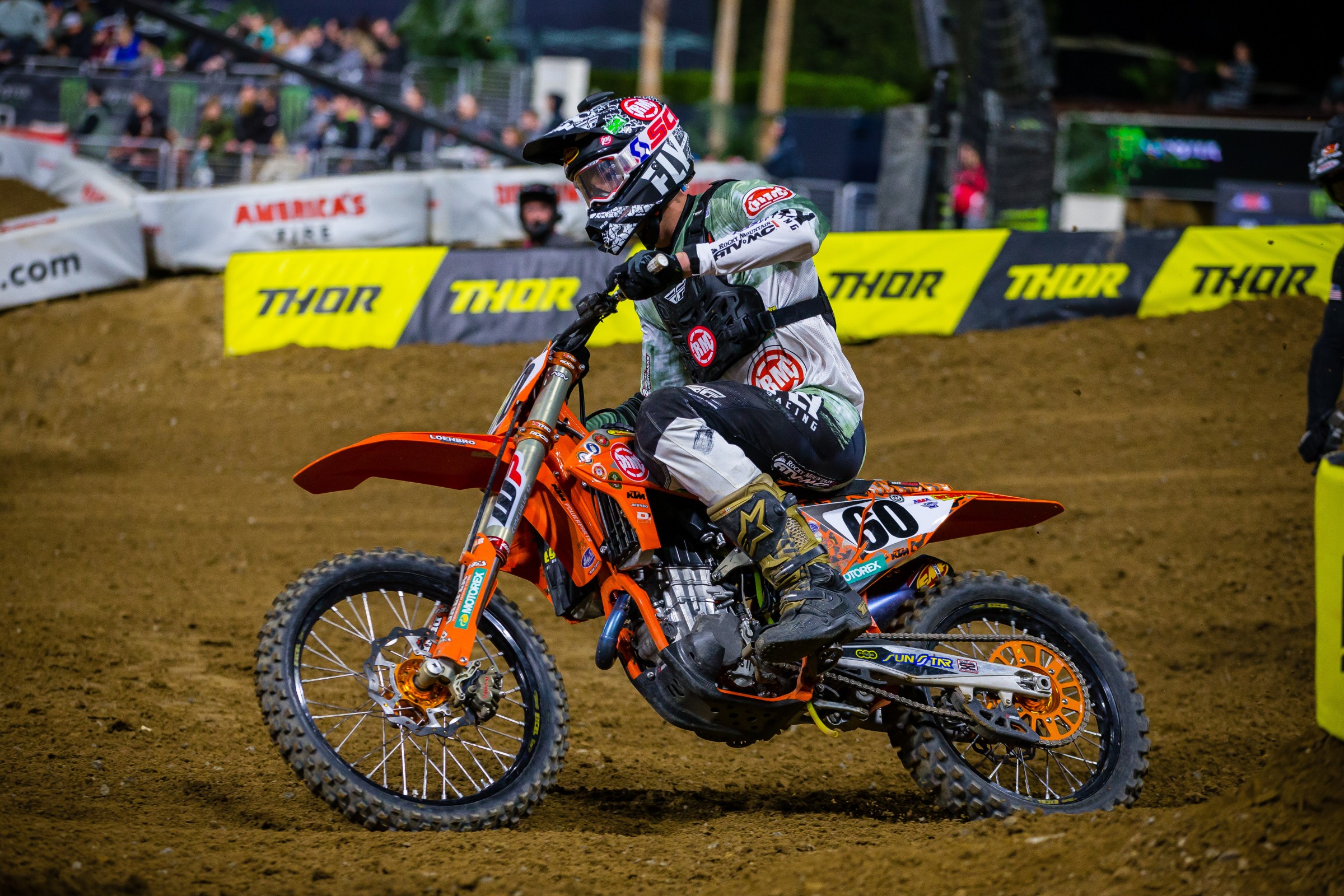 Shane McElrath | Troy Lee Designs/Red Bull KTM | 5th in 250SX
I guess we survived. It was really a tough week, dealing with a crash in Oakland. Kind of just been in survival all week, but trying to tough it out. Just really tough it out for one more week. It's been tough to be there, but I was happy with a fifth. I didn't feel like myself all day today, just struggling on the bike. My body wasn't working very good. A fifth is fine. We made up some points on Aaron [Plessinger]. I seen he went down, but he got up, which is good. We're learning and growing, and Indy's going to be a fun one.
Are you sore from last week's crash? What was your week like?
Really nothing changed during the week. Even tonight, I feel about the same as I did after I crashed at Oakland. I can't hardly breathe. I don't think anything's wrong, but it's just something with my ribs. I just can't seat-bounce anything, can't hit ruts… It's just one of those nagging things that I don't think anything's wrong, but it's just miserable to do anything. Like I said, just trying to tough it out this week.
Going to take some time off to heal up?
Yeah. I'll be in Dallas next weekend. My wife and I are driving to Dallas as a stop on our way to the East Coast. We're moving some of our stuff. It's going to be fun hanging out.
Going to be going back to Florida?
Yeah, just for a couple weeks and then we'll stay there until Indy, and from Indy we'll come back here.
So, you're going to do some outdoor testing here pretty quick?
Yeah, we'll get on outdoors and kind of just start training. Maybe a little testing, but we'll wait until we kind of get back out here and just get dialed in.
Obviously, you're not exactly where you wanted to be at this point in the season, but as a whole, how would you say everything's going?
I think we're in a really good position. I think that we don't have the pressure on us, which could be good or bad. I'd like to be a little closer, but I think right now it's easy to think that you've got it in the bag. There's a lot of added pressure with that. I think we're in a really good position, especially with two Shootouts and two regular races left. There's still a lot of racing left. —Kyle Scott
Kyle Chisholm | 51Fifty Energy Drink Yamaha | 7th in 250SX
The night was okay. We made a few more changes on the bike during the week to get it a little more comfortable for me. We've been working on a few things each week and I've made a few little improvements, nothing crazy. I kind of finished right where I've been finishing every race, in that seven to ten range. I really want a top-five. On paper we haven't really finished any better, I think we were eighth again [Ed. note: Chisholm ended up seventh after Aaron Plessinger was docked one spot after cutting the track], but my riding is getting better. We're getting closer to that next level, that next group of guys. I'm kind of bummed we're at the break now, I'd like to keep that ball rolling. But I'm going to do some races on the 450 on the East Coast too. I'll be on the 450 next week, so I'll keep racing. It'd be nice to keep the 250 stuff going, but I look forward to riding the 450, too. Just going to use it as practice and stay sharp for the 250.
Talk about tonight's track versus last week's. It obviously wasn't the same. How'd that affect the way you chose to ride?
Both tracks were pretty technical. Kind of tighter. Nothing crazy you could do on the track tonight, nothing crazy-big anyone was doing, but the jumps were pretty peaky and the whoops were tough and long. The whoops and track were slippery, too. You had to be pretty precise and hit your marks every week. Last week was similar, but the dirt was soft and spongey. This week it was hard and slippery. Similar tracks as far as being technical, but last week the ruts made it a lot tougher than it would have been, had it been a hard pack track. Definitely more of a California-type track here tonight. I don't know how the floor space is here, but it seemed a little smaller. The lanes were shorter, the turns were tighter, and the track was slippery. But I thought they did a good job with the track. I liked that section right out of the first turn. It was kind of just something different. I like it when they do things like that instead of just the same jumps with different combinations. That gets kind of routine for us, but with that little dragon's thing, up and down, there were probably three different good ways you could go through there. I was pretty happy with that, they've been doing a good job with the tracks this year. —Aaron Hansel