O.co Coliseum
Oakland

,

CA
Oakland
Monster Energy AMA Supercross Championship
If you're looking for a place to follow the action from the fifth round of Monster Energy Supercross, congratulations, you've found it. Welcome to the Racer X Race Day Feed, where you'll find all the information you need to stay up on the action from Oakland. We'll be'll be updating this page on a regular basis so be sure to check back often. Posts are in chronological order, so scroll down for the latest info. For even more media, follow us on Twitter, Instagram, and Facebook.
Pre-Race Report
After last week's race in Glendale, just about everyone was buzzing about the track. It was tough, had long lanes, and provided great racing. Well, the O.co Coliseum doesn't have as much room as the University of Phoenix Stadium, which means the lanes are shorter, but that doesn't mean this track won't provide it's own challenges. The dirt here is a little softer and sandier than most of the other rounds, and big ruts develop rather quickly. In fact, substantial ruts were already forming barely halfway through the first set of practice rounds, which started early today on account of today's day race schedule. Bottom line, expect the track to get downright treacherous during today's main events.
We stopped by Josh Hansen's pits yesterday afternoon and learned that he's most likely out for today. He's back riding, and his foot is feeling better, but he's not quite race ready. We were told he'll most likely be back next week in San Diego. Elsewhere on the injury front, Alex Martin is back after sustaining a hairline fracture to his collarbone at A1. Dakota Alix is back too after spraining his thumb. For a complete look at who's in and who's out, check out our Injury Report, which is thankfully shorter than normal this week.
Timed practices will be starting shortly, so be sure to check back soon for a report on the action.
First Timed Practice
When the 250 A group rolled out it was Christian Craig who started posting fast laps right away, but guys like Adam Cianciarulo, Aaron Plessinger, and Joey Savatgy weren't far off his pace. By the end of the session Cianciarulo had posted the fastest time on a track that's already starting to get rutty and technical. Mitch Oldenburg had a crash in a rhythm lane and was slow to get up, but eventually appeared to be okay.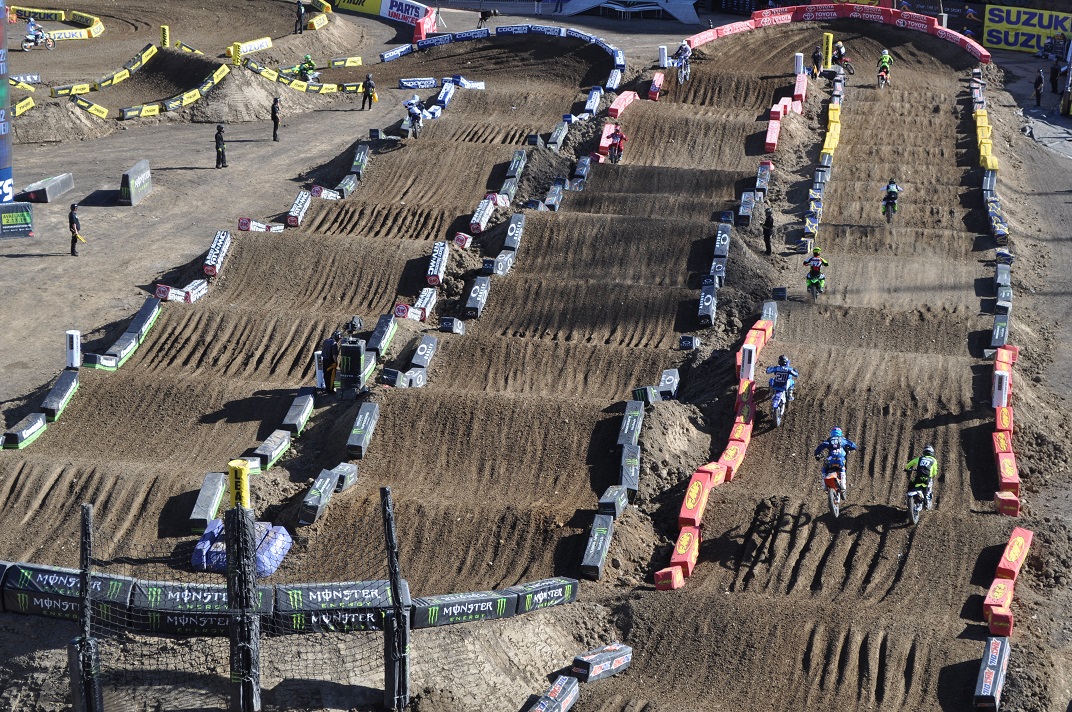 In 450SX action guys like Marvin Musquin, Cole Seely, Justin Barcia, Josh Grant, and more all took turns at the top of the board, but when it was over Seely had the fastest time. Eli Tomac never looked great out there and was only able to muster a startling thirteenth. Expect more speed from Tomac in the second set of qualifiers.
If there's one thing we learned from this first round of qualifiers, it's that today's track is tough. There are plenty of sections that are full of ruts, which should make Plessinger happy, and there's a rhythm lane that's giving a lot of the guys a hard time too. You can either double-double-double-double, or double-triple-triple. The double-triple-triple is, not surprisingly, the fastest route, but very few of the riders were able to execute that option consistently, most likely on account of the rutted out jump faces. There were also plenty of crashes, and after one rider went down hard, they even red-flagged one session to fix the face of a jump. Buckle up folks, this track is going to get gnarly!
Oakland - 250SX West Group A Qualifying 1
Full Results
Oakland - 250SX West Group B Qualifying 1
Full Results
Oakland - 250SX West Group C Qualifying 1
Full Results
Oakland - 450SX Group A Qualifying 1
Full Results
Oakland - 450SX Group B Qualifying 1
Full Results
Oakland - 450SX Group C Qualifying 1
Full Results
Second Timed Practice
If you didn't know any better, you would have thought the final 250SX qualifier of the day was an actual race. The guys shot off the line and barreled into the first turn like it was an LCQ, with Cianciarulo taking the early lead. The intensity continued for a couple laps too before it started to resemble an actual timed practice session. Justin Hill, who wasn't very fast (by his standards) in the first qualifier, started showing signs of life in this one, and he looked really fast when he decided to throw down a fast lap. The stopwatch rewarded him too, as he was briefly third-fastest. He ended up fifth fastest, a little over a second off Cianciarulo's fastest lap, which was the fastest of the session. Mitch Oldenburg had some sort of mechanical problem and had to push his bike off the track after just four laps. Even so, he managed tenth-fastest in this one.
The 450SX guys didn't quite start off with the same intensity of the 250SX Class, but that doesn't mean there was any less excitement. Alex Ray swapped hard in the whoops and went down, Weston Peick jumped off the track and appeared to smack his, ahem, man parts, and Vince Friese had a scary moment when he lost control, dribbled into an opposite lane, and nearly had had a head-on collision. To top it all off, Justin Bogle whipped out a Nac-Nac over one of the triple jumps.
As far as lap times, Barcia was killing it almost the whole session and ended up setting the fastest lap (51.798). Musquin wasn't far behind though, just over a tenth of a second off. In fact, the top four of Barcia, Musquin, Anderson, and Seely were separated by less than two tenths of a second! Conspicuously absent from that group was Tomac. He was better in this session than the first, but he'd probably prefer to qualify better than eighth place. Ken Roczen also wasn't brilliant in this one, taking fourteenth fastest with a 53.397. Shout out to Tyler Bowers, who showed some nice bursts of speed. He was fifth fastest for a while and ended seventh fastest, less than a second off Barcia.
Oakland - 250SX West Group A Qualifying 2
Full Results
Oakland - 250SX West Group B Qualifying 2
Full Results
Oakland - 250SX West Group C Qualifying 2
Full Results
Oakland - 250SX West Combined Qualifying
Full Results
Oakland - 450SX Group A Qualifying 2
Full Results
Oakland - 450SX Group B Qualifying 2
Full Results
Oakland - 450SX Group C Qualifying 2
Full Results
Oakland - 450SX Combined Qualifying
Full Results
250SX Heat One
If you were hoping for close race up front, this wasn't it, as Shane McElrath pulled the holeshot, created a modest gap over Joey Savatgy in second, and rode to the uncontested win. There was some passing behind them though. Hayden Mellross, who ran third early, found himself under heavy pressure from Chase Sexton, who made the pass after several laps to take over third. Further back, Cole Martinez was doing his best to take ninth from Ryan Breece, and even passed him at one point, only to see him go right back by in the next rhythm lane. He never got Breece, but Chase Marquier wasn't able to stay in the top nine and slipped out of a qualifying spot, handing Martinez the final transfer position. Mitchell Harrison will head to the LCQ after getting caught up in a first-turn crash.
Oakland - 250SX West Heat 1
Full Results
250SX Heat Two
Aaron Plessinger got this one going with a holeshot, but Adam Cianciarulo was right on him. For a little while it seemed like the crowd was in for a major battle, but Cianciarulo couldn't quite get close enough to show Plessinger a wheel. Then Plessinger started slowly gapping Cianciarulo, who at that point was starting to get reeled in by Christian Craig. Cianciarulo found some more speed toward the end of the race though and nearly caught Plessinger when the checkers came out. Alex Martin, who is back after injuring his collarbone at the season opener, was in the mix with Craig for a while but settled in for fourth after a few laps. Phil Nicoletti's pace slowed considerably in the last two laps and he nearly dropped out of qualifying position. He managed to hold on to ninth despite significant pressure from Josh Mosiman. Plessinger, Cianciarulo, Craig, martin, Justin Hill, Justin Hoeft, Jean Ramos, Martin Castelo, and Nicoletti all advanced.
Oakland - 250SX West Heat 2
Full Results
450SX Heat One
Cole Seely nabbed the holeshot in the first 450SX heat race and did his best to run away, but Eli Tomac didn't want to let that happen. After making his way past Marvin Musquin for second, Tomac started slowly catching Seely. He couldn't get close enough to make a move though and ended up running out of time. Ken Roczen finished fourth, but he didn't get the greatest of starts and had to work pretty hard to get there. Nice ride for Justin Bogle, who was way outside of qualifying position early in the race. Still, Bogle, who is racing in just his second race after suffering a concussion at the Monster Energy Cup, managed to race his way back into the final transfer spot. Seely, Tomac, Musquin, Roczen, Josh Grant, Blake Baggett, Justin Brayton, Alex Ray, and Bogle all transferred.
Oakland - 450SX Heat 1
Full Results
450SX Heat Two
Justin Barcia has been on a roll this season, and things kept rolling for him when the gate dropped for the second 450SX Heat. Barcia nailed the start, took the holeshot, and never looked back. His teammate, Cooper Webb, had a great race too and even kept somewhat close to Barcia, but there was just no catching Barcia in this race. He even found a new line in a tricky rhythm lane, opting to triple-triple-double, instead of double-triple-triple. It's a fast line and has far fewer ruts to contend with than the options the other guys are using. Malcolm Stewart went down early and didn't finish the race. A few laps later Henry Miller went down in the same spot and also made an early exit. Barcia, Webb, Weston Peick, Tyler Bowers, Jason Anderson (who set the fastest lap of the race), Benny Bloss, Broc Tickle, Dean Wilson, and Vince Friese all transferred to the main. Chad Reed was just short of transferring, missing out by a single spot, and will head to the LCQ.
Oakland - 450SX Heat 2
Full Results
250SX LCQ
After going off the start in his heat race Mitchell Harrison got right in the LCQ by squeezing off a holeshot. He didn't look back either, taking the win by nearly seven seconds over Justin Starling. Josh Mosiman was briefly in a transfer spot, but Bradley Taft block passed him, causing him to miss a triple, and that was it for Mosiman's main event hopes. A few turns later Taft himself went down and lost a ton of time. He tried to recover but simply didn't have enough time. He'll sit the main out for the first time this year. Harrison, Starling, Julio Zambrano, and Chase Marquier all transferred to the main.
Oakland - 250SX West LCQ
Full Results
450SX LCQ
When the gate dropped Jake Weimer shot out to take the holeshot with Chad Reed right behind him. Malcolm Stewart was in this one too and started around seventh. It wasn't long before Stewart started making moves though and he soon found himself in qualifying position. Meanwhile, up front, Reed made a move on Weimer right after the whoops, drawing the loudest cheers of the night. Stewart eventually found himself in second, but behind him it was absolutely nuts, as a ton of guys were all in the mix for the final transfer spot. Ben LaMay, Dakota Tedder, Scott Champion, Weimer, and Kyle Cunningham were all going at it. Tedder and Weimer ended up slowing considerably, with Cunningham pushing forward to secure fourth. Reed, Stewart, LaMay, and Cunningham all went on to the 450SX Main.
Oakland - 450SX LCQ
Full Results
250SX Main Event
Now that was a race! The holeshot went to Alex Martin, but it wasn't long before Christian Craig was all over him. After battling for about a lap, Craig went around Martin in the whoops and started gapping everyone. Martin then fell prey to the hard charging duo of Joey Savagty and Aaron Plessinger. Plessinger proceeded to pass Savatgy, then sliced to the inside of Martin and made his way by right before a triple. Plessinger then went after Craig, who was riding exceptionally well. But then he made a major mistake, getting crooked in a rhythm lane, jumping off the track, and crashing over a Tuff Block. He remounted, but he'd lost three spots. He'd crash again later and end up in fourth. Martin, meanwhile, was under fire again, this time from Savatgy and Justin Hill, who was riding the best he's ridden all season. Savatgy went by Martin in a rhythm lane, and then Martin got off rhythm, allowing Hill by. Hill was on a roll and didn't stop there, making a move stick on Savatgy and going after Plessinger. With just under four minutes left Hill was ripping and Plessinger's gap started shrinking. But just as it looked like Hill was going to catch Plessinger, Savatgy re-entered the fray! Savatgy went by Hill in a bowl turn, only to have Hill expertly cut down and knife back into the lead. But then Savatgy put a hard block pass on Hill in the next corner that caused them both to miss the ensuing triple! That gave Plessinger all the room he needed to win comfortably, but Hill and Savatgy kept battling, with Savatgy just barely edging Hill for second. Afterward an exhausted Plessinger appeared to collapse on the stadium floor. We'll have more on that situation a soon as information becomes available.
Adam Cianciarulo and Phil Nicoletti weren't a factor in this one. They got together on the first lap, with Nicoletti ultimately pulling out of the race and Cianciarulo starting from way, way back. Shane McElrath also went down early and wasn't a factor. It looked like he may have tangled with Jean Ramos, but there was so much going on in this race we didn't see exactly what happened.
Oakland - 250SX West Main Event
Full Results
Supercross 250SX West Standings - 2018
Full Standings
450SX Main Event
Just like the 250SX Main, this one was wild. Cole Seely got things going with a holeshot, with his teammate, Ken Roczen, right behind him. Tomac, meanwhile, didn't have a great jump and found himself about eighth and battling hard with Josh Grant. The two even bumped right before the finish line jump, forcing Tomac to roll the jump. Half a lap later Grant spun out and went down. He attempted to remount quickly, but gassed it too hard, hit a Tuff Block, and went over the berm. Then Tomac went down again, and just like that, the Monster Energy Kawasaki teammates were in dead last. Tomac wasn't able to recover and found himself stuck in traffic for most of the race. He ended up thirteenth.
Up front Jason Anderson was charging hard, and when he caught Marvin Musquin he put a move on him that left Musquin on the ground. A second later Seely made a bobble in a rhythm lane and crashed all by himself, handing the lead to Roczen. The things started getting really crazy. The track had deteriorated substantially and guys were making mistakes everywhere. This would come into play later, as Anderson was catching Roczen. When Anderson was about one second back of Roczen, Roczen bobbled, but was somehow able to hang onto the lead. Blood was in the water though and Anderson was all over Roczen as the two navigated a sea of lappers. Then a little bobble from Roczen allowed Anderson by, but then Roczen straight up passed him back a couple turns later! The crowd was going crazy, and the stadium reverberated with thunderous cheering as the two sailed over the finish line side by side to begin the final lap. Roczen had the advantage, but another small mistake in a rhythm lane allowed Anderson back by. Anderson was making mistakes of his own, but for some reason they didn't seem to slow him down at all. Anderson rode to the win, just inches ahead of Roczen.
Oakland - 450SX Main Event
Full Results
Supercross 450SX Standings - 2018
Full Standings