February 3
2001
The iconic moment for the Anaheim 3 Supercross, when defending champ Jeremy McGrath is surpassed by future champion Ricky Carmichael, literally happens before our eyes during opening ceremonies. With each rider having won two races to start the '01 championship battle, the series organizers invite them to take a sighting lap together during the intro. McGrath, who always did something cool with his helmet or motorcycle for the Anaheim races—Angel Stadium being the House That Jeremy Built as far as supercross goes—had rigged some pyro on his lid to a button near his clutch thumb. When the two were side-by-side in the air McGrath hit the button but the pyro did not go off, and he effectively did a "dead sailor" because he was waiting for the fireworks to happen. Carmichael, on the other hand, furiously whipped his Kawasaki KX250 sideway, and the crowd roared.
Carlo Bagalini captured the moment, and it turned into this iconic Fox Racing ad. Carmichael would later win the race with another furious effort, this time a come-from-behind ride for what will be his second win in a record-tying 13-race winning streak to end the 2001 EA Sports AMA Supercross Championship. McGrath, the all-time King of Supercross, did not go down without a fight, and Anaheim 3 '01 must rate as a top-ten all-time battle. But Ricky gets the better of him, and Jeremy won't win again. His first of a record 72 wins came at this same stadium in 1993; his last also came here on January 20, 2001, two weeks before this race. McGrath will end his career with seven AMA Supercross Championships, also still the record. Carmichael will win the title in five of the next six years—he was forced to sit out the 2004 series with a knee injury.
As you get your prep on for today's Oakland SX, watch the main event here from Anaheim '01, it will get you ready for some supercross! David Bailey more or less says, "I don't think I have seen something like this since Bob Hannah."
1996
Five years earlier, McGrath was at the absolute peak of his reign. He wrapped up his fourth straight win to start the 1996 AMA Supercross Championship, this win coming in Seattle. McGrath, riding for Team Honda, was working on his fourth straight championship. He was also just getting the ball rolling on his epic 13-race winning streak that saw him very nearly sweep the entire 15-race series. Kawasaki's Damon Huffman and McGrath's Honda teammate Steve Lamson would finish third.
In the 125 class Yamaha's Kevin Windham would top Pro Circuit Kawasaki rider David Pingree and Suzuki rider James Dobb.
1990
Kawasaki Team Green rider Jeff Emig scored the first win of his professional career at the Houston Astrodome, topping future off-road legend Ty Davis, future Arenacross legend Buddy Antunez, and future 125cc legend Steve Lamson.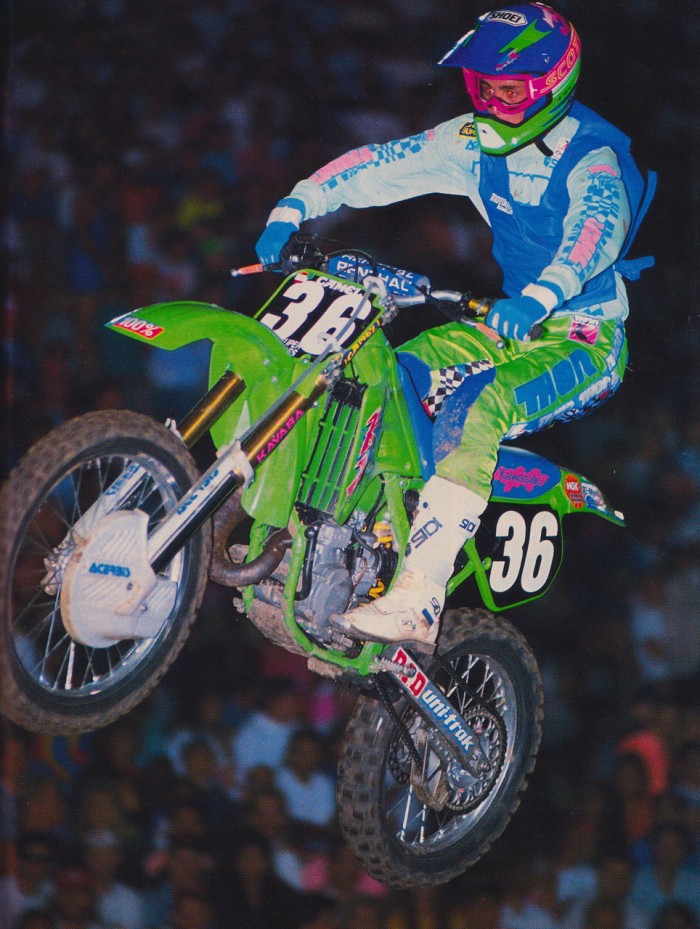 The winner of the 250 Class at the Astrodome was Yamaha's 250cc rookie wonder Damon Bradshaw, who topped another class rookie, Suzuki's Larry Ward, with the veteran Johnny O'Mara finishing third aboard a Kawasaki. This would mark the last-ever AMA Supercross podium for the '84 series champion O'Mara, who would call it a career at the end of the 1990 season.
1986
At the CMC/Skoal Bandits Golden States race at Marysville, California, this was the top ten in the 80cc minicycle expert class:
Kyle Lewis (Hon)
Paul Winn (Yam)
Tallon Vohland (Kaw)
Shane Trittler (Yam)
Damon Bradshaw (Yam)
Steve Lamson (Yam)
Denny Stephenson (Kaw)
Terry Swanson (Yam)
Jeff Emig (Kaw)
Paul Vlack (Suz)
Doug Dubach won the 125 Pro class while Brian Manley topped the 250s. Among the names you might recognize in the Pro class results were Ty Davis, Bob Moore, Jeff Matiasevich, Russ Wageman, Jim Tarantino, Gordon Ward, and Whisperin' Smith (that's his name!)