Oakland, CA
Oakland
Monster Energy AMA Supercross Championship
Smooth and Rough. Fire and Ice. Outstanding and abysmal. You can use just about any combination of opposites you like, and chances are, you can find a way to metaphorically apply them to the racing that went down in the O.co Coliseum tonight. It truly was a night of opposites, with a few riders leaving Oakland in triumph, while others were left dealing with wounds, some figurative and some literal, that are all but guaranteed to leave lasting scars on their 2018 supercross campaign.
Jason Anderson was one of the lucky riders whose main event could not have gone any better. The Rockstar Energy Husqvarna Factory Racing rider turned what could have been a very nasty night into a victory, extending his points lead to fifteen over Ken Roczen. The win didn't come easily either—Anderson overcame a big crash in practice, started outside the top five and had to work his way forward, catching Roczen in the final stages of the race to stage one of the best battles we've seen in a long time. How good was it? Well, when was the last time the final lap started when first and second place sailed over the finish line jump right next to each other?
"At the beginning of the day, during practice, I endo'd so hard," Anderson said afterward. "I got away from the bike pretty good, I belly flopped down the backside, but my bike hit me in the back. All day my back was sore and honestly, it kind of scared me. One of the worst things that can happen to you on the track happened to me in the first couple laps. I was very hesitant all day after that. In the heat race I wasn't that good, I was literally like a fifth place guy, and I really had to bring it around. That battle at the end, it was crazy. We were both making mistakes, the track was so hard to just hit your marks. The lappers played a factor too because you were used to one line the whole time, and whenever you got behind them you had to switch it up and you didn't know how deep the holes are. It was insane, but it felt great. The track was so out of control, you could have made a pass anywhere. I tripled on behind him [Ken Roczen] and got next to him in the whoops, but there was only one good line in the whoops and I went a little bit right and almost went down the last lap there. I went into the corner and I knew whoever hit that next section the best was going to win. You couldn't really plan your passes tonight, it was crazy."
Anderson's win didn't come without a bit of controversy though. On his way to the front he had to go through Marvin Musquin, and he did it quite forcefully, leaving Musquin on the ground. Afterward we tried to get his take on the pass, but he declined to talk about it, simply saying, "I don't want to talk about that."
Musquin, understandably, wasn't thrilled with the move and didn't mind saying so afterward.
"I was looking forward to a really good main event," Musquin explained. "I was running third, trying to keep up, and Anderson, yeah, pushed me really high in the berm and I couldn't do anything. I went down. I got up, and on the same lap [Cole] Seely went down. We battled for a lap or two and I passed him. I ended up fourth, it's all I got today. It's a decent result for me right now, but I was looking forward to getting back on the podium tonight, to be honest. It's a bummer. Jason was quicker at the end of the whoops, but he never turned… I feel like it's been two weekends in a row. I mean, he's racing hard, which is, you know, it's understandable, but also, I'm mad at him because we know each other, and it's a bummer to make somebody crash like that. It's not like he's racing me for the championship right now."
Ken Roczen came oh so close to taking his first win of 2018, and while many riders would be thrilled with second place, Roczen wasn't exactly pumped about it.
"It was a great, fun race. I grabbed a good start and tucked right in behind Cole [Seely]," Roczen said. "He was going really good, then he had that mistake in front of me. I was leading and I was trying to not get too amped up and push more. I knew the track was going to get worse and worse, and in those tight rhythm sections it's easy to clip something or jump too far. You can land in the ruts and have to miss the next jump, or possibly go down. There were definitely a few close calls out there. Jason got by me, I don't even remember where, and we had a good battle. I was really bummed. We worked so hard on a difficult track like that to pretty much just give it away on the last lap."
Rounding out the podium was Blake Baggett, who at one point, looked like he might challenge for even more.
"I felt good until we got into lappers," Baggett explained. "I was pacing myself and I was right behind Jason. We were in a freight train and I could tell we were kind of moving forward to where Kenny was. I was spotting it and I knew lappers were coming into play, and as soon as we got to Vince Friese, he just didn't see the blue flag I guess for like four laps. But I think everyone in the whole field that's raced has had those problems. Everyone has to do it, and you get used to that one line, that six inches of track, and it's no big deal to switch it up when it's hard packed, but when you've got ruts all the way across and some of them are two feet deep, it gets uncomfortable and you're not sure whether or not to pull the trigger. You're not sure if you want to deal with the consequences."
Justin Barcia didn't get another podium, but he made the best out of a night that could have ended much worse. A bad start caused Barcia to round the first lap in eleventh, but he was able to steadily move up, eventually ending the night in fifth. He went through Eli Tomac to get there too, which caused Tomac to go down. Barcia's authored some questionable moves in the past, but afterward posted on Instagram he felt the pass was clean.
"Negatives from the night bad start in the main I charged through the pack and rode great anyone hating on my pass bumped their head that was clean racing he wasn't ready for me to come in and turned down I would do the same thing over again I held my line and was on the inside."
Tomac was never able to recover and ended up spending most of the race stuck in traffic, eventually notching thirteenth. It's not the worst finish of his season, but with Anderson taking the win, it's absolutely disastrous for Tomac's championship. He now sits fifty-two points back of Anderson, which means he's going to have to make up an average of 4.333 points per round on Anderson. Based on the way Anderson's been riding, that's going to be extremely difficult.
Josh Grant didn't have a great night either. He looked extremely fast early on in the 450SX main, but he spun out and crashed in a bowl turn. When he attempted to get going again, it looked like he gassed it too hard too early, and his bike stood up and he went through some Tuff Blocks and over the berm. What could have been a season best for Grant ended with a tenth place.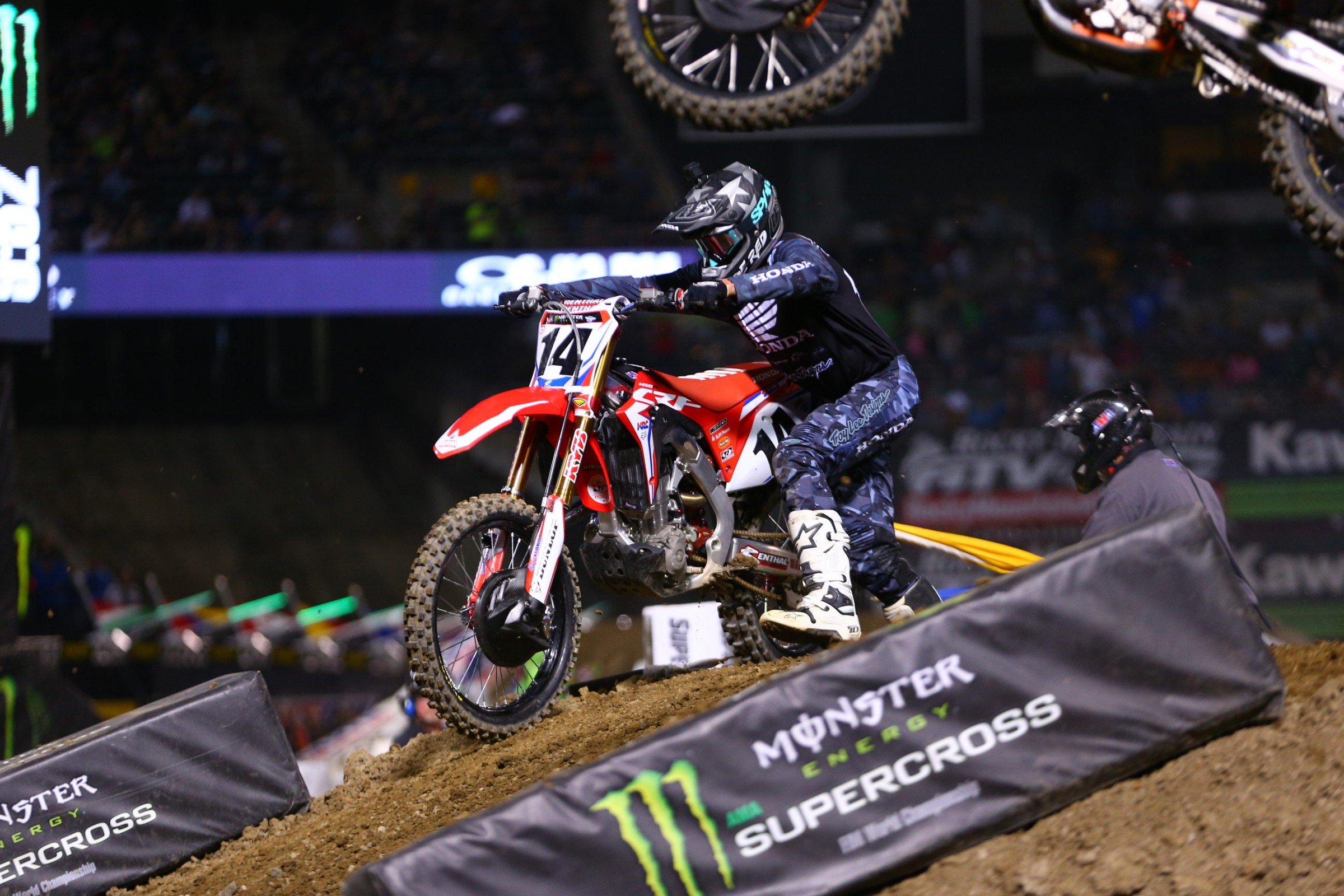 Speaking of season bests, Tyler Bowers was well on his way to one. He was fast all day, even qualifying seventh fastest. He was running as high as ninth at one point, but thanks to a run-in with a Tuff Block, suffered a huge, night-ending crash in the main. He'll be sore, but he's okay. He wasn't the only rider who crashed either—it was an absolute war zone out there! Weston Peick, Malcolm Stewart, Kyle Cunningham, Vince Friese, and likely several more riders, all dealt with crashes thanks in part to a track that was extremely difficult. Nobody's crash was more heartbreaking that Seely's, however. Seely was well on his way to his second career 450SX win when he made a mistake in a rhythm lane, which was easy to do tonight, and went down all by himself. Just like that, his shot at a win was gone after leading eleven laps.
Supercross
Rider
Hometown
Bike
1

Jason Anderson
Edgewood, NM

United States

Husqvarna FC 450
2
Ken Roczen
Mattstedt

Germany

Honda CRF450R
3
Blake Baggett
Grand Terrace, CA

United States

KTM 450 SX-F
4
Marvin Musquin
La Reole

France

KTM 450 SX-F
5
Justin Barcia
Monroe, NY

United States

Yamaha YZ450F
Full Results
In the 250SX Class, Plessinger put in a performance so gritty he made sandpaper jealous. Coming into Oakland, Plessinger was dealing with a bad flu, which was evident when he didn't set the track on fire in practice, qualifying seventh fastest. But somehow he was able to pull things together in the main, and even though he had to go through a few riders, he still pulled off the win. Afterward he was so drained he collapsed, and as far as we know, he didn't even bust out a victory dance. He was in such bad shape he didn't even make it to the post-race press conference. It was an amazing display of heart from a rider who is clearly tired of getting second place.
Joey Savatgy and Justin Hill went back and forth several times, with Savatgy edging out Hill for second place. The two nearly caught Plessinger toward the end, but their forward progress was hindered by their own battling. Afterward Hill was all smiles and was clearly happy with what was by far his best performance of the year. When asked what made the difference, Hill simply pointed to getting a better start.
"I've just been making steady progress," Hill said. "What really is making the difference is what I've been saying, the start. Just getting out and seeing these guys. If you don't see them you have no chance of battling with them. I had a good jump and was able to power through. I think I came around eighth or ninth but I was able to power through and make some good moves. I saw the guys out front, and I was like, 'Hey, I can see 'em. That's light at the end of the tunnel, I can reach that.' And that's what gave me the fire to just scrub a little harder, to try to cut underneath that guy, and to do everything I needed to do."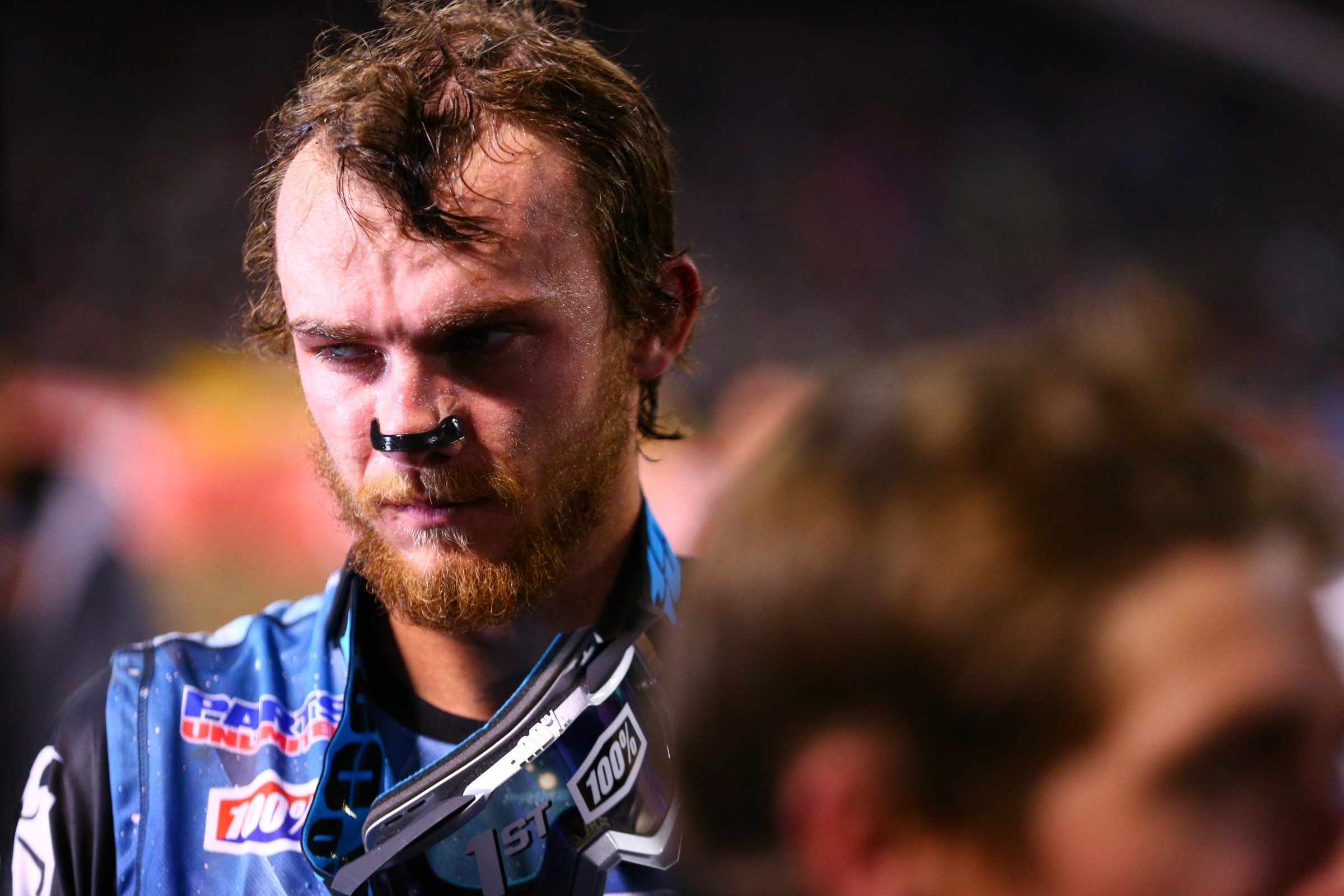 Finishing just off the podium was Christian Craig in fourth. Fourth isn't a bad result by most standards, but we can all but guarantee Craig is extremely unhappy about it. After using superior whoop speed to take the lead away from Alex Martin on the third lap, Craig was flying and probably should have won this race. But he made a mistake in a rhythm lane, jumped off the track, and crashed into a Tuff Block all by himself. It's a mistake that will more than likely haunt Craig for the next few days.
Finishing fifth was Alex Martin, and even though Craig most likely wasn't happy with his fourth, Martin should be pumped on his fifth. Yes, he got the holeshot and led two laps, but he hasn't raced since injuring his collarbone at A1, so to come out in his first race back and lead laps and finish in the top five is pretty good, right? Martin's usually pretty good in Northern California, so this result is somewhat par for the course.
Bummer of a night for Adam Cianciarulo. The Monster Energy/Pro Circuit/Kawasaki rider looked great all day, and even qualified fastest, but he and Phil Nicoletti got together in the main and they both went down. Nicoletti's night was done and Cianciarulo was forced to come from way back. He managed a seventh, but afterward was extremely unhappy. How unhappy? He declined to be interviewed, which is extremely rare for one of the most media friendly riders in the pits.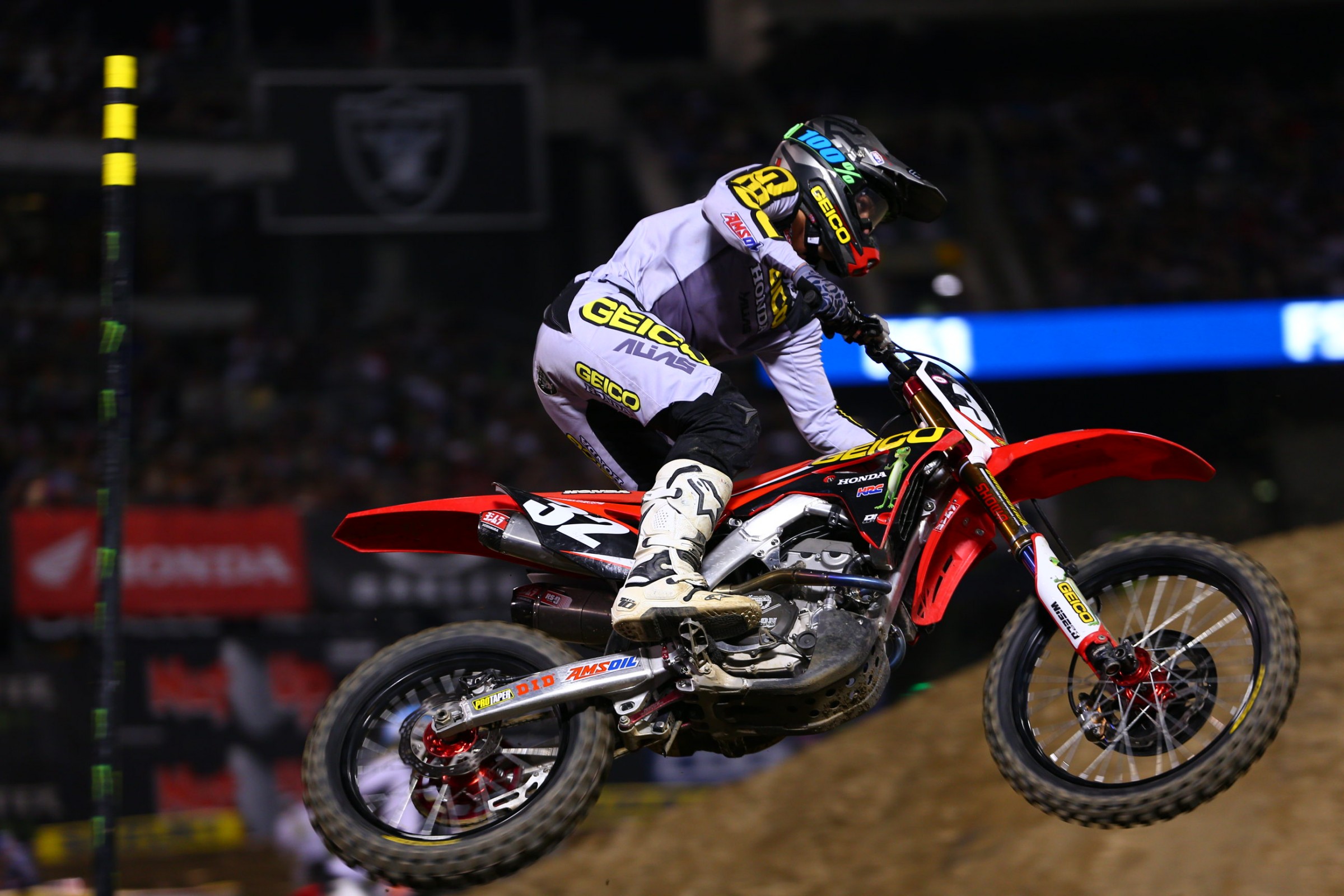 As bad as Cianciarulo's night was, Shane McElrath's was even worse. McElrath and Jean Ramos got into each other and they both went down. It wasn't one of those crashes where both riders pop back up either—McElrath took a minute to get going again. He ended up fifteenth, which is a tough blow to his championship hopes. He now sits nineteen points out of the lead with five races remaining.
"I had a good jump, I just got squeezed out by the Kawasaki guys. I got hung up in the first corner, a hay bale got stuck on my shifter. It was one of those things where you just kind of have to calm down and ride. I felt really good on the bike, which is what I'm pumped about. Fifteenth place, for the championship, is not good. I ended up going down, got cross-rutted and landed on a hay bale in a berm. It really shook me up. I hurt my chest and hurt my ribs. I'm not real sure how everything is, but even afterward I felt good on the bike. It was just one of those nights where you get as much as you can and move on. We're okay, I'm definitely sore, but we're still here and we're still going to go for it."
Also having an extremely rough night was Mitch Oldenburg, who didn't even make it to the main event. The Yamalube/Star Racing/Yamaha rider crashed hard and had to get stitches in his arm. He'll get checked out on Monday, but as of now the team doesn't think it's anything major.
Supercross
Rider
Hometown
Bike
1
Aaron Plessinger
Hamilton, OH

United States

Yamaha YZ250F
2
Joey Savatgy
Thomasville, GA

United States

Kawasaki KX250F
3
Justin Hill
Yoncalla, OR

United States

Suzuki RM-Z250
4
Christian Craig
Temecula, CA

United States

Honda CRF250R
5
Alex Martin
Millville, MN

United States

KTM 250 SX-F
Full Results