The slam-dunk, no-doubt surprise of the season so far is Justin Barcia. He's currently seven points back of points leader Jason Anderson and has three podiums in four races. Heck, it sure looks like he's on the cusp of winning one of these things, which would make it nearly five years between 450SX main events. (The record is eight, by the way, held by Larry Ward.)
Anyone who was at the 2017 USGP in Jacksonville, Florida, saw Barcia, in his final ride for JGR Suzuki, go backward in a terrible race. Earlier this week on the PulpMX Show, he told us: "After the MXGP, I was just in a bad place. I didn't feel good on the bike and I wasn't mentally healthy or physically healthy."
At that point, many of us wondered who in the heck he would ride for and whether he would even want to ride a motorcycle anymore. It was that bad.
We know the story by now: he bought a Honda to race the Monster Energy Cup, didn't do that well, but got a break when Yamaha hired him to fill in for Davi Millsaps. Initially it was a six-race deal but, yeah, don't worry, he'll be on there all year.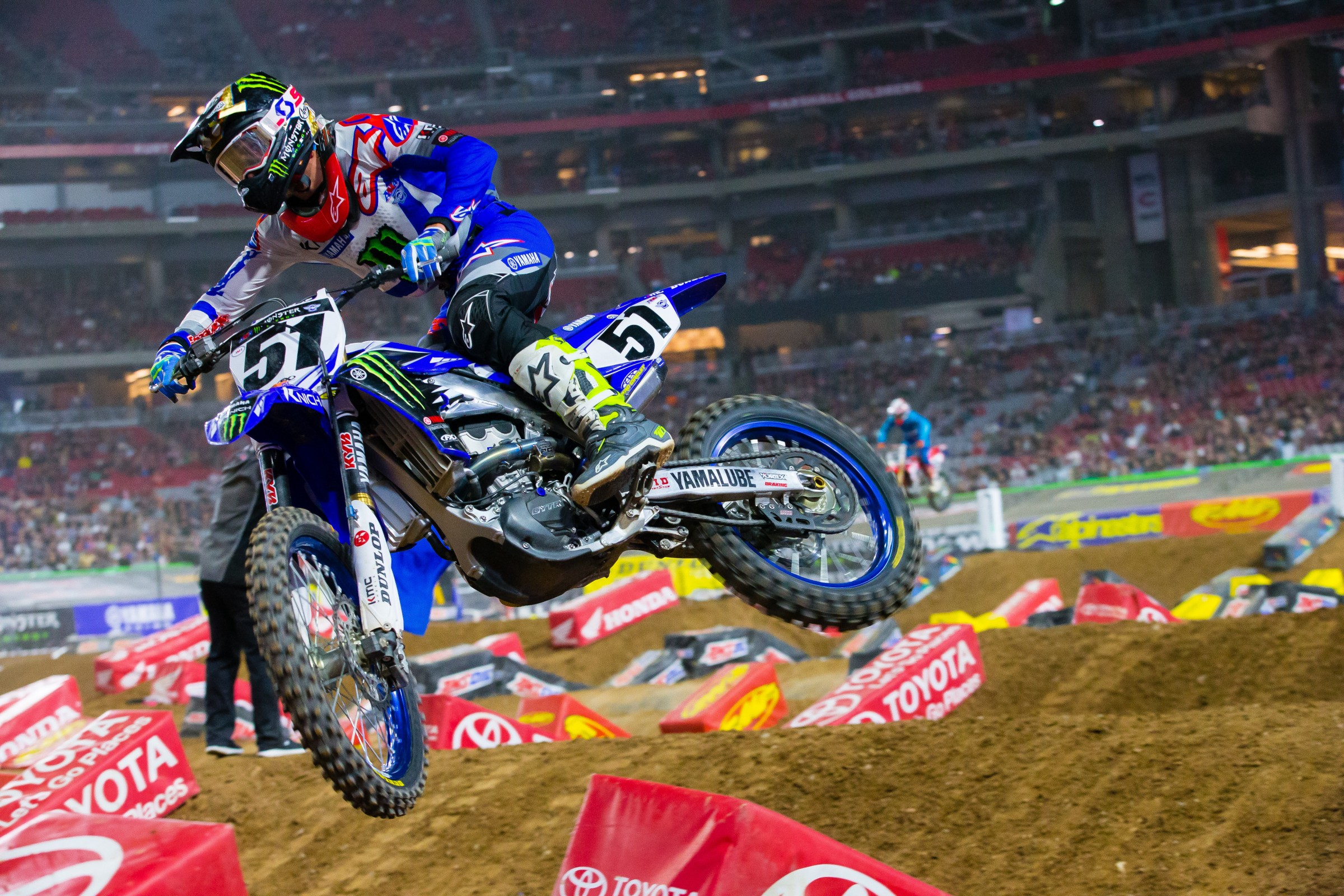 I made a joke that maybe he should declare himself a free agent after six races and let the offers roll in, but Barcia wasn't having any of that.
"I've definitely been talking to Yamaha and trying to get it sorted, but as of right now, it's still on for the six races. I do believe that it will be long-term for the rest of the year. I don't want to go anywhere," he told us.
Another thing I was wrong about was thinking that the 2018 Yamaha isn't that far off the older model, so I wondered how the bike could work better than the older JGR one he didn't enjoy all that much. Yeah, there's a different crew working on it, but the JGR team has smart guys, too.
"For sure, the chassis setup is the biggest difference. For me, I struggled with cornering on the old bike a lot and it just had so much power that it didn't really suit me," Barcia told us. "A bigger guy, like I always noticed [Westo] Peick was able to kind of man-handle it and get it to turn the corners, but for me, I was never able to do that. So, with the new bike, it's just more like a smaller, rider-friendly, where it can turn and stuff. That's the biggest with the chassis, for sure."
That must be music to the Yamaha guys ears because of all the time they've spent trying to get the bike to handle better with the reverse-motor they have going on.
When asked about the weight of the new Yamaha, Barcia was thinking more along the lines of a bike that feels different than the number on the scale.
"I wouldn't say it feels heavy at all. If we were talking about the old bike, I would say the old bike always felt big to me. I like the bike skinny, and for some reason I could never get it to feel skinny. It was always kind of big. But the new bike is a lot skinnier and it doesn't feel big anymore," he said. "I don't have a weight issue with the bike. I'm pretty light as it is. I don't feel that at all. I do feel the old one was a bit wide for me. The new one's much skinnier and it's easier to throw around. You can just kind of see it. I'm able to throw the bike around kind of like the 250 back in the day."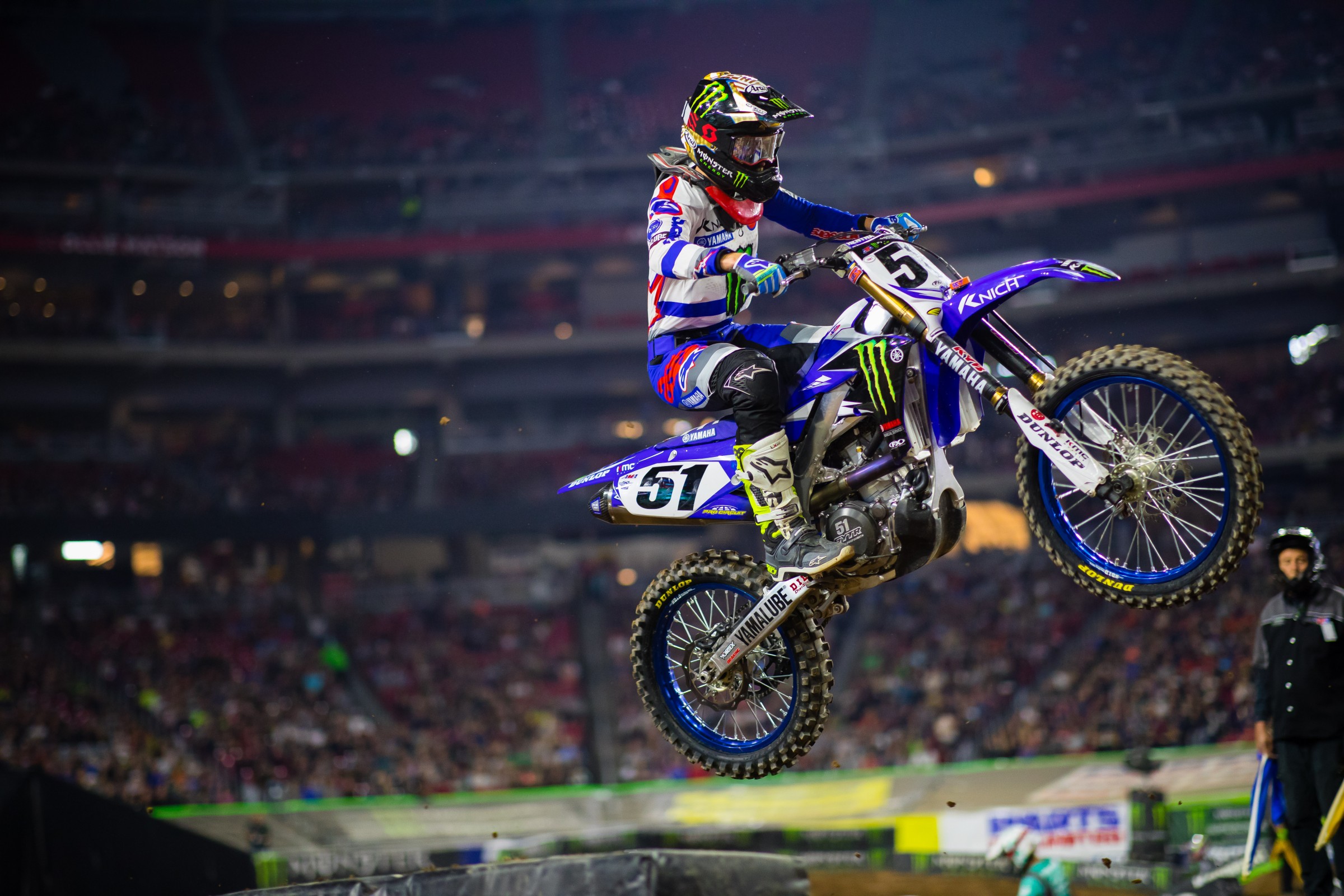 To me, though, and I don't know Barcia's inner thoughts (hey, he just started talking to me again), I think his success is more mental than anything else. He's always been talented—not even his harshest critics would dispute that—and he's in a good place in his life. PulpMX Show co-host Kris Keefer mentioned that Barcia is engaged and home life is good as a result, and Justin surprised me when he talked about working with an old road race rider.
"I also got a little help from Ben Bostrom. He's a super smart person with nutrition and things like that," he said. "He's been very mentally helpful for me this year, which is super good. Then I kind of took over my own cycling stuff a little bit and I run a lot. I did a lot before the season, but I was in such a weird place. I always felt like I wasn't good enough, so I think I was over-training a bit for a couple years. I was just like, why is this not working? I was trying to work so hard, but I think realistically I was just overthinking everything."
Better bike, better state of mind, better help around him—whatever it is, there's no doubt that Barcia is better for it.
What a story.