Oakland, CA
Oakland
Monster Energy AMA Supercross Championship
It was a tough night all around for the 250SX riders in Oakland, as Aaron Plessinger and Justin Hill, among others, were dealing with illness and the track had turned into a rutted mess. Plessinger (Monster Energy/Yamalube/Star Racing Yamaha) ended up winning the race, but he felt so bad due to his illness that he rolled the finish line jump and nearly fell off his bike at the end. He did not attend the post-race press conference.
Justin Hill (Autotrader.com/Yoshimura Suzuki) and Joey Savatgy (Monster Energy/Pro Circuit Kawasaki) battled hard for second, and Savatgy came out on top. Hill's third marks the first podium of the season for the defending 250SX West Champion.
Racer X: Justin, congratulations. On Race Day Live today, you told me that this type of track where you really had to focus and think was something that would benefit you. Was that what happened about halfway through the main event?
Justin Hill: Yeah, absolutely. I was able to get into a little bit of a groove and have some fun out there. The bike was working good. I was pretty happy. I was settled in and I got to use my noggin a little bit and sink my teeth into a track. So, it was a nice change of pace track-wise.
Joey, congratulations. Take us through the battle with Justin. You guys for what seemed like a pretty good amount of time were going back and forth, back and forth. Just kind of walk us through the balance between being in a battle but also having to kind of focus as that track deteriorated.
Joey Savatgy: It was good. I think the first half of that race, I kind of rode tight. Didn't have the greatest lines and Justin got by me. From there, I kind of followed into I guess more of his lines because obviously whatever he was doing was better than what I was doing. Kind of followed him for a couple laps to see what he was doing. We kind of went back and forth. It was exciting. The big thing for me is that it was a clean deal. There was nothing that was over the line. Respectable racing. That's something that I don't mind doing week-in and week-out. There's definitely people out there who don't tend to want to race that way, but when you're lining up on the gate and you know that there's people out there who can race respectably and show a little bit of respect while battling at the same time… Obviously you don't want to like the guy when you're racing, but there's that fine line of racing hard and kind of taking it past that point. I think that was a really good balance tonight. I had a lot of fun. It was obviously fun to be on the box and to be battling, especially after last weekend. It was good.
Justin, you had the unusual ability to change your line on a moment's notice, which most people were struggling with. How do you cultivate that skill? Is it something you work on? Can you work on it?
Hill: Honestly, I attribute that to the bike. It was just working really good. I felt like anywhere on the track that I needed to be or wanted to be, I could obtain. I had a good feeling in my hands everywhere around the track. I can't really put that on myself. It was just a good balance with the chassis tonight.
This question is for both of you guys. The race lines through the whoops, at least from the stands, looked pretty bad and pretty gnarly. How do you maintain your composure when you're hitting sections like that where the race line wants to just buck you this way and that way?
Hill: Just got to send it.
Savatgy: Those things were edgy all day. I don't know. It was weird because first practice they seemed to be pretty good, and then we came back out for the next practice and it was like they hardened up or something. They broke down and then they hardened up. I'd say that was probably one of the edgier sets of whoops that we had this year.
Hill: Yeah, they were hard but like flour on top. It was really strange. I don't know how they got them that way. They were good built. From the get-go I was looking at them going, these are good whoops. I was pretty happy with them. But they broke down really strangely.
Justin, this was by far your best night of the whole season. Is there anything tangible that has changed or anything you can shed light on that's made a difference, or is it just one of those nights?
Hill: I guess I got to catch a cold more often or something, I don't know! I've just been steadily making progress and coping with every little thing that I'm doing more and more. Really what is making the difference, which is what I've been saying, is the start. Just getting out and seeing these guys. If you don't see them, you have no chance of battling with them. I got out front and had a good jump and was able to power through. I probably came around eighth or ninth or something—not great, but I was able to power through and make some good moves. I saw the guys out front and I was like, I can see them. That's the light at the end of the tunnel. I can reach that. That's what just gave me the bit of fire just to scrub that a little harder and try to cut under that guy and try to do everything I needed to do.
Joey, it's not common that we see a rider get passed by multiple people and then kind of regroup. You got passed by both Aaron and Justin tonight and were able to regroup towards the end. What did you learn the most? How did you regroup mentally after that?
Savatgy: That's something that, honestly, I can admit to saying that I struggle with. I think I need to be open to changing my lines in the race. I've been passed before and stuck with the same lines. I think a good example was Houston, when I made a little mistake and Aaron got around me. He was doing that wheelie, three, three after the sand. Obviously, he was wheel-tap quad in the whoops. I think those are things that if I could have picked up on sooner and started doing it, it would have given me a shot to maybe fire back at him and go back after him for the win. Like I said tonight, I didn't even realize Aaron passed me. It was so crazy out there. Obviously, when Justin passed me, I think it was the same lap that I had passed Alex Martin. I was not flustered, but I was like, "Man, I got to change something. It's not working." That was where I really kind of took a step back and thought about it and followed behind him because whatever he was doing was making time and he was going fast. So, I just tried to change up my lines a little bit and figure out where he was going in certain areas where I felt like he was a lot better. It worked tonight, and that's just something that going forward I need to keep in mind, that I've got to be open to changing it and the race line might not necessarily be the same as when it started.
Would you guys agree that the track deteriorating actually helped racing tonight, given the fact that there was only three or four 180-degree turns that are usually great opportunities for passes? This layout with a much stiffer track that didn't break down would have maybe been a little bit more difficult to race on.
Savatgy: Yeah. I think if it was hard pack and didn't rut up, I think it would have probably turned into a slam fest. It wasn't a lot of opportunities. I think from the start, like, let's say you left the gate and got the holeshot, from there basically to the turn before the triple, as long as you protected your insides, no one's getting around you. You have the first turn which goes into a left, which goes into a left, which goes into a left. So, if you've got the inside, they're going to have to go around you. With the ruts and the track deteriorating, it kind of slowed the race down a little bit, but it led to… being a technical person, it definitely played out in the long run. So, I think overall, it helped for sure.
Hill: If you stayed clean and you hit everything you needed to hit, it was hard for sure. I think most passes I made were when somebody did something foolish. I got around them.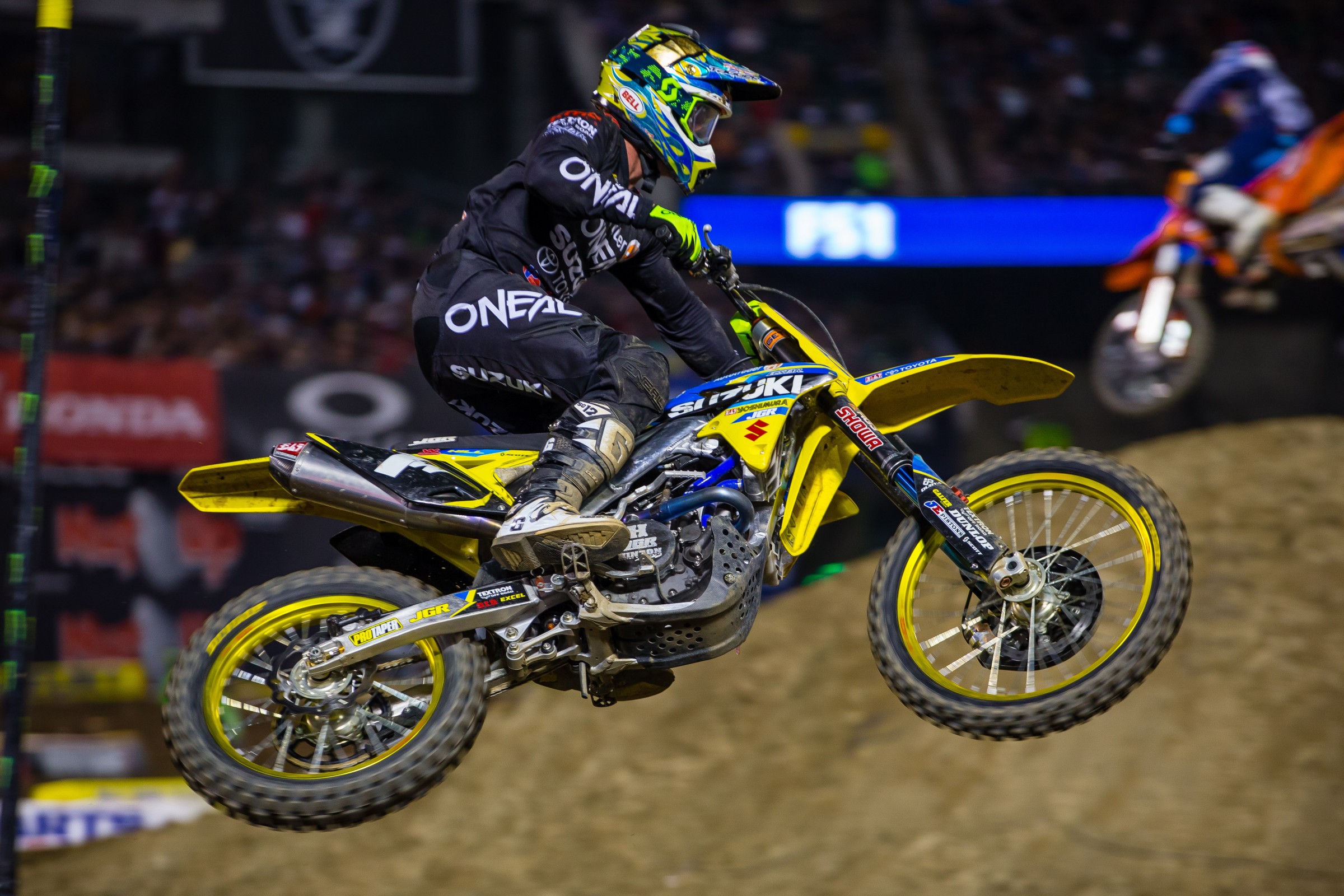 The two of you are known for being pretty technical riders, but the fact is your marks are gone every lap.
Hill: For me, anyway, when I would get something clean, it was always almost like I just got a little bit of extra fire. Like, okay, cool. I nailed that just right. Almost got breath from that. It's hard to screw up. It hurts to screw up out there. It truthfully does. You case something, it sucks. So that's motivation.
Savatgy: For sure. You case a rhythm section, your heart rate probably goes up two or three beats just from having to work that little bit more. It adds up, though. You case two or three in one lane and then you might make it half a lap and case some more. It starts to wear on you. Definitely hitting your marks, they're changing, obviously, with the track deteriorating—your marks aren't necessarily going to be in the same exact spot, but overall you kind of have an idea as to what you need to do. It's definitely crucial to hit the rhythm lane. I think we saw in the 450 main, all Kenny had to do was get the dragon on-off and he could have doubled his way through there and I think he still would have won. When a track's like that, it can come up and bite you at any second.
For both of you guys, was this track surprising in terms of technicality? Oakland is not usually a track that gets pretty rutted.
Hill: I don't think it was meant to be. I think it started as a pretty basic idea. When we were walking it, we just were going, "That'd be cake. That'd be cake." But then you get sinking yourself in ruts and all of a sudden, a little trickier than you thought. That was kind of last year, too. The track last year to me, when we were walking it, I didn't think it was anything and it turned out to be one of the gnarlier ones. I think it's just the track deterioration and how it all came about for me.
Savatgy: I would agree with that statement. I wasn't here last year, but I'll take his word for it.
Hill: This is like an East Coast race.
Savatgy: It really is. You walk the track and you're like, this is going to be simple. Two, three, three all day. Then it starts breaking down and you're like, wow, are we going to be doubling this by the end of the night? Sitting back in the rig after the heat race, thankfully I didn't have to go to LCQ this week, but watching it on TV, we saw the 450s in the second heat a couple times do the dragon on-off and then just double their way through because it just started to break down so bad. It's definitely something you think about. You're like, what's the race line going to be? Because you might be able to go on-off-three-three, but the one time you mess up, what's the consequence? How much does it outweigh the benefit?
Hill: You stick really hard here. I don't know where they get the dirt. Maybe Alcatraz. It's magical.