Glendale, AZ
Glendale
Monster Energy AMA Supercross Championship
450s
Two weeks after not even being able to race in Houston, Monster Energy Kawasaki's Eli Tomac now has a two-race win streak. Could Tomac get on a roll like he did last year? Right now he's 36 points down in the championship, which is not impossible to make up. That being said, it would be the largest comeback in the history of supercross if he were able to do so. History is not exactly on his side. In Glendale, he got the holeshot and took off for his second win of the season.
"Starts were a big push for us this week and I was happy to get out front," Tomac said. "I was hitting every line today and the guys were still right on me, so I knew it was going to be a long race. I am really happy that we were able to run a clean race with as few mistakes as possible and take home the win. We have worked really hard to get as healthy as possible and I'm feeling really good about where we're at."
Monster Energy/Knich/Factory Yamaha's Justin Barcia also got a good start this weekend and battled with his old teammate Weston Peick at the beginning of the main. At one point Tomac stretched his lead out to 6.5 seconds, but Barcia put on a charge in the latter part of the race and was putting serious pressure on Tomac. When the checkers waved, Barcia finished 2.1 seconds behind Tomac.
Barcia's resurgence of speed has also come with a resurgence of mindset. He and his teammate collided in the main at Anaheim 2, and in the press conference he addressed it by saying, "That finish line was funny. It was like a double and then a little thing after it. I was going to try to jump to the inside and then he tucked to the inside last minute and I kind of rear-ended him a little bit. He thought I did it on purpose. After the race he was kind of mad at me and doing some stuff, and I yelled at him. I was like, 'No, I didn't do it on purpose.' But when we got back to the truck I was like, 'If I'm going to hit anyone, I really don't want to hit you. You're my teammate.' Maybe back in the day I would have sent it in there, but I've honestly kind of smartened up quite a bit. Racing's way more fun when it's clean, aggressive racing. I've done some stupid stuff. Kenny can vouch for that. [Laughs] Eli, too. Probably everybody! I'm rebuilding lots of relationships around the races. But he was a little mad at me, but I said sorry."
Honda HRC's Ken Roczen has been on the podium two out of four races this season. Like many others, he did have a couple close calls in the sand section after the finish, but was able to bring it in for third. "We found ourselves on the podium again tonight with a third place, which is awesome. We had a good heat race, but I really need to work on improving my starts," Roczen said. "I have the speed and fitness, but I just need to put myself up front in the beginning. I was in sixth off the start, made some passes, and got myself into third. I rode some solid laps and was inching up on Justin [Barcia], but unfortunately, we ran out of time. All in all, I'm happy with tonight's racing. Obviously, we want to win, but after last weekend it was important to me to come out here and ride how I did. It was a big confidence booster. The team and everyone has been putting in a lot of work each week. I'm having a lot of fun right now and loving where we're at, so we'll keep building from here."
The series points leader, Rockstar Energy Husqvarna's Jason Anderson won his heat but had a bit of a quiet night in the main. He actually went backward at the beginning before finding his groove and making some passes toward the front for a fourth-place finish. "My practices were great today," Anderson said. "I was able to figure everything out. I got pretty set up and was good for the night show. I qualified first in practice and was able to get another heat race win. I started out great in the main but got shuffled back to around seventh but then worked my way back to fourth. I just need to keep the ball rolling."
Red Bull KTM's Marvin Musquin is still nursing his shoulder injury sustained in Houston—he pulled out of the third main at Anaheim 2 and still isn't able to get back to his full training schedule during the week. Considering his condition, he was happy to finish fifth in Glendale. "The main, I was in a good position off the start and that's the key right now, especially in my condition," he said. "I'm not 100 percent right now. So, I was right there with [Ken] Roczen, with [Jason] Anderson, and I tried to follow those guys, get in the good rhythm. That's what I did. I haven't done a 20-minute moto since the week before Houston, since I hurt my shoulder. So, it's definitely been tough, but we're getting better and stronger and I was able to do that 20-minute main event and being consistent, smooth. Got a top five. For me right now, that's good."
Another solid ride for Weston Peick, who has started the season 5-5-5-6 finishes. "Today was not too bad," he said in an interview with Racer X. "I kind of wanted to get through this race healthy, without any injuries. Last year I had a bad crash here and it took me away for the whole season. But today went well. Got off to some really good starts. I finished third in the heat race and showed some good speed. Same thing with the main. Got a third-place start. Passed for second. Ran up there for a couple laps and just started making a few rookie mistakes and cased quite a few jumps. Then I kind of went backwards a little bit. Got it back together and then held it down for sixth for the rest of the race. I'm happy with a sixth. I bumped up to fourth in points. It's obviously four races in, but still it's a good spot to be in. Sixth place is still good. Obviously I think I could have been possibly on a podium this weekend if I hadn't have made those mistakes. Like I said, making those mistakes kind of took the air out of me a little bit, and I had to kind of bounce back and get it back together."
Smartop/Bullfrog Spas/MotoConcepts Racing Justin Brayton came into the 2018 season in mid-season form from his Australian Supercross Championship and off-season races. He was able to pick up his first heat race win in Glendale and continues to show his speed. He now sits sixth in points just two points behind Cole Seely.
Monster Energy/Knich/Factory Yamaha's Cooper Webb has struggled throughout the early portion of the season. He didn't start riding supercross until mid-November, then suffered an ankle injury in the middle of December that kept him off the bike for two more weeks. His results certainty aren't for lack of trying, and he admits the 450 class is deep and tough.
He told Jason Weigandt after the race that his focus right now is not so much results, but improving week by week, "It's a hard thing. I'm usually so results-based," he said. "I need to be in this [certain] position. It's just not where I'm at yet. It's a hard pill to swallow. So, like I said, I think our mindset changed a lot this week. Just stopped worrying about results and just worry about riding."
Monster Energy Kawasaki's Josh Grant finished 10th in the main event. It's the fourth-straight top ten for Grant to start the year. "I'm riding good. That's all I can say," Grant said in an interview with Racer X after the race. "I made a couple mistakes in the last two laps to go in the main and got shuffled back. I think three guys got me on the last lap. I made a mistake in the sand and almost went down. That's been my goal, is obviously to stay in the top ten. The first four rounds we're inside the top ten. We had two ninths, a sixth, and now another ten or whatever. I can't complain. I'm starting off better than I did last year. At the end of the year, towards the end I was just clicking off better finishes. It's a long series, so it's going to be interesting."
Red Bull KTM's Broc Tickle has had a slow start to the season, and it continued in Glendale. He finished just outside the top ten in 11th. "Overall it was a positive end to the night in the main event. I think riding-wise I gained some confidence and felt a lot more comfortable on the bike, so I'm really happy with that," he said in a team statement. "I need to work on my starts, but from there, I'm feeling really good on the bike. I think we can tweak a couple more things here and there to be better in other places, but overall I'm happy with the progress on the bike."
Last weekend Honda HRC's Cole Seely shined in the Triple Crown format at Anaheim 2, winning the first main and ultimately finishing second overall. Like the third main last week, he got another bad start in the main in Glendale that forced him to make a bunch of passes to make it near the front. He was up to seventh, but ended up finishing 12th. We spoke to Cole after the race about what happened and he said, "For most of the race I was one of the fastest guys on the track, but just got off to a bad start and had to use a lot of extra energy to try and get really into just seventh. Then I kind of hit a wall there just with energy. I had a moment in the sand. I actually knocked the wind out of myself and just never really recovered from that. Then just started going backwards. A super, super frustrating ride. Definitely not me. Just felt like I rode like I wasn't myself. Just struggled with the track a bit. Struggled with my flow all day. Just one of those nights, really. It took me like half a lap to get my wind back in my sails. Riding around with no wind in my lung, it felt like. That really just kind of slowed me down."
Malcolm Stewart, a.k.a. "Heat Race Mookie," showed he has the speed to run up front. Autotrader/Yoshimura Suzuki extended Malcolm from his two-week deal with the team to three and are working on going beyond that. We talked to Malcolm after the main and he said, "The heat race was good. Just got to work on my starts. In the main event just had a bad start. We try to keep moving forward, but obviously there was a good little battle. It's just good to get back with those guys, battling back and forth. Those guys were just better than me today. We ended up finishing 13th, but at the end of the day you can't keep your head down. We got a lot of races left to go. Going to go back and keep digging. Like I said, just got a lot more races to go. I think the biggest thing for me was got to work on my starts and corner speed. I think that's what ate me up tonight. Got back and keep moving forward."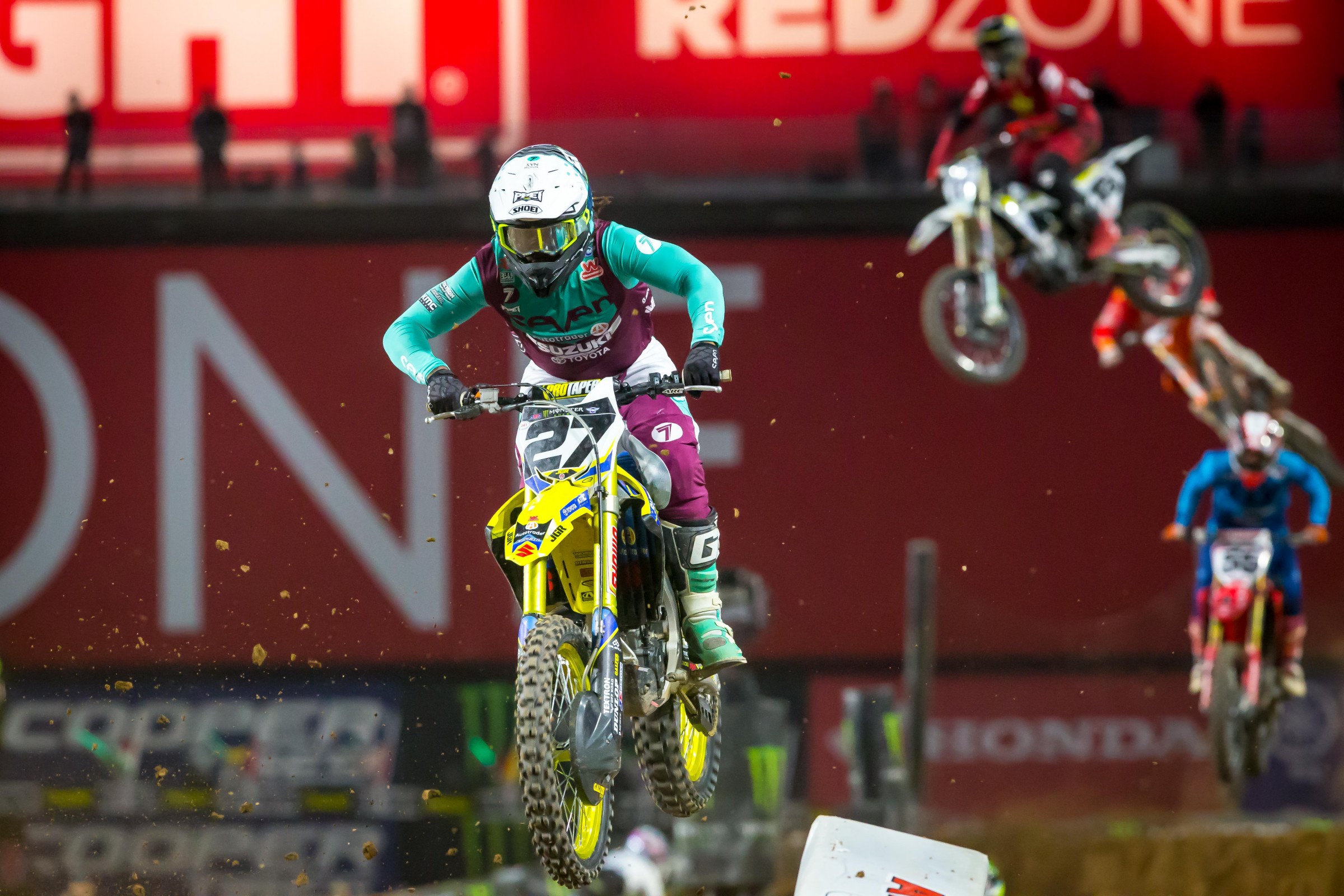 Rockstar Energy's Dean Wilson is also still nursing a shoulder injury from Anaheim 1 and is riding through a lot of soreness. He finished 15th, but is doing everything he can during the week to make it to the line each weekend to race. "This weekend was definitely better than last weekend," Wilson said in a team statement. "I'm still trying to heal from my Anaheim 1 injury. It's unfortunate to be riding where I'm at, but I'm out there trying to get some points. I definitely want to keep trying hard, improving, and healing."
250s
Yamalube/Star Racing Yamaha's Aaron Plessinger got an uncharacteristically good start in the main, and the long, technical whoops in the University of Phoenix Stadium played to his advantage. Plessinger passed Shane McElrath after the first triple in the main and then jumped over quickly to take the line away. McElrath nearly went down, but managed to save it. Later on in the press conference, Plessinger admitted that he didn't realize how close McElrath was. "I've been working on my starts. That's pretty much all we did this week. Just work on the starts and focus and it paid off this weekend. Everybody was riding great, like Shane said. It was just a fitness thing. It was a tough track. You had to hit your marks over and over again for 15 minutes plus one. It was a fun track, I think. I had a lot of fun riding it."
TLD/Red Bull KTM's Shane McElrath came into Arizona tied in points with Joey Savatgy. He was out front briefly in the early part of the race before Plessinger got by and shut the door on him in the rhythm. He wasn't too happy about it at the time, but got over it about a lap later and rode his own race. "I've been racing Aaron since I was on little bikes. I know that's not something he's known for," said McElrath. "For a good lap, I was, like, boiling. But I had to calm down and really just focus ahead. I think Adam was right on me. I even seen his fender a few times in the corner. I just had to block that out.
Monster Energy/Pro Circuit Kawasaki's Adam Cianciarulo was able to take advantage of a late mistake by his teammate to finish on the podium. AC addressed the media on the post-race press conference on rumors that he was knocked out in a crash last week. "I did not lose consciousness at all," he said. "One hundred percent did not. I will take it to the grave. I answered the concussion protocol or whatever. Right away I was fine. Clearly, I hit my face on the ground pretty hard. I don't want to throw the whole deal under the bus. This doesn't really help my case, but I couldn't really remember it, honestly. It was just a bunch of questions. I love racing. I've done it my whole life. It means the world to me, but I'm not an idiot. I would not go out on the track if I thought—and I tweeted this and deleted the tweet because I was like, I'm not getting into drama, but here I am. I was not going to go out on the track if I didn't feel safe. In the first 30 or 40 minutes after the crash, I was super banged up and just wasn't in a good spot. I was like, 'I don't know if I'm going to race.' Then I started to come around, and then I made the decision to race. I would never put these guys, anybody I race with, in harm or myself. It's not worth it. That's where I'm at.
Monster Energy/Pro Circuit Kawasaki's Joey Savatgy led early and was running third and being pressured from behind by Cianciarulo when he knifed the front and high-sided into the berm, allowing Cianciarulo to get by and gap him. "I'm grateful to finish the night healthy and with additional points," Savatgy said in a team statement. "I had a rough night and it wasn't how we wanted it to go, but mistakes happen. I have a great team behind me and we will work on the errors and come back strong next week in Oakland."
"Phoenix was pretty solid," GEICO Honda's Chase Sexton said in a team statement. "Felt pretty good on the bike all day qualifying fifth in practice. Track was fun and super hard pack, which was tough for sure, but I think this was our most technical track so far, which I felt suited me well. In the night show, I never really felt that intensity and spark that I've had at the other rounds. I felt like I was riding good at times and my speed was good once again, but I have to work on being more consistent. Overall thankful and happy to come away with a top-five and looking forward to Oakland."
CycleTrader.com/Rock River Yamaha's Bradley Taft put in an impressive sixth place finish in Glendale. After spending most of last season sidelined with a serious head injury, Taft has been working hard to put in a good result. This is his first top-ten of the season.
Defending West Region 250SX Champion Autotrader/Yoshimura Suzuki Justin Hill hasn't had the season we all expected, with an average finish of 8.5 going 7-10-10-7 so far. We spoke with Hill after the race and he isn't worried. "Much better than last weekend for sure," he said. "We're just making little baby steps towards a brighter future, and taking each little thing that can be changed and changing it for the better. It's going well. I can't really complain.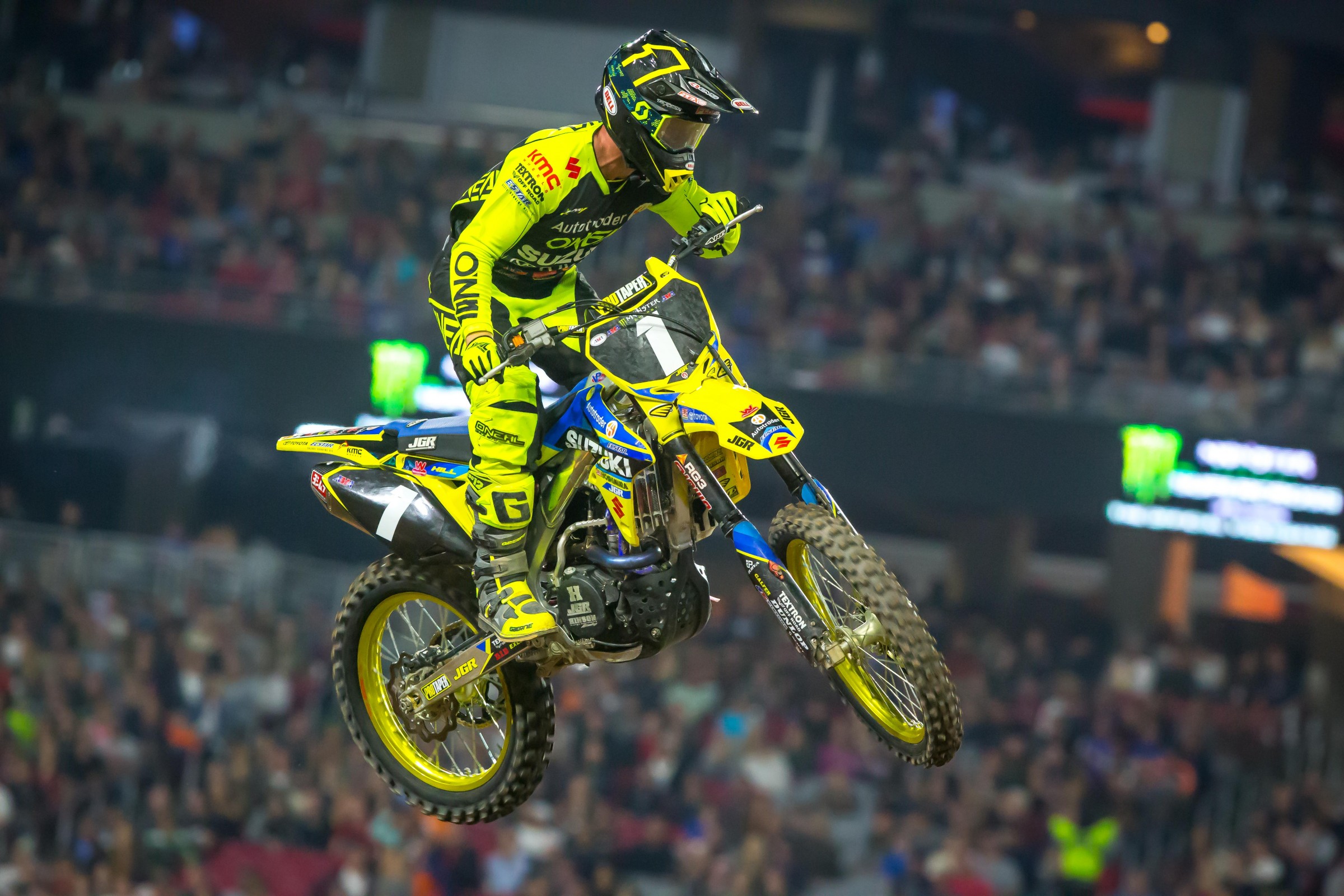 "Tonight was really hectic. A lot of stuff just kind of went down in the main. That comes a lot from just not quite being there in the start," continued Hill. "If I'm up there in the start, I know how much of a difference that makes. I've done it before, so I know that being up there is really nice. So, that's what I'm trying to sort out. I just need to be up front. If I can be up front, I should win…. I think if we can sort out a couple little things and get off the gate, we're not even going to be really having these "coulda, shoulda, woulda" talks anymore. I'm not worried. I haven't been worried. Everybody keeps commenting on my stuff going, "Heavy number-one plate." That's not the deal, man. I'll tell you what the real deal is, is that everybody's fast this year. It isn't brand-new news. Everybody is really on it. We have five more good guys, which makes it difficult to get out front. That's just the deal. I'm not worried about where I stand with anything because all I'm worried about is improving this 250 side of Joe Gibbs Racing to its absolute peak that I can get it at before I move up to a big bike…. If I get out front we'll win races, 100 percent. It's a matter of getting that jump and getting down the stretch."
Mitchell Harrison bounced back from a rough start to the season to finish eighth, his best result through four rounds. "I felt amazing on the bike all day," he said in a team statement. "I had a great heat race, but I unfortunately fell. I was able to get up quickly finish sixth. I worked my way through the pack in the main and finished eighth. It was good progress for me, and I'm looking forward to more progression at the next race."
"I'm happy with another solid top ten," 51Fifty Energy Drink Yamaha's Kyle Chisholm said following a ninth place finish. "I actually thought I was riding tight in the heat race, but it's good to finish up front like that and have times that were close to the leaders. In the main I was able to click off consistent laps and take advantage of other riders' mistakes. The bike's great, my fitness is up to par, and I'm ready to keep the momentum moving forward."
GEICO Honda's Christian Craig won the last time he raced in Glendale. With that, he came into the weekend feeling good about the weekend, but had some issues this time. In a team statement, he said, "Hard day overall in Glendale. Couldn't get comfortable at all but worked my way through it. Had a solid second in my heat race. My start for the main was pretty bad. I started mid-pack but was able to work my way up pretty quickly, then got taken out by [Justin] Hill early on, which put me half a lap down because I had to go into the mechanics' area. Then made my way through the pack up to tenth. Super bummed on the night as that's one of my favorite races of the year, but hopefully I got my bad race out of the way! Lucky to be healthy and moving on to Oakland, where better things are in sight."
51Fifty Energy Drink Yamaha's Hayden Mellross finished 14th a week after tying a career-high seventh at Anaheim 2, "Arizona was a tough weekend for me. I was involved in an unlucky crash in my heat race and also crashed another two times in the main. I wasn't riding myself this weekend but I'm going to train extremely hard and do everything I can to bounce back this coming weekend in Oakland."