Anaheim, CA
Anaheim 1 (A1)
Monster Energy AMA Supercross Championship
With The Ryans (Villopoto and Dungey) gone, it's a virtual lock that someone new is going to win this Monster Energy Supercross Championship (hi Chad!). With eyes on the prize and so many riders thinking this is their chance, new rivalries and duels are going to form for 2018.
A weekend chasing the gossip at Anaheim revealed this. There might be two new dramas to watch develop over the next few weeks.
First is the trouble in paradise scenario between Jason Anderson and Marvin Musquin. We've talked about how the "Aldon Baker boys ride and train together and push each other" ad nauseam, but the dynamic is slightly different now. When Villopoto or Dungey were there, the riders pushed each other, but all under the general understanding of who was the likely championship favorite. Now the Ryans are gone, and while many are crowning Musquin as the new leader of the pack, Anderson certainly has the right to think this title could be his. There's no de facto number one here, because no one is wearing the number one plate. How much do you really want to help the one guy who might stand between you and a title?
According to several sources I spoke to in the pits, Anderson and Musquin didn't ride together nearly as much this off-season. Anderson admitted he stayed in California for much of the fall, and I hear he did most of his riding with Rockstar Energy Husqvarna teammate Dean Wilson. While Anderson stayed there to help develop the new-generation Husqvarna 450, he also didn't ride much with Musquin when he returned to Florida.
"Jason had a different schedule. He wanted to stay in California," Musquin said in the post-race press conference. "Everybody's different. We all try our best to be the best. We all work really hard. Obviously, I focus on myself, and we both have Aldon Baker as a trainer and we work really hard. We see each other a little bit in Florida. Obviously, there is pressure because we both want to win. That's not easy. Even with no racing, we joke together. When you know there is the championship, there is pressure and there is competition. It's not always easy, but we know at the end it's good and it's going to be a good championship."
Some in the pits told me some serious friction had developed between the two down in Florida, so I went straight to the source and asked Marvin about it. He told me that no, there wasn't serious friction between him and Jason, but things were different than they have been in previous years. Marvin said Jason just didn't want to ride with him as much this off-season, but he understands why. In previous years, it always felt like both of them were working together to try to catch Dungey. Now, they could potentially be standing in each other's way of a championship.
It's kind of shocking something like this didn't happen long ago. When Villopoto brought a 450 rookie Ken Roczen into the Baker fold a few years ago, there were weekly predictions that there would be drama between them. It never happened, even as they battled on the track. In Atlanta that year, Villopoto bobbled while leading and Roczen raced past him to steal the win. They walked back to the pits together, with Baker, joking around about it all.
Such teamwork is rare. Eli Tomac mentioned just last week that even though he let Jeremy Martin ride with him in Colorado, it even changed a little bit once Jeremy decided to embark on a few 450 races this year.
"I wouldn't [train with other riders]. I've thought about that in the past. Certain programs work for certain guys, but for me, I feel like it would be almost too much of a competition," Tomac said on the PulpMX Show. "There's no way I would go out there and ride with three or four of the top guys during practice every day."
History is littered with such tales. Ricky Carmichael and Ezra Lusk used to pound motos together, until Ricky graduated to the 250 class and they had to split. Dungey used to ride at James Stewart's place, until Dungey moved up to the 450 class and became Stewart's competitor. He got the boot. Later, as Dungey became an alpha dog, we heard tales of him saying yay or nay to certain training partners. At the highest level, everyone is trying to protect their edge and their ego.
Marvin and Jason are now 1-2 in points leaving Anaheim, and in the main event they appeared dead-even on speed. It will be interesting to see what unfolds if they continue to stay close at the top of the standings.
There's another potential rivalry to watch, and this one was probably inevitable. Word is that the highly combustible Cooper Webb has picked the always-confident Ken Roczen as a source of motivation. Remember Friday's press conference, when Webb mentioned how he wanted to "humble some people?"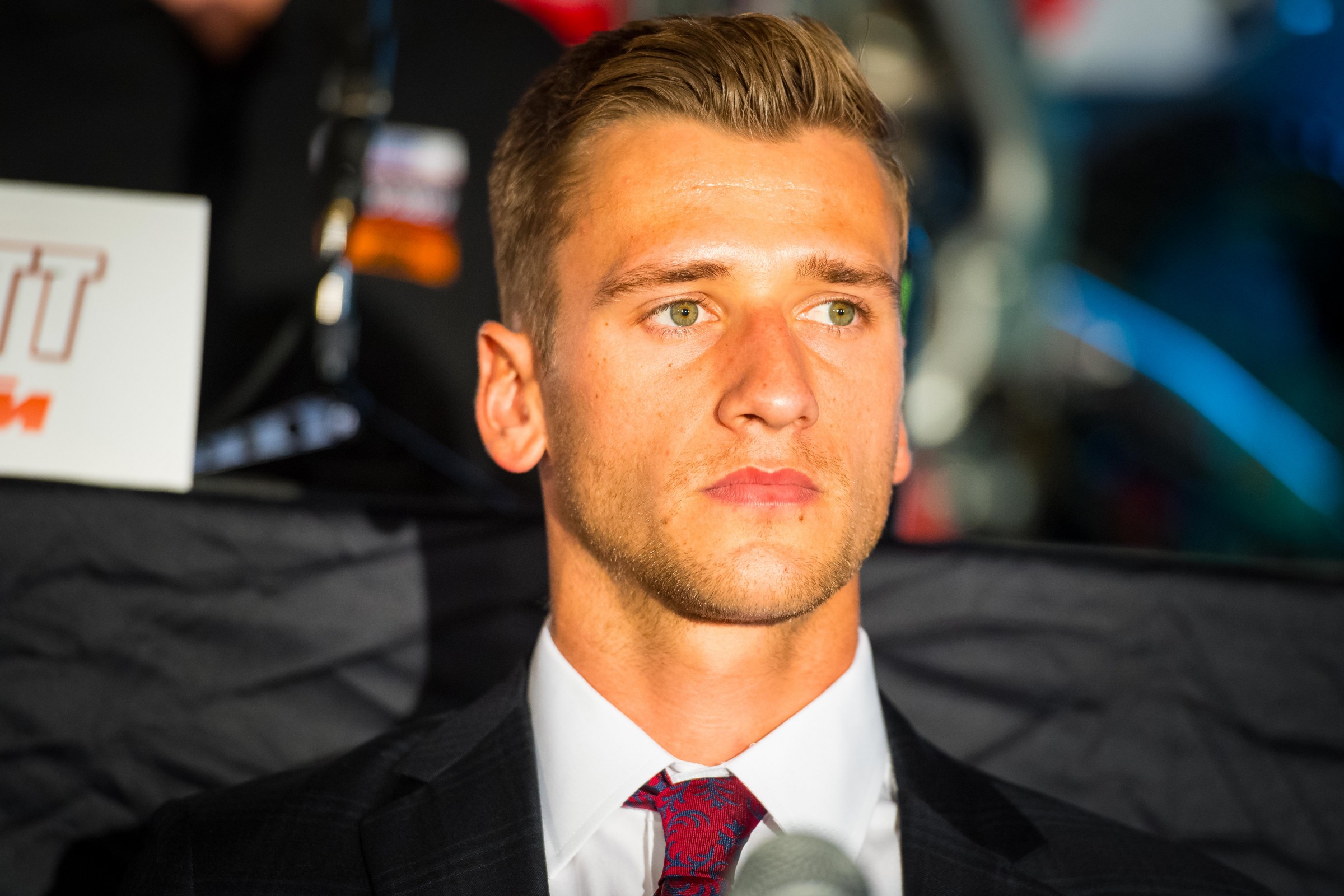 In their very first interaction on the track this year, in their heat race, Cooper threw a not-at-all-subtle lookback at Roczen in midair. Later, when Roczen tried to set him up for a pass, Webb sliced back inside and got aggressive. If you're a Cooper Webb fan, this is an encouraging sign, because he operates with this kind of friskiness when he's confident.
As for Roczen, well, confidence is never on back order.
"He got mad that I blew by him in the whoops and into that turn, and then he did that," he said of Webb.
Let the games—and gamesmanship—begin!