Anaheim, CA
Anaheim 1 (A1)
Monster Energy AMA Supercross Championship
Reigning 250SX West Region champion Justin Hill didn't start 2018 off the way he wanted with a seventh-place finish at the season opener in Anaheim. I spoke with him after the race and he quickly made it clear it wasn't anything wrong with the bike, but that he wasn't very happy with the way he rode.
Hill said he made a bunch of mistakes in the main that hurt him,—he's rode tight and got bad arm pump, which is very atypical for him, as he's usually a pretty relaxed guy.
Hill was one of the first 250 riders to do the quad before the first triple and after the on/off section. He was also the only 250 rider I saw doing the single-triple-triple after the start straight—a line that he felt was faster and better; neither were easy to hit every lap on a 250. The lack of variation in the lines between riders and varying rhythm section combinations left Hill feeling it was difficult to separate himself from the rest of the field—something that he likes to use to his advantage when he can.
Racer X: How do you feel about your night?
Justin Hill: I feel terrible about it. I didn't ride very good. Just kind of did a little lock-up deal. You can't ride like a bozo when there's that many good guys. That's all there is to it. The guys are ripping. We got a couple extras in there. I'm normally a top-five guy opener, get out clean. This time there happened to be two or three more good guys or whatever, and that set me back. That's all me. I just got to get everything in order and start the process of going back forward like I always do. I don't expect the world out of myself at the first round, but I expected better than that. I'm even extra fired up more so probably than any other [guy] here, especially in the position I'm in because I have a great team. I have a great thing going on. There's no reason for me to be doing that. I've got some work to do, personally.
Is there anything you can point to specifically? Just first-race jitters?
I rode tight. Definitely nerves, but I'm not really that nervous of a guy. Just honestly getting frustrated that I wasn't making the time that I really wanted to make. Started forcing the track where it really didn't need to be forced. I should have just rode it like I ride and I would have been better off. I wanted to really nip it in the bud the first round and start pressing, like I do in the middle of the series. I really wanted to just do that and start right away. Honestly, it's just the wrong approach for tonight, but hindsight is 20/20. You never really know that kind of stuff.
It seems like every year you kind of start off slowly. Why is that?
If I could not do that, I'd do it. It's just the way it is. I don't know. I think truthfully because it's just a different animal. I think I truly at the core am a better racer than anything, but it definitely takes me a minute just to get into it and get my feet wet and do it. That's why I think I'll probably be a better 450 guy because we've got more races even so. I don't see any type of delay in me flipping around and being up top. I feel great. There's no reason for me not to win races and do what I was doing before. No different. I like the bike better. I like everything better. There's no problems. It's just me with the jitters. Me riding like an idiot, gripping the bike like an orangutan. You can't do that.
One thing I did notice you doing is after the start straight, you were doing the single, triple, triple. You were one of the only 250 guys doing that. When did you pick that up?
Honestly, I did it all day. I thought it was better. I actually do think it was better, but it was just one thing that I was doing. If I would have done five other things that were good too, I would have been a lot better off and probably not got tight and frustrated in the first place. Honestly, I got frustrated with how easy the track was just because there wasn't a lot out there for me to go, "I can do that and then I'm home-free," type thing. A lot of the times during the year, we're going to have some tracks that I'm going to do some stuff and I'm going to go, "Nobody else is doing that." Then I'm going to make time from that. Whether it's technical or tricky or you have to think about it a lot, whatever. There was just nothing here tonight like that. I got frustrated and started gripping that bike like that, it's all over, man.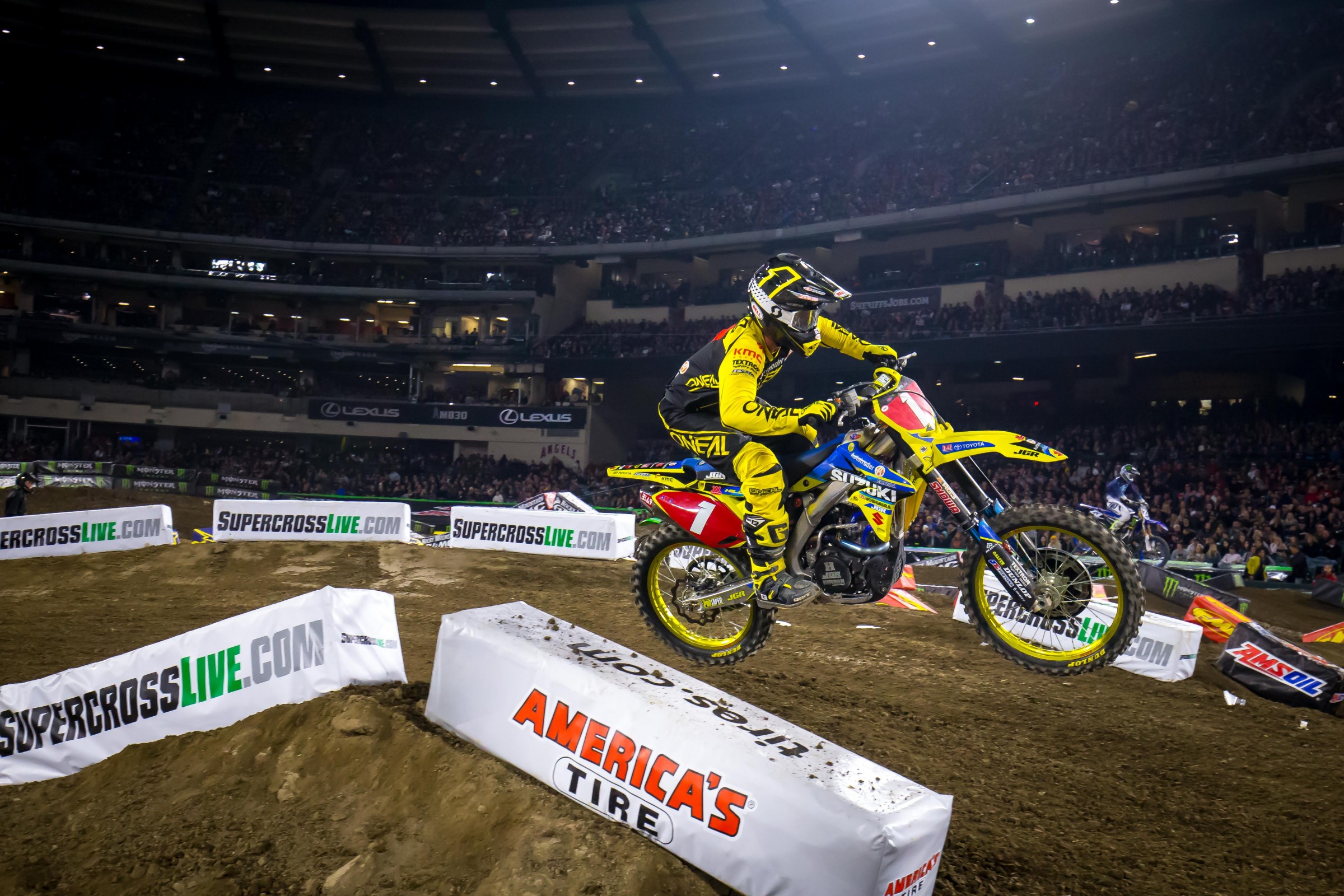 You were one of the first guys to do the quad before the first triple—the step on, step off.
I wasn't one of the first guys, but I got it. In the heat, I got it kind of right away. It wasn't really that feasible in practice because how bumpy and jumpy it was. But in the heats and the main, it actually came around to be really doable and kind of the only thing you should have done.
It looked like some were kind of struggling with the quad before the triple and it was hard to hit it every lap.
It was hard to hit it every lap, for sure. You had a whole other section before to worry about. You had to do the two, three, three. You had to nail that corner just right and get up on that table just right. That was probably one of the only things that was a good separator, but I didn't even do that. That's what I'm saying—that I wasn't me, because I should have been the guy doing that perfectly every single lap, and doing the thing before it perfectly every single lap, and I wasn't. When I am that guy, I will be better.
Did you do it before the heat in practice?
I did it one time in practice and cased the living you-know-what out of it and was like, I'll forget about that until it becomes easy. I was fastest in practice not doing it, so I was like, whatever. I don't care. Then obviously it became a way more doable thing when the night show came around. You know how that goes. The track got immensely easier as the night went on. Obviously when it starts easy, you know it's going to end easy because it just keeps getting worked and the whole thing, the transitions get better. I knew that that was going to come around, so I really didn't worry about it. I hate to point fingers. I'd rather point the finger at myself and say, "Hey, I'm an idiot." That's just me.
Another thing was tripling into that corner right before that section. I noticed you were one of the first guys to do it in practice, but not a lot of guys were even doing it during the main. Was that significantly faster, do you think?
I definitely thought that was better. That right there and then that 2-3-3 right there before that, I would say that those were good lines. If I would have done that just right every time, the night would have been different for sure. Those type of lines and stuff like that were probably the only two things that were like I'm talking about—you got to think about it quite a bit. I failed at that—my thing. I just got some, I wouldn't say homework, because I know what I got to do. I just got to get out there and grind. I just got to get to grinding and come back.
Is there anything you're going to work on next week?
I got to get in the zone. I got to do my 20s. I got to just shake off this tightness. I haven't had it all off-season. I've been doing my motos. I've been feeling awesome, flowing, not worrying about it. Obviously, conveniently the only time of the day that this ever happened with a year is in the main. So that sucks, but it's something that I know how to shake, so I just got to do that.
It seemed like after [Mitchell] Oldenburg passed you, it kind of lit a fire underneath you and you kind of picked up your times a little bit. Was there something to that?
For sure; it's always easier to chase a guy than it is to get pressured, all day. It's easier. He was sitting there kind of biting at my ankles the whole moto and that was easier for him. It was a lot harder for me. So when he got by me, I was like, "I'm going to try to get this dude back," and just wham, bam, and not let him do it. I was close, but it wasn't my night. He skunked me like that last year. Or maybe it was J-Mart, I forget. One of those guys did the same thing. Bit my heels the whole time and got me. That happens. You have bad races. I'm just happy I know the problem. I know what I got to do. There's nothing spinning me. I'm not in a tailspin over it.
With the track being more basic and not a lot of separation on the track as we talked about, it was hard to make up time, so your start didn't help.
The start was everything. With what I've been saying about the track being so easy, the start was everything. If I had been out front, a whole different night. That's a whole other thing. My jump was incredible, but where I chose to line up, probably not the best. My jump was so good that I legit surprised myself and then changed my body sitting position and wheelied, did all this dumb stuff. Like, "Oh man, I'm the coolest!" And then I was wheeling. Can't do that. That's a rookie move if I've ever seen one. So, I can't do that kind of stuff.
You were pin-balled a little bit in the heat race too, coming down the start straight.
I kind of wheelied and then we made an adjustment to where my device sat, and that helped for the main. That's why I was saying we learned quite a bit about the start. I think the start's coming around really quickly. Made adjustments and went in the right direction. That's going to come around. I ain't worried about that. I pin-balled off the straight in the first moto in the heat race, and at one point I was stuffed against whoever's back wheel it was. I almost went down. Almost cleaned out the guy behind me.
The guy on your left did go down.
He went in the inside and drug the Tuff Block. I see this Tuff Block moving at the same rate as me. I'm like, what is going on back there? Somebody's moving a Tuff Block. That was rough. First heat race of the year, is always the worst. No one's in the groove of racing. No one knows how to even be around each other. It's a mess out there. I'm happy to be healthy and madder than I was coming in.
Got some fire for next round?
That's for sure, man. Almost when you suck like that, you just want to punish yourself. That's the best thing to do, is just go out there and hurt for your craft. I'm looking forward to literally punishing myself for these next few days early on, getting the work in and getting better.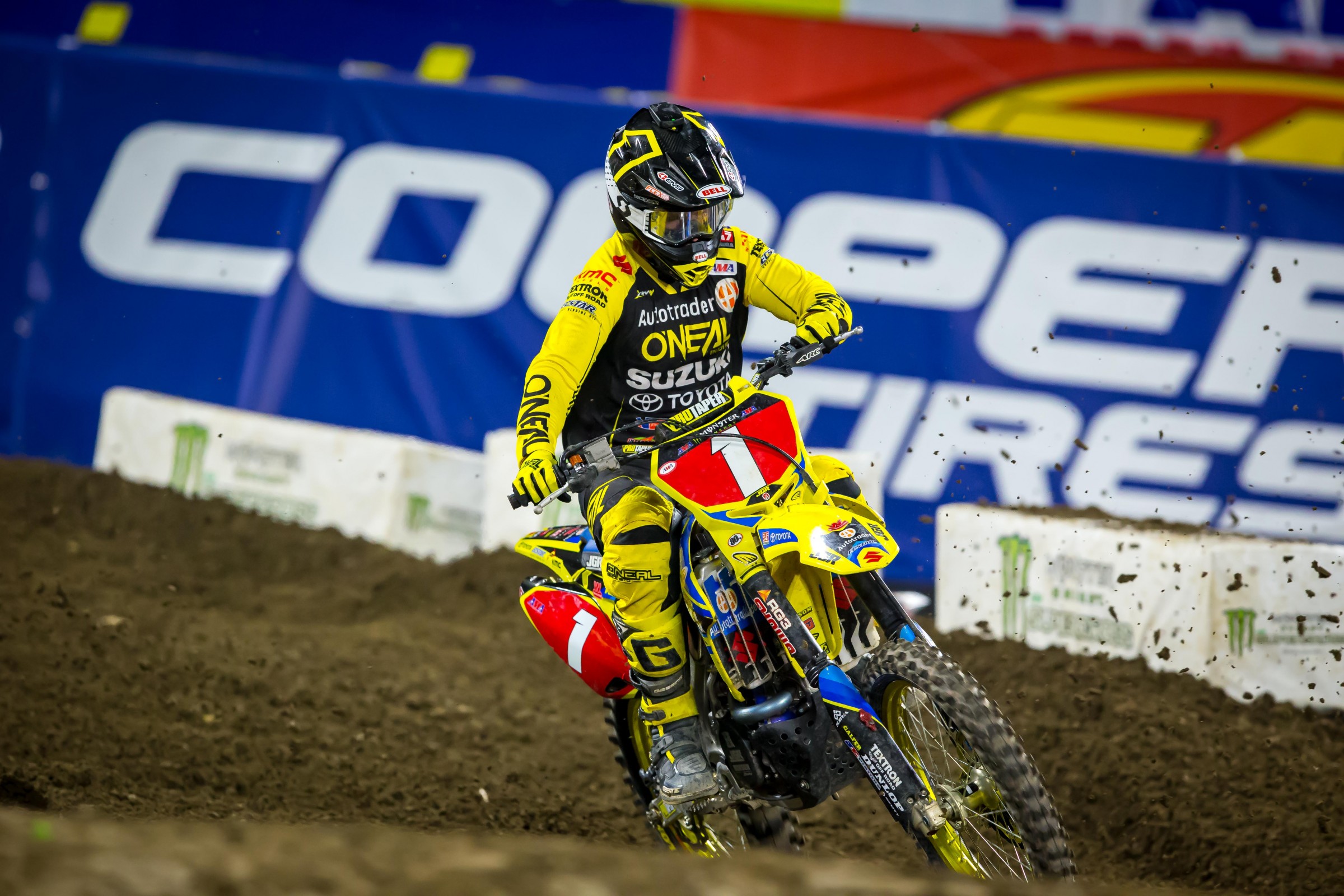 After having the jitters aside, is that going to be in the back of your mind next weekend?
I'm not worried about it. Honestly, I've never had arm pump two races in a row. It's like a crap shoot with me. I never know if it happens. That's why I was surprised. I got back to the rig and I'm sitting here with my arms all Popeyed, and I'm like, what just happened? It was the weirdest. I'm not that worried about it. I'm just going to do my work. Honestly, the best way to shake it anyway is to not think about it. That's the best move for me. Get those motos in and forget that it happened in the first place and just move on.
It's your first race on the new bike. Was there anything you learned today racing?
Yeah, for sure. Always learn a little bit about bike setup. It is like a test day because we don't get to ride on this type of stuff we race on. It's always good to get some research and development on the bike, especially if you've never raced it before. I love the bike. Everything is working good. I'm going to do some testing just to tweak some things a little bit because we learned. But other than that, I really have nothing to complain with on the team side. It's working good. The bike's working great. I can't even complain about it. It's all me, bro. I got to fix it.