Angel Stadium
Anaheim

,

CA
Anaheim 1 (A1)
Monster Energy AMA Supercross Championship
The 2018 Monster Energy AMA Supercross season opener delivered on Saturday night. Red Bull KTM's Marvin Musquin won the opening round in Anaheim after passing Justin Barcia for the lead, which he inherited when Eli Tomac crashed.
Rockstar Energy Husqvarna's Jason Anderson would also pass Barcia and finish second. Barcia hung on for third.
All three riders spoke with the media after the race.
Racer X: Take us through just the emotions of being up here after kind of what you've gone through over the past few years and even in the off-season not knowing what you were going to do. To be sitting here right now on the podium, tell us a little bit how that feels.
Justin Barcia: It's been definitely tough times, and such tough times that I wasn't sure I wanted to race anymore. After I didn't know what I was doing, didn't have a ride or anything, I kind of took a break and went over to England and just kind of chilled out with my fiancée and stuff. My buddy called me and he was like, "Hey, you want to race the Monster Cup?" I was like, "Well, I haven't really been training or anything, but year, sure." So, I flew home and spent a couple weeks on the bike at Florida just on a stock bike. Then we went out to California and put something together. Did pretty good and just more so had fun, [more] than anything. Didn't put any pressure on myself. I was like, all right, if I don't get a ride, I'll just put together a team and do that. But luckily this came up. It's been good. It's nice to be up here for sure. It's been a lot of tough times. Definitely worked hard to be up here. It's nice to lead some laps and get that feeling again. Definitely building my confidence back up, that's for sure. It's been cool.
Jason, mid-main event I was paying pretty close attention to your gap with Marvin and it was kind of closing. You were kind of losing him. Seemed to go back and forth almost five or six laps in a row. Was that just little mistakes here and there? It seemed like you were still pretty aggressive through the middle section, but it was just one step forward, one step back pretty much the whole time.
Jason Anderson: Yeah, for sure. That track out there, I felt like it was easy to over-ride. Whenever I felt like I would close it up, I would try and push a little harder and maybe make a couple mistakes. At the same time, I feel like the pace we were going, we are riding mostly 100 percent the whole time. When you're riding 100 percent and you're barely catching the guy in front of you, it makes it a little bit tough. I tried my best, but I felt like I was inching up on him a little bit here and there but it wasn't enough to get him at the end.
Marvin, with Ryan Dungey retiring and moving on, you kind of fill in the shoes as the lead guy on that team. Any added pressure in this off-season and coming into tonight, or business as usual?
Marvin Musquin: For sure it's different. Ryan was our leader, I feel like, but not even at KTM—I feel like the whole field. He's been winning the last three championships in a row, so it's been great for him. It was a dream and a goal for me to be in that position, and here I am. I worked really hard to fill in that spot. I want to do really good now. To win tonight is definitely not expected. It was a difficult day. Tried to stay calm. I guess we made it happen. It's really hard to believe. I had a bad start, but we put everything together and were consistent. It was a long main event.
Justin, you've been at the top of the sport. You've won 250 titles. You've won 450 main events. You've been on the podium a lot in the 450 class in the past. You've had a rough go obviously for a little while. Can you talk a little bit about what changes that makes in your personal life, like your phone blowing up now? This coming week now, you're probably going to get all kinds of people bothering you. Can you talk a little bit about the ups and downs and how you've handled all that, and what you expect after you've now grabbed another podium?
Barcia: For sure. Life's tough. I was in the lowest of lows and the highest of highs, even when I was at JGR. I won some outdoor races and started building confidence again, and then it seems like something would happen and I'd get set back again. That was tough for sure. Not coming into this with a contract was frustrating for sure, but I knew I wanted to race more so I was just, like, put my head down and kind of rethought life a little bit. Started building my confidence back up, getting more comfortable on a bike. When I got the call from Yamaha, it was exciting, but it was also scary because I struggled with Yamaha in the past. But they did a great job obviously on the new bike. People have a hard time believing that coming into the season. Like, you didn't like the Yamaha. I was like, it's not that I didn't like it, I just struggled on it and never got adapted to it and had a lot of injuries. I felt like I had a solid month and a half before this getting used to the bike and rebuilding. It was just rebuilding. That's all it was. Getting comfortable, getting the speed back up. It was good at the test track as well because I got to ride with Cooper [Webb] and the Star [Yamaha] guys. Kind of like a race every day. We don't have the Aldon Baker training facility, but we have our little Yamaha test track, so it's good.
Justin, to build onto that, you signed for six races, right?
Barcia: Yeah.
Did they try to sign you for the full season yet?
Barcia: Maybe. I hope so. Like I said, people ask me, what's your thoughts on the six races? I'm like, honestly, I'm just taking it race by race. I hold the key to my destiny right now. I think if I keep doing good, I'm sure Yamaha has enough resources to run three guys, so I can guarantee that. Just take it race by race, though. Just having fun. That's what I did today. I just went out there all day and was like, just have fun. That's what I did, and I showed good times and good speed and things went well.
This question is for both Marvin and Jason. Both of you had a pretty rigorous travel schedule during the off-season. First of all, how do those gate drops benefit you going into the season, as well as how do they outweigh the fact that your off-season was basically limited to a 40-day fit challenge?
Musquin: I had the exact same schedule as last year. Racing Vegas and Straight Rhythm, Paris Supercross and Geneva. I did the exact same schedule this year. I think it's really good for me, especially because going back to France and racing those races, that's the only time I get to go back there and see the French fans and enjoy that time. Also, at the same time, it's racing. We have a new bike for this year. It was great to test it out on race conditions. Jason was there. Great riders show up to Paris and to Geneva, so it was great racing. Obviously, I love to travel over there. It got us ready for the new season for sure.
Anderson: For me, I've never done any of the off-season races, so, honestly, it was nice for me because for the past—this is my fourth year being in the 450 class—the previous three years I've been just grinding from October to Anaheim 1 in Florida. This year I definitely did it a little bit different. Honestly, I had the time of my life. I was able to go to Australia. It was summer time over there. They treated us well. Then had the exact opposite in Switzerland where it was snowing. Got to check out the world. I definitely want to go back and do those things next year because I had a good time. I still feel like for us, those races, everyone talks about [how] you race a lot and stuff like that, but those races are a little bit different. I feel like they're not as stressful. Honestly, I feel like they're a good time. Gate drops are good. I raced Marv in Switzerland. Stepped into his territory a little bit. Got beat, but I had a good time.
There was so much said about pre-race jitters heading into this race. Also, we heard racers say, "You can't win a championship here, but you can lose one here." That being said, what's the feeling of relief to get through this race successfully and healthy?
Anderson: I feel like all of us up here on the podium achieved what the main goal was, to leave here with solid points and out of the carnage. Obviously, we want to win, but at the same time you can't complain with a second and getting solid points and just moving on to the next round. Just try and keep putting ourselves in good positions.
Musquin: I feel like any results you are happy when you are out of the first round at Anaheim. Obviously, like Jason said, when you are on the podium like that, you are really happy and you want to move forward. It's important, obviously, to do good. Like you said, you don't win the championship now. It's the first round. Everybody's waiting for that first round, and it feels like that's the race of the year, but it's only the first round. That's why it's so exciting. Now we got it out of the way and we move forward. It's going to be a long championship.
Justin, talk a little bit about when Eli went down and all of a sudden you're in the lead. What's going through your head? Then, Marv, was it any more motivation to realize there's a win right in front of you?
Barcia: For sure, when Eli got in front of me, I was trying to run his pace, obviously. Did pretty good for a bit. The track was such a sprint track that any little mistake cost you a lot. So, in that race, I kind of lost touch of him. As, obviously, he went down, I was like, "All right, just try to run my pace." I kind of had in mind what I wanted to do in that race, and it was kind of going the way I wanted. Obviously, I was up front, but like I said, the little mistakes really would get you tonight because the track is so sprint-ey and fast. Obviously, Marv got me and then same thing. Kind of tried to run the pace. Made a little mistake, and Jason got me. But I stayed fairly close to Jason, so I was happy where I finished at for sure.
Musquin: When you see Eli leading like that and I was in third position, I knew it would have been very, very hard to catch him. He had really good speed. Obviously, when you're leading like that you have nobody in front of you. It's a lot easier to take your line. In the heat race, it was pretty tough being in the group. Obviously, it would have been better if I was leading. I just took my time. I saw Eli crashing and it proved that the track was tough, and everybody made mistakes. Obviously, I almost crashed at the exact same spot as Eli crashed. I clipped the front wheel. It was really, really close. You just had to be very consistent and try to make it happen for 20 minutes. It was long, especially when you're leading. It takes forever.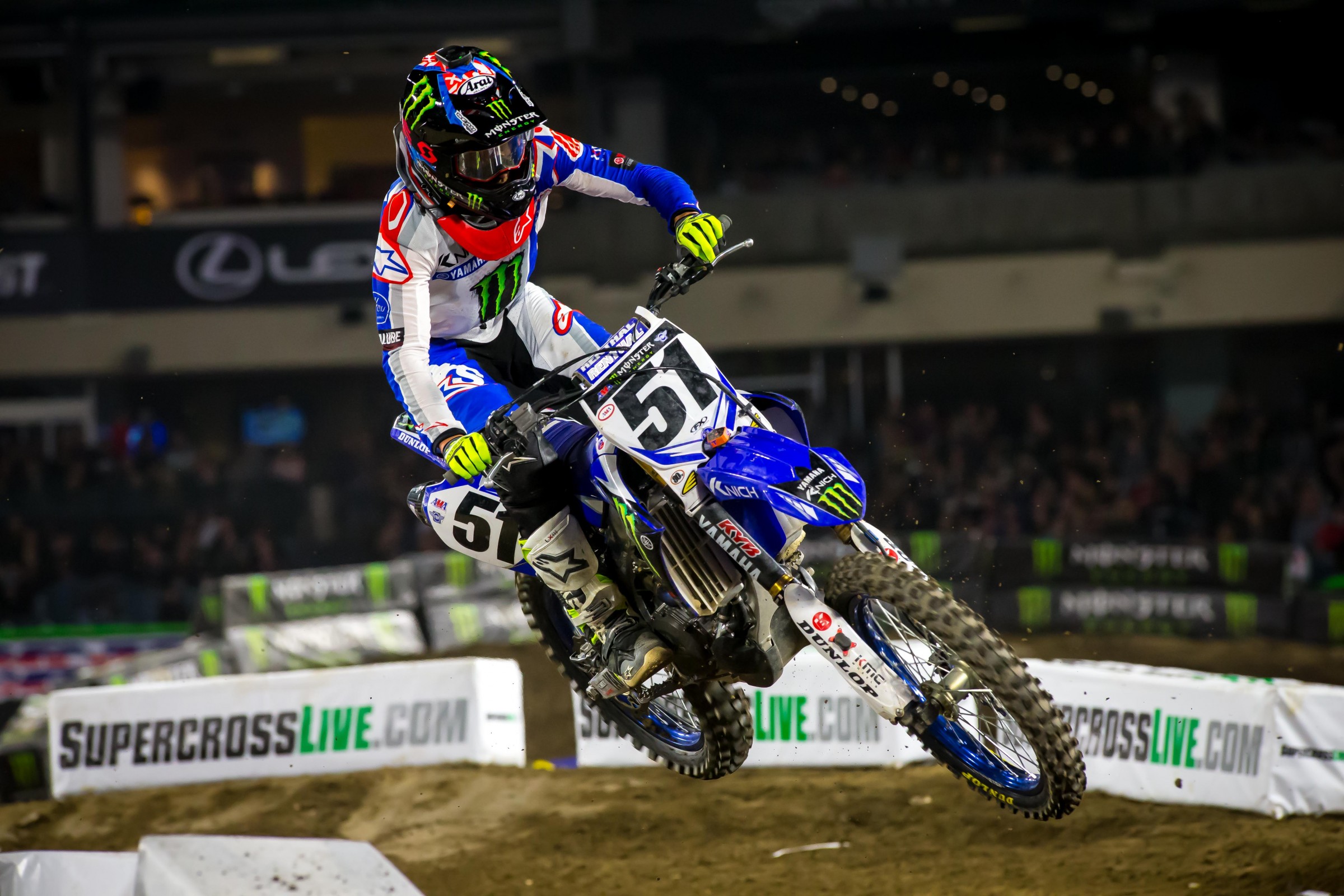 Marvin, about a year ago I think everybody thought, "Marvin's the second guy on the team, it would be great if he would win." Twelve months now you're expected to win. Does that change your mentality, how you come to the races, how you prepare? That's a lot different, being top-five podium guy to championship contender.
Musquin: It's not easy to put yourself in that position, knowing, like, "I can win." It's really hard. All those guys are working so hard, and the competition is really tough. Like you said, last year I was expecting to get on the podium. That's what I did, but to win, it would have been really hard. This year is a different story. I feel like I can win. I know it's going to be very tough, but anything can happen, like tonight.
One of the biggest questions coming into 2018 was what level would Ken Roczen be, and there's no better test of that than a race. So, after this race, what are your thoughts? Did he surprise you?
Musquin: For me, I think it's really good to have all the guys behind the gate healthy and ready to race. It's the best for the fans, for the sport. We put on a good show. Right away the heat race, I was battling with Ken. He's here racing, healthy and strong, I think. I think it's going to be a good season. Like I said, it's good to see everybody up here and ready to race.
Anderson: For sure. I think as we all know, Ken's talented. He's very savvy when it comes to his race craft and everything like that. I feel like no matter what, he is going to be good. No matter if he's slow or fast or whatever, I think he always is pretty smart at figuring it out really quick. It's no surprise on how good he's riding. At the same time, it's a long season. I think that's going to be the test for him. I don't feel like it's something that he hasn't pulled off or any of us have quite pulled off yet. So, we're all trying to figure that piece of the puzzle out. I think that's going to be the part where he's going to have to figure it out. At the same time, we all got to figure that out.
Barcia: For sure, good to have him back. That was a scary crash and a scary injury. Anyone who can come back from that and be competitive is awesome. The competition is obviously every year super hard. I was talking to Jason the other day and we were saying the competition, the level never changes. It's always a gnarly level, but it's just different guys a little bit. A few guys go away and a few guys come. It's always top-level. It's a long season. Everyone's going to be fighting for sure.
Jason and Marvin, you were on the West Coast a little more. You both did off-season races. Dungey's gone. Broc Tickle moves in. Just talk about how different the work was between you two. I guess you weren't riding together as much as maybe previous years. Was it different this off-season a little bit?
Anderson: For sure. I stayed on the West Coast. I really wanted to stay with the team. We had a new bike and I kind of wanted to develop that. I kind of wanted to be involved in the process. We did some motos together and stuff like that. At the end of the day, we just kind of did what was good for us. I was able to be as prepared as possible. I think whether we're on the West Coast or East Coast, I think we all put in the work. If we want to do good, I think we're going to put our heads down and figure it out. Problem-solve, I guess.
Musquin: Jason had a different schedule. He wanted to stay in California. Everybody's different. We all try our best to be the best. We all work really hard. Obviously, I focus on myself and we both have Aldon Baker as a trainer and we work really hard. We see each other a little bit in Florida. Obviously, there is pressure because we both want to win. That's not easy. Even with no racing, we joke together. When you know there is the championship, there is pressure and there is competition. It's not always easy, but we know at the end it's good and it's going to be a good championship. I'm really happy the work that I put in and also for KTM/Husqvarna. We're all doing good.