Angel Stadium
Anaheim

,

CA
Anaheim 1 (A1)
Monster Energy AMA Supercross Championship
Eli Tomac had a record-tying 2017 Monster Energy Supercross season. Look it up. It's not the kind of record he wants, but it's something. Last season Tomac tied Damon Bradshaw for the most wins in a single 450SX season without winning the title. And, truthfully, he should've broken it because Las Vegas was his except for his decision to attempt to bunch the pack up in hopes that craziness would happen and he would win the title.
That didn't work, and his name remains there with Bradshaw, who famously melted down at the final round in 1992 while holding the points lead. Going into 2018, it's the Monster Energy Kawasaki rider that is the odds-on-favorite to win this championship. If you don't believe that, read the part where he won all those races last season. He's not going to run away with this thing, but he's the betting favorite pre-season.
Last season saw Tomac get off to a slow start with some good starts and out-of-character fades to the back. Five-six-eight finishes at the first three races were not good, but Tomac and the team did some testing in Arizona the week of Glendale SX and the results were immediate. Tomac won there and then ripped off eight wins over the next twelve rounds before Vegas.
So, as I mentioned to Tomac this past Monday night on the PulpMX Show, might it be a good idea for him to just leave those settings on an unchanged 2018 Kawasaki KX450F and call it a day?
"My bike is very similar to last year," Tomac laughed. "It's kind of a peace of mind knowing what I'm working with going into the beginning of this year. It was a really good bike last year and I felt like there was no reason to go really hunting down anything else. I'm leaving it alone."
This is a good thing in my eyes, although that part of being "similar" scares me a bit. In between grabbing a coffee this Saturday at the truck, I'll have to ask the guys a bit more about that. Because if it's me, I'm wheeling out a 2018 Kawi with the exact same settings as the team had in Vegas. And if it doesn't work, head to that Arizona spot, because perhaps there are Indian burial grounds there that blessed the bike last year.
Tomac's also well aware of his A1 record. His first year on the GEICO Honda, he collided with Jake Weimer and hurt his shoulder. The other two? Not on the level that he would have liked.
"In the past, I haven't had good results there," he says. "I'd have to look all the way back to my 250 days to where I actually did have a decent result. So, it's time for me to let the big dog eat at the early Anaheim races. I don't want to be playing catch-up anymore. I did that last year. I was playing catch-up the whole time. It would be nice to get out there and bust out a win, or at least a top three."
We asked Tomac about his off-season and how GEICO Honda's Jeremy Martin has been to work with. Surprisingly, Tomac commented that Martin's off-bike fitness has been a big surprise to him, and it's "pretty incredible" what Martin can do on the bicycle, in the gym, and in running.
"I feel like I've been getting pushed past my comfort level of what I had in the past. So, it was actually a good little eye-opener for me.
A pushed-past-his-comfort-level Tomac could be a scary thing for the competition if that's truly what Martin has been doing to Eli.
Although he let Zach Osborne train with him a few years ago, letting someone into Camp Tomac—like Martin—is a bit unique for Eli and his dad, John. They're out there in Colorado grinding away and working on their craft. Tomac has little time for posting loads and loads of social media videos and photos. In fact, since the Monster Energy Cup in October, Tomac's posted just six Instagram photos updating his fans (and competition) on how things are going for him—and no videos at all.
This is all done for a reason, according to Eli.
"Everyone has their thing. For me, I'm not going to go out there and post a bunch of videos of myself because, to me, that's showing your competition what you're doing, if you have a technique or something or you're doing something new," he says. "You're giving everyone an advantage for the world to see it. I never really understood that part of it. Yeah, it's cool to throw content out there, but the video stuff, I like to keep it low-key. At the end of the day, you're racing those guys for your career. Why do you want to help someone that can watch you do whatever?"
That's old school right there. That's the days of Chad Reed, James Stewart, and Ricky Carmichael saying nothing at the press conferences. That's the days of Reed pulling off when his competition tried to film him at the Yamaha test track. With the kids we have now in the sport, that little posting on social media is akin to a crime.
So you can also imagine that when we got Tomac talking about ever training with a bunch of other riders, he wasn't a fan. In fact, he even mentioned that training and riding with Martin now wasn't ideal because he'll be in 450 Class soon.
"I wouldn't [train with other riders]. I've thought about that in the past. Certain programs work for certain guys, but for me, I feel like it would be almost too much of a competition. There's no way I would go out there and ride with three or four of the top guys during practice every day.
"If you have one guy, yeah, you can push each other, but three or four would be a gnarly contest every day, I'll tell you that. You don't want to be the guy that's slowest, that's for sure."
Tomac's not like a lot of other riders in the pits, but that's a good thing. It takes all types in this world to make it go around. He's more subdued, more serious, but he can definitely laugh at himself or others—I've seen that side of him. He doesn't let a lot of people in and takes racing dead seriously. And he's not afraid to call out the media if they print something that he feels isn't accurate.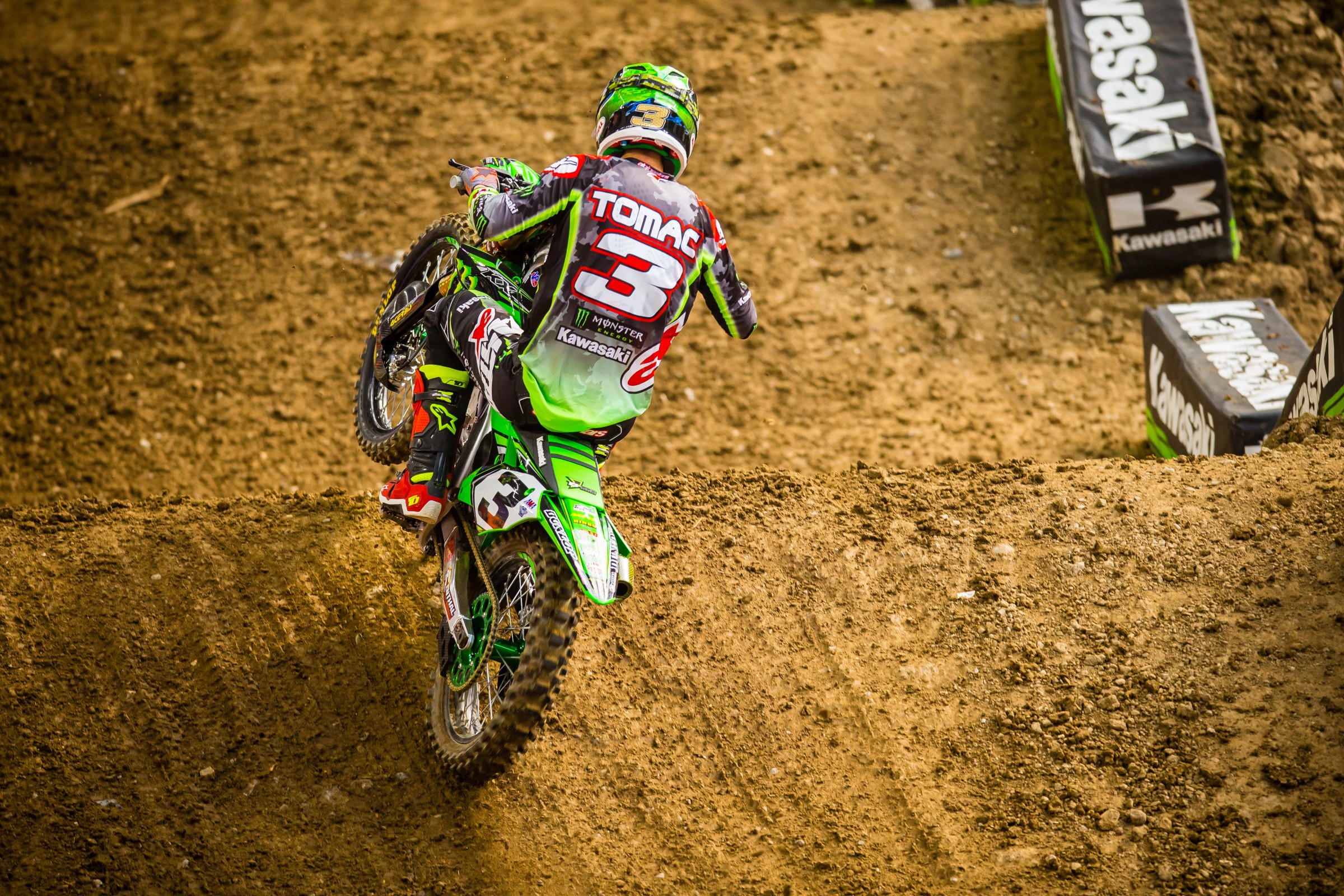 Sometimes, like last year when he skipped the Motocross of Nations for the second straight year, things seem to weigh on him, which goes against the accusations some have given him of being a bit of a robot. It's times like this that I can assure you there's a fire and desire in there, but he's really good at hiding it. When he made those comments last year at the Vegas press conference about Marvin Musquin moving over and letting Ryan Dungey win East Rutherford, I was about as surprised as I've been in the last five years. I knew how he felt privately, but I didn't expect him to put it out there.
(By the way, Tomac confirmed to us what he told Monster Energy's Eric Johnson: he will most likely be on the line for the MXoN this year at RedBud, as the schedule this year is a bit friendlier for him.)
So for 2018, Eli Tomac finds himself in the same spot as guys like Ryan Villopoto and Ryan Dungey in that anything but a title is looked at like a disappointment. Tomac knows this, and seems to be ready to collect his second straight 450 title.
"I feel like even this last year, I've been able just to do my own thing and not worry about the other guys or really think about them," he says. "Those are the guys that you just mentioned that are going to be there. You never know who's going to bring really what, so we do our thing at home and we get our work done and we bring it to the race. We won a lot of races last year, so I think we are the guy to beat this year. At least we're bringing that to the gate for sure."
Let the games begin.