Somewhere up in heaven, Tom White is getting fitted for a dirt track shoe. Or maybe strapping on new motocross boots, or even some off-road boots for a long touring ride. He will have his pick of any one of the best motorcycles ever made, which will not be much different than any day that he was on earth, because Tom White had that same choice every single day. He was one of the world's foremost collectors of vintage and exotic motorcycles, as well as a philanthropist who raised and donated with remarkable generosity. He was a loving husband and proud parent, and just recently a granddad.
He was also one of the most energetic, enthusiastic, and genuine people one could ever hope to meet. He was an entrepreneur who saw the second coming of four-strokes happening long before anyone else did, a visionary who put his thoughts and ideas into action. He was fast, kind, smart, and humble, and at the end of his life, when he was in his final days battling terminal cancer, he was as tough as they've ever come.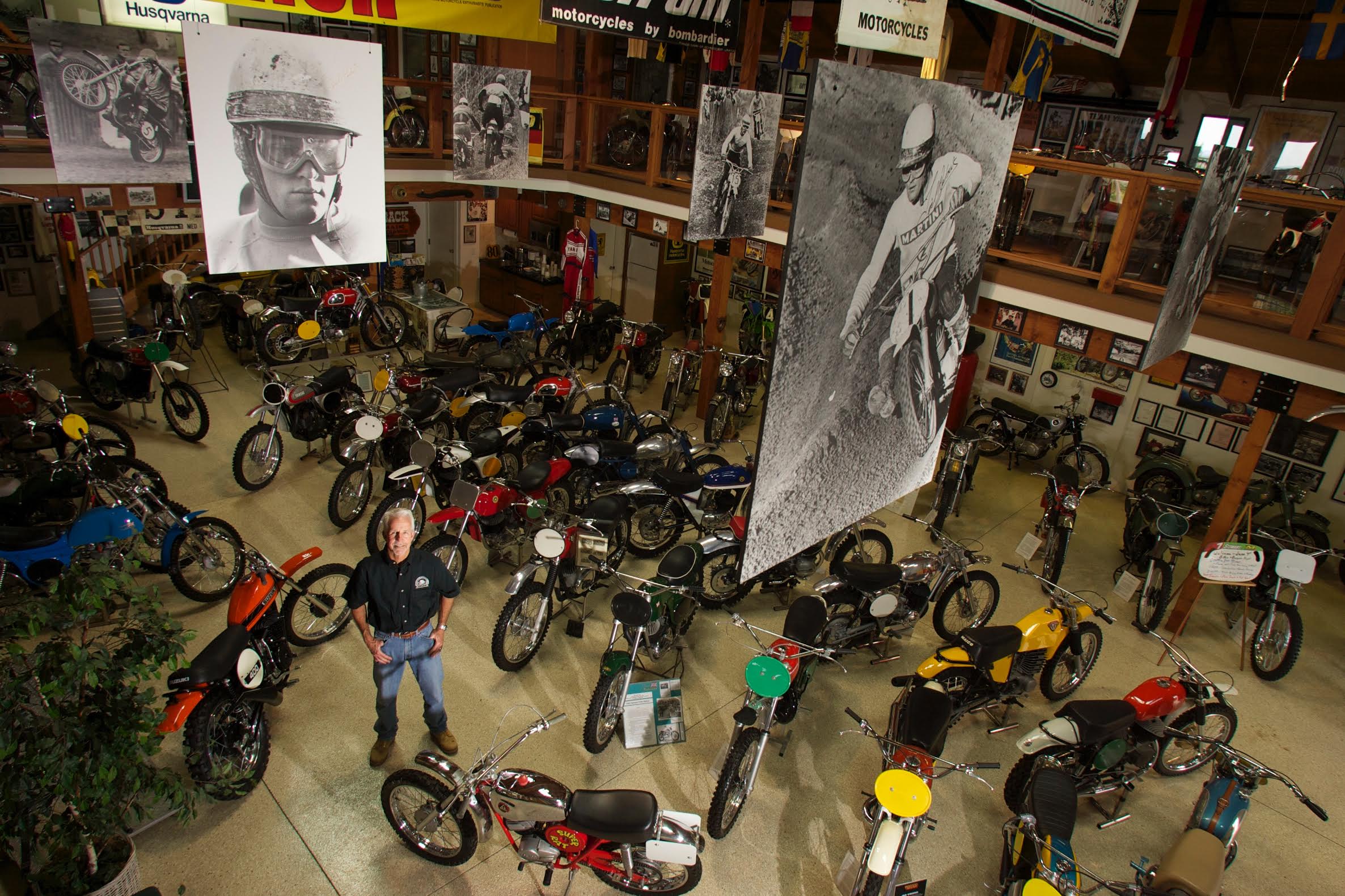 It's sad but fitting that Tom White would pass on the eve of a world-renowned event he founded a third of a century ago, the White Brothers Vet World Championships at Glen Helen Raceway (now sponsored by his son-in-law John Anderson and daughter Kristen's company Dubya Wheels). The race will no doubt become a celebration of his life, just as the Glen Helen Pro National was back in May, when Bud and Lori and Jody and the gang dedicated a new statue to Tom on the eve of a race that probably would not even be happening if not for Tom's efforts, patience, and persistence. Actually, there are a lot of things that would probably be different—and lesser—if not for Tom White. He was truly a giant in the motorcycle industry, a role model for all, and there's been an outpouring of sympathy and condolences across all platforms since the news of his passing yesterday. He went out like a lion, with both grit and grace, and he left this world—especially our motorcycle racing world—a better place.
Few people knew Tom White as well or for as long as Jody Weisel of Motocross Action. He wrote about his friend and fellow racer today in this wonderful remembrance.
Tom White was 68 years old. Godspeed.
Forsaken Kings (Andras Hegyi)
Ricky Carmichael and Stefan Everts are both kings. Carmichael is the most successful American rider ever, while Everts is the most successful rider in the history of the FIM Motocross World Championship. Between 1997 and 2007, Carmichael was able to be get titles in every season. The Floridian got 15 major AMA titles and three Motocross of Nations titles in all. Everts raced in 17 different seasons in the world championship between 1989 and 2006, taking 10 world titles and winning five Motocross of Nations. They were almost invincible. Both became team owners after their own careers were over, hoping to have similar success in that role, but both have had recent setbacks, as each held ownership in a factory Suzuki team, and now both teams are closed.
Carmichael's RCH Racing was founded in 2012. Just last year, they won the Lucas Oil Pro Motocross 450 Class title with Ken Roczen. In '17, RCH was promoted to Suzuki's factory team. But this summer, due to sponsorship and funding issues, Carmichael and co-owner Carey Hart announced the closing of the team.
Everts had a shorter life as a Suzuki team owner. He was the boss of the Suzuki factory team in MXGP in 2016 and '17, but last week Suzuki announced that it would be pulling factory support from the FIM Motocross World Championship altogether. As a result, Everts' team has closed down immediately. It is the first time since 1983, when they did not re-sign defending FIM 500cc World Champion Brad Lackey, that Suzuki ceased its factory team in the premier class of Grand Prix motocross. Everts never won a championship as a team owner, but he had two successful and memorable seasons. Suzuki became a main brand again in the MX2 class with Swiss rider Jeremy Seewer and Australia's hot young prospect Hunter Lawrence. Seewer was second overall both in '16 and '17. Everts also helped fellow Belgian Kevin Strijbos win again after nine years, an absolute record in history of the FIM Motocross World Championship.
Carmichael remains an ambassador of sorts for Suzuki, which is continuing in AMA Supercross and AMA Pro Motocross with AutoTrader/Yoshimura Racing (JGR). Like Everts, he won some of his many championships aboard the brand.
Carmichael, by the way, is the last rider to win an AMA 250 National aboard a two-stroke. He did it in 2003 at the season-ending Steel City National, topping Factory Connection Honda rider Kevin Windham in what would be RC's last AMA SX/MX aboard a Honda CR250. The last man to win an AMA Supercross aboard a two-stroke 250 is Chad Reed, who won the 2005 series-ending Las Vegas SX aboard a Yamaha YZ250. Ronnie Mac is not in the record books for anything, unless you count trespassing and speeding violations during a Shriners parade, refusing to show his face for mugshots (twice), and various other misdemeanors and misunderstandings.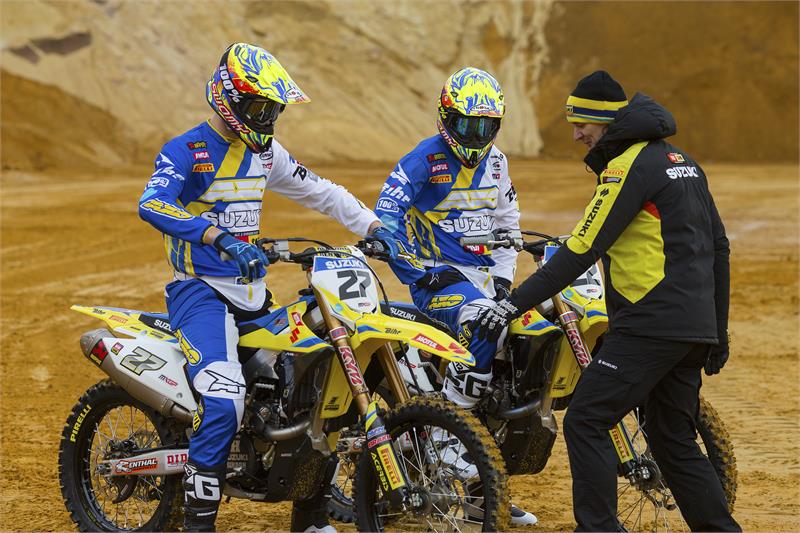 RICKY/RONNIE (DC)
Next Saturday night in Australia, the AUS-X Open will include a Two-Stroke match race between 15-time AMA Supercross/Motocross Champion Ricky Carmichael and four-time offender/three-time dropout Ronnie Mac. Ricky will be riding his 2005 AMA Supercross Championship-winning Suzuki RM250; Ronnie will be riding whatever old Honda CR250 they can find in Jeff Leisk's parents' garage. Neither appears to be in great shape. The race is happening because Chad Reed, the four-time AMA Supercross/Motocross champ and the best rider ever out of Australia, injured his ankle at Red Bull Straight Rhythm, and the promoters of the event either didn't have Ryan Villopoto's phone number or his asking price (and since he raced there a year ago, it was probably the latter).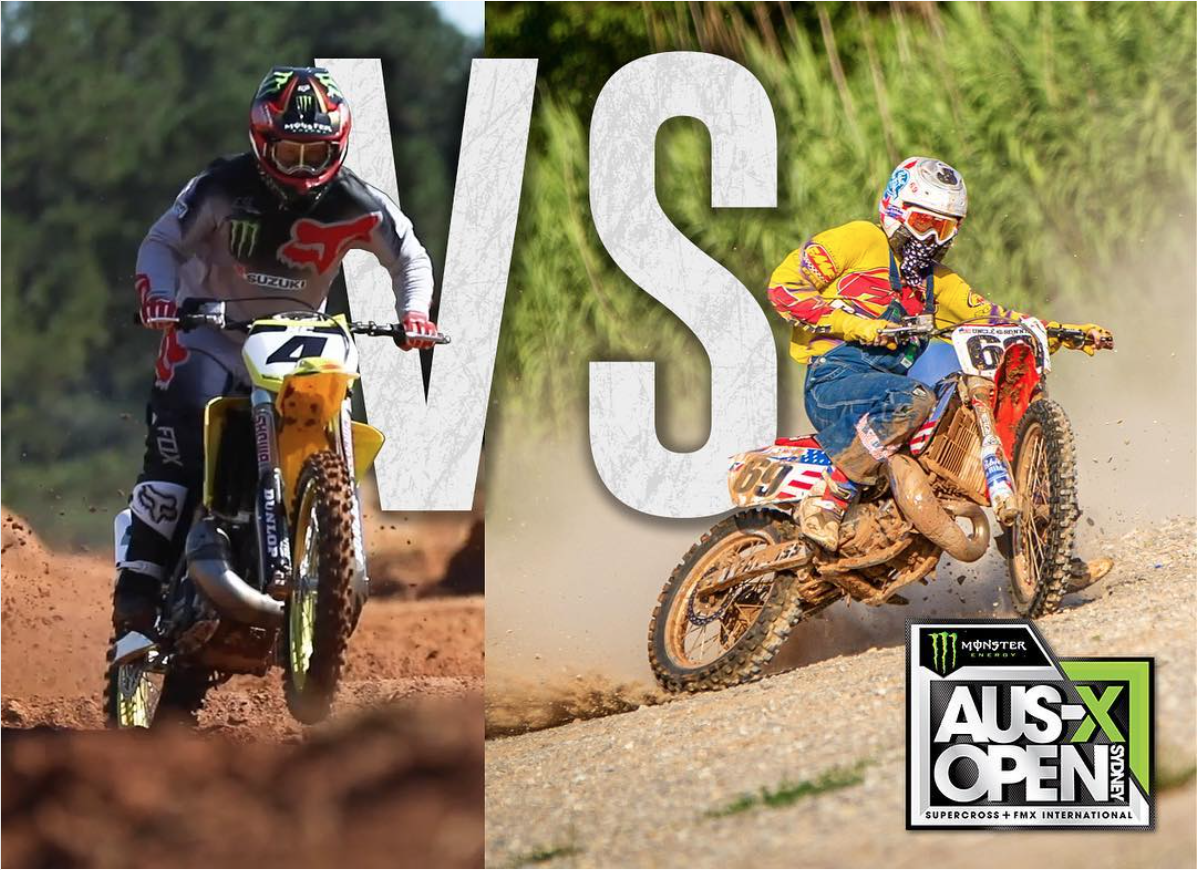 If you recall, Carmichael's greatest-of-all-time professional career ended at the 2007 Motocross of Nations at Budds Creek, when he won the last moto and helped ice a Team USA win alongside Villopoto and Tim Ferry. Since then, he has raced a couple of fun events, including the 2008 one-and-done ESPN Navy Moto-X WOrld Championship Games in San Diego, the 2012 Loretta Lynn's Area and Regional races to get him to the 2012 AMA Amateur National Championships in the Junior +25 Class, and the Legends Race at the series-ending Ironman National a couple years back. RC won every time (though he did lose the 250 Pro Sport class at his LL Area race in '12 at Aonia Pass in Georgia to a young up-and-comer named Jeremy Martin).
But now Carmichael may have his hands full. He's still the GOAT, but he's been mostly out to pasture the past decade. Ronnie Mac, on the other hand, has become the internet's fastest redneck, a living, breathing (and drinking) rodeo clown of a racer. His humor and goon-riding should translate well Down Under, where Jason Ellis is something a national treasure. (Okay, maybe not, but he's the first Australian non-racer who came to mind.) But Ronnie Mac is fueled by PBR, not Foster's, and unless he can ship a case or 12 across the Pacific Ocean, he might be slowed by unfamiliar focus and clarity.
Still, we'll never bet against Ricky Carmichael, even if he's racing the Wile E. Coyote of moto.
By the way, Ronnie's "cousint" Ronnette showed up for her temp job here at Racer X on Tuesday while Kelly Kirby was out shopping for a pink Melania Trump costume for Carrie Jo.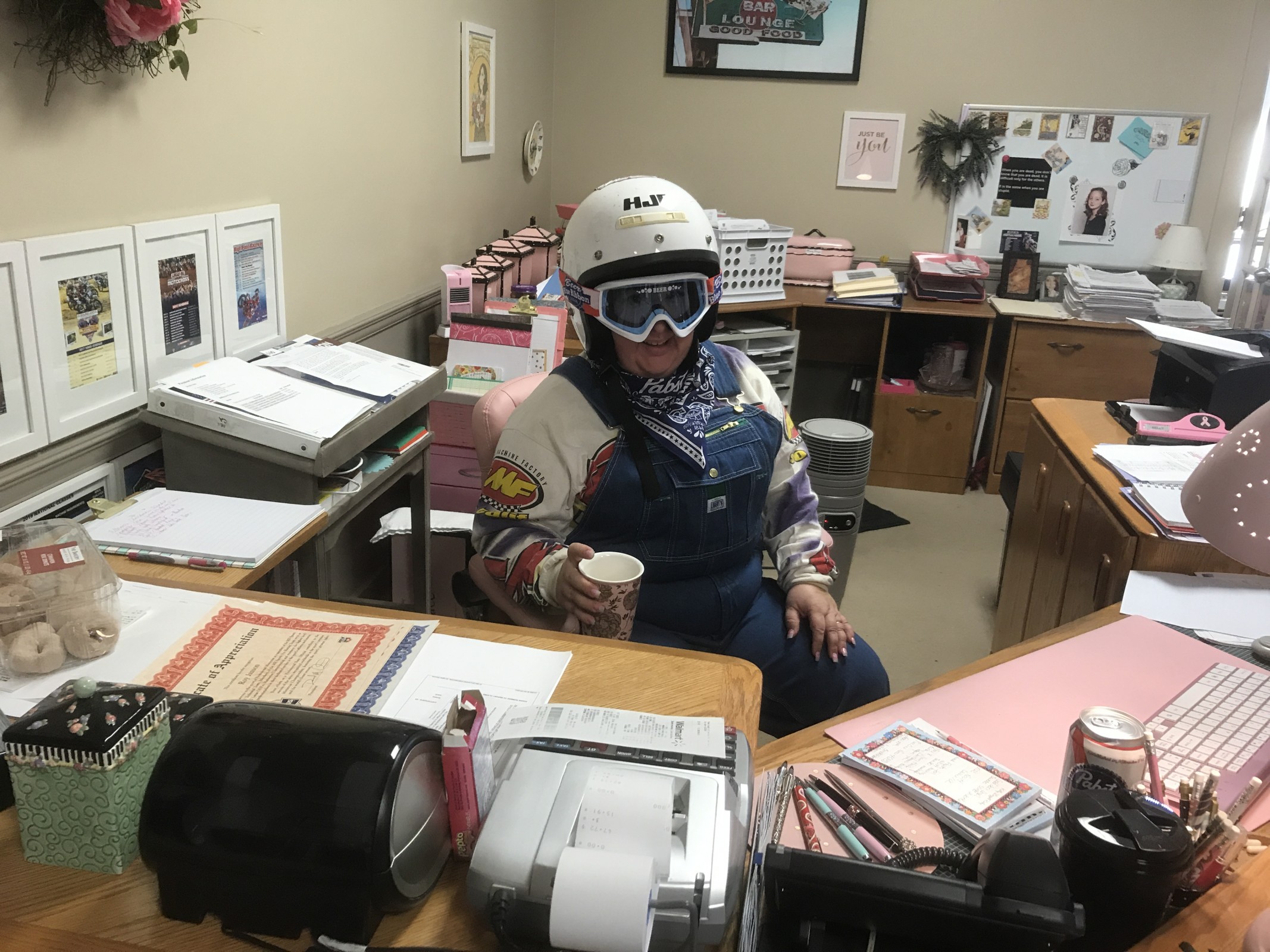 RIP TOM (Steve Matthes)
DC and many others knew him way better for sure, but I've gotten to know Tom White a lot the last few years, mostly because of his son-in-law and Dubya USA owner John Anderson, who's one of the great guys in the sport. When I was trying to get Ron Lechien into the AMA Hall of Fame, Tom, along with Broc Glover, was a guy I communicated with. Tom was always a happy guy no matter what was going on with him, including when we texted back and forth maybe a month or so ago. He was still so upbeat and full of life. I loved that he went out and rode motorcycles the last few months, because dammit, that's what he loved to do.
He'll be missed.
Couple of things for people to get to know him better. Tom was instrumental in getting MX Sports and Glen Helen back together for a National, and I spoke to Tom and DC about that situation a few years back here.
This podcast I did with Tom a couple of years ago gives you an insight into the man and his cool career in the sport.
And here's a podcast I did less than a year ago with Tom and Glover about the AMA Hall of Fame process and getting Ronnie in.
GNCC Conclusion (DC)
Congratulations to our co-workers on the other side of the building here at Racer Productions. They reached the finish line of their long season with the conclusion of the 2017 AMSOIL Grand National Cross Country series presented by Maxxis, an AMA National Championship, better known as the GNCC Series. The last round went off last weekend at the Ironman in Indiana, with a remarkable 2,384 competitors between motorcycles, minicycles, and Saturday's ATVs.
The Sunday morning amateur race alone saw 894 dirt bikes line up, with a star-studded Industry class on the front row that included GNCC rookie Troy Lee, KTM USA president John Hinz and even "King" Richard Burleson of Moose Racing on the front row. Later in the afternoon the main bike race wrapped up in record-breaking fashion as KTM factory rider Kailub Russell notched his 47th career GNCC overall win, breaking the all-time record he shared with Scott Summers (who, coincidentally, was also a four-stroke pioneer like Tom White and was in fact sponsored by the White Brothers). Russell is now a five-time series champion.
Now everyone over there that works on the series finally gets a weekend off, and of course they are all planning on going riding themselves! Congratulations on a fantastic series and a job well done.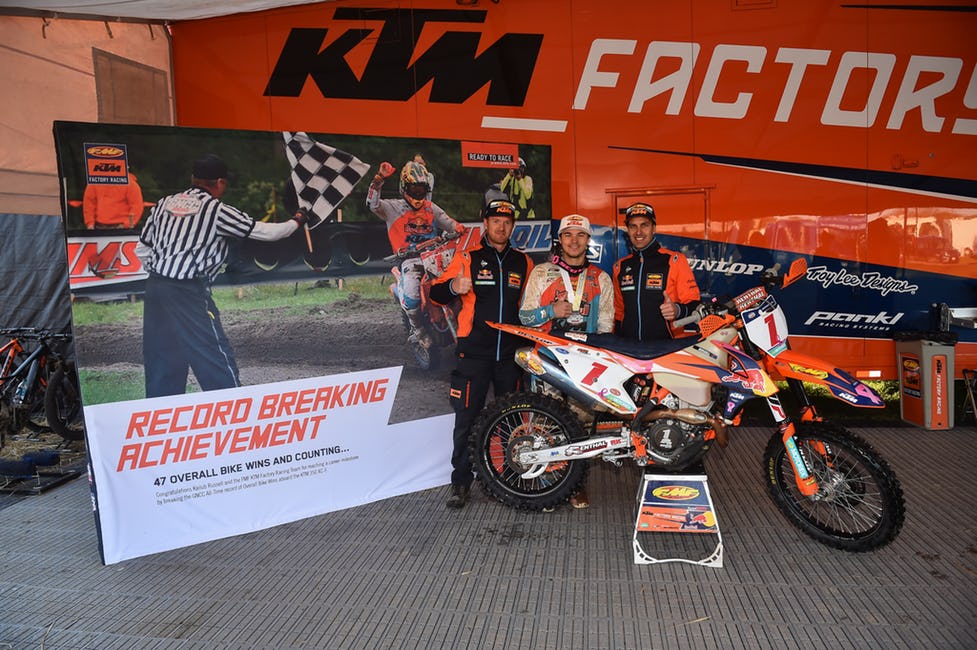 Racer X Amateur Film Festival (Chase Stallo)
The first round of the 2017 Racer X Amateur Film Festival presented by MotoSport, WASpcam, and Yamalube, has been finalized. California's Griffin Denbesten narrowly defeated Israel's Lauz Deen to capture the round one win. Denbesten won by less than 100 votes to advance to the finals.
Voting Percentage
Griffin Denbesten - 52.6%
Lauz Deen - 47.4%
Congratulations to both contestants for making the semifinals against a stacked field of entrants, and best of luck to Griffin Denbesten in the finals. You can watch Griffin's video HERE and Lauz's HERE.
The second round of the semifinals features Switzerland's Stephane Guido taking on Indiana's Damon Smith. Watch and vote now.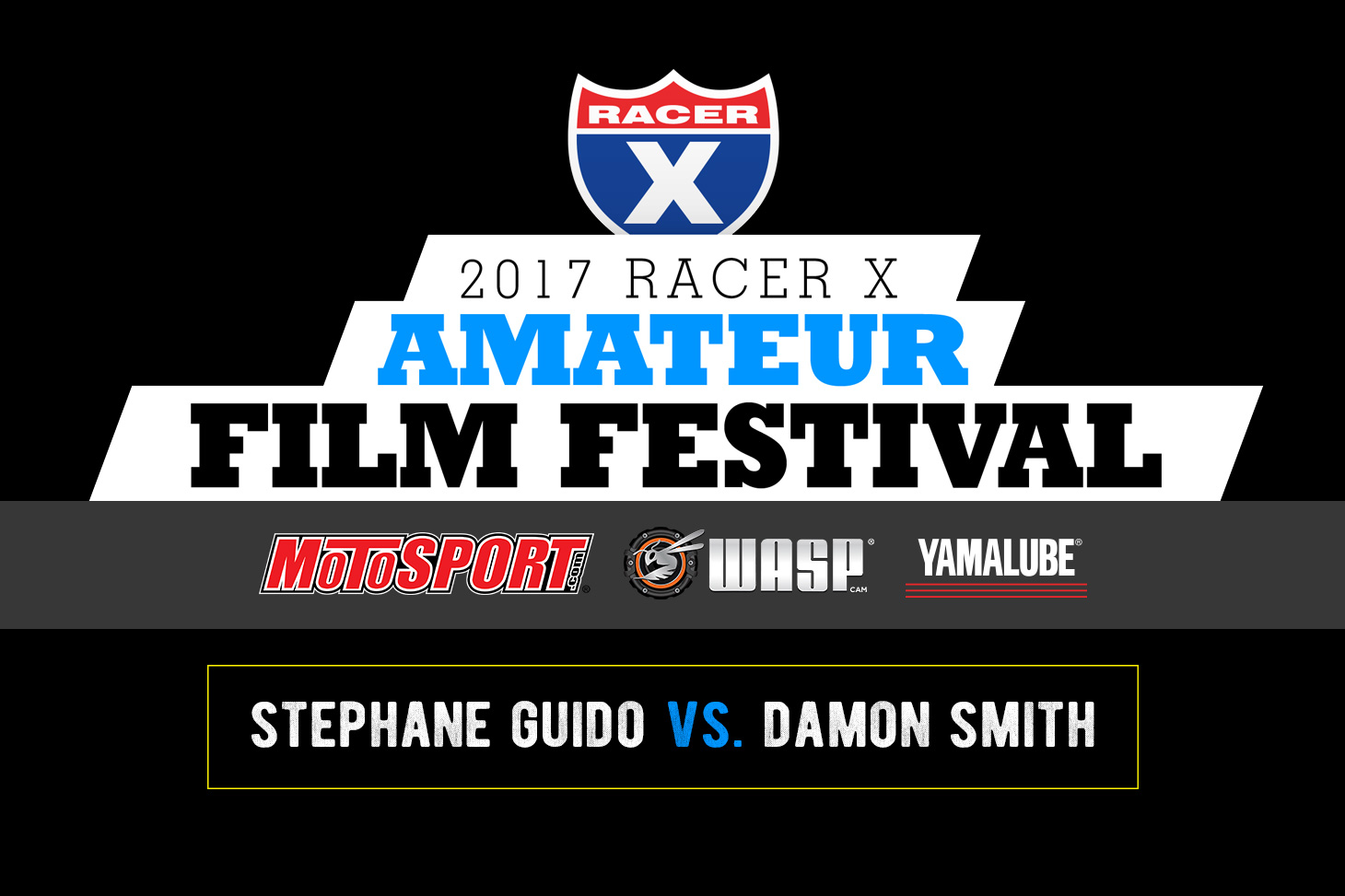 RIP PETER MELTON (DC)
American fans may not be familiar with the name Peter Melton, but in the late eighties and nineties he was one of the best Australian riders of all. Popular with fans all over his country, he won two Australian Supercross Championships and finished 18th at the 1993 San Diego AMA Supercross. Just a few years ago, DirtAction.com.au named him the ninth-best Australian SX rider of all time on a list that includes the likes of Chad Reed (whom Melton beat in a supercross in 1998 when Chad was just getting on big bikes), Michael Byrne, Brett Metcalfe, Jeff Leisk, and more.
"Peter didn't live like a machine," wrote Dirt Action's Scott Bishop. "He liked a beer, he liked to hang out and enjoy life and he liked his time away from racing. Melton's results came from an abundance of natural talent, tunnel dedication when it mattered and a lifestyle that worked for him. His technique spanned a generation and if you used to marvel at watching (AMA National winner) Craig Anderson in full flight, his technique is modelled on Melton's."
After his 20-year racing career, Melton opened a suspension company called PMRSuspension. He was riding with a friend at a place called Willowbank MX when he crashed. He passed away as a result of his injuries.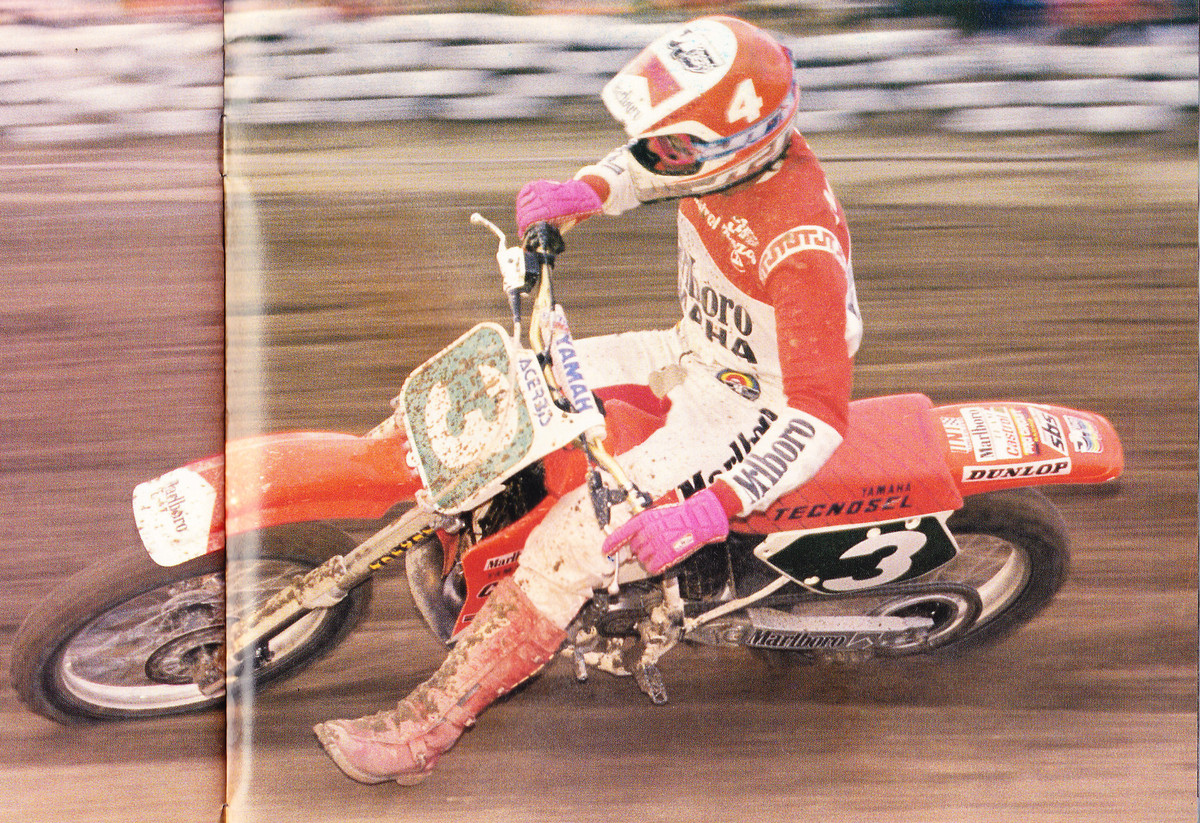 PARTY TIME IN SICILY (Andras Hegyi)
The most successful Italian motocrosser ever, Antonio Cairoli, has had a tradition since 2005: if he wins a motocross world championship, he organizes a big party in his hometown of Patti in northern Sicily. He's now held that party nine times!
This 2017 season, Cairoli has had a lot to celebrate. After two years of injuries, issues, and troubles, he has finally managed to be MXGP World Champion again. He collected his ninth world title in a very memorable season, not to mention in longest season ever: 19 rounds, 38 motos, and beating four different world champions, including three-time MX2 World Champion Jeffrey Herlings, the two-time World Champion Tim Gajser, 2015 MXGP World Champion Romain Febvre, and '14 MX2 World Champion Jordi Tixier. This was the first title for Cairoli in the saddle of a 450cc KTM bike.
Although Cairoli had a bad cold and barely had a voice, it was still party time last weekend. Several thousand people went to celebrate, and enjoyed a soccer match, enduro race, rally race, and finally an exhibition beach motocross race on the sandy Patti seaside. Cairoli raced with his friends, among them his former KTM teammate Rui Goncalves and Italian riders like Matteo Bonini, Alessandro Lupino, as well as Joakin Furbetta, Gianluca Di Marziantonio, and Antonio Mancuso. Then the large crowd could meet Cairoli personally during a very long autograph session. The party was over with prize-giving ceremonies.
Cairoli will now take a break and then begin working toward what he hopes will be the season in which he finally catches Stefan Everts' all-time record of 10 FIM World Championships—and then of course a 10th party on the beach of his hometown.
Hey, Watch It!
Dirt Shark checks in on Ricky Carmichael, blasting around The Farm like it's 2005. I think Ronnie Mac is going to have his hands full Down Under:
Martin Davalos is back with Monster Energy/Pro Circuit Kawasaki. Our own Kyle Scott caught up with him earlier this week.
Random Notes
Dirt Cool Mitchell Harrison Japanese magazine cover. If Harrison gets another, it will be on a Rockstar Husky.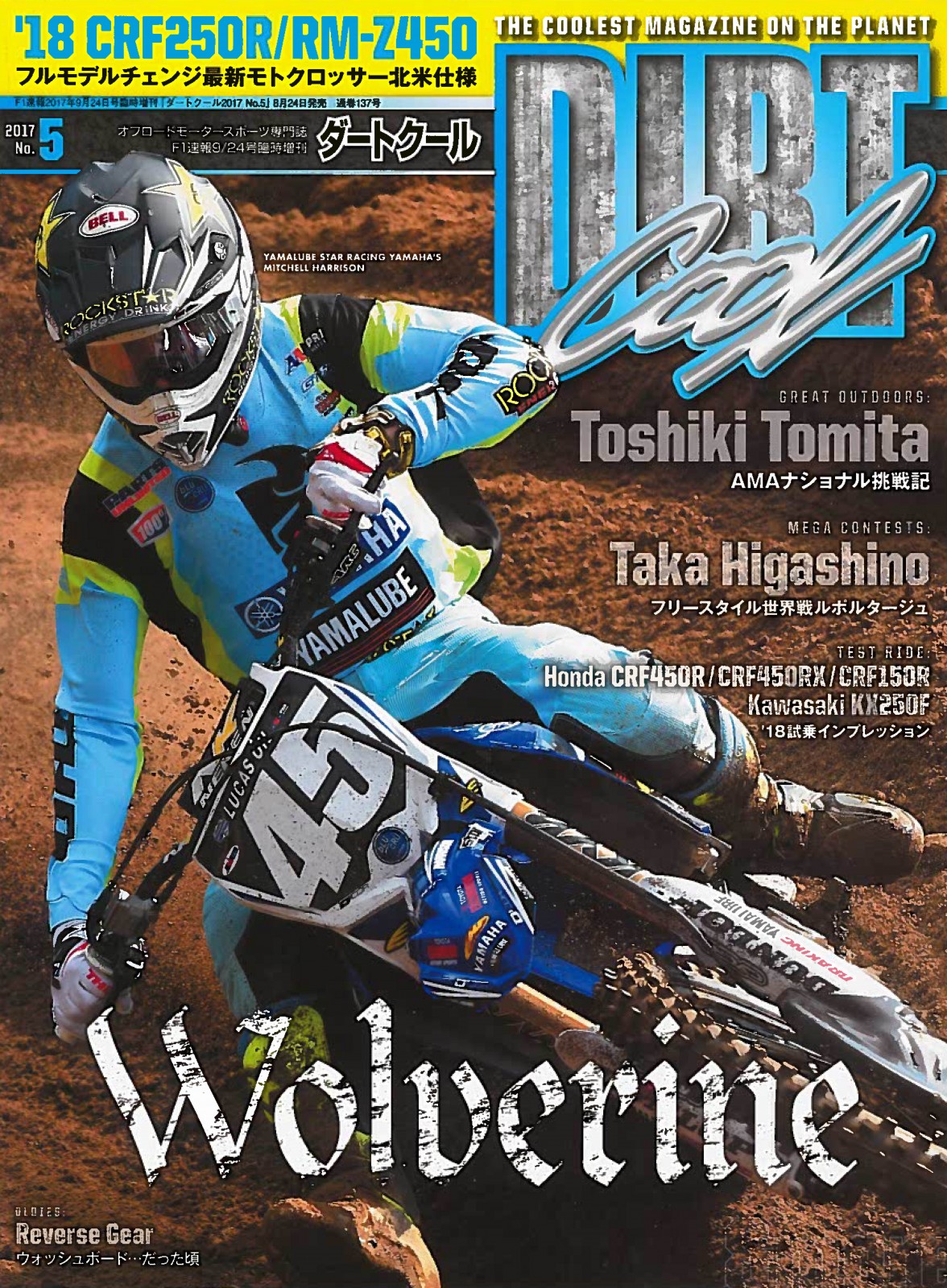 Our moto friend Jim Zack sent us a note and a link to a photo site belonging to George McNamara, a former NorCal pro. The site is filled with photos from races out west from the seventies and early eighties, like Carlsbad, Sears Point, Hangtown, and more. Be warned: You may sink into this and an hour or two will go by before you know it!
From Kyle Kline:
I know you guys have featured breweries who are also moto enthusiasts. This is from Pizza Port in Bressi Ranch (Carlsbad, CA) right across the street from where Carlsbad Raceway used to be. Pretty cool to have the #23 on there.
Subscribe now for as low as $9.98 and receive a FREE MX vs. ATV T-Shirt plus access to our digital edition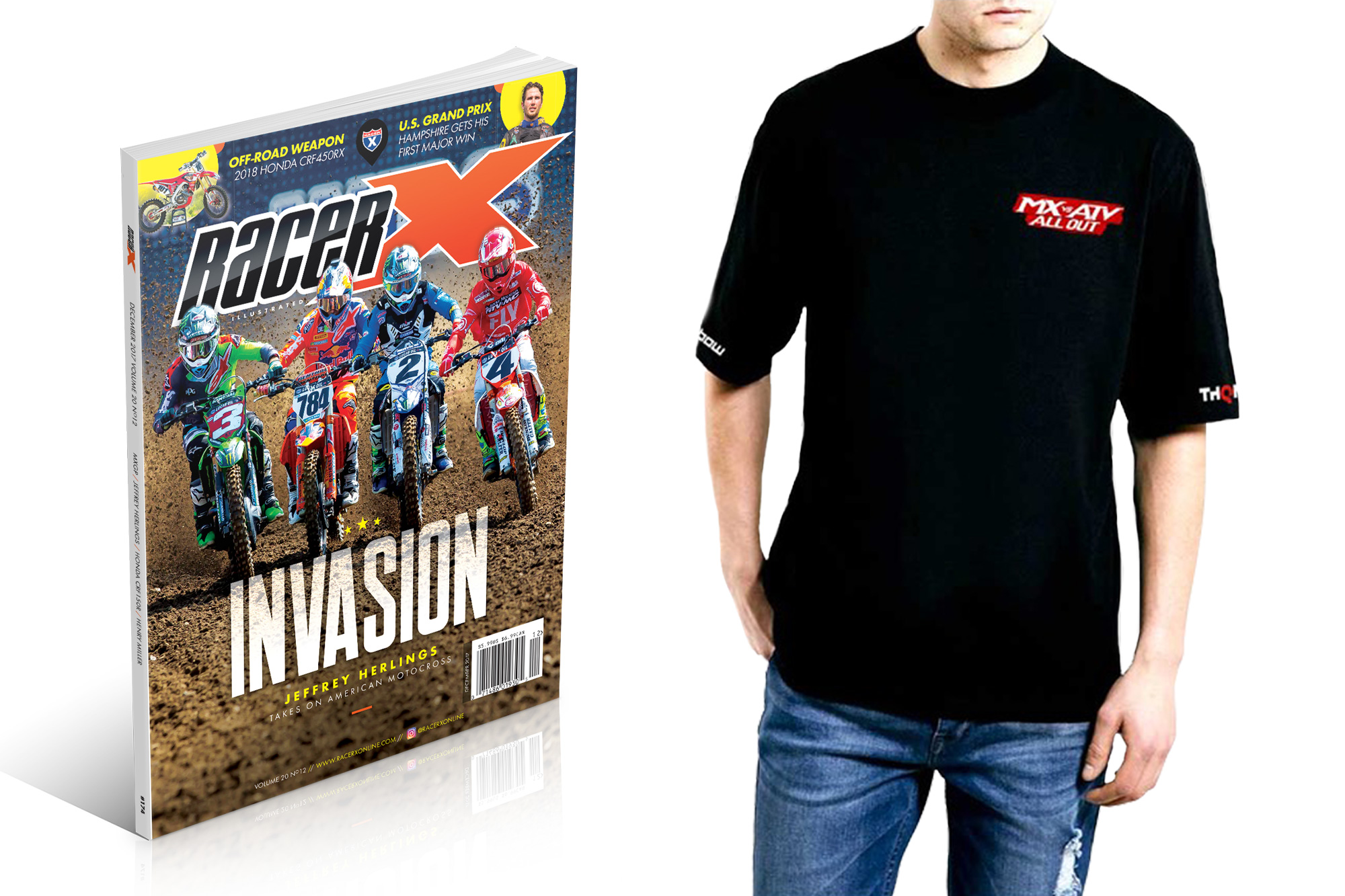 With the calendars now reading November 3, it's the time of year when we start reflecting on the last year and the 2017 race season. After providing 50 hours of live racing coverage from Loretta Lynn Ranch earlier this summer, RacerTV has remastered each race day into individual high-definition motos.
Each Monday, ten new episodes will be released on RacerTV.com where viewers can select which moto to watch. Over the next few weeks, there will be nearly 90 motos available for viewing. Make sure to follow @LorettaLynnMX on Instagram to be notified of the newest releases.
In addition to the remastered videos, RacerTV will feature a behind-the-scenes look at some of the National Championship contenders and their racing programs, as well as exclusive content that can only be seen through the lens of RacerTV. Two one-hour cable television highlight shows featuring the event will air on NBC Sports Network on Saturday, November 11 at 4:30 p.m. and Saturday, December 23 at 3 p.m. Eastern, with re-airs scheduled for Wednesday, November 15 at 3:30 p.m., and Wednesday, December 27 at 3 p.m.
We got this note from Bristol Core about their involvement in the Dubya World Vet race.
Bristol Core, a leading manufacturer of muffler packing and steel wool, located in western New York is happy to announce our involvement in this year's Dubya World Vet race.
Bristol Core owner Morgan Curtice: "As a company we wanted to kick off our Repack for Power program in a big way and this weekend's World Vet race was a perfect choice. Bristol Core is giving away to every podium finisher our Spec 19 Universal Repack kit as we want to raise awareness on the correlation between repacking and restoring full horsepower and torque to off road motorcycles."
Bristol Core is giving away over five thousand dollars of product at this weekend's Dubya World Vet Race at Glen Helen. Every podium finisher (180 riders over the weekend) will receive Bristol Core's Spec 19 universal repack kit. Additionally for 2018, we are partnering with both the AMA for their Benefit Partner program and District 36 events for our Repack for Power program. Repacks restore horsepower and torque in addition to lowering sound levels and we look forward to supporting District 36 racers. For more information, please check out our website www.bristolcore.com and be on the lookout for Michael "Rock" Rigdon this weekend.
Thanks for reading Racerhead. See you at the races.