With double 250 titles in 2016, Cooper Webb came into 2017 as the hottest new prospect in the game. His rookie 450 campaign didn't go to plan, though. After a few rough races to start the year, he delivered a podium in Oakland, but a shoulder injury followed, and then his season was dominated by a series of starts and stops with other nagging injuries. Besides a few laps here and there, such a strong runs at Seattle and Unadilla, we never saw much of the spark that made Webb such a sensation in previous years.
Word spread that he wasn't gelling with the 2017 Yamaha YZ450F, and was much happier during test rides with the 2018 unit. He was finally set to race that bike at the MXGP of USA in Jacksonville, Florida, but, just to add injury to insult, he hurt his thumb in practice. He hasn't ridden since.
Can Webb get back to the lofty heights? We saw him during last week's press conference announcing changes for 2018 Monster Energy Supercross. That gave us a chance to ask him about the new Triple Crown race format (running for three of the 17 2018 races) and also to get an update on his thumb injury and 2018 ambitions.
Racer X: Some big announcements here today. Probably the biggest impact would be the Triple Crown format. How do you see it playing out?
Cooper Webb: I think it will be cool. We race 17 rounds so to have something new and something exciting to look forward to on three weekends will be awesome. It will give us three chances. Sometimes at the races, you feel like you qualify but then you only get one chance to show what you have in the main event. With this, we get three chances to show what we have, and I think consistency will come into play. I think it should be a lot better racing for the fans and for us as racers. If we have a bad race, we can come back in the next one, and vice-versa.
When you know that one of these Triple Crown races is coming, will you change your training and practice during the week?
Yes and no. By that point of the season, we've had our time so I feel like our fitness should be good. But a week before, yeah, I'll definitely do that format. I'm not sure how long the break will be between races, but the main events do get longer as the night goes on, so that will bring the fitness aspect out. I think that's pretty interesting. I don't think it will change too much as far as our preparation. I'll definitely practice that format the week before, but the real change will be at the races.
So we heard this cast is on its way off, but you're still on the mend from this thumb injury.
Yeah. Unfortunately, I'm still feeling it from the GP. Ended up having to get surgery, but that ended up being about a week and a half after the race. I tore my UCL ligament in my thumb, actually tore the ligament off the bone, so, yeah, wasn't what I wanted to hear. But it's going pretty good, getting my cast off, I think the date to start riding is November 6. Yeah, it's been … it's been tough not being able to ride. But I'm still able to train and do all that. It's definitely a different approach but I think it will be all right. We have a good bike so I'm not worried about testing or anything.
Did you not know the injury would be this bad at first?
Honestly we just didn't have answers. Alpinestars [medic staff] told me one thing, the hospital in Jacksonville told me another thing. Went to a hospital in California and they told me a different thing. I finally got an MRI, and one doctor told me it was unclear. It just turned into a nightmare. Once I knew it was the UCL ligament, at least I knew what we needed to figure out next. We had to decide if I needed surgery or not. Sometimes you do, sometimes you don't, but for me it was fully torn, I guess where it connects to the thumb joint, I guess it was torn off of there, too. Once I heard that, I had surgery within two days.
Apparently this is not something that's easy to detect?
No, apparently! The Jacksonville hospital told me nothing was wrong, you can go home.
Wow. We know you didn't end up racing the GP, but did you happen to try any riding in between hearing that news and then realizing you needed surgery?
No. It kind of was a catch-22. I actually still wanted to race even after it happened. I really wanted to race that race. But I knew something wasn't right even after they told me that. I thought maybe it was a scaphoid (wrist) or maybe something in my hand. But I'm glad I didn't race, because it could have made it worse. I didn't do any riding. With the damage, I knew keeping it immobile is what's going to help heal it.
Kind of a fitting end to your 2017 season. I know that basically the whole thing didn't go as planned.
[Laughs] No definitely not. It was a tough deal but it is what it is. I would have liked to have raced that GP especially on that 2018 [Yamaha YZ450F]. Not a good way to end it, but at the same time I think it will definitely make me a lot more motivated for next year. It helps me really enjoy the training and riding and really anything I can do after sitting on the coach for a few weeks after surgery.
I'm sure you would have wanted to win a race at some point in 2017. That didn't happen. Does that kind of stoke the flames a little bit?
Yeah absolutely. Obviously it wasn't the season I wanted, but things happen for a reason. I think, without this season, I definitely wouldn't be as motivated and I don't think I'd be doing all the work I'm doing right now. I'm doing all that to be around not only for next year, but for overall longevity in my career. Hopefully I can overcome this and become a title contender next year.
Yeah, last year coming in we expected big things immediately. Now, coming into 2018, do you almost get to go back under the radar a little bit?
Yeah! And that's what I like. I don't think anyone has any pressure on me, and that's fine. I don't really have any reason for anyone to think I'm going to be a title contender. But I'm confident. I've had a great off-season training. Even with the injury, this is the best off-season I've had, fitness wise, and the best I've felt in a long time. And we have a new bike that I love. So I'm going to come in flying under the radar and see what I can do. I think I can be a contender.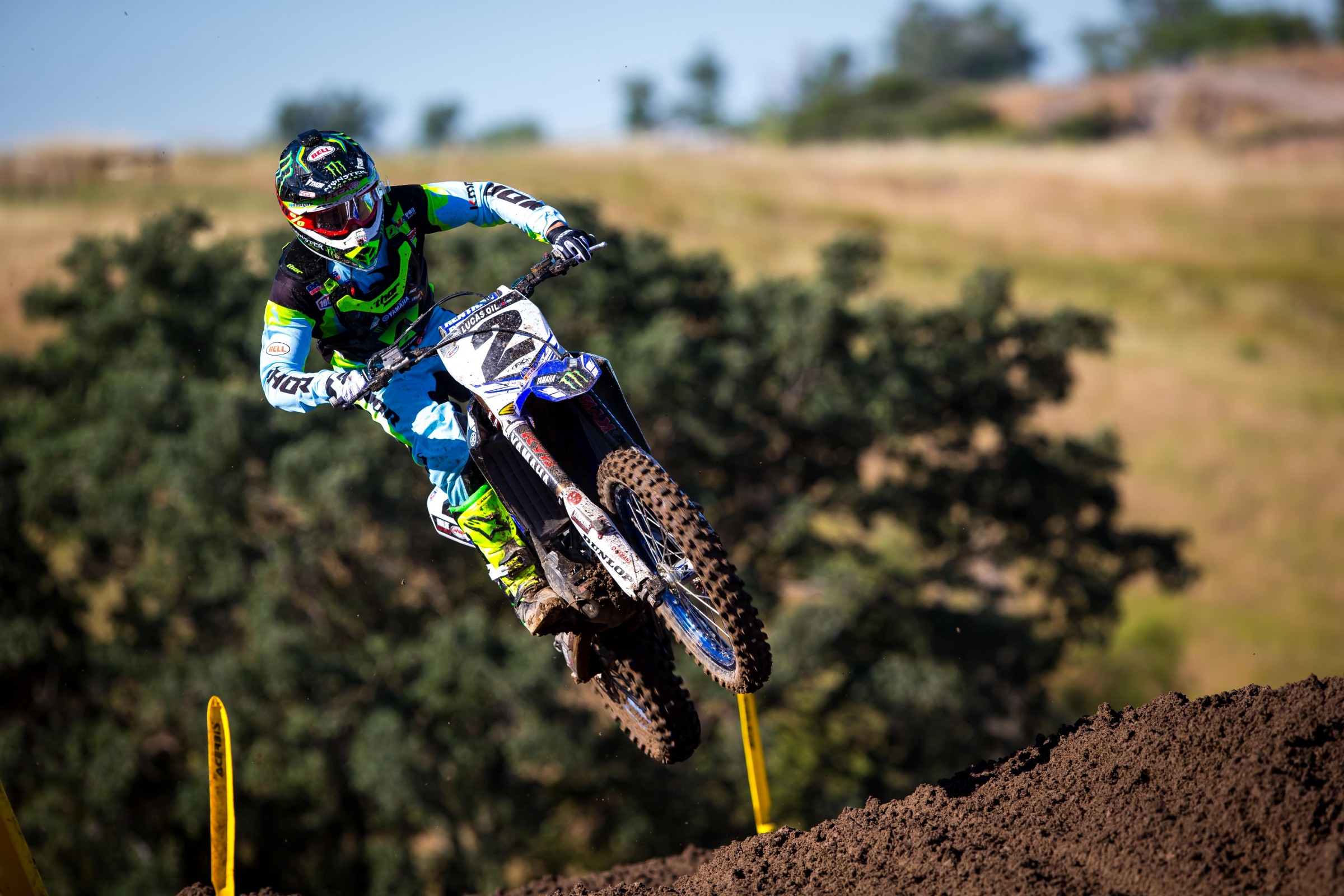 How much did you want to ride that GP because you'd finally get a chance to race the 2018? Your thumb was hurting and you still wanted to ride. Is that because you were that pumped up on racing the next bike?
Yeah I was excited, man. We did a lot of testing and it was going good. And that track, too, it really fit my style, with all the sand, and I like the sand. I was excited to race the Europeans and all that, too. But, yeah, I'd say the main reason I wanted to race so bad was because of the bike.
Yes, you mentioned the Europeans. Last year at the Charlotte GP, you and [Jeffrey] Herlings had a showdown and you won it. Then Herlings comes in at the end of this year, he wins these races, he gets all this love. He was on fire. I'm sure you would have liked to have mixed it up with this guy at the GP.
Yeah that's for sure, and that was actually cool to see, from my aspect, how dominant he had been the last few weeks in the GPs, and how good he's been. It's just like "Hey, once you get comfortable and get where you need to be, there's no reason why that can't be me." So that's reassuring. It's cool to see. I'm friends with Jeffrey and I respect him a lot. It's not easy to come to the States and win like that. So, respect to him, and, yeah, I would have loved to have been in that race on this new bike. Who knows what could have happened.