Pomona, CA
Red Bull Straight Rhythm
Red Bull Straight Rhythm
I had a whirlwind couple of days traveling and seeing new things recently. I announced Red Bull Straight Rhythm on Saturday, then flew to Florida on Monday for Feld Entertainment's press conference regarding changes in Monster Energy Supercross.
From all the feedback I've heard regarding these things, one idea just completely overpowers all: the people want two-strokes. Two-strokes are at the heart of all arguments.
Here's what I learned:
1. Two-Strokes Are Slow
They kept saying it. First, Chad Reed said it to Steve Matthes on our site last week: "They're fun to ride but, man, they're slow." Then we did a live pre-race show on Friday night, and Ken Roczen commented that two-strokes sound great, but you have to hold them wide-open everywhere because they're slow. Then Ryan Villopoto backed it up in his post-race interview with Matthes saying, "They're not kind of slow. They're really slow, really slow."
You know what I think? Slower is safer. Slower is better! No one watched Jeremy McGrath on a CR250 and thought he looked slow. No one watched those two-stroke runs at Straight Rhythm and thought the guys looked slow. Slower than a 450 four-stroke? Sure. So slow that it looks boring? Oh, hell no.
Bring on the slowness! Slower is fine as long as everyone is equally slower. I'm not a scientist but it seems better to hit the ground at 20 miles an hour than 30.
2. Two-Strokes Are Popular
I like the slowness and cheapness, but I don't think two-strokes will cure cancer, end poverty, and create world peace. That's how far this two-stroke love has come. It's not really the cure-all for everything. However, I realize perception is reality, and if the fans think the two-strokes are that good, well, that's pretty much all that matters. I have it on good authority that Red Bull Straight Rhythm was on the ropes as far as not coming back next year, because the field of riders just kept getting weaker each year. The industry, riders and teams were staying away. So what's the point?
The two-strokes were a Hail Mary, and OMG did it work. The grandstands cheered much louder for Ronnie Mac than for Marvin Musquin, and both the live attendance and RedBull.TV numbers were way up this year.
3. Marketing Doesn't Look Like Marketing
This Ronnie Mac thing was cool to watch on Instagram and YouRonTube. Got the needle moving. But would it really result in people plunking down some money to go to the race, or just spending a Saturday night watching the thing? Could it become real? Apparently. Ron's pits were packed on Saturday. Dude had to make serious cash selling all the beer funnels he had on sale.
Of course, it helped that Chad Reed and Ryan Villopoto agreed to show up and race the people's champion of motorcycles—the two-stroke. It helped even more that these guys tore into each other on Instagram with some epic smack talk. Ronnie Mac wouldn't have been as successful if he didn't have credible enemies to spar with, but then again, Reed and Villopoto's words wouldn't have been as fun if they didn't bounce off someone like Mac. Then Stank Dawg got involved.
It helped that these guys didn't take it super seriously. This wasn't your grandfather's marketing. You know what that looks like: smoke, fire, loud guitar riffs, clips of crashes. Someone yelling that these are the best riders in the world. Someone telling you how hard the riders train. Someone telling you how important this all is.
This was something completely different, and it worked. This was like anti-important. It was raw, underground, and felt more like you were in on the joke. You knew that throughout the Instagram jabs, somewhere these guys were hitting send but also throwing in a wink, a nudge, and a high-five, just like you do when you crush one of your buddies in a snarky text thread. But the fans got to see it and be part of it, and this convo involved Chad Reed and Ryan Villopoto. You can't buy that kind of access. Except, you actually can, you just don't realize someone was actually selling it.
4. Controversy Is Warranted … and Welcomed
I understand there needs to be a debate over if a Ronnie Mac (drinking beer, racing dirt bikes) is "good for the sport." I can understand the detractors. I personally think it's fine, because, as I mentioned above, most everyone realizes there's a thin line between fact and fiction, and this stuff is just a joke. To not realize it, you'd have to find a completely clueless fan who has never seen a dirt bike race before but yet also decided to watch this show. How many of those people are there? And among them, how many would actually say, "I've never seen any of this before so I guess I'll just assume this is normal?" Wouldn't even half of the noob fans realize there's some showmanship going on here?
But even if you don't like it, even if you think this image is bad, even that is a win for Ronnie Mac. He's promoting the anti-PC all-American freedom-to-drink-beer-and-raise-hell lifestyle, so anything you say to squash him only makes him stronger. If you're not in on the joke, the joke ends up on you. Recently, we've seen much larger movements start using the same platform. In these polarized times, the more resistance, the greater the movement. Ronnie is riding that momentum.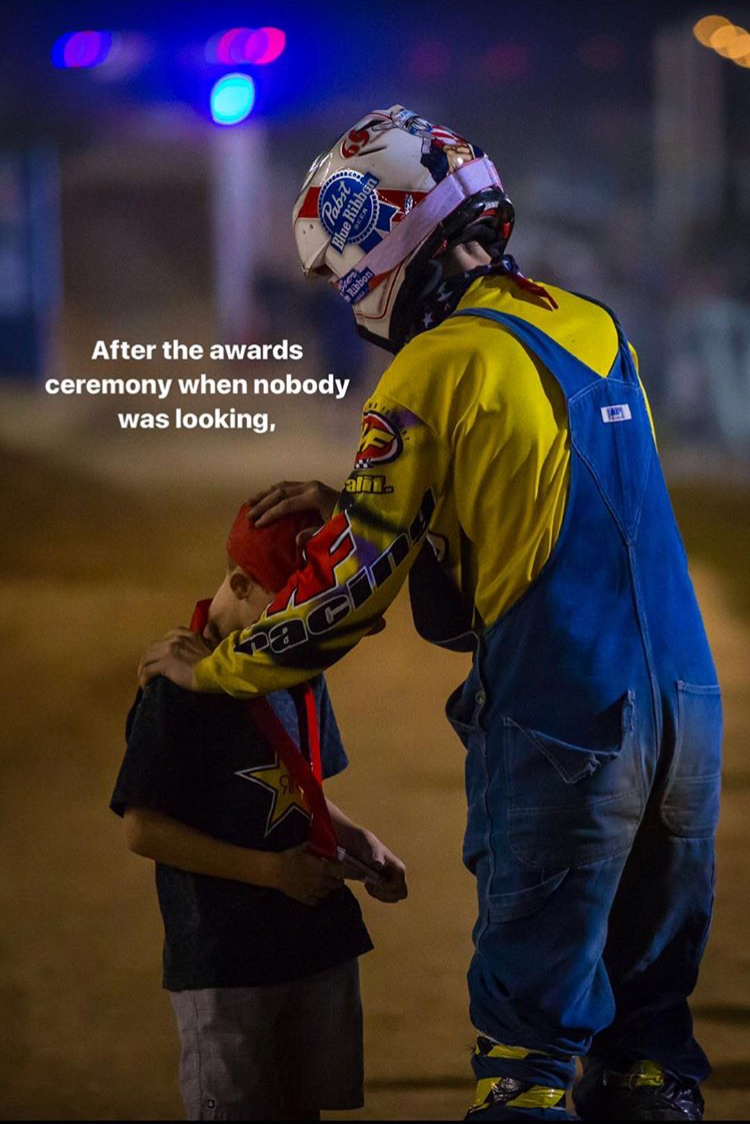 5. It's All Good … On the Side
There's only one danger to the success of this two-stroke class and even the Ronnie Mac movement. People want more! This is all just confirming what the people have said all along, and now they've actually backed up the hype by showing up and cheering. You literally can't lose with a two-stroke right now, to the point where Red Bull Straight Rhythm, which is about as un-traditional an event as we've ever seen, has somehow come to represent all that is core and old-school about the sport. Because it had dudes on two-strokes!
The two-stroke thing just keeps hanging over all conversations, like, well, smoke. Feld announces Monster Energy Supercross changes, and yet many fans just ask "Wait, where are the two-strokes?"
Well, it's one thing for this to work in a one-off race, or on YouTube and Instagram. Putting this right in the center of the sport opens up many pitfalls. I just want to explain one very basic part of this two-stroke thing right now:
The manufacturers didn't ask for four-strokes to take over. Things were going awesome in the two-stroke days. They were selling tons of bikes, and those bikes were cheap to make and cheap to develop. It was great! They didn't want to change! The AMA rulebook made it so by allowing 450s to race against 250s. What they failed to realize was four-stroke technology was going to advance very, very quickly, and what at first seemed like a pointless rule ended up ruling all. No one was madder than the manufacturers, who had to undo three decades of motocross research and development to reinvent the line, and spend millions of dollars to do it. There was no choice, though. This sport has fun on the side, but it's based on competition, and as soon as the world realized a 250 four-stroke could produce faster lap times than the 125 two-stroke it was supposed to race against, the pivot began. Everyone wanted to buy four strokes! And then, just when that whole massive changeover happened, everyone told them they needed to go back.
This is the case of, as a man once said, "Fool me once, shame on you, fool me twice …. we won't be fooled again." A crazy rule twisted this whole market. The manufacturers have spent millions working around it. They're not exactly pumped on having more rule changes (involving bikes) forced on them, and yes, they have a say in this because they spend the millions paying the athletes and building the race teams and getting them to the races. They've earned a vote, and they remember all too well how much it hurt the last time things happened outside of the box. Unfortunately, so do you.