The Conversation: Musquin, Anderson, Wilson
Sam Boyd Stadium
Las Vegas

,

NV
Monster Energy Cup
Monster Energy Cup
Racer X: Dean, congratulations on the podium. Take us through maybe where you are emotionally compared to where you were a year ago? Things have obviously changed for you a little bit. You didn't know what you were going to be doing and now you're on the podium. It's got to be a little bit better place.
Dean Wilson: Yeah, it's amazing how things can change. It's just been a really great, amazing year. This time last year I exactly remember this race. I was watching Kenny [Roczen]. I was sitting on the couch and didn't know really what my future plans were. It was a pretty low point in life. I didn't really know what was going to happen. I just did the best with what I could and just tried hard. It just all paid off. It's definitely rewarding to be on the podium here. It's a great feeling.
Jason, congratulations on the night. You were right behind Marvin pretty much the entire night. Kind of could see him right there in front of you, but wasn't able to get that little bit you needed to catch him. If you could pinpoint one thing, where do you think he had that little, slight edge on you tonight?
Jason Anderson: For sure Marv was riding great. For me, honestly, to go that speed I was pushing myself so hard that I would make a little mistake here and there. I felt like I would have it every once in a while, but then I would just be pushing a little bit too hard and make a mistake. All in all, it was a good night. I'm coming back from injury and I've had four or five weeks on the bike. The whole team did a great job today. Kind of almost felt like I had the first race jitters from taking off that last half of outdoors. But Marv rode great and I was the second-best guy tonight.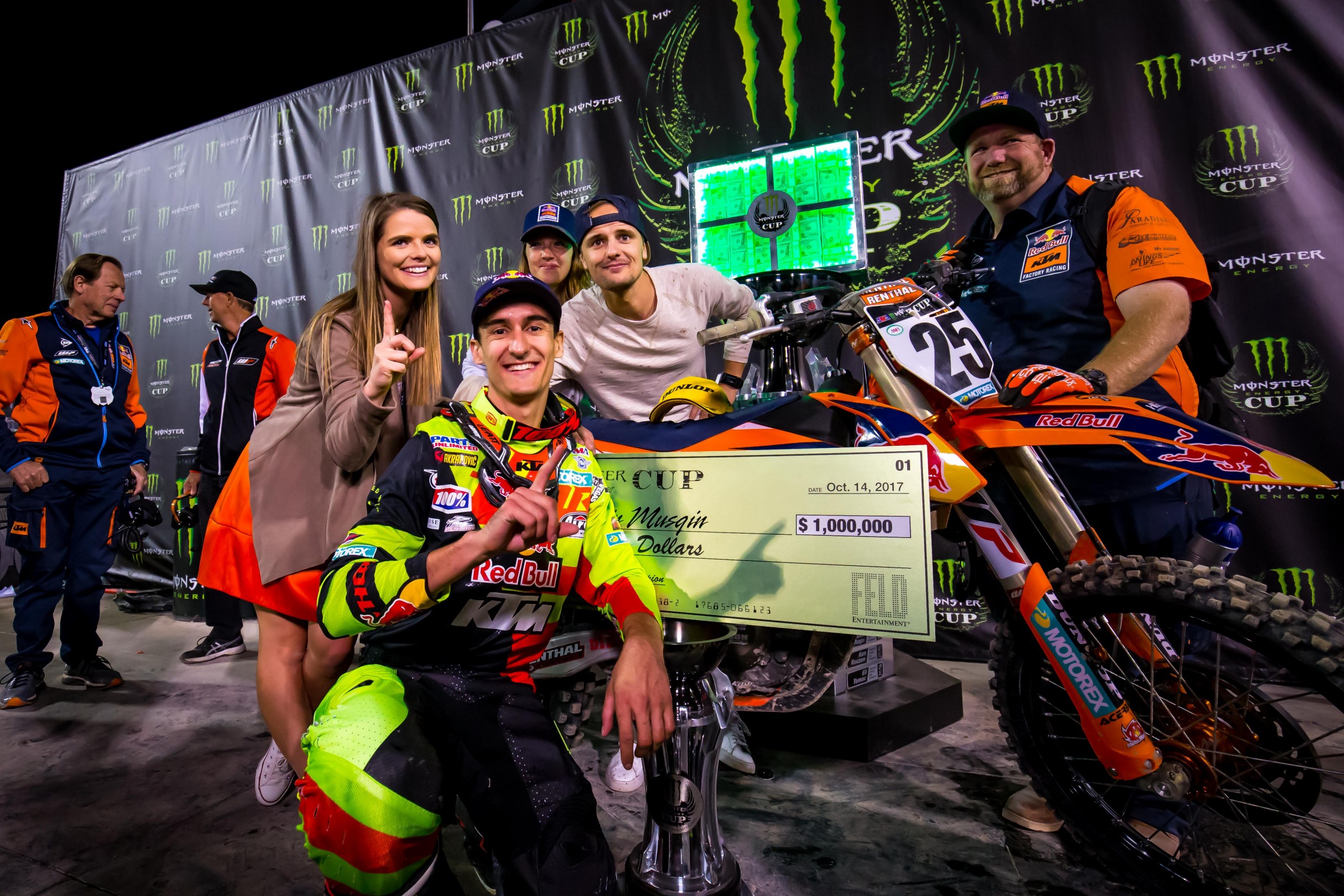 Marvin, congratulations. This question is actually coming from my wife who texted me 10 minutes ago. She wants to know what you're buying your wife?
Marvin Musquin: That's a good question. I would say anything she wants! She deserves so much. We work as a team. She's behind me 100 percent. She works so hard and she's a huge part of my career for sure.
Let's talk about between the second and third main event. Obviously, as much as you want to ignore the situation, I know you can't do it. How were you able to kind of block it all out and just stay on program and stay on path and then be able to execute like that in the final main?
Musquin: First of all, before the weekend I was not even thinking about winning all three motos. It's pretty unreal to go out and win all three. So, before that very last moto I knew they were going to interview me right on top of the gate, right before the last round, stuff like that. It took forever. We had such a long break in-between the second and the third moto, just to make it more stressful. Anyway, I just had a great start. That was the key tonight, to get a holeshot and try to go fast. To be honest, in my head I was just thinking of maybe get a start around top three then what to do? It was going to be so hard to pass. So to get the holeshot was just the best way to go out for the third moto.
You guys had to do both sides of the start. I think a lot of us would assume the left side is better because most of you turn better left and you can get at your rear brake and whatnot. So, what was the difference in your actual experience on either side of the starting gate getting into that first turn on each side?
Musquin: Obviously, everyone was thinking that the left side was better because the rear brake. You can push a lot harder. But the first two holeshots, it was Jason the first one from the right and second moto it was me from the right. So, going into the third moto I was like, where should I go? I just went left. It's so stressful. You're like, am I making a good decision or not? But I pulled it off and it was great. This race here at Monster Cup, three motos, anything can happen, especially with a split start like that. It was really intense. We bumped into each other a couple times pretty much every single moto on the start. It was tough.
Anderson: For sure. I think both sides kind of threw us off because I felt like the right side was a little bit better at the beginning because I pulled the holeshot from there before the red flag. But the second one I was like, I'm going to come out first. I'm going to not let Marv have it so easy. Then he just blew our doors off, so I was like, there that goes. It was good though.
Wilson: For me on the start, I was kind of average on my starts. I think I felt more comfortable on the left. The right there was a big… not a pileup, but a crash off the start. So, I just felt more comfortable with the left. So, the third moto we could pick which side we wanted, so I went left. I thought I had a good start, but Marv was like halfway down the straightaway. It was good though. That last moto was my best start, so it's good.
The first moto especially, the start was kind of sketchy, and then to go back and have to rerack after Bogle's crash and the red flag, how did you guys regroup and reprocess and dig ahead? Especially for you, because that start was kind of wild when you guys came in and joined for the first time.
Anderson: The first start I came around and there was a TV guy in the corner. I don't know if anyone saw that. That was pretty crazy. I thought I was going to clip his legs or something. So, then even for the red flag it was even crazier because we were so muddy, from the track being so muddy. So, it was kind of a crap shoot. Even the first one, like Eli [Tomac] and Marv took the Joker Lane and it totally caught me off guard. I almost forgot about the Joker Lane the first lap. Then I was like mid-pack because the whole pack took it except for me and Dean I think. The Joker Lane really threw me off the first moto, but it ended up working out. It was weird because I feel like the Joker Lane the way it is now everyone takes it the first lap. I almost like the other way better because I feel like you really did have to be more strategic about it, where tonight you just have to take it the first or second lap.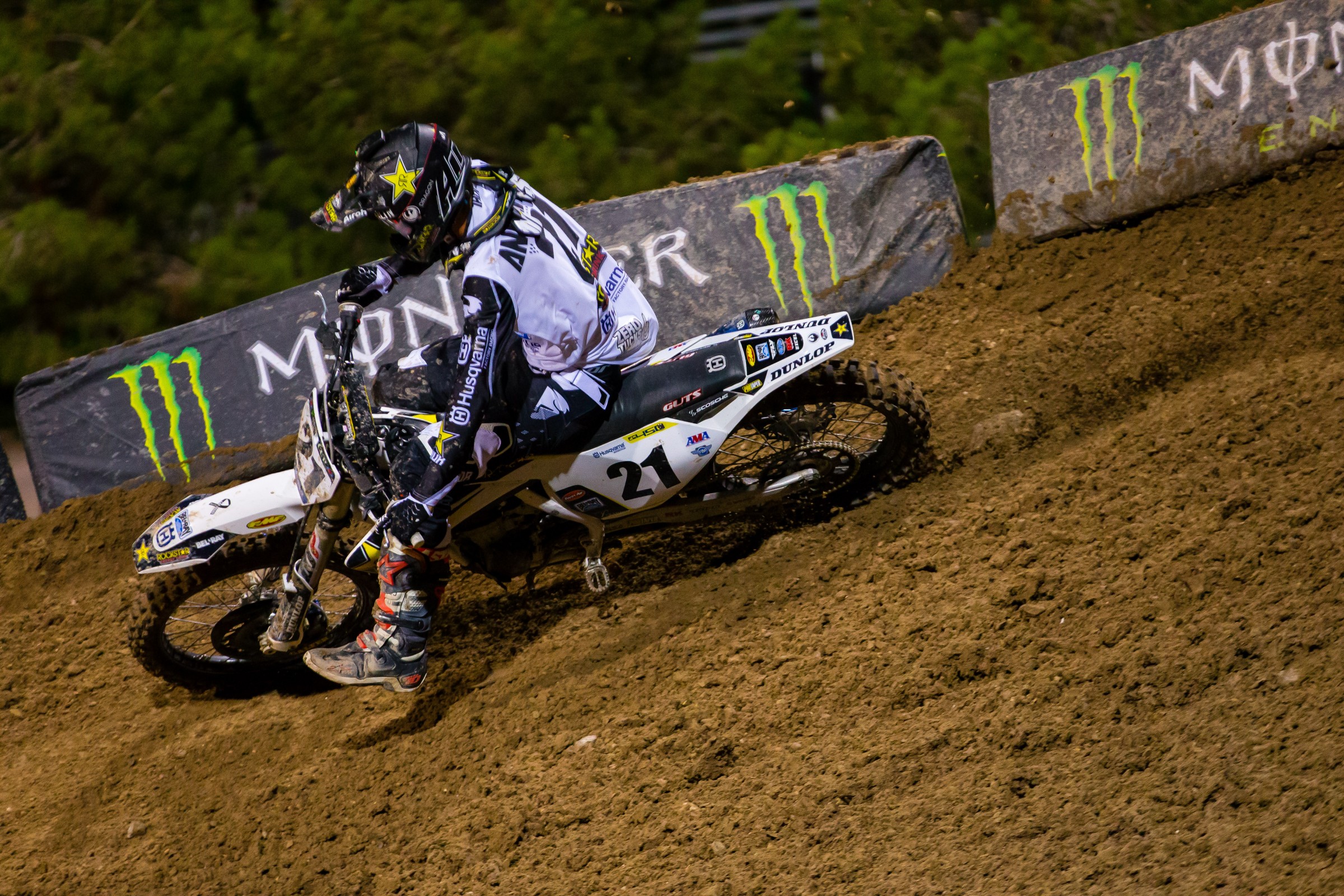 Jason, in that third race, if you had gotten past Marv, how awkward would your upcoming boot camp have been?
Anderson: I was waiting for Marv to come and wheel and deal with me and try and make it easy on himself, but he took it like a man. He smoked us. He was on another level. I was definitely going to battle him hard, but I wasn't going to make it dangerous or clean him out or anything like that. He won it fair and square, that's for sure.
Marvin, watching you after the race, that's easily as excited as I've ever seen you. What do you think this means for the sport? Do you think this helps elevate it that you can come out and win a million dollars at a race?
Musquin: Yeah, I think so. A lot of people are watching on TV and the stadium has a lot of people today. So, to see that someone is winning one million in one night at a motocross race, it's so unique. I think we got a lot of views and people will be talking about it, that's for sure. It's good for the sport. When I crossed that finish line and when I met with all my people, the team and everybody, we were all just laughing like crazy. Like, are you serious? It's like being at the casino and just winning the jackpot. We're like, are you serious? It doesn't happen often. When it happened like that, the way it happened tonight, it was just super cool. It doesn't happen every time. We enjoyed it. It was super fun.
From Jason Anderson: Are you going to upgrade the whip?
Musquin: Money is one thing, but money doesn't buy everything. Just to be able to win tonight was just super special. It was great.
Dean, it sounds like you got a hoarse throat. Did you catch something coming back from Des Nations or something?
Wilson: Yeah. I could possibly have hit puberty at 25 because my voice is finally deep, so it's actually kind of cool. So, that could be a possibility. I think it was just on the plane on the way back from des Nations. It's just there's so many germs and I probably don't wash my hands enough. Not feeling well the past couple days, feeling rough. Probably feeling a little bit rough tomorrow morning.
Recommended Reading
Marvin, in the first race, you didn't take the Joker Lane right away. It seemed like you caught Eli off guard when you came flying down over there. What made you choose that strategy that time?
Musquin: I said it on TV, after the first moto I totally forgot about that Joker Lane. The way it was before the finish line, we're so used to going straight and hitting the double. You got to go right to take the Joker Lane. We never race with a Joker Lane. It's only once a year, so you really have to think about it. But it looks like Eli really had it dialed in and he went right away. He knew what he was doing. I didn't take it. You didn't take it, right?
Anderson: Before the red flag. I waited the second lap and then I went by you on the first, before the red flag.
Musquin: But to be honest, I was going for it. I was behind Eli. I was pushing hard and I saw him going right. I'm like, oh yeah, that's right. There is a Joker Lane. I just went straight and hit the finish line. in the second moto I think I was leading, so then I didn't mess it up. I just went on the first lap as soon as possible. It's tough. You don't have to mess it up like that. But it was interesting. When you passed me back, when you're in the rhythm section and you're doing that triple, double and you see the guy just going fourth gear wide open, you're like, shit. It's pretty crazy, that race, to be honest.
This race always has the metal grid behind the starting gate. All three of you guys have raced it at some point. It kind of sounds like because it's perfect traction it takes out of the equation the technique, but as we all saw, the many who went over the gate, it was really sketchy going down. What do you guys think about the grate behind the gate? Is it better?
Anderson: I think the grate behind the gate was sketchy. The one in front was really good, but going down that hill I guess if you guys were at press day you saw [Justin] Barcia do a 180 down the thing. But I know there was a couple times too I felt my back end getting a little squirrelly on that thing. It's slick as concrete, to be honest. But I liked in years past where they do it on the top and then it was dirt on the back. I feel like it was a little bit more safe, but honestly that g-out at the bottom too, it hurt pretty bad too if you didn't stand through it.
Musquin: We all practice together at the track. We practice on that metal, but on flat, not even with a downhill. But I think it's cool. Obviously, when you win a heat race and you have to pick your gate and when the ruts are deep or rough, you want to win the heat race to make sure you have the right gate. Next year will be different. It will be more even. But I think I like it. It's really consistent and you know what you're expecting when you dump the clutch.
Wilson: I agree with Jason. I kind of like the dirt after it. Marv loves it because his starts were awesome tonight. I think it does make it a lot more consistent for everybody. I'm kind of mixed feelings. If I get good starts then I like it. If I don't, I don't like it.
Musquin: It's like the track. Even if the track's not good and you win, it was awesome. If you don't, it was hard.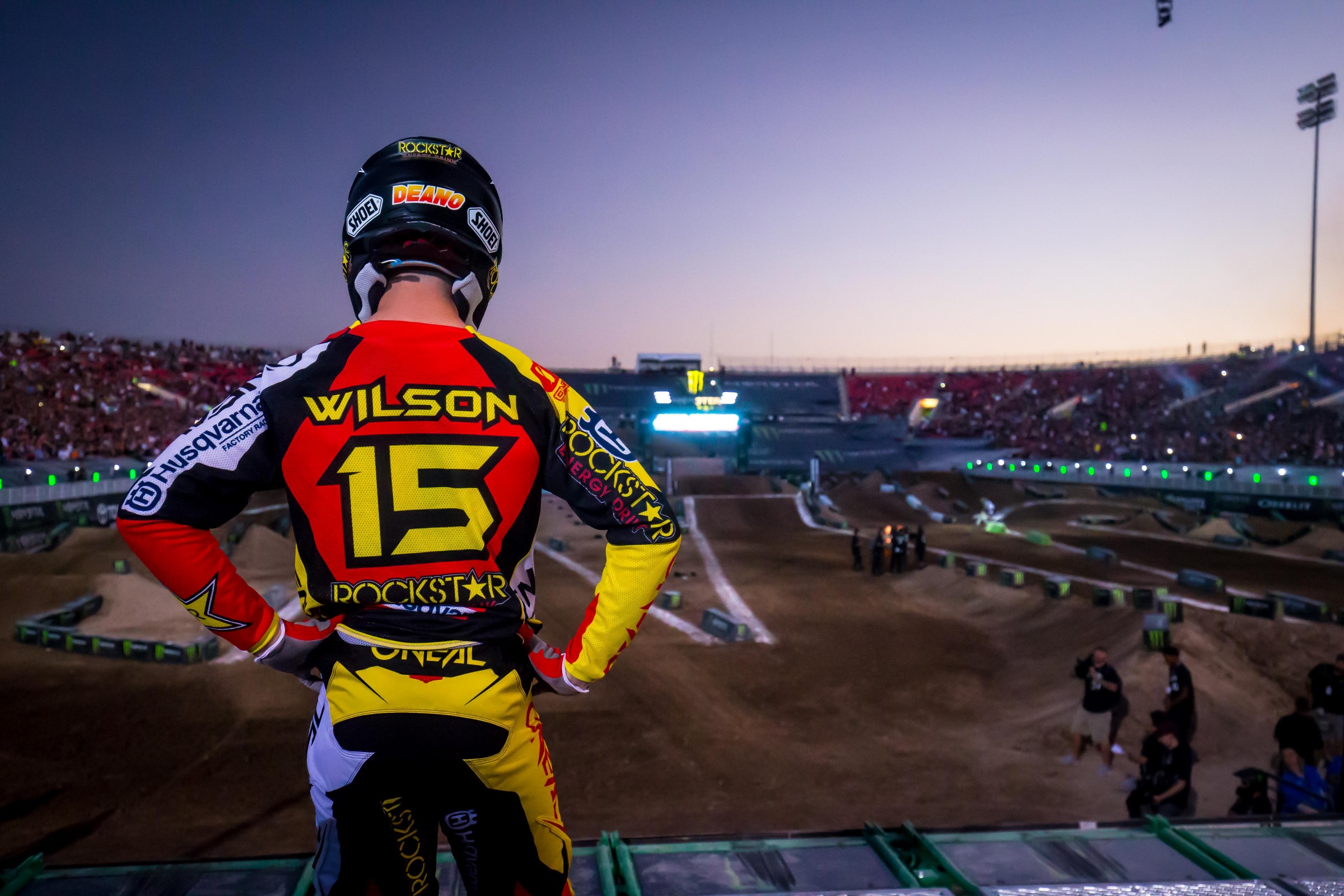 Can you guys talk about the rhythm lane coming in back inside the stadium? It seemed to be giving guys a lot of problems. Bogle went down there. Tim [Gajser] crashed out. There was a lot of carnage throughout the night. Can you kind of just talk about that a little bit?
Anderson: I think the rhythm section right there was pretty gnarly for Monster Cup and us coming off … that might be even one of the gnarliest little gaps that we've done all year. I remember the first time I hit it in practice, I was like, I hope they mellow it out a little bit, and they did not mellow it out. That's for sure. That was something like you honestly came up to it and you actually really thought about it. Sometimes you hit triples through rhythm sections and you're just riding. That one you come up and you're like, okay, just time it and make sure you're good. You didn't really race [through] it. You were just trying to hit it every lap.
Musquin: It was tough coming up with so much speed and hitting a triple that we come in with way too much speed to hit a triple like that. But you have to land it so perfectly to get on the downside and make sure you hit the next triple. I think all of us right here, we messed it up at least once or twice every moto. It was tough. It was stressful every single lap. You want to make sure you hit it perfect, because those guys behind are coming in fast. Like Jason said, that second triple is pretty big. You really had to be precise and hit it right. A lot of crashes today. We see Eli … he didn't crash in that section, but he crashed somewhere else, and Gajser and Bogle. Kind of bummed for a one race like that, off-season, and a lot of crashes, but that's the way it is.
Wilson: He pretty much answered the question. You had to really think about it when you entered the section and make sure you really just caught the backside of that first triple. To be honest, you could have went triple, triple, quad but it would have been really scary.
Musquin: I was actually waiting for you to do it. Or Jason.
Wilson: It was one of those things like if one person would have done it, then we all would have did it, but it was just who would do it first. It's not really worth the risk at the moment. I was happy no one did it. I thought Eli actually would have done it, but it's just not worth the risk.
From Jason Anderson: Would you guys have went for it if it was for the mil?
Wilson: Probably. I need it more than you guys. The thing about it though is that it actually would have been pretty easy. If we would have just did it once and made it perfect, then we wouldn't be like, it's not that bad. It's just if it went wrong it would be really bad.
Marvin, congratulations. In terms of your biometric data, you were able to keep your heartrate pretty consistent between in a range of 170 to 180 beats per minute. With the one mil on the line, how were you able to stay so calm? Can you attribute that to how hard you trained in the weeks leading up to the event?
Musquin: The effort was the same on the third moto than the first and second. That's why the heartrate was the same. I don't think it would have changed anything. The third moto was the exact same moto as the second one where Jason was behind and pushing really hard. I just wanted to keep that little gap and be consistent. It was pretty easy to mess up that rhythm section we were talking about. Jason was really fast, too, behind me. So, like Jason said, we haven't been riding much after the outdoor season. We all took a break. The heartrate, the breathing was pretty high, even though it's only 10 lappers. We were pushing super hard. Could definitely feel the breathing was really high.
Marvin, you've won world championships, supercross championships. How does this win feel for you? What's the impact of it? Just for the performance as much as the money?
Musquin: Yeah, like I said, the money is one thing, but being able to win all three motos is pretty unreal, especially with the competition right now and coming off a break and just only a couple weeks of riding. It's just awesome. That race is so unique, like I said, with the Joker Lane and having no whoops and being so fast like that. You kind of have to make sure your bike is set up good for that race. To win that race is pretty amazing. Obviously, when I won my first supercross in Dallas it was definitely more emotional than that. Today you know there is the money on the line and there is only one guy who made it, Ryan Villopoto the first time. It doesn't happen every day, and every year or so. We just couldn't believe it. Like I said, it's just so unique. I think it was a lot more emotional at Dallas when I won the first supercross.
I think Ricky's still in the room. Any feedback for Carmichael's track design overall from you guys? Anything you'd like to say to him about what he created out there?
Anderson: I think it's kind of hard to create a track that's good for Superminis, Amateur All-Stars, and us. I think this weekend's track was a little gnarly, some of the rhythms, but all in all it's a tough job to kind of create it for everyone.
Musquin: Yeah, Jason's right. We actually forget about the 85s racing the same track as us. I think they had a great time. I watched some of them going over that rhythm and they were able to hit those jumps pretty good. You got to make sure you have a track for 450 and 250 and 85s. So that's the difficult part. Like Dean said, when you win, the track was awesome.
Wilson: I quite liked the track. I think a few of the transitions were a bit steeper than for my liking, but I think the overall track layout was pretty good. Just the wrist hurts here so bad, that's the one thing I don't like about Vegas. Other than that, it was fine.
Marvin, with your outdoor performance last year towards the end of the season, and this race being dominated, you're pretty much "the guy" heading into the off-season. Does that change your preparation for 2018?
Musquin: Not really. It's only one race. I know those guys are going to work super hard in the off-season and we're going to battle super hard in supercross. In Vegas, like we just said, there was no whoops. It was just a unique track. Not really like a supercross track we're going to have in Anaheim. But yeah, it gives you confidence. That's what happened last year when I got third here. Like I won the Straight Rhythm, it's a different race but it's stuff like that. Off-season races, if you do good obviously it brings a good confidence into a new season. We'll just keep going, but definitely good to win here in Vegas.