The AMA Grand National Championship, which dates back to post World War II days, received a major reboot for 2017. Rebranded under the new name American Flat Track, or AFT, nearly every aspect of the series went under the knife. New name, new venues, new format and classes, and a big new TV package on NBC Sports Network all served as a major facelift for the series. The biggest buzz, though, came in form of an all-new bike and factory team courtesy of Indian Motorcycle. Indian was Harley-Davidson's rival from way back, but went bankrupt back in the 1950s, and since then the name has been dragged through various starts and stops with new ownership.
Polaris became the latest owner of the Indian name a few years ago, and they were the ones that finally knew what to do. Already a powersports powerhouse in ATVs, snowmobiles, water craft, side-by-sides, and street bikes (under the Victory brand), the company had the deep pockets and industry know-how to make things happen. One major target? Harley's decades-long domination in American Flat Track.
Indian built a brand-new, purpose-built flat track bike for 2017, the Scout 750FTR, and signed mega-talents Jared Mees, Bryan Smith, and Brad Baker to its new factory team. The bike won immediately and dominated the series, sweeping the top-three spots in points. Mees, already a multi-time champion, went to another level, winning 10 of 18 races and recording a record 17 podiums en route to the title.
He and his new machine dominated. We caught up to Mees, 31, to talk about a season that was historic on many levels.
Racer X: Did you expect to do this well this season?
Jared Mees: No. I expected to do very well and of course be gunning and running for the championship, but just being able to dominate like we did was amazing. Last year and the year's before it was always Bryan Smith and I going head-to-head, down to the wire. This year we both climbed aboard basically identical motorcycles. I had my team and they had theirs, but Indian Motorcycle basically pushed out a motorcycle to both of us and said "Here you go boys, put your touches on them." To take the team I already had built up with Kenny Tolbert, Jimmy Wood, Bubba Bentley, and Rogers Racing, basically have all of my supporters come in, just throw this new bike out there, and just dominate? I don't think I expected to do that. You look at some of the record books and stuff, the season we've had hasn't been done in a long time, as far as all these wins and podiums and clinching the title two races early. As long as I've been involved with the sport, I haven't seen it clinched two races early.
It's easy to say now, after the fact, that the new bike is good. But there had to be some risk when you signed on that this could be a teething year. Had to be a little worried, right?
A little bit, but I had already been the test rider last year. They raced it at the last race last year with Joe Kopp, but I had already been riding it. I started riding it last June, giving my feedback and explaining strengths and weaknesses. And man, I give so much credit to Indian Motorcycle and S&S Cycles with the exhaust system and stuff, for listing to my feedback. They didn't just take what I was trying to say and then manipulate that or reconfigure that. Basically, they said, "Okay cool, exactly what he said we need, we're going to do it!" Then they did it. And I'm not trying to take all the credit by any means, but the fact that those guys were so receptive to my feedback is the reason why we were so dominant this year.
So you started riding this bike last year, did you know all along you'd end up racing it?
Well, the original contract was for testing, but obviously they didn't want me to test it and learn everything about it and then have me go sign with someone else to race against it with another company. Yeah, at the beginning we had some rocks in the road, sure, as we were working things out, but I knew by August last year that I wanted to be a part of it. From that point it was just figuring out the logistical parts out. I think I signed in mid-August.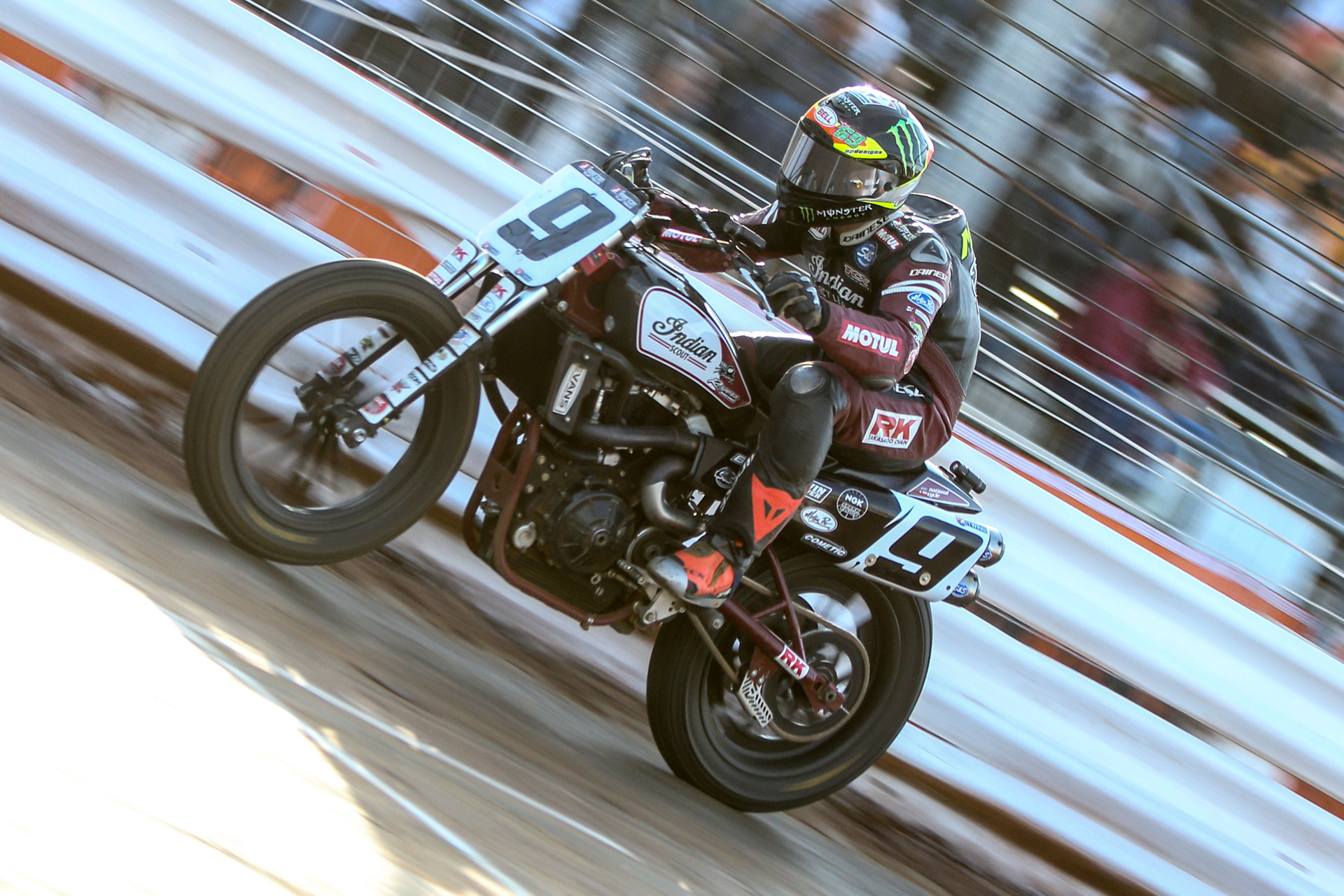 You guys won immediately—you won the opening-round Daytona TT. When you went to Daytona, did you know you were ready or did you not know until you raced?
I actually knew it was ready by the end of the year last year, because it was awesome that they allowed me to ride the motorcycle that I raced last year back-to-back with it in testing. My 2016 bike was the [Harley-Davidson] XR [750]. Not to take anything away from the XR, it's obviously, overall, probably the most successful Grand National Flat Track bikes ever—at least until the Indian came along! We kept going back and forth doing comparison tests, taking what I was on and what I was doing to that bike, and trying to figure out if we were on or off of that. By the end of the year last year I was turning faster lap times on the Indian, so I knew then that this thing would be a player. I didn't know it would be some dominant and competitive at every style of race track. That's where it really surprised myself and a lot of the others. It could have been, "Is this maybe just a good short track bike? Is this just a good mile bike?" Like, the last few years the Kawasaki came into play and it was really good on the miles. Then they started getting better at the half miles. The Indian, we went out right away and won a TT, then we won the short track the next week, then we won a half-mile and a mile all in a row. Two of them with myself, two of them with Bryan Smith. We won all four types of races the first time we raced them. It was awesome.
You mentioned Bryan Smith on the miles. I know you had a personal goal this year to try to beat him at those.
For me, Bryan is known as the mile guy. Everyone says he's the mile guy, the mile master. I was like, all right, he's definitely got a lot of mile wins, but the motorcycle he had been on, the Kawasaki, was probably a little bit of an advantage compared to the XR. So now we're climbing onto the same motorcycle and on equal equipment on equal terms, and I wanted to see where I stood because I was losing these mile races by like this much. Inches! Centimeters! To have him win three miles this year and me win three miles this year, we tied each other on mile wins, and it was kind of cool because really I got the upper hand, because I scored more points on the miles, overall, than he did, because he was off in Kentucky. So it was good.
How much has your life changed now that you have a factory ride?
Obviously financially it's been great having Indiana Motorcycle on my side, that's been great. But I've had the same team that I've had for the last five or six years just continuing with me on this project. It's really cool that Indian was like "Hey man, we want to just keep the same team and program that you've been doing, we just want to wrap the Indian brand and this new motorcycle around what you." That was awesome that they didn't want to bust things all apart—and the same thing for the other Indian team [with Bryan Smith and Brad Baker] working with Ricky Howerton. We just brought it together.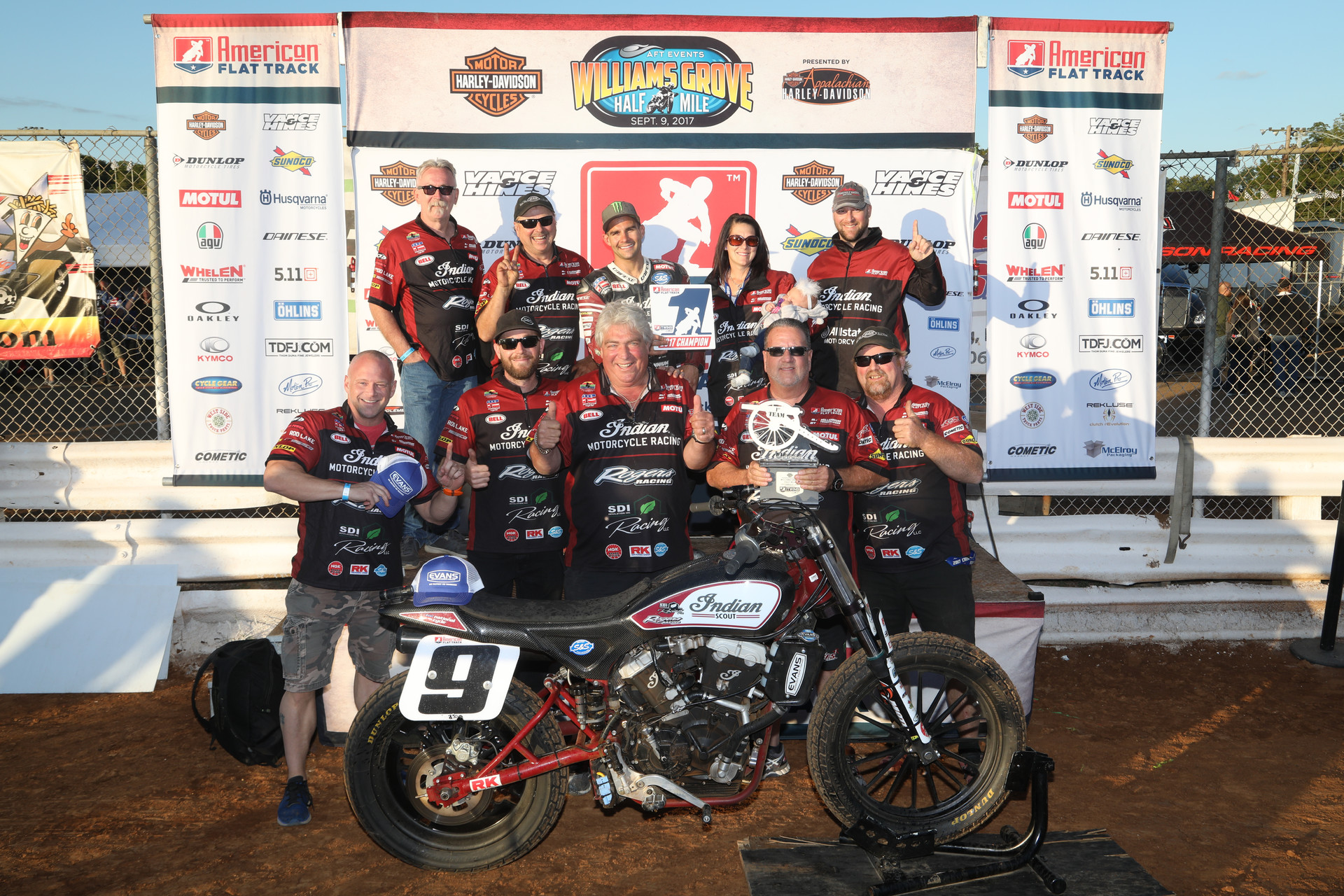 So you're making more money, but the work part, in the trenches, factory team or not, it's the same work.
Same work. This year we had an 18-race series, and we haven't had that in a long time. I'll be honest, this year I put a lot of focus into everything. Mentally and physically, I think I was more prepared than a lot of the other riders.
So there was much more attention on the series this year. There's the new TV deal, there's the Indian factory team and Harley revamping its factory team. Lot more buzz. Is that something you noticed?
Yes! At the AIMExpo [tradeshow] there were so many more people coming up saying "Hey man congratulations!" Just so many people saying congratulations. So much more stuff out there, so much more attention with the new TV deal, with the Indian Motorcycle deal, so much more respect for us. It's been good.
You're as hardcore as anyone in your sport. I know your wife even raced, and you're even a promoter for one of the rounds in the championship. You really live flat track through and through. So how good does that make you feel, really just as a fan of the sport?
Yeah I'm very heavily invested in the sport in a lot of aspects. So to see my goals and dreams and aspirations in the sport I love just getting bigger and bigger and bigger, it's exciting. It lights the match to work even harder. That's a big reason why I put in so much focus and so much preparation for this season.