Sam Boyd Stadium
Las Vegas

,

NV
Monster Energy Cup
Monster Energy Cup
This same time last year, Eli Tomac won the Monster Energy Cup inside Sam Boyd Stadium on the outskirts of Las Vegas, Nevada. The sixth different winner of what has now become something of a post-season classic, Tomac left town (if he didn't wander around the casinos too much) with a briefcase full of $100,000. However, a year later, the 2017 Lucas Oil Pro Motocross champion wants more—$900,000 to be exact—and if he can win all three 10-lap races this Saturday night, he'll earn the $1 million dollar bonus that comes with along with posting up a perfect score. Only one rider has been able to do such a thing going back to the very inception of the race in 2011 and that was Ryan Villopoto, who like Tomac, was Team Monster Energy Kawasaki's premiere 450cc racer. Today, while upward of 30 pieces of heavy machinery put the finishing touches on the track, Tomac touched down in Southern California to get in a few days of testing and fine-tuning before he and the team would head over to Nevada for this Saturday's big show. We talked with Tomac about the potential jackpot at hand.
Racer X: Eli, with just a handful of days remaining before the running of the 2017 Monster Energy Cup, have you arrived in California?
Eli Tomac: Yeah, I just came in from Colorado today and have a few days of testing planned here with the team here in Southern California. We'll head over to Vegas on Thursday evening.
Probably no testing in the hills around Corona and the surrounding areas with all of the hills on fire, huh?
Yeah, those brush fires are no good and it looks like we're in that neighborhood, so heck, I hope everyone is alright.
What have you been up to the last couple of weeks? Were you able to catch your breath back in Colorado and maybe do some riding and testing?
You know, we took it a little bit easy there after the Grand Prix in Florida and then got back into the swing of things, as usual. We started riding some supercross. I even had a fun day riding out on a couple two-strokes. Now we've put in two solid weeks on the supercross track and got the flow back pretty quick. Yeah, I'm excited to go racing this weekend.
So it's safe to assume you're going to go for it on Saturday night and try and leave town with that $1 million dollars?
[Laughs] You know, that would be amazing and that is something I'm definitely gunning for. Shoot, every year I've gave it my all, but I feel like we have a good shot this year. If we get three good starts and give it our all—and with the way that our supercross season was going—I think we have a really good base setting for supercross now.
Have you seen blueprints and renderings of the track over in Las Vegas, and if so, what do you make of it?
You never really know until you get there, but you can try and figure out a few lines here and there by looking at the track map, but you never really know until race day. It's normally a really fun track for us to race because of the high speed and, I don't know, there is always good battling there. I think this Monster Cup will be another good one.
Yes, as you alluded to, the Monster Cup track is unique in that it's fast and maybe not quite as gnarly when it comes to whoop sections and what-not. So, how is the Cup track for a guy like you?
It will probably tighten up the racing a little bit, you know it being a little bit more high speed. Like any track, though, one guy may excel here and another guy can excel somewhere else. One thing that I did see that's different is that the Joker Lane is actually an advantage this year, so that will be something to see how that plays out. In the past, and with it being slower, you'd want to take it late so you wouldn't give up those positions early on, but I think this year we might see guys taking it early because if you get out front you're not going to want to give away time. That'll be something different and I think it'll be an exciting little change.
For a one-off like the Monster Energy Cup, what do you make of the Joker Lane? Is it a pain in the ass? A distraction? Is it hard to remember that you even need to do it?!
[Laughs] I was just going to say, I think the main thing you have to do is to literally remember that you have to do the Joker Lane. There have been a few misses there in the past, so you have to remember to take it.
Sort of shows how intense and white knuckled our sport is when some of the world's best motocross racers forget to take the Joker Lane.
Exactly. You know, you're so focused and you're trying to think about the track or how you're going to deal with the guy in front of you that sometimes other thoughts don't go through your head. That's what makes the Joker Lane tough. You have to be able to switch that switch to make sure you take that Joker Lane.
And the three abbreviated motos we see at the Monster Energy Cup. What do you make of that format? Again, it's something totally different, isn't it?
It's good for racing. It changes it up. If you had one bad race, at least it gives you a chance to get your race back in the next race. It just creates a high-intensity environment due to the motos being a little bit shorter. It's a big sprint and it's still 10 laps, and that's a pretty big effort. It's definitely different than our typical 20-minute supercross main—and I mean that in a good way.
With an event like this, you know, before everybody goes into the off-season and the full-on testing and training and practicing mode and where everything becomes much more methodical, is it cool to go to a race where there isn't a championship on the line and where everyone isn't living and dying on points? Is it actually a fun race to line up for?
It is fun. I've pretty much raced it every year since it has been around, excluding 2015 when I was hurt, and I've always enjoyed it. It has that environment of not having it be the full pressure cooker. It's a good, fun off-season race and we always have a good race there and a good crowd. Now we get to race for a million bucks, so it's pretty cool.
Downshifting a gear, you won the 2017 Lucas Oil Pro Motocross Championship on the 450 and ran real well at the Monster Energy MXGP of USA at Jacksonville, Florida. Taking all this into account, what did you make of the end of you AMA Pro Racing season?
I felt like my motocross season was a big revenge from supercross. That was so close. So we laid it all on the line and I took that mentality into motocross and we were able to get it done. The last few rounds, we kind of had to manage some things, maybe we had to manage them a little too much when I look back at it now. However, at the end of the day, we got that big number one trophy. It was cool we were able to find that success at the end of the season. And even being able to race the GP guys in Jacksonville, that's always a good time, too.
What did you make of the MXGP race and the track and the heat—and even Jeffrey Herlings? A lot was made of his two-week run here in the United States.
The track, for the space it had and what it was, I thought it raced pretty well. It was a sandier track and you know we don't have too many of those on our circuit, so we actually had to go to a Southwick bike setting there on Sunday and we didn't find that until Sunday. To be honest, I was struggling on Saturday in that qualifying race. On Sunday I was like, "Man, we've got to change something." So we went to our Southwick base and found some speed and we were able to get that first moto win and then get third in the second moto against Herlings and [Antonio] Cairoli and those guys. I will say those guys are stepping up the game of motocross, you know? And it's good to see that there is, literally, talent all over the world and how fast everyone is.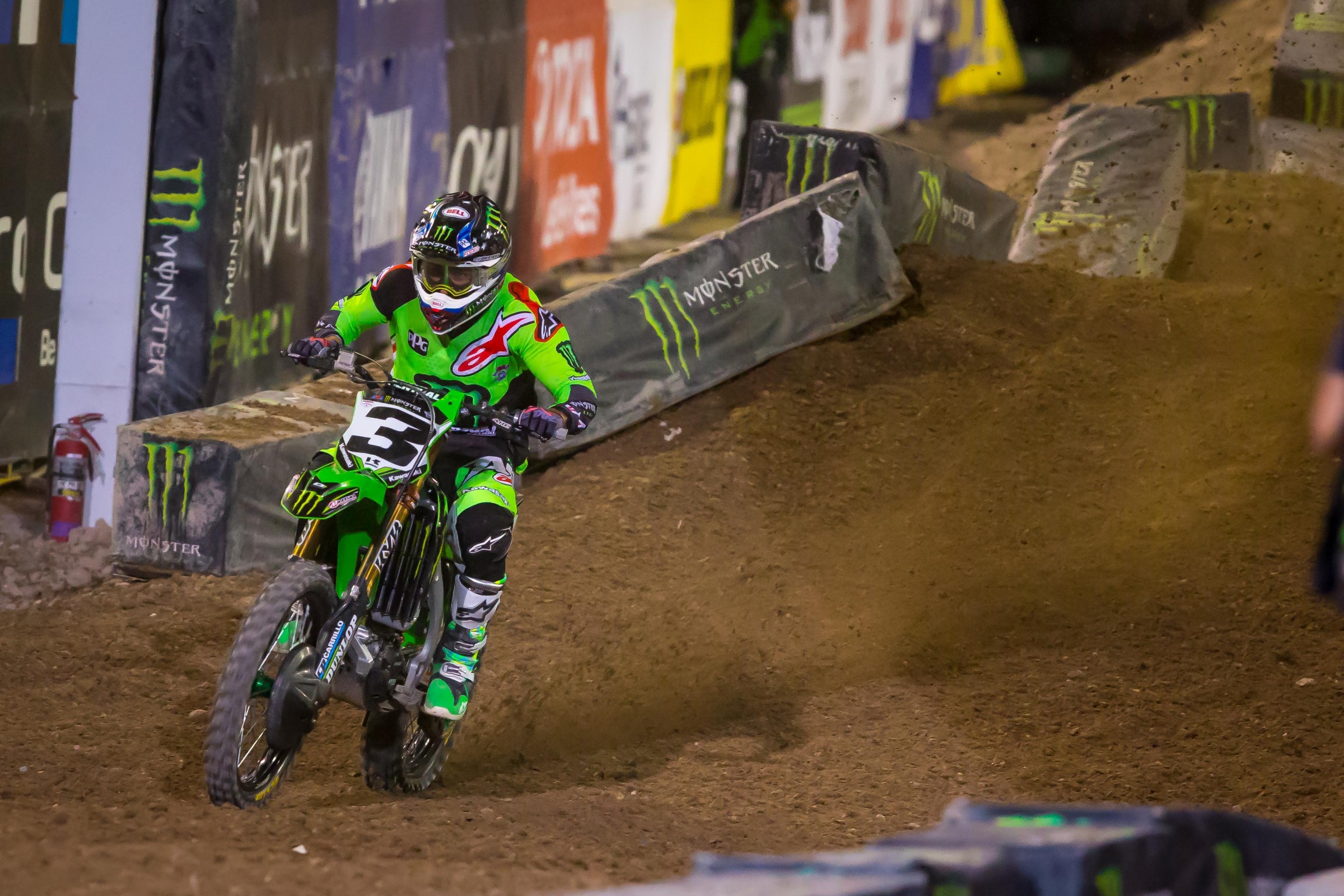 Yes, the "us versus them" thing between America and Europe in motocross has been going on since the 1970s. You think it's good for the sport as a whole when everyone is so competitive?
It's good and I think each of us are going to have our good days and our bad days too. I think either guy can beat each other on their good day. It's tight right now, the talent for motocross. It definitely is going to make me hungry to keep improving and keep trying to find that next level.
How do you size up the competition you'll be facing at the MEC? You'll see Anderson, Musquin, Gajser, Wilson, Barcia, and many others over there in Sam Boyd Stadium.
I mean, my mentality is to show up and jut race whoever you have on the line. And there is always going to be someone that will surprise there and bring something a little bit extra. We had some good preparation going into this race. We had a small block of training leading up to this and we have a really good base from our previous season, so I'm not going in there overconfident, but I feel like we have a really good shot at pulling off the win.
For your career trajectory, how big was winning your first 450cc championship this season?
It was huge. Man, like I said before, losing the supercross championship by those mere five points, that was tough to swallow. We won a lot of races and you know when you win that many races and you don't get to bring home the big number one plate, that was pretty heavy. We fired back and got the motocross title. But like they say, not too many people remember who got second, they remember who won the title. It was cool we got to stamp our name in the 450 class this year with the outdoor title and we definitely want to go do it now in supercross.
All things considered, though, 2017 supercross was a very good year for Eli Tomac, wasn't it?
Oh, it was by far the most successful season [I've had]. We were just the dominant force and just a few things didn't quite fall our way. We're going to take it and learn from it and we're just going to make things better and learn from the mistakes and see if we can get it done in 2018.