Matterly Basin
Winchester

,

United Kingdom
Motocross of Nations
Motocross of Nations
Welcome to the Racer X Race Day Feed, your one-stop shop for the Motocross of Nations at Matterley Basin. We'll be updating this post throughout the day with news, notes, and results from today's races, so be sure to check back throughout the day. You can also follow Racer X on Twitter, Instagram, and Facebook to stay up on all the action.
(Note: All updates will run top to bottom, starting with the morning report and going through the qualifying races. So, make sure to scroll down for the latest.)
Morning Report | Free Practice
Today is qualifying for the 2017 Motocross of Nations at Matterley Basin in England, which will determine gate picks for tomorrow's race. Gate picks today are determined by a ping pong ball drawing and it's not good news for Team USA, which drew 37th gate pick.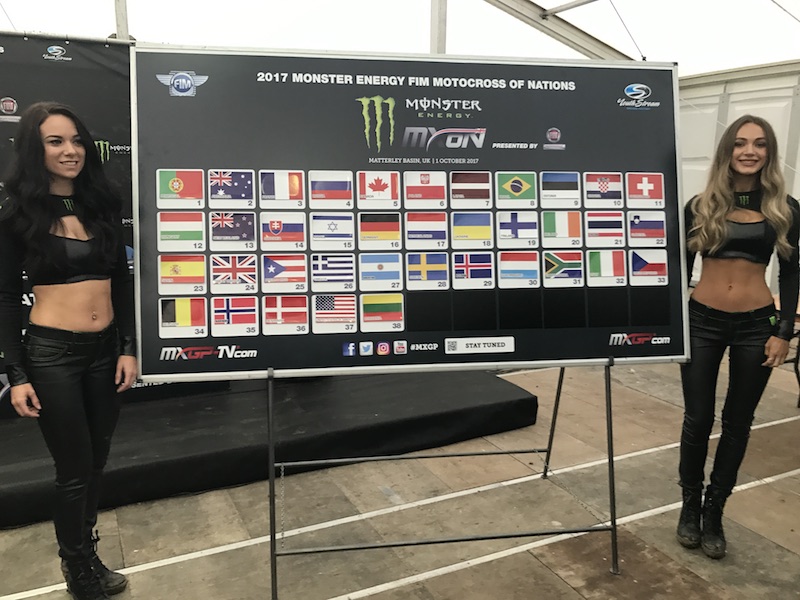 Qualifying features three individual races—MXGP, MX2, and Open—with each countries two best finishes counting toward its total. Nineteen countries will make it to tomorrow's A Final through qualifying, with one more country coming through the B Final (LCQ) on Sunday morning. Here are some links that may come in handy over the weekend:
The MXGP qualifying race kicks things off at 8:20 a.m. EST live on MXGP-TV.com. Below are results from MXGP, MX2 and Open Free Practice.
MXGP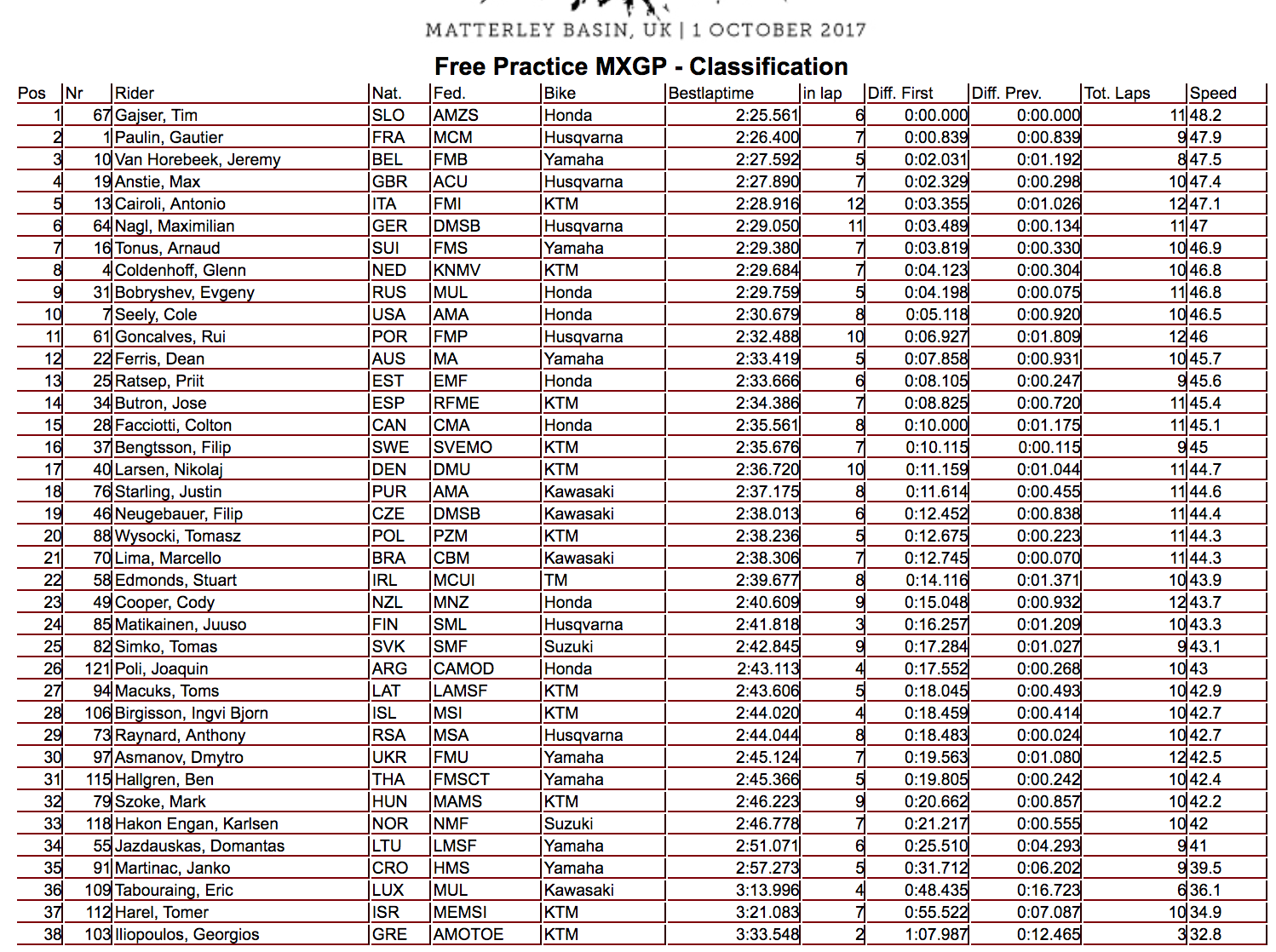 MX2
Open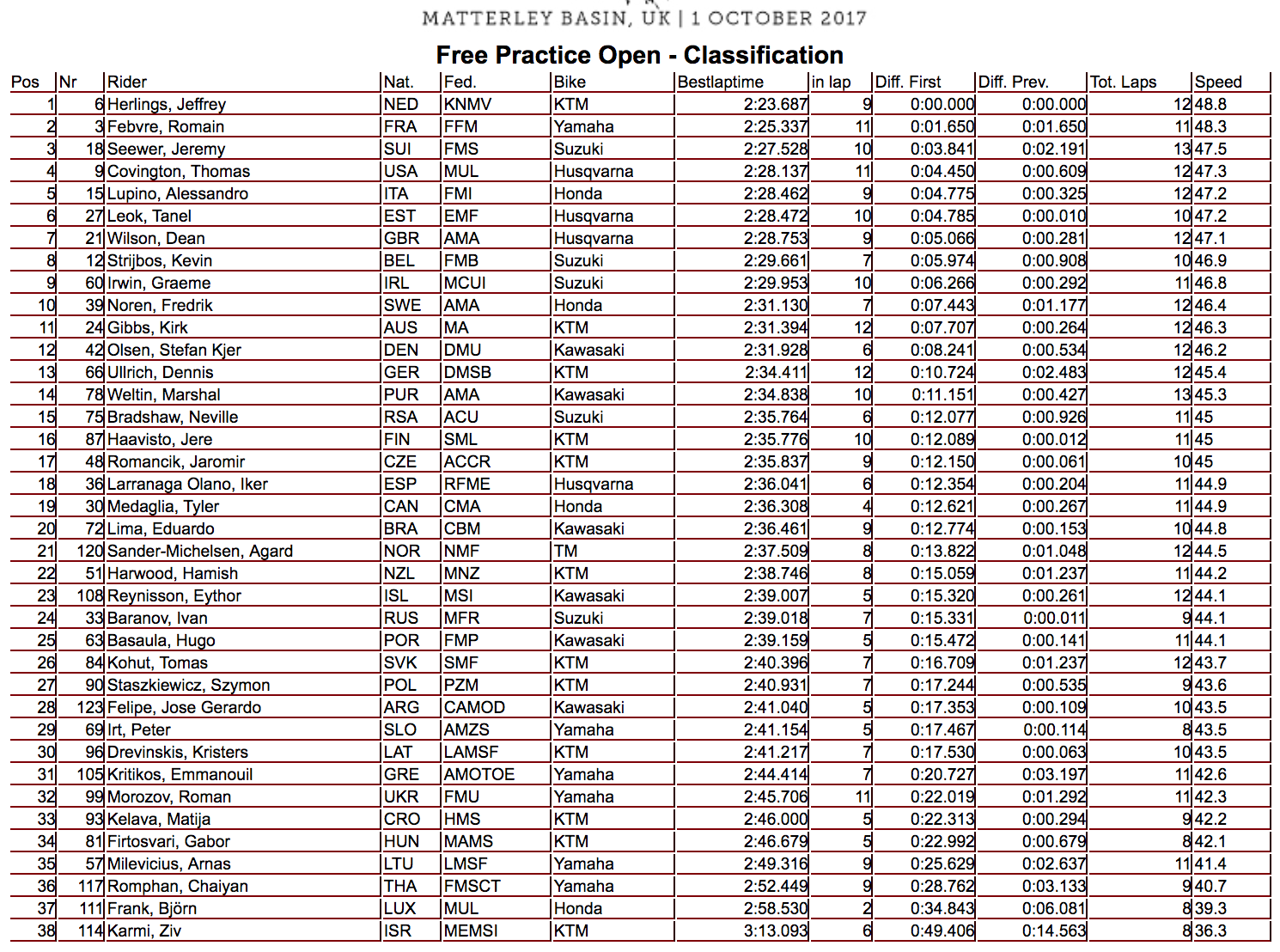 MXGP Qualifying Race
The first qualifying race at the Motocross of Nations has concluded and, as is typical with this race, there was plenty of drama.
Germany's Max Nagl took the holeshot over Australia's Dean Ferris and Slovenia's Tim Gajser. As Gajser quickly made his way to the front, Gautier Paulin of France was making his charge into second with Italy's Antonio Cairoli joining the lead group. Great Britain's Max Anstie was running with the lead group early as well. Cole Seely had 37th gate pick and was on the way outside, but managed to get a decent jump and started around tenth.
While Gajser was stretching his lead to around six seconds, the battle for second was heating up, as Cairoli had moved around Anstie for third and was challenging Paulin. The French rider never wavered and withstood ever challenge thrown at him by the nine-time world champion. Late in the race Cairoli's pace began to waver, and Anstie really made a charge. With two laps remaining, Anstie made a great pass to move into third and began to make a last ditch effort for second on Paulin. On the final lap, Anstie still had Paulin within his sights when a lap rider cut over on him in the middle of a jump. The two collided in the air and Anstie went down hard. He was able to remount quickly, but lost out on third to Cairoli.
Gajser won by 5.4 seconds over Paulin, Cairoli, Anstie, Jeremy Van Horebeek, Evgeny Bobryshev, Dean Ferris, Arnaud Tonus, Seely and Glenn Coldenhoff. Trouble for Germany, as something happened to Nagl and he finished 36th. The Germans will have to drop his score, which puts a ton of pressure on his teammate in MX2 and Open.
The MX2 qualifying race is up next.
Motocross of Nations - MXGP Qualifying Heat
Matterly Basin - Winchester, United Kingdom
Full Results
MX2 Qualifying Race
When Team USA was announced, many questioned the decision to keep Zach Osborne in MX2 and put Thomas Covington, on a 450, in the Open Class. Team manager Roger DeCoster made the decision based, in part, due to Osborne's ability to move through the pack. At the Motocross of Nations, the 250s are up against 450s, so starts are typically a problem for the smaller bikes, hence the decision.
Well, DeCoster (not surprisingly) looks brilliant after the MX2 qualifying race. Osborne, straddled with 37th gate pick, started around 16th with Australia's Hunter Lawrence out front ahead of Netherlands Brian Bogers and Spain's Jorge Prado.
Quickly it was apparent Osborne was going to make a run. He quickly moved into the top 10, then the top 5, and then top 3. But he faced an 11 second deficit once he moved into second and it appeared Lawrence had the qualifying victory in the bag. Appeared being the key.
Late in the race Osborne began taking huge chunks out of Lawrence's lead and on the final lap blew by the young Australian to take an impressive qualifying win. If you didn't watch the race, find it now.
Lawrence took second ahead of Prado and Denmark's Thomas Kjer Olsen. Puerto Rico's Darian Sanayei overcame an early tip over to claim sixth ahead of Tommy Searle, Christophe Charlier, Valentin Guillod and Harris Kullas.
Motocross of Nations - MX2 Qualifying Heat
Matterly Basin - Winchester, United Kingdom
Full Results
Open Qualifying Race
In case you haven't been paying attention to the landscape in motocross—both in the U.S. and Europe—we'll make it easy for you: Jeffrey Herlings is the hottest rider on the planet right now. He further proved his merit (not that he needed any further vindication) with a dominating win in the Open qualifying race.
Switzerland's Jeremy Seewer, who moved up to the 450 for this race, grabbed the holeshot over France's Romain Febvre and Herlings. It didn't take long for Herling to pounce, quickly jumping into the lead position with Febvre funneling in behind. Febvre kept Herlings honest early goings, staying within a few seconds, but Herlings was just too much down the stretch as he dominated the proceedings behind a nearly 30 second win (28.6). Febvre finished a distant second with Seewer taking third.
The surprise of the moto was Australia's Kirk Gibbs, who started up front and held off a late challenge from Dean Wilson to take fourth. After losing momentum early, Wilson battled back to get Team USA's Thomas Covington for fifth late in the race and pressured Gibbs for fourth before running out of time. Great ride from Belgium's Kevin Strijbos, who came from the back to get Covington and pressured Wilson at points. He finished sixth with Covington in seventh. Ireland's Graeme Irwin was another nice surprise in the moto taking eighth. Tanel Leok (Estonia) and Alessandro Lupino (Italy) rounded out the top 10.
France was the top qualifier behind 2-2 finishes from Febvre and Paulin. The Netherlands (4 pts) was second ahead of Australia (6), USA (8), and Great Britain (9) rounding out the top five.
Stay tuned to Racer X for more coverage from Matterley Basin.
Motocross of Nations - Open Qualifying Heat
Matterly Basin - Winchester, United Kingdom
Full Results