Matterly Basin
Winchester

,

United Kingdom
Motocross of Nations
Motocross of Nations
Welcome to Racerhead, coming to you from the mothership in West Virginia, though I really wish I were in England instead. The 2017 Motocross of Nations will take place this weekend at Matterley Basin, a fantastic track southwest of London near the coast. Rain or shine, a massive crowd will turn up to watch the world's motocross-racing nations go head-to-head-to-head with three riders per team. They will hold qualifying motos on Saturday afternoon for MXGP (450), MX2 (250), and Open. Sunday will begin with the B Final (LCQ), then three motos—MXGP and MX2 combined, then MX2 and Open, and finally MXGP and Open. Each team can drop one moto, then they will then add up the scores: 1 for first, 2 for second, 3 for third, and so on. And then the lowest total will win the Peter Chamberlain Trophy.
Team USA finished third last year (and might have won if not for a Japanese rider landing on Jason Anderson's head after he won the middle moto), so our guys will wear numbers 7 through 9. HRC Honda factory rider Cole Seely will be #7 in the MXGP division, Rockstar Energy Husqvarna's Zach Osborne will wear #8 in MX2, and Rockstar Husqvarna GP rider Thomas Covington will race a 450 for the first time as a professional in Open. It's the first time for all three to be on Team USA, though Osborne has been in this race before for Puerto Rico. More on that later.
No matter who Team USA sends, the pressure is always on them to win. That's probably because we won every year from 1981 through 1993, and then got on another hot streak from 2005 through 2011. Sometimes we got lucky; other times, we just flat-out dominated. Now it's France that's on the hot streak, and they look strong again for 2017 with proven veterans Gautier Paulin and Romain Febvre, plus MX2 fill-in rider Christophe Charlier, a former GP racer who is now a full-time enduro racer.
Still, this race can be tricky for every country. The weather is always questionable at this time of year in Europe. The schedule and setup are different than any other race, especially for U.S.-based riders. One big crash can change everything, as we saw last year with the Anderson crash. And not everyone gets to send their very best riders, for a multitude of reasons. Germany won't have Ken Roczen, the French won't have Marvin Musquin or Dylan Ferrandis, Belgium won't have Clement Desalle or Julien Lieber, and Team USA won't have Eli Tomac or Jeremy Martin or Ryan Dungey or Jason Anderson or Cooper Webb or Justin Barcia or any other rider who's ever been in the race. But we still have a shot with the guys we're lining up with if we catch a couple of breaks.
When Team USA was on those winning streaks, I was lucky enough to be at many of the wins as a journalist. There's nothing quite like the thrill of watching your countrymen out there representing the Stars & Stripes and laying it on the line for our way of motocross. It seems like one lap we can be winning and the next it just all falls apart. It was only in 2013, in the deep sands of Lommel, that it ever felt like we didn't really have a chance. And it can happen to anyone—South Africa's Greg Albertyn hitting a deer while leading the first moto in Switzerland in 1994 remains the single craziest thing I've ever seen happen in a motocross race.
As far as individuals go, expect The Netherlands Jeffrey Herlings to continue his red-hot streak. And now that their respective titles are clinched, I would expect both Italy's Antonio Cairoli and Team USA's Zach Osborne to have their A games up and running at the front in their respective divisions. And it was proven here in 2006 that a 250 can run at the very front against Open competition, as Cairoli won a moto outright in 2006 aboard a YZ250F and Ryan Villopoto finished third in the first moto behind Stefan Everts and James Stewart on 450s.
The dicey part is the fact that our two 450 riders, Seely and Covington, have a combined total of one AMA Motocross podium in our 450 Class, which came at Unadilla for Seely. Covington has spent his entire professional career in Europe racing the MX2 class, but he does bring excellent experience in the lifestyle and the pace of the weekend's event. Covington will also have excellent equipment from the Rockstar Husqvarna team, and he could step up on the 450 the same way Cooper Webb did in the past. And Seely has won 450SX mains before, so he knows about the pressure of leading at the front. Let's hope we get good starts, stay off the ground, and race until the end. Hopefully, under the direction of Roger DeCoster, our boys will bring the Peter Chamberlain Trophy back here where it belongs!
Now, with five straight losses, the pressure is building on Team USA to win one of these, the 13-in-a-row set the bar at an impossible height, and the split focus we as a racing nation have on supercross and motocross has probably had some consequence on our overall speed at this race. Supercross is the very thing that helped us get faster in the late seventies and early eighties, and now it's the thing that's helped other countries get on our level outdoors.
As for pressure, imagine what it must have felt like in 1981, and '82, and '83 ... and all of the way until 1995 for Belgium to get back on top after dominating the seventies. They had the rest of the world covered for a full decade themselves. Check out the results from Wikipedia at the old Trophee des Nations (250cc) races:

Yes, that's the same Roger DeCoster that is now the Team USA manager. That's why we always listen to The Man!
CHEERIO (Steve MATTHES)
Hello from Great Britain and the annual Olympics of Motocross, aka the Motocross of Nations. Today was just about getting passes and set up in the media room. I'm here with Max Steffens from Fly Racing, so he had to get the Fly Racing gear sorted (and his Team USA garb) for Zach Osborne; JT has been busy playing Mad Skills in the press tent. The press conference is going on right now with the different countries, and we're hearing that tomorrow will be the announcement of the 2018 MXoN in America.
It's really a wide-open field for this weekend; there are plenty of reasons one can make for different teams' success or failures. The rain hit the track last night, and the paddock is pretty messy. Cars are having some issues getting in, and by all accounts the rain will be here off and on throughout the weekend.
Some different thoughts on what I heard today:
- Talked to Rich Simmons, Cole Seely's mechanic, who said he and Seely didn't arrive until Wednesday and there was no riding by Seely beforehand, which is the first time I can remember a Team USA rider not getting a ride in before this race. Simmons was saying that USA team manager Roger DeCoster felt like the soil and type of track wouldn't need to have them come early. Zach Osborne has been riding, but he came early to visit some friends, while Thomas Covington of course is based over here.
- Honda's Dan Betley and I talked for a bit about Dan's new role as team manager at GEICO Honda. He's here for Seely in his last official role with the 450 Honda team before going to GEICO full-time. Dan and I talked about the Sammy Hagar concert we saw each other at a couple of weeks ago and then about his new role at GEICO. The 2018 Honda CRF250R is going to be late to the squad, so they're trying to get by with the few parts they have. All the riders have raved about the chassis of the new bike, which is the same frame as the 450.
- Michael Byrne is here coaching the Australia team and talked about how the guys' bikes are all very good; everyone was able to get the parts on that they needed. He's not worried about Hunter Lawrence in the MX2 class—he's been great lately. Byrner was saying that Kirk Gibbs is the only rider able to run with Dean Ferris Down Under, so he likes both guys' chances. Byrne said that Gibbs is in great shape and able to keep the pace all race long.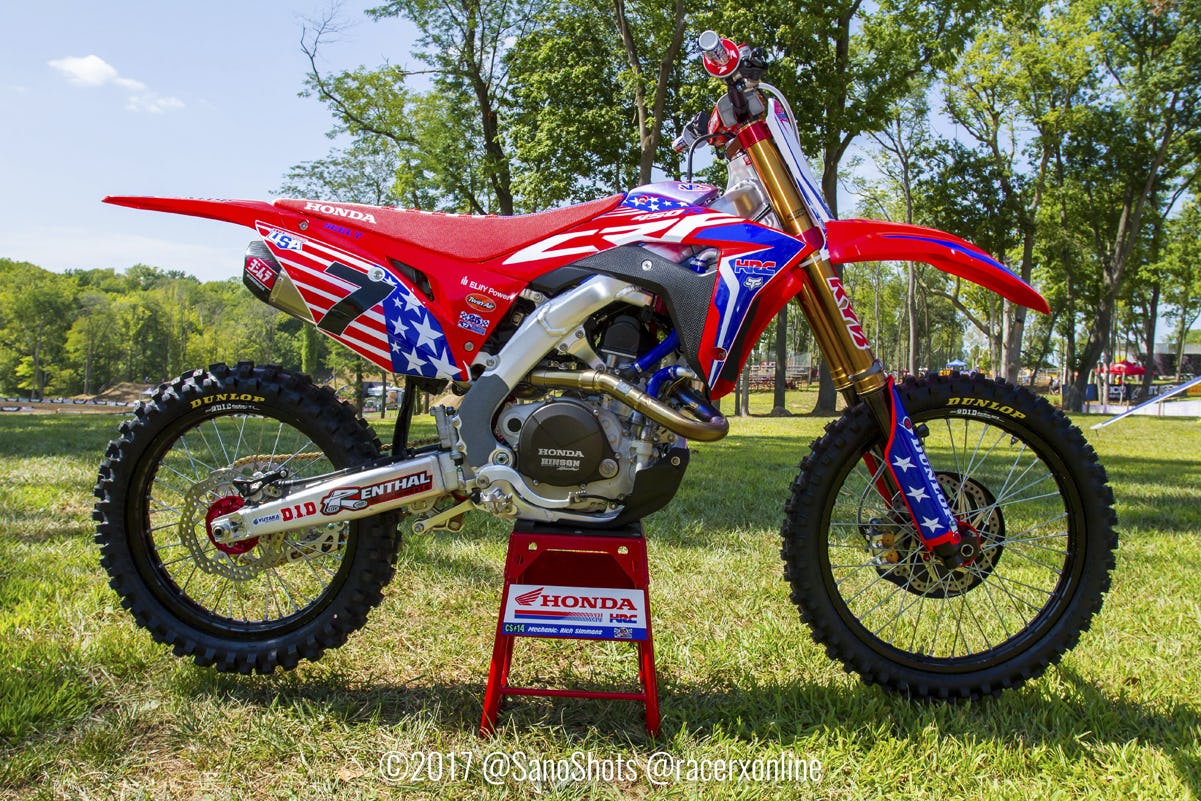 - Team Canada is here and set up. The guys are under pressure to perform like they did last year when Kaven Benoit rode great, and while he's not here, Colton Facciotti is back after missing the 2016 event and he'll be expected to be perform.
- Got hooked up at the Alpinestars hospitality yet again, and they do a fantastic job helping not only media but all of Team USA.
- Roger DeCoster just spoke at the press conference and said he likes being in the middle spot of the podium and hopes that these riders can bring him there. Zach Osborne once again spoke about how he's so excited to represent USA at this race, and Thomas Covington said that although he's on a 450 for the first time here as a professional, he's got plenty of experience on a 450 and feels comfortable.
Puerto Rico (DC)
When the starting gate drops on Sunday, Zach Osborne will achieve a rare place in motorcycle racing history. He will become the first rider ever to line up for Team USA and Puerto Rico—he rode for the U.S. territory in 2000—and then also Team USA in the 2013 International Six Days Enduro (tip of the visor to Alex Martin, who also rode for Team Puerto Rico before and then rode for Team USA at last year's des Nations). In his ISDE experience, Zach raced in Sardinia, Italy, and Zach took his GEICO Honda to the win in the final E1 motocross test. Osborne ended up sixth overall in his class—not bad for a full-time motocrosser. Osborne attempted the ISDE another time, but his bike blew up as soon as the event started!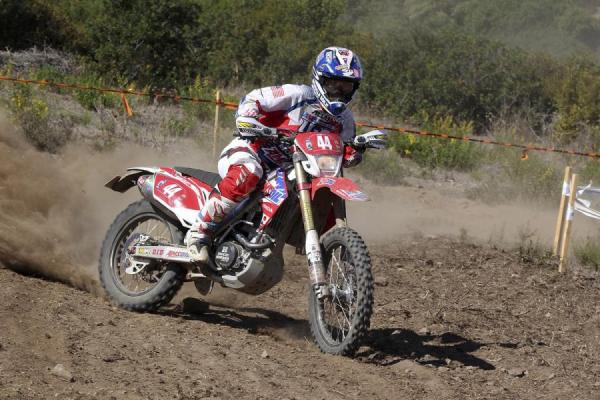 And how cool is this gem from 2010 when our pal Rupert X. Pellett was making the case that Zach Osborne should be on Team USA, not Puerto Rico?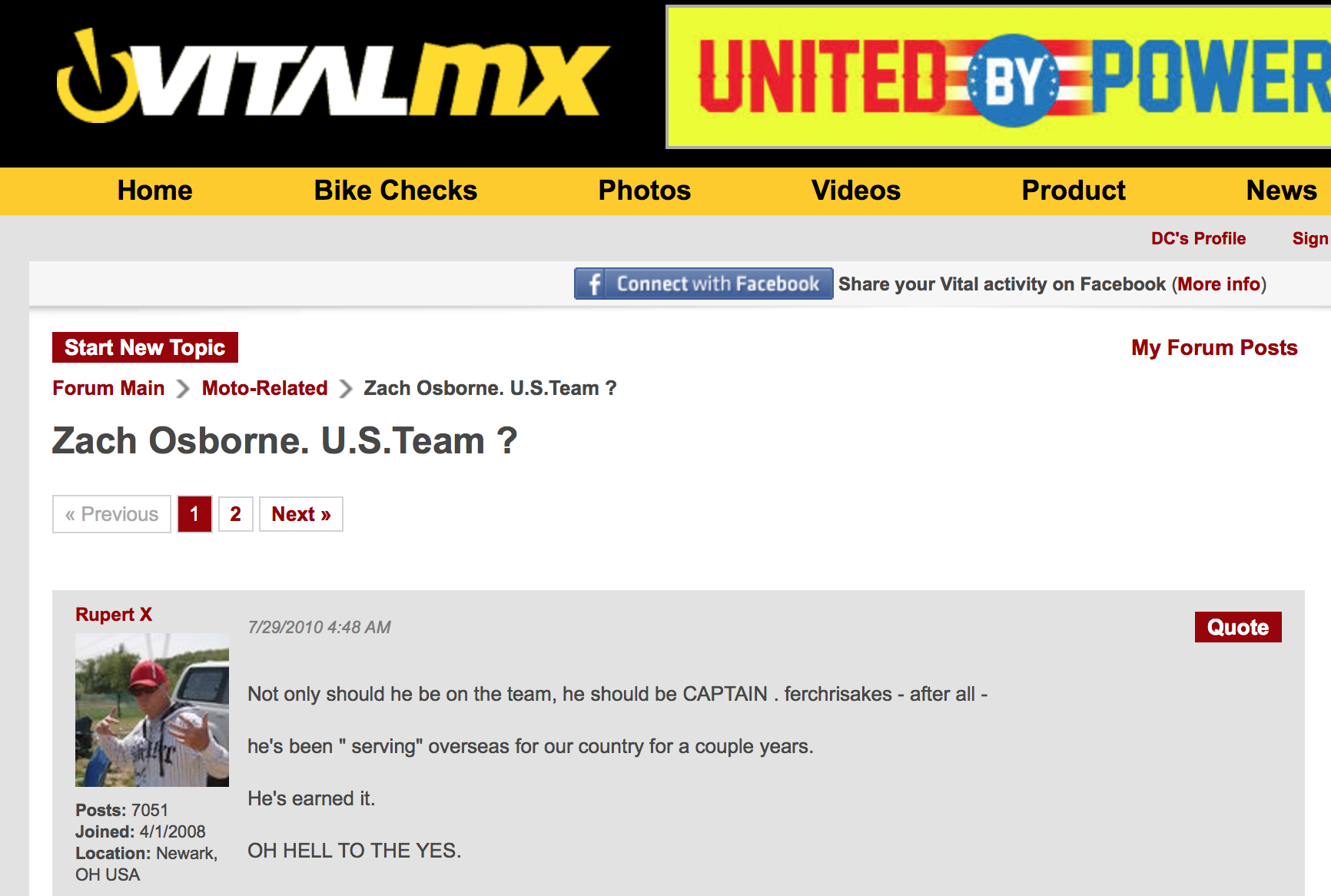 Ironically, Thomas Covington was initially invited to ride for Puerto Rico this year but then got the call from Roger DeCoster to ride for Team USA instead. So the island is sending three other Americans: Marshal Weltin, Darian Sanayei, and Justin Starling. Personally, I will be pulling for these guys just as much as Team USA. Puerto Rico was devastated a week ago by Hurricane Maria, and the island is suffering a true humanitarian crisis right now, with shortages of water, electricity, shelter, food, fuel—everything. It's been hard to watch as it unfolds, especially after we just saw this (to a lesser degree) in Texas and Florida. If you want to help our neighbors and fellow U.S. citizens to the south, here are 12 ways to do it from Time magazine.
In case you're wondering, Puerto Rico is a U.S. commonwealth, and Americans can represent the island in international competitions like the FIM Motocross of Nations.
Pro Perspective (Jason Thomas)
Cheerio from bloody ol' England! It's time for another Motocross of Nations, and I couldn't be more ready. I write this as the team press conferences are underway, and as expected, all of the riders are excited, ready, nervous, etc. It's difficult to explain the magnitude of this event unless you've been here. The amount of pride felt by each nation is unrivaled at any motocross event worldwide. The atmosphere continually ramps up from now until the motos, reaching a fever pitch by Sunday afternoon. It truly is the event of the season.
The weather seems to be the biggest topic of conversation as of now. Rains have been off and on thus far today with more expected Sunday. If we do get heavy rains, take all of the predictions and expectations and toss them in the rubbish bin. Every country will be thinking this is their chance.
Tomorrow gets the ball rolling with the qualifiers, and the USA will look to improve over last year's dreadful Saturday result. A good Saturday leads to a good Sunday, putting the riders in good gate positions all day long. With decent weather expected tomorrow, look for the contenders to set the pace. All of the big names will try to establish themselves as the leader and put doubt into their rivals' heads. Saturday may not decide the winner, but it shouldn't be discounted. The ball will start rolling one way or another. Having it roll your way is a big bonus.
Sunday will be here before we know it and fate will be decided in the English countryside. Win or lose, I'm lucky to be here to witness it.
Yankees in Great Britain (Andras Hegyi)
This 2017 edition of the MXoN is the 10th time the race will be held in Great Britain. It was also held there in 1949, 1952, 1957, 1964, 1969, 1980, 1998, 2006, and 2008. Team USA has only been at the last three of those events, winning twice. In 1980 Team USA passed on both the Motocross and Trophee des Nations, due to a lack of interest from top riders.
Team USA won in Great Britain in 2006 and 2008. James Stewart, Ryan Villopoto, and Ivan Tedesco teamed up to win in 2006 at Matterley Basin, while Stewart, Villopoto, and Tim Ferry were all-green winners in 2008 at Donington Park. Those two races were the only times that Stewart would race the MXoN.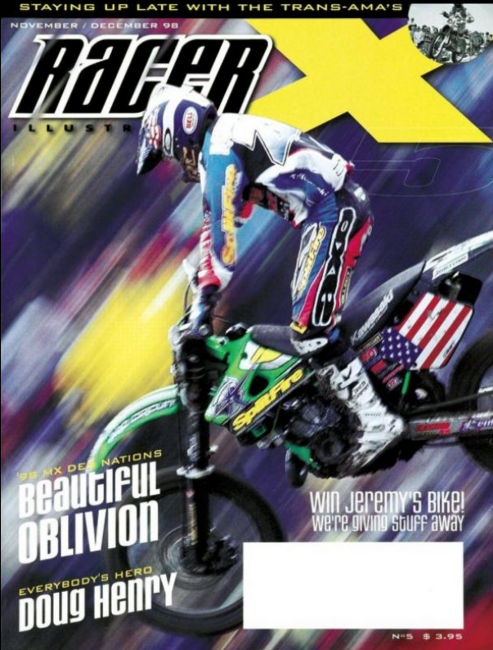 As far as the other two years go, Team USA finished fifth in Great Britain in 1998 in a nightmare of mud at Foxhill. That race marked Ricky Carmichael's debut at the Motocross of Nations. He ended up second in the 125cc Class overall classification. Nineteen ninety-eight was Doug Henry's one and only appearance at the Motocross of Nations. He won the first moto aboard his YZF450, marking the first time an America raced a four-stroke in the MXoN, just three years after Jeff Emig famously said of his Belgian rival Joel Smets in Slovakia, "We're Americans, we don't lose to four-strokes." Henry was only 19th in his second moto, crashing early.
The 1998 MXoN was also John Dowd's second and last appearance for Team USA. His first one happened in 1997 in Nimses, Belgium, and Team USA lost there as well. At Foxhill in the quagmire Dowd was not classified in his first moto after getting stuck on an impassible hill with several others, bringing the race to a halt. His second time out he was ninth. Let's hope this year turns out like '06 or '08 and not 1998.
THE HOME TEAM (Eric Johnson)
We've been hearing from many corners that the British team—Max Anstie, Tommy Searle, and Dean Wilson—has its best chance in years to win the MXoN. The race is being held in their homeland, so the crowd will no doubt be partisan in their favor. And the track is very AMA-like, which also tips in their favor because all three of the Brits have considerable AMA experience. Wilson is actually the 2011 AMA 250 Motocross Champion, Searle spent two seasons here with factory KTM, and Anstie practically grew up here in the Schoolboy ranks.
"It's good to be racing here this weekend, but I think the track is similar to the tracks in America," said Anstie of Matterley Basin. "I think it's going to be good for all of us. You know it's not a real European track with rocks and hard-pack or being sandy, it's perfect and has really nice big jumps. I think it's good for us all."
The team will have to deal with the pressure that will come from the massive crowd that is expected, few of whom were probably there in 1994 to see the last time Great Britain won the MXoN in Switzerland.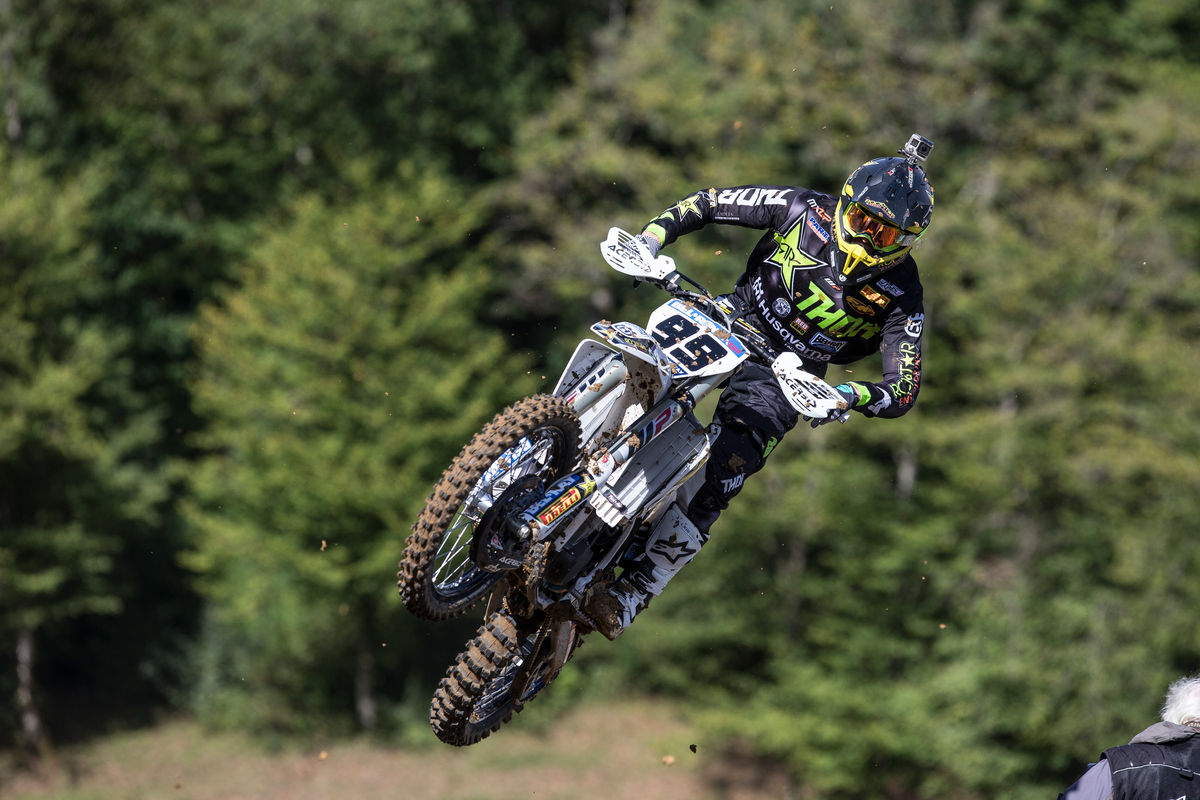 "We just need to focus on our jobs and do what we need to do and just focus on it like it's another race," admitted Anstie. "We need to try and not to get too caught up with the media or too caught up with the fans or thinking too much about points and this and that. We've just got to put our best races in and then, at the end of the day, hopefully we'll come out with good results. I think the strong point is that we've all raced the Nations before and we all know how it runs and we've all done well at them. I do feel like we've got an experienced team and a strong team to at least go out and put our best races forward. We've got three strong guys and I think we have a pretty good chance."
When asked about his Team USA competition, Anstie said, "Well, I know Thomas Covington has got a lot of experience and he's great rider. No matter what, he's going to be there. And I think Cole Seely is going to adapt well. He's a great racer too. I don't know him so well, but you know it's an American-style track and he'll be on it. And of course Zach Osborne knows the place well so Zach will be fine. I do think the Americans are going to be strong—like always. You can never count them out. The guys are always good. There are a lot of strong teams entered, so I think it will be some good racing."
THREE ROOKIES? (Andras Hegyi)
Zach Osborne, Cole Seely, and Thomas Covington are all representing Team USA for the first time at the Motocross of Nations (Osborne has ridden for Puerto Rico before). They are the latest in a line of 58 American riders to take part in the Motocross of Nations as members of the Team USA since 1972. (As we mentioned last week, three riders rode the 250cc Trophee des Nations in 1970—Mark Blackwell, Dick Robins, and Bob Grossi—but not that year's 500cc Motocross des Nations.) The American record-holder is Jeff Ward, who represented Team USA seven times, winning all seven times. Ironically, Wardy was born in Scotland and his family emigrated to America when he was still very young.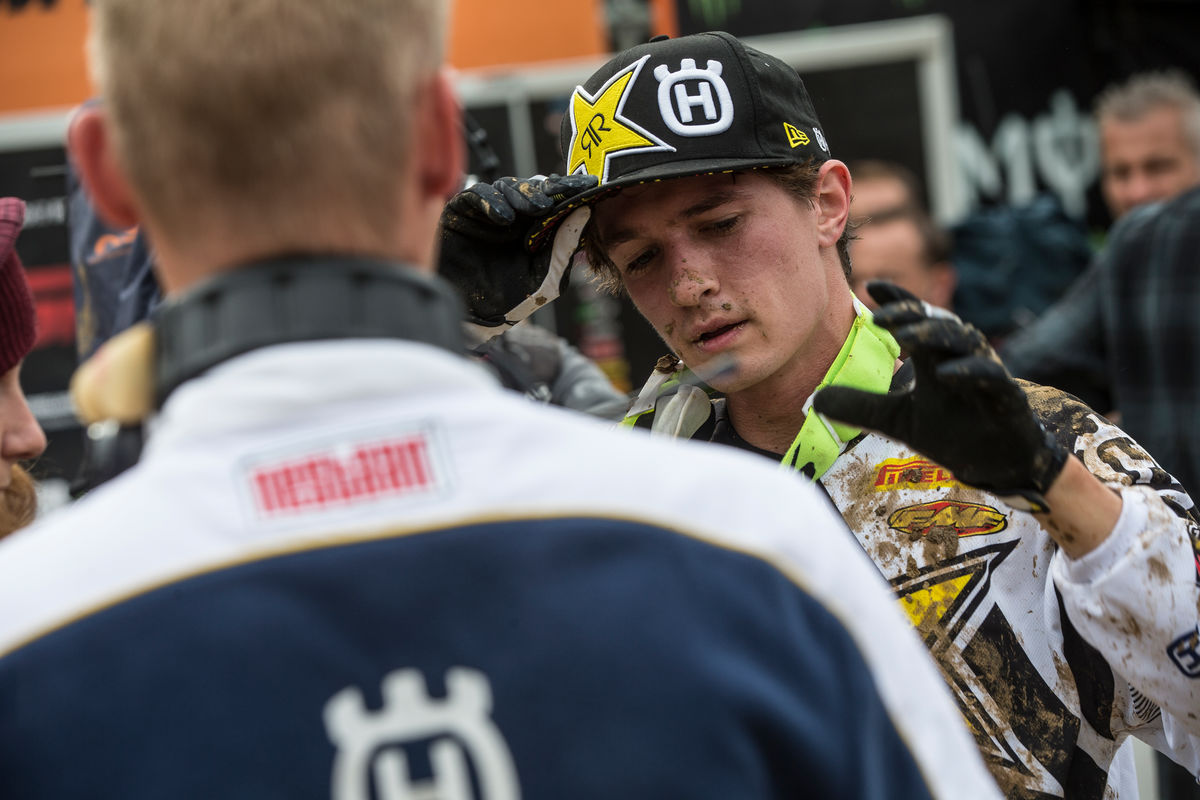 Of course, in 1972, Team USA had four rookies, as it wasn't until 1985 that the formats changed to combine the Trophee and MXoN races, and only three riders per country were sent. In 1978, '81, '82, and '83 Team USA had four members and three rookies. In 1992 Team USA was a full-rookie team: Jeff Emig, Mike LaRocco, and Billy Liles.
Through Osborne and Covington, Team USA has two Husqvarna riders. That's only happened once before, back in 1975, when Brad Lackey and Kent Howerton rode with Husqvarna for Team USA. Team USA ended up ninth overall that day in Czechoslovakia, a country that no longer exists.
NICKY HAYDEN LEGEND (DC)
In 2005, Dunlop introduced the Legends program to benefit injured riders. Each legend was featured with black-and-white posters honoring them for what they did in the sport, including motocrossers David Bailey, Broc Glover, Bob Hannah, Kent Howerton, Rick Johnson, Jeff Ward, Doug Henry, Jeremy McGrath, and Jeff Stanton. Now Dunlop is adding the late Nicky Hayden, who was killed in a cycling accident this past May while on a training ride in Italy. Hayden was just 35 years old. Nicky was a big fan of motocross and could be found at the center table of the Knothole Club at Anaheim every year, usually with his close friend Ernesto Fonseca next to him. He was easily one of the most beloved motorcycle racers this country has ever produced.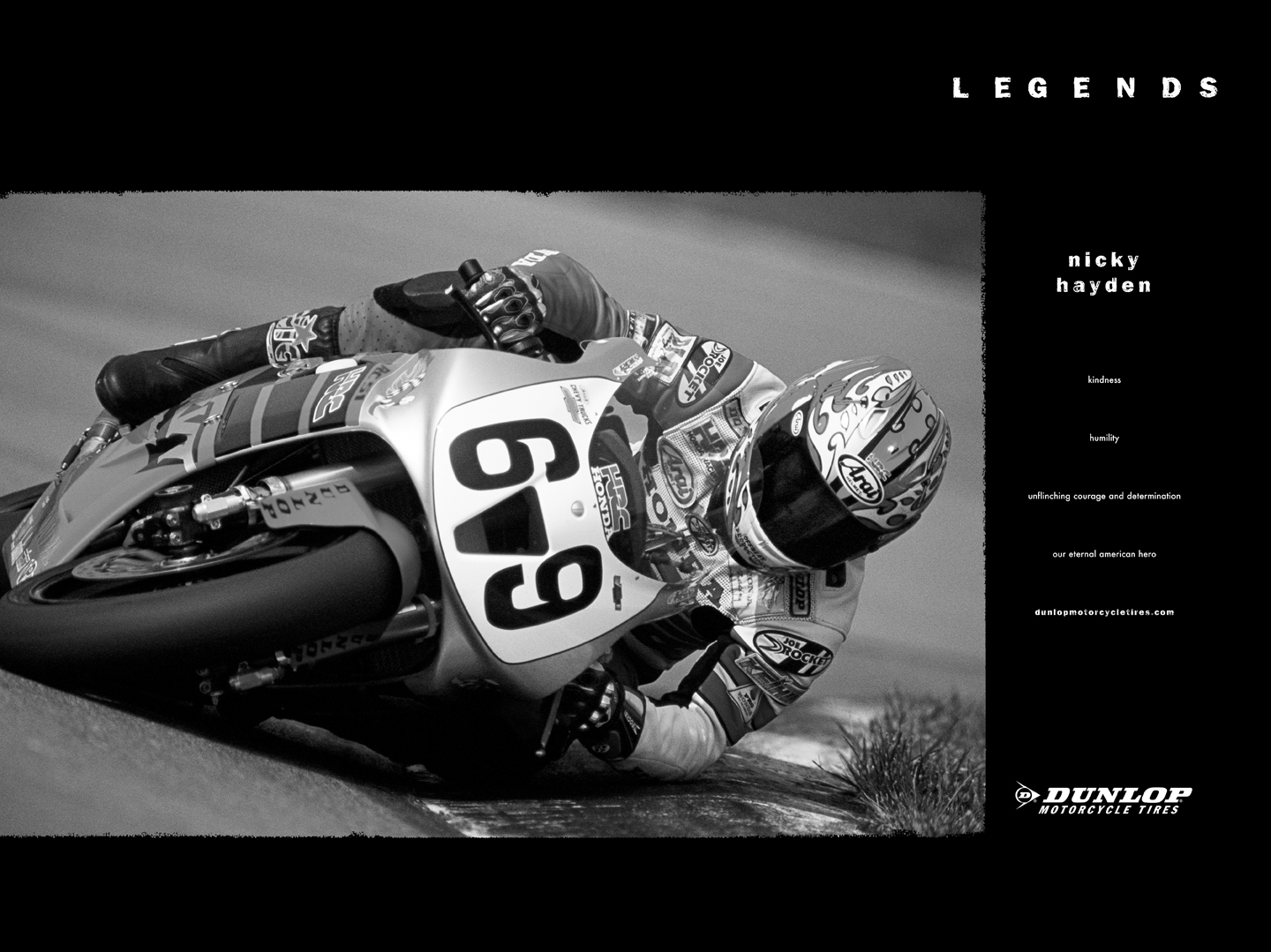 Said the press release Dunlop sent out announcing Hayden's Legends poster: "To pay tribute to Nicky, Dunlop has made him a part of the iconic Legends poster series, a program to honor racing heroes. Nicky's poster features an amazing photograph taken by Tom Riles during Nicky's run at the 2002 AMA Superbike championship. It perfectly captures the ferocity and commitment of Nicky's never-give-in riding style."
"In addition to his love of racing, Nicky also loved his home town of Owensboro, Kentucky, and was very active in various charities. He loved to give back, especially to the children in his local community. In his honor, the Hayden family has set up the Nicky Hayden Memorial Fund. Nicky's Legends poster is available for $29.00 plus shipping through the Hayden Brothers General Store (http://www.haydenbrosgeneralstore.com), with proceeds going to his memorial fund. Posters will begin shipping the first week of October. More information about his fund can be found here https://cflfund.net/netcommunity/hayden."
The posters are 19 x 26 inches, and printed in black and white on heavy matte art paper.
OLD, OLD SCHOOL (DC)
Junior Scarborough from WW Motocross Park dropped by the office yesterday bearing a very cool gift: two boxes of American Motorcyclist and Cycle World magazines from the mid-1960s. I immediately started digging through them, looking for any rare historic gems or forgotten facts about motocross. Turns out that Americans did call it "motocross" at times, as it was called in Europe, and not just "scrambles" as it was often called in England. Match races used to be held between riders from New England and Canada. And there were advertisements for brands like Cotton, Hodaka, Greeves, Montesa, DKW, Royal Enfield, and a dirt bike with a crazy name that I've never heard of, the James Cotswold Starmaker 250.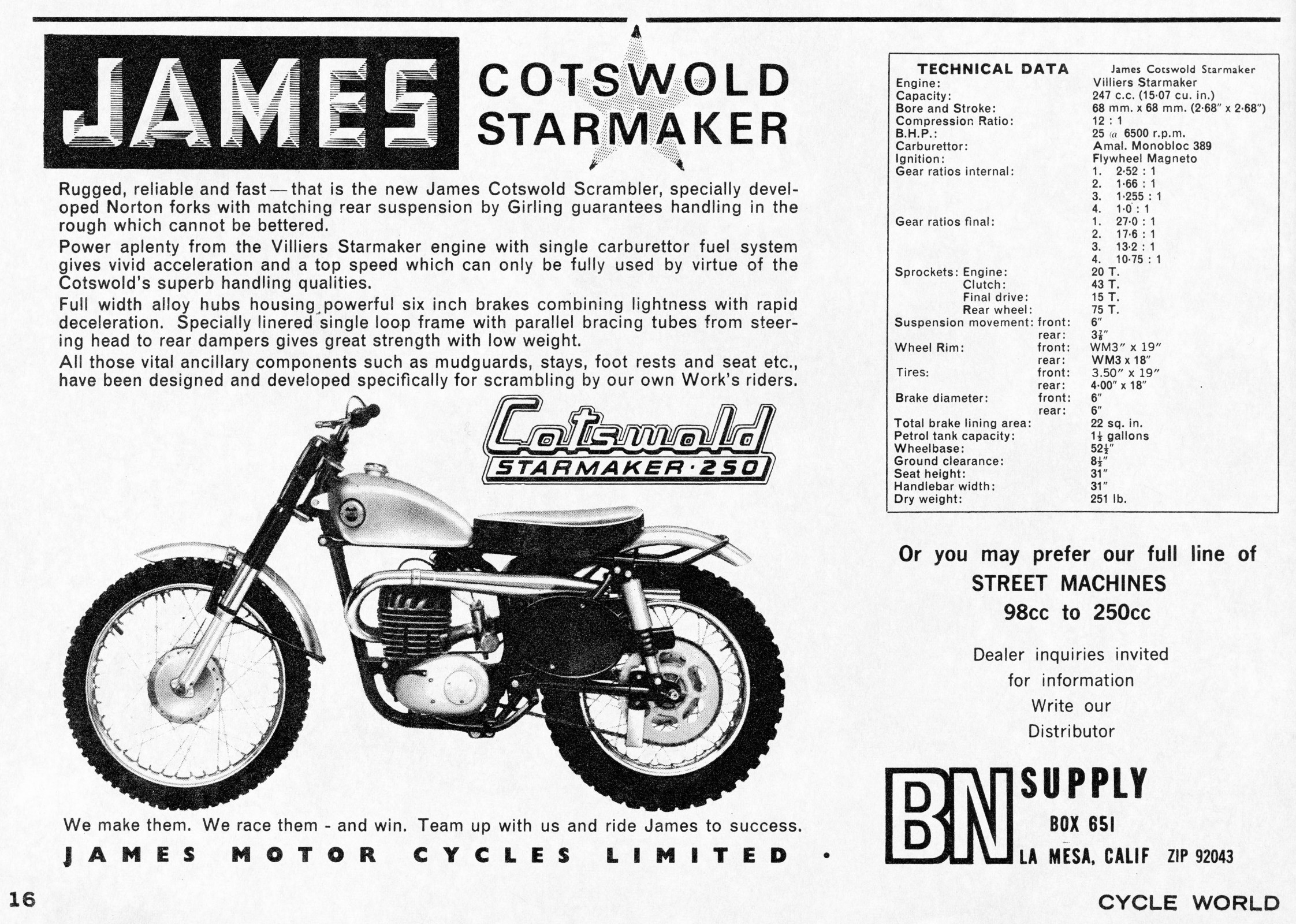 There were also ads boasting the newcomers to the market—Yamaha, Suzuki, and Honda—and just a bunch of little glimpses of the racing world to come. These books were pre-Torsten Hallman and Edison Dye, the men credited with the birth of motocross in America as we know it. But there were a couple of win ads of racers who would become familiar to us soon enough: BSA's Jeff Smith, a multi-time 500cc World Champion, and a kid from New Jersey named Barry Higgins. Yes, the same Barry Higgins the DMXS Radio guys always talk about for being so old—and he really is that old! Like Gary Bailey and Joe Bolger, Higgins was just born too soon to really prosper as a professional motocrosser, but he was likely the fastest rider in America before there was any way to determine that with an actual AMA National Motocross Championship. When one was finally started in 1972, Higgins would win the first two rounds aboard a CZ.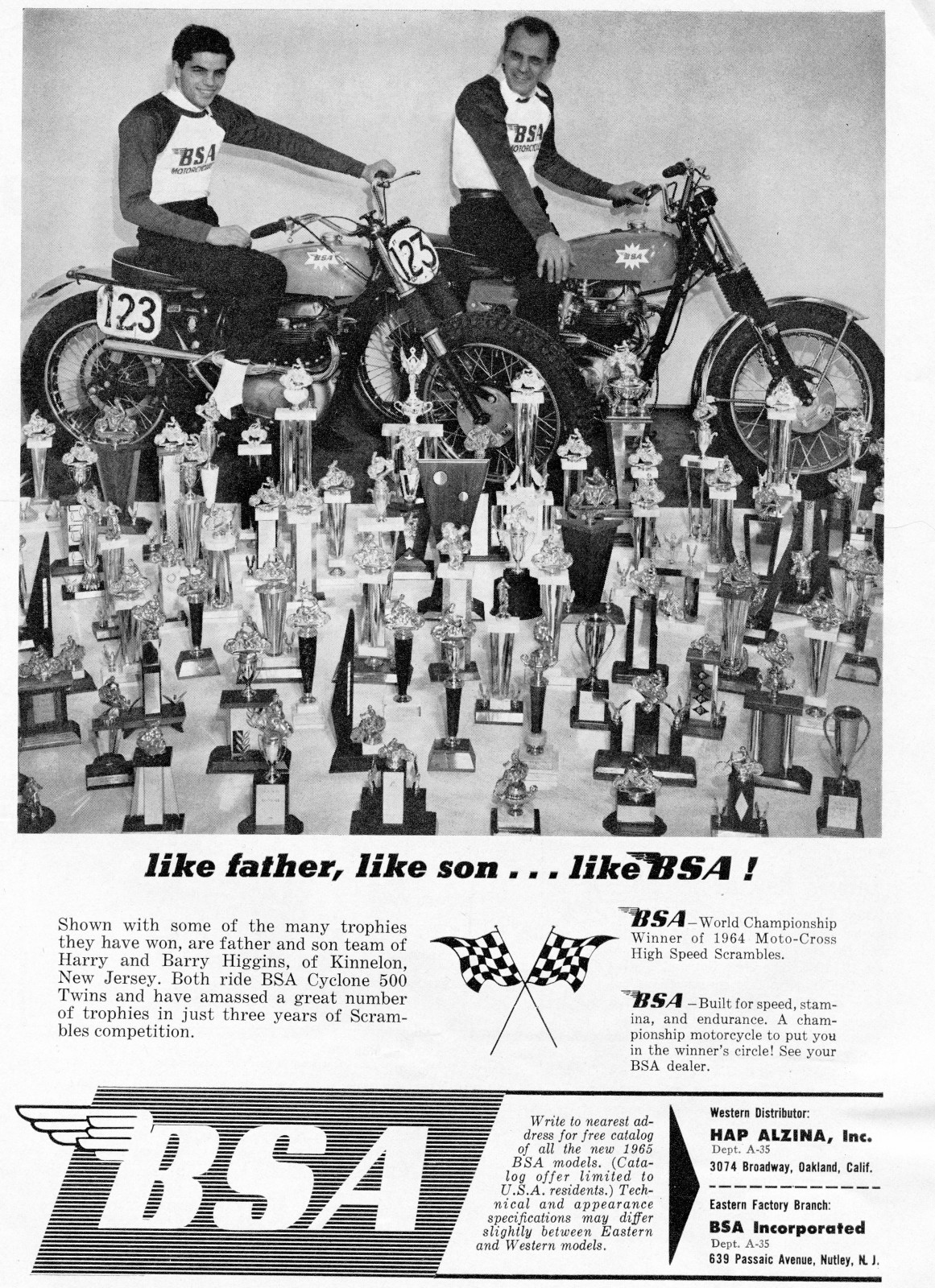 MOTORCYCLE HALL OF FAME (DC)
Last Friday night, I was lucky enough to attend the AMA Motorcycle Hall of Fame Induction Ceremony for the Class of 2017. It's a great annual event mixed in with the AIMExpo, the motorcycle industry's big dealer show. All five of the men who went into the HOF were people I've been lucky enough to work with, and all were very deserving of the honor. Donnie Emler Sr. built FMF from a garage hop-up shop into an industry leader, sponsoring countless racers and races along his moto journey. Ed Lojak Sr. used to work us all over in GNCC Racing, and his nine AMA titles is among the most ever for an off-road competitor. Peter Starr has probably made more movies about motorcycling than anyone, including the cinematic release Take It To the Limit (the trailer of which you can see below). Bob Moore was the first AMA 125cc West Region Supercross Champion, then the last American to ever win a FIM 125cc World Championship. He followed those titles up by co-founding the Road 2 Recovery to help injured riders. And racer-turned-publisher John Ulrich of Roadracing World was honored for his work on and around the racetracks, as well as the work he's done for the sake of safety in road racing. It was really cool to see them all up there together, and an honor to have known and worked with all of them.
Head-Scratching Headline of the Week:
Bold Eagles: Angry Birds Are Ripping $80,000 Drones Out of the Sky (The Wall Street Journal)
Hey, Watch It!
Matterley-Basin, host of this weekend's race, was also the site of the epic 2006 MXoN that featured Stefan Everts taking on a young James Stewart. It was Everts' last race, and the best mic-drop in the history of motocross. As a primer for what's about to go down in 2017, here are all three motos featuring not only Everts and Stewart but a young Ryan Villopoto in his Team USA debut, as well as Ivan Tedesco filling in for an injured Ricky Carmichael. Commentary by the great Sir Jack Burnicle! This was the 60th Motocross of Nations.
Race 1
Race 2
Race 3
Kyle Scott caught up with Ken Roczen at Pala Raceway while the Honda factory rider was doing some riding and training. Roczen talked about his current status, his struggles with his left arm and wrist and gave Kyle an overall summary on his comeback.
For some reason, Travis Delnicki actually wanted Weege to be his mechanic at the Racer X Maine Event.
And here's Peter Starr's Take It To The Limit trailer:
Random Notes
Subscribe now for as low as $9.98 and receive a FREE MX vs. ATV T-Shirt plus access to our digital edition.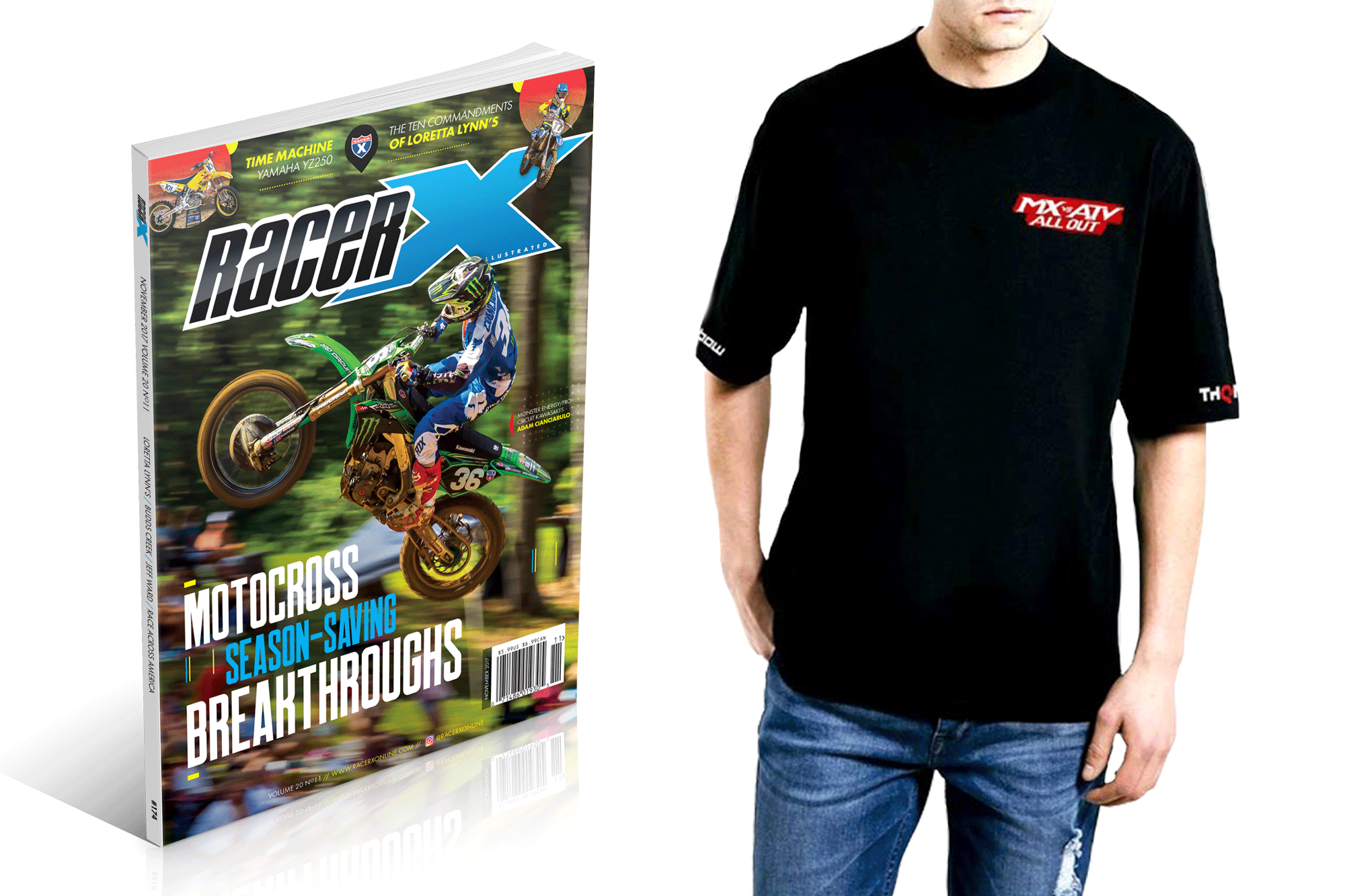 If it's Motocross of Nations time, that means Lord Alfred Weigandt has some very Brit-biased opinions to share. He believes this race will lead the United States to try to re-join Britain as a colony.
Sad news out of Michigan, as Kevin Beyer, a well-known vet-class racer from Freehand, Michigan, passed after a crash at a track in Newago, Michigan. Beyer was 53 years old. Here is a link to his obit. In lieu of flowers, those planning an expression of sympathy may wish to consider memorials to the Kevin Beyer Scholarship Fund, c/o Wildfire Credit Union or the Pediatric Oncology and Hematology Gift Fund c/o C.S. Mott Hospital, which has been very supportive of Kevin's great-niece, Danica List. Godspeed, Kevin Beyer.
That's it for this week. Tune in tomorrow on www.mxgp-tv.com to watch the Motocross of Nations qualifiers as well as Sunday's finals, or you can try to stay off-line and watch it when it airs on Sunday at 2 p.m ET on CBS Sports Network. Go Team USA! (And go Puerto Rico!) Thanks for reading Racerhead.