When the lights start go down on a professional racing career, uncertainty and instability can suddenly become a new norm. Stephane Roncada has been there and done that. During his transition from racer to common man, Roncada fought a well-documented battle with painkillers and depression. His demons were the result of pushing his mind and body to the absolute limit, and then trying to mute the pain associated with injuries sustained on his way up the ladder.
Roncada arrived in the America in 1997, when there was a spotlight on upcoming French riders. During his nearly 10-year career in America, Roncada raced (and beat) Ricky Carmichael, Travis Pastrana, and James Stewert, as well as just about every rider of that era. He won the 2000 125 East Supercross Championship, and came up just a few points shy of the 2000 125 National Motocross Championship.
Roncada left the sport in 2006, spent some time recovering from his demons, and landed a corporate job designing video games in Arizona. Nearly 10 years removed from his racing days, Roncada is doing very well. We checked in with him to hear about his latest project.
Racer X: Stephane, it was great to see you and your team at the Ironman National in Indiana. What were you guys doing there?
Stephane Roncada: Well, have a new game coming out next year—MX vs ATV All Out. We have been working on it now for almost two years. It is an all-new game from the ground up. It has all-new graphics and all-new physics.
Coming from the era where Excitebike was the latest and greatest game, I am always amazed at how realistic the games are becoming now.
I used to play that game until I had blisters on my hand! But yes, it is really good now; we can push the boundaries as far as graphics go. This latest game, we have really pushed to use all the latest technologies and to make it the most realistic motocross and off road game out there. The game is being designed for the Xbox 1, PS4, and PCs. It officially will be on sale January 2018.
Tell me about your team and the development process? You have been with your current company (Rainbow Studios) since your retirement, right?
Yes, pretty much. The team on our side has been growing; we are almost up to 30 people now. The games we develop take about two to three years to develop—from start to finish. But currently we are 27 people, which is actually a pretty small team for a game of this scope. But we are owned by THQ, so they take care of distribution for the most part.
Also, one important part is the game engine. There are a few major ones out there and now we just license the engine and they get royalties on the game that we sell. The big difference between the new and old game engines is that we had to build our own game engine and develop the game. Now it has changed, the new game engine is one that anyone can use. There are literally hundreds of people working with the engine and development takes care of itself. That allows us to really concentrate on the game and not worry about distribution.
Can you clarify a little more about the game engine and how it fits into the whole thing?
The game engine is the technology that lets you make a game for certain platforms. It makes it easier to create the various versions of the game. It is basically what runs the game. Game engines are really hard to make and maintain; this new game engine is called Unreal Engine. A lot of games are using them now, but we picked Unreal because it fits our program a little better. And then THQ takes care of soft copies of the game and that gets sold in stores.
How many copies of the game do you guys expect to sell?
Oh, that's very hard to say. We always sell quite a few to the hardcore moto fans, but really we are trying to reach a broader audience. Our target is basically someone who does not know about motocross but can pick it up and play. We do have to focus on the core audience as they help us sell enough to keep going, but the key is to make it so someone who does not know about motocross and the physics of a bike can still play.
What exactly is your title and direct role?
I am lead technical artist. Basically, I kind of take care of every aspect of the game. I work with new tools that anyone can use and I still do some track design. I have been focused more on creating tools and the system. I have my foot on every aspect of the game.
It must be quite the balancing act to balance the characteristics and handling of the bike for both hardcore motocross riders as well as for those that have never ridden before.
The one thing we have been really trying to focus on is the physics of the bike and how it rides and flies. Some of the other games, they have been a little hard. It can get frustrating at first, especially if you do not ride. For this one, we are practicing on first impression and so that everyone can have fun the first time they play. Basically, everyone has a different opinion of how a bike should handle. If we made it a pure simulation, it would be really hard, that would appeal to hardcore guys, but if you don't know how to ride, you would hate it. We have been doing a lot of testing, which is really something we have been focused on while we develop it. But it is hard to find the balance—it just needs to be simple and fun, and you need to get better and practice at it. It is basically just simple physics, which is what we are trying to achieve.
Switching gears here, how are things with your family?
My wife Carlie and I are both doing well. Our two kids are growing up fast. My son Luca is 10 years old and Reni, our daughter, is five. We are west of Phoenix in Goodyear, Arizona. It is nice because it is on the west side of the city and it is very relaxing. I like to be close to the big city, but far enough away where it is relaxed for us. And as for me, I go into the office every day and commute into downtown Phoenix.
Any riding in the future for the kids?
Probably not, but if any of them are going to ride, it would be my daughter, she is the daredevil. I retired right before we had my son, so he was never introduced to the sport and then I wasn't around the industry for a few years, so he is not that into it, although he does have a pit bike.
How closely do you still follow the sport?
I am still very close and follow it every weekend. But this summer, and for the outdoors, I have been slacking. That is mainly due to the fact that I have been working really, really hard on the game and it has been crunch time on that. But I still follow it very closely and watch every weekend. I still make it to a few races every year, especially since we are a sponsor of the supercross series, and I try to make it out to promote our games.
You were at the Indiana National, what did you think of Herlings performance?
I was blown away. I really didn't think he would win like he did. I knew he was fast, but still, he took them to school. That said, I am very impressed with how many fast guys were on the track on the same time, and now it seems like the top 10 is very competitive. The thing is there were a lot of factors going in; if it had been mid-season or beginning of season, it could have been very different. It's always hard to tell just what is going on, and one race does not tell the story. It would be a lot more telling if he raced the full season here in the States.
How do you think the sport compares to when you were racing? Do you see any big differences?
The one thing is that it is getting more and more serious, almost too serious. Back in my day it was still more relaxed. Today, the riders are just more like machines. They train, they sleep, they eat, they race and that's all. It doesn't feel as relaxed as it was during my day. Sometimes when I visit the races now, I don't even like going to the team trucks on race day since everyone is so serious.
Speaking of personalities, you and Travis [Pastrana] certainly had fun and made the most of what was certainly a very heated championship battle.
For sure. Personality now is less, and also now there is much less contact and more whining. When I was racing, there was many more block passes. You never, ever left the door open. I remember one year at RedBud, I was on my factory Kawi, and it was mid-race. I opened the door to [Mike] LaRocco, and he took it. He blocked me passed me so hard I had a headache! Now that happens today and everyone cries, and it's lots of drama. Man, hitting that guy [LaRocco] was like hitting a big tree that is in the middle of the track.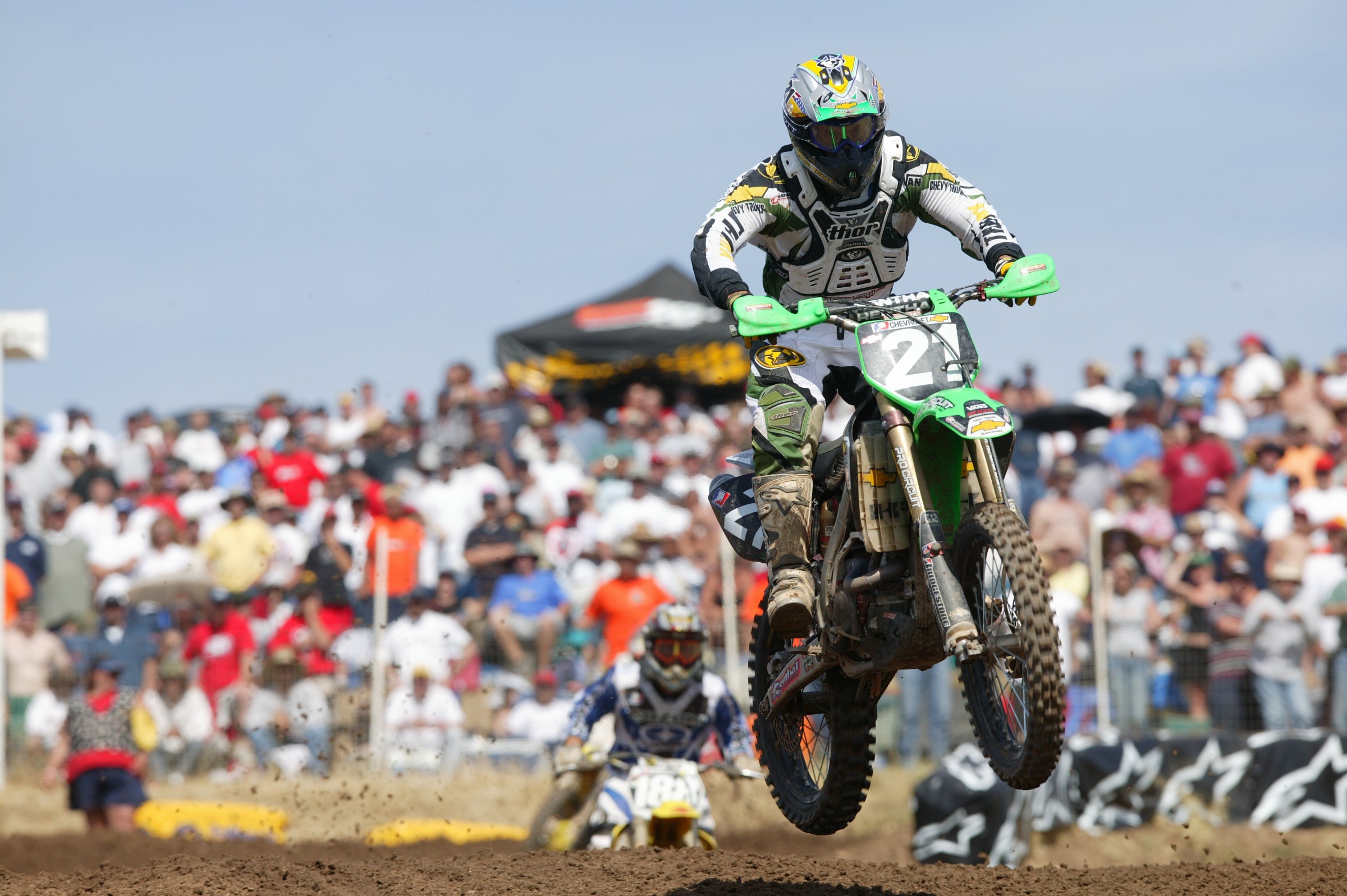 What do you think of the current crop of French riders today? During your era, you had literally five French guys who were potential winners at the highest level.
Well, between myself, DV, Sorby, Tortelli, and the others, there was certainly more talented French riders here in America. But if you look at Marvin [Musquin], he is killing it, so I don't mind that there is less French talent, but as long as there is one guy doing well. It really comes down to how many talented riders are out there, maybe back then there were more talented French riders and teams were willing to take a risk and bring them over, and maybe there was not as many Americans. But now I think that has changed.
Thanks for chatting with us, Stephane, and good luck with that new game.
It is always a pleasure. We can't wait to have the game launch and see how it goes. We have some really good ideas for making better and better motocross game. The new game has a great rhythm and cornering, which is really cool and fun.