Winchester, United Kingdom
Motocross of Nations
Motocross of Nations
The first time I met Dean Wilson was in the somewhat ramshackle Team Canada pit area for the 63rd annual running of the Motocross of Nations in Brescia, Italy. Still in his teens, Wilson, who was born in Glasgow, Scotland (just like Jeff Ward) and who learned to ride and race outside of Alberta, Canada, was slotted-in as the MX2 rider for Team Canada that weekend. And he did well at the Autodromo di Franciacorta, Italy, winning the B Final on Sunday morning (no easy feat). Within two years, the tall, lanky and affable Scotsman would be an AMA National Champion and one of the elite racers in the world.
Recent years have been tough on the now American-based racer, but things took a turn for the better in 2017 when Wilson was picked up by the Rockstar Husqvarna outfit to ride their FC 450. Healthy and on form, Wilson placed eight in the Monster Energy Supercross Championship and backed that up with fourth in the Lucas Oil Pro Motocross Championship. Most importantly, he made it through the full season without injury, which was his primary goal after so many tough seasons.
Now comes the 2017 Monster Energy Motocross of Nations set for Matterley Basin in England. The Open rider for what has shaped up to be a very formidable entry for Team Great Britain, Dean-O will join compatriots Tommy Searle and Max Anstie in a united effort to try and grab hold of the Peter Chamberlain Trophy and claim it for their own on the green and rolling hillsides on the far outskirts of London town. Early this week, we sought out Dean and caught him in his tracks near Matterley Basin.
Racer X: Dean, my man, it sounds like you're back in the homeland.
Dean Wilson: EJ, what's happening? Yep, I'm in England.
Excellent. I was just hoping to get a few minutes with you and see how your Motocross of Nations journey is going thus far.
For sure. We're just a bout to have dinner here in a little while. I'm here with my dad, my girlfriend, and my mechanic Daniel. It's real good here. It's just a nice change of pace, you know? It's nice to see something different and we're enjoying it.
Tommy Searle told me you've been staying at his place. Have you guys been riding together?
Yep, I've been with Tommy and staying with him at his house. Today we're actually going up to see Mark Chamberlain, the team manager of the British team, and me, Max, and Tommy will all be staying there and have a lot of team bonding and stuff like that, so that should be good.
Max, Tommy, and yourself add up to a very good team that has a genuine shot at winning the Motocross of Nations.
I know.
Have you known Max and Tommy through your racing travels going all the way back to when you guys were kids in Great Britain?
Yeah, I've known Tommy for quite a few years now and I've known Max quite a while as well as he used to race in America. We all get along fine and I think we'll race together really well. I think we might do well. I think it's going to be a good weekend for us.
What's also very cool is that all three of you guys—especially you—have spent time racing in the United States.
Yeah, it's really good. All three of us started racing and doing well and to be able to do the des Nations in England and all of the fans are going to be insane, so it's really going to be exciting.
Have you been down to Matterley Basin and scoped the track out?
Yeah, I got a chance to ride it last week, which was really cool because I've never ridden it before. It's got some massive jumps—some really big jumps. There is also a lot of new dirt on the track as well. Yeah, I'm really liking the track. It was kind of cool to get to ride on it a little bit and get a little bit of a feel for it.
Both you and Anstie spent 2017 racing on the Husqvarna FC 450, Max in MXGP and you in AMA supercross and motocross. Are the bikes similar?
To be honest, I haven't ridden the bike I'll be racing. I'll ride it this week. I'll going to be riding an Ice One Husqvarna with some of my parts on it. The team was nice enough to let me use one of its bikes. I know it will be really good and they've been really good to me and helping me. It shouldn't be too much different than the bike I have in America.
It seems that the successful Motocross of Nations teams, especially in this modern era, have a really good spirit of camaraderie and teamwork within the camp. A sort of "all for one and one for all" approach to the race. I especially sensed that with the French teams of recent years. That make any sense?
Yeah, we all have to work well as a team and help each other and I think that's what we'll bring to it. I really want to go in there and do well and I want to try and win it. That's my plan and my goal. Hopefully we can be on the box and I'd like to win an overall, so that's my goal.
Team Great Britain hasn't won the Motocross of Nations since 1994. You've have been about three years old then. It's been a little while, huh?
Yep, yep. That was a long time ago, for sure, so it would definitely be really cool if we could do it again. It would be good to be part of it.
Who do you see being your competition in your particular class [Open]?
To be honest, I have no idea. I haven't really even looked. I'm sure there will be some fast guys, but I'm not going to pay too much attention to that and just going to focus on myself.
Tommy Searle on the 250 that should be interesting, huh?
Yeah, it should be good. Tommy rode the des Nations on a 250 in 2014 in Latvia and he won the MX2 category. We did really well that weekend.
What do you make of the American team of Osborne, Covington, and Seely? That's a unique situation, isn't it?
Yeah, the American team, obviously, is a big favorite going in and with Cole and Zach and Thomas, I think they're still a very strong team and they have a good chance of winning also. There are a lot of teams that have a good chance of doing well, so it could be interesting, for sure.
Exactly. There really isn't one standout team. Also, a number of teams have three good riders, but then again, you get the teams that might have only two good riders who have to try and make up the difference. It's kind of a toss-up, isn't it?
It really is. There are some teams that have some really good riders, and then, maybe, have a rider that might not be as strong or something like that. This race has always been fun because it really is a team race. I mean it can come down to one pass, you know? We'll just give it everything we can and see what happens.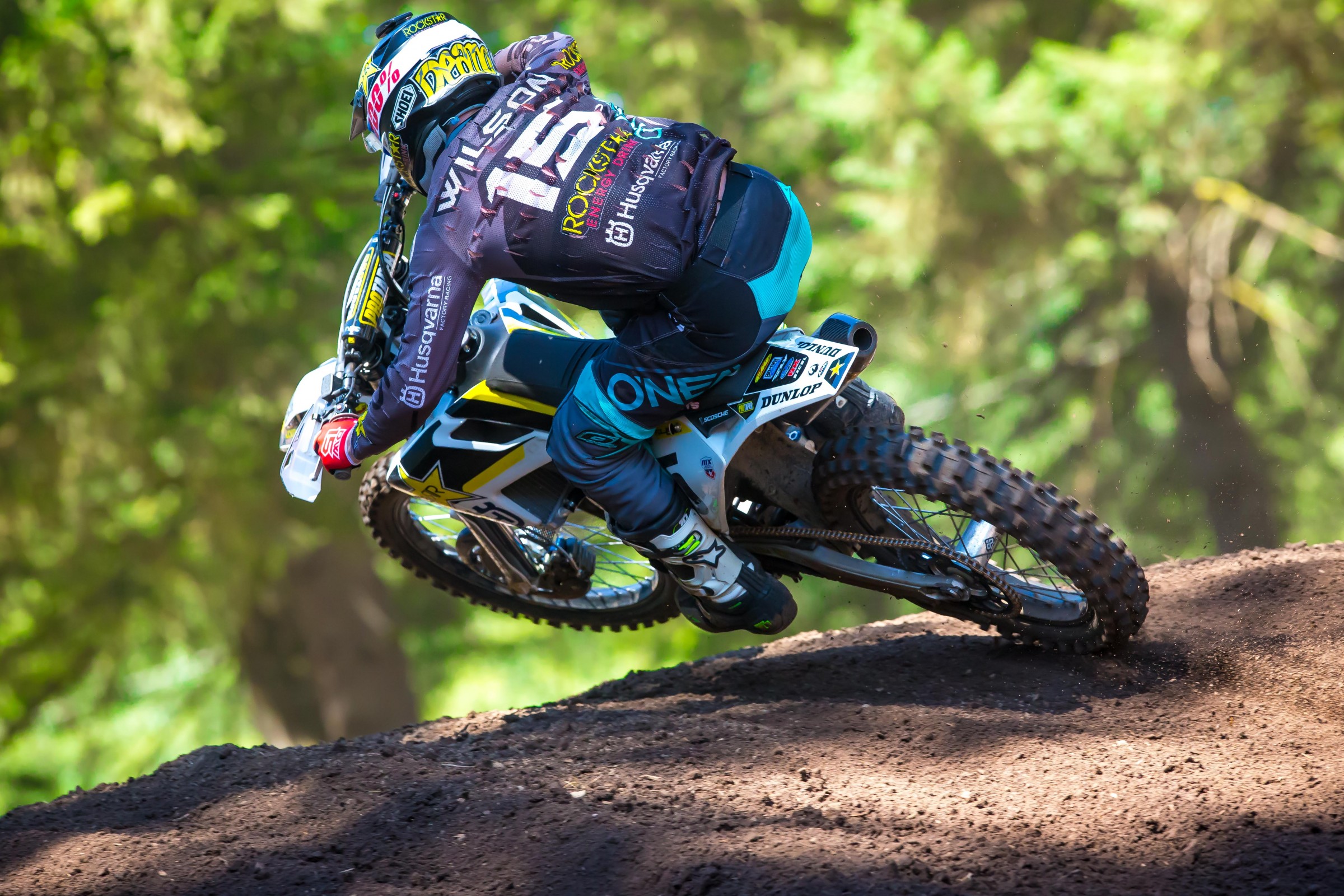 And like you said, it should be an epic event. Likely 40,000 fans to be up on the hills come Sunday and cool weather. It's going to be something special, isn't it?
Yeah, it is. You don't always have the Motocross of Nations in England, so it's going to be cool. It'll be in the USA next year and it'll be on the home turf, so it's going to have a lot of support from the fans. But, yeah, as far as this weekend here in England, I really hope we get up on the box this weekend.
This year was a good year for you. You were healthy the whole way through, you had some very good results and you closed strong. All things considered, and looking back, how do you feel about your '17 season?
I think the season went really well for me. I started off the season as a privateer and got picked up by Husqvarna and I just got along really well with the team. Yeah, I got eighth in supercross and fourth in outdoors and I think it was a good year of building for me. Next year I want to run up front more and I've got new goals that I want to achieve. I feel like it was a good year for me. I got a couple of podiums, which was nice. So it was good. I was able to stay healthy and that's so important in this sport. I've been through a lot and lost a lot of my confidence and some self-belief, but this year has helped me gain that back and I'm ready to run up front and be where I know I can be.
So is Team Wilson, the family unit, going to be there in England and cheering you on come this weekend?
Yeah, my mom and dad are going to be there. My cousins are going to be there and so is my uncle and some close friends and my girlfriend, so it's going to be good. It's going to be a really awesome weekend.