Jessica Patterson is one of the most successful and decorated athletes to have swung a leg over a motocross bike. After winning more than 42 amateur championships, Patterson turned professional in 2000 and would go onto win seven Women's Motocross (WMX) National Championships. She would go onto race ESPN's X Games as well as several seasons of off-road in both GNCC and EnduroCross.
In fact, when counting championships, only one racer stands ahead of Patterson's seven WMX championships—Mercedes Gonzalez. Patterson finally retired from full-time competition in 2015 and settled in South Carolina with her husband, Eddie Ray (who himself has also won a championship at Loretta's and was a long time privateer racer).
Racer X: Jessica, you retired 2015, what are you up to?
Jessica Patterson: Well, technically it was 2013, that was my last motocross race. At that point, we lived in California, and we decided to move back east after I was done. So once we got back, I signed up and did some GNCC and off-road racing for two years and then I decided to change gears and do something completely different.
I assume that is what you are doing today—please do tell.
Well, it started out with my racing, and just being around all the people in racing all the time and my experience. I started having a lot of people ask me about working with their kids, or friends kids. I honestly never thought I would want to be a coach, but then one day the opportunity came. A friend had built a track that was just about four miles from my house and it was a neat place. It actually was at a car racing (dirt track) facility and they built the motocross track as an add on. So I started training some kids there, and got more involved. I found that I really enjoyed it—and way more than I thought I would. So, now I pretty much do it full time and just try to pass along all that I have learned over the years.
Well, it sounds like you have made a good transition from racer to the next step?
Well, I guess so. But the big news is that just this past month, my little motocross track down the road from my house went up for sale. And we bought it! Like just in the last few weeks. The place was called Travelers Rest Speedway, and since we bought it, and it's all still very new to us, we have just changed the name to Travelers Rest Motorsports Park—and to better represent that we are not just a dirt track. The track is in South Carolina and we are a little over an hour from Charlotte, North Carolina.
That's really cool. You are joining a group of former really fast riders like Robbie Reynard, Tony Lorusso and Keith Johnson, all of whom are operating tracks now.
Thanks. Yeah, it's all so new—we are just figuring it out. We will make it work and we are looking forward to growing the facilities footprint and how things are fun.
You are from the East Coast originally, right?
Yes, I am from Tallahassee, Florida. All my family is still there, so we go back all the time. But when I moved back from California and was doing the off-road thing, I was riding for Randy Hawkins team and he is based in the same town. That's how we landed here. It is a great place, and we bought a house soon after we got here and now we have a speedway and facility.
It seems that most of the GNCC racers seem to locate in The Carolinas, much like most of the motocross racers live in the Inland Empire. Why is that?
Yeah, for sure. There is certainly a lot of racers down here. With Randy Hawkins only eight miles away, he comes around with his guys like Ricky Russell and rides a ton. But a lot of people come down her to train. Between this area and Charlotte, you have a really good base of off-road riders. The Baylor brothers only live 45 minutes away. It is good because we pretty close to where most of those [off-road] races are. Randy's place has about 150 acres, and comes with a big endure loop. When I want to mix it up with my guys and make a change, sometimes we go over there and have some fun with a new track.
So is most of your coaching work centered around woods or motocross?
It is mostly all motocross. I work pretty much just one on one with the riders, especially before Loretta's. We will have maybe eight kids here, and it is really focused. I have some other guys that I work with on weekends and after school only. But for the most part, I give all different levels of riders the same level support and time.
You have mentioned "we" several times, I assume you are talking about your husband, Eddie Ray. He is an accomplished racer himself, right?
Oh yes, for sure. He raced Loretta's a bunch of times and got a championship back in 2003. He went on to have some really good privateer rides in the pro ranks before retiring to help me with my racing. Since we moved back here to South Carolina he got really involved in car racing. In fact, when he was a kid, his dad actually wanted him to race cars. And then when we moved back and started hanging out with Randy [Hawkins], well, he talked him into getting a car. So he started racing local stuff on asphalt for a while. But then dirt track racing is also really big here, so he got a dirt car. So he did that a little bit. But now that we have the track, that takes a back seat. We now have our own races every Friday night, so right now it's a really big deal getting it all sorted out. With him all involved in that he hasn't had time to race himself.
I know you are only a few weeks in, but what is it like to own your own track?
Well, we have both cars and motocross at our place. So as far as the car side goes, well, we never really paid much attention to that. That part of it kind of got sprung on us, so now we are promoters, and it's all very new for us. But it is really good and fun. Its different, you are so involved and get caught up in things you don't stop to think how it all runs. One of our partners has been around the car side his whole life so that helps a ton. Also we have a track manager, so that helps as well. But Friday night is our weekly car race, and I am having to juggle it on Thursday and Friday and getting ready for that. It is actually a really popular deal. We are having some local motocross races as well. In fact, we had our first one last week. I wasn't sure how it would go, but being first race and all it went smooth.
Did you get out there and ride?
No! I honestly have only ridden 2-3 times this year. I did some arenacross in January and February of this year, but then I hurt my knee and had surgery just after the Atlanta round. I have just been so involved on the other side of things and riding has not been a priority. I did do the first gate drop we had, that was a big deal for us—and I also did the finish line flagging as well and did some running around picking up some of the little kids and overall just trying to help keep things moving along. I can say that the life of a promoter is not that glamorous. You learn really quick stuff happens, and then it causes other things to happen. For example, we had three people not show up to work; then we had a few flaggers who showed up late. That stuff was rough, but we got through it.
Let's switch gears and talk about your career. You had seven career WMX championships, that is pretty amazing.
For sure. But the thing that I enjoy the most was just meeting the people I did and being able to travel all over the country. For me, maybe my biggest year was 2010. That was when I moved to California, just basically took everything I did and turned it upside down. I moved out there and worked with Ryan Hughes. I changed my entire deal all around. But it was important that I did that, and it worked out. We [the women] were getting factory rides, and I wanted to be as competitive as possible. So I worked with Ryno and Bobby Reagan gave me a ride and a chance, and his crew built me a bike that I needed to win. That season turned my whole career around. I wasn't sure where I wanted to go before that. You know, sometimes you hear racers who whine about the bike or whatever, but after I did those changes and Yamaha and Star Racing stepped up, I had all the tools I needed to win. That season I think I won 14 out of 16 motos or something crazy like that, I only lost a couple races.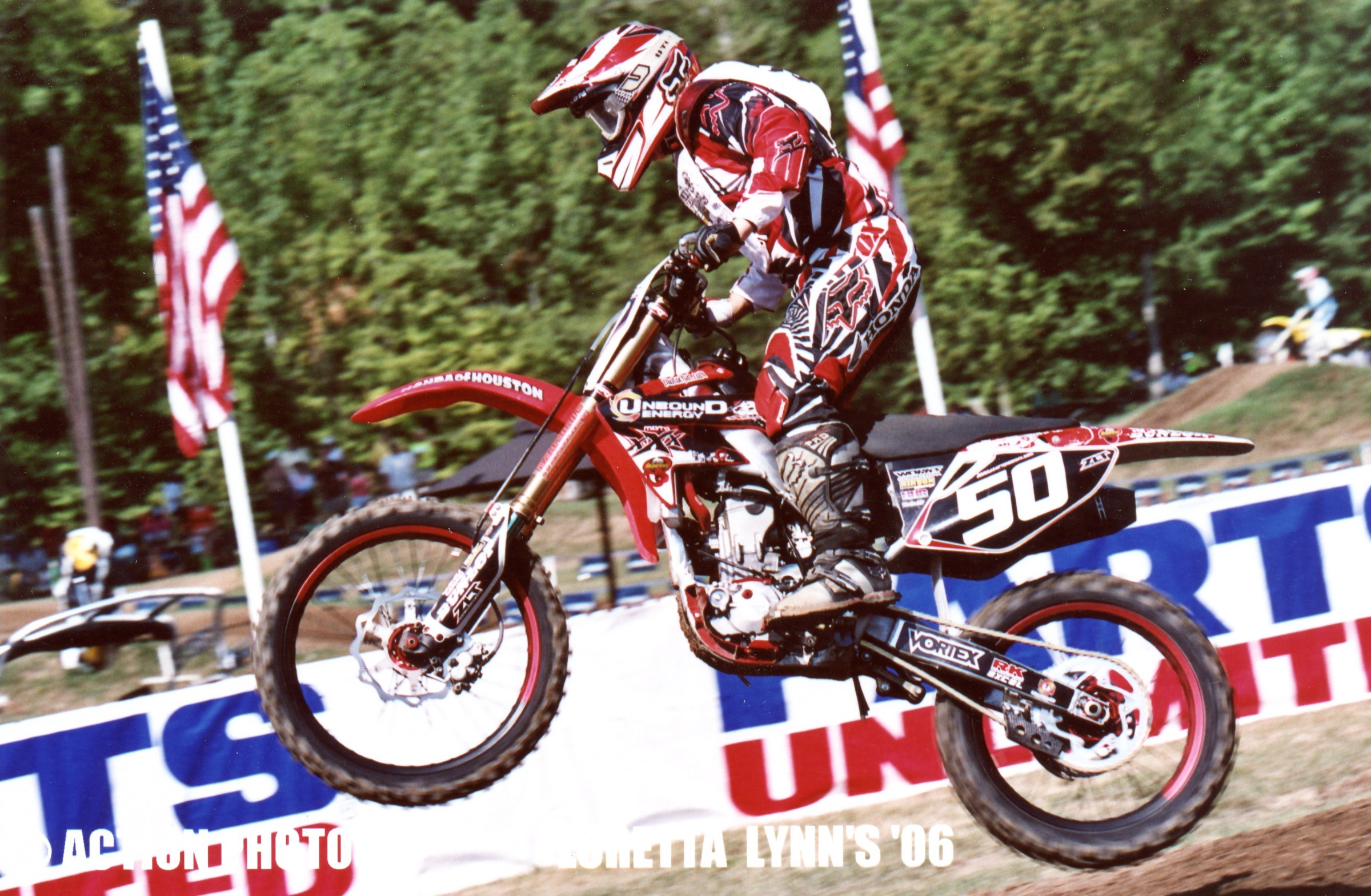 I remember that season and your performance was certainly dominating. But then 2013 was your last season, right?
Yes it was. After that 2010 season, I just kept the ball rolling forward and won a few more. When I think back, it's hard to say, but maybe 2013 was also my second best year, and maybe because it was the last one and I knew it was my last season, even if it didn't feel like it. They shortened the series that year. I always appreciated what Davey and Tim did for us and they tried to do everything they could for the WMX. But I was honestly worried that it was my last year and I wanted to go out on top. At Hangtown my bike blew up and I didn't finish. I didn't think there was much a chance after that, but I just did my thing and kept riding. The cards all fell the right way and I won that last one. I just remember being at Southwick— it was the last race—and the weather was perfectly fine. Then all of sudden, just before our race, it just poured down rain. I got a lousy start and was passing everyone as fast as I could. But then the rain and the sand stuck in the radiators and my bike was smoking a bit. I saw it and got really worried about the bike making it all way through to the end of the moto. And I know all my team was scared the bike was going to break as well, but it worked out.
What was it like working with Ryan Hughes?
It was really good. You know, a lot of people say different things about him. He is certainly very different, he pushes pretty hard, but I did whatever he told me. He and I both have a never give up attitude, so we are both on the same page. When I moved to California I didn't want anything to stop me and I just kept pushing myself and my program. He and I just got along really well. And you know, a lot of stuff he taught me, well, I also teach that to my students. But I have seen some people who trained with him and can't really take it. He is honest and blunt. I watched some people that fell out of the program or didn't like to hear it, but to me it seemed like the truth. And it worked. Ryno and I are still in touch, his deal really worked for me and I still use his supplements and many aspects of his program.
I ask this question in many of my interviews, but how was the money during your career?
It was good. It was 10 times better than it is now, that's for sure. I had my team stuff, factory Yamaha money, I had riding gear money, some stuff from Rockstar Energy, and whatever else we had. We also had the track payouts as well—that wasn't a ton, but it was still something. When I was also racing at X Games events the money was really good there. It is hard now because the women are not in a place to get that type of spotlight that we had and therefore the sponsorship that comes with that spotlight. But for me, it was really good. I was able to save up and buy the house we live in now, and I put my money towards this facility that I now own.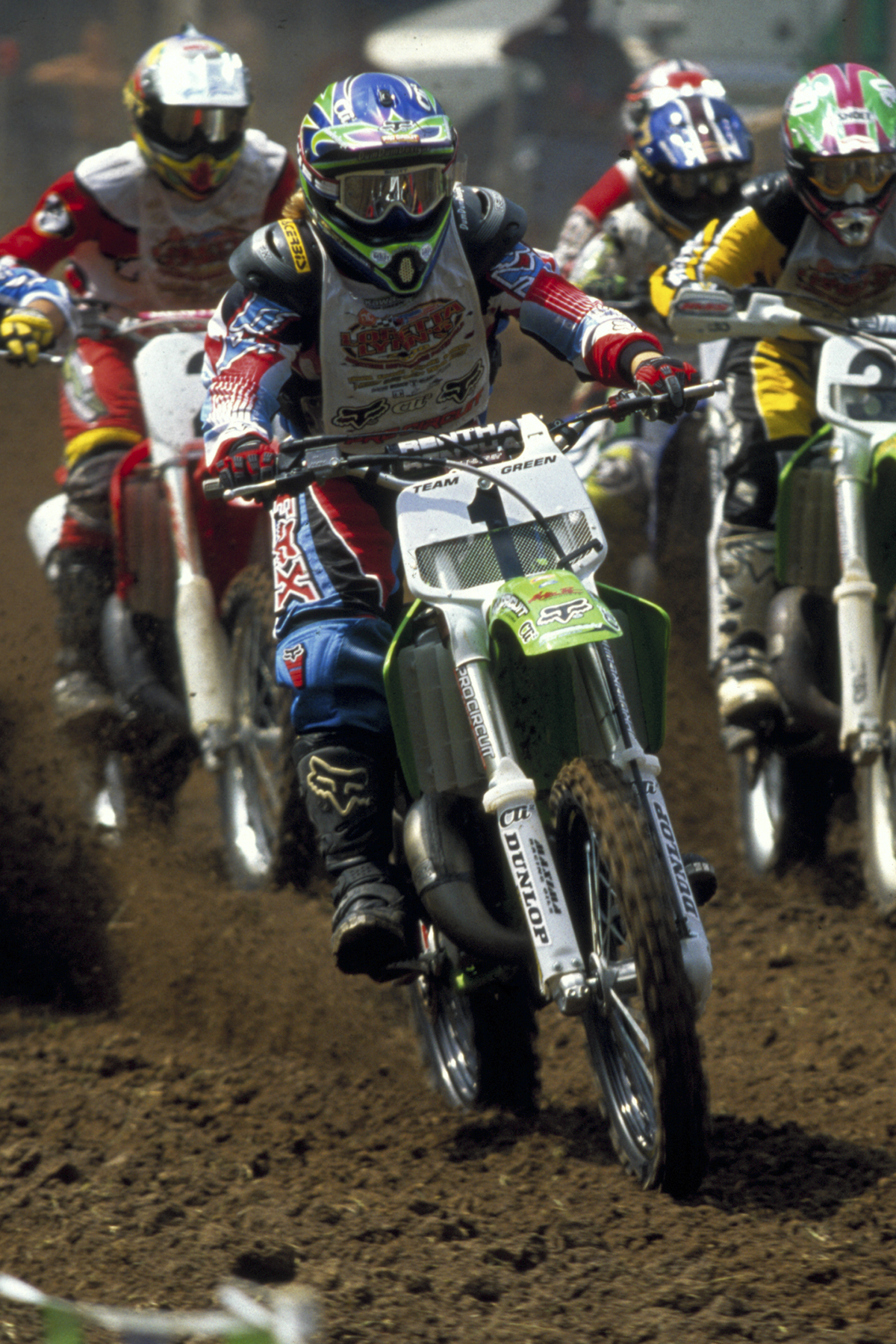 Sounds like you are just reinvesting in yourself, just like when you are racing.
I guess so! I just invested in myself and became the best I could. Now I am starting over and while I am not the best promoter out there, I am working on it! I want our place to become a really cool and respected spot and hopefully became bigger down the road.
An interesting stat: the top two women motocross racers in America are both married to husbands who also have Loretta's championships.
That's funny! Yeah I think Mercedes and I, we are only ones. Both our husbands have won at Loretta's, which is pretty cool. I won down at the Ranch only three times, but I should have won it 15 times! I think I an informal award for the most second places ever. Loretta's is strange to me. Maybe we can go back and race the Senior Master class and have some kids in the mini class. I know there are some father and sons that race, but that would be fun to have both of us racing along with some kids.
Thanks for chatting. Good luck with the new track!
Thank you! I would like to thank the people that do continue to support and help me, especially with this new venture: N-Fab, Gear Alloy Wheels, Yamaha and all my other long term sponsors. I really, really appreciate it. And I hope that anyone reading this will come and see our track, as we really want to build it into something special.