Marshall Plumb is one of the most tenured members of the AMA Supercross and Motocross pits. Plumb has been attending the races since the early 1980s and has only missed one throughout his entire career. That means Plumb has witnessed Bob Hannah, David Bailey, Ricky Johnson, Jeff Stanton, Guy Cooper, Jean-Michel Bayle, Jeremy McGrath, Ricky Carmichael, James Stewart, Ryan Villopoto, Ryan Dungey, and everyone in between—he's has seen them all, and at every track. His tenure puts him in an elite group of veterans that includes KTM's Roger DeCoster, 100%'s Bevo Forti, and Yamaha's Keith McCarty, all of whom have been attending the races for the past four decades.
A native of Canada, Plumb's experience started as a mechanic and he tuned two riders to national championships—Guy Cooper to the 1990 125 outdoor title and Brian Swink to the 1992 125SX East Region championship.
Today, Plumb works for Dunlop Tires and can be found changing tires and servicing the needs of all Dunlop sponsored teams and riders.
Racer X: Marshall, I see you here at the track every weekend and with your Dunlop shirt on. What exactly are you up to?
Marshall Plumb: I do the Dunlop stuff on the weekend. We work to service all our teams and riders with anything they need for tires. I've been doing that now for about 14, 15 years I think. It kind of helps my business at home. I started it in 1999 when I retired as a mechanic. It's called Marshall's Racing. We're out of Stillwater, Oklahoma. Between both Dunlop and doing my own gig during the week, it keeps me pretty busy.
What does Marshall's Racing do?
We mainly do suspension work. We do engine rebuilds. We do modification stuff, but I sub that out to either Pro Circuit or a couple other companies and everything. But our main thing is just building performance bikes, mainly suspension, and helping a lot of local amateur riders to be the best they can by using the latest and greatest parts and set ups.
Tell me about your weekend work here with Dunlop. You've been changing tires for however many years. How many tires do you think you've changed in your lifetime?
It's really kind of hard to say. Between the tires I change and the miles I logged, they're likely both about the same over all the years. But on an average weekend we might do 60 to 70 tires a person. We have four guys, so it's about 200-300 tires per weekend. It's a lot!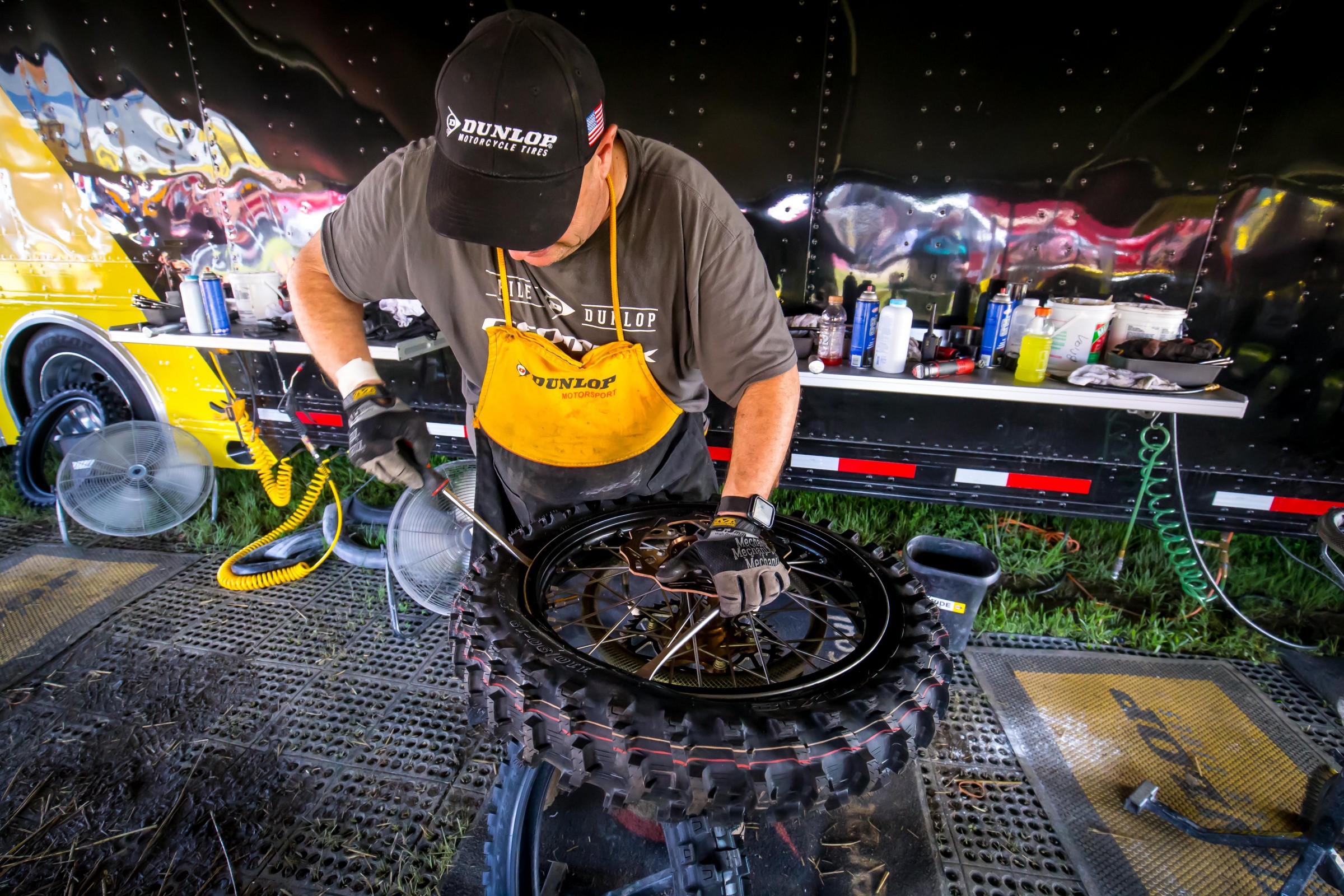 You were a mechanic in the box van days. Talk to me a little bit about your time as a professional mechanic and who you worked for.
Man, my time as a mechanic, it was certainly a time that I wish I could go back and do over again because it was a lot of was really great fun. I was very fortunate to work with a lot of good riders. Guys like Guy Cooper. But I started off with Ross Pederson in Canada, but then moved to Guy Cooper in the U.S. Then I worked with Brian Swink, Jeff Matiasevich, Mike Craig, and Larry Ward. You could say that I had a really good list of riders and was very fortunate they were always in the top 10. That was one of my things that I always look back at now. Every rider we had, we always finished in the top 10. And I was lucky enough to win a couple of championships as well.
Cooper won the 1990 125 Motocross Championship, and you were his tuner that year. What other championships did you win?
That's right—I had the one outdoor championship with Cooper, and then in 1992 I won a championship with Brian Swink in 125 supercross. It's not like an outdoor championship, but to me a championship is a championship wherever it's at, and we won it. That was a fun one, as Brian was really strong that year.
What are some of the best memories you have from that era of racing? It was very different as compared to today.
I think the good times we had really came down to all camaraderie of the mechanics traveling together. Most of us would work on our bikes, stay at the same hotels. I guess it's the same today, just back in the box van days you had a little more freedom. You could kind of come and go as you wanted. The camaraderie that we had and the people that you met over all the years is something that I always still remember today. When you are driving everywhere, people open to you and help you out. I've met a lot of great people within the industry. A lot of great people that are now in NASCAR, but that I met back in the box van days—and they're still friends today. Those memories of traveling and winning championships, and just being competitive every weekend was something that I sit back and look at today and think about how cool it was.
How many years have you been doing it? When did you first start?
As a mechanic, I started in Canada in 1982 and then came to the U.S. in 1985 and did a lot of races with Ross Pederson from '85 to '88. Then in 1989, I was full-time in the U.S. So, I've been a mechanic at the professional level in the U.S. basically, I'd say since '85.
"It's things you look back as you get older and go, man, that was pretty cool to do that and not miss that many events, but it's just another day."
That's a long time. That's getting up there with Bevo and Roger territory for time spent at the races. If I think about it, there's not too many of you guys left that were around in the eighties and nineties. And with respect to Roger and Bevo, they were around in the seventies.
It's funny, I was just talking to Mike LaRocco earlier today and it's a sport that it's hard to walk away from. It's your family out here and it's kind of hard. You spend more time with the people at the races than you do with the people at home. So, to walk away from [racing], it's not an easy thing to do.
And you're coming every weekend to the races?
Yeah, I actually haven't missed a weekend since I started. Well, maybe one weekend since I've started, but that was early on.
Wait, you haven't missed one race?
Only one race. It was the Toronto race. Got snowed out.
So how many is that consecutively? Do you even know?
I don't. It's a routine.
That's pretty impressive.
It's things you look back as you get older and go, man, that was pretty cool to do that and not miss that many events, but it's just another day. You got riders that have put a lot of races together and work hard. It's something you don't even think about. You just do it.
Marshall, thanks for chatting, and congrats on such a long career in this business. If people want to get ahold of you, how can they find you?
Thanks, it's not always easy with all the travel and the running around, and it's hard work. But if you love the sport, it's worth it! People can find me via my website, which is www.MarshallsRacing.com.