Welcome to Racerhead, ladies and gentlemen. Our man Davey apparently really enjoyed the last two weekends at the races. First Jeffrey Herlings comes over to the Ironman National as a guest and spices up the weekend. Then the whole crop of MXGP riders comes over for the MXGP of USA down in Jacksonville, Florida. Guess where Davey is now headed for vacation. Europe! I mean, is he ever going to come back? Will he wander over to Assen this weekend and watch another GP round? Will he stay all the way through Motocross of Nations? Paris SX? I have no idea. I just know he's not here right now. But he did send this newspaper clipping….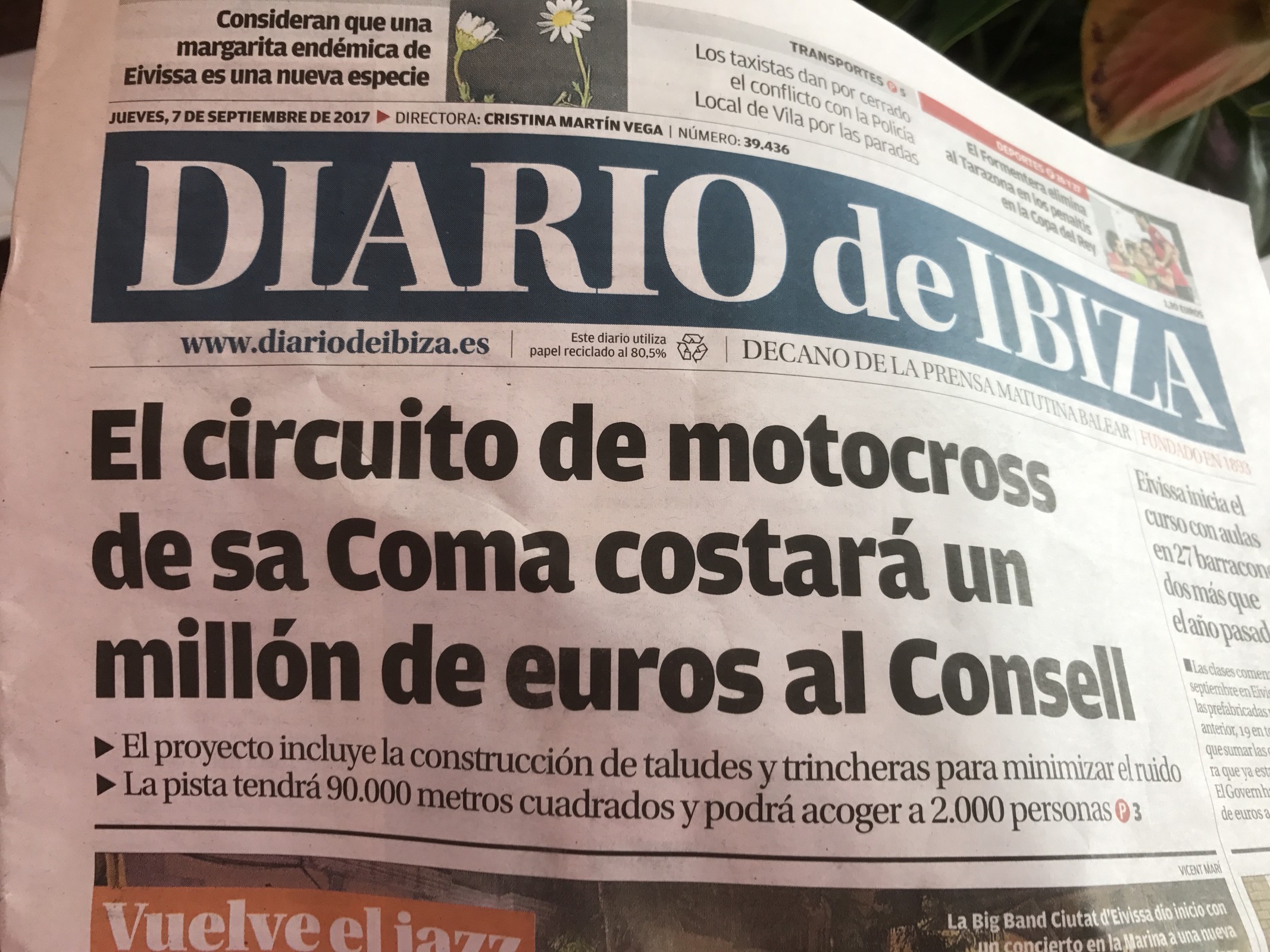 So you've got Jason Weigandt here. (Hi!) I'll gladly handle Racerhead, because I've already found the light at the end of the tunnel. Heck, I'm basically sitting in the light. We've done it. The long eight-month, 30-race journey from Anaheim to now is finally over. I still love going to the races and still love traveling every weekend (I even like flying and hotels and rental cars and all that), but after nearly nine months of postponing every single household project or hobby, it's good to have some downtime. For me, once I spend eight days down at Loretta's at the start of August away from my family and then back-to-school looms, I begin to feel like the candle has burnt down to nothing. Luckily, the racing this year has been so dramatic that it made it easier to head back out for another weekend (more on that below). But I think everyone in this industry is happy to have a weekend at home right now, especially those who work a whole lot harder than I do.
Back in the day, the AMA schedule stretched into October, even with the same number of races. In fact, the schedule has almost always had the same number of races, and for a few years in the early 1990s, the schedule was longer, with 18 supercrosses and 13 Nationals. Anyone saying the schedule keeps getting longer isn't really studying the calendar. We're practically racing the same National tracks at the same venues on the same weekends as always, for example, and supercross has been in the 16-18 race form for 30 years. Today's schedule includes the Monster Energy Cup, but the U.S. Open started 20 years ago, and before that all of the factory stars spent the winter racing in Europe in Japan. Same grueling deal as always.
One reason the schedule stretched into October was because it featured more breaks. Also, the Anaheim SX opener used to take place a few weeks later, and the USGPs were also mixed into the annual calendar instead of being tacked on the end like today. The lack of off-weekends, though, is a move the riders asked for. Basically, a weekend off during the season doesn't fully feel like a weekend off. During the racing season, riders, teams, and trainers are in a 24-hour game, thinking about getting better, getting faster, and getting fitter. They're either training, testing, or working, so even if they're just on the boat on a Sunday afternoon, there's that little added stress knowing they could or should be doing something to get faster. You're never truly and fully free until the final moto of the year. So they all elected to reduce the off-weekends and get to the finish sooner.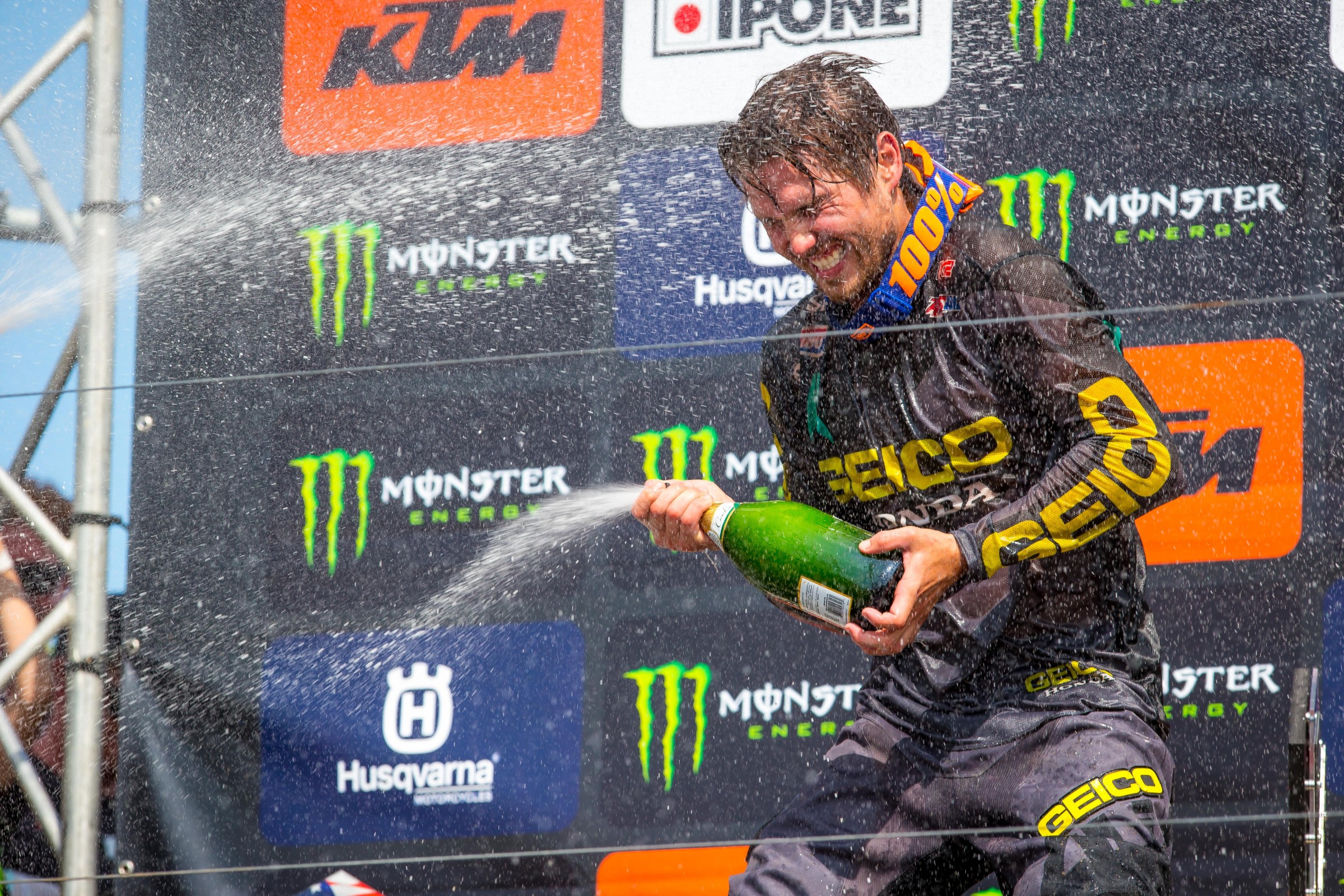 I didn't make it to the MXGP over the weekend because I picked up a gig with NBC's Red Bull Signature Series covering an off-road truck race (working alongside the legendary Rick Johnson!), but from everything I heard, WW Motocross Park event was a hit. We covered the heck out of it on this site with lots of analysis from the guys who were there, including our Steve Matthes, Jason Thomas, and our GP guru Adam Wheeler. MXGP now heads back to Europe with Antonio Cairoli and Pauls Jonass looking to lock up titles.
Back here at home, silly-season news is breaking extra early with Broc Tickle (Red Bull KTM) and Justin Bogle (Autotrader/Yoshimura JGR Suzuki) officially announcing new homes. One man is left without a ride in that whole shakeup: Justin Barcia. What is he going to do? That should be one of the more intriguing stories of the off-season. Barcia's fall from grace has to be one of the more puzzling ones. At the start of the 2014 season, he appeared on the precipice of challenging Ryan Villopoto for championships. Since then, it just hasn't come together, and no one is probably more puzzled by it than Barcia. Not once have I heard the regular partying/drinking/girls/money stuff that usually leads to a downfall. I know the JGR guys well, and they never told me Barcia had turned lazy or anything like that. It makes it even stranger to see how this has gone—it would be much simpler if he'd just stopped training or something. Barcia keeps putting in the work, but the results just haven't been there. It's really almost unprecedented for it to go this way.
Other off-season stories will feature the standard lightning rods: Chad Reed and the Stewart brothers, who haven't announced anything for 2018. Whatever these three end up doing, we can guarantee you the headlines will get a lot of clicks.
We got a lot of clicks all year this year, though, because the 2017 season was awesome. I'll hit on that below, and then it's on to the other guys.
Best Year Ever? (Jason Weigandt)
Monster Energy Supercross ended with the most dramatic hour of racing in the sport's history. For reals. Both the 250SX East Championship and the 450SX Championship came down to the final lap, and whether you agree with Zach Osborne's block pass or Eli Tomac's #Bunching strategy or not, it's undeniable that the final moments were must-see TV. If you want the full scope, realize that Osborne's move on Savatgy was most likely worth half a million dollars (give or take a small fine from the AMA). Tomac's attempt to stop Dungey—and Dungey's success in pulling through—was worth even more. Lives changed right there in front of all of us. Heck, Dungey literally retired.
How do you top that kind of emotion? With the most classic argument in motocross history: U.S. versus them. Americans versus Europeans isn't woven into the DNA of this sport in this country—it literally is the DNA. The first races here were set up to showcase how great the European riders were. The first results featured a race winner (a European, always) and a Top American. An American beating a European someday was the greatest dream any American motocross fan would ever have—and winning a World Motocross Championship or Motocross des Nations was so far off that no one even dared dream so big.
There are two scenarios that get bench racers drooling: a classic U.S. versus Them battle and sweating out a supercross championship that goes down to the wire. That's what we had this year. Most of that sweat came from the pores of Eli Tomac, who was involved in both clashes and probably has a few gray hairs right now after taking two 450 titles down to the wire, enduring the wrath of des Nations fans, and then dealing with Jeffrey Herlings and company over these last two weekends.
Overall? I think you can make an argument for 2017 being the best season we've ever seen. That's not just recency talking, either. I've followed this stuff for a long time, and I'm loath to throw around words like ever easily. But 2017 brought both big-bike titles down to the final laps and it offered the wildest last-lap pass of all time and the most classic of motocross wars: Americans versus Europeans. Top that, 2018. Please. Because this was awesome.
Tune-Ups and Tune-Ins (Kyle Scott)
With the grueling 29-race (30 for those who raced the USGP last weekend) season officially coming to a close, now is the time for the riders to get the rest and relaxation they deserve. Guys are going on vacations abroad, while some are staying home so they can do absolutely nothing—they travel enough throughout the year. As we all know, this sport is brutal and takes a toll on the body. Some have been riding with injuries and are using the off-season to go under the knife to get themselves "tuned up" to get ready for next year.
Jason Anderson had a plate removed from his foot last month—an injury that he sustained at Motocross of Nations last year. Blake Baggett had the torn ligament in his throttle thumb fixed last week from his run-in with Jason Anderson at RedBud this summer. Aaron Plessinger had surgery last week on his right foot to fix a bunion that has been bothering him. He has an external fixator on his foot that doesn't look like too much fun.
Josh Grant, who has been sidelined with a knee injury since Southwick, is back on the bike and is beginning his prep for Monster Cup. Broc Tickle, who has been out with a shoulder injury sustained at RedBud is back on the bike and is doing the same. His bike, however, is not the same. Yesterday he was spotted at Glen Helen on a Red Bull KTM and the team also announced yesterday that he will be joining the team alongside Marvin Musquin. Adam Enticknap, aka "7dueceduece," has been back on the bike for a little over a month after his double collarbone injury sustained on the last lap of the Las Vegas supercross. Ken Roczen, who's been out since Anaheim 2, is slowly getting back to riding as well. He's so amped to get back to riding that he was spinning laps with stitches still in his wrist from a plate and 17 screws that were removed just last month. Roczen will not be racing Monster Cup, but will be doing everything he can to be ready for Anaheim 1 in 2018. It's good to see these guys back riding, "tuning in" their bodies and bikes for the racing to come. The Monster Energy Cup is 36 days away; pick up your tickets now or tune in October 14 for the three 10-lap main events.
This Week in News (Chase Stallo)
Despite it being the "off-season" in the U.S., we had a lot of news come from both sides of the Atlantic this week. First, let's look at some Silly Season news that broke this week.
- Following three seasons, JGR declined to re-sign Justin Barcia after his contract expired at the end of the 2017 season. In a statement thanking the team, Barcia said at this time he does not have an official plan in place for 2018. He'll be one of the biggest names to watch this off-season.
- With Barcia out, it opened a 450 spot on the team, and JGR announced yesterday it was bringing on Justin Bogle, who spent 2017 with the now defunct RCH/Yoshimura Suzuki team. He will join Weston Peick, who is back for a fourth year with the team. JGR has yet to announce its 250 riders for 2018.
- The other member of RCH/Yoshimura Suzuki, Broc Tickle, has also found a landing spot. Tickle will join Marvin Musquin at Red Bull KTM for 2018. The move to orange will also see Tickle begin training with Aldon Baker at the Baker's Factory. Tickle spent five years with RCH.
- With Dylan Ferrandis (wrist) and Benoit Paturel (internal injuries) both out for an extended period of time, France announced today that former MXGP rider Christophe Charlier will represent the three-time defending champions at the Motocross of Nations in MX2. Charlier transitioned to World Enduro after the 2016 season and helped Team France win the 2017 International Six Days Enduro (ISDE) title last week.
- The Monster Energy Cup track map is out
- Justin Brayton is returning to Australia to defend his 2016 SX1 (450) Championship. Brayton is back with Yarriv Konsky's supercross-only outfit. The team also announced that three-time SX2 Australian Supercross Champion Gavin Faith is returning to ride in SX2. Jesse Dobson will be the third member of the team.
The Racer X Maine Event is Right Around the Corner (Chase Stallo)
The Racer X Maine Event, presented by TCX, is an AMA Pro-Am event on September 15-17 at MX207 in Lyman, Maine. With the (still increasing) Loud Fuel Pro Purse (currently at $10,500) and selected All-Star riders to run bibs as the "guys to beat" in their respective classes, this is shaping up to be the race with the most competition, the most track prep, and the best of times. This is the biggest stage in the Northeast to prove yourself and see how you match up against the best of the best, this is the race you need to get to, this is the race that matters.
If you're aren't familiar with MX207, the track that Jimmy Decotis helped make popular with his insane 125 video, then take a lap around the track with Gabe Gutierres.
The Racer X staff will be on-site all weekend with cameras rolling, and we'll be providing coverage across our social media platforms, Racer X Online, and Racer X Illustrated. Information on classes and entry can be found here. See you next weekend.
ISD-Done (Weigandt)
Tough break for Team USA's ISDE (International Six-Day Enduro) effort last week in France. Double tough break for Rockstar Energy Husqvarna Off-road's Thad Duvall, because the wrist he injured in France (on the very first day of the six-day event) not only eliminated Team USA from contention, it will now most likely eliminate him from contention for this year's Amsoil Grand National Cross Country Series title. Thad had been coming on strong at midseason, challenging Kailub Russell and setting up the series' first down-to-the-wire title fight since Russell and Charlie Mullins duked it out to the end in 2013.
This year, Duvall DNF'd the opener with a bent brake disc, then ran a frustrating second to Russell in a series of fantastic battles, before finally breaking through and getting back-to-back wins at rounds six and seven. There was some drama at round nine when Duvall was penalized when a video clip caught him going off course, but he still finished ahead of Russell that day to get the points lead down to just nine. I texted Thad yesterday and he told me he was at the doctor hoping to get good news about the wrist, but today Husqvarna produced an official press release saying he was out for this weekend's GNCC at Unadilla. That's a heartbreaker.
The GNCC world has been waiting for Thad to put together this type of run for a long time. A multi-time youth and amateur champion, everyone knows he has the stuff to challenge Russell weekly, but he's always been beset by some of the most rotten luck ever with bike breaks, and then eventually lost confidence, factory rides, fitness and injuries. When the full-factory Husky team signed him this year, it appeared to be on the up, then his DNF at round one signaled more of the usual. His mid-season form might no longer result in a title, but at least Thad fully knows he's back to the front of the pack.
As for Team USA, Taylor Robert led the boys and won his class, but came up just short of defending the Overall ISDE victory that he scored last year. We'll have more on the ISDE next week, now that the boys are back home and provide some info. Anyway, better luck next year, men!
Racer X Film Fest (Dan Carlson)
There's still over a month until the submission deadline for the 2017 Racer X Film Festival, but trust us, that time will go by in no time. Do yourself a favor and head over to FilmFest.RacerXOnline.com and review the guidelines for submission, download our assets and use them as creatively as possible, and submit your edit.
Submissions Due: October 19 at 2:00 p.m. EDT (Thursday)
Semifinalists Announced: October 26 (Thursday)
Week 1 Semifinalist Voting: October 27 – November 2 (Friday – Thursday)
Week 2 Semifinalist Voting: November 3 – 9 (Friday – Thursday)
Week 3 Semifinalist Voting: November 10 – 16 (Friday – Thursday)
Week 4 Semifinalist Voting: November 17 – 23 (Friday – Thursday)
Finalist Voting: November 24 – 30 (Friday – Thursday)
Winner and Runners-Up for Fan and Panel Announced: December 1 (Friday)
THE WEEK IN PULP (Matthes)
Excuse me while I try to get this out in between vomiting at the AMA's decision to award past 250SX champions permanent two-digit numbers. They're handing out these prestigious honors like Oprah does cars. Anyway, back to the week that was in PulpMX.
We had a PulpMX Show on Monday with 100%'s Charles Castloo in-studio to talk about the USGP and all that went down there. RJ Hampshire joined us to elaborate on his 1-1 ride, how he had a terrible Saturday that turned into something great on Sunday and his sneaky starting gate choice for the second moto. Hampshire could—I repeat COULD—be a breakout guy in 2018 like Jordon Smith this past year.
Then ex-factory star and GP winner-turned-voice of the MXGPs Paul Malin called in from Florida to talk to Hampshire a bit about his win, and then we turned to Paul's thoughts about the USGP. He had JT in the booth with him for the first motos, and I made Paul compare JT's skills to mine when we did the Paris SX together. We then turned to how I think Paul should always, always bring up that he was on Team GB when they broke Team USA's streak at the MXdN in '94. Throughout the show, Malin was listening and texting me his thoughts on different subjects we were talking about, which was helpful when I got Herlings' career GPs wrong, for example.
I also can't believe with all the money in the MXGP paddock that for the most part Paul is stuck calling the MX2, MXGP, and the EMX races all by himself! He's a hero for that, but can we please get him a partner?
Last week we had Jeff "Chicken" Matiasevich and Denny Stephenson in for the PulpMX Show, and before the show started we watched the '92 Vegas SX and bits of Oklahoma '90, and they gave me their thoughts on them. Pure hilarity ensued as Chicken couldn't get enough of Denny's faceplant that he said changed his entire career. You can watch it here.
Austin Root's a privateer hero out there fighting to get off the island, and I had him on the Race Tech Privateer Island to talk about switching from Kawasaki to Husqvarna, using Sprite cans for spacers in his forks at the MXGP of USA, and riding facilities in general, and he seemed like a good kid. Check out the podcast feed for that show.
Head-Scratching Headlines of the Week
"Dennis Rodman Offers to 'Straighten Things Out' Between USA and North Korea" – Sports Illustrated
"Antonio Cromartie's Wife Had His 14th Child - Her Third Since His Vasectomy" – The Big Lead
Hey, Watch It!
Racer X Films: 2018 KX450f and KX250F Dialed In
Random Notes
2017 DV Vet Homecoming
Get ready for a fun-filled weekend at the 27th Annual DC Vet Homecoming, September 16-17 at High Point Raceway. This truly is one of the favorite races we get to put on as a company, other than the High Point National, mainly because we all get to ride the track for the first time all summer! While this weekend is a truly a celebration of Vet riders, there are two different disciplines of racing available. With classes for all ages and bike types, the whole family will get the seat time they have been waiting for all summer.
Gates open on Friday, and camping is encouraged as part of the admission fee for the whole weekend, so bring the family, pack the coolers, and hang out all weekend. Saturday is set for the Grand Prix Moto-X Country race, in which riders test their skills on portions of grass, woods, and part of the motocross track. That's set for two 30-minute motos. While that may sound intimidating, don't let the name fool you—this is truly one of the most fun events around. After the day of racing, there will be off-track entertainment including a $5 BBQ, karaoke, bonfire, and of course some bench racing!
Sunday is all about the Vet riders on the motocross track. Practice begins at 9 am with classes for all ages. Make sure to get there early to get registered. To view the weekend classes, click HERE. Not only is there racing all weekend, but the off-track activities are always a success. We will host all kinds of contests throughout the weekend, but the Vintage bike contests on Sunday are always a hit, so make sure to have your bike ready and available to be displayed by the MX Sports Tents at 11 am Sunday. To view all the Off-track contests and winning prizes, click HERE.
Come join us next weekend as we pay tribute to Dave Coombs Sr., celebrate Vet riders, have a great time with old friends and new friends, and remember how to ride. Visit the event page HERE for details and see you at High Point!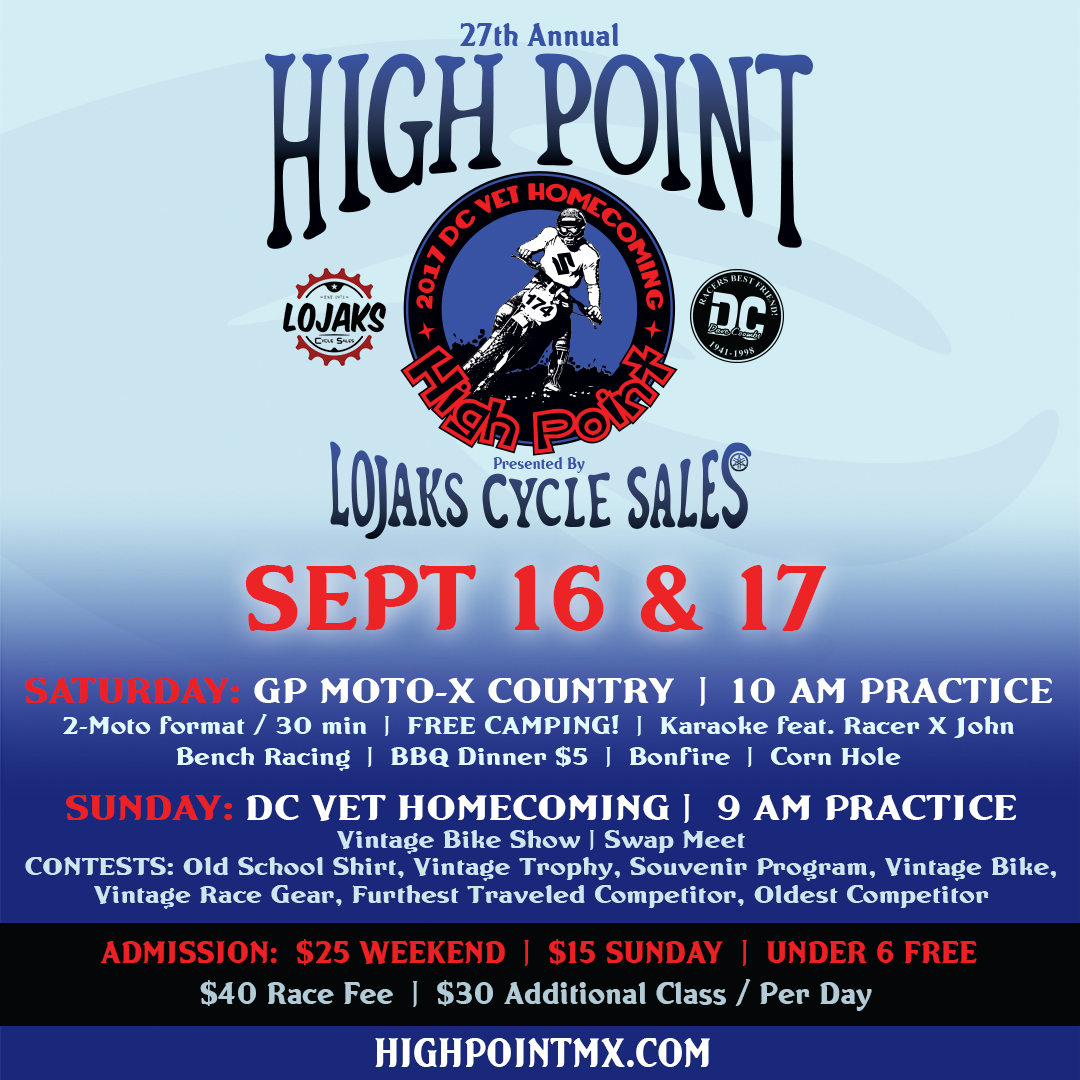 We're Hiring
Want a job in the industry? Here's your chance. Racer X is hiring an online associate editor. See details below.
ABOUT THE JOB
The online associate editor is responsible for the grammar, spelling, and overall technical quality of all writing on Racer X Online. He or she is responsible for posting clean, complete content on the site.
APPLICANT MUST:
Live in or be willing to move to Morgantown, West Virginia, to be a part of our creative team.
Understand journalism and possess clear editing skills. The applicant will proofread and post stories for online publication.
Understand social media. The position will require a strong understanding of Facebook, Twitter, Instagram, and whatever's next.
Be technically proficient. The candidate will be required to maintain a consistent look and feel throughout our web properties. Experience with website maintenance and posting is a plus.
Communicate well. The applicant will be working with a variety of staff writers and outside contributors each day.
Be organized. You will have deadlines all day, every day. You must be able to keep track of what's next.
Be reliable. You've got to come through, whether simply showing up for work on time or nurturing a project successfully from beginning to end.
Be willing to put in the time. A job in this sport is not 9-to-5. If you want a 9-5 job, this isn't the position for you. You will also be required to work multiple weekends throughout the year.
Be cool. Seriously, this is a tough job, but it's pretty amazing at the same time. We all work hard, but we're making something we absolutely love and are proud to be a part of. This position is integral to our business; you will have the opportunity to be creative and be a part of the team, and work directly with Racer X staffers including Davey Coombs, Jason Weigandt, Steve Matthes, David Pingree, and Jason Thomas. The position provides plenty of opportunity, but that opportunity comes with a responsibility to embrace it all. Negativity isn't a plus.
REQUIREMENTS:
College B.A. Degree in Journalism, Public Relations, or Communications is preferred
Proficiency in Microsoft Office Suite
Experience with Adobe Suite and working in the admin panel and CMS of websites is preferred
To apply, please submit the following to: resumes@racerxonline.com.
Résumé
Cover letter explaining why you're the right person for this job
Portfolio, writing examples, links to published work, etc.
We'll be accepting résumés through September 15. Hiring will begin as soon as possible after the submission deadline, and then we get to work.
Thanks for reading Racerhead. See you at the races.