Bogle and Peick: JGR Suzuki's 2018 450 Lineup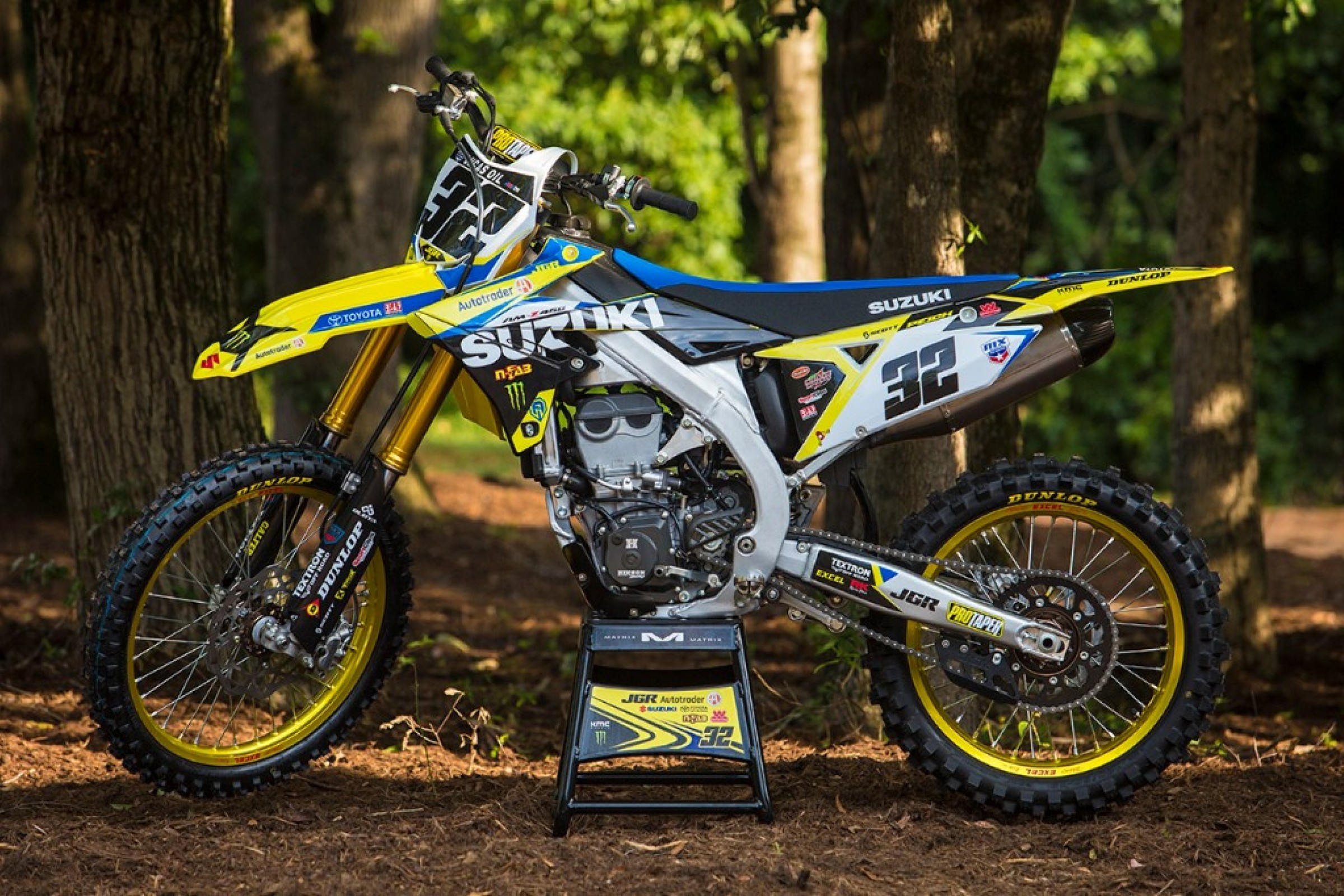 Silly Season news is beginning to drop, and the two riders that most needed to find new homes are the first to announce new deals. Broc Tickle's new Red Bull KTM contract is official, and now Justin Bogle will join the AutoTrader.com/Yoshimura Suzuki Factory Racing Team (Joe Gibbs Racing) for 2018.
Tickle and Bogle rode for the now-defunct RCH/Yoshimura Suzuki team in 2017.
JGR also announced that Weston Peick will return to the team, which he has raced for since 2015. Terms of Bogle or Peick's deals were not disclosed.
Bogle takes the JGR slot held by Justin Barcia for the past three seasons.
"I'm obviously very excited to be on the team, and I'm beyond thankful for the opportunity," Bogle said in a team press release. "It has been a rough couple of years, but things are starting to turn around. I'm very happy with my program, my training, and my personal life. This is all coming together at the perfect time. Truthfully, I wouldn't have been ready for this chance two years ago. As cliché as it sounds, everything happens for a reason. I have learned from my struggles and have grown as a result. I'm excited to be working with an incredible team of people, and I feel good about our chances in 2018."
Bogle, a past 250SX East Region Champion, struggled in Monster Energy Supercross this year, recording just two top 10 finishes and finishing 18th in the final 450SX standings. Late in the season he moved to Florida to begin training at Ricky Carmichael's GOAT Farm. The move started to pay dividends when Bogle won his first-ever Lucas Oil Pro Motocross moto at Thunder Valley in Colorado. In the next-to-last round of the season, he won his first-ever overall, taking 1-3 scores to victory at Budds Creek. Considering Bogle was a free agent at the time, and RCH was shutting its doors, that win is as clutch as they come.
As for Peick, he was in top form during the early rounds of Monster Energy Supercross, going 8-7-5 in the first three rounds until a wrist injury sidelined him at round four. Weston returned for the Lucas Oil Pro Motocross Championship, where he scored top 10 finishes in 14 motos and ended the series in eighth overall.
"I couldn't be happier to sign with JGR again for 2018," said Peick. "They've believed in me for several years. I have the utmost confidence that together we accomplish great things, and I plan on continuing my career with them long past 2018. I'm eager to ride the all-new 2018 Suzuki RM-Z450 and begin testing for the upcoming season."
AutoTrader.com/Yoshimura Suzuki Factory Racing team manager Jeremy Albrecht is elated to have Peick and Bogle under the JGR tent for 2018. "This next season is shaping up to be a great year. Weston has made huge strides since joining the JGR squad. His never-say-die attitude and commitment to his craft embody what JGR is all about." Albrecht said, "Justin Bogle has been a revelation this summer. It's obvious that he has the skills and dedication required to be on the top step of the podium, and I'm confident in his abilities."
When RCH shut down, JGR picked up the role as Suzuki's official factory team for 2018.
"We're excited as a team to join forces with Suzuki. Moving forward, I feel that Weston Peick and Justin Bogle are very important pieces of the puzzle," Albrecht said. "With factory equipment, our team of specialized technicians and the all-new Suzuki RM-Z450, both riders have all the necessary tools to succeed."
JGR has stated it will also host four 250SX riders during Monster Energy Supercross and two 250MX riders in Lucas Oil Pro Motocross. The 250 rider lineup is yet to be announced.
The team of Peick and Bogle will make its debut at the Monster Energy Cup on Oct. 14, in Las Vegas, Nevada.