Well, that didn't take long.
We normally wait until October 1 for team switches to become official, because most riders' contracts run from October 1 through September 30. Deals are signed far in advance of that, so we simply classify them as "rumors." No one will deny it, but you also won't see a photo of the rider with his new bike or a quote about how much he likes it until October 1. Otherwise they risk their final paychecks as a breach of contract.
Unless, of course, the old team no longer exists. That was the case for Broc Tickle and Justin Bogle, who rode for the RCH/Yoshimura Suzuki team this year. In July, that team announced it would no longer be racing in 2018. Suzuki and RCH went through some tough times last December when the team couldn't find new sponsors (both Jimmy John's and Soaring Eagle Casino had moved on) and thus ran short on budget for the upcoming season. Suzuki had already committed to RCH as the primary factory Suzuki team, even closing up the old Yoshimura Suzuki team that was an outgrowth of the old Team Suzuki factory unit. RCH and Suzuki were hitched, so when RCH needed funding, Suzuki went and found it (taking money from the marketing budget of the Suzuki Marine division. Note that RCH's pits featured displays and signage for Suzuki boat engines this year).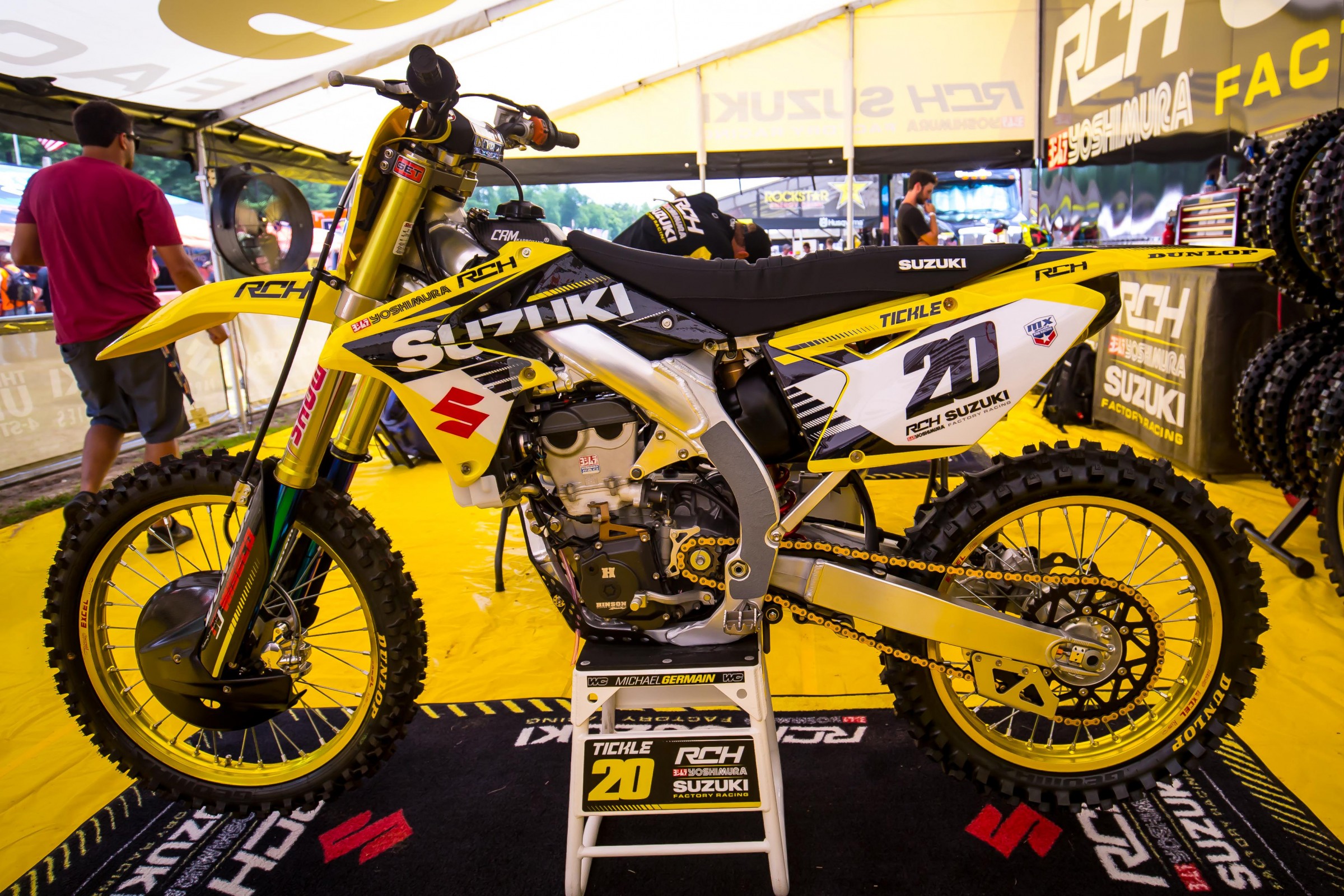 That was a stop-gap, though. Suzuki wasn't going to fund it again for 2018, so RCH's sponsor search continued. To avoid another stressful December, both sides agreed on a much earlier deadline, and when things looked bleak in July, both Suzuki and RCH decided to call it done. RCH didn't want to leave Suzuki hanging, and it also wanted to give its staff time to find new jobs. As for why RCH couldn't find sponsors, well, I've heard numerous stories from numerous sources over there. It started with Jimmy John's making some management changes, and the road got rockier from there.
We'll visit the "teams are in trouble" topic again someday, but let's get back to Tickle and Bogle, who were the recipients of that trouble. Tickle sure landed on his feet. He is, essentially, the replacement for Ryan Dungey. He gets Dungey's bike, and he takes Dungey's spot at Aldon Baker's facility. I talked to Baker about this a few weeks ago at the Ironman National, and he says he told Tickle, "Hey bud, those are some big shoes to fill. You better be committed!"
"I'm especially excited to train at Baker's Factory with Aldon Baker and alongside my new teammate Marvin [Musquin]," said Tickle. "This is the first time in my pro career that I'm in an all-encompassing training program where riding coaching, fitness training and riding alongside some of the fastest guys in the sport are all a part of my daily routine. I really want to take full advantage of everything being offered and show what I believe I am capable of."
"We have always seen a lot of potential in Broc and we look forward to giving him every tool available to our team to be successful and make the most of this opportunity," said Roger DeCoster. "We feel Broc's demeanor and personality both on and off the track are a good fit to be Marvin's teammate and hope they work well both riding and training together.
Red Bull KTM has employed three 450 riders for the last few seasons—Dungey and Trey Canard both announced earlier this year they were retiring. The team decided to stick with just two riders this season. Our guess? The brand is saving its pennies to make a run at someone big in 2019. Cooper Webb's Yamaha contract will be up then—if he doesn't have a good year in '18, you know KTM would love to have a talk with him, as would Red Bull, who backed Webb as an amateur, but lost him when they didn't have a 250 pro team as a landing spot. But anything with Webb is just talk right now. Tickle is the one who is locked in, and he has his best chance ever to put in his best results ever. We'll see how he does.
Justin Barcia was also linked to Red Bull KTM. His old team (JGR Suzuki) wasn't folding like RCH, but he's in need of a reboot. He wanted Dungey's old spot but Red Bull KTM ultimately went with Tickle. Where does Barcia go now? Not back to JGR, because they picked up Bogle in his slot. Most every U.S. 450 team is full, and Barcia really wanted to ride the MXGP of USA over the weekend to show GP teams what he can do. Unfortunately, he struggled. We don't know where he ends up for '18, we were thinking a factory Honda MXGP slot alongside Tim Gajser could be a fit, but we are hearing that spot will go to Brian Bogers. If Barcia couldn't get on at Red Bull KTM, what about Rocky Mountain ATV/MC-WPS-KTM? We know Barcia has a good gear deal with Alpinestars, and that team wears Fly.
Maybe Barcia could have returned to JGR, but Bogle sealed all fate with his Budds Creek victory. His agent, Jimmy Button, had been working the phones hard all summer, pressing on teams how Bogle will step up even further in 2018 with a full off-season at Ricky Carmichael's GOAT Farm. When he won Budds, the improvement seemed clear, plus JGR was looking for a fresh start after three seasons with Barcia filled with more downs than ups.
This is all the circle of motocross life. A team folded, two riders retired, and now one man (Barcia) is in desperate need of a spot. But it's only September, and last year there were even more rider's in Barcia's position. Dean Wilson showed up at Anaheim as a privateer, and ended up with a Rockstar Energy Husqvarna ride. Still much more to come in this off-season.