Insiders are buzzing that Hunter Lawrence, a member of Suzuki's factory MX2 team in Europe, could lead Australia back to prominence on the world stage. He's had ups and downs during his rookie MX2 season, but showed great form in Sunday's MXGP of USA in Jacksonville, Florida, nearly chasing down RJ Hampshire for the second-moto win. His 3-2 scores for second overall marked his best performance of the year.
But what comes next? He's contracted to return to the MXGPs in 2018, but will we see Lawrence in the U.S. sometime in the future, following in the path of Chad Reed? Steve Matthes talked to him after the race to find out.
Racer X: Nice job today. Your second moto, man, what did you find about halfway? I don't know if it was endurance, or lines, or your bike, or whatever but man, did you find something in that second half of that second moto?
Hunter Lawrence: Yeah, I think I just had faith in my training and my buildup. I recovered well after the first moto and did what I needed to do. Then just ride on Australian pride and Australian heart and just ride it out. It's only hurting then and after, now I feel fine. Just pulled myself through some pain and just pushed through.
[RJ] Hampshire told me he didn't know if he had one more lap in him. He was that tired.
I'm the same. People were saying, "One more lap, maybe we would have had him," but one more lap is a whole other thing. We're both done. I don't know if I had much energy to make a pass. He was riding really good today. The first 15, 20 minutes he was gone. He'd get in there, make the passes, get in the lead and then he was gone. But I'm happy.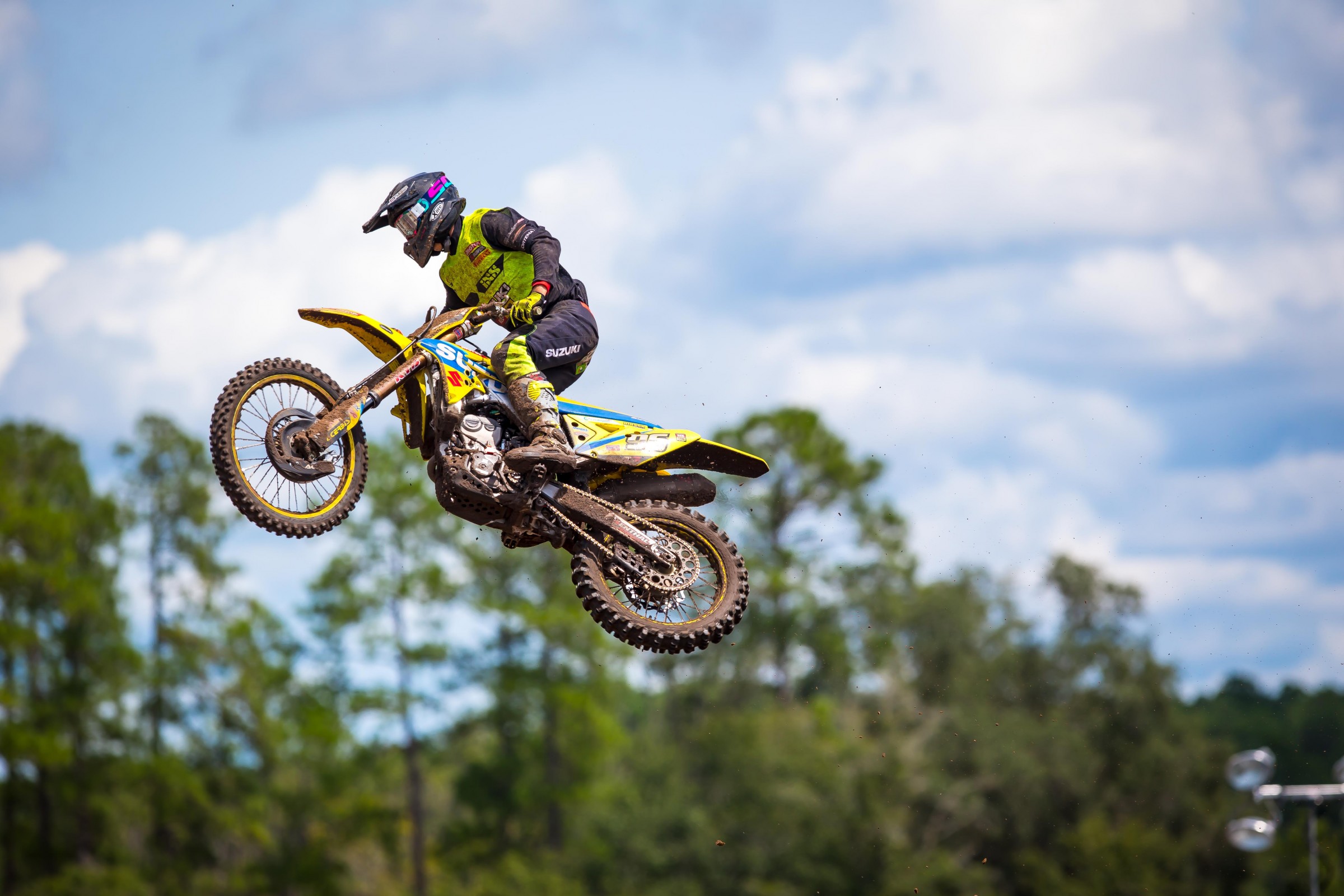 It helped you had [Jeremy] Seewer, your teammate, was pushing you the whole time.
Yeah, for sure. I was pushing regardless to try and catch him. For sure, it's probably a good thing that he was there pushing me along. But it's cool.
What'd you think of the track here?
Yeah, really cool. Quite skinny and stuff, but such a beautiful place. Really nice dirt and stuff like that, but for sure some big jumps. Really big jumps.
That one table top in the middle, guys were pulling it.
Yeah, exactly. I couldn't make it on Saturday when it was a bit soft, only today when it dried up. So, a lot of jumps were big. Finish line. There were a lot of jumps that were big. Really physically demanding. Really high-speed. Not overly rough but quite bumpy, enough to take it out of you. And the humidity … we don't have any humidity in Europe like this, or Belgium.
This is your career-best, second overall? You got a third overall earlier I think. This was the best?
No, I got second overall in Germany early on in the year, but I went 4-3 for that. This is my best moto finishes with 3-2, so I'm happy. Always progressing. We'll keep working and be better next weekend and the weekend after that.
Overall your season, you've been happy with it?
Yes and no. For sure if you're not making mistakes or failing you're not learning. It's a rookie season. It's part of learning. I take it how it is. I'm getting just ready for next year. I want to be a top guy next year, so I'm working for that with knowledge and experience and everything.
Did you talk to Byrner [Michael Byrne] or Chad [Reed] at all today? Did you get a chance to do that?
No, not with Chad. I didn't see him. But yeah, Byrner, I had a chat with him and stuff. It's cool to meet those guys. They're the guys I looked up to as a kid, so to meet them, that's really cool.
I guess they were gone by the time you got racing, right? Or were they still racing down there?
Yeah, I missed them in Australia, but obviously I didn't get serious with racing until I was 10 or something. Then Chad was in America at that time I think, and he was killing it there. Byrner was in Europe. [Brett] Metcalfe had been in Canada also racing. But it's cool. Those guys sort of set the path to overseas races. If we didn't have Chad and those guys, we wouldn't go to Europe and try to do what we need to do there.
Or even Andrew McFarlane, he opened it up.
Exactly. They all went to Europe and then from Europe they went to America. That's I think the best route.
That's my next question. Do you want to come to America?
Yeah, for sure. I like it here. It's a lot easier than Europe as far as living goes. The weather is good. No language barrier. But you never know what the future holds. I'm still in Europe next year and working away to be hopefully … that's what we're working for, is world champ. We'll see.
Stefan Everts, legendary GP rider. What's he like as an owner/manager?
Yeah, for sure. He's good. He runs an impressive workshop. Experience, 10 world titles—the guy's got experience as far as the eye can see. It's good. Even on days that you're not 100 percent sure on what decision to make he can be there and he has his input. Even on the days that you don't need that input from him, he still has his and you might go, "Oh, that's also good." But it's good information.