Jacksonville, FL
MXGP of USA
FIM Motocross World Championship
Gautier Paulin | Rockstar Energy Husqvarna | 20-4 for 11th in MXGP
Racer X: First of all, yesterday [Saturday] you and [Justin] Barcia come together. Good crash. First moto today, good crash. But second moto you redeemed yourself. A nice ride in the second moto. I guess it's nice to end it on a highlight.
Gautier Paulin: Yeah, sure. Obviously, I was feeling really good and then in the quali race there was a yellow flag one lap, and then the second lap there was a yellow flag still and there was the medical flag, so I didn't jump and then Justin just landed on me. Lucky that he just landed on my bike and that I lost totally my bike, not on my back. But eighth on the gate was good for today. In first moto, two big crashes actually again. On the quad, everybody was making the quad outside and I was making the quad on the inside and feeling good. I did it three laps in a row. The fourth one I just hit it on the same spot, but I don't know if that spot after three laps was getting softer. Then I just pinned the bike in the dirt. I didn't feel it, actually. I just went over the bars badly. This makes me blurry. I was feeling really strange after it and I was riding. Then I stalled the bike and I didn't recover from that one. I didn't hit my head, nothing, just I don't know. It surprised me so bad! Then after on the ramp of that jump I was like, the well the foot peg was actually good, on the good spots. Like if you are taking a whoop section, but then the lower part of the anchor in the rut that pushed me off. Then I lost the bike. Then, whoa, it was a huge, huge crash.
That's the one I saw. I didn't know about the quad one.
This is the one you saw. This is lucky that I walk away from that one. Before to crash on the quad, I was like fifth around that spot. Then on the quad when I had that big crash and I destroyed the bike. I don't destroy myself … I'm really happy about that. I went in the pit to see if we could do something on it was catching on the shrouds and stuff was really bent. There was nothing to do. Then I finished the moto just to get any points, the most points I could. So, I get one point. This is how it is. Second moto I had a good start, but I was feeling pretty empty from those two crashes. I feel that [Antonio] Cairoli and [Jeffrey] Herlings were faster. Tomac in the second moto wasn't much more fast than me. I thought I could keep up with him, but I was really empty from those crashes. Ended up fourth. I feel happy that I'm in shape. I'm healthy and looking forward to the next one.
Outside of Thailand, you guys don't have this kind of heat and humidity really, right?
Yeah, we do not have it. It's surprising me because yesterday when I was riding I didn't feel hot. I just felt sweating. This today was a bit more warm, so in first moto, yeah. You don't want to mess up with crashing and stuff, and this is all I did. So, you could see there is some riders getting overheated with no crash, and two huge ones, whoa. So, I got overheated in that second moto. It was really much more hot and a lot of humidity. We don't have this in Europe, except Thailand. I would say Thailand was a little bit more. Thailand was also much more small the track, so you know you're turning around, making a lot of laps. Here was bigger and stuff. But definitely I think we can get used to it, but we need more of those races.
What did you think of the track overall? This was the first time Americans have raced here really too. So what did you think?
I would say that the track was good, but when I see the outdoors I think in the U.S. that it's better. This is what I think.
I think so too. It was tough to see a lot of passing. Guys were pinned and there wasn't a lot going on besides a few passes. I don't know if it was a track reason or if it wasn't rough enough. It didn't offer up great racing.
Yeah, I think the rain has been good for this because if there wasn't any rain [the track] could have been worse with the lines. Just some places was a little too wet, and actually didn't dry out today, even with the sunshine. When I was going off line, sometimes you could win time but sometimes you could get a bit stuck, like a sand GP. If you don't keep on rhythm, keep on that momentum, then you can just easy—by a small mistake—lose two seconds. This was the deal today with that track, so it was pretty tough. Track was good. I think the jumps were big.
The jumps were really big.
There was a few quads, like two which were huge. But I think it was a little bit too heavy. I've been trying to make some different ruts for second moto, but that didn't change so much. But when I see tracks like Washougal or anything….
Red Bud, Indiana…
Yeah, RedBud, it makes me dream more for sure.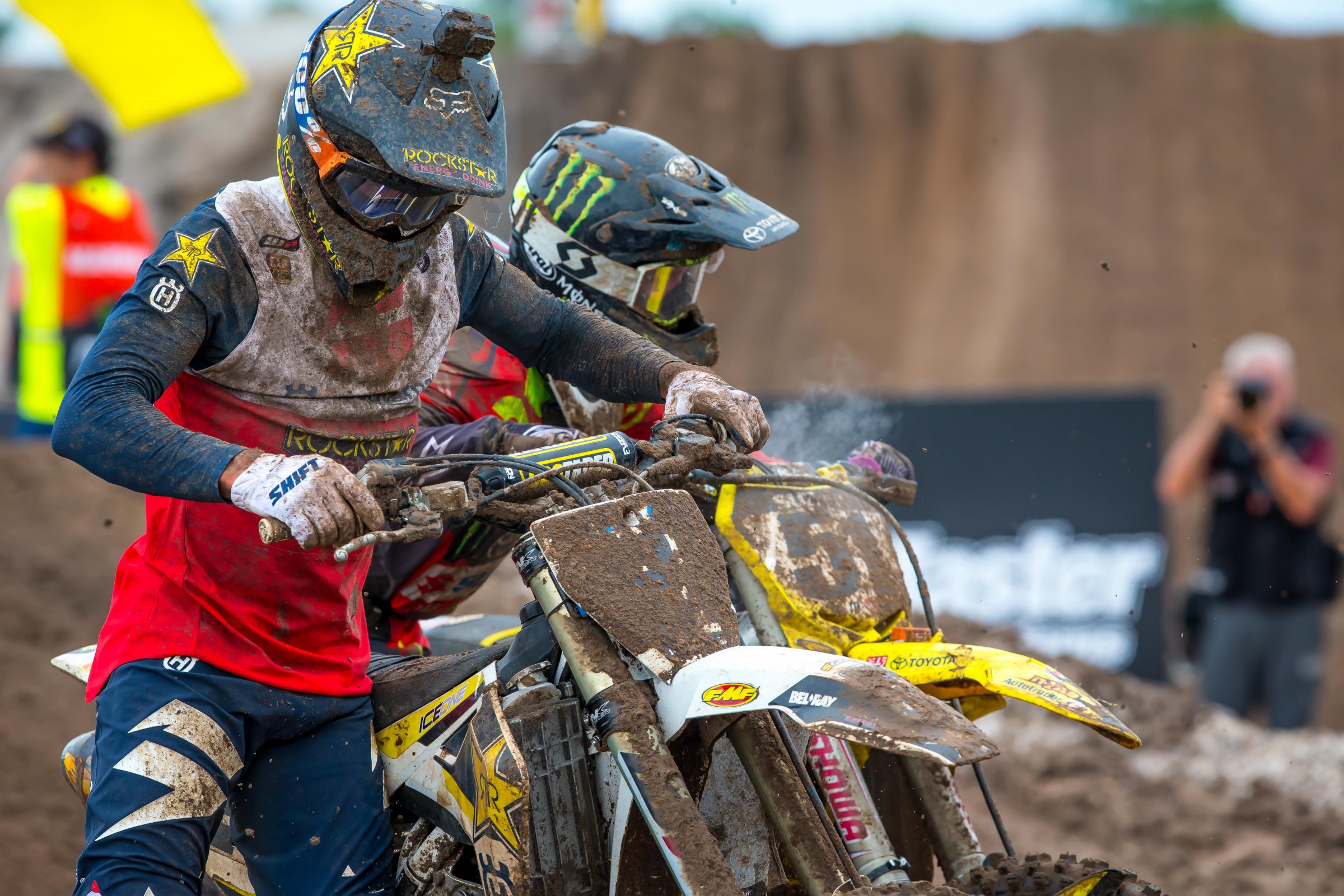 You're a veteran of the GPs, so I don't know how your relationship is with Herlings. He came over to Indiana. He won. Are you proud of that fact? Do you like the fact? I think it opened a lot of American fans' eyes. Not mine or media guys, but fans don't know much about you guys. So, Herlings comes over, he wins. It makes I think all of you guys look a little better. Do you agree? Do you care? Does it matter to you?
Of course it matters. When Jeffrey did good it's not that I'm super happy, but we always talk about USA and Europe and blah, blah, blah but I think in the USA there are many good riders, excellent riders. I think in Europe, too. So, if we come over is a possibility to win. If they come over, there is a possibility to win too. This is my opinion. I think what he did … any riders that are pushing to put the level higher, I like it. Otherwise I wouldn't be racing. So for sure I like it. I like to bring the limit higher and to push myself. I can see a few things we need to do that we are working on right now. It makes the level higher. So, I think it's excellent for sure. When you don't have this mentality, then there is no way you need to keep on racing.
French MX2 spot for the Motocross of Nations. [Dylan] Ferrandis out, [Benoit] Paturel out. What are you guys going to do?
I don't know. I just mentioned this on an interview that I feel bad with Ferrandis because we won in Latvia and he could never ride that 1, 2, 3 plate [Ferrandis was picked for team the following year after winning the event, but got hurt]. So, I feel really bad about it. Paturel hurt himself really bad also at the training, so feeling bad to see buddies hurt. It's not good for our sport. It's not good for our team, but now French Federation has some names on the list. I suggest also a few athletes. We will see. It's not decided yet, because in 250 you need to have a good athlete but you need to have a good bike, too. It's really important, so you cannot rush it and make it last-minute. So, we will see. It's not decided yet.
How about you on the small bike, [David] Vuillemin on the big bike?
First of all, what about me? I never ride Motocross of Nations in 250.
There we go! You always ride good at that race. You'll be all right.
And then about DV, I need to call him and see. I think since '09 I think he rode only once on a motocross bike, not any more. This is a big deal. But you've got some good imagination.
---
Kevin Strijbos | Team Suzuki World MXGP | 33-5 for 12th overall in MXGP
Racer X: Nice second moto, man. You had to have been pumped. Trying to get by Paulin for a little bit there. You had to have been happy with that.
Kevin Strijbos: Yeah, for sure. We did really good. We had a problem on the bike first moto. Then first time a good start this season, so I was happy with that. I knew I still had the speed, but if you come every time from the back from 20, 25, it's not so easy to come back to the top 10. Now I got a good start, so I was happy. Tomac passed me. He was quite fast in the beginning. The pace in the beginning was really fast. I'm not used to it, so I had to back it off a little bit like halfway. Got a bit tired, but then I think I got a decent speed to ride all moto. Really happy with fifth place.
What'd you think of the place overall?
I think the place is good, especially for the first year. Maybe a bit too many jumps, a bit too steep somewhere.
The table top had like a freestyle kicker on it.
Yeah, for sure. So it's quite sketchy and with the heat, then you get more tired and it's always getting a bit more dangerous. But it is what it is. I think they did a good job for the first year. Hopefully we can come back here next year.
It's one of those tracks, Americans haven't ridden on it either, so nobody really knew. I had Eli Tomac tell me that it wasn't that rough. RJ Hampshire said it was the roughest track of the year. So, where do you stand on this?
To me, it wasn't rough. It was quite flat. I think the second moto was getting a bit bumpy somewhere. But I think it also has to do a little bit with the rain they had yesterday because every time they flat the corners in tracks, so if the weather was good I think the track should be a lot better.
As far as America having a MXGP, did you like it? Do you like coming here? We've been to Glen Helen. We've been to Charlotte. Come here. What do you think about that?
For sure. I think it's the World Championship and we have to go everywhere. I think here is good. If we have to go Indonesia, it's quite a bit different and difficult, but here everything is cool. I really like to come here. I did a few races back in 2013. So, I feel good here. I made some friends here. So, that's always good to see them.
I don't know if you like Herlings or not, but when he comes to Indiana and goes 1-1, he wins today … you're a veteran of this series. Does it make you feel good to be like, hey, American fans, we're really fast, too? Or does it even matter to you?
It doesn't matter to me too much. I know it's different if you do all season here or just do one race here. But anyway, I was quite surprised. I was quite impressed. Normally I'm not that quick impressed with something, but like he did last week the second moto, he crashed, okay. Marvin [Musquin] made a crash, too, but he [Herlings] still won it. So that was quite impressive. I think he got some respect here [in the U.S.]. That's always nice.
Last thing, I can't believe you're not on Team Belgium. You've ridden there [Motocross of Nations]. Look, it's a strong team. It's a good team. But you've done really well at that event. You guys are seemingly always on the podium, if not number one. How do you feel about that?
It's okay. I would like to go there for my country, but it is what it is. They don't have a bad team. I think just maybe if they all can stay on the bike, it's good. I think that's going to be the main thing. I think if that happens they have a shot for the podium and the win. But anyway, I always did good on des Nations. Always looking forward to it. Normally they say it's a lot of stress, but to me it was not. It was just I have to go out there, go for my country. I always did well. I always tried to do well. Always tried to give all what I had. Maybe next year. I try to do one more year next year, and then maybe next year I can go again.