Jacksonville, FL
MXGP of USA
FIM Motocross World Championship
The Tomac/Herlings rematch after last weekend's Ironman National, where Jeffrey Herlings went 1-1 while Tomac crashed, and then had to consider his own U.S. championship scenario, was much hyped for the MXGP of USA at WW Ranch in Jacksonville, Florida. But Tomac looked out of sorts early at the GP, struggling in Saturday's practice and qualification race.
The Monster Energy Kawasaki team made huge bike changes overnight, and Tomac was a completely different rider, taking the first moto win to extend his GP win streak (dating back to last year) to five. In moto two, though, Herlings and MXGP points leader Antonio Cairoli had an edge on him, and they got away.
It was a much better Sunday than Saturday, but ultimately not a win, either. Our Steve Matthes talked to Eli after the event.
Racer X: Your USGP win streak ended at five motos.
Eli Tomac: [Laughs] Hey, we have a pretty good record. Five to one right now on the W to L.
I don't want to make excuses for you, but I feel like if you had gotten Herlings' start in the first moto, he might have done what you did. You didn't get the start in the second moto, and lost touch with those guys. Do you think that's accurate?
It's accurate, but they still had a little bit of something on me in the second one, to be straight up honest. They were doing the big quad in the back. I was sitting there like bug-eyed when I saw that. Then the next camel hump I saw Tony [Cairoli] launching it. They were pinning it. I didn't quite have the juice in the tank that I wanted, that I had in the first moto. I felt like I was just a little bit off in that second one—I definitely was.
Was the track a lot rougher from the first moto?
It was more broke down. Nothing crazy, crazy more, but it beat me up a little bit more. Man, one thing that was gnarly was the ramps. They made the ramps really steep. I wasn't a huge fan of that.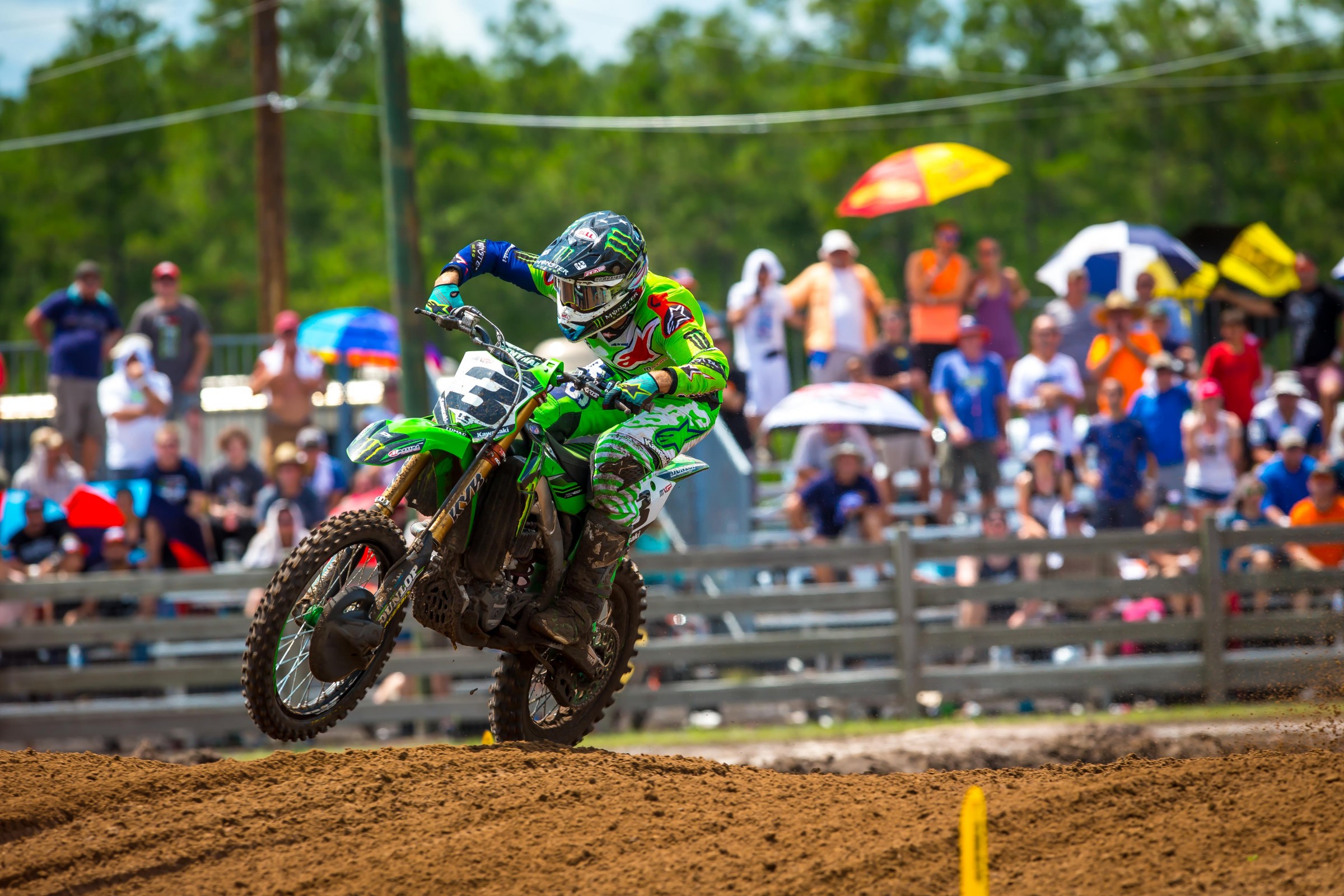 I feel like they built one of them three feet higher for the second moto.
They were like freestyle triple ramps.
You're obviously in fantastic shape and as are they, I wonder in the first moto if both of them maybe the last five, seven minutes were like, "Hey, we got another moto," and you were like, "I'm killing these guys."
I think they did do that. They saved some for the second one. Jeffrey [Herlings] actually mentioned that. He said he saw me out there 12 seconds ahead and he's like, eh, likelihood of closing it isn't that much. So for me, I was just pinning it for the way qualifying went the day before. I was kind of a disaster. I just wanted to get a win.
What changed?
I just went back to kind of a Southwick setup. It was a lot more sandy than I thought. When I went that direction I got my comfort. Just found some comfort.
So really, were you far off it then going in, from a Southwick setup? It was a radical change?
Yeah, pretty radical. I would say pretty big for us, yeah.
What about my advice this morning about not burying it in the turns? I looked like a genius after moto one.
[Laughs] Maybe that was a good tip. It honestly was kind of like Southwick. It has a base here, but then the turns get sand built up and you can bury it too much if you do knife in there. So, got to stay smooth. You can learn a lot from these guys. It's cool to ride with them.
I guess when you were stuck behind Paulin a little bit you were like, they're getting away. Having a do-over, maybe you ran in there a little bit harder on Paulin sooner?
Yeah. That never helps when you get that two or second gap and then when they're battling, hey, maybe I could have closed up on some lines I didn't see. So, that did hurt us.
RJ Hampshire said this was the roughest track of the year. Chase Sexton said it was the roughest track of the year, including the Nationals. What do you think?
I don't know. No, no way. Not compared to Southwick. I would say Southwick had it covered. I think they feel like it's the roughest track because they raced two days in a row.
Starting grate, what'd you think?
I love it.
It's supposed to be in supercross next year.
At first I didn't like the idea of it because I thought it would take away some advantages and it would kind of create a sketchy first turn. I thought there would be more guys bunched up, but that doesn't happen. So, I like it. When it's a normal dirt start, it's so inconsistent. So, I don't know. You can say that's motocross, but I'm not a fan of it when they leave it blue groove and bone dry and it's just totally roached out. So the grate, I think it's okay.