Jacksonville, FL
MXGP of USA
FIM Motocross World Championship
With eight World Championships to his name—the racer from Sicily, Italy, has five MX1, one MXGP, and two MX2 World Championships—only one rider in the 60-year history of FIM Motocross World Championship has more, and that man is Stefan Everts. All of us who are true fans of the sport on a global level, know that Antonio Cairoli is still going very strong. So strong that the 31-year-old Red Bull KTM rider is having one of the best seasons of his prolific 13-year career.
Counting this weekend's Monster Energy MXGP of USA, there are only three Grands Prix to be run in the 2017 MXGP season, and Cairoli has a 101-point lead. To most insiders it's a matter of time before the Italian posts up title number nine. Even so, and as you're about to read about, Cairoli is in no great hurry to hop off the fast-moving train that is his contemporary motocross program. In fact, the man appears to be as inspired and motivated as ever.
Yesterday, Racer X was able to spend a bit of time with a racer who is every bit the equal of the greatest of all-time—and that means the greatest from both sides of the Atlantic Ocean.
Racer X: During my travels in this sport I've never really had the pleasure of being able to speak with you, so thanks for taking the time to do this interview with us.
Antonio Cairoli: Okay. Perfect. No problem.
So you're now in Florida?
Yes. I'm already in Jacksonville. Today [Thursday] we will just take some time off and tomorrow we will go check out the track. I haven't been out to the track yet, but I have seen some images and it looks great. It looks on the sandy-side, so hopefully it will be fun to ride. It's always fun to ride a new track, so hopefully it will be a nice one.
Going back to the 2010 MX1 World Championship round that ran at Glen Helen Raceway in San Bernardino, California, a race you won, you've done well competing here in America. Do you like coming here to compete?
Yeah, for sure. I really like to come to the USA. I love Italy and all, but competing in the sport here is always a pleasure. And also, there is a chance for me to clinch the championship. It would be nice for me to complete the championship here. I'll be looking around for a podium, for sure, but I also want to stay healthy.
To your point, you have a 101-point lead in what could ultimately be your ninth World Championship. It would be nice to head back home to Europe with the title already taken care of, wouldn't it?
For sure. It would be very nice. Like I said, I will do my best to do a good race, but you know when you're in this position, it's always difficult to risk something extra. Obviously, I have a lot of points and a big advantage, but it is safe to say that I will do my best to be on the podium, and is possible, to fight for a win. That's for sure and that's how I always race. It would be nice, though, to end the season and be able to relax after a good year.
I know a number of American fans will want to hear your answer to this question: Were you able to watch or get a glimpse of Jeffrey Herlings' race last Saturday at the Ironman National in Indiana?
Yeah, I was able to see some of it. For sure everybody knows that he is a very good rider, you know? He's won championships in the MX2 class and he moved to the MX1 class and he's been great. For sure, Jeffrey doesn't ride for that championship and I know Eli [Tomac] and Marvin [Musquin] were fighting for the championship. It was a nice race for Jeffrey. I was hoping that Marvin would get the title because he had done a very, very amazing season. It is normal that when you arrive at the last race like Marvin and Eli did, you're a little bit careful in some parts of the race and you need to think about the championship, not about a single race.
It's an obvious question, but would winning the Monster Energy MXGP of USA on Sunday mean a lot to you? And what I mean by that is it will be the one time of the year where America's best, particularly Eli Tomac, will line up against the best Grand Prix riders. In a way, the USGP victory gives the winning rider the opportunity to say that, on that given day, he is the very best in the world.
Ah, yes, it's always nice to win the USGP. I have done it in the past already, but it's always nice to receive the USGP trophy. There has always been a rivalry between Europe and the U.S., but we are all fans of the sport and we are all fans of the good riders, so it's one world and it's just nice to race against the best of both sides.
Another obvious question, but I'm going to ask it anyway: Who do you see competing with this weekend?
Yeah, it'll be a very, very nice race, for sure. You have the fastest riders in America at the moment that will be racing, and we've had some great battles over in Europe at the last few races, so I think the race will be very exciting and it will be great for the American fans to come and check it out.
When Ryan Dungey retired after winning the Monster Energy Supercross Championship, were you surprised? You're in your 13th season and Ryan's career ran for 11 years, so your careers have ran pretty parallel to each other. Much like you, he raced for a number of years and was very successful.
Yeah, I was surprised. I have a lot of respect for Ryan because he was always there and working hard and very competitive for a long time. It is kind of similar to my situation. I really respect that. But, yeah, for sure he surprised a lot of people with his decision, but I had already heard something that he might stop racing, but I didn't think he would do it so quickly. Everybody is different and everybody decides what they want to do with their career, so everybody has to respect his decision. If he is happy with his decision, everybody should be okay with it.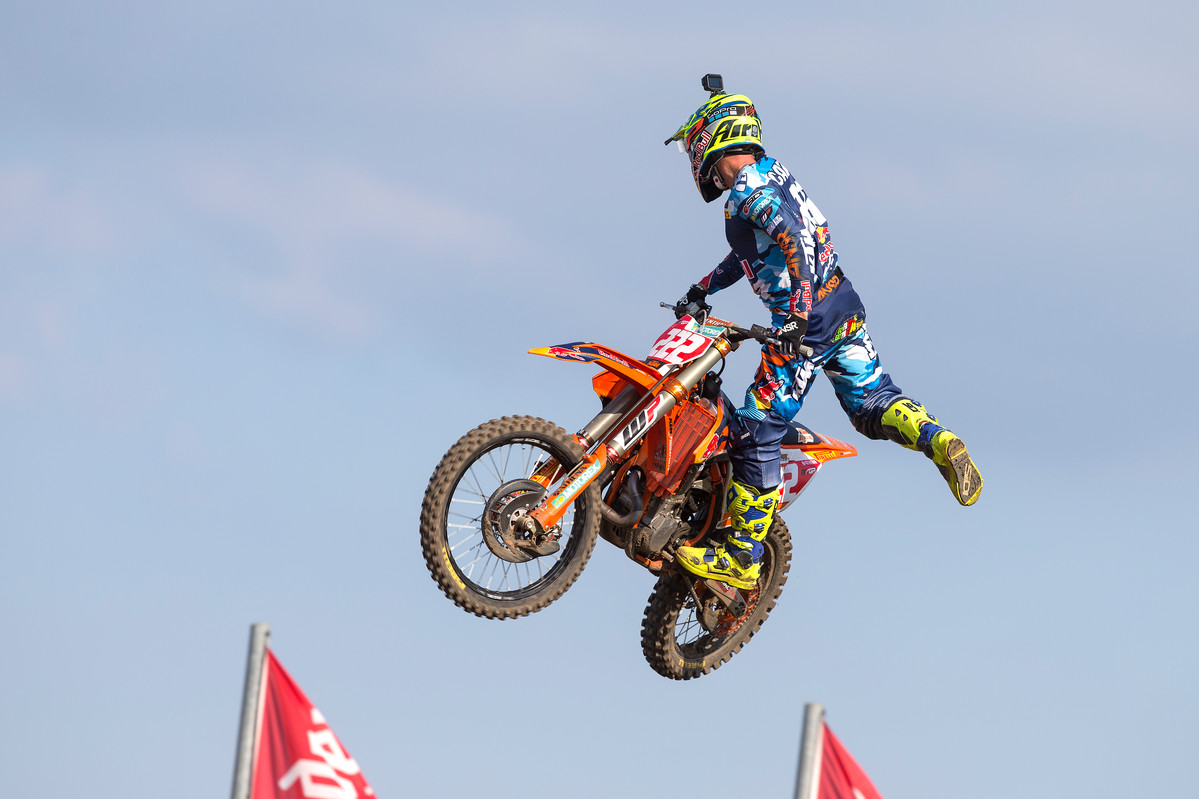 Being such a veteran of the sport, does the travel and all the testing and training and racing ever get a little bit old or boring, or do you still really enjoy it all?
Yeah, after so many years, compared with some of the young guys who have only been racing for a few years, it's difficult now to keep the same motivation, especially during the training the week. It's difficult, but I have a lot of patience for the sport and I think there are still some more years where I can improve myself with some different things. I think this year, for me, was one of my best years so I really, really enjoy riding at the moment.
Is it as enjoyable to win in 2017 as it was during the first few years of your career? Or, is it even more enjoyable because you're now an older rider?
Yes, it's really enjoyable and I really like it and this year I can say that I have a lot of satisfaction with winning because a lot of people talked about the injuries I had last season and said I'm riding just for the money. When you start the season like I did this year and now that I've done a really good job, for sure it's very nice to surprise a lot of people. This gives you a lot of pleasure.
And the Motocross World Championship record book, only Stefan Everts has more titles than you. Does trying to reach or match those records help inspire and motivate you? Does the opportunity of having the greatest MXGP career of all-time mean a lot to you?
It's never been a priority for me to chase numbers, so like I said, as long as I enjoy riding and racing, I'll keep racing until I am able to fight for the titles, I will keep pushing. Then, when I stop racing, I will count. But I'm not really looking at numbers at the moment.