Crawfordsville, IN
Ironman
Lucas Oil AMA Pro Motocross Championship
Only 13 riders were able to line up on the gate for every single Lucas Oil Pro Motocross 450 Class moto this year. Among those 13 riders are some familiar names like Eli Tomac, Blake Baggett, and Marvin Musquin. But if you scroll down the list of championship standings you get to Ronnie Stewart in 30th place. While running his own team, Stewart made it to and qualified for every moto this summer, and on top of that he scored points in nine motos. Not a bad year for the rider/team manager.
Stewart is also slated to compete in the Racer X Maine Event presented by TCX on September 15-17 at MX207 in Lyman, Maine, to hopefully grab a portion of the large $10,500 pro purse. We called up Stewart to get a recap of his season, his plans for next year, and find out more about his plans for the Racer X Maine Event.
Racer X: Let's start off with the motocross season. You made every race this year, which is pretty good. Not many guys can say they did that. How's it feel for you?
Ronnie Stewart: Making it to all 29 [supercross and motocross] races has personally been great for me. It feels great. I would say there are probably only a handful of others that did it, so it's a good feeling.
Did you meet your expectations or were you kind of hoping for more?
I am happy with my results and how the season went. As a racer, you always want to do better. You're never satisfied. But for me, supercross compared to outdoors I was able to progress and be finishing where I thought I should be. I had a handful of top 20 overalls and some really good rides this summer. So, overall I'm pleased with my performance this season.
Are you feeling a little burnt out after going to all the races and managing your own program and everything?
It's weird because I really enjoyed the season. I love what I get to do, but going so hard for so long does really wear you out. I definitely do need a deep battery charge for sure. Even though it was awesome, I'm still looking forward to a little bit of a break.
Were there any points in the season where it was a real struggle for you to keep going?
I would say halfway through supercross we were doing a lot of traveling. The series kind of gets a little wild there towards the tail end of the season. That was a little bit of a struggle. There was a lot going on logistically. But then going into outdoors, things settled down. I would say about halfway through outdoors I started to really feel taxed again. That only lasted a few weeks there, then I was able to have strong rides more towards the end of the season again. I would say just kind of the economy. It's kind of waves. It goes up a little bit and then down a little bit, and then up … it's unrealistic and it's not possible to just go at a high level, wide open the whole time. It kind of has to go up and down a little bit for you to be able to make it.
Getting into this Racer X Maine Event race, how did you find out about it?
I knew about it through Danny [Stuart], but I've also been seeing a lot of the promotions that he's doing. I think it's going to be an awesome event. I'm really excited to be a part of it. I feel like it's our duty as an advocate for the sport to be there and to help promote a local track that's trying to do a lot of good for the motocross community. A couple weeks ago I was doing a riding school in southern Pennsylvania and I was talking to the kids about that. It's up to all of us in order to make this sport better for the media, for the photographers, for the teams, the riders, the mechanics, everybody. It's up to all of us to help promote it and be and advocate for it.
We have a lot going on trying to prepare for next year, but as far as the weekends go, I'm definitely thrilled to jump on an opportunity to kind of help promote a local track, help promote the sport a little bit. I'm looking forward to it and having some fun racing at a more low-key race where there's not so much going on and so much pressure. It's just for fun, so it should be nice.
These races are obviously important for the local guys, but even for a pro as yourself, there's money to be won at these types of races. Can you talk a little bit about that and how important these kinds of races are to your program?
Absolutely. There's a significant purse [$10,500 for the Maine Event's pro purse as of Thursday. The purse could get bigger.] and it really goes a long way. If you're not on a factory team where you have a multi-year contract, whenever you're finished with the last race, there's no more money coming in each week. So, to be able to go to these more regional races and actually make more than what you can make at a lot of these pro races, it's pretty cool. It's important. You see a lot of guys that aren't signed on the teams. They hustle around the country with races like the Maine Event, Kawasaki Race of Champions. There are a few of them down in Texas. So, people do travel. I heard that there's going to be a couple guys from all around the East Coast coming up. It's going to be fun.
Are you riding your race bike? I heard you might be riding a 250?
I am going to be riding my race bike. I don't have a 250, so I might end up trying to find a 250 [four-stroke] or a 125. I'm not sure at the moment, but definitely 450 class with my race bike.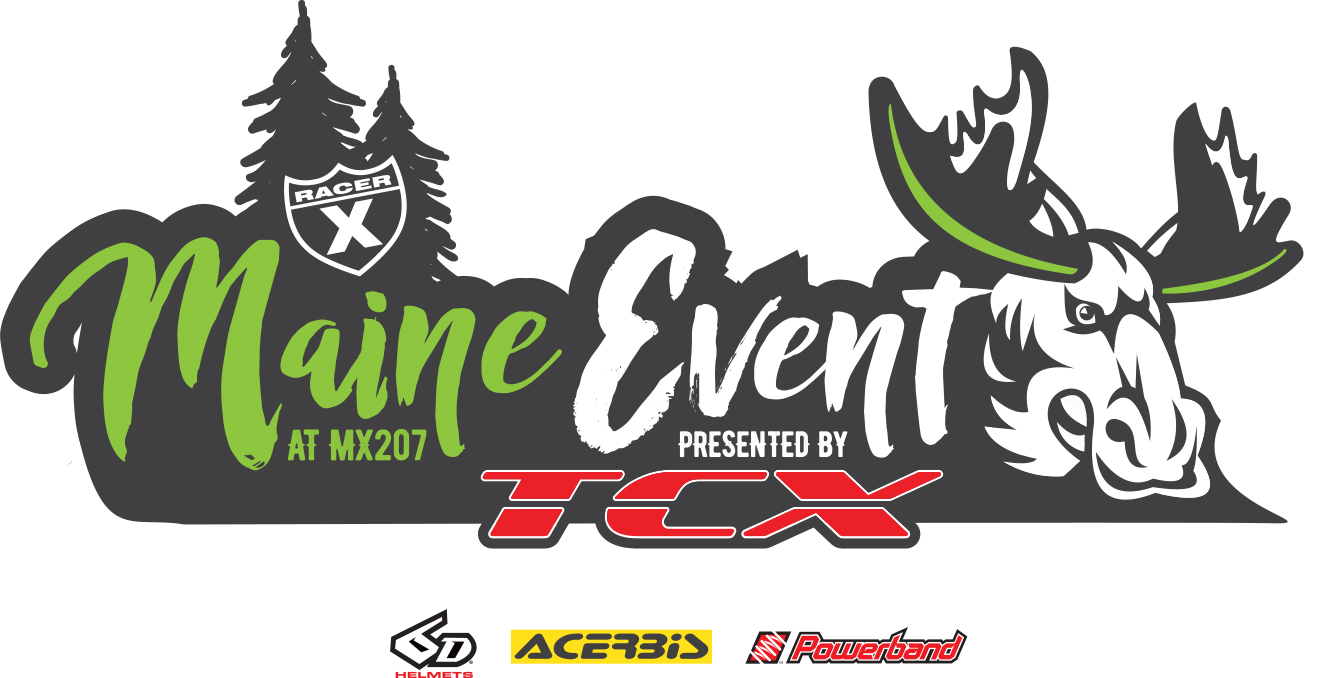 So, you're thinking 450 for the pro purse and then maybe a 125 for more of a fun race?
Correct. I was thinking about actually buying a 250. We had an activation bike that we used all year out on display. I was thinking about buying it just for this race, and also maybe for some others. It will give me more of an excuse. That's something the past couple years that has deterred me from doing too many local regional events is that I don't have a 250, and that puts the pressure on making money. It makes it that much harder because you have two shots. Local races you get paid by the moto, and it's a great purse, but I'm only going to be in the purse for two motos, both 450 motos. So, I'd better finish first, second or third, or else it's not really going to be worth it. But then if you race 250 and 450 then it's better because you race one or two classes that, depending on how you do, will pay for your travel and all of your fees. Then in the next couple motos, that's when you can pocket your money. You could still do well at these big races with two motos, but you have to really make it count. Also, you don't have as much track time, so it makes it a little bit more tough too because the track changes. It's not like a National where you're more in tune, you're doing a lot of laps, you get a sight lap. At a local race you go up, boom, the gate drops and you just go out and it's a quick race. Although I think that they're doing longer motos, which will really benefit me. So, if it was a six-lap race I probably wouldn't do it, but I would still go just to help promote it. But being that they're longer races, I'm really down for that because just in case you get a bad start, you can have a good, good race for more than five or six laps.
I know you said you're starting to try and line things up for next year. Do you kind of have an idea of what you want to be doing next year?
Well, we are putting together a great program for 2018 and looking forward to trying to bring on some more sponsors and expand the team. We went with two riders. I had Cheyenne Harmon join up right at the end of supercross. It was the last four rounds, then all of the outdoors. But we would like to keep him on and potentially maybe add another. We would like to have a better presence in the 250 Class. So, we're really working on being there and to make this team [Microbilt PRBC Yoshimura Suzuki] something that could be sustainable and kind of help the sport, put some more riders out there and all of the above. Things are looking really good. We don't have everything totally nailed down yet, but it's coming along well.