Mechanicsville, MD
Budds Creek
Lucas Oil AMA Pro Motocross Championship
Every year there are always a few highly touted riders who graduate from the amateur ranks after Loretta Lynn's and make their pro debut at Unadilla. This isn't exactly the case with Joey Crown, although he did make his pro debut at Unadilla. Yes, with second and third overall finishes in Open Pro Sport and 250 A, respectively, he was definitely on the radar, but he didn't come in with a ton of hype either, certainly not like the stuff Justin Cooper generated heading into his first race.
Crown, a long-time Team Green prospect, didn't get a pro deal signed after Loretta's. That hasn't stopped him from entering the professional fray, however, and despite being a full privateer, he's managed to score points in all four motos he's raced so far. He's trying to impress enough people with these motos to earn a ride for 2018. We'd say that's more than enough to qualify for this week's Unsung Hero.
Racer X: You're two races into it. What's your initial impression of life as a professional?
Joey Crown: It's been pretty good so far. It's definitely a big jump from amateur racing, every weekend there's a big race. That's a big difference, and the field is really deep. You make one little mistake and you have quite a few guys going around you. It's harder, but I'm sure I'll get it as time comes.
What's the biggest difference you've noticed?
Probably the biggest difference is it being a one-day race. Those amateur nationals that are spread out throughout the year, you've got a week and multiple races. It's spread out. In the pros, the hardest challenge for me is having a 35 minute moto and only having an hour break and you're taking off for your next 35 minute moto. When you're in it, that seems a lot shorter than it is. Recovering quickly and being ready for the second motos is probably the biggest challenge for me.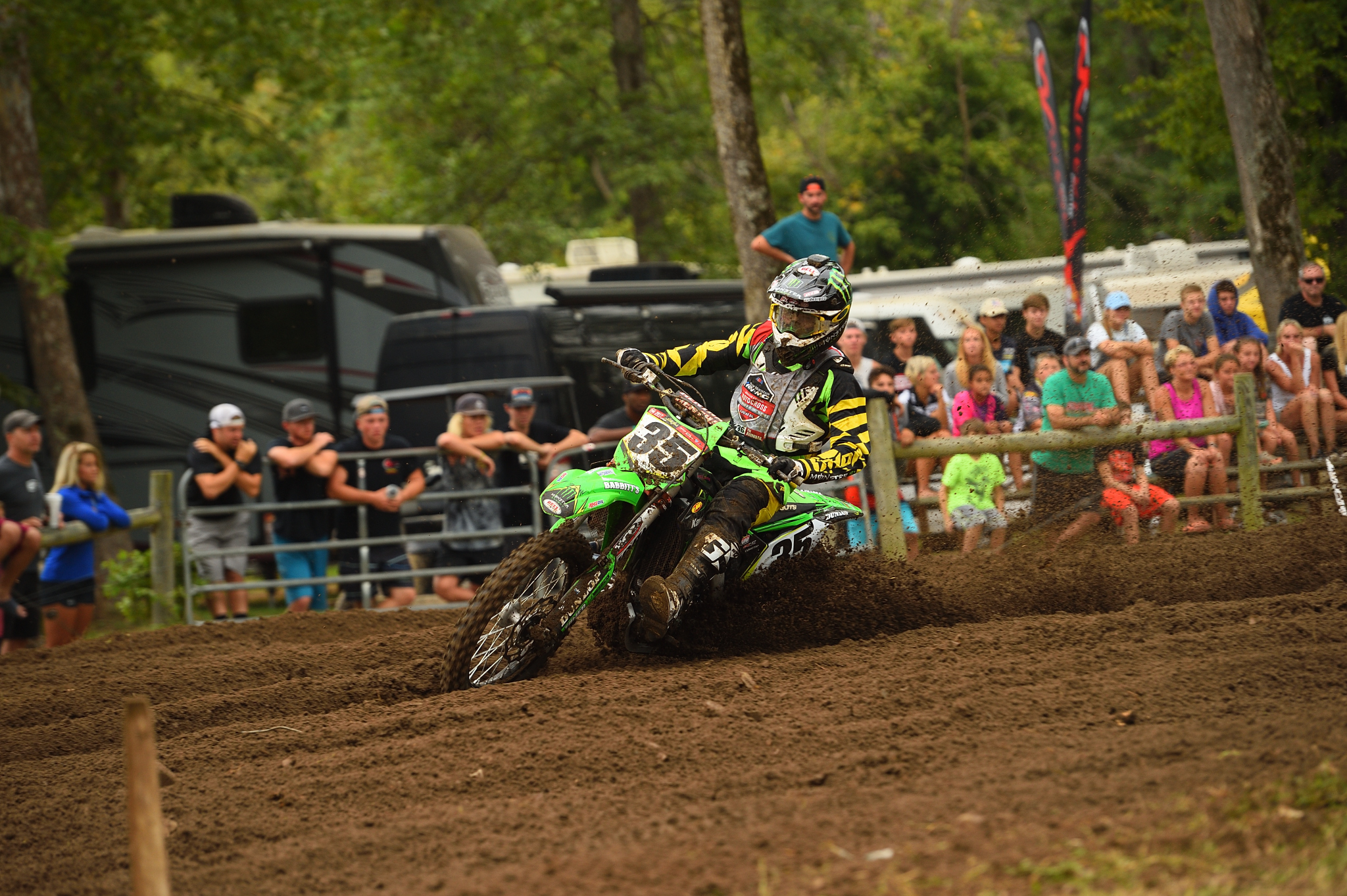 Have you found it hard to bring the intensity in the second motos then?
It's definitely difficult. At Budds Creek it was a lot hotter and it's hard getting cooled down between the motos, recovering, and bringing the intensity in the second moto. Those guys are going hard the whole time. I feel like I'm getting stronger and feeling better though. I struggled a little bit, but I'm hoping to rebound and get a top 10 at the next one.
Do you find it nerve wracking or intimidating being behind the pro gate, as opposed to being behind the amateur gate?
It wasn't too bad, actually. Thinking about it coming up to it I was kind of nervous. I didn't even make the final decision to do it until about a week before. It's a pretty big decision, jumping up to that stage when you're a full privateer. Those guys' bikes are on a different level, which can make it hard. But on the line, I was pretty calm and I qualified pretty well at Unadilla. I lined up right next to [Justin] Cooper and Jon Ames, which made it feel like it was an amateur race—I've raced both those guys before. It was a little more relaxing, but I'm not going to lie, I did ride a little bit tight. Once you get out there racing and you're seeing those guys on the track you watch on TV every weekend, and banging bars with them, it's quite a bit different!
Don't lie. Did you go back and look for yourself on TV after?
Yeah. [Laughs] I saw myself on the line from the first one [Unadilla] but the second one [Budds Creek] I had some issues and ended up getting lapped, which is pretty disappointing and pretty frustrating. I didn't want to see myself getting lapped!
Had you known it was going to be such a mudder at Unadilla would you have picked a different race for your debut?
I don't know. Coming into it, had I known, I might have, but the outcome, I was pretty pleased. I got 16th overall in the mud and I didn't fall. I was pretty happy with how I came out. In the first moto my bike actually overheated and I started losing power and I went back to 18th. So my mechanic and my dad, they had to do a motor swap between motos. I only had my practice motor in my practice bike so they had to take it out of there. We were scrambling to get back up there, but we made it up to the line. Then they ended up delaying the race! That was a hectic debut, but it came out pretty well.
What have your goals been coming into these last few races?
My goals coming in were to be top 15, I was hoping in all of them, and to get a few top 10s. I haven't quite achieved those goals yet, but I still have another one to go. Hopefully I can get some good starts and end up in that top 10.
You've scored points in every single moto though, so that's pretty good, right?
Yeah, for sure, that's been good. I'm pretty happy about that. I've seen [Justin] Cooper finish in the top 10 and seen some of the other kids I've been racing finish better than where I've been placing, so that shows me I can do better. So hopefully I'll do that at the last one.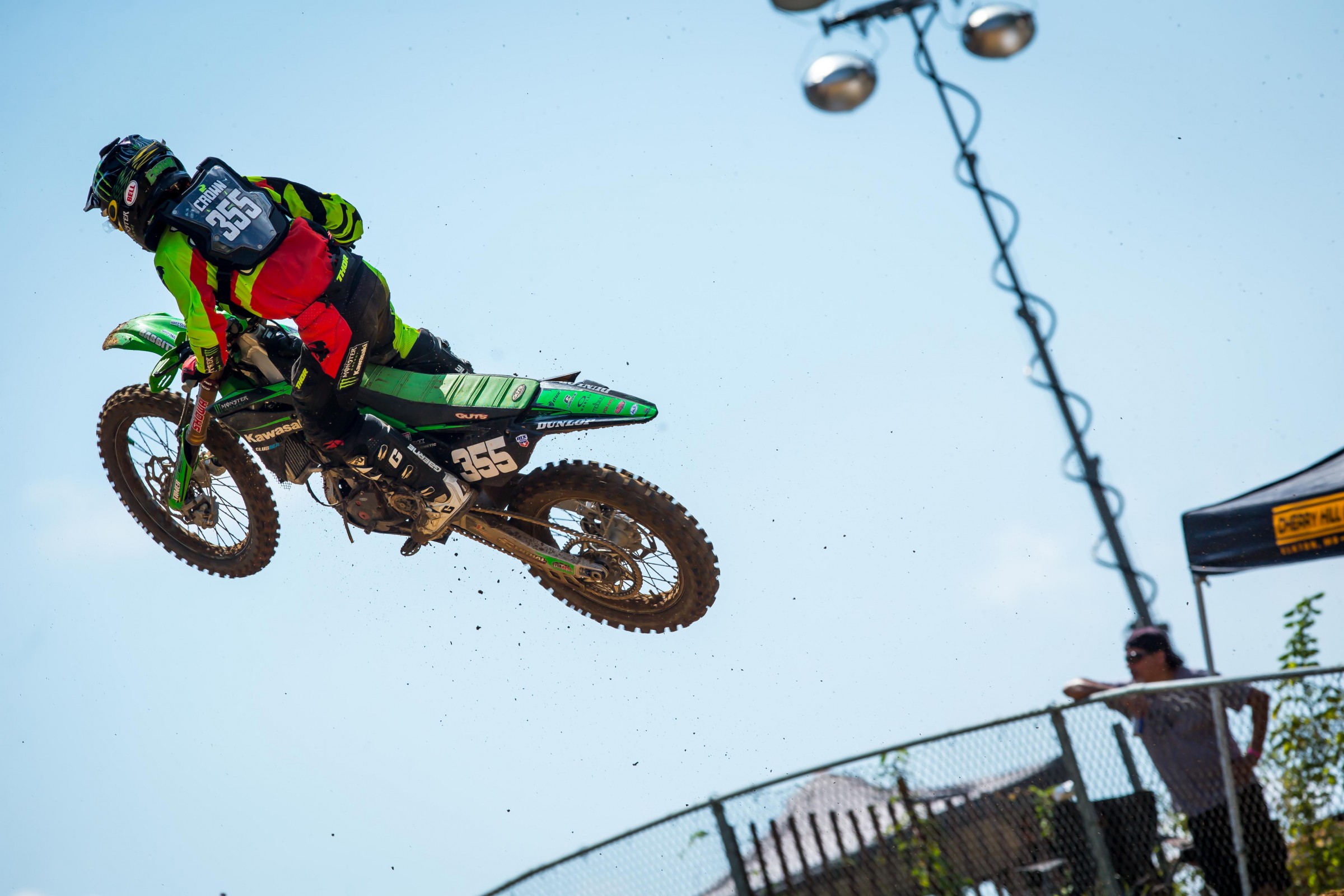 Didn't you get some pro experience up in Canada?
In Canada I raced the Walton Transcan for several years as an amateur [essentially Canada's version of Loretta Lynn's], then decided in 2015 to turn pro and race MX2 at Walton, which was the last pro race of the year then. It went pretty well—I set the fastest lap time in practice and went 7-1 for second overall on the day.
What about 2018?
The plan as of now is to do East Coast supercross and then outdoors. Right now I don't have anything lined up for next year, but I hope to finish strong at Ironman and find some support for next year.
Good luck at Ironman Raceway this weekend. Did we miss anything?
I'd like to thank Monster Energy Kawasaki, Babbitt's, FMF, Dunlop Tires, Race Tech Titanium, Thor, Mobius, Club MX, Cometic Gasket, Rekluse, Mechanix Wear, Motion Pro, Decal Works, Oakley Goggles, Renthal, GUTS Racing, VP Fuel, Bell Helmets, Uni-Filters, MCR Suspension and Rider Development, C4MX, Wiseco, EBC Brakes, Worldwide Bearings, Giant Bicycles, Tamer Holeshot Devices, Boyesen, Ethica, Gaerne Boots, EverRev, PDA Jerky, and Pablo Toribio.