Mechanicsville, MD
Budds Creek
Lucas Oil AMA Pro Motocross Championship
The penultimate round of the Lucas Oil Pro Motocross Championship took place at the very nice Budds Creek. Yes, place is nice but it was brutally hot and humid this past Saturday. Looking back, I think the hottest race I've ever been a part of was Budds Creek in 1998 (yes, hotter than RedBud, but I was a mechanic in '98 and therefore didn't have as much downtime as I did in recent RedBud years), and this was another gnarly one.
I can't stress enough how much I think the Budds Creek start is ridiculous. It was changed for the Motocross of Nations and those guys over there like hairpin first turns where the inside gates are king. That makes the Saturday qualifying races more important. Here, if you have one issue in practice you're on the outside on the start with no chance, and then you don't have a great first moto and you're out there again for moto two. I like when starts can be pulled from 75 percent of the gates and I like when privateers can line up at Nationals and race against the best. Two things that MXGP doesn't do. Change the start! MAKE BUDDS CREEK'S START GREAT AGAIN.
What a story Zach Osborne is. As you know, the Rockstar Energy Husqvarna rider clinched the 250MX title this weekend and it completes an amazing year for him. He should be an inspiration for many riders in the pits—from privateers to stars—that haven't broken through yet. Riders like Kyle Cunningham, Dean Wilson, and Cole Seely can all look at what Osborne did this year and understand that an old dog can learn new tricks. Or is it that maybe an old dog can hire Aldon Baker?
Lots of credit needs to be given to Baker, but let's back it down on most of the credit that I see in my Twitter feed and online. I mean, Osborne is the one that stepped up to pay Baker a large amount to be his trainer and he's the one doing the work. I've hung out around the Baker guys a bit. I remember seeing Jake Weimer during his days down there getting beaten badly on the stopwatch by Ryan Villopoto and Ken Roczen daily. In my opinion, he didn't handle that as well as he probably could have. And he was on a 450!
Now imagine Osborne going out there in SX and MX every day with Ryan Dungey, Marvin Musquin, and Jason Anderson and just getting his teeth kicked in. He's on a 250F against the best 450 riders in the world and every single damn day it's Groundhog Day where it's like he's driving off a cliff with an actual groundhog behind the wheel. But he keeps it up, he perseveres, he goes on the bike rides and he knows, like Dungey did when he went to Baker, that there are no questions about the off-the-bike training. Osborne knows that this program has been proven a winner through Ricky Carmichael, James Stewart, Ryan Villopoto, and Dungey.
Add up that commitment, Zach knowing his stamina is good, and the increase in speed from chasing 450 champions around, throw in a dash of a good bike/team and you have Osborne's 2017 season. Congrats to him, he's earned every little bit of it through his life journey.
Let's take a look at the results, shall we?
250MX Results
1 36 Adam Cianciarulo Clermont FL Kawasaki KX 250F 1 2- Well, the kid did it. "Baby Jesus" as he was once called when he turned pro (many injuries ago) has now won his first 250MX moto and overall. Funny how that works, huh? Perhaps his two worst races of the outdoor season were the last two and he rebounds with an amazing performance at Budds in the heat and humidity. The narrative that he's not in good enough shape to win (it's out there, bro) can be put to bed because Budds was tough. He told me that some of those fades late in races were mental and he was just thinking too much out there, which I get, AC's a smart dude and his mind probably does wander. Anyways, nice work by AC and the PC team to get this win. Everyone exhale, the kid's going to be okay and a double title threat in 2018.
2 16 Zachary Osborne Abingdon, VA Husqvarna FC250 8 1- After a first turn issue in the first moto Osborne rode well to get to eighth on a tough track to pass. Then he did what he has done all year: take the bull by the horns when needed and win the second moto. All damn season long he's been limiting his bad days way better than anyone else. And that's what he did again at Budds to clinch a very unlikely 2017 250SX and MX season. Congrats to Zacho and Dave Feeney, his old-school mechanic.
3 38 Shane McElrath Canton, NC KTM 250 SX-F FE 4 3- I said last week I was "still waiting" for McElrath to break out and dammit, he did just that this week! Two great starts and good rides all the way to the end got him a podium. He's a great rider and should be up here more often and I wonder if manager Tyler Keefe sees this finish and is happy or gets more mad because he knows Shane has it in him? During the podium celebration. McElrath's bottle wouldn't open so he smashed it. He cut his hand badly and might not be able to race this weekend. Have we ever seen a podium injury before in this sport?
4 6 Jeremy Martin Millville, MN Honda CRF250R 2 6- Coming off his win, J-Mart went back to the weirdo J-Mart of 2017 when he was second in moto one and looking good to get a win or at least a second when he crashed. That's so unlike J-Mart. Second moto he was again looking good when he crashed. That was ALSO so unlike J-Mart. The ghost of Phil Nicolleti is haunting him, he needs to make it right with Filthy to turn this around. And yes, I know that Phil is not dead.
5 23 Aaron Plessinger Hamilton, OH Yamaha YZ 250F 5 4- Quiet day for Plessinger at Budds. He was lurking right there in both motos with the podiums guys not far ahead, but he couldn't get much higher. There is good news though, he got good starts in both motos.
6 31 RJ Hampshire Hudson, FL Honda CRF250R 3 7- Nice first moto for Hampshire and he continues to show that you can build on these finishes. Second moto he didn't get the start he needed (no thanks to his teammate Chase Sexton, who hit the gate and then bumped Hampshire's elbow while stuck) but worked his way up.
7 39 Colt Nichols Muskogee, OK Yamaha YZ 250F 7 5- Nichols had a good day, his best since Glen Helen. It was weird because of a first turn crash in moto one, five riders broke away and had almost a minute on sixth (Cunningham) and seventh (Nichols), so that was super strange to see.
8 486 Chase Sexton La Moille, IL Honda CRF250R 9 9- Sexton again rode well and is putting together a late year run to impress some more. He hit the gate in the second moto and it wasn't even close … not sure what happened there. But the good thing is this move probably made him ride his ass off, going from stuck in the gate to a ninth!
9 42 Kyle Cunningham Willow Park, TX Suzuki RMZ 250 6 12- If you listen to our Fly Racing Racer X Review Podcast, I told Weege and JT that I thought Cunningham could take an "Osborne" type leap if he got on a factory bike with Aldon Baker. They couldn't stop laughing, but seriously, why not? I mean he's not on Osborne's level, but he's not far off. Those guys are such idiots sometimes.
10 45 Mitchell Harrison Brighton, MI Yamaha YZ 250F 11 10- Harrison is shopping around for a ride and I think he was next in line at Pro Circuit if Davalos wasn't going there. Remember that kid last year that was hella-fast, but would crash a lot? Yeah, me neither. He's been very solid.
11 191 Justin Cooper Cold Spring Harbor, NY Yamaha YZ 250F 14 8- Good second race for the kid.
12 50 Luke Renzland Hewitt, NJ Yamaha YZ 250F 12 11- Luke had himself a good day on his title sponsor's home track which was nice to see. Unfortunately I couldn't find him after the race to talk to him about it because he wasn't around. #mediaproblems
13 223 Dylan Wright Canada Honda CRF250R 13 13- Oh Canada! Wright's an up and coming Canadian star who jumped from Yamaha to Honda this year and although he ended up second overall in MX2, it wasn't the year he or the team probably thought he was going to have. He crashed a bunch but got that second with better riding in the second half and some attrition on his end. At Budds he showed a lot in both motos and that's awesome. He was the top privateer in 250MX and he'll be in Indiana this weekend to build on this.
14 129 Sean Cantrell Murrieta, CA KTM 250 SX-F FE 10 18- A 10-18 for Sean and a 14th overall? Look at what happened below:
15 183 Lorenzo Locurcio Venezuela Yamaha YZ 250F 17 15- I mean, wouldn't you rather tell a chick you got 10th in a moto than either 17th or 15th? Yet, Lorenzo only finished one spot behind Sean. A 10th is great!
16 105 Steven Clarke United Kingdom KTM 250 SX-F 20 14- Scuba's been solidly inside the top 20 for much of the season, which again, for a privateer in 250MX, is very strong.
17 108 Dylan Ferrandis France Yamaha YZ 250F 15 40- Ah man! Ferrandis brought David Vuillemin out to Budds to help him with some stuff and then goes and crashes in the first turn and maybe broke his wrist. If it IS broken, he misses the Motocross of Nations, which also has to suck for him. Maybe there's a curse of the DV?
18 78 Nick Gaines Ringgold, GA Yamaha YZ 250F 40 16- Of COURSE Nick Gaines, who's been so consistent all year, which was such a nice change from last year, reverts back to the Nick Gaines of 2016 on the weekend when I finally become a believer and pick him in fantasy. In the real world he had a nice rebound second moto from a crappy gate pick.
19 355 Joey Crown Metamora, MI Kawasaki KX 250F 18 19- Not quite as good as Unadilla but if you're a privateer rookie in 250MX and you can log two top 20 scores with factory bikes all around you, that's a good result. Last year I watched Crown beat Kaven Benoit and others on 450s with his 250F in a mixed moto so the kid has some skills.
20 677 Cody Williams Barneveld, WI Yamaha YZ 250F 16 26- I always get Cody and Zach Williams mixed up. I'm getting old.
450MX Results
1 19 Justin Bogle Cushing, OK Suzuki RMZ 450 1 3- Look at this! Bogle took a very unlikely moto win at Thunder Valley and although it took a while, he backed that up with another win and an overall on Saturday. His second moto, after getting the start he needed (why do all the Suzuki guys seem to start so well?) he surged after the leaders and into the lead with some amazing opening laps. Then he settled in, took a third and grabbed the overall. And he's looking for a ride for 2018 so this is perfect. I mean let's just put him over at JGR right now. I know that's what his agent is trying to do. Bogle explained afterward that yeah, the moto win at Thunder Valley was great, but he had just moved down to RC's in Florida to work with Jeannie Carmichael and the workload caught up to him a bit. There was a period of recovery and now he's feeling better, adjusted to the grind. What a story this is turning out to be and it came from a guy that took an honest look at himself in the mirror. Hopefully some other riders out there with talent do the same and change things up, although it's not easy to point the finger at yourself as we all know. By the way, I asked Bogle about the retired Trey Canard (it was the first time we had talked since #41 hung it up) and I loved his answer.
2 25 Marvin Musquin France KTM 450 SX-F FE 2 4- Marv was slow to get going in the first moto and didn't log his fastest lap until about halfway through. He then caught fire and moved from fourth to second with some nifty riding using some great technique in the off-cambers to make up a ton of time on the guys. Second moto he didn't get the start he needed and I'm sure he was feeling it out there as he proceeded to slowly work up. With Blake Baggett's injury, Marv could get second in the points and maybe, with a lot of luck, first.
3 3 Eli Tomac Cortez, CO Kawasaki KX 450F 7 1- First moto Tomac made a big mistake after the first turn and lost a bunch of positions. From there he sort of strangely just rode around and didn't look like himself. Second moto he got a better start and crushed everyone like we're more used to seeing. He logged some incredibly low lap times and got by four guys and into the lead. First moto I saw on Vital MX social feed that he had no tear-offs early on, which is something he dealt with at Unadilla and maybe that was the whole problem in the first moto? That's twice now he's pulled all his tear-offs off by accident. Want to bet he runs some roll-offs this weekend if it's a tad muddy? I'm with Tomac in that he doesn't take his goggles off right away like other riders. You've got to tough it out as best you can, you only have two eyeballs and can't tear them away when they're damaged.
4 4 Blake Baggett Grand Terrace, CA KTM 450 SX-F FE 5 2- One week after using Velcro to hold his injured thumb to the bar, the team turned to some sort of spray adhesive to keep it all together this week and Baggett rode well in both motos to just miss the podium. He's two points up on Marv and I asked him if he cared about staying there if he can't win the title and he said, yup being first loser is better than not being first loser! Then Tom Baggett (his dad) asked me about an invention where you lock your hand onto the throttle of the bike and my mind was blown.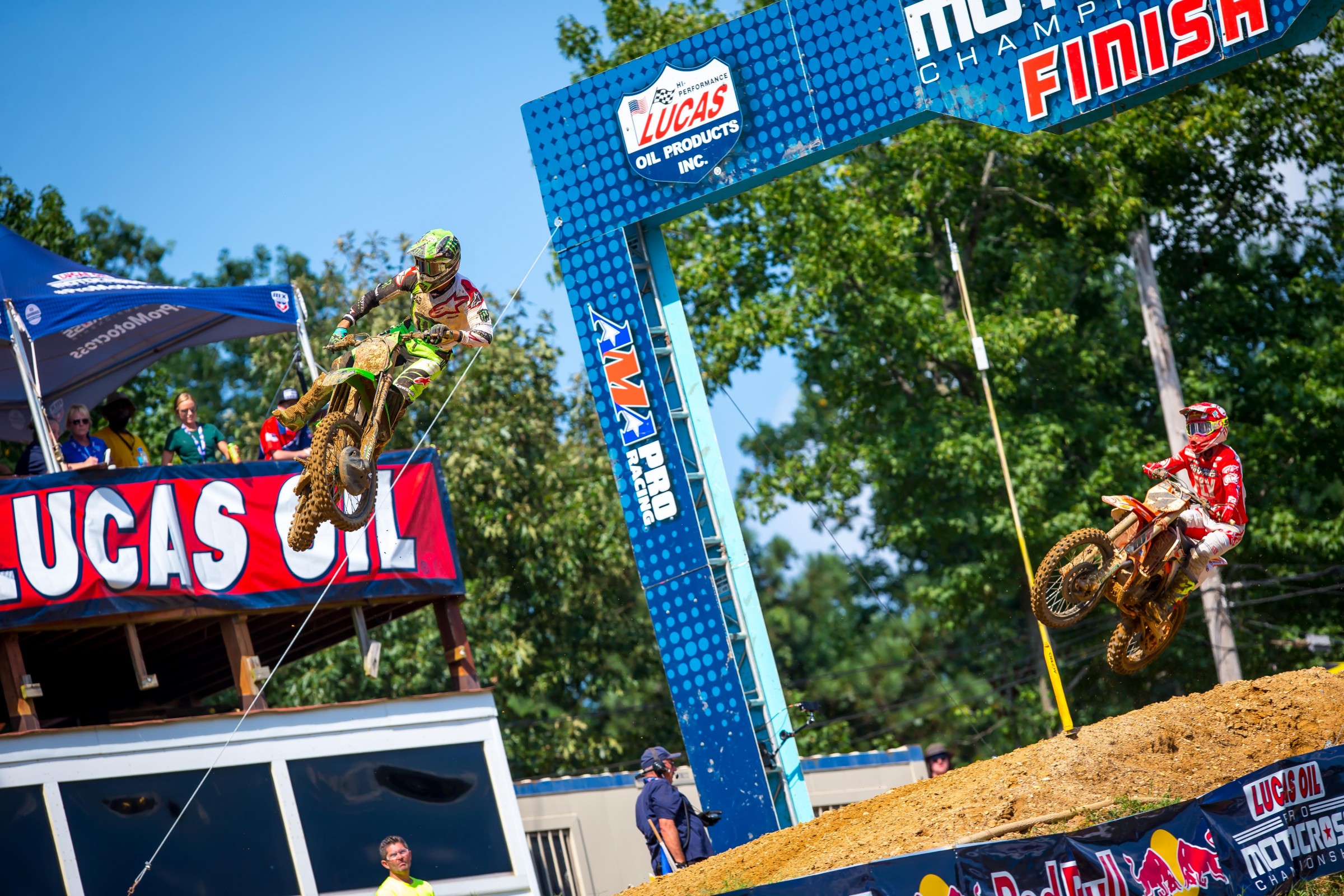 5 14 Cole Seely Newbury Park, CA Honda CRF450R 4 8- For a long time in moto one we had Bogle winning, Davalos second, and Seely third. It was a very unlikely running order for anyone previewing 450MX, right? It was hot and humid and second moto so I can imagine—although I don't know for sure—that Cole wasn't as frisky. Then again, he was wearing all black gear? Not everyone can be Fro at Troy, Ohio.
6 32 Weston Peick Menifee, CA Suzuki RMZ 450 8 6- Every time Peick sees me in the JGR truck he gives me the finger. That's all I got from his Budds Creek.
7 2 Cooper Webb Newport, NC Yamaha YZ 450F 9 7- Webb started ninth, worked his way to seventh, got passed by Tomac and Baggett (understandable) and ended up back in ninth. Second moto he started ninth, worked his way to seventh (passing Seely and Bisceglia) and stayed there the whole way. Not a great day for Webb, but nothing wrong with it either. Perhaps a soft track this weekend will work to his favor?
8 43 Matthew Bisceglia Tualatin, OR Suzuki RMZ 450 6 10- Finally Matt puts two motos together inside the top 10 to have a good day at Budds. He grabbed both holeshots as well and man, this kid can start. With last year's success on a 450 (after doing nothing at all on a 250, although it wasn't a factory team) and now jumping right back into the top 10 in 450MX, should Matt be looking for a 450 ride for 2018?
9 48 Christian Craig Corona, CA Honda CRF450R 10 9- I texted with Craig after the race and he wasn't stoked on his finishes, that's for sure. With a good weekend in Indiana he can pass Jason Anderson and get into the top 10 in overall points which, I guess, is cool. Not sure how these guys think because years ago I was trying to get Andrew Short and Jake Weimer excited about their battle for fifth in the points and neither guy cared. I wonder if a guy like Craig, who's got so much talent, looks at a guy like Bogle and wonders if that could be him? I say yes, it could.
10 15 Dean Wilson United Kingdom Husqvarna FC450 16 5- Weird to see Dean just riding around in 11th in the first moto and then just as weird to see Dean fly off the track and almost into the fence after the finish line after hitting some braking bumps. HowDean.com indeed!
11 34 Benny Bloss Oak Grove, MO KTM 450 SX-F FE 11 11- Benji said that he was cramping up a bit due to the humidity and I suggested he perhaps drink more water next time. That's what I'm here for people.
12 30 Martin Davalos Ecuador Husqvarna FC450 3 38- I thought Marty was going to win the first moto, I really did. With the way he's been riding lately and him taking the lead like he did, I thought it was over. But strangely he dropped back a bit, but still captured a third. Second moto he went "Marty" which means he was riding well, looking in control and then flew off the track with a big crash. It's like owning a pet lion for years and he loves you, plays with you but eventually, we all know it's going to bite your face off because, well, it's a lion! Riding well, being in control and then flying off the track in a spectacular crash is what Marty does. I thought "we" were beyond that now! Anyways, look for Davalos to go back to Pro Circuit for 2018 in another quest for 250 glory.
13 37 Phillip Nicoletti Cohocton, NY Suzuki RMZ 450 14 12- Filthy had two motos that were okay I guess. He probably wasn't happy, but then again, he's never happy. Phil missed a lot of races people and it ain't easy jumping back in as he's finding out. Oh, by the way, his gear company only sent him one jersey by mistake. He had to get through press day, two practices and two motos with one jersey. It makes me laugh because this stuff only happens to Phil.
14 70 Dakota Alix Jay, VT KTM 450 SX-F FE 13 13- Oh man, 13-13 for 14th overall! Alix got screwed, man.
15 68 Heath Harrison Silverhill, AL KTM 450 SX-F 15 16- Heath made a big move in breaking away from the CycleTrader.com/Rock River Yamaha team to get a KTM and race the last two. Nothing bad happened with Harrison and the team, he just joins the club of riders that didn't gel with the Yamaha YZ450F and decided to get back to a KTM where he had success before. So he's now a total privateer with some small dealership help and well, did betting on himself work? He tied for his best results this year first time out so that's not too shabby. Not too often you see a guy like Heath make a move like he did, that's for sure.
16 40 Fredrik Noren Sweden Honda CRF450R 12 39- Poor Fast Freddie, his bike broke in the second moto after an impressive first moto. This goes back to Washougal when his bike broke first moto and he had a great second moto.
17 11 Kyle Chisholm Valrico, FL Honda CRF450R 20 14- Chiz is back from Canada and was up to 14th in the first moto before having a bike problem and slipping back. Second moto was his usual charge up for him. Following Chiz on social media it seemed like he had a lot of issues and worked his ass off all day long on his bike and just in general. Welcome to privateer island life, Kyle!
18 88 John Short Pilot Point, TX Yamaha YZ 450F 19 15- As I said on our Racer X Fantasy podcast last week, Short's been under the radar this MX season with consistently good finishes. Henry Miller's been stealing the hype from Short with his good rides and rightfully so, but this week it was Short's turn to shine.
19 921 Isaac Teasdale Robbinsville, NC KTM 450 SX-F 30 17- I just want to express my eternal gratitude to Teasdale for helping me dominate Southwick fantasy MX.
20 77 Ben LaMay Wasilla, AK KTM 450 SX-F FE 17 23- Hey, look who's back! The arenacross expert returned to the Nationals and I didn't get a chance to talk to him, but I guess he was just bored so that's why he drove from Texas to Budds and then to Indiana?
Thanks for reading, appreciate the support from you guys. It's been a blast, right? RIGHT???? Email me at matthes@racerxonline.com if you want to chat about this or anything else.