If you've ever met Ted Parks, agility and flexibility probably aren't the kind of words you'd initially think of to describe the tall, mustached, cowboy-hat-wearing man who uses his Texas drawl to call the shots in The Professional Journey [formerly The Privateer Journey] pits.
Blunt, to the point, and a little gruff? Maybe. Friendly and outgoing? Certainly. But agile and flexible? Hell no. But once you start to understand how many hoops Parks jumps through on a regular basis just to get his rigs to the races every weekend, you'd probably think he used to be a gymnast in a three-ring circus. That's been especially true the last couple weeks, as mechanical troubles have stretched him thin.
Rewind back to the week before Spring Creek. Parks and company, which consists of several rigs, were on the road headed to Millville. They had plenty of time and there wasn't a hint of trouble on the horizon. That's usually when the proverbial coal mine canary announces impending doom by giving one final gasp and flopping to the floor, stiff legs jutting upward. For Parks, whose rig was also towing 30,000 pounds, the warning came as approached he a tollbooth.
As he activated the Jake brake, the engine braking system stopped working, the range inhibit light flickered to life, and his transmission stuck itself in fifth gear. After paying his toll, he somehow managed to nurse the rig back up to highway speed, where he stayed until the next toll. This time Parks knew he had to deal with the problem, but after exhausting every mechanical trick and ace up his sleeve, he still wasn't able to get back on the road so he hunkered down for the night in Hammond, Indiana.
"The next morning I got up and called my friend Jason from Lucas Oil, who just happened to have a friend with a massive tow truck in the area," Parks says. "Guy's name is Ryan Sandberg of Sandberg Towing, and he came, hooked us up, and towed us down the road to the nearest shop. The guy's a fan of the sport, and all he charged me was three helmets, two umbrellas, two raincoats, and two pit boards. The guy is just awesome."
With the crippled rig in the shop getting looked at by a crew confident they could get it fixed relatively quickly, things were looking up. That bit of relief didn't last long, as Parks was soon faced with another hurdle, this one in the form of an expensive estimate.
"They wanted $8,000 for a transmission, 24 hours to put it in, and all in all we were up to $12,000 to have it fixed," Parks recalls. "I said 'Okay, I gotta have it done.' But the transmission was in Indianapolis, two hours away. I needed it there in the morning, but they wanted to charge $2,000 to have it overnighted. This was getting out of hand, so I said I'd just go get the transmission myself, but they wouldn't allow it. They said you had to be an Allison dealer. So I made a few phone calls and ended up in touch with Forrest Lucas of Lucas Oil and he told me to get the rig to his shop."
The offer from Lucas was good news, but getting Parks' rig there presented yet another issue. How was his disabled rig going to cover the three hundred miles to Lucas' shop? Sandberg Towing to the rescue, yet again. Knowing better than to let the truck tow him seven hours for more helmets and pit boards, Parks handed over $1000 in cash, an amount he believes was too cheap for the services rendered. Once he made it to Lucas' place, Parks went about looking for a truck to rent to pull the trailer to Millville, but when Sandberg heard Parks was staring down the barrel of a $5,000 rental fee, he stepped in and handed Parks the keys to his personal truck, a three-quarter Duramax Diesel, for a mere $500. With a Band-Aid temporarily holding Parks' transportation wounds closed, he pointed his borrowed rig toward Millville and mashed on the throttle, barely squeaking in on Friday.
Following Spring Creek, Parks was faced with the logistics of getting his whole setup, which includes nine race bikes, a blow-up Karcher tent for pressure washing, a plethora of racers' belongings, sponsor banners, 11 ten-by-twenty canopies, a gang of tables and chairs, and plenty more, across the 1800 miles from Millville to Washougal with a depleted vehicle force.
The solution?
Leave one trailer at Millville and overload the last remaining functional bus and send it to Washougal, one of the most punishing drives of the year that's known to wreak havoc on the rigs (this year the JGR rig broke down on the way and the team was forced to rent another truck just to get to Washougal). Fortunately the bus made it, although it wasn't without some drama. Ten miles from the track a wheel bearing went out in such dramatic fashion the driver had to jump out and grab a fire extinguisher to put out the smoldering part. Luckily the incident happened right in front of an auto parts store and the driver simply walked across the street, purchased and installed replacement parts, and covered the remaining ground.
Parks, meanwhile, was back at Lucas' shop, where he discovered his refrigerator and freezer were thawing out and his large and expensive food supply was about to go bad. Rather than get down in the dumps, Parks fired up the Lucas grill and fed the employees for two days.
"I had $300 worth of prime rib and New York strip steaks I bought at RedBud about to go bad," Parks chuckles. "So I fed 14 or 15 guys for two days, and they said it was the best steak they'd ever had in their lives. Then we ate fresh trout salmon we'd caught at RedBud in Lake Michigan. They said, 'Ted, we don't want you to leave!' But of course I had to get on to Washougal! So I hopped on a plane and here I am [at Washougal]."
Now, with Washougal literally and figuratively in the rearview, Parks' hauling hassles persist. Of course, despite joking (we think) about putting a big dent in his kids' inheritance, the always upbeat and determined Parks refuses to even entertain the thought of not making it to the next race, even though he's still facing a logistics nightmare, and more than likely, a few more sleepless nights.
"I've got all these riders and they depend on me and I'm a man of my word," Parks declares firmly. "If I'm not here, well that's not going to look good for TPJ [The Professional Journey] and it wouldn't represent our sponsors right either. It sure wouldn't look too professional! So if it comes down to it, I'm calling Penske up and getting a truck out there. You have to make it to the race. You're going to tell your riders their bikes aren't going to be there after they signed up, flew in, and rented cars and hotels? No way. They spend money too. You just have to make it."
So, with vehicles and trailers strewn across the nation, what exactly is it going to take to pull everything back together at Unadilla?
"After Washougal we're all going to get into this rig and head to Middletown, New York, to Boyce Excavating, 'We Move The Earth,' one our good sponsors," Parks explains. "Thank God we have an extra week this time! My buddy Gary is going to fly me in his personal jet back to Louisville, Kentucky, which is about 40 minutes from Lucas' shop in Corydon, Indiana. He'll have his guys come get me at the airport and hopefully they'll have the rig ready by Wednesday [$6200] with the new transmission. After that I'll drive to Millville [11 hours], pick up the trailer, drive back to New York [17 hours], and get ready to go to Unadilla [three hours]. I was going to go out on the lake and do some fishing, but that ain't gonna happen! [Laughs]"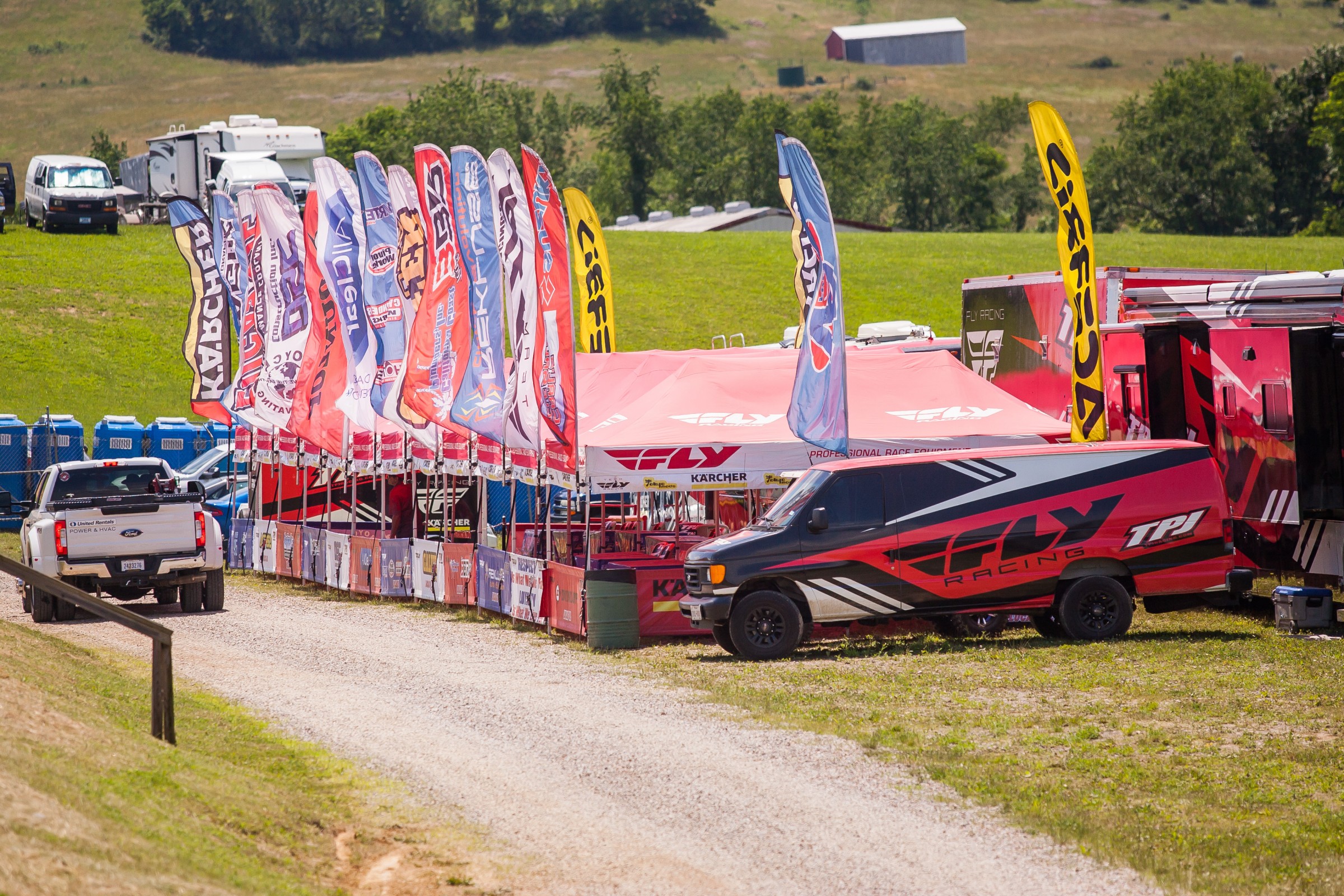 It's an enormous and daunting set of tasks, but not one that's too much for Parks, who cites his love for the sport, his riders, and the people he meets as his motivation.
"We love the sport and we love the people. Ryan Sandberg, he's just an amazing guy," Parks says. "To meet people like that who help you out is amazing. Just like last year when I broke down, a guy who owned a diesel shop bought me all my parts at a rest area. I'm so blessed for the people I meet. Especially guys like Forrest Lucas, who's just an awesome guy. He's worked hard his whole life and has built a phenomenal company and loves helping people go racing. He's got a big heart and I try to help him as much as I can. They help my team out with product and a bit of money, and it's a blessing the people you meet in this country. When you travel this many miles and go to this many events, I go to 31 races a year, I get to meet a lot of people and it's amazing how many good people there are out there. It's amazing who'll turn around and help you out. I've got some really good guys and really good riders on The Professional Journey, and we really enjoy it every minute of it. I'm not quitting any time soon."