Mechanicsville, MD
Budds Creek
Lucas Oil AMA Pro Motocross Championship
Almost a month ago to the day, Monster Energy/Pro Circuit Kawasaki rider Austin Forkner crashed heavily during an early week practice session. While details were slow to come from the Corona, California-based race effort, word around the U.S. motocross community had it that the second year racer had suffered a very serious concussion and would be out of racing indefinitely. As of the interview you are about to read, the 2016 AMA Rookie of the Year is still on the sidelines, and as we found out straight from him, still a ways away from not only racing, but even getting back on the bike.
Relaxed and in good spirits, and also grateful that things were now going in a good, positive direction, Austin Forkner took some time to speak with Racer X about the crash, the head injury he suffered and the road he has been following—and will continue to follow—to get back to 100 perecent. With racing out of the question in the immediate term, the kid from Missouri, and all those around him, are talking a slow and very calculated approach to get him back to being one of the best young racers in the world.
Racer X: Austin, it's good to hear your voice. How are you doing?
Austin Forkner: Doing good. I'm doing all my rehab stuff that I need to do and just kind of starting to get back into training—just bike rides and stuff. I'm not doing a lot. I had pretty much three or four weeks where I couldn't really do a lot. I didn't do rehab or anything. I just did pretty much nothing so I'm kind of excited to get back to doing at least a little bit.
I don't mean to be too forthright with this question, but how bad did you hurt yourself?
It was the worst concussion I've ever had, for sure. I don't remember 22 hours. It was pretty much 11 in the morning when it happened and I actually didn't even start acting normal until about 9 o'clock the next morning. That was the first time I remembered anything. I don't know how long I was knocked out from the crash. I was awake and stuff during that time, but I was just completely out of it. The next thing I knew I woke up the next morning and I was in the hospital. They said I had a bad concussion. I kind of remember some little spots and stuff from what happened, but it was pretty much all blank. I don't really remember anything from what happened. The first couple days I had some headaches and stuff and it was pretty rough at the beginning.
From suffering a hit that big, did it take you quite a while to get your balance back and to start feeling somewhat normal again?
I'm just now feeling back to normal. A few days ago, and for the first time, I actually felt normal. I went on a road bike ride the other day, and even for my first road bike ride, I still didn't quite feel right, but I'm starting to feel better now and I'm starting to get better with my exercises. I just had to really work on my eyes and my balance because that was the biggest thing that was off for me. So, yeah, I've just been working on that stuff every day and doing everything I can do. I've been doing little exercises that I can do right now for my body and for my head. I'm pretty much doing everything I can.
So you've been working very closely with your doctors all along with everything?
Yeah, I'm working with a doctor in Florida. I went down and saw him basically a week after it happened and he examined me. The hospital I went to after the crash sent all the original CAT scans and stuff to him and he looked at them and a couple weeks later I went in for an exam. That's when we started my rehab and all of that stuff. It's going pretty good now and I'm just starting to kind of get back into the swing of things. I guess you could say I was pretty much doing nothing for three or four weeks there. I've now kind of had my off-season, per se. As soon as the doctor can kind of let me, which is about right now, I can kind of get back into training. And I won't be doing a whole lot. Like getting my heart rate really, really high right now is probably not a good idea, so I'm just sort of working on strength stuff right now and trying to get that built up and trying to get a head start going into supercross. I'm not in a big hurry to get back on the motorcycle yet, but I want to go ahead and get a start on all the off the bike stuff that I can do and keep doing all my exercises for my head to try and just keep improving that. I'm giving it time to get back to 100 percent because you have so much focus when you ride and you have to be so spot-on, especially with as fast as we're going. I want to be 100 percent better before I get back on the bike. And even when I do I feel fully healed, we're going to give it an extra couple weeks before I get back on the bike. Mitch [Payton] wants that as well. The whole Monster Energy/Pro Circuit Kawasaki team has been really supportive and I want to make sure that I'm fully better before I ride again. I'm pretty much going to be out the rest of the season, so why not just make I'm 100 percent better before I get back on the bike. That's the plan my whole team agreed on so that's what I'm going to do.
This is probably the first time since you were a little kid where you're racing just basically stopped, huh? Have you been watching the races on TV or following things on the internet?
I've watched the races, but kind of forcefully. I don't want to watch it all. It sucks. I hate watching them. I watched Loretta's and stuff because I'm not racing it, so watching that and stuff is fine. I like to do that. I don't like to watch the pro races just because I feel like I should be out there. I don't like watching races that I should be racing. This is the first time that I've actually been out for a while. Most of my stuff has been broken bones that are healed in four-to-six weeks, so this is the first time it has actually been more of a month or multiple months deal. That's kind of different. I'm glad that now I can start getting back into training and working my way back into it. Once I can ride, I'll ride a little bit whenever I can and not take it too seriously until we start getting closer to pre-season training. That's when I'll drop the hammer.
Have any racers, past or present, helped you with any sort of advice or guidance while you've been going through all this?
Yeah, a lot of guys have. Especially guys that have had concussions. The doctors talked to me about a lot of stuff too. They told me that every time you hit your head, you start out at 100 percent, and every time you hit your head after that, you get knocked down a percentage. Like, you can get knocked down to 90 percent and then you might get back up to 95 percent again, but then if you hit year head again your down to, maybe, 80 percent. Every time you hit your head you drop a percentage. If I don't let this fully heal, then the next time I hit my head I could drop down even farther than where I already was. I want to make sure that my head is back to 100 percent. That's pretty much what I learned from the doctors. I'm just trying to listen to them.
It's a tough question, but did the crash and the resulting concussion scare you? Did it scare your family?
Yeah. Yeah, it did. I mean, me, I guess I'm not super-fazed by it. It's definitely going to be something that I'm going to have to work through. I've already thought about all this. It was kind of more in my head a few weeks when I was still having problems with everything. Whenever I do come back, it's going to be hard to not think, "Don't hit your head; don't crash." That'll be in the back of my head, and I feel that it always is when you come off of an injury like an arm or a shoulder or a knee. Like, you don't want to dab your knee if you're coming of a knee injury. It'll be something in the back of my head that I'm going to have to work through, but it is definitely the biggest thing in the back of my head right now. I don't know if the injury really scared me that much, but I think that's going to be in my head the first couple times that I start riding again. I do think my dad was scared when I got hurt. I think that everybody that was there training with me that day, like my trainer Robbie Reynard, saw the way I was acting. I guess I hit my head so hard that I couldn't see. I guess my eyes just stopped working. The doctor said I hit the part of my brain that just makes you kind of act weird. I guess it makes you freak out and changes your personality and stuff. I hit that part of my head and they said I could hardly talk and what I was saying wasn't making sense. Everything was just completely out of whack. Usually if I hit my head I ask the same questions and I'm pretty coherent, but they said this time I was just completely out of it. When they took me to the hospital I was ripping my IVs out. Yeah, that part of my head I hit made me act super weird. I think was definitely different and I think that scared them just because of the way I was acting. I wasn't normal at all.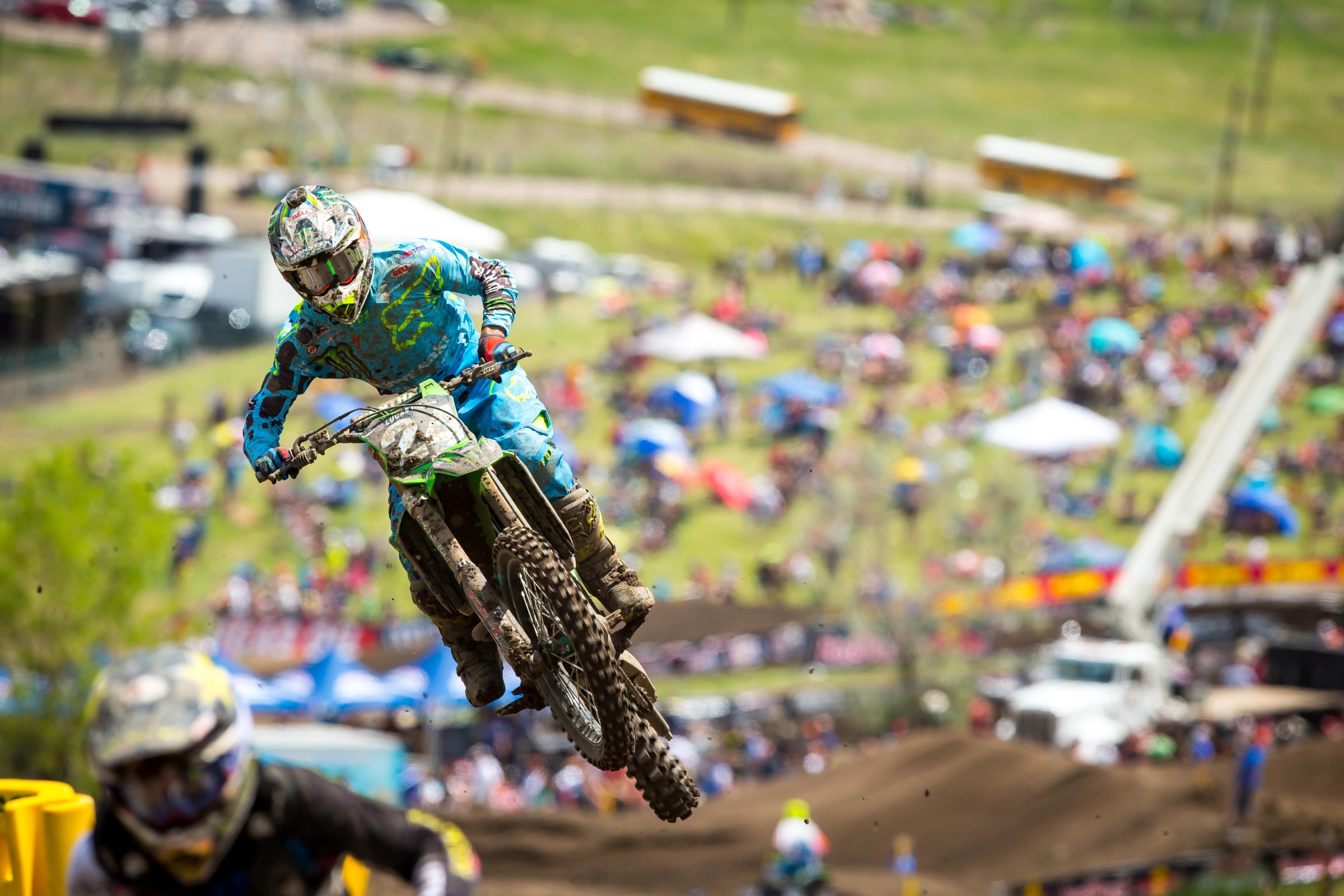 So in the ensuing months, what will be your next steps? It sounds like you won't really be racing at all for quite a while.
I want to start getting prepared for supercross. I'm not going to just start going hard, but I'm going to start slowly working into things and just get a head start on next year whenever I feel good. So probably around October or so, whenever I can get back on the bike, maybe September, but I don't really know whenever that is. When I do start, maybe I'll start riding a little bit of supercross and maybe start a little bit of testing. Nothing serious. As soon as I can get a head start, that's going to make it better. I'm going to try and get a head start and try to get into the supercross flow. Yeah, I guess the sooner the better and hopefully I'll be as prepared as I can be for next year.
As a final broad stroke question, what did you think about your 2016 racing season? You got your rookie supercross season out of the way and, for the most part, another outdoor season behind you. All in all, what do you think?
It was all right. My supercross season was pretty good. I missed that one race in Seattle because I had a small injury, but other than that, I think I rode pretty good. I obviously had some rookie stuff that I had to work on like the whoops and the rookie mistakes that I made. I mean supercross is hard, so it's going to happen. I thought my supercross season was pretty good. My outdoor season, it had its moments. I would have to say the second moto at Hangtown was good; really, both motos were solid at Thunder Valley. Overall, I'm not really happy with how my outdoor season went. I thought I had more to show in outdoors it being my second season, so I'm not super happy. I had some bad luck at the beginning of the season, so that didn't really help. But still, some of the rides I had weren't the greatest. I had some bad luck this year overall with outdoors. I just didn't have that solid of a year. It seemed like that for some of those guys something could happen and it would just work out for them. If anything, even the slightest thing happened to me, then it wouldn't work out. It was kind of one of those years that I feel like, every now and then, you just have. Every once in a while you have a year where stuff just doesn't go your way. I feel like that was kind of my year this year and hopefully next year that will turn around a little bit. I'm going to do everything I can to prepare for the next year and to try and win some championships. We'll be back.