Budds Creek Motocross
Mechanicsville

,

MD
Budds Creek
Lucas Oil AMA Pro Motocross Championship
Welcome to Racerhead, coming to you from Budds Creek, a track that means a lot of things to Rockstar Husqvarna's Zach Osborne. A Virginian by birth, Osborne didn't grow up so far away from this Maryland circuit that he never raced here. Budds Creek was often part of his path to Loretta Lynn's AMA Amateur Nationals, with regular Regional and Area qualifiers. It's also where he led a pro race for the first time in his life, the 2006 Budds Creek Lites National.
That's the race where our own David Pingree, then part of the TV broadcasting team, infamously called Osborne "Snack Pack" when the rookie holeshot the first moto and found himself in the lead. And when Osborne wilted under pressure and fatigued late in the race, Ping's nickname—though augmented by lots of praise for the young rider—seemed downright poignant.
The fade to 18th place in the waning moments of the race seemed to remove Osborne from the list of riders who might be the next Ryan Villopoto or Mike Alessi, the previous year's breakout riders. Instead, attention seemed to shift to his rival Ryan Dungey, who would turn pro later that year, that rascal Jason Lawrence, the northwestern Josh Hill, and maybe even Trey Canard. Osborne, who didn't finish the second moto that fateful day at Budds Creek in 2006, would seemingly flame out over the next year, finishing in the top 10 just twice in the next 20 races, and those were Lites SX races. Anyone who knew him knew he was trying hard, but it just wasn't happening, and his long affiliation with KTM's pre-Orange Brigade development program ended. He ended up with Yamaha of Troy, and that went even worse. By 2009, the only ride he could get was in Europe with Steve Dixon's small (but growing) Yamaha team.
Osborne came back full-time after the 2012 season. He signed on with GEICO Honda and raced there for two years. He was fitter than ever, but by now he was one of the older guys in the 250 Class. It seemed to many like his window on winning an AMA championship was closing. He had still yet to even win a race in America; his lone win as a professional was the 2009 MX2 Grand Prix of Turkey, which is about as far away from Budds Creek it gets in the motocross world.
Prior to the 2015 season, Osborne signed on with Bobby Hewitt's Rockstar Energy Husqvarna team, and he paid immediate dividends by finishing a career-best second place in the Anaheim SX opener. Things seemed to click with Osborne on the Husqvarna, and that pudginess he once had (which Pingree was referring to a decade earlier) was long gone; the "Snack Pack" was replaced by a six-pack.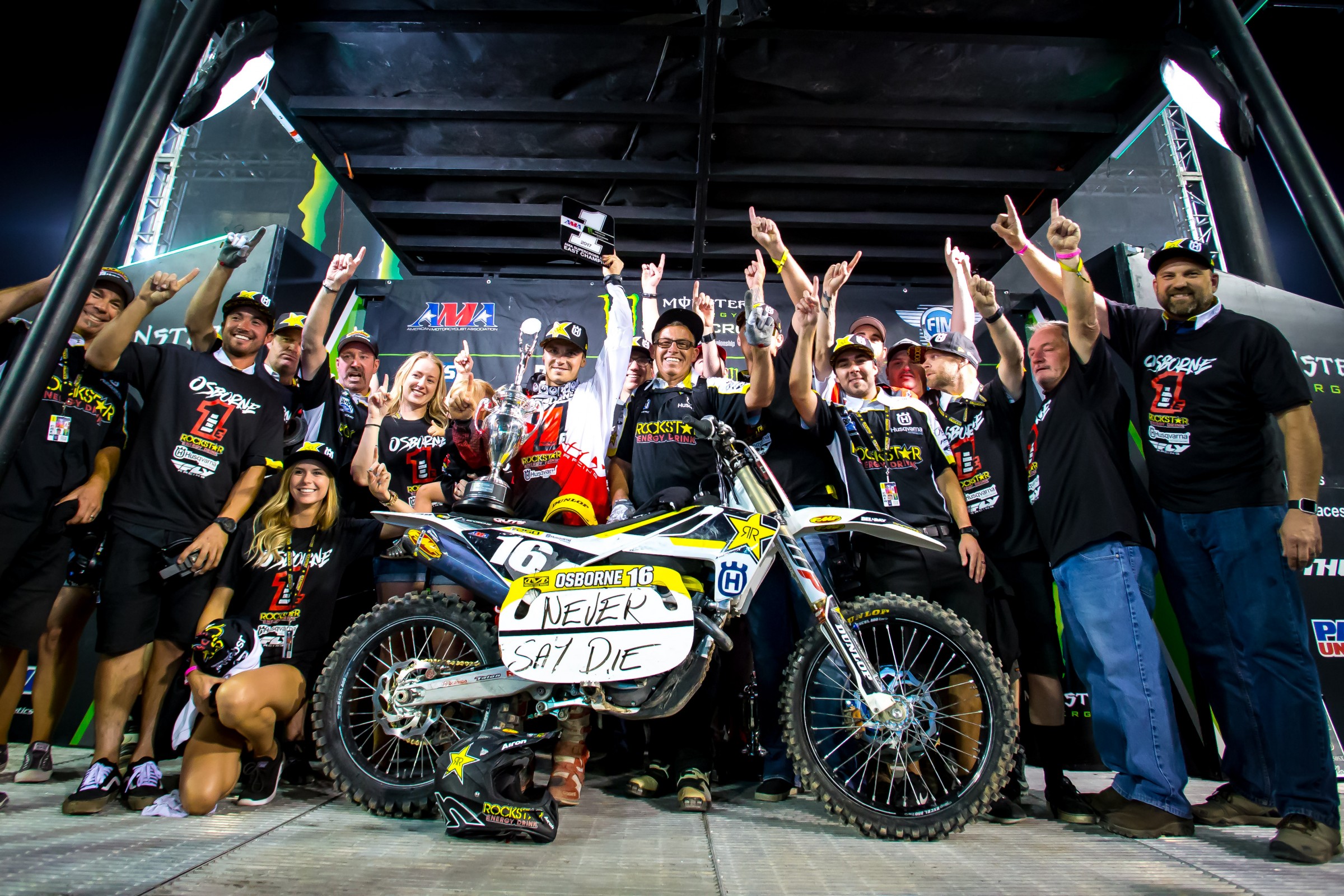 Yet he still could not seem to put it all together and finally get himself a race win here in the U.S. Finally, mercifully, everything lined up right for him last August 20, and Zach went 4-1 to win a National overall for the first time in his career. In poetic justice, it happened at Budds Creek.
One year later, Osborne returns to Budds Creek a different man. He's now a 250SX Regional Supercross Champion, having gutted out this year's East Region with a heroic comeback. He won the first, second, third, and fourth AMA Supercross main events of his life, and then kept the momentum going right on through summer. He's 63 points ahead of Jeremy Martin with just four motos to go. If Martin doesn't score 14 points more than Osborne tomorrow, Zach will claim the 2017 Lucas Oil AMA Pro Motocross Championship in the 250 Class.
I saw Zach on Thursday afternoon after the second session of press day riding was called off due to rain. He was sitting in his SUV, playing with his young daughter. I asked him if he ever thought about that day here back in 2006, when the best start of his life at that point ended with a nightmare finish and Pingree's jesting nickname stuck. He just smiled at me and said, "Of course I do." Man, I wish Ping were back in the booth tomorrow.
Pro Perspective (David Pingree and Jason Thomas)
Ping: First, I want to say that Zach Osborne and I have patched up our issues stemming from that fateful moto all those years ago. I actually remember watching him ride at Anaheim when he was a Yamaha of Troy guy and thinking he was really good. Injuries certainly slowed his career path, but they didn't stop it. Zach is one of the good guys, and I don't think there is a person in the pits who isn't going to be really happy for him when/if he wraps this thing up. Damn fine job this year, Snack Pa … er, Zacho. Sorry, force of habit.
Typically, when a rider says they like a track, it's because they do well there. I used to love Troy, Ohio, because I put some good results up at Kenworthy's over the years. And tracks that riders dislike would be the ones they struggle on. I think we can all agree that this generalization is true for the most part. For me, there is one anomaly that stands out: Budds Creek. I love flying in to D.C. and being able to see the incredible monuments and historical landmarks that represent all this country has been through. I love the trees, the pits, the track layout, the dirt—hell, my favorite seafood restaurant is even on the way to this track beside the Potomac River (Captain Billy's if anybody wants to get their crab legs on)! And yet, despite all that, I completely sucked at Budds Creek. My self-esteem couldn't take scrolling through the Vault to see just how bad my results were, but take my word for it: I never had a great weekend there. Maybe someday I'll get a chance to spin a few more laps there without the pressure and disappointment of competing professionally and doing poorly. Budds Creek: come for the motocross, stay for the crab legs.

JT: Like Ping said, riders love tracks they do well at. For me, though, this track fit both molds of me doing well there and also loving the dirt and layout. Budds Creek is very similar to the dirt I practiced on, and that led to confidence and speed. I enjoyed every lap of this event, even when things didn't go so well. My favorite years were back when we had free practice on Saturday. We could just go out and turn laps without pressure. Riders threw whips and waved to the fans, etc. It was just a completely different atmosphere than today's high-pressure one day qualifying sessions. Some of that fun is removed without the free practices, but either way, it's more enjoyable to race on a track you genuinely like. Tomorrow is one of the days I actually wish I was still racing. Enjoy it, fellas, it's gone before you know it!
COLLEGE BOY (DC)
At Loretta Lynn's every year there is a "College" class for riders 18-24 years old. The winner this year was Tanner Basso of Alpine, California, who went 2-2-2 on his Yamaha. But the class is not about going to college classes; it's about being of collegiate age. Had they run an actual College class, as in college and university credits required, I'm not sure that Basso would have won, but I'm pretty sure Justin Cooper would have been tough to beat!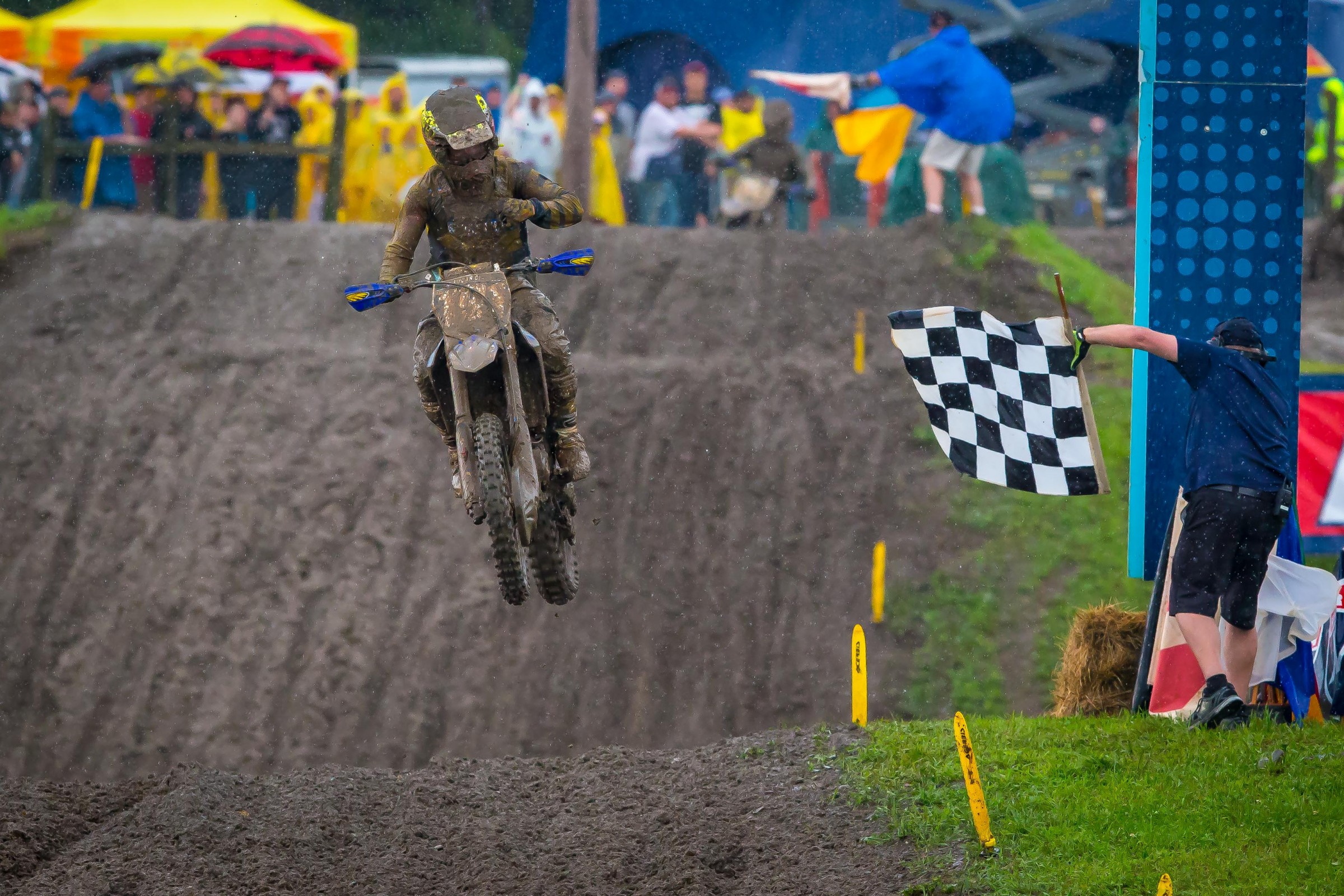 Until he won the AMA's Nicky Hayden Horizon Award as the outstanding graduate to professional racing at Loretta Lynn's, as well as his two A classes, I had no idea that Cooper: a) is from Long Island, New York; b) graduated from public high school; and c) did a year in college before turning professional. And in his first pro race, which was conveniently in the Empire State (though he had never ridden Unadilla's National track before), the new CycleTrader.com/Rock River Yamaha (he'll move to Star Racing in 2018) rider was absolutely impressive. His runner-up finish in the second muddy moto was solid, and had race winner Jeremy Martin of the GEICO Honda team made one mistake, Cooper might have actually won the moto.
Still, when was the last time someone with true on-campus college courses on his résumé made it onto the podium of an AMA Supercross or Motocross moto? I just asked that question of Rick Zielfelder of the GEICO Honda team here in the media tent at Budds Creek, and he just laughed and said, "I have no idea. Mark Blackwell maybe?"
We'll have to keep searching on this, but needless to say, Justin Cooper aced his first test!
Honda and GEICO Shakeup (Jason Weigandt)
Last week, just after we hit publish on Racerhead, Honda sent out a press release announcing management changes for the 2018 season. Dan Betley, currently team manager for the Honda HRC 450 team, is moving over to become team manager for the GEICO Honda 250 unit, and Mike LaRocco, who currently holds that spot, is moving on (the team will keep LaRocco on as a consultant, though). The Honda 450 team brings Erik Kehoe, the old team manager, back into the fold.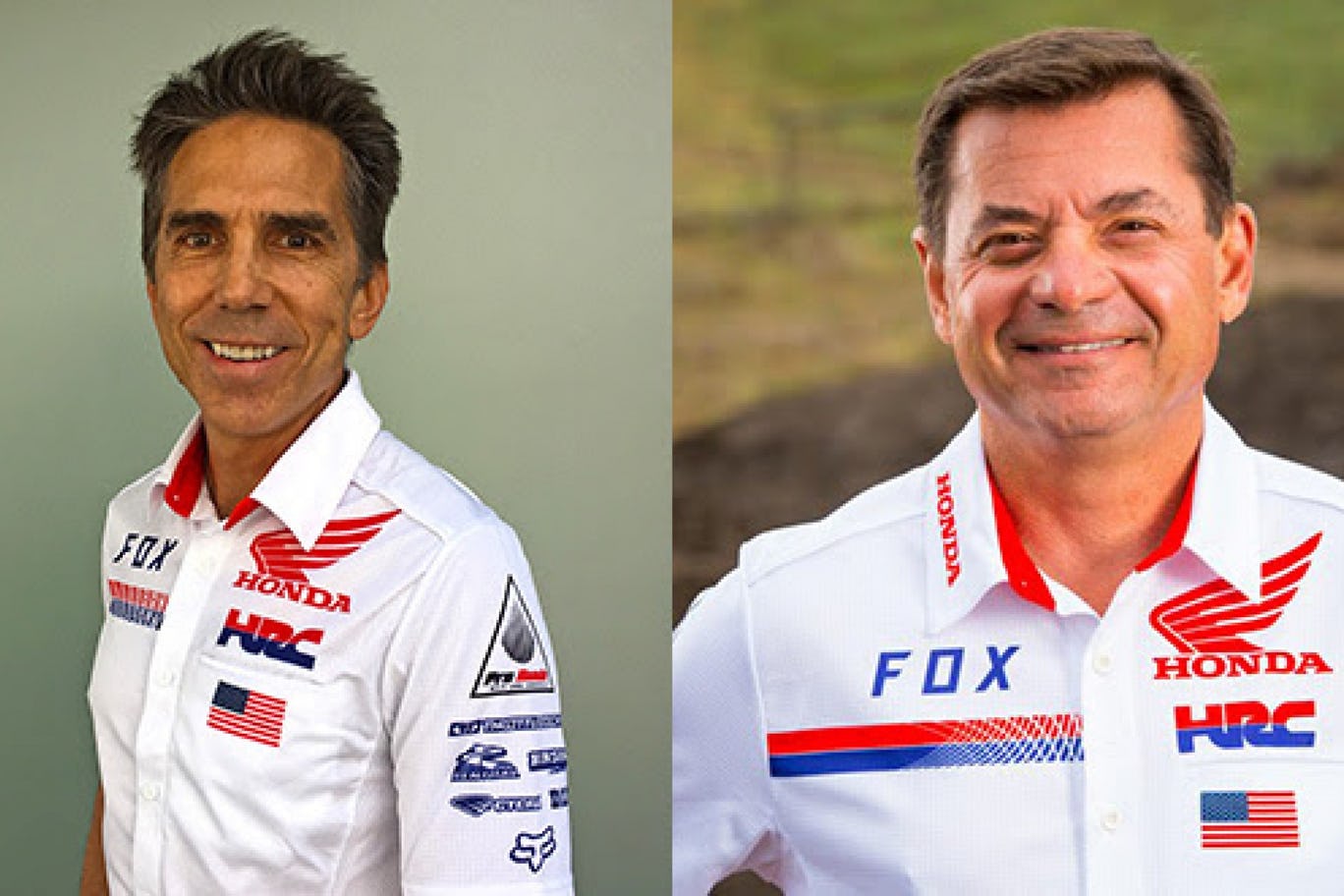 From what I hear, it's a sign of additional cooperation between Honda's 250 and 450 teams. Previously, LaRocco and the GEICO team did a lot of its own R&D, but with Honda's new 2018 CRF250R sharing so much with the new for 2017 CRF450R, it's much more efficient to pool resources and work more closely as a unit. Betley brings this year's 450 knowledge into the GEICO fold, which could get the 250 up to speed more quickly, while Kehoe, who was loved by the riders, should make for a smooth transition on the 450 side. Some of this is a sign of the times—bikes are getting more data heavy, so it helps to integrate into the factory engineering crew.
As for LaRocco, he'll be around, but we're not sure what his next big move will be. Remember, The Rock is literally a founding member of this team—he was the lone rider when the unit first went racing back in 1998.
REED'S BLUES (DC)
Earlier this week, Chad Reed posted on his Instagram what read very much like a farewell to Yamaha.
Like everyone else, I will always think of Chad as having Yamaha-blue blood, despite the fact that he won races and had successful seasons with Kawasaki, Honda, and Suzuki (he won the 2009 AMA 450 Pro Motocross Championship in his one season on yellow). From the time Reed first showed up as a Yamaha of Troy rider in 2003 to just this past SX season, blue is the color that seemed to suit him best.
But will he now go orange? I've heard there is hope that he might join the Red Bull KTM team now that both Ryan Dungey and Trey Canard have retired, but his personal deal with Monster Energy would likely be a big hurdle. I've also heard Rocky Mountain ATV/MC-WPS-KTM, where he would be reteamed with his lifelong friend Michael Byrne, now in management there. And there's also now talk that he could start his own team and that he's been riding a KTM. I personally have no idea, but I do hope we haven't seen the last of the talented Mr. Reed.
French Weekend (Andras Hegyi)
It was weekend full of success for French motocross on both sides of the Atlantic Ocean. In America, Marvin Musquin got his third consecutive win in the Lucas Oil Pro Motocross Championship at Unadilla in New York. And over in Europe, at the MXGP of Switzerland, a new French winner emerged as Benoit Paturel earned his first Grand Prix victory in MX2.
With his win at Unadilla, Musquin is the first French racer to earn three consecutive wins in history of the 250/450 AMA Motocross. Besides the German Ken Roczen, the Australian Chad Reed, and the South African Grant Langston, Musquin is only the fourth non-American to do that. Musquin also became the most successful French rider ever in history of the AMA's premier class. Before the 2017 season David Vuillemin and Sebastien Tortelli had the greatest number of wins among French riders. Both rider earned three career victories in the series. So far this season Musquin has earned four wins.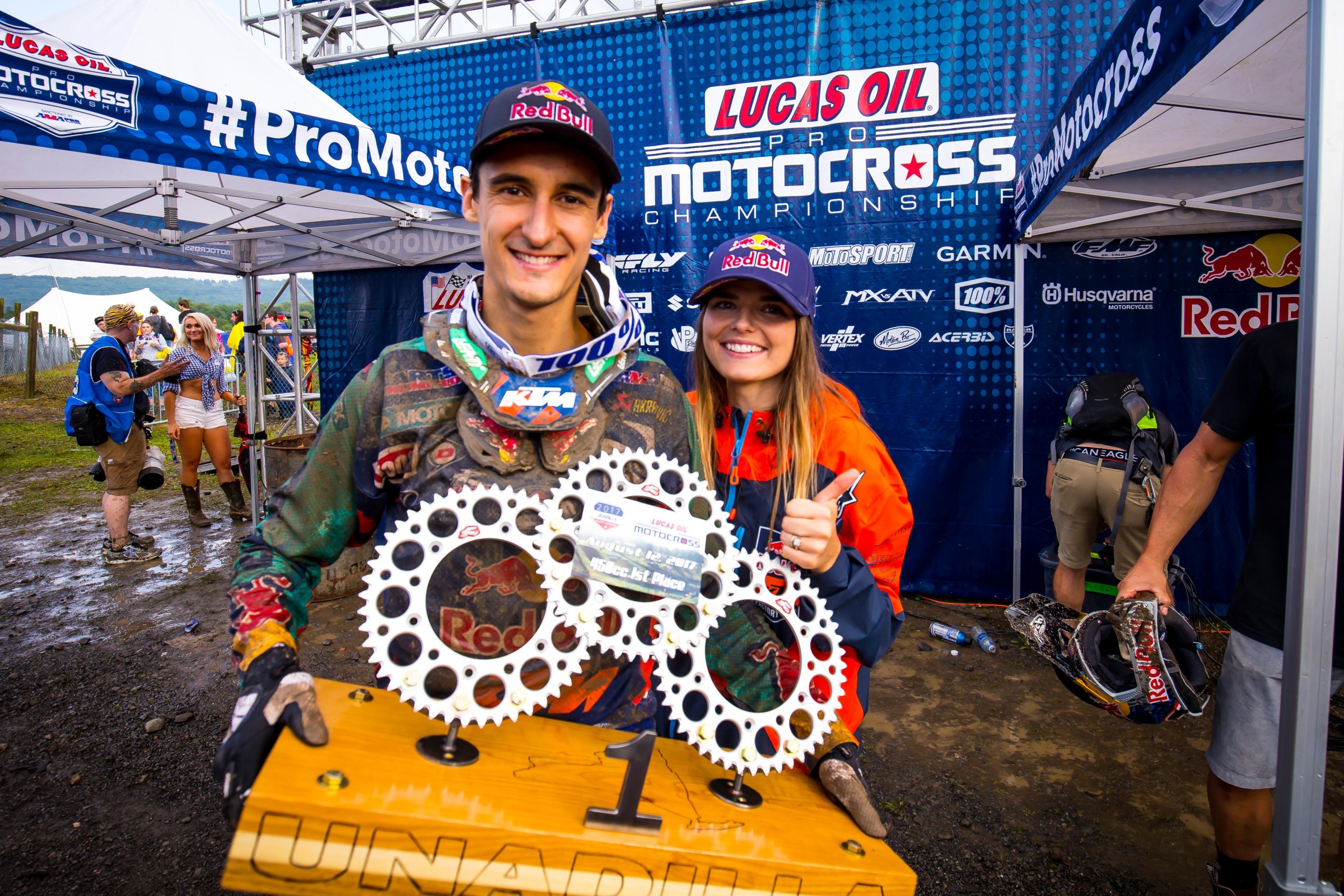 It was also a French celebration in Switzerland. The 23-year-old Benoit Paturel rejoiced over his maiden GP win in the FIM Motocross World Championship. Paturel debuted in the World Championship in 2012 and with his win on Sunday became the 32nd French Grand Prix winner. The most successful French rider Mickael Pichon. The two-time world champion and two-time AMA 125 Supercross Champion collected 38 GP wins in all. Paturel is the 10th French winner in the MX2, which started in 2004. The most successful French MX2 rider is Musquin with 14 GP wins. Paturel finished last season ranked third overall and was a member of the winning French Motocross of Nations team.
Honda's MXGP factory team is showing interest in him, and he is one of the riders who might be the new teammate of two-time world champion Tim Gajser, replacing the Russian Evgeny Bobryshev.
But Paturel will not be on the French team at the upcoming Motocross of Nations, nor will Musquin. Instead, the team is going with Yamalube/Star Racing Yamaha's Dylan Ferrandis as the MX2 rider, and Gautier Paulin and Romain Febvre will ride the big bikes for the defending champions.
And here's a nod to the Swiss riders Arnaud Tonus and Jeremy Seewer, who each won a moto at their home races but then had problems the second time out. It was the first time ever for a Swiss rider to win a moto in MXGP, and the first time ever that two Swiss riders won motos at the same race—and it happened in Switzerland, before a massive and very enthusiastic crowd.
Fire/Police World Games (David Pingree)
There are several big events in the fire and police world every year that include motocross. The biggest, perhaps, is the Fire/Police World Games, and they happened to be in Los Angeles this year. The motocross event was held at Glen Helen, and since I hadn't been to one of these events since joining the "fire family," I figured it was time. There was a great turnout of riders from all over the world, including Spain, New Zealand, and even Mongolia. (More on that guy later.)
You'd be surprised to hear some of the former pro racers who have transitioned into this line of work. Damon Huffman is LAPD, Travis Baker works for Murrieta PD, Turbo Reif is a firefighter Santa Barbara County, and Dennis Ewing is a police officer in Oceanside. And at my department, San Bernardino County Fire, one of my coworkers is Ohio's Joe Oehlhof, a teammate of Jason Thomas at Subway Honda a long, long time ago. Anyway, the fire and police racing is getting faster and faster every year.
Unfortunately, Damon couldn't make this race because he's in motor school, an academy officers must take to become motorcycle cops. Yes, even two-time AMA 125 Supercross Champs have to learn how to properly ride a motorcycle. I can't wait to see Huffy doing a wheelie on that big Harley. Travis Baker couldn't make it either.
That left Joe Oehlhof and me to battle it out with a fireman from Mongolia, who has won this event two years in a row. When it was all said and done, I ended up with the gold, Joe took the silver, and our new Mongolian friend went home with the bronze. Finally, after 42 years, I won a World Championship! Now I'll just sit back and wait for Roger DeCoster to call and make an offer. Actually, speaking of Roger, he was handing out medals along with Jeff Emig and Danny LaPorte. It was an amazing event and one that I hope I can keep attending for years to come.
Second-Generation Debut (Chase Stallo)
Zach Pichon, son of two-time 125SX Champion and World Champion Mickael Pichon, will make his MX2 debut for factory Suzuki this weekend at the Grand Prix of Sweden.
Zach, 16, who currently competes in the EMX250 Championship for Suzuki, is filling in for the injured Bas Vaessen, who sustained a broken collarbone at the Grand Prix of Switzerland last weekend.
"We decided to put Zach on the MX2 bike in Sweden, just so he can ride a bit more", said team manager Stefan Everts. "We don't expect any results there from him; it's just simply so he can get more track time, as in the EMX250 races they don't get too much. He is a young kid and we want him to get as much riding time as possible on these GP tracks so this is a good chance for him."
In the EMX250 Championship, Zach has missed three rounds and is currently 21st in points. In a team statement, he said it will be good experience to race MX2 this weekend.
"The decision happened after Vaessen got injured and Stefan gave me the opportunity to fill-in for him," he said. "I missed a few races this year with my injuries so this is a chance to get some more track-time. It's going to be a good first GP and good experience to move up a class. I'm really looking forward to it and hopefully, it would be cool to get some points."
Coincidentally, there will come a day when Everts likely calls up his own son Liam to race for the team. Liam is one of the top young minicycle riders in Europe, and if he makes it that far, he will be a third-generation Grand Prix racer, as grandfather Harry was a four-time FIM World Champion, and Stefan of course won 10 titles. No pressure there, right?
THIS WEEK IN PULP (Steve Matthes)
This week on the PulpMX Show we had Cole Seely on to talk about his first 450MX podium, being named to the Motocross of Nations team, and living/training in Clermont, Florida. You want to know how serious Seely is about getting better in this sport? As I told him on Monday, nothing indicates him being serious than relocating himself from his place near the beach, his girlfriend, and his dog. If I was Cole Seely, I would NEVER leave my life with my girl, my dog, and my house on the California beach for the middle of Florida, a sand track, and 8,000 degrees with high humidity.
He mentioned that he understood how tough it's going to be not having much time off with going to MXoN, but he said it's a chance of a lifetime and he couldn't turn it down.
The EnduroCross Series is kicking off this weekend here in Vegas and so we called Alex Ray up. We're sending the privateer hero to the opening round to try and get the cash bonus for any MX guy that makes the main event. Judging by this photo a follower sent in from Kris Keefer's Instagram story, this might not go well. Anyway, if the EX Series is in a town near you, go check it out—it's nonstop action and a fun night of racing.
We had Justin Thompson from JetWerx on to talk about the new 2018 Rockstar Energy Canadian series kicking off next year along with Ryan Gauld. It's a whole new series with arenacross, motocross, and supercross series combining to award 100K to the top MX1 rider at the end. Exciting times in Canadian moto, but with the CMRC—the ruling series for 20 years up there—not announcing what they're doing in 2018, I really hope Canadian teams/riders don't have two series to choose from next year. We saw how that worked out with IRL and CART, right? Rockstar was the title sponsor for the CMRC and they're with JetWerx now, so that might be something indicating what CMRC was going to do.
I spoke with privateer hero Jerry Robin this week about leaving Blue Buffalo Yamaha and going at it on a privateer Honda in 450s on the Race Tech Privateer Island Life Pod. Robin made his name racing 1985 CRs before quitting the sport for a while. He got back into it doing some GNCCs, talked about how arm pump surgery might've saved his career, and also the frustrations he has this year with crashes and bike problems sabotaging some serious qualifying speed.
Darryn Durham was a guest on the podcast this week and we touched on whether he'll make a comeback to SX (sounds like it) and thoughts on his career in general. DD is always an interesting guy to talk to, and it sounds like he'll be lining up in some European Supercrosses on the Alta electric bike. He's been doing a ton of testing with those guys, and he also dropped in the pod that it doesn't sound like Alta have their AMA homologation stuff figured out, so they won't be in SX next year. (And Darryn, make sure the Alta guys pack the right power adaptor for Europe so you can plug your bike in properly, because otherwise you're going to have to hope the races are all downhill.)
We did the N-Fab Racer X Fantasy MX podcast this week, and some riders to watch for when it comes to that is Dylan Wright in 250 MX and vets Ben LaMay and Kyle Chisholm lining up in 450MX. And yes, we're all still bitter at Robin for his DNFs at 'Dilla.
We had the Fly Moto:60 Show with JT and Paul Perebijnos and touched on Budds this weekend and why both guys love this track so much. Also touched on what permanent number Zach Osborne should take if he wins this 250MX title (I think we settled on #8 so you're welcome Zacho) and what start we liked at Budds the most.
We also had Tony Blazier reviewing the 1983 RM 500, David Vuillemin telling us Tomac should've went with roll-offs in moto one, Swizcore wrote about Musquin and Keefer reviewed some tires. Go check it all out on www.pulpmx.com.
Some late-breaking silly season stuff: Justin Hill leaving Pro Circuit to go with JGR Suzuki for a 2018 250SX/MX ride and a 2019 450SX/MX ride. So that might open up a spot for Marty Davalos to go back to PC for 2018 on a 250. Stay tuned.
HEAD-SCRATCHING HEADLINE OF THE WEEK
Yamaha usually has this one on lock with their catchy headlines, but the PR we received from RCH/Yoshimura/Suzuki Factory Racing deserves a nod for the way it tied a great history lesson into its preview of Budds Creek and the team's unfortunate, imminent demise.
FULL SPEED AHEAD FOR RCH/YOSHIMURA/SUZUKI FACTORY RACING AT BUDDS CREEK
CHINO, Calif. – "Damn the torpedoes, full speed ahead!" That's the famous paraphrased order issued by Admiral David Farragut during the August 5, 1864 Battle of Mobile Bay in which a Federal fleet commanded by Farragut attacked and defeated Confederate forces who guarded the entrance to Mobile (Ala.) Bay.
While generally associated as a tradition of the U.S. Navy, that phrase is the perfect rallying cry for RCH/Yoshimura/Suzuki Factory Racing when the Lucas Oil Pro Motocross Championship sails into Saturday's Geico Motorcycle Budds Creek National at Budds Creek Motocross Park.
With only two races left in the 2017 season, perhaps there's no philosophy more appropriate for the team co-owned by Carey Hart and Ricky Carmichael that will shutter operations after the final race of the year.
"There isn't much time left in the season and we don't have anything to lose," commented Justin Bogle, rider of RCH's No. 19 Suzuki. "I think all of us would like to close out the year on a high note. Everyone has been working hard since Supercross and no one on this team has let up, not even a little. I can't think of a better situation to go for broke."
Hey, Watch It!
Racer X Films: Best Post-Race Show Ever
The red-hot Martin Davalos is coming off the first two 450MX podiums of his career, and he put the Vital MX Garmin on for One Lap Around Budds Creek, which you can watch right here.
Random Notes
When Kris Keefer was at Loretta Lynn's a couple of weeks ago, he ended up pitting next to a real cool lady named Nona who was an alternate. She didn't get in but explained that she'd been going for years with her now-late husband, and now she goes alone. Nona explained she wanted to get a better bike to try and make it in 2018, and Keefer was so touched by her story and hanging with here, he decided to do something about it. A lot of people liked his Flyin Kolors 6D helmet, so he's putting that up for a raffle with 100 percent of the proceeds going to Nona for her 2018 Ranch effort. Read more about it, see the helmet and get a ticket over on pulpmx.com/raffle.
---
My friend Rob Mundell spotted a recent review of my dad's old band Elderberry Jak and their album, Long Overdue. If you're a fan of "terrific psych rock melted with blues and folk," this is for you!
---
The 2017 Lucas Oil Pro Motocross season finale is next Saturday, August 26, at Ironman Raceway in Crawfordsville, IN. Click here below for more information about amateur racing programs on Friday and Sunday, as well as all of the family fun off the track.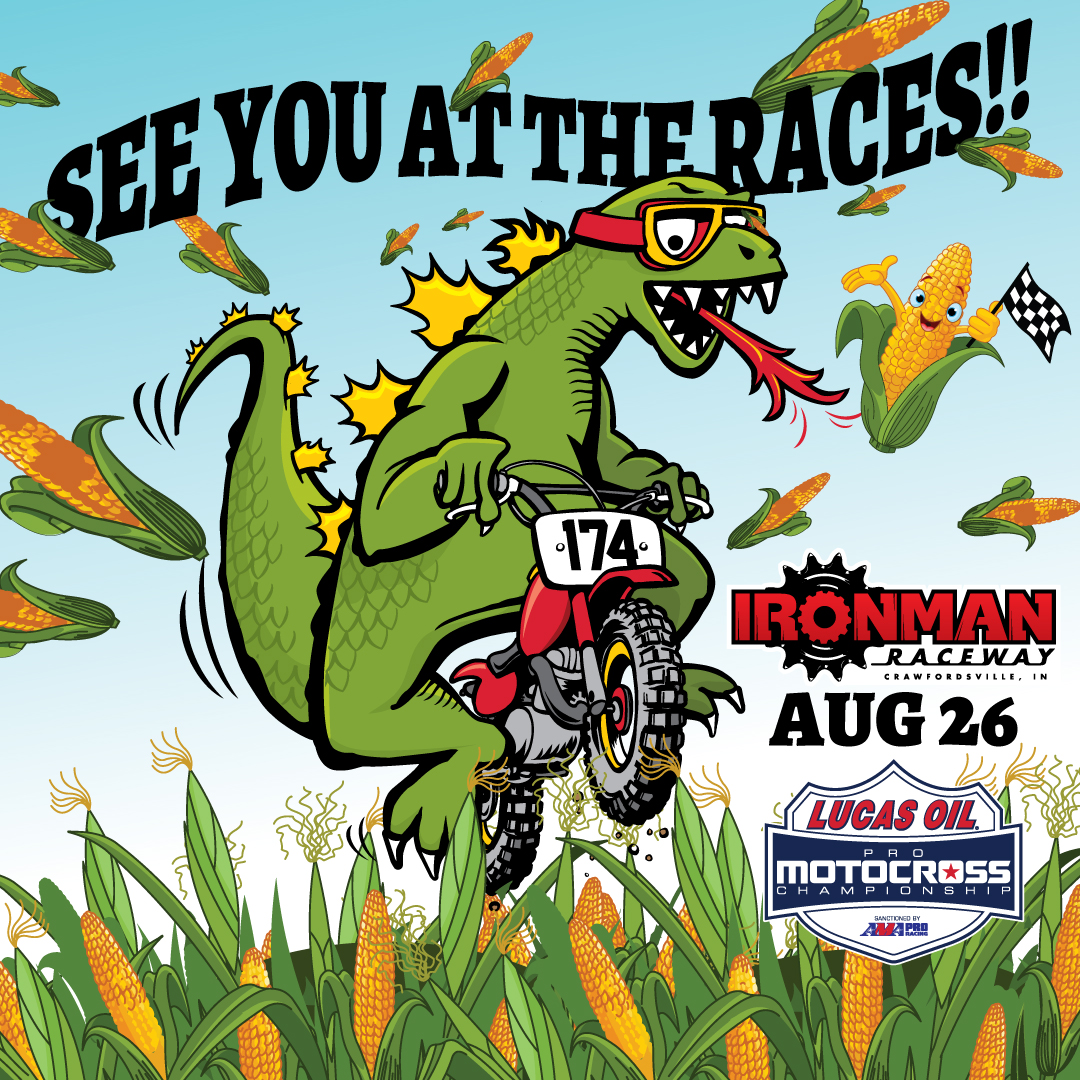 The Racer X Pit Pass Will Be at the Monster Energy MXGP of USA
Racer X Pit Pass includes Saturday-Sunday admission, all day pit access, one full-year subscription to Racer X Illustrated. Visit mxgpusa.com for tickets and information.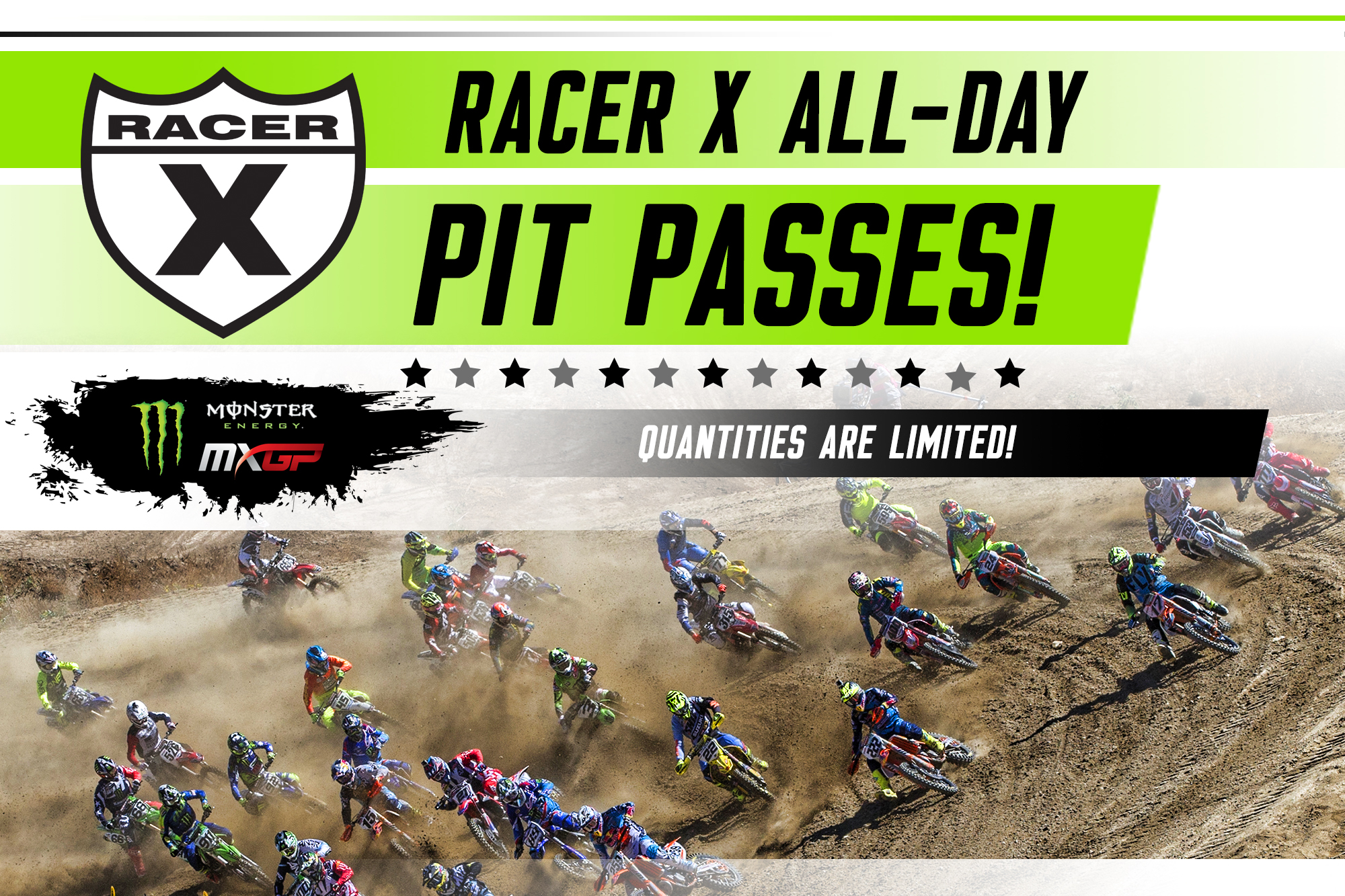 Subscribe now for as low as $9.98 and receive a FREE Fly Racing Draw String Bag plus access to our digital edition.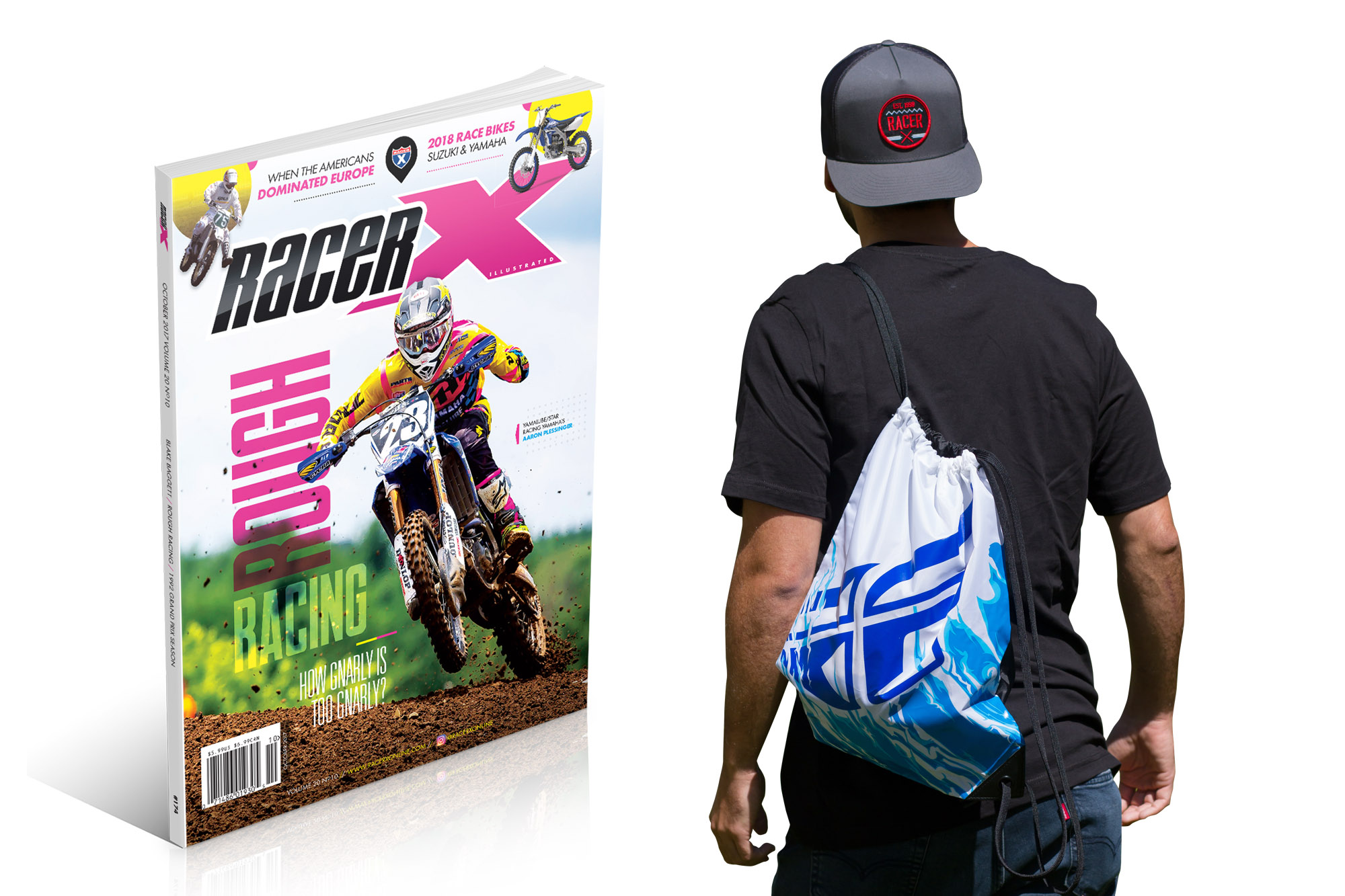 Budds Creek: Limited Racer X All-Day Pit Passes Left!
Going to Budds Creek this weekend? Want to be able to get into the pits all day?
The only way to cruise the pits whenever you'd like is with the Racer X All-Day Pit Pass, but quantities are limited! Get yours today while they're still available and get all-day pit access plus a one-year subscription to Racer X Illustrated for just $50. Preorder ticket sales end Thursday, August 17th at 11:59 PM.
If you preorder online for this event, you'll need to pick your Racer X Pit Pass up at the Racer X Pit Pass Booth, which will be located in Sponsor Village, where you'll also receive an extra copy of Racer X, the official event sticker, and Racer X stickers.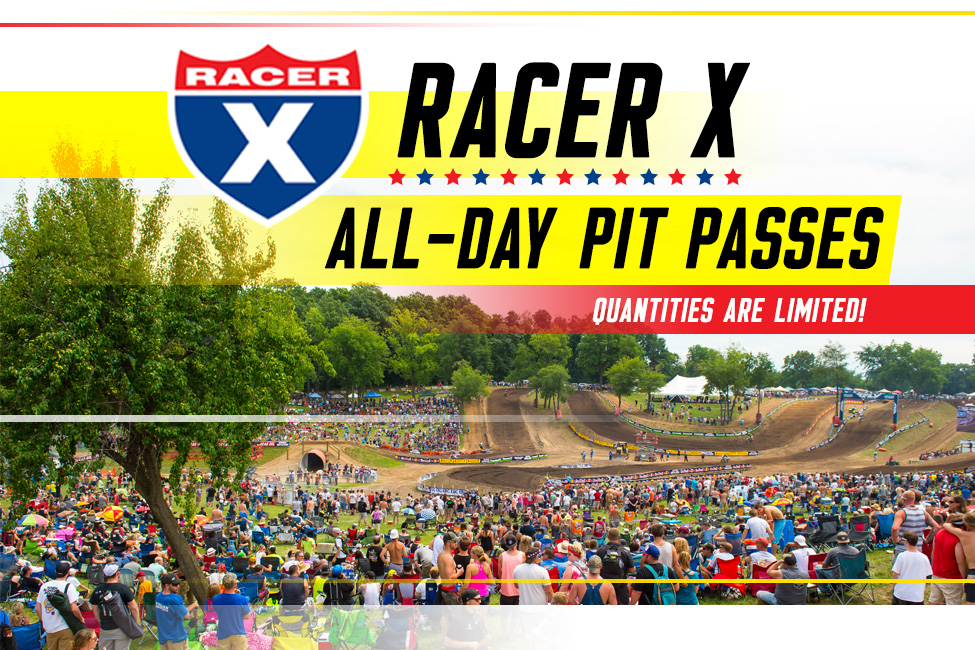 Subscribe at Budds Creek and Get a Free $20 MotoSport Gift Card
Headed to the Budds Creek National this weekend? Be sure to stop by the Racer X Booth in Sponsor Village, and subscribe to Racer X Illustrated for as low as $10 to receive a FREE $20 Motosport Gift Card, a one-year subscription to Racer X Illustrated, an extra copy of Racer X, the official event sticker, and Racer X stickers.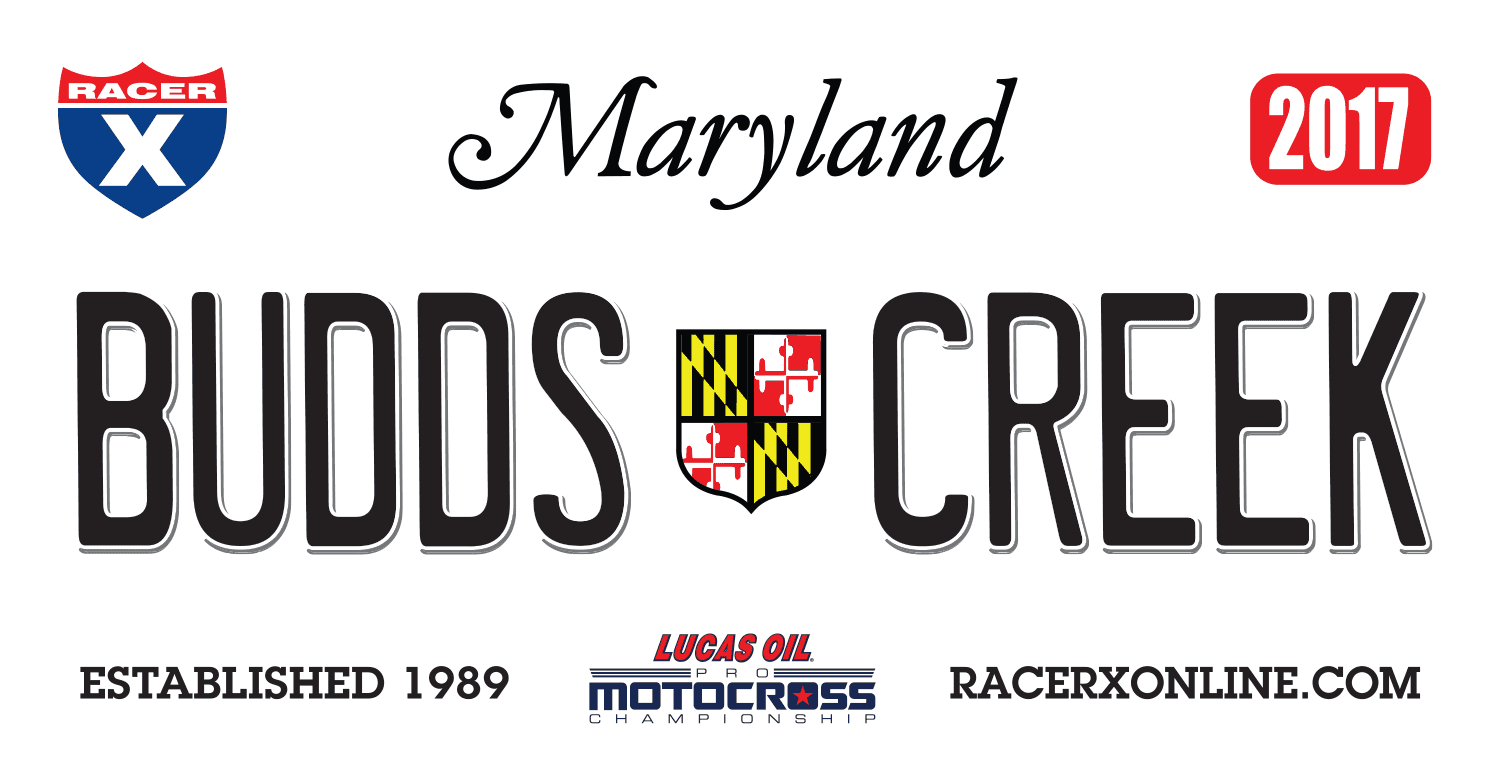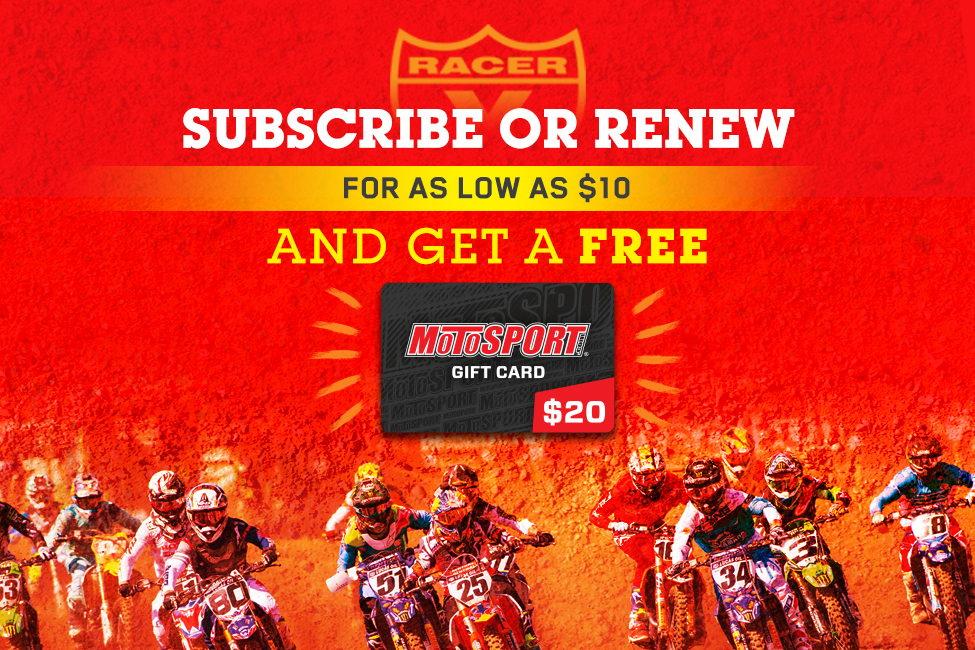 This week on the MotoXpod Show, Muscle Mark and Darkside talked to the recently retired Trey Canard. They discussed his views on retiring, the love he gets from the fans, and much more. CycleTrader.com/Rock River Yamaha rookie Bradley Taft joined the show to talk about his season, injuries, and what he's learned this year. Finally, they wrapped up with the Locals Only segment with Texas motocross historian, Shand Garcia. Find the show on any podcast catcher and iTunes.
That's it for Racerhead—thanks for stopping by. See you at the races.