All the fuss around the eventual selection for Team USA this year and their bid to win the Chamberlain Trophy for the first time since 2011 meant the final announcement was almost one of relief. On the roster are two riders with intimate knowledge of Grand Prix and the tracks and how promoters Youthstream go about organizing the flagship Motocross of Nations. Nobody who follows motocross can deny that Zach Osborne has earned his 250 slot (although it has to be pointed out that he actually rides a 450 pretty damn well and won a qualifying moto at the 2009 Nations for Puerto Rico at Donington Park, also in the UK) and the decision to slot a second Husqvarna rider into the mix in the form of Thomas Covingon—an athlete who has raced at Matterley Basin, the site of this year's MxoN on October 1—for the last four years could prove to be shrewd move by Roger DeCoster.
For several years the difference between Team USA and their rivals has largely been down to some freak incidents or mastery of the distinctly European tracks. With Osborne and Covington onboard the team now have personnel with that kind of data in their hard drives. Covington's inclusion might have raised eyebrows in some quarters, but he is having a decent season here in MX2. He was an outside bet at the 2017 title and although he's been inconsistent at times, he has also won three motos and has Grand Prix wins to his name. He has had the speed to lead this category whether on sand or the harsh hard pack found at last weekend's Swiss Grand Prix.
"I'm happy for Thomas," said friend and Monster Energy DRT Kawasaki rider Tommy Searle. "He has done well all year and better than a lot of Americans who have come over here. He has worked hard, he lives on his own and deserves a lot of credit for being in a position to put himself to be on the team."
Thomas sat down to chat with us while still wiping away the sweat of a run to second place in the second moto at Frauenfeld-Gachnang in Switzerland. He preferred to get the business of the Swiss Grand Prix out of the way before talking about an event seven weeks further down the line. This weekend's event was promising, as the Swiss soil was rough and rutty and could bare similarities to the English terrain at Matterley Basin. Covington's run to second in the second MX2 moto could be a sign of just how competitive he could be at the 'Nations.
Racer X: First of all: fourth overall here and the heavy crash from Belgium didn't seem to affect you too much.
Thomas Covington: No, when I crashed all the muscles in my back kinda locked up and I couldn't move. I tried to get up but then thought "Okay, that's not happening." The paramedics were a bit scared and kept me trackside for a while and carried me off on the stretcher, but the next morning I felt all right. I felt good this weekend actually. I missed the start in the first moto and tried to cut up the inside, but nothing [was] there and I had to work really hard to come back through the pack to seventh and I think that's why in the second one I gave-out a little bit with [Benoit] Paturel putting pressure on me for the lead. I didn't have anything left. I was happy with the second race though. It was a decent weekend.
What kind of beast was this track? It looked pretty technical out there.
Yeah, really technical. Last year it started wetter, but it was more technical this time. They soaked the track last night and in warm-up it was so muddy. It made the track super difficult because all the ruts were so deep and it was hard to find a flow. This is typically the kind of track I do well on, so I enjoyed it.
Coming to another matter, your name has been buzzing around the internet for the last 24 hours. When did you first think you'd be in the frame for Team USA?
Oh, when [Eli] Tomac said he wasn't going to do it then it kinda popped into my head. I didn't presume I was better than a lot of 250 guys over there [in the U.S.], but I do have a lot of experience at Matterley and on that [metal] gate, and my starts are normally pretty good. I felt I could go well on that track. I rode the 450 while I was at home in California before Mexico and it suited me really well; I loved it and my speed was really good. I ended up writing Roger [DeCoster] an email out of the blue and told him I was available and if he wanted to give me the opportunity then I'd be honored. We talked back and forth for a couple of weeks and earlier this week he sent me an email and pretty much said I was in and it'd be announced at Unadilla. It is a bit crazy actually and it was hard to focus on the race this weekend to be honest. A lot of people were talking about it online. It is one of those things where you wonder "Will I ever get that opportunity?" and I don't think many people do. I don't take it lightly at all and I'm super excited.
That email and conversation seems typical of your proactivity with coming to Europe, repeadtedly attempting MX2 and changing teams and homes and epitomises the notion that if you don't ask then you'll never know.
Yeah, exactly. Obviously I know Roger is from Belgium and follows the World Championship a little bit even if he has been in the States for a long time. I don't know if he ever had me in mind, but it turned out that he did and thought it was a good idea. I'm excited he's given me the shot.
Recommended Reading
Has it meant a quick change of schedule for you?
Actually I was initially planning on racing for Puerto Rico. I didn't think there was a chance of racing for the U.S. so I'd been talking to the Puerto Rico guy all year. I actually spoke to him at Maggiora [Italy, site of the 2016 MxoN] and lined it up. As soon as I found out I was in for USA I emailed the guy and asked if that was going to be a problem swithching and he sent a light-hearted reply saying he had been waiting for them to announce before he had sent in my entry. He was cool about it.
Any idea what it will feel like? Matterley is quite an epic circuit anyway but there will be double the amount of press, fans, attention, expectation, and so on.
I've been talking about it through the last part of this week. All the details like the colours, graphics, painting, and trying to get everything lined up is exciting. You might only get this chance once you know? I want to make the most of it. Typically, I do pretty well when there is a lot of pressure on me and there will be a big crowd at Matterley, but it is one of my favourite tracks and I look forward to it every year. It was my first European race. I love the place. It will be cool to ride with Zach Osborne, I know him pretty well and [Cole] Seely too. I don't know him that much, but people seem to think he is quite cool. I think it is a pretty popular team actually. I expected a lot more haters when it was announced, especially with me on the team—people saying I didn't deserve it. It has been mainly positive stuff and everyone is mostly pulling for us and that's great to see.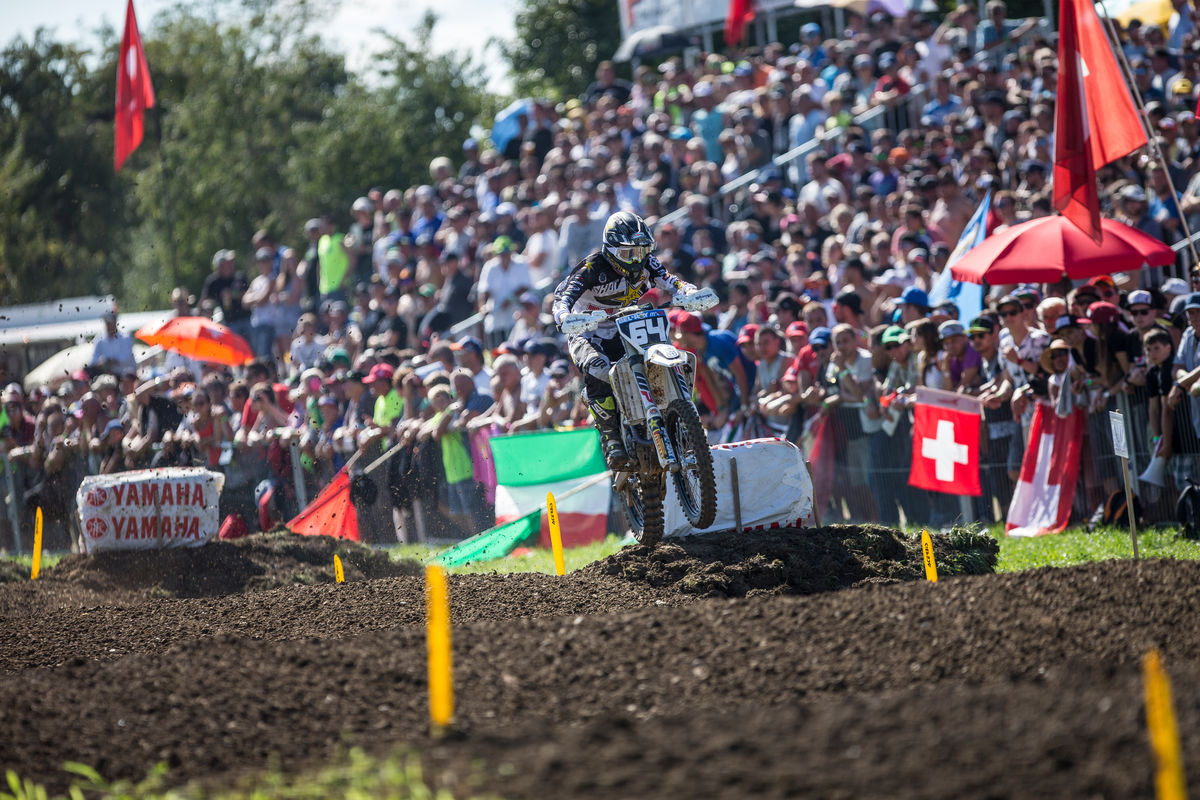 Is a key ingredient the fact that there are three riders who seem to really want to do the event?
For sure. I think the three guys that are going definitely have a lot of heart and we're gonna go for it. We think it is an honor to represent your country and we'll give it everything we've got.
Team USA turned up without any of the big hitters like RV, RC, or Stewart at Franciacorta in 2009 and it resulted in a win for Dungey, Weimer, and Tedesco. Is it quite nice to fly slightly under the radar this time?
Yeah, it'll be different. I think the perception of the fans will be different. I always kinda liked being the underdog—nobody expecting you to go out there and kill it, you just have to go out there and show what you've got. It will be fun.
Lastly, will this change the dynamic of the USGP for you? I know it's a different bike and different class, but will there be more eyeballs on you?
Everyone will be watching for sure, but how things will be at the USGP hasn't crossed my mind much. It will be like any other race and I will just try to do my best.