Last September, American motocross fans got a good look at Dutchman Jeffrey Herlings. First, at the USGP in Charlotte, the Red Bull KTM Factory Racing pilot won a moto and placed a strong runner-up to overall winner Cooper Webb. Eight days later in sun blistered Southern California, he swept both motos of the Glen Helen USGP, and in doing so, wrapped up his third World Championship.
Now a year and 14 MXGP Grands Prix removed, Herlings, currently second to Red Bull KTM Factory Racing teammate Antonio Cairoli in the 2017 FIM Motocross World Championship, will once again look to the ninth month of the calendar year and a return to America and the Monster Energy MXGP of USA.
A few days after a triumphant double moto sweep in the nightmare of a sandbox better known as Lommel, we called up the mercurial shooting star of global motocross while he was at his home in Holland. Smart, candid and remarkably humble throughout the interview, Herlings is ready for the big race set for September 2-3 at WW Motocross Park in Jacksonville, Florida.
Racer X: The Swiss GP that ran last year appeared to have something of a supercross-theme attached to it. What's your take on the race and the race circuit you'll line-up for on Sunday?
Jeffrey Herlings: I watched the race but I didn't race the race last year because I had a break in my collarbone, but the track looked pretty amazing. It was in a field, but they made some supercross kind of things with a lot of jumps and stuff like that. I'm actually really looking forward to it and I hope to have a good weekend. Obviously, we've got second in points now. We had a bad start to the season due to a broken hand, but I think the last couple of rounds have gone good and consistent.
You really had a rough go at the first four rounds at Qatar, Indonesia, Argentina, and Mexico, respectively. There was a lot of chatter about you not measuring up in the 450 classification. Were the results—and all the talk—frustrating for you absorb?
Yeah, it was definitely frustrating. We had big hopes coming into the season and we really hoped to win the championship in our rookie year, but one week before the season started we broke the hand, so it couldn't have gone worse. It was pretty devastating that something like that happened one week before the season started in Qatar and then I had to have surgery and then had an injury that could take around six-to-eight weeks to heal. It was a pretty ugly break and we only had one week to heal up. Even though it hurt a lot, it was also dangerous because it was possible that the plate would snap and the bone would re-break. So besides having a lot of pain, we also took a big risk and for the points we got in return, it wasn't worth it. And also, the healing took very, very long and I was in pain the whole time. It was messed up, but I think with all the bad luck we had at the beginning of the season, once we got healthy, we started to be on the podium and started winning races again. From the moment I was healthy, we didn't lose points on the championship leader, so that means that if I was fit in the beginning, I would still be in the championship chase right now. It's a shame that this happened, but it's racing and injuries are part of the sport.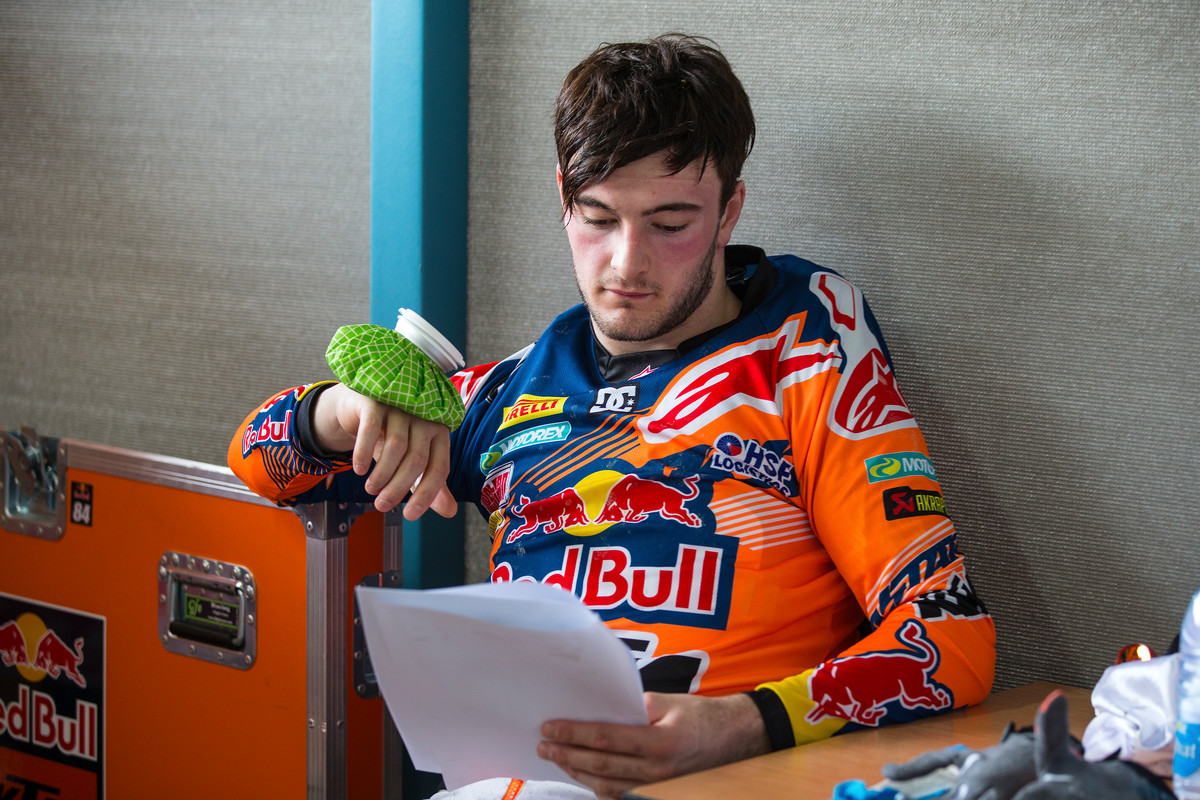 Once you guys got back to Europe after all of the flyaway races, it really seemed like things started to turn around for you. That second moto fourth place finish you raced to at Arco in Italy particularly comes to mind as a turning point.
We were all down. Our starts were bad. We were struggling with our setup and we didn't really know what to do because I was always hurt. It was hard for me because other guys were winning on the same bike, so it wasn't the bike. I knew it was me and my personal setup, so I was doubting myself, I was doubting the bike, I was doubting everything. So, yeah, once we got a good moto in, like you said, we finished fourth, and that was great. The weekend after at Valkenswaard, we got a podium going 3-3 and from then on it all went uphill, you know? We won the week after and from then on we were really consistent and only missed out on four podiums. All that showed that I've been really consistent.
How did it feel to win your first race on the KTM SX-F 450 and stand atop the podium in Latvia?
Yeah, I mean you come from the 250 and you were one of the best 250 riders ever in Europe where I was so dominant and won the World Championship three times—it should have been five, but three years with a pretty bad injury stopped that—and won over 60 GPs in the class, we were highly favored going into the MXGP class, but then I had to wait pretty long for that win. After such a devastating beginning of the season, it felt really good to be back on top of the podium. Even though it was just a couple of races where I didn't win, it felt like it was forever, so to be on top of the box meant a lot and it also proved to the world that I still had it and that I wasn't just a good 250 rider, but also a good 450 rider. It was important to show the world that and to especially show it to myself.
Recommended Reading
Did you have to grit your teeth a bit when you heard some of the negativity from the fans and media?
Yeah, definitely. I was in the 250 class for a long time. Even though I stepped up to the 450 class at 22 years of age, a lot of people felt like I was in the 250 class for a really, really long time. The reason for that was that I had two major injuries two years in a row and because of those injuries we didn't have time to prepare for the MXGP class. If that wouldn't have happened, I would have been in the 450 class by age 20. Everybody was saying, "He's only good on 250s and he doesn't have competition and once he goes to up they'll kick his butt every single week and he won't be a good 450 guy." So, yeah, it gave me the motivation to show the world that I've still got it and I'm a good 450 guy. I knew I would never be capable of having that domination like I had in the 250s in Europe in the 450 class because the competition is just so much stronger. The best of the best are in the 450 class. Yeah, it was important to me to shut some mouths, but at the end of the day you just want to do it for yourself. You always have people for you and people against you. That's life.
I'm pretty certain American race fans may want to hear your answer to the following question: Both you and Antonio Cairoli are now members of the Red Bull KTM Factory race effort. How has that been?
I think we get a long really good, actually, but once we're at the racetrack, we both want to win. For sure there are teams in America that are similar to that, like the Pro Circuit guys. For a longtime they've been the best 250 team and those guys are one, two, three, and four weekend-in and weekend-out. Definitely it is sometimes difficult to be with your biggest competition in the same team, but also it also makes you stronger. Even though we're both with KTM, we both have our separate team. I'm still at the Lites team and he has his own team where he's been working with for a long, long time. In fact, he's been with the De Carli team his entire professional career. Mainly we are on the same bike and we get along good, but once we go racing, we both really want to win and we both do whatever it takes to win.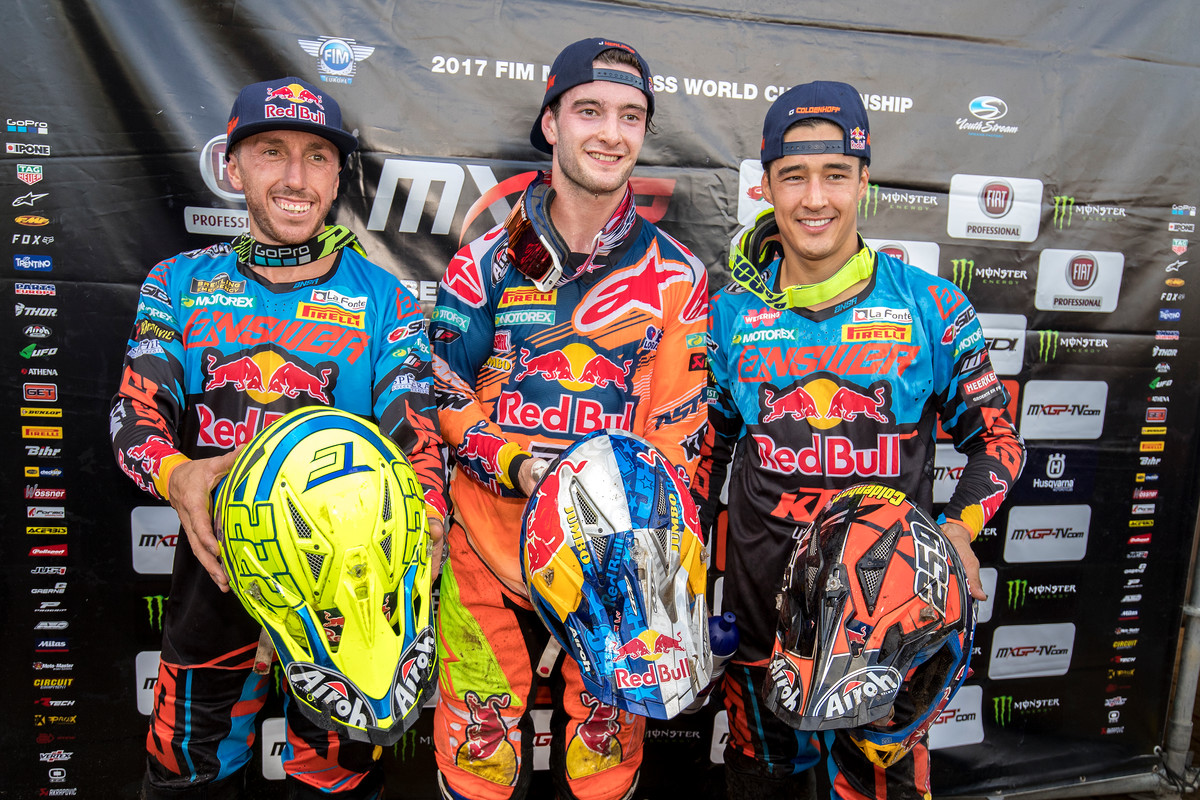 It's really interesting to me what different spheres the two of you guys are in. Antonio, from what I'm told, wants to go after Stefan Everts' incredible career numbers, while you, meanwhile, want to establish yourself as the premiere Grand Prix rider.
Yeah, I mean I think he wants to go for the 10 championships—or more. He's got eight now and he's really close to winning his ninth one. I feel like I can stop him from doing that [getting 10]. I feel like if I'm 100 percent healthy I can really fight with him next year and try to win the championship. But it's not just him. We have a bunch of good guys over here like [Tim] Gajser, [Romain] Febvre, [Clement] Desalle, and [Gautier] Paulin, there are a lot of good guys. It's not only Cairoli. For sure Cairoli is the main guy at the moment to beat. It just all on how the year is going. The last few years Cairoli had a difficult time and this year he is just the man to beat and he's been strong since the beginning of the season. It seems like it is his year and nothing can go wrong, but not every year will be the same. I don't know. At least I'll try and stop him because I want to win the championship myself. We'll just see how the future will go.
After a very dominant 2016 MXGP season in which he won the World Championship, Tim Gajser hasn't been nearly as convincing or even consistent in 2017. What do you attribute that to?
Gajser won the MX2 World Championship and nobody would have expected him to win a premiere championship. Gajser, he didn't [just] win the 450 title with luck, he just won it because he beat Febvre straight up, he beat Cairoli straight up—and Cairoli was fit all year long—and I think Gajser really proved a point. This year he started really strong, but for some reason he had some gnarly crashes over in Latvia and again in Germany and then he was out for a couple of rounds. Since his comeback, he wasn't as strong as he was at the previous couple of rounds. I don't know. I reckon he'll be back next year at a very strong level. We'll see.
"It's hard to say regarding the speed because whenever Americans come to Europe, they have a really different track to race on. When we go to America, tracks are different and they suit the American riders better."
Switching gears a bit here, the Monster Energy MXGP of USA set to be held at WW Motocross Park in Jacksonville, Florida, will soon be upon us. Sounds like you're taking the race quite seriously. Have you seen images of the track?
I've seen the track and it looks awesome. It looks like one of the best tracks I've ever seen. In America, they take motocross differently. The tracks are always prepared so good and with American motocross and supercross I'm just always surprised how good the organization is. I mean the organization here in Europe is really good, don't get me wrong, but in America, I think they prepare the tracks really well. Yeah, that track in Florida looks especially awesome in video. The thing for us European guys is that we're not really used to the heat, and they say in Florida that it's going to be really hot and really brutal and very humid. That's why I want to come early. KTM discussed with me if I would be interested in Aldon Baker's training program for a couple of days. Obviously, Aldon is working with [Jason] Anderson and he's working with [Marvin] Musquin. He used to work with [Ryan] Dungey. He works with all the KTM and Husqvarna guys. Through KTM, they proposed to me to do it and I said, "Yeah, why not? Everybody in Europe is always talking about Aldon Baker. If I have the chance to see it, I want to see it and really witness what's going on and how professional he is." Yeah, I'm really excited to see it and, for me, it's like a dream come true to work with a championship maker. I've never met them before and I'm very excited.
Do you like coming over to the United States of America to race?
Yeah, I always like coming to America. I think they take motocross even more professional than over in Europe. All those teams and everything—especially with supercross—it's really amazing. Sometimes I maybe have some regrets that I never came over to America, but at the same time, I've got my family over in Europe and in Holland and my friends and I've got a house here and everything. All those things made me decide not to go to the USA because I was pretty happy over here. At the same time, you know, I wish I would have done it, but I'm a bit late for that now and obviously my contracts are for racing Motocross World Championship. Yeah, I always love it. I really like the tracks and I like the atmosphere. I like how professional the people are over there. And just the country and the culture, I like the people there and the way of living. Yeah, I think America is a pretty amazing country.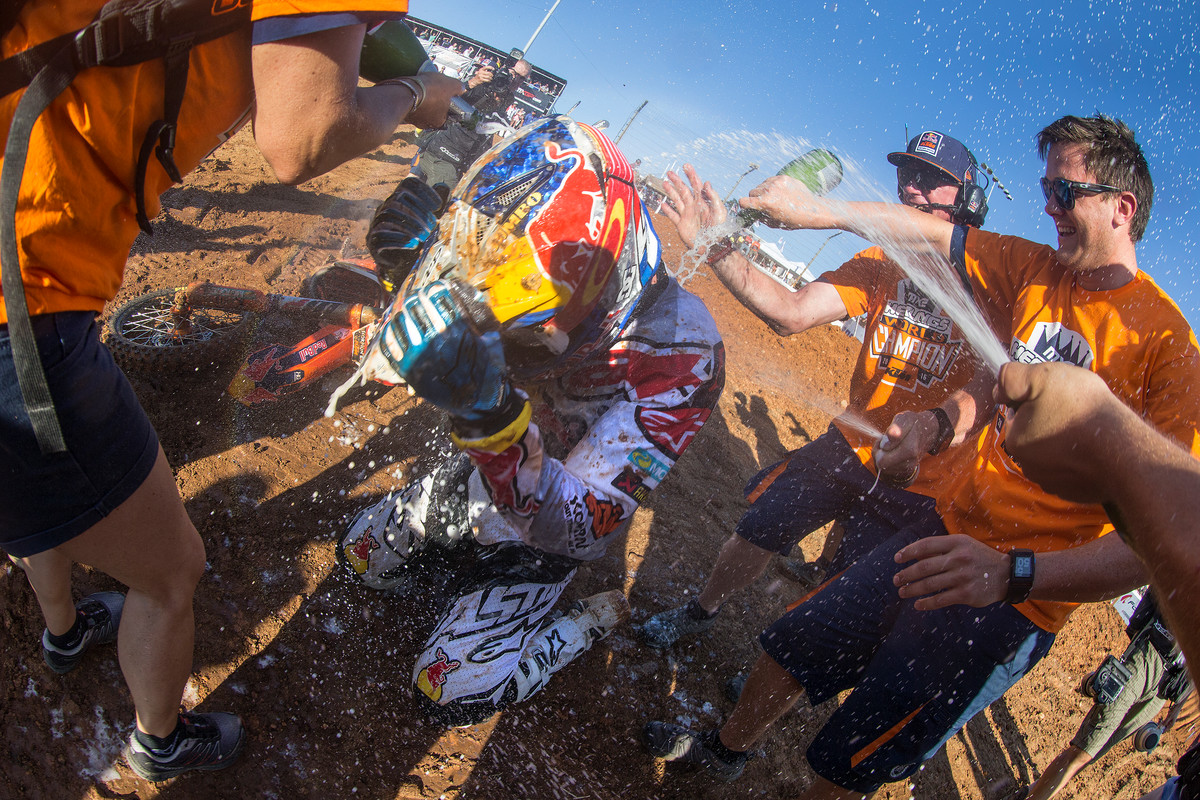 You know you have a lot of fans over here. There are plenty of American motocross enthusiasts who like your charism, riding, and style and keep a close eye on you. To be completely honest, I really do think it has been quite a while since a European-based racer drew so much attention over here. Do you ever sense that at all?
I think that American motocross fans don't follow the World Championship as much as we follow the AMA series. Everyone in Europe follows American motocross, while in America, I always have the feeling that they care about the Motocross World Championship less. And that's normal, obviously. But yeah, whenever I have come over to the U.S. all of the people are very friendly and are like, "Hey, Herlings!" I always enjoy going there. And with social media getting bigger, I see some comments in the forums and things like that where I know I have some American fans and I really appreciate that. I appreciate that I have some fans on both sides of the ocean.
Eli Tomac is, arguably, the highest ranked American-based racer right now and he'll be lined up to compete with you and all of the other GP guys in Florida. Are you looking forward to racing him? And are you surprised he will not race for Team USA in the forthcoming Motocross of Nations?
I totally understand why he's not racing the Motocross of Nations. You guys in the U.S. start in the first weekend of January at Anaheim and go all the way through May with supercross with only one or two weekends off. Then they go straight into outdoors and race 12 rounds. Then there is a month off and then Monster Energy Cup. From there, two and a half months later, the new season starts. Eli has already been going for a long, long time, so I understand he needs a little break. And, yeah, I'm really excited to race him. I don't think I've ever raced him before. Even though he's another racer, I'm a big fan of him. I like the battle he had with Dungey this year. When Eli is going and he's on a good day and he's going fast, he's going super-super fast. I hope for us that he's not going to have a super day at the GP because then we'll not be looking good. I will try to go out and have a good battle with him, but like I said, I don't know if it's possible because when he has a good day he can be really fast.
But it would be cool to beat him here in the homeland, though, huh?
[Laughs] Yeah, definitely. That would be amazing. But I watched him race last year at Glen Helen and he just came from mid-pack and passed all of those guys like they were amateurs. He was so super-fast that he passed Cairoli and just ran away. But I've also seen him at races on Saturday where he wasn't looking so good. I've seen him at the Motocross of Nations a couple of times where he wasn't looking so good, but then in the next moto, which was two hours later, he was just flying! When he has a little bit of an off moto or an off day, there is always a chance for us to beat him, but like I said, I don't want to plan too much or look out too far. We're just going to go out and have a good time and we'll see what it brings us. It's hard to say regarding the speed because whenever Americans come to Europe, they have a really different track to race on. When we go to America, tracks are different and they suit the American riders better. It's just hard to say. We'll see whatever we can make happen.