Loretta Lynn Ranch
Hurricane Mills

,

TN
Rocky Mountain ATV/MC AMA Amateur National Motocross Championship (Loretta Lynn's)
Amateur National Motocross Championship
Welcome to Racerhead and another busy week in motocross. The professional riders in the Lucas Oil Pro Motocross Championship have the weekend off, and then it's a three-race run to the final checkered flag of the domestic season: Unadilla, Budds Creek, and Ironman. After that, it's the MXGP of the USA at WW Motocross Park outside Jacksonville, then the Motocross of Nations for those who have chosen to race and are selected. (More on that later.)
But right now it's all about Loretta Lynn's for a whole bunch of fast, young riders—and some old ones too. The 2017 Rocky Mountain ATV/MC Amateur National Motocross Championship is happening just outside the office trailer window here at Loretta Lynn Ranch in Hurricane Mills, Tennessee. Thirty-six years ago, the AMA combined their Amateur and Youth Nationals and moved their nomadic event to a permanent location here at the home of the legendary country singer. MX Sports was founded by my parents to run the event, and we've been here ever since.
As a result, the ranch is a special place for motocross riders of several generations. It's become the biggest race of the year, a weeklong run of practically dawn-to-dusk motos for three dozen classes. Riders as young as four and as seasoned as their sixties are here to compete, in classes ranging from 51cc Shaft-Drive LTD to 450cc B. Each class races three motos. Every night has some kind of activity, whether it's a team dinner, a talent show, a country concert, or the ever-tempting beer tent. I'm biased—I've been here every year since we started it, and I've seen it grow from a so-so race on a flat, swampy track to what it is today, which is a massive event on what is likely the roughest track most will ever race upon. Mike Brown, back as a vet rider after a long and successful professional career, said to me earlier this week, "Monday afternoon at four o'clock, during my practice, that's the roughest track I've ever ridden."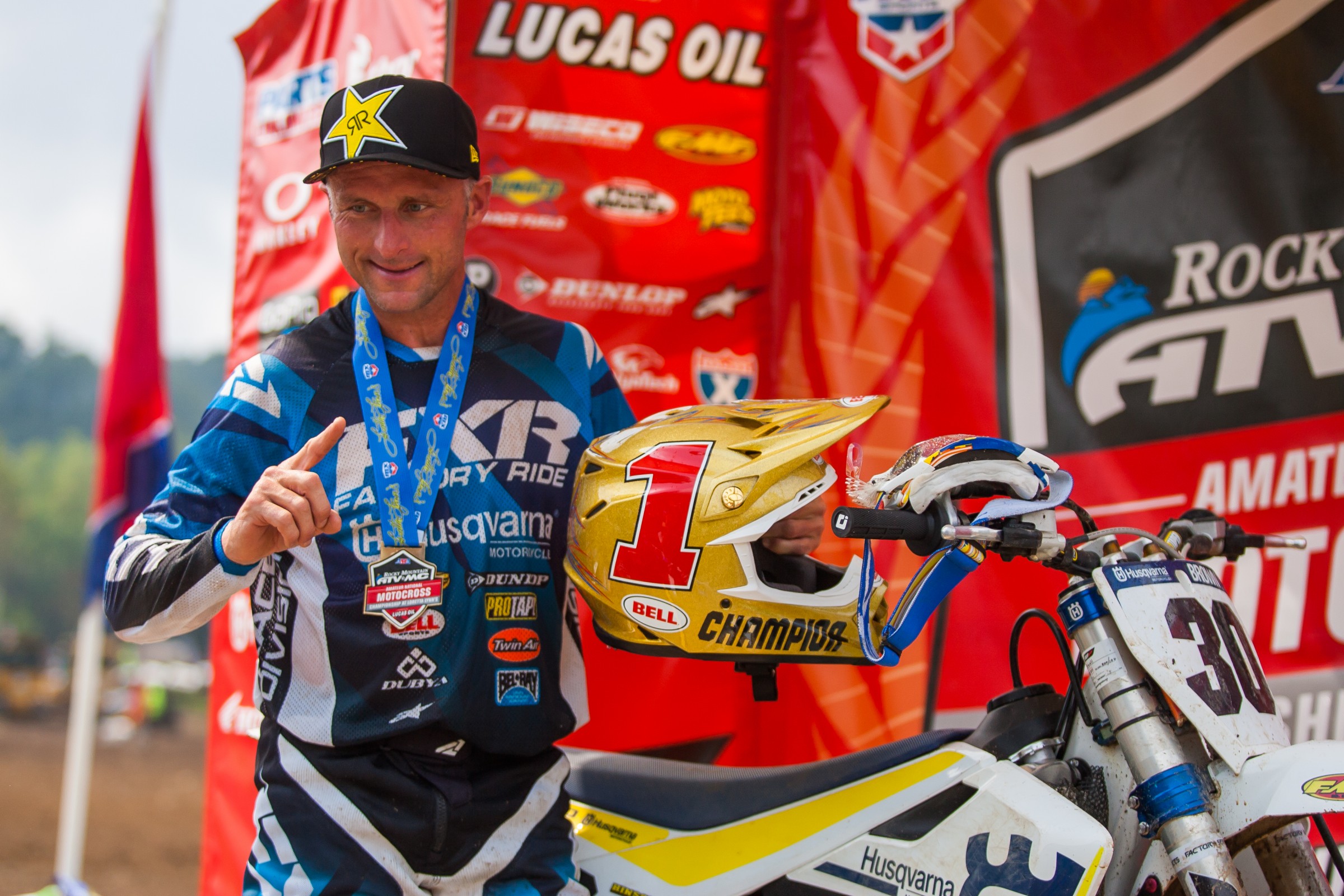 Brown is absolutely flying this week, and he honestly looks faster in winning the +25 and +40 motos than he did when he finished second in the 125 A Modified class back in 1990 when he first graduated. Of course, Brownie—the 2001 AMA 125cc Pro Motocross Champion—being here has caused some hand-wringing, but it always does; our policy of allowing former pros to come back and ride Vet classes stretches back to the very first race in 1982, when a few retired pros showed up to participate. Barry Higgins, Tony DiStefano, Marty Smith, Mark Barnett, Jeff Emig, Ricky Carmichael, Ron Tichenor, Tim Ferry, Doug Dubach—they've all come back and raced after their professional careers ended. Former AMA 125cc Supercross champ Nathan Ramsey is also racing with Brown, having lost a bet last year with KTM Orange Brigade boss Christy LaCurelle. And so is Buddy Antunez, the five-time AMA Arenacross Champion. Where else do they have to go? Ryan Villopoto asked me this week what classes he could maybe enter next time.
RV was back this with Monster Energy Kawasaki and Thor/Parts Unlimited, and RC was here with Suzuki and Cometic Gaskets and Fox Racing. Jeff Emig was here with Husqvarna, and Jeremy McGrath was here with Kawasaki, while Andrew Short came out with American Honda and Fly Racing and ended up debuting the 2018 Honda CRF250R during intermission on Tuesday. Malcolm Stewart was here with Seven—he actually led all of the sighting laps as ceremonial pace bike on Monday and has been here hanging out and watching motos and talking to participants ever since. There are probably a few more past and current pros here, but those are the ones I saw out on the infield, where I spend most of my week.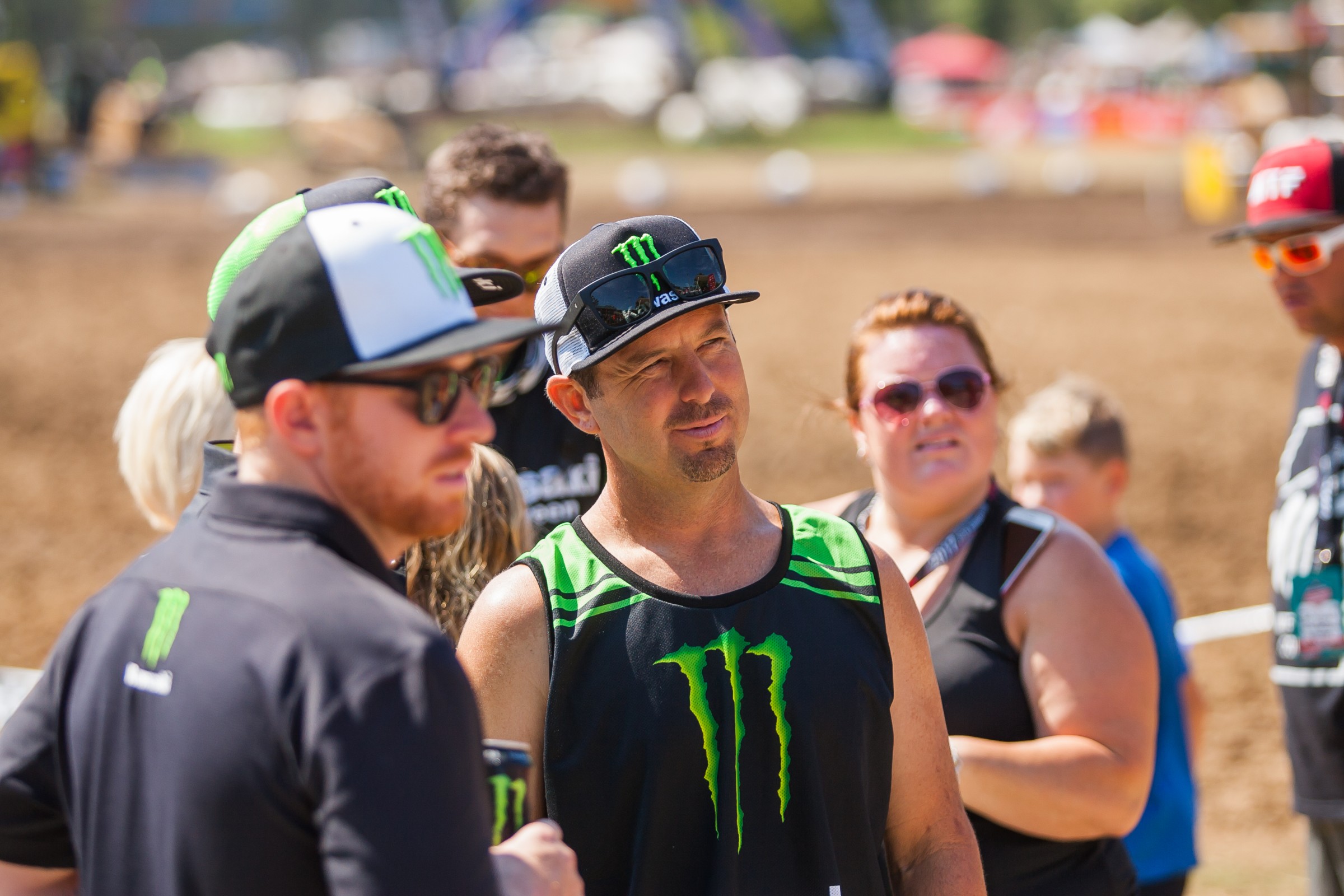 The racing on the track has been awesome to say the least. There have been a whole bunch of eye-opening performances, from New Yorker Justin Cooper's 250 A motos—he will join the Yamalube/Star Racing team in 2018—to Ty Masterpool's precise rides on his TM minicycle. (Yes, a TM—Masterpool became the first rider to ever to win on the Italian-made motorcycle as they make a renewed push in the U.S. market.) The Daxton Bennick/Haiden "Danger Boy" Deegan battles in the 65cc class have been awesome, and the effortless rides by Jett Reynolds (who is working on a five-year winning streak of sweeping both of his classes) have been impressive. You can watch the final motos until they end today and all day tomorrow on RacerTV.com.
This morning, the first champion of the week to be crowned was Ezra Hastings in the 450 B Limited class, with 2-2-2 scores. Tayler Allred also went 2-2-2 to grab the Girls 11-16 title, taking the title away from Jordan Jarvis in the last moto. We also had our first big controversy of the week in the 125 C class moto this morning, which is nothing shocking—it's always something in the C classes here.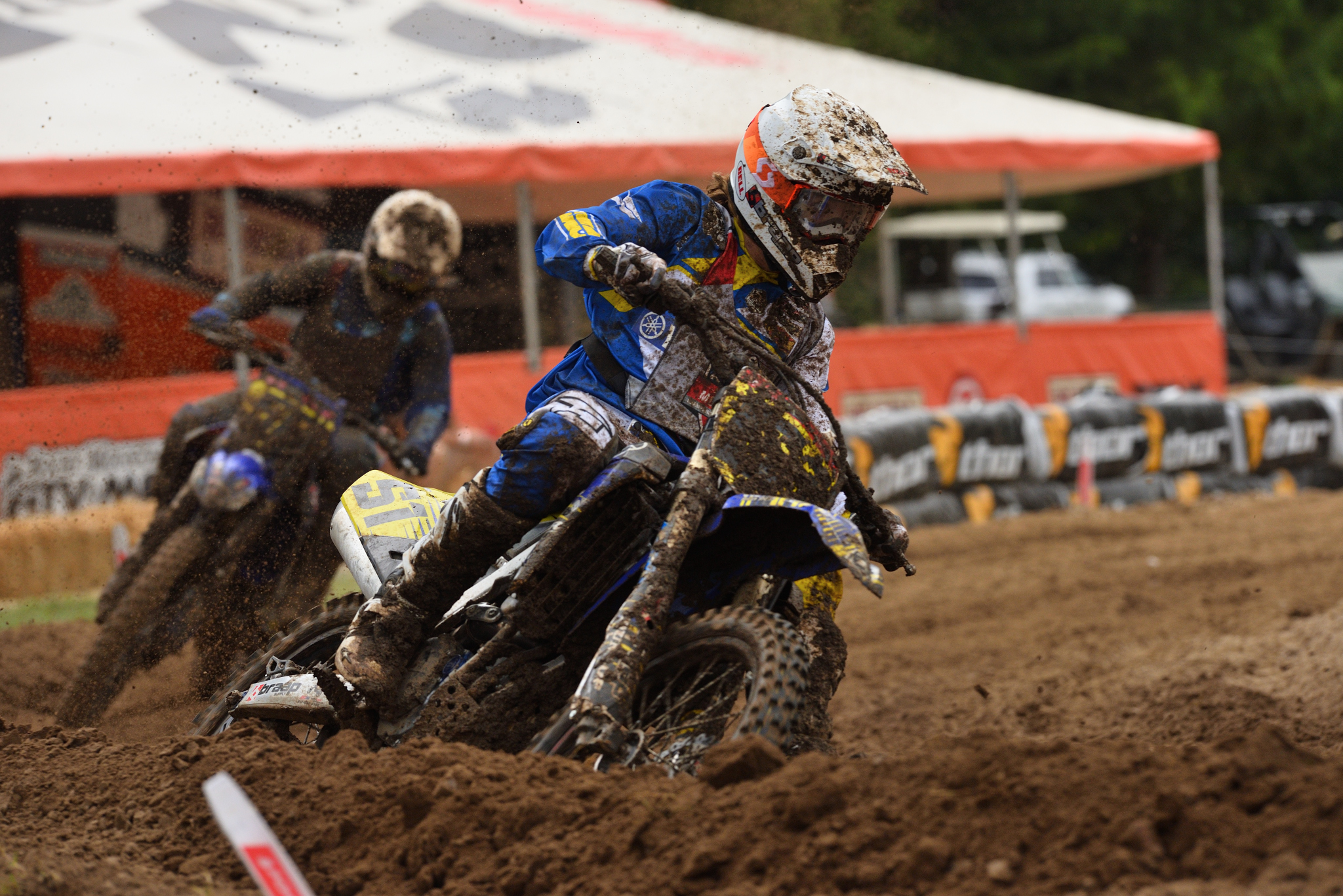 Loretta Lynn's is a special place for a lot of motocross riders and their families. It's the biggest race many will ever be in, and the experiences and friendships many make here will last a lifetime. For others it's just a stepping-stone to the professional ranks (or a place to keep racing afterward), a place to show off their skills and maybe pick up support for the next level. It's a combine, a class reunion, graduation, tailgate party, golf cart derby, and hopefully great family time.
Time for the 51cc classes, which means time for me to get back out on the infield. Here's the rest of Racerhead.
The Chosen Ones (Jason Weigandt)
There's so much to analyze from Loretta Lynn's—and it goes well beyond the results. The top of the pro ranks has proven that riders from all backgrounds can succeed, but also fail. Look at this year's 450SX and MX pros and you'll see that. Ryan Dungey was not an amateur star; Eli Tomac was; Marvin Musquin was racing in Europe. It's all worked out for them despite distinctive differences in background. These days, there are more opportunities than ever to learn, ride, and train at a young age, but there are also some (Jeremy McGrath principle among them) that claim a rider only has a window of 10 years or so to put in max effort, and going all out at age 12 is not the best strategy. Considering all of this, amateur team managers have a tough task scouting talent. Go with the kid who is dominating now or the diamond in the rough?
I just saw two minicycle classes back-to-back here at Loretta's with some big names. First came the 65cc bikes, which have been dominated by KTM Orange Brigade teammates and friends Haiden Deegan and Daxton Bennick. It had just rained and the track was a slop fest, and I was just transfixed by Deegan and Bennick's skills in those conditions. They were pinning it, clutching it, and staying on top of the slop, while also picking great lines through the muddy ruts and hucking the big jumps despite slippery takeoffs and landings. It was amazing—I'm talking like pro-level skills from riders that are 12 years old. If you are going to buy stock now, Deegan (who won) and Bennick (second, but ahead of Deegan in the Stock Class) would be smart buys. However, these kids have some advantages to enjoy, namely that their dads have built amazing compounds for them to ride and train. They were also both born in January, which is the great gift of AMA amateur racing—in youth classes, you get to race all season at your age as of January 1. A rider could be 12 on Jan 1 and turn 13 on Jan 2, and race against 12 year olds all year. So several things have stacked up in favor of Bennick and Deegan. They are already amazing, incredible riders. Will they be the guys to beat as pros in 10 years? Or is there someone else in the shadows waiting for his chance? We'll see.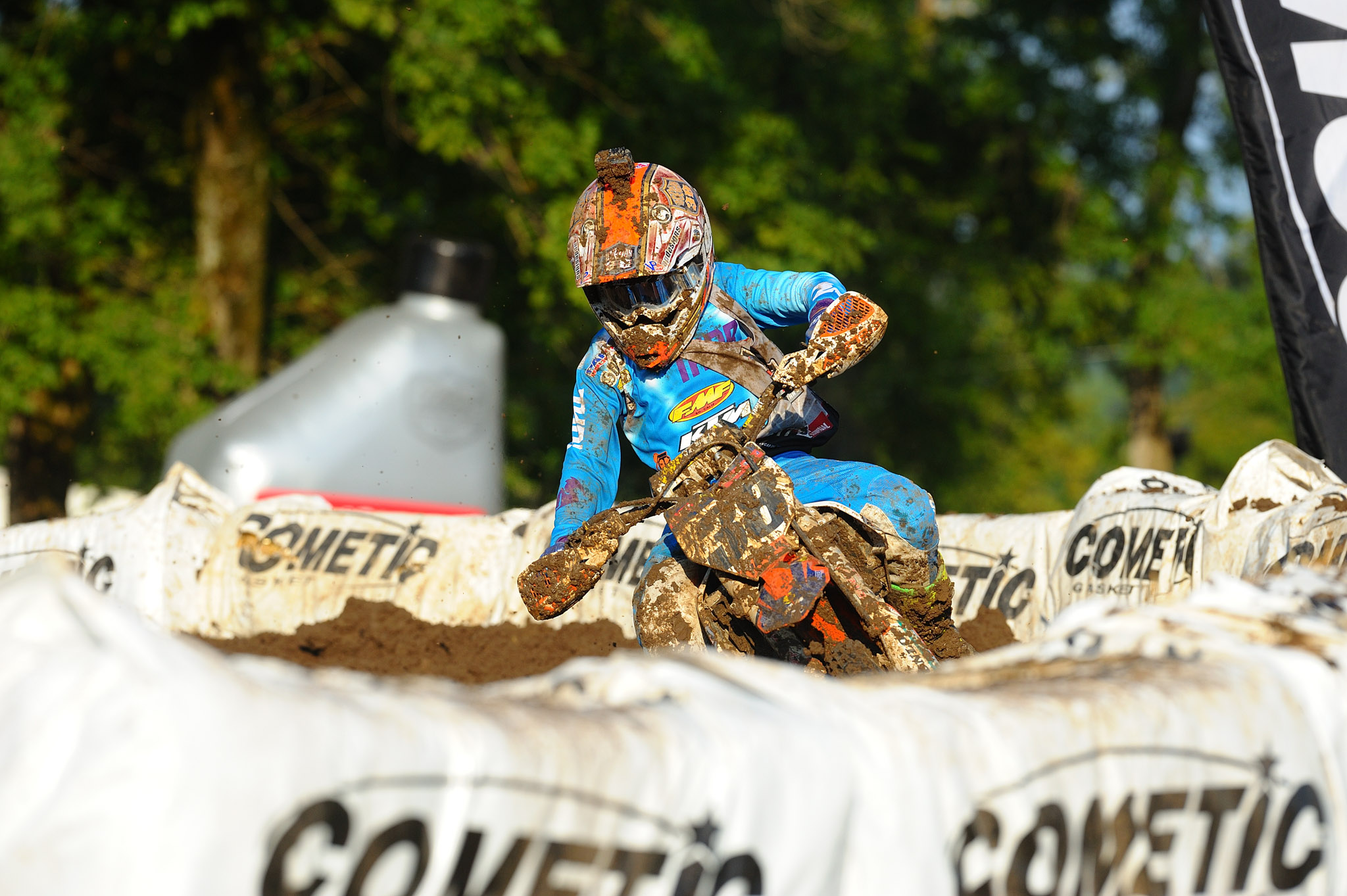 The next moto featured Team Green's class killer Jett Reynolds, who is racing for the history books. Reynolds has won every championship he has competed for at Loretta's for the last four years—eight titles in a row—and was going for nine and 10 this year. While sitting on 1-1 scores today, his bike broke in a muddy third moto, allowing Matt LeBlanc to sneak in and win the title. Reynold's title streak is now over. Will this bit of adversity actually help him or hurt him in the long run? We'll see.
One other piece of news here: Yamalube/Star Racing Yamaha made some headlines this week by announcing that amateur standout Justin Cooper had been signed as a pro for 2018. But what about Challen Tennant, the amateur the team already had? We've heard Tennant is now out, while Cooper is in. Symbolizing that, they had a moto together this morning and Cooper won while Tennant holeshot but crashed, finishing fourth. While Cooper was on the podium celebrating a championship with his new team, Tennant hopped on his bike with his mechanic, and no one else, and rode back off to the pits.
Pro Perspective (Jason Thomas and David Pingree)
JT: Loretta's has always felt like unfinished business for me. My last year there was 1996 in the B classes. I was hoping to win my first title there and came in ready, but simply wasn't able to get it done. I left with a bunch of second-place finishes as I made the jump to the A classes that fall and then joined the supercross circuit that next winter. It was a big leap from the B class to the pro ranks, but it was much more common in those days. Ricky Carmichael made a similar leap, riding the B class at Lake Whitney in March (we went a very distant 1-2 there) and then racing the last two Nationals of that same year. Nowadays, riders are held back in hopes of winning amateur titles and working around their sponsors' plans. So as I raced supercross and motocross in that 1997 season, I secretly wanted vengeance at Loretta's in the A classes. Who knows how it would have gone, but I was getting top-20 finishes in the Nationals that summer. I would be facing Nick Wey again (he beat me in '96), but racing is never predictable, especially at Loretta's. Oh well. I didn't go and still don't have that coveted win as we sit here 20 years later. Loretta's is still the holy grail of amateur racing, and as the years pass, I always get antsy as August approached.
There is hope on the horizon, though. In two years, I will be eligible for the +40 class, and with that, a new opportunity to finally win. My dad won the +30 class in 1984, so it would be great to have both of our names in the Hall of Fame. I still have two long years to wait, but it gives me time to prepare. I am five years removed from my last year of Lucas Oil Pro Motocross, but as I deal with that world on a daily basis nowadays, I fully understand what it will take to win in the summer of 2019. The clock is ticking for another run at the ranch.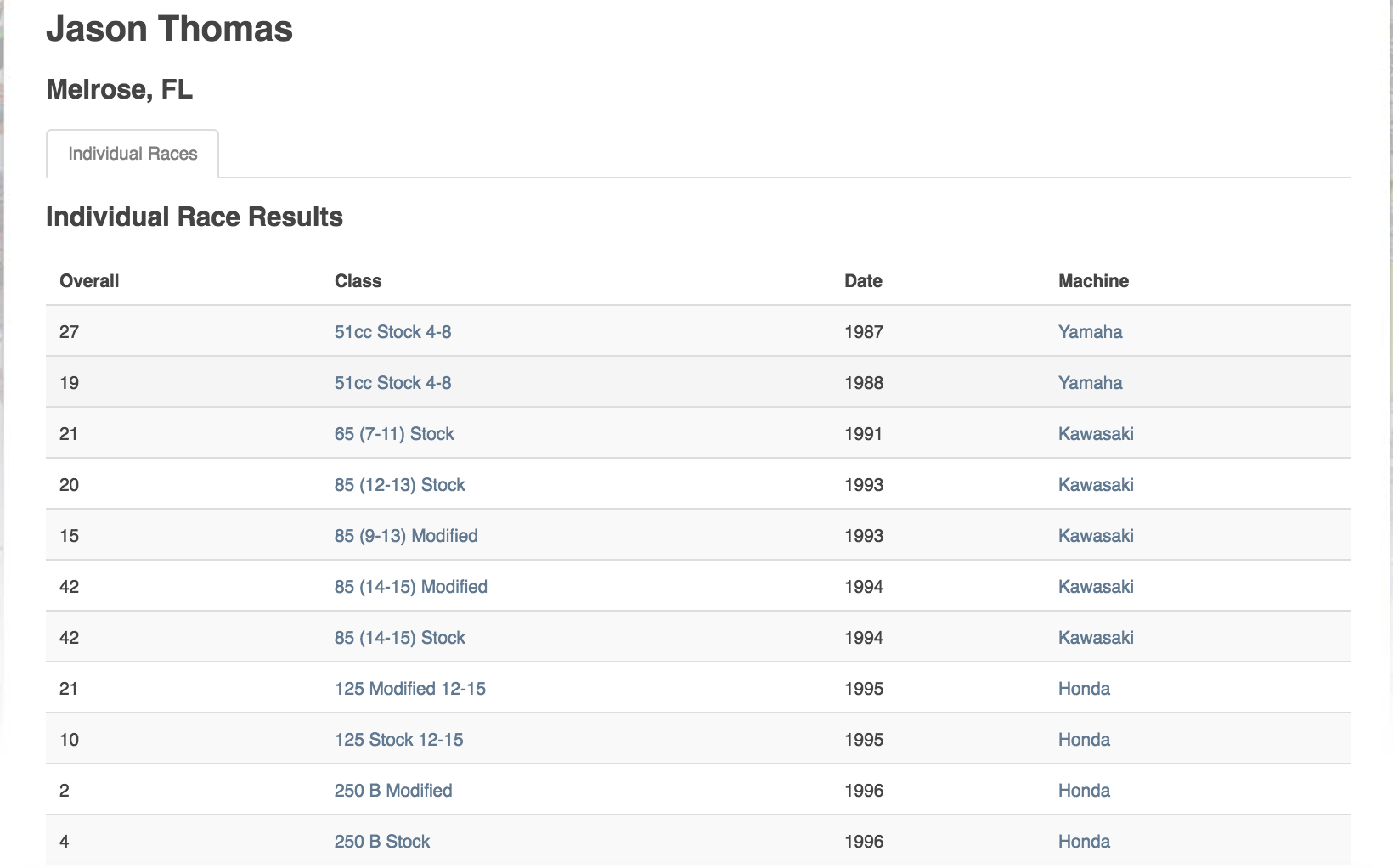 Ping: I only raced two times at the ranch, in 1990 and 1992. My first year, I came away with a top-five but had some mechanical issues along the way. In 1992, I was racing the B class and ended up with a title in one class and a "rough riding" penalty in the other. Long story.
I don't remember moto scores exactly, but I was racing with Jason McCormick up front and a kid from Florida was between us. He kept cutting me off and swerving across the track to keep me behind him. After a few laps of that, I got to the inside of him and introduced him to the ground. It wasn't subtle, but neither were his antics. I couldn't catch Jason and settled for second that moto. Tim Ferry was buddies with the guy who crashed, and he was furious after the race. I was called into the promoters' office, where I got to meet Davey Coombs for the first time. Suzuki's Pat Alexander was there with me, and he told me they had the incident on video. I opined that the contact was a racing incident. Unfortunately, that was a tough argument after watching the video. I think they docked me five or six positions—just enough to squash my title hopes. Oh well. Loretta's is indeed the biggest amateur race of the year, but there are plenty of supercross and motocross champions who didn't win at the ranch. A little advice: If things don't go your way this week, don't lose your mind. Just because you didn't win doesn't mean your racing career is over. Good luck to everybody running their final motos this weekend.

This Week in News (Chase Stallo)
The biggest news of the week actually happened last Saturday, when Monster Energy Kawasaki's Eli Tomac, the favorite for the MXGP spot on Team USA, announced at the post-race press conference at Washougal that he's likely going to opt out of the Motocross of Nations for a second straight year due to his heavy schedule.
"Right now, it's looking like a no. It's schedule," he said. "We have to go race USGP and then you have two weekends off then you make your way to England and then a couple weeks after that you have Monster Cup. For us, and for me, it's like…. we've been racing since the first weekend in January and you're basically putting yourself through the meat grinder all the way through the middle of October. Right now, it's probably a no."
Due to contractual obligations, Tomac is scheduled to race the USGP at WW Motocross Park the week after the end of Lucas Oil Pro Motocross and then the Monster Energy Cup on October 14.
Another damaging blow to Team USA came early in the week when our own Steve Matthes reported that Rockstar Energy Husqvarna's Jason Anderson would not compete for Team USA due to upcoming foot surgery following the final round of Lucas Oil Pro Motocross on August 26. With Tomac, Anderson, and Blake Baggett (thumb surgery) all out for this year, where does Team USA turn? Jason Thomas explored Team USA's options earlier this week.
Steve Matthes spoke with two team VIPs about why deciding to race the MXoN has become a difficult choice for many riders in recent years.
Following his first Open Pro Sport moto of the week at Loretta Lynn's (which he won by the way) it was announced that New York's Justin Cooper had signed a pro deal with Yamalube/Star Racing Yamaha. Cooper will make his pro debut at Unadilla with CycleTrader.com/Rock River graphics on his Yamaha, but he'll be riding for Star Racing in 2018.
Intros Continued (Kyle Scott)
Last week Grant Langston rode for us at Glen Helen Raceway aboard the all-new 2018 YZ450F. This bike is all new and one of the most highly anticipated bikes of the year. There are lots of changes on this machine, so I'll bullet point the main ones below:
-All new chassis
-All new engine—new head, cam shaft, transmission (2nd, 3rd, 4th beefed up).
-Electric start
-Clutch changes for better feel at high RPM (starts)
-New KYB suspension (larger piston sizes on the forks, and larger shock reservoir
-New bodywork (also comes in blue or white plastics)
-Narrowed radiator shroud area
-Lowered seat (18mm)
-Intake is integrated to the radiator shroud
-Smaller gas tank
-Power Tuner App:
-Store mapping data (for different tracks or different conditions)
-Share maps with friends
-Set maintenance reminders
-Save maps for certain tracks
-Password protected and cannot be changed while bike is running so can't be hacked
Wednesday through Friday this week I was in North Carolina with Suzuki and JGR getting an introduction to the all-new 2018 RM-Z450. During the presentation on the specs of the new bike on Wednesday Suzuki announced to us firsthand that JGR will be the new factory effort for Suzuki. I also discovered that there will be an additional rig added to the team. That will give the team one for 250s and one for 450s. There will be two 450 rides for supercross and motocross. The 250 team will have four spots for supercross (two for West Coast and two for East Coast), and two spots for motocross. The factory contract is a three-year deal, which is the longest deal Suzuki has ever done. JGR is focused on the future and building the team for the future so they're hoping to go beyond that. I spoke with team manager Jeremy Albrecht and he told me that he is very happy with the Suzuki relationship and how they've been treated by them since switching bike manufacturers and that he's been working on this factory deal since Anaheim 2.
On Thursday morning we went to the JGR test track and 450 privateer Henry Miller joined us as our test rider. Miller has impressed everyone in the second half of the season and was excited to ride the all-new RM-Z450. He said the stock 450 felt better than his race bike.
One thing Suzuki emphasized with the new bike is although the chassis, engine, and suspension are all new, they made sure to make sure that the bike still felt like a Suzuki. Suzukis are known for being one of the best handling bikes and they made sure not to stray away from that. Here are the highlights of the RM-Z450:
-All new chassis (new frame and swingarm
-All new engine (cylinder port shape, throttle body, fuel pump, air filter and inlet, cam shaft, piston, and injection timing)
-Updated holeshot assist control
-SHOWA spring fork
-SHOW balance free rear cushion shock
-Better throttle response
-New rims and tires
-New look
-Larger front rotor
After a day at the track we headed back to JGR where we got two great tours, one at the motocross race shop and one at the NASCAR race shop. One of coolest things I learned is that JGR makes their own batteries for the fans and data logger on their bikes as the bikes are not designed to support the fans that the team uses as they draw too much. They discovered that pulling power from the bike can cause it to shut off and it also makes it harder to start the bike. They also make their own housing for the batteries in house, which are currently placed under the seat. The same tour we were given at the motocross race team shop is the same tour that you can take yourself if you stop by. They said people come in all the time so if you're ever in the area, feel free to do so yourself.
After the motocross building tour, we headed over to the NASCAR building, which is more than impressive. Over 600 employees work at the NASCAR building and it's unbelievable the capability they have there. We weren't allowed to take photos or video on this tour, though. The tour was an hour and a half and they told us we barely scratched the surface. One thing that blew my mind is that they build all the cars completely by hand all starting with metal tubing to build the frame so no two cars are ever identical. They also mentioned all the crazy rules and specifications NASCAR has in place to keep the playing field level and to prevent cheating as the most minute details can give an advantage. They have an entire machine shop where they can make absolutely anything they want out of metal, a large assembly area where they build the frames, sheet metal, and perform repairs. They have a row of paint booths, engine rooms, dynos, and a gym for the drivers, pit crew members, motocross athletes, and staff. They even have their own full-time staff of trainers and physical therapists and an entire aviation department equipped with their own planes for getting their huge staff to and from races. The NASCAR world is next level.
On Friday we went back to the JGR motocross track where Henry Miller spun some laps on their 2018 RM-Z250, which is the same as last year other than new graphics. They also had a race bike, which was available for guys to try. I'm still not cleared to ride from my shoulder injury so I drooled and filmed and took photos. Thanks for the hospitality, JGR and Suzuki.
Mini Os New Home (Jason Weigandt)
Also at Loretta's, we were joined by Unlimited Sports' Wyn Kern, promoter of the annual Winter Olympics (AKA the Mini Os), which normally take place at Gatorback Cycle Park. Well, you've already heard that Kern and Gatorback are no more, as the track owners, knowing Kern has the USGP coming up, played hard ball on the lease agreement. Kern called the bluff and walked away, moving the USGP to the WW Motocross Park. For the Mini Os, he has a new plan: Kern counted his pennies and purchased a fresh chunk of land only a few miles from the existing Gatorback track. He's building his own place, and he will hold the 2017 Mini Os on Thanksgiving week right there—plus he actually owns the trademark to the name Gatorback Cycle Park, so the new track gets to keep the old name. So the Thanksgiving tradition will continue, just in a place a few miles away from where it used to take place.
THE WEEK THAT WAS IN PULPMX (MATTHES)
While everyone was down at the ranch, I was wrapping up Washougal with various columns like Observations and shows like the Fly Racing Racer X Review Podcast with JT and Top Jimmy who were both in-studio. As usual, that show ended up with a 20-minute conversation about Martin Davalos, who has been killing it in the 450 Class.
On the PulpMX Show on Monday, JT and Jimmy stuck around to talk Washougal and we had Jeremy Albrecht on to talk JGR Suzuki. J-Bone was, of course, way too honest as he talked about wanting to keep Peick and Nicoletti for next year, and then we discussed hiring Chad Reed for the team and all that entails. JT dropped a reference to Reed being a racehorse in here somewhere.
Grant Langston came on to talk about how his last appearance on the PulpMX Show has now led to fans yelling back his one-liners to him at the races. He also talked about Eli Tomac's decision to not go to the MXoN and thoughts on the series as a whole.
Joey Lancaster came on to recap the three-round FMF 125 Dream Race series that wrapped up at Washougal. He strongly hinted that the series may expand to all 12 rounds of the Lucas Oil Pro Motocross in 2018 and I yet again went on my rant about how if the OEM's really wanted these bikes to be sold, they wouldn't make them only $1,100 cheaper for decades old technology. Price them right and watch them sell even more in my opinion.
We also called Stank Dog to talk about Washougal and his issues there back on the 125 and then we called his old number where some kid picked up and told us that it's rough having Stank's old number.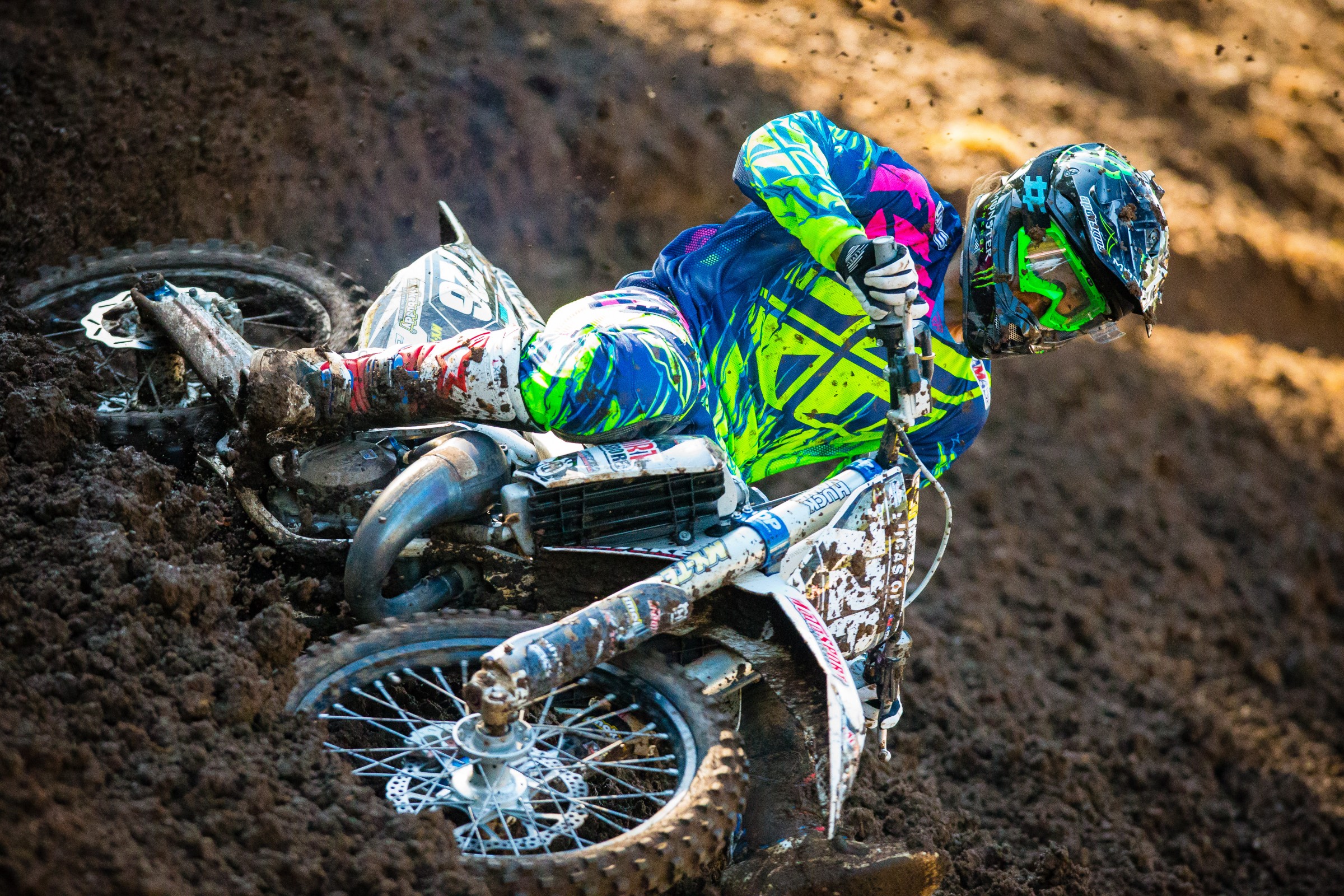 I also put up on the Steve Matthes Racer X Podcast feed an old 2008 podcast I did with Micky Dymond about his two 125MX titles and being passed over for the MXDN twice when he was the national champion.
I wrote about what I think is going on with the 450 class in terms of 2018 for the MX Vice guys here and right now, it's Justin Barcia, Chad Reed, Malcolm Stewart, Jake Weimer, and Justin Bogle looking for spots among the premier teams.
I did a Race Tech Privateer Island Podcast with 450MX privateer hero Henry Miller. Miller talked about his improved results and plans for 2018 among other things here.
The great David Vuillemin gave us his thoughts on Washougal including a story about when he was a factory guy and used a stock shock on the back of his YZ250 here.
Three (Andras Hegyi)
Two-time world champion and 2015 250SX Monster Energy Supercross Champion Marvin Musquin is inching up in the record books.
This year, he earned his maiden 450 supercross and motocross wins, becoming the first Frenchman to win in 250/450 supercross and motocross. Last Saturday, he collected his third victory in the 450 Nationals—tied for most all-time among French riders in the U.S, with Sebastien Tortelli and David Vuillemin. Musquin could also draw with Vuillemin and Jean-Michel Bayle in podiums— they've got 11 in the 250/450 Nationals. (Tortelli has the most podiums, with 22 in all.)
At Washougal, Musquin earned his 11th podium for KTM—more than the Ken Roczen, who earned 10 while with KTM. Only Ryan Dungey, with 48, has more for the orange team.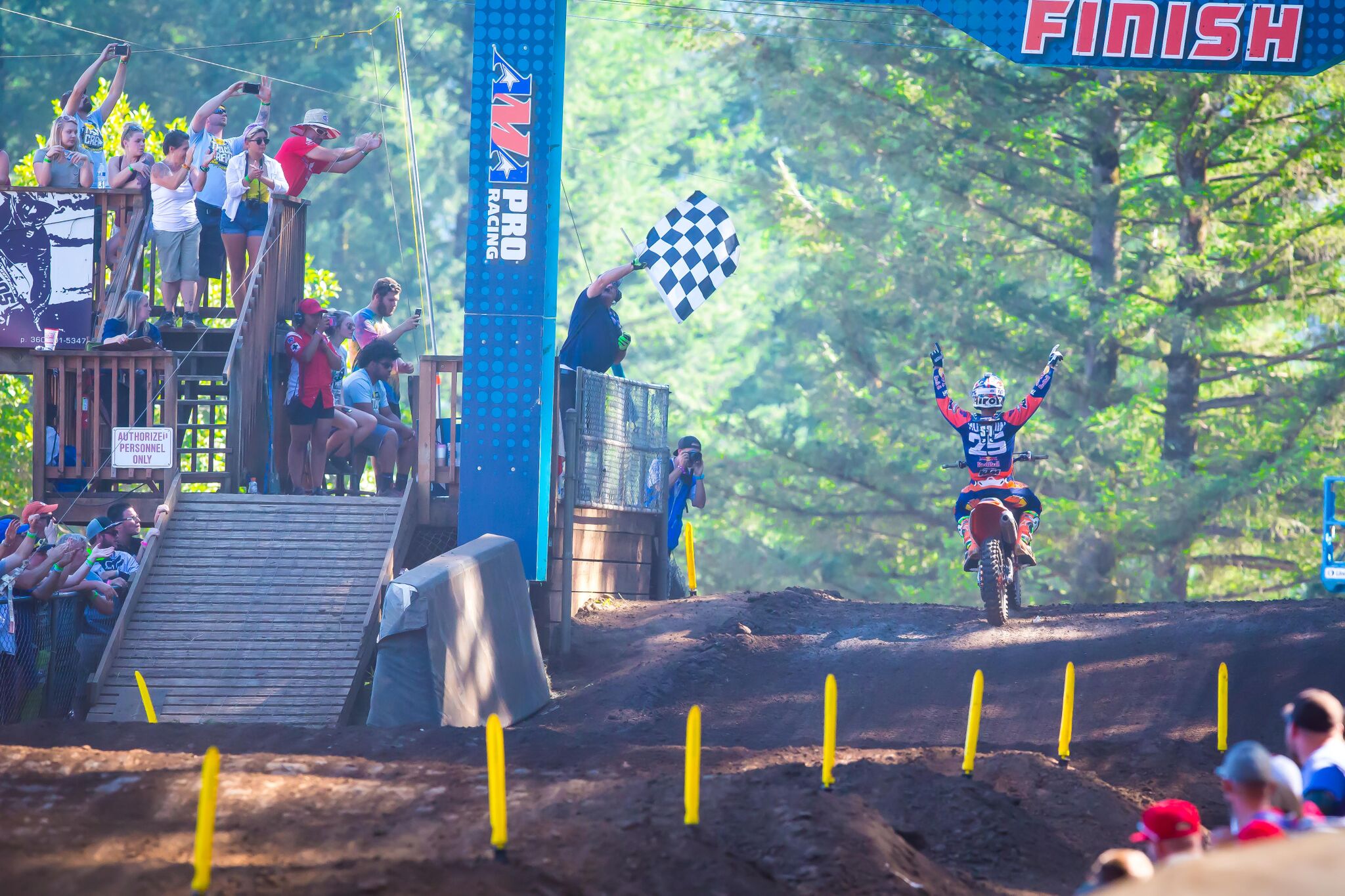 Random Notes
Headed to the Rocky Mountain ATV/MC AMA Amateur National Motocross Championship at Loretta Lynn's this week?
Don't forget to stop by the Racer X Booth and get a free 6-Pack Racer X Cooler Sleeve with the purchase of a one-year subscription for as low as $10. You will also receive free Racer X stickers, event stickers, and a free issue of the magazine. The Racer X Booth will be stocked with Racer X Brand items such as shirts, koozies, hats, and many other things, so be sure to stop by and grab some gear.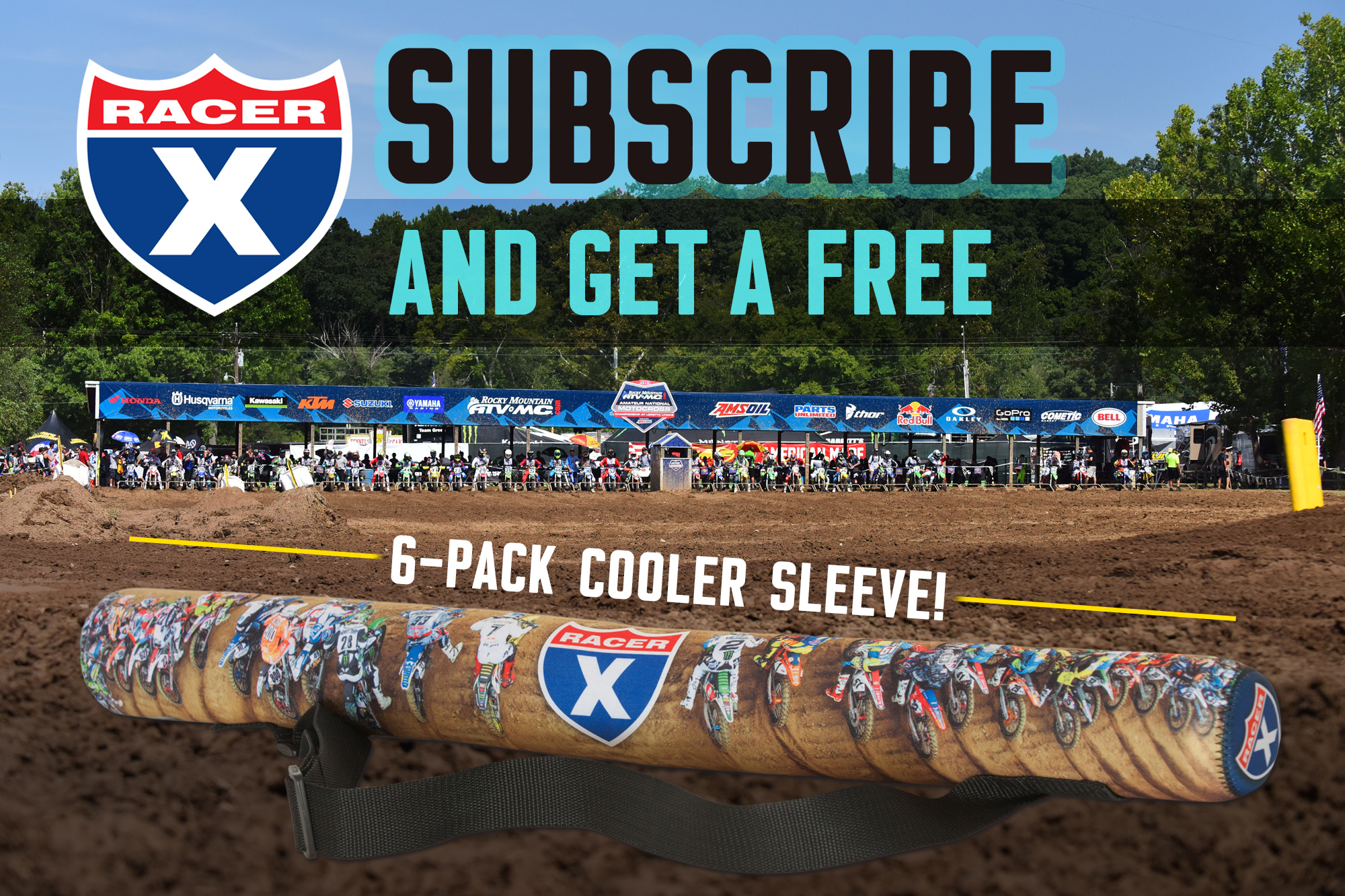 Remember those cool Racer X Brand shirts we had available only for preorder a while back? Guess what: you're in luck! They're back and available to order now on Racerxbrand.com.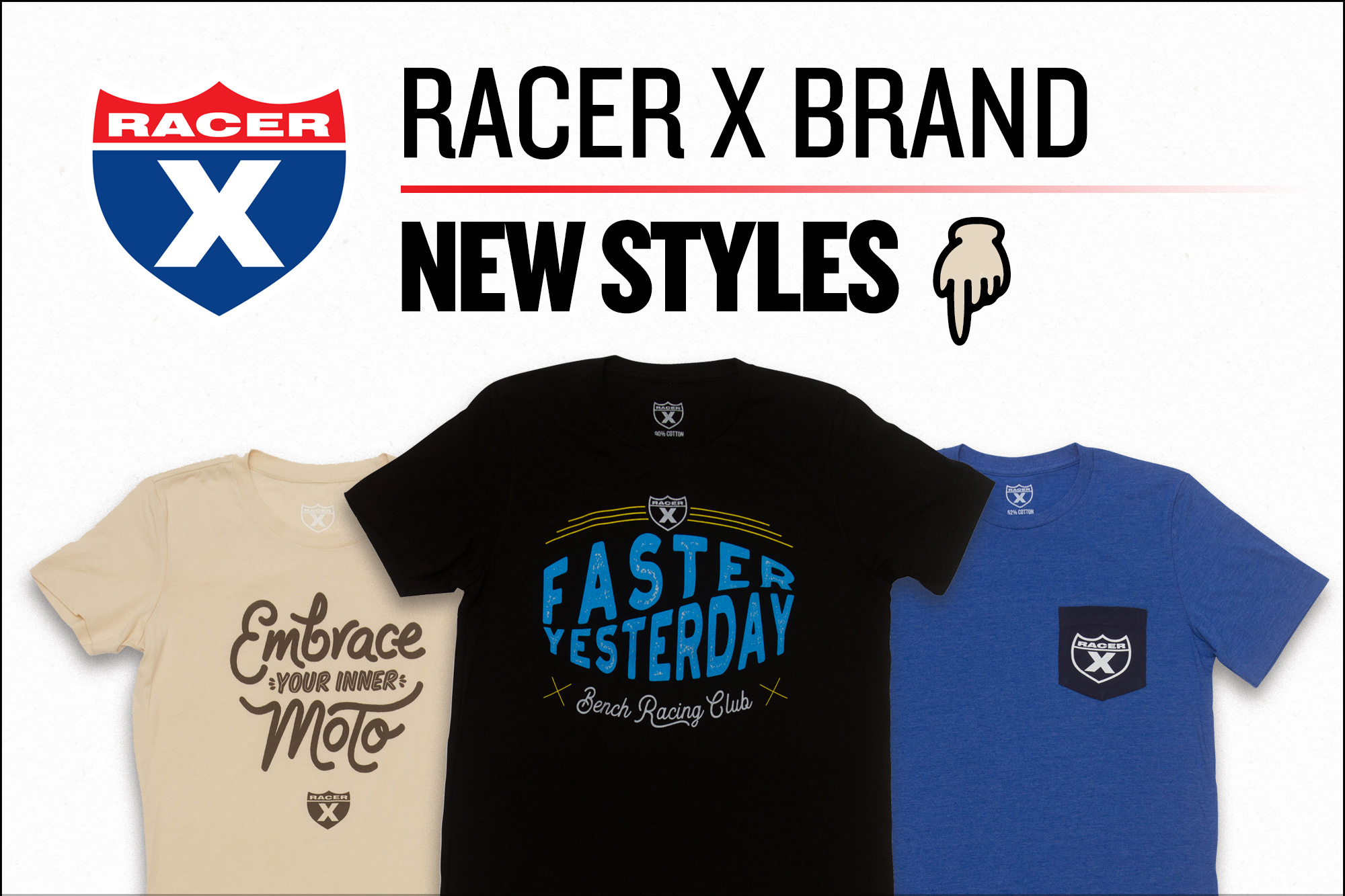 Subscribe now for as low as $9.98 and receive a free Fly Racing Draw String Bag plus access to our digital edition.
That's all for this week. Thanks for reading. See you at the races.